This 1780 sq ft condo unit in Seri Riana, Wangsa Maju now features rich wood tones and a sophistication, comfortable ambience.
When Jason Tay purchased this empty condominium unit in Seri Riana, it was originally intended to be rented out.
But, his family loved the condo so much that they decided to move in themselves. That meant he needed to get it ready and liveable for his family.
However, the original contractor for the project did not meet Jason's expectations.
"The house was not done properly by my previous contractors. For example, the balcony extension was not planned well, and I had to pay additional RM40,000 for their reworks. So I needed to find an interior designer I could trust to get it right."
With his family expecting to move in within a few weeks, time was running out. So, Jason went online to Recommend.my to find a suitable interior design team.
The Recommend.my team responded quickly to clarify his requirements, and began the search for the right interior designer, out of their panel of over 1000 designers in Malaysia.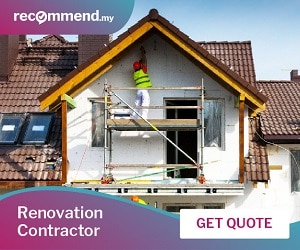 One of the shortlisted candidates was KAIU Artisan Creative. KAIU Artisan Creative is an experienced concept design and construction company based in Bukit Jalil. KAIU also creates and builds solid wood concept furniture and offers a full range of integrated construction capabilities.
"Due to the urgency, I requested KAIU to immediately jump in to solve all the mess. Their architect team immediate assisted and coordinated with my existing contractors," said Jason.
Find the best interior designers
Recommend.my has over 700 interior designers that are ready to help you design your home. They can work with your design requirements and budget!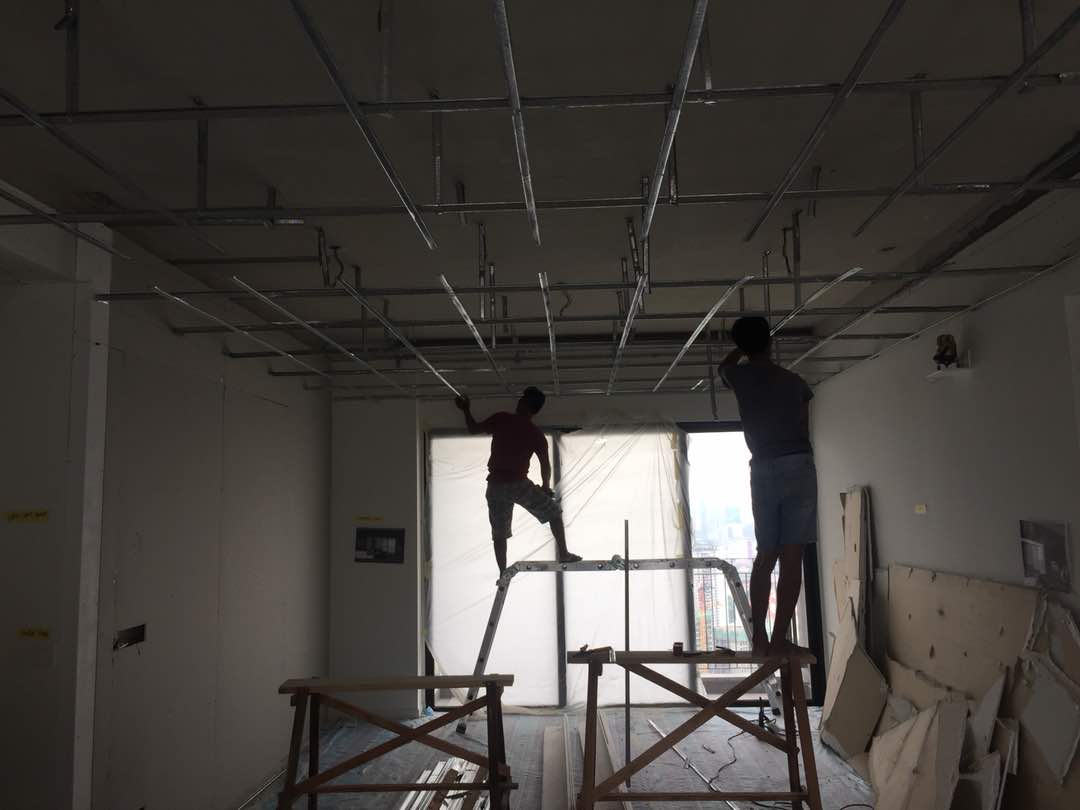 Above: Contractors working on the plaster ceiling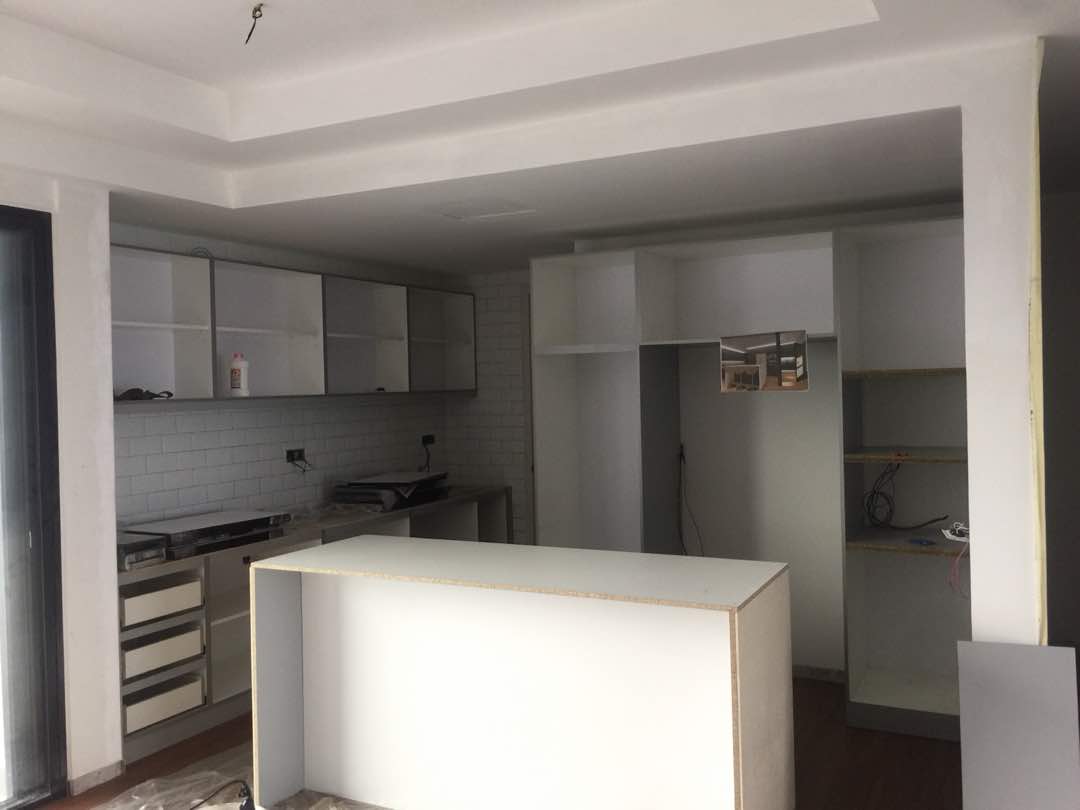 Above: Installing kitchen cabinets and kitchen island
"When we inspected the previous work, we found that it had also caused a water leak in the master room toilet, leaking all the way through to the master bedroom. This needed to be fixed as well, even as we were coming up with new concept designs. It was a challenge to do it all within the short time, but we were happy to take it on," said Wen from KAIU Artisan Creative.
A dark contemporary approach
The team came up with a concept that had lots of dark wood elements, with multiple light sources. For example, under-cabinet LED lighting along the TV console and below it. They also suggested a mix of down lights and spotlights to highlight different areas.
"KAIU also redesigned the plans for my balcony extension and proposed the best way to fix the existing work in a cost-effective way. In their updated design, KAIU proposed a wooden decking with a lounge area along with light features," said Jason.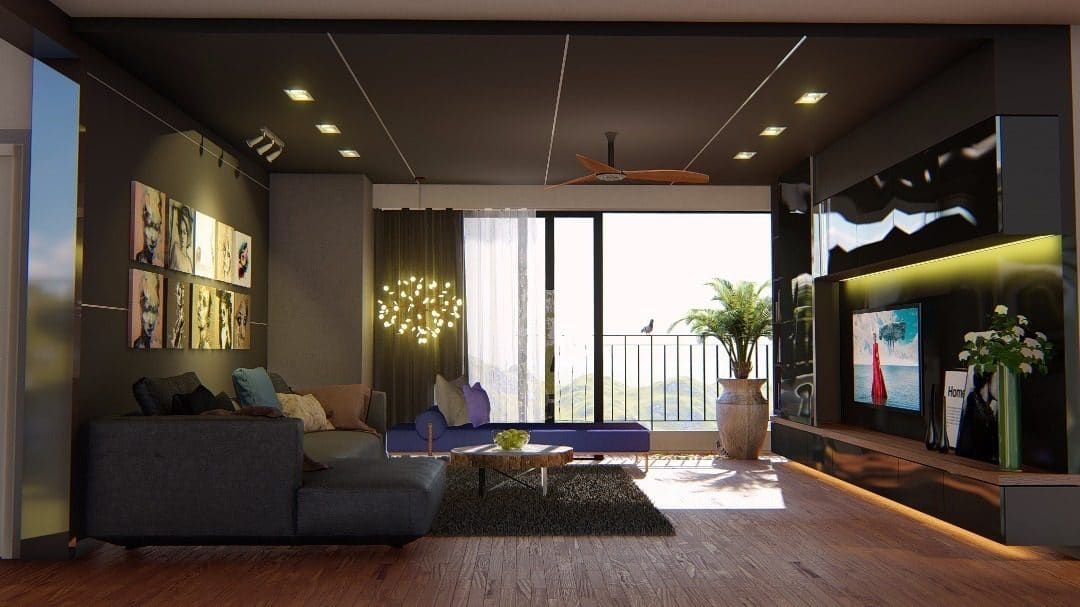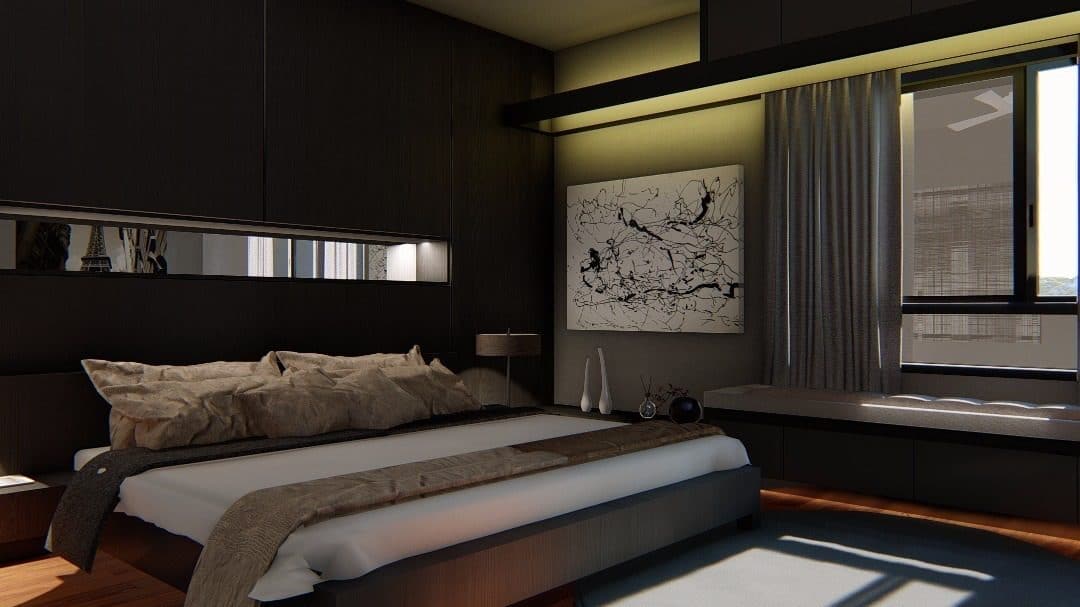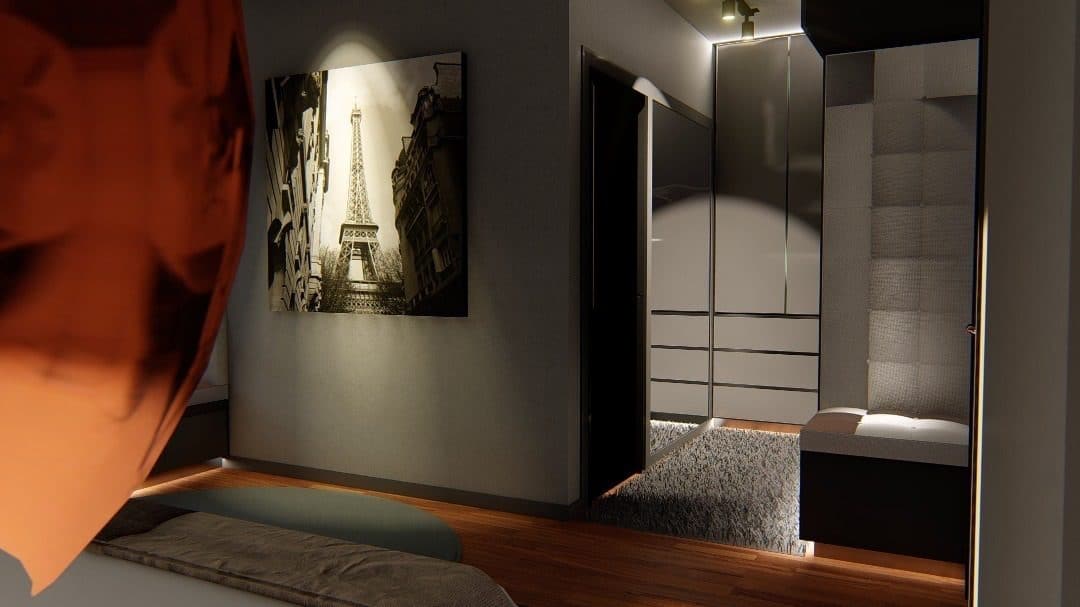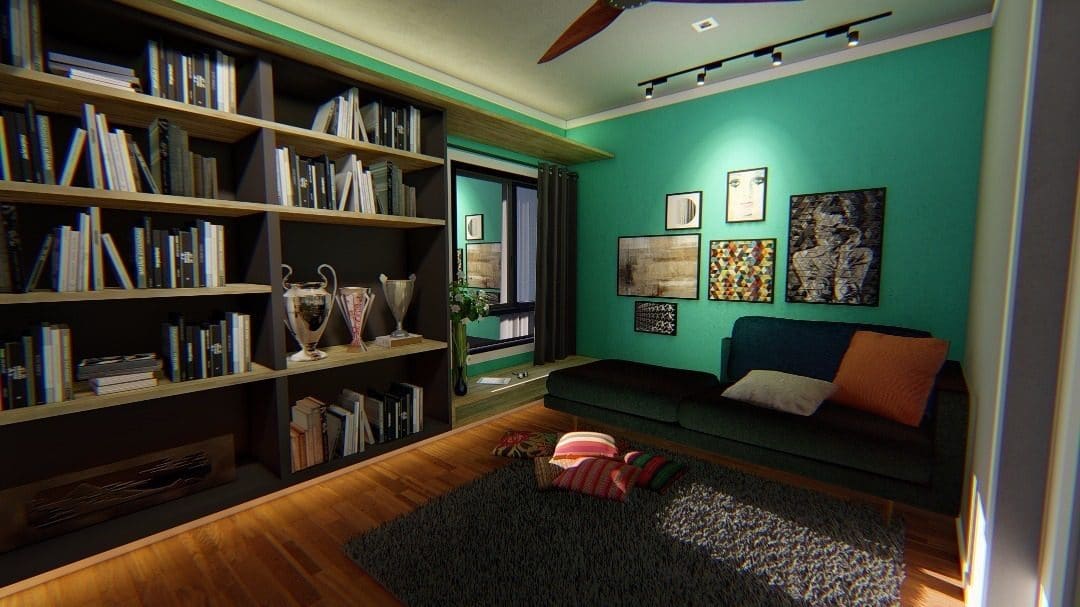 WATCH VIDEO: Concept designs for Seri Riana 
Within two months, the project was completed. The condominium unit now features stylish contemporary design elements and looks comfortable and luxurious.
All the rooms, including the bedroom, living, dining, kitchen and bathroom use a mixture of white, dark grey, and dark wood elements.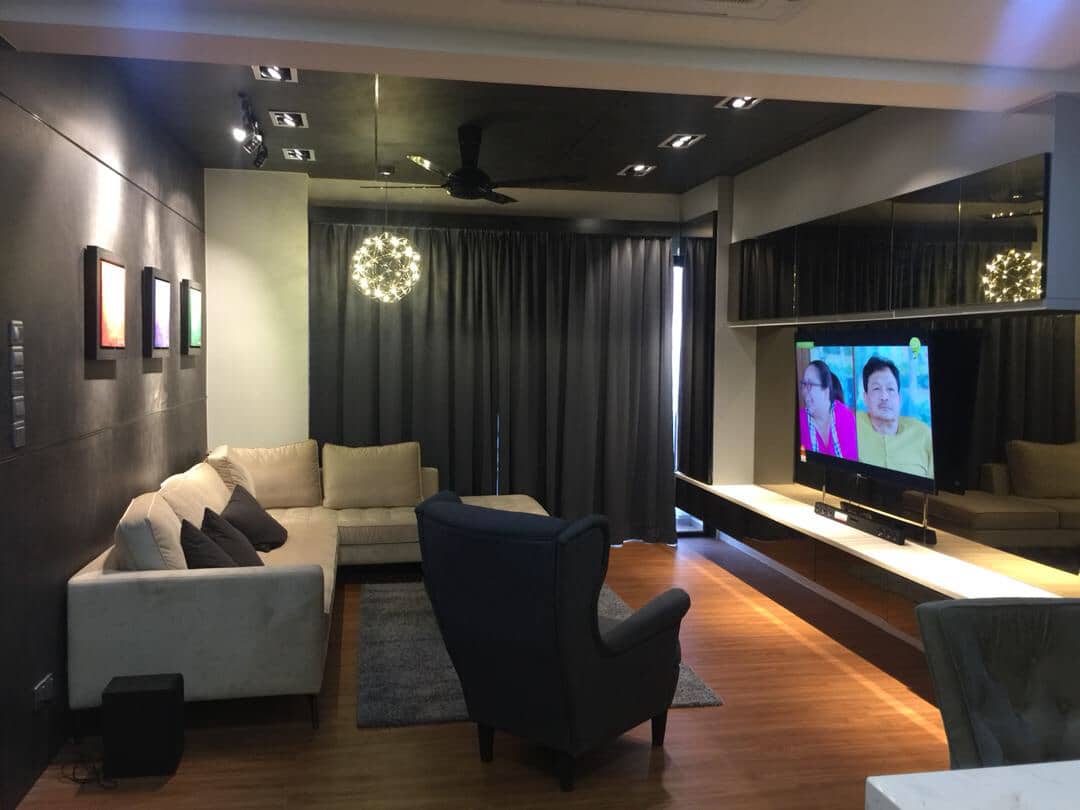 Above: The dark living area with wooden flooring adds sophistication. To prevent the space from feeling cramped, the TV console and wall shelves used mirror panels to extend the space.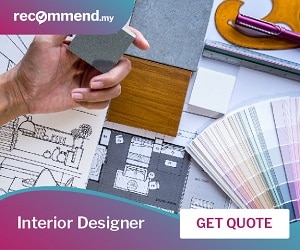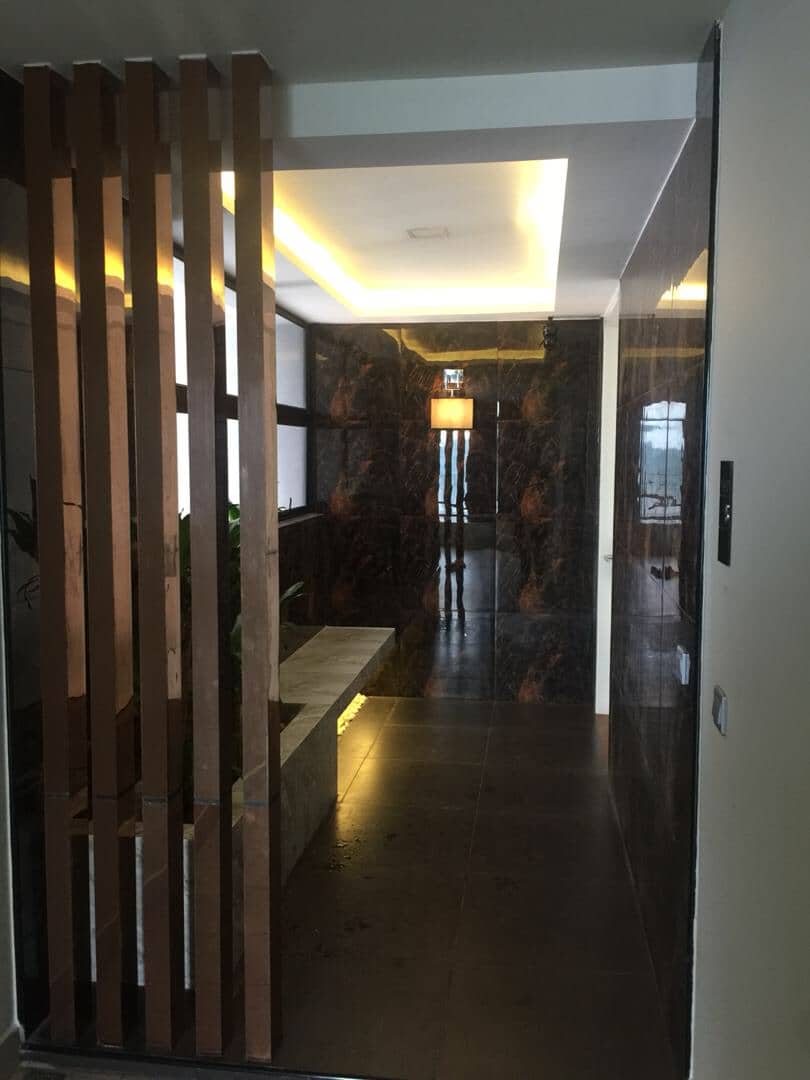 Above: Entryway. Stylish entrance to the apartment with aluminium divider and marble wall design.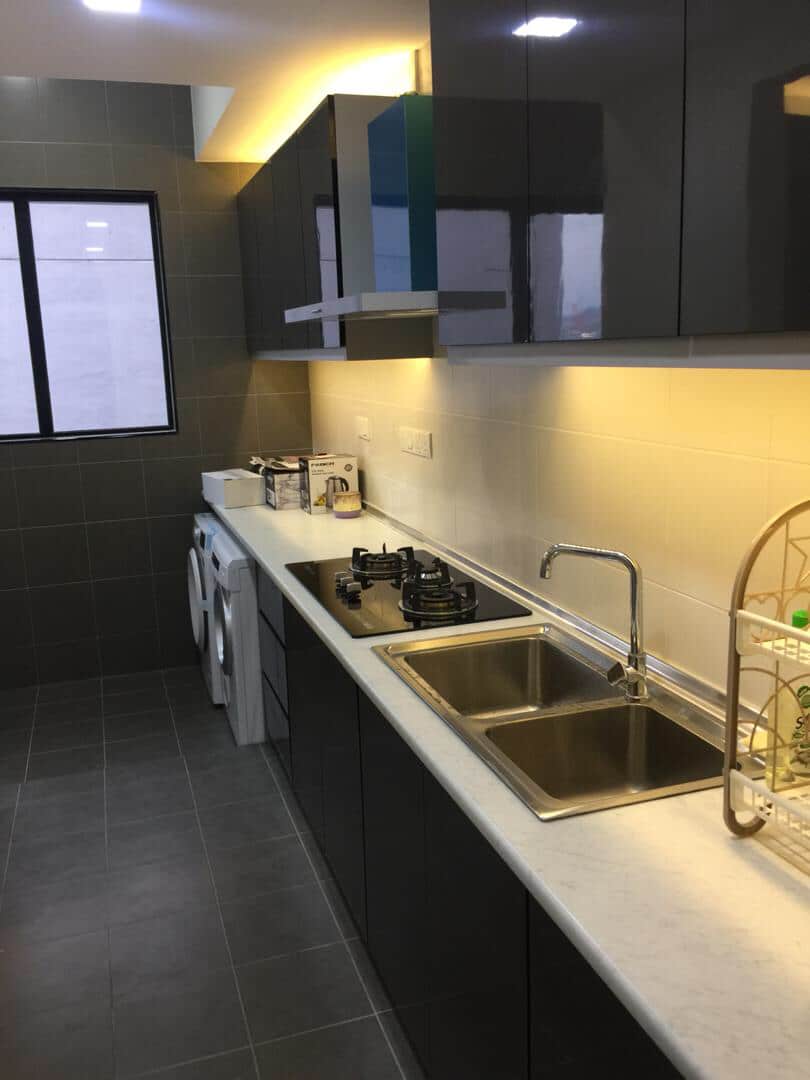 Above: Wet kitchen area that extends to laundry area includes a space for washing machine and dryer under the kitchen cabinet.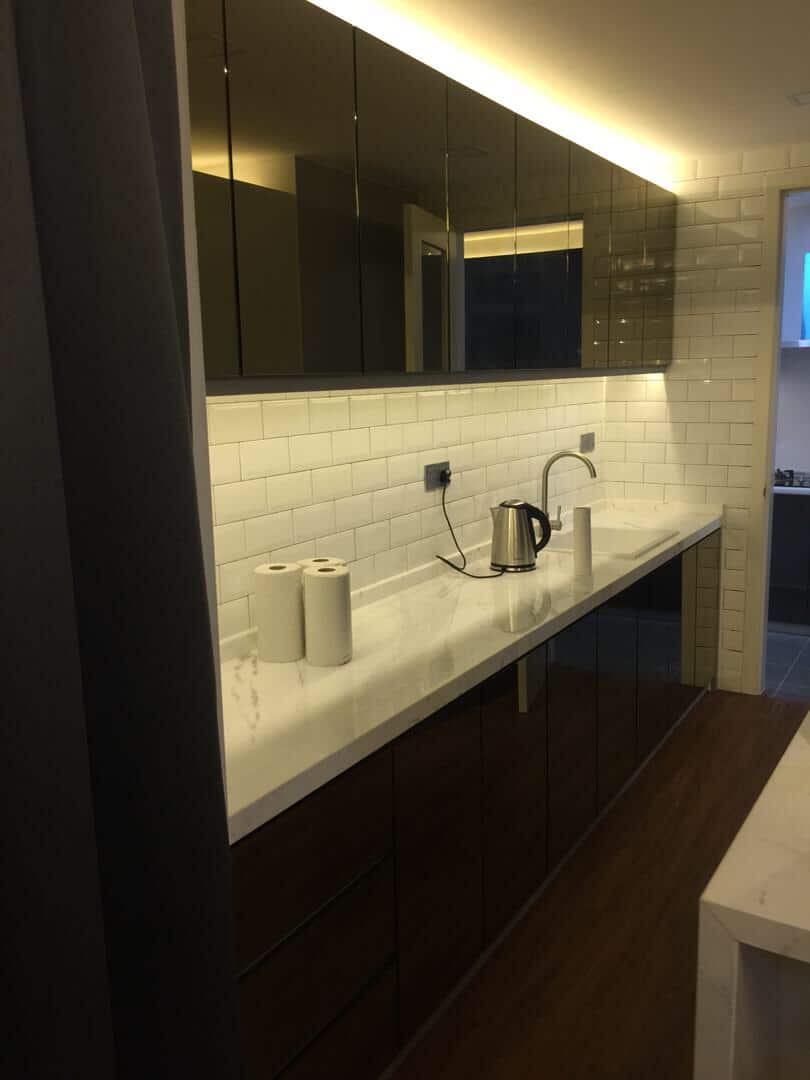 Above: Dry kitchen area includes ample storage space and counter space. A kitchen island was also added to separate the dining from the dry kitchen, and create a space for socialising and entertaining.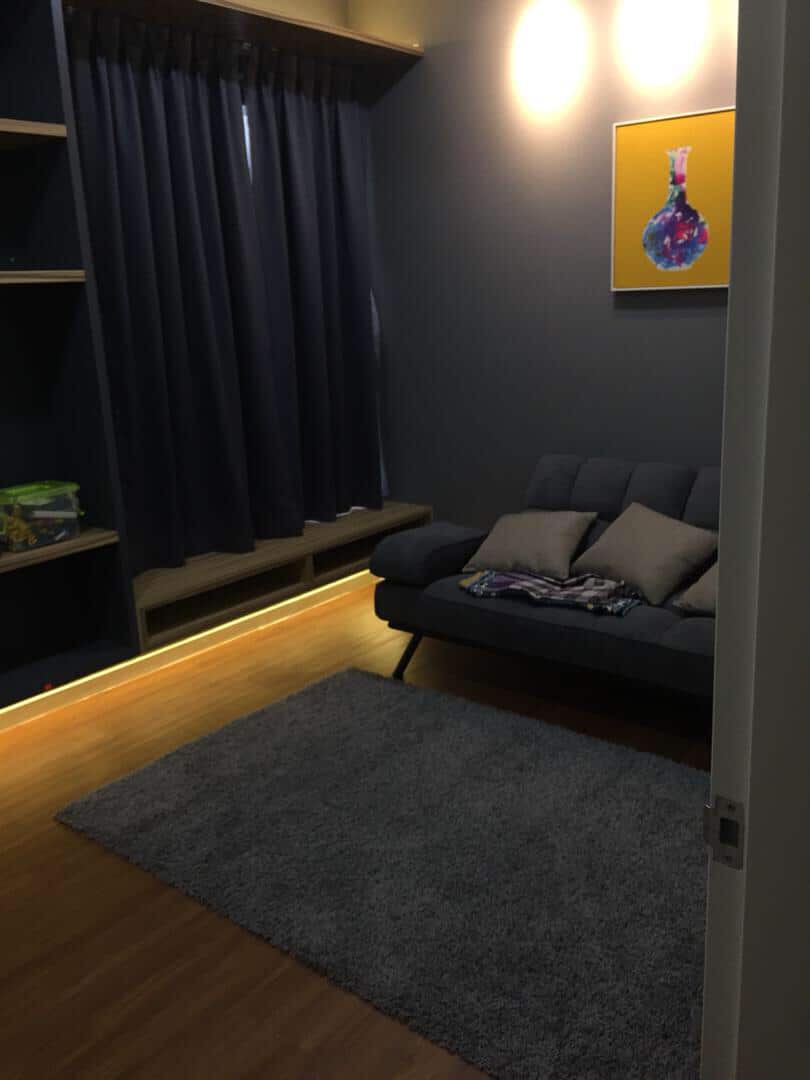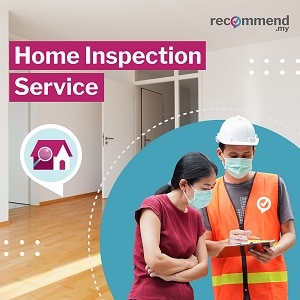 Above: Lounge area with floating cabinets and under-lighting.
A comfortable home in record time
Jason was glad to have used Recommend.my, otherwise the project might not have been completed on time.
"I would give Recommend.my 5-stars. I really appreciate their team's follow up as well as the great work from KAIU. Initially, when I tried other online platforms, there was no revert at all. And those that did respond through other platforms would do a site visit and never follow up after that," he said.
"I would give Recommend.my 5-stars" – homeowner
"The KAIU team were also fast and efficient. They were very helpful and I will for sure recommend them to others. They were the only company willing to jump in and solve this for me in such a short time," he added.
Find the best interior designers
Recommend.my has over 700 interior designers that are ready to help you design your home. They can work with your design requirements and budget!