The kitchen is one of the busiest rooms in the house, so it makes sense to want to invest more money to renovate it.
But, kitchen renovation costs can quickly add up if you're not careful. For examples, the type of materials you use; the way they are installed; as well as the 'nice-to-have' items can easily cause your budget to inflate.
The good thing is, there are ways to get a budget kitchen renovation without emptying your pocket. Just follow these top cost-saving tips from our kitchen specialists in Malaysia.
Need kitchen renovation for your home?
At Recommend.my, we have plenty of contractors to help you design your kitchen. With a limited budget, you can still have your dream kitchen! Just tell us more about your requirements and budget so that we can connect you with the right contractor!
1. Don't change the layout
We all love to work in a spacious kitchen but if you are on a tight budget, keeping the original layout will help you save a huge sum of money.
Intech Kitchen Sdn Bhd kitchen planner Jasper Kum said it's all about improving the use of kitchen cabinet space.
"Instead of hacking down walls to expand your kitchen, discuss with your kitchen specialist or interior designer on maximising space with storage ideas," he said.
2. Go for standard sizes
By default, manufacturers in Malaysia will build kitchen cabinets according to a standard size of 1.5ft (width) x 2.5ft (height) x 1ft (depth). This is equivalent to 45.72 cm (width) x 76.2 cm (height) x 30.48 cm (depth).
But some homeowners like to request for customised cabinet sizes, such as cabinets that is 3.5ft, or extra deep drawers (like those in a filing cabinet). Or, they want to have double width "pull-up" doors.
The problem with these customisations is that they add cost. When you request for extra-large doors, it also means that your cabinet makers will have to use better quality hinges. And if you ask for extra-deep drawers, you need special drawer runners to match, and ones that can hold up the added weight.
"All these will add up to your bill and it is definitely something you would want to avoid when you are having a tight kitchen renovation budget," he said.
3. Cut out unnecessary accessories
Modern kitchen cabinet manufacturers such as Blum and Hafele offer a wide range of accessories. For example, Blum has their special corner drawer called Space Corner, and Hafele has a special corner wire basket that swings out. Other manufacturers have "one-touch" wire baskets that slide out smoothly.
These extras a undoubtedly sexy (see video below), but will add to the cost.
Instead of asking your cabinet-maker to install these custom-made kitchen, go for standard empty cabinets with doors, and then look for cheaper alternatives.
For example, you can find an organiser tray for your cutlery and knives at IKEA or Daiso at less than RM10.
Other accessories like spice racks or shelf inserts that create more space in your cabinet are also available at a cheaper price.
However, always bear in mind that store-bought organisers may not fit nicely into your drawers or kitchen. So make sure you have the sizes of the items you are planning to buy and give them to your kitchen specialist to add into their design planning.
4. Avoid customising your cabinets to fit in kitchen appliances
Your kitchen may look neat and tidy with tailor-made cabinet that can accommodate special appliances such as wine coolers or microwave ovens. However, if they break down, your replacement appliances may no longer fit in the space and you may have to fork out more money to fix the problem.
Though it may affect the overall design look, not having any electrical appliances fixed into a built-in cabinet will save you the trouble and the cost of changing your cabinet to fit in any replacement should the current ones break down.
IIKO Concept project director Ion Chong also suggests homeowners to choose freestanding oven instead of a built-in oven.
"If you would like to have oven and stove in the kitchen, get a free-standing stove oven set. This helps you save on the cost of built-in cabinet as the dimension of your cabinet will be smaller," he said.
Another way homeowners can save during a kitchen renovation is to choose a top mount sink over an under mounted one. A top mount sink, which is cheaper, is placed into the hole in the countertop that has been prepared for this purpose whereas an under mounted one hangs underneath the counter top.
Another way homeowners can save during a kitchen renovation is to choose a top mount sink over an under mounted one
"The benefit of a top mount sink is when it is spoilt, it can be easily lifted up from the hole and a replacement sink can be installed at the same place. However, if there is any damage to an under mounted sink, the entire counter top will have to be removed and replaced, which will cost more," Chong said.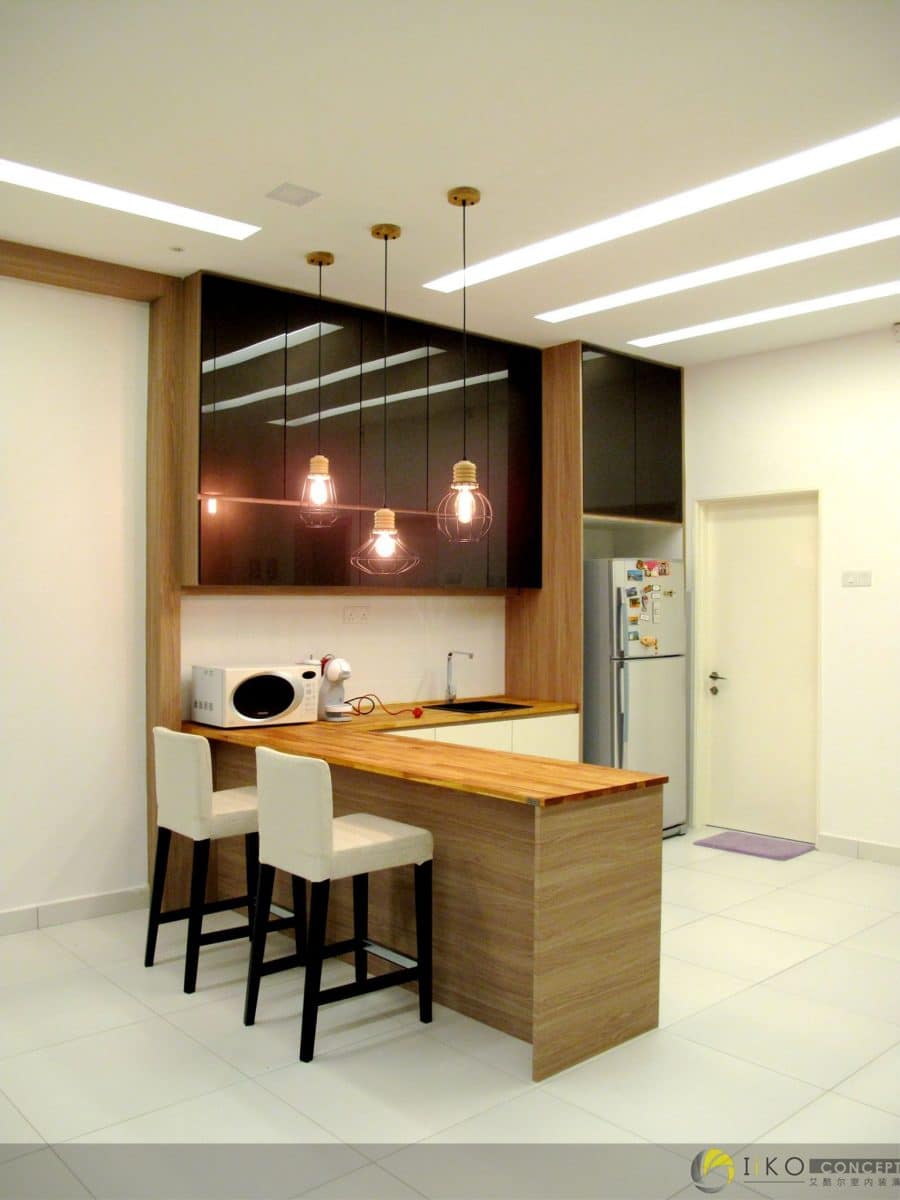 5. Instead of cooker hoods, get a ventilation fan
Cooker hoods work well to remove odour, airborne grease, smoke, heat and steam but it is not something you can't live without. Instead of buying a cooker hood, you may consider installing a ventilation fan, which is much cheaper, to pull out the air from your kitchen and eliminate the cooking smell. A ventilation fan is great too for Malaysian kitchens as it works well in keeping a room cool even when you are not cooking.
However, be sure to design your cooking area nearer to the ventilation fan as the suction may not be as good as a cooker hood.
For those who are planning to get a cooker hood, remember to put the stove nearer to a window or any wall access to the outside. This is to allow cooker hood ducting to be installed without using a longer ducting that is connected to the exterior.
"You may need to pay more if a longer ducting is required. There will also be additional cost to cover up the exposed ducting," Chong said.
6. Keep your existing flooring
To save on renovation cost, Chong suggests homeowners, especially those who are renovating new homes, to retain the existing flooring, which has been done by developers.
"Nowadays many new homes come with tiles in the kitchen and not changing them will help keep the renovation cost low," he said.
If your existing flooring is too old, Chong suggests replacing it with vinyl flooring as it is a cheaper option compared to laminate or tiles.
However, this is true provided the original floor surface is smooth and level. "Otherwise, you may have to fork out more money just to make it level," he said.
7. Save on electrical outlets and lights
Lots of showroom kitchens have under-cabinet lights along the entire length of the cabinet. They look great, but may not be necessary.
Chong suggests homeowners to only install these lights at the sink area and skip the rest. "In the rest of the kitchen counter areas, very few customers would actually switch them on in a real home environment."
And, instead of installing power outlets built into the cabinets or walls, homeowners can opt for power tracks such as Eubiq.
"The more built-in power points you request, the more you need to pay for hacking and installation. For a cheaper option, you can use power tracks which works equally well. They also give you the flexibility to add more outlets later," he said.
8. Plan ahead and don't change your mind later
Chong said it is a common mistake for homeowners to change their mind midway through a renovation.
"This may be because they had a different expectation of what the kitchen should look like, but when they see that the actual kitchen doesn't match it, their first instinct is to start all over again,"
"Any changes to the original plan will incur extra charges, especially when an order has been placed."

– Ion Chong, Project Director, IIKO Concept
Chong also said homeowners must make special plans for appliances such as water filters, coffee machines and dishwashers, because these need a water supply and an extra power outlet.
"If you have plans to buy these items, you must inform your contractor or interior designer in advance. They will need to plan the space to accommodate them, and install the plumbing and electrical connections," he said.
This is to avoid putting additional features to the kitchen after a renovation is completed, which may incur more charges.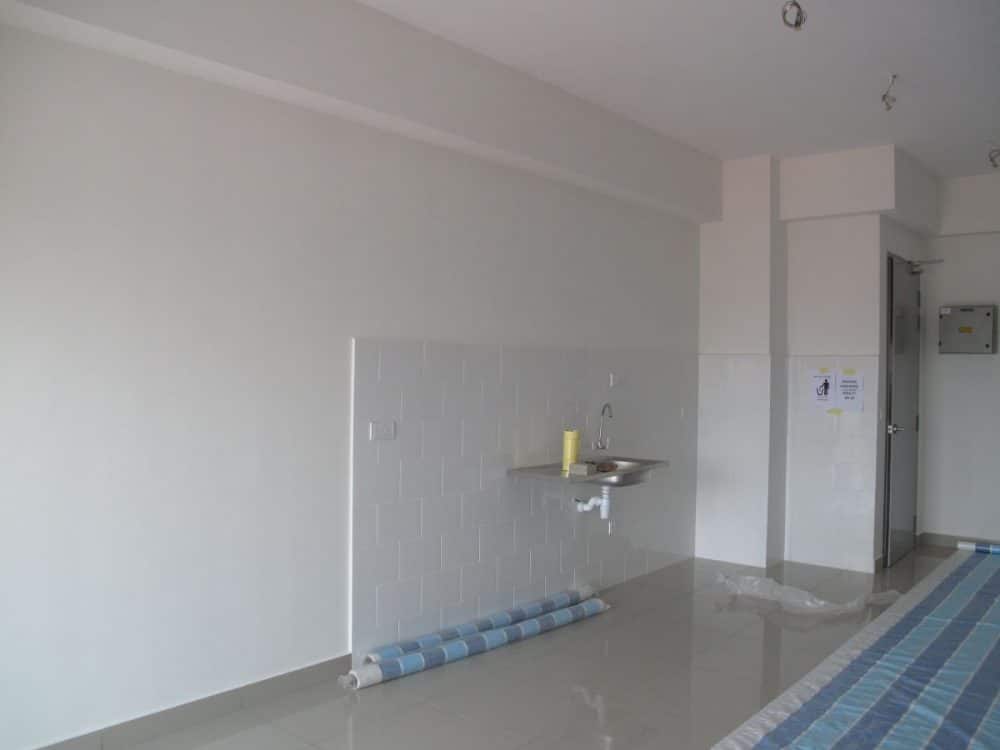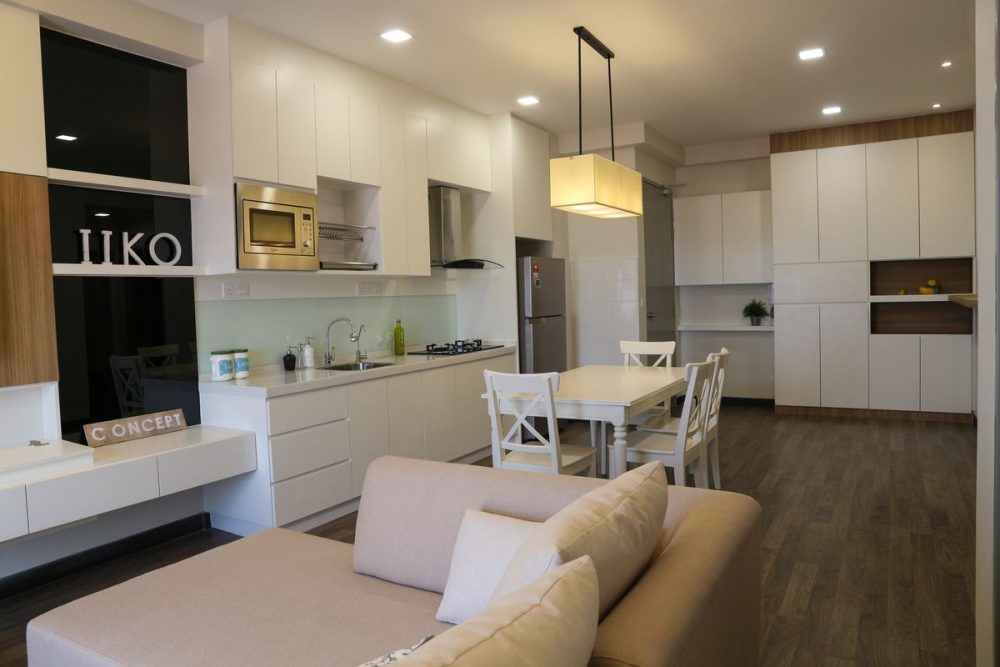 9. Choose more affordable materials
Do you really need a granite kitchen countertop? Instead of going for high-end materials, choose more affordable alternatives such as solid surface or tiles.
Not only is solid surface more affordable, it offers even more versatility in design, too.
As for your kitchen cabinet frames, why not use melamine wrapped chipboard instead of laminated plywood? After all, that's what most IKEA furniture is made from, and that's what makes it affordable.
One trick to save costs is to go with melamine chipboard for the kitchen cabinet frame, and only upgrade the doors to laminated plywood (or coloured acrylic). This way, you get the benefits of stylish designs and colours, without building your entire kitchen out of premium materials.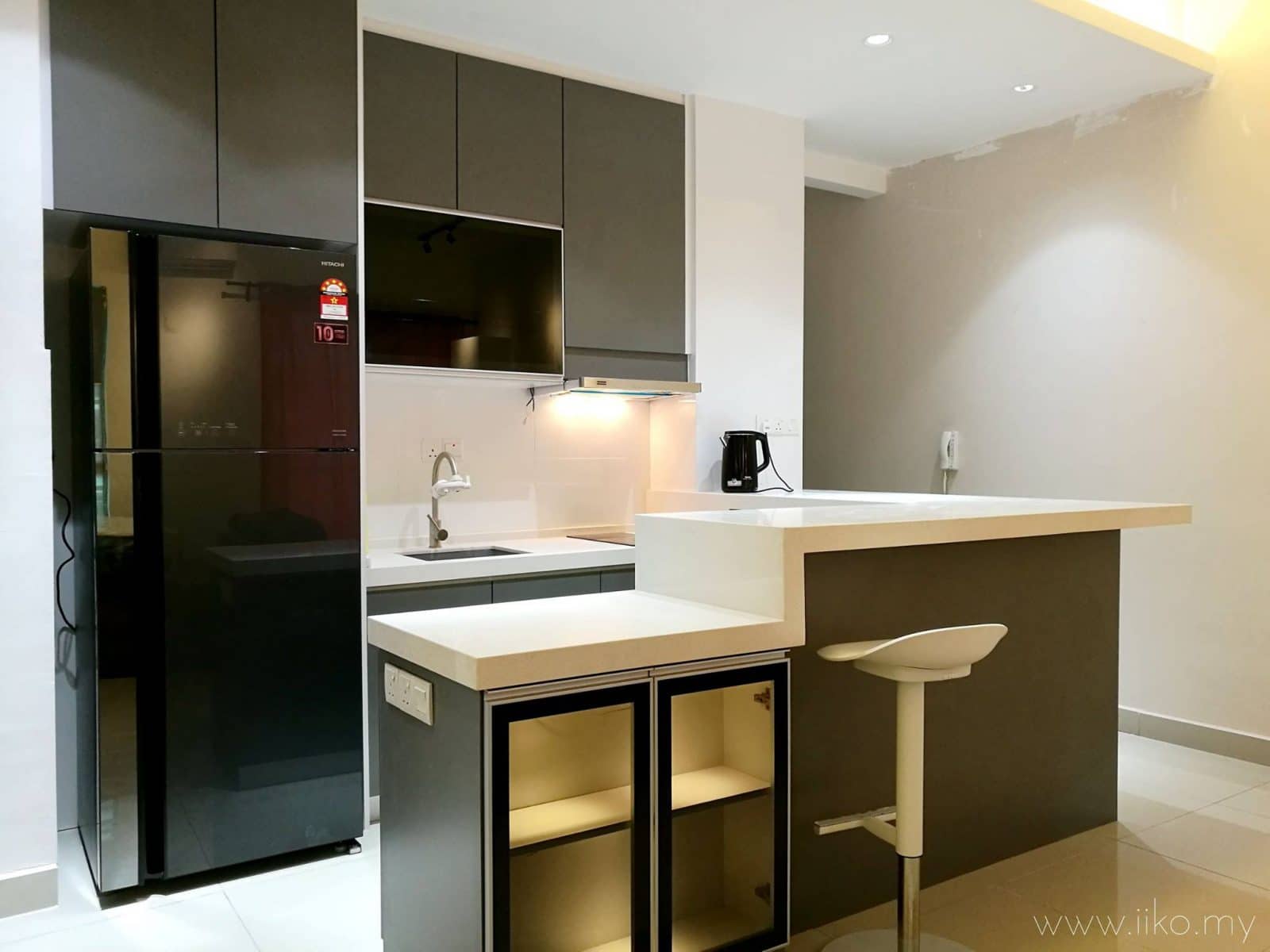 10. If you have a standard floor plan, go for a kitchen package
Save money on kitchen designs and buy a kitchen package instead.
Websites like Recommend.my can provide a selection of made-to-order kitchen cabinets from different cabinet contractors, based on a pre-designed template. The cost of design is absorbed, and by consolidating orders, the kitchen can be offered at a lower price, while maintaining the quality of materials and workmanship.
11. Hire an interior designer
This may sound like additional cost, but hiring an interior design for your kitchen can actually save money.
Firstly, a kitchen design specialist knows how create a layout and design that uses standard cabinet sizes and doors, but personalise it to your style and organisational preferences.
Secondly, they know the right kitchen cabinet materials to use. For example, using melamine cabinets at dry areas, and laminated plywood or aluminium at areas that get wet more frequently.
Thirdly, they know how to work with awkward spaces and corners to maximise storage and utility.
And finally, they will be able to spot any potential problems and plan for it before any building works begin. For example, there may be a supporting pillar along your kitchen wall that juts out, and they need to work around it. Or, if they know that you need a dishwasher, they can plan for the plumbing.
"You may not plan for these things up front if you try to design the kitchen on your own. Hiring a designer who specialises in kitchens will help owners save money because it will avoid any additional work later," said Chong.
"They are also meticulous enough to look after the details that many homeowners may overlook. This is important especially for those who are unfamiliar with renovation works, " he said.
He also reminded homeowners to have everything in black and white to avoid having any dispute at a later stage.
Conclusion: A Budget Kitchen Renovation is Possible
When I first started my kitchen renovation, I wanted it to look exactly like the magazine photo. But not everyone has that kind of budget.
Thankfully, with good advice from my kitchen specialist, I was able to get (almost) everything I wanted, yet stay within budget. With his help, I chose suitable materials, planned out a suitable layout, and chose the right accessories. He also made sure I stuck with standard sizes and worked with more affordable materials.
You can do the same, too. Just follow a few simple rules, and you'll soon have a stylish, functional kitchen that can be easily maintained.
Need kitchen renovation for your home?
At Recommend.my, we have plenty of contractors to help you design your kitchen. With a limited budget, you can still have your dream kitchen! Just tell us more about your requirements and budget so that we can connect you with the right contractor!