"This home got high ceiling, you know?" – any property agent in Malaysia
In any home, a high ceiling is always counted as a major selling point. And, any property that has a high ceiling will command a premium price.
Bungalows and semi-detached homes are the best examples of high-ceiling architecture.
With greater floor space and two storeys, bungalows and semi-d houses have the luxury to create a living room with double-height ceilings, with the second floor hallway overlooking it.
And if you've ever browsed the Internet for bungalow interior designs, the ones that look better almost always feature a high ceiling.
But, beyond increasing the property price, is there any real benefit to having a bungalow design with a high ceiling? Property agents will always use it as a plus point. However, as a resident, are there other benefits to living in a high-ceiling home? According to scientific research, there is.
The mental benefits of a high-ceiling bungalow design
According to research, the height of a ceiling can influence the way you think. The findings suggested that, "when a person is in a space with a 10-foot ceiling (3m), they will tend to think more freely and more abstractly. Whereas a person in a room with an 8-foot ceiling (2.4m) will be more likely to focus on specifics."
The researchers attribute this effect to the psychological freedom experienced in a room with a higher ceiling. This mindset is also thought to improve creative thinking. It could explain why we tend to feel more "inspired" in a large symphony hall, a beautiful library, or an old cathedral.
A separate study also found that people were more likely to judge that a room was beautiful, if it had a high ceiling.
Apart from the mental benefits, a high ceiling has always been a way to cool the home. Traditional Peranakan homes always had an indoor courtyard that provided ventilation. Many terrace homes today also have the airwell in the middle of the house for the same purpose.
Examples of bungalow interior designs with high ceilings
Even if your bungalow has more luxury in the space department, all that extra room may go to waste if it's not properly utilised, or if the design does not take the vertical space into account.
A professional bungalow or semi-d interior designer in Malaysia can make sure that your premium space is used to full effect. And as the research has suggested, the right design will also improve your creativity and expand your thinking.
Here are some examples of bungalow and semi-d interior designs in Malaysia that have taken full advantage of their high ceilings:
1. Sleek and modern bungalow design in Twin Palms, Ampang
This bungalow design utilises large windows, recessed lighting, and reflective finishes to facilitate light so that it can flood and circulate the house. This, along with the linear design and high ceilings, highlights the lofty and sleek look of the home.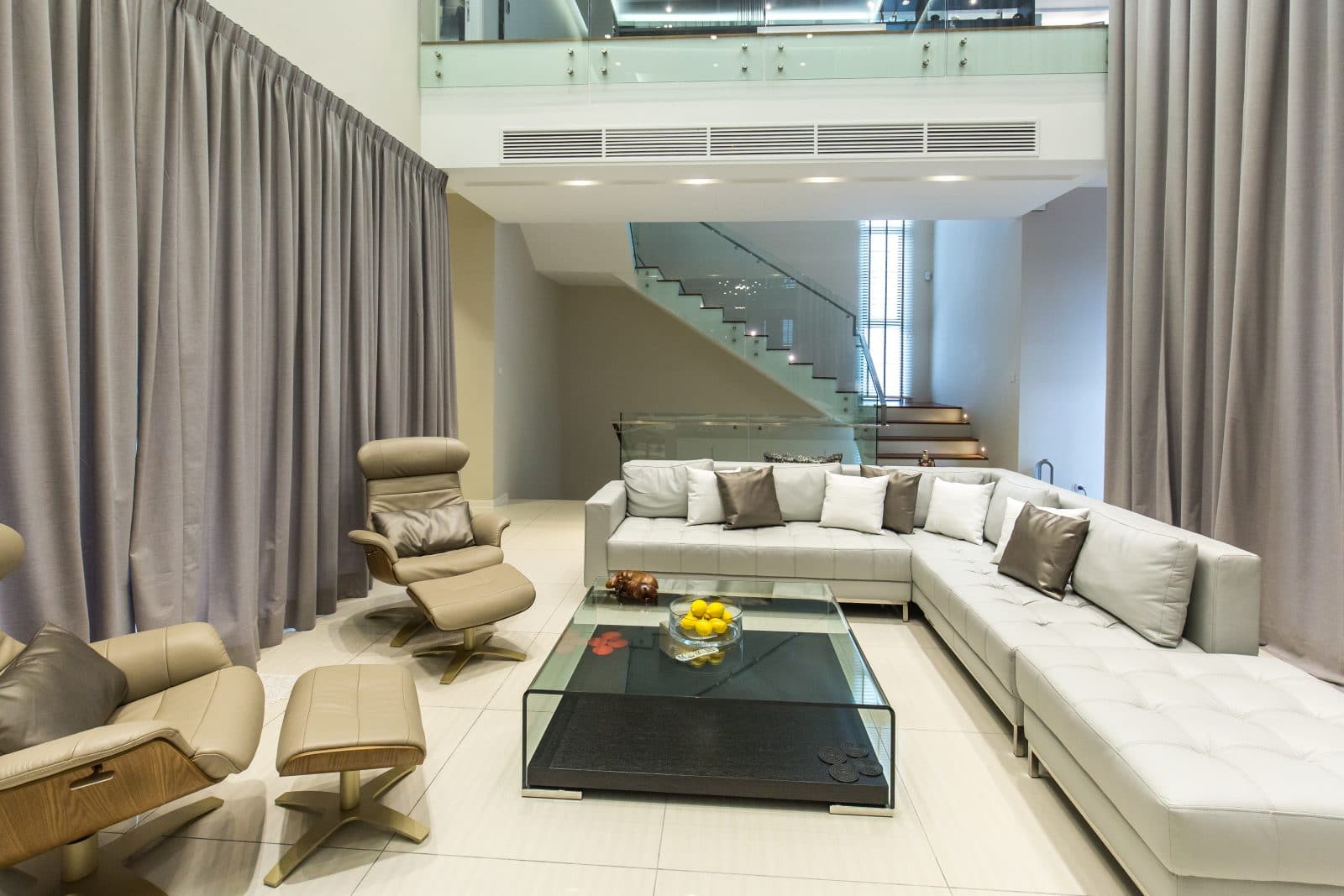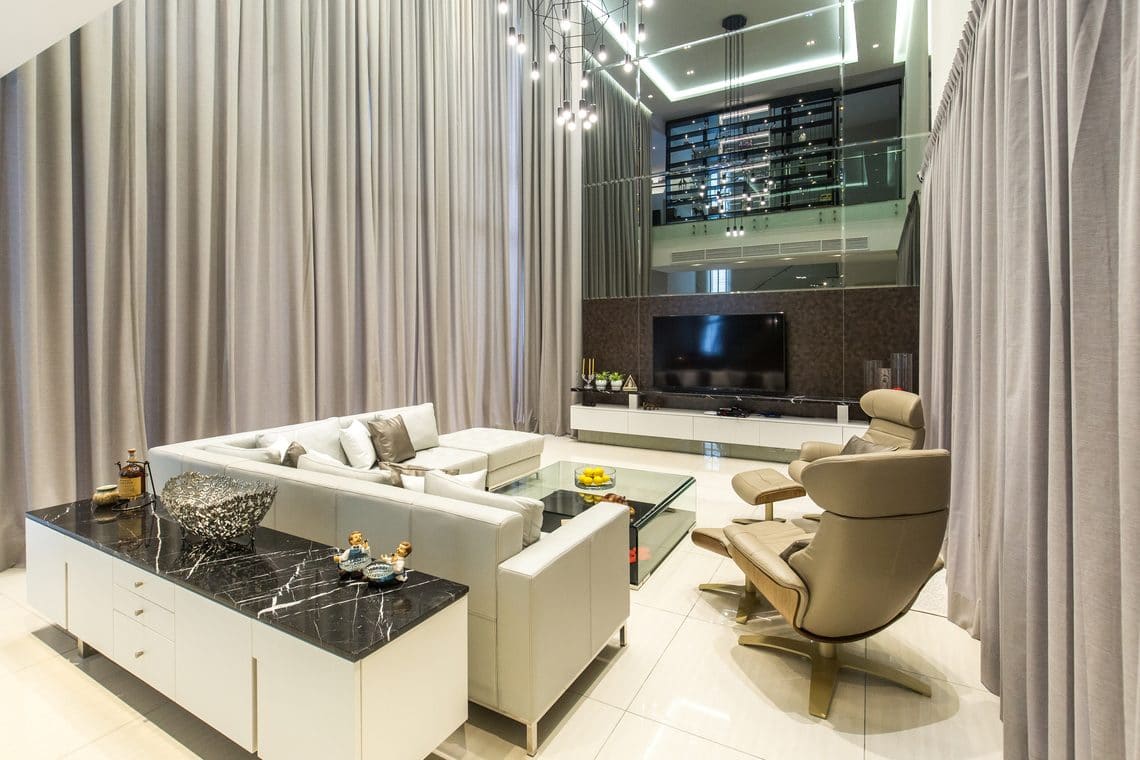 Touring through the rest of the house, a second living room also uses cove lighting to heighten the ceiling.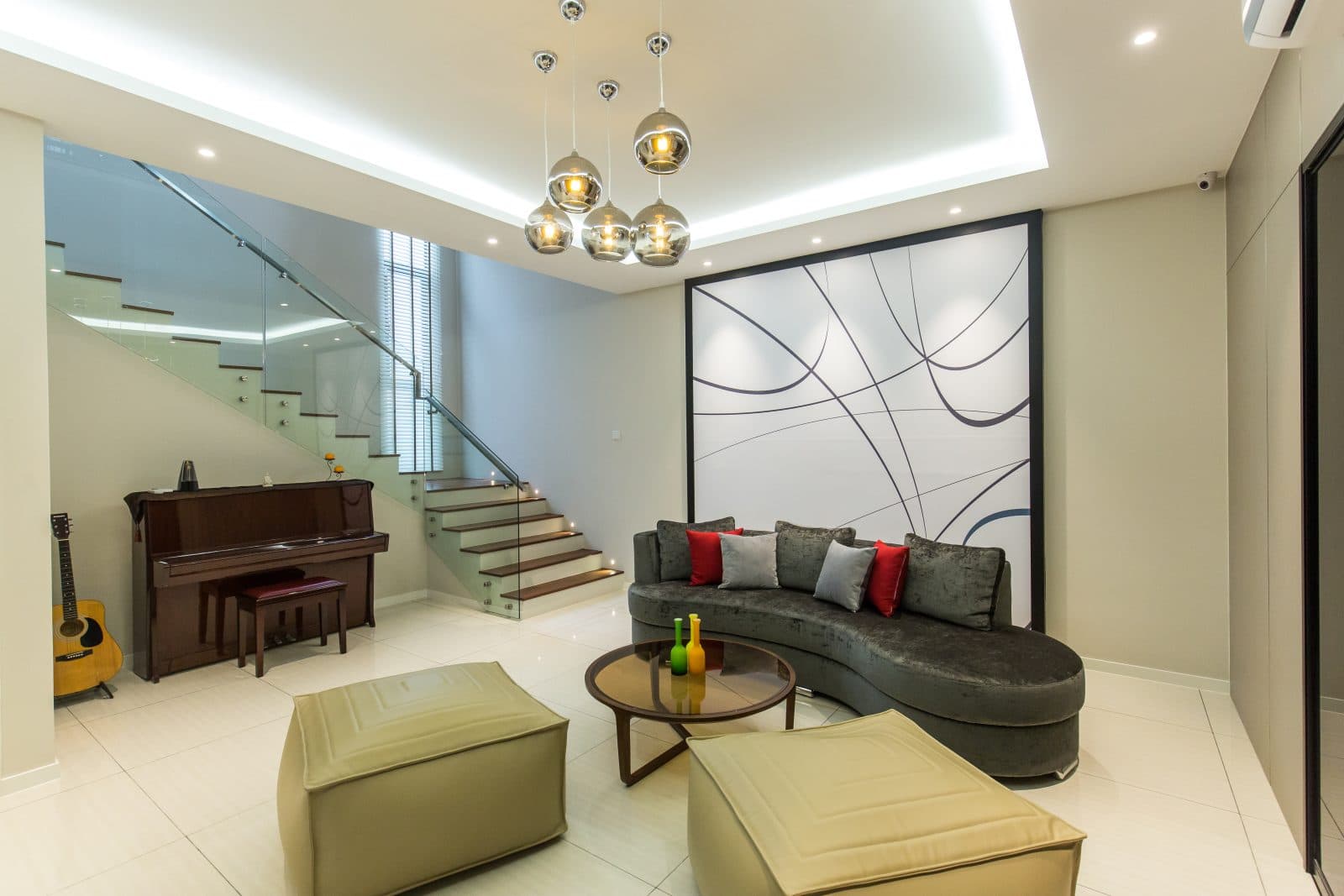 In the kitchen, high windows have been used to flood the ceiling with lots of ambient daylight, thus increasing the sense of expansiveness.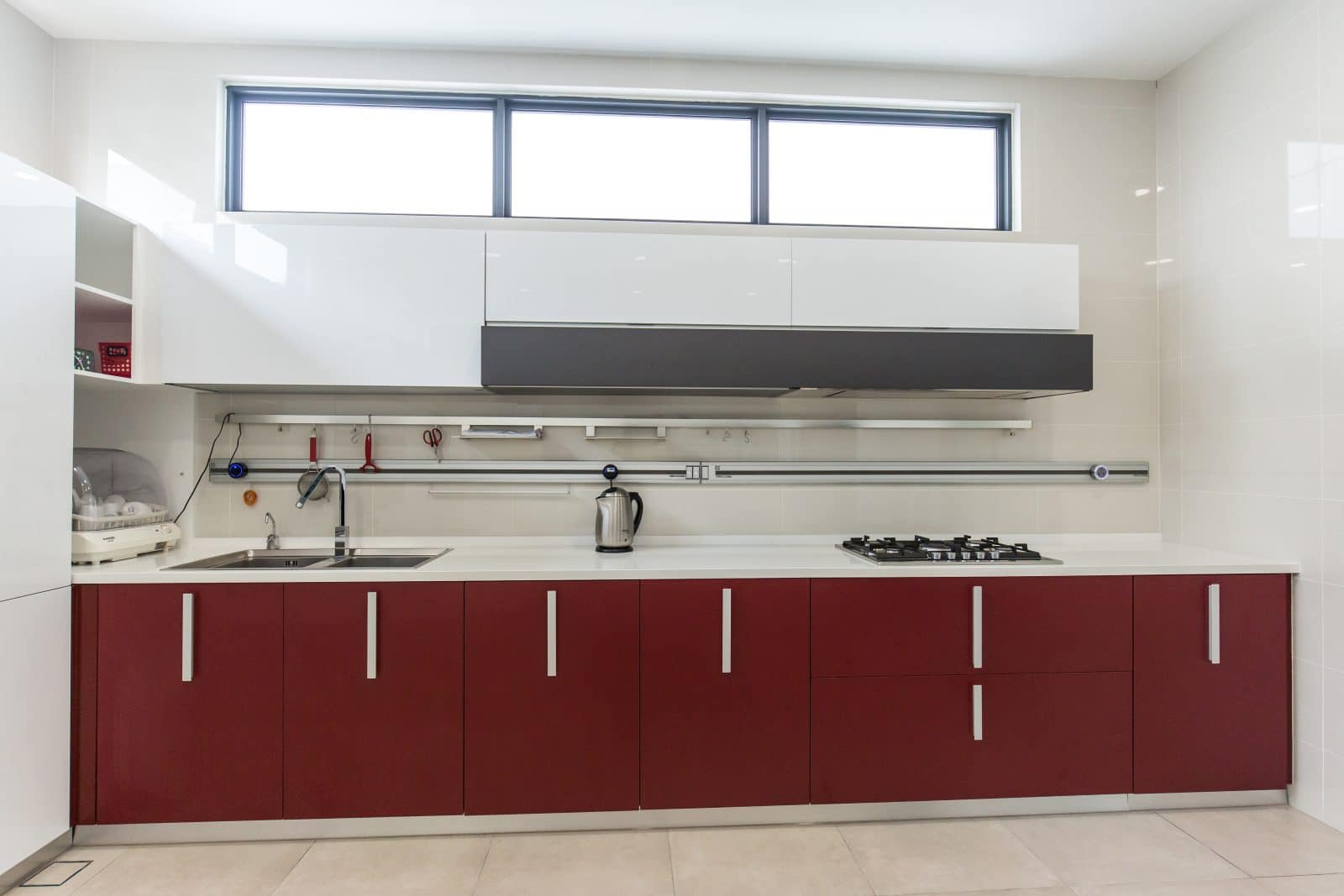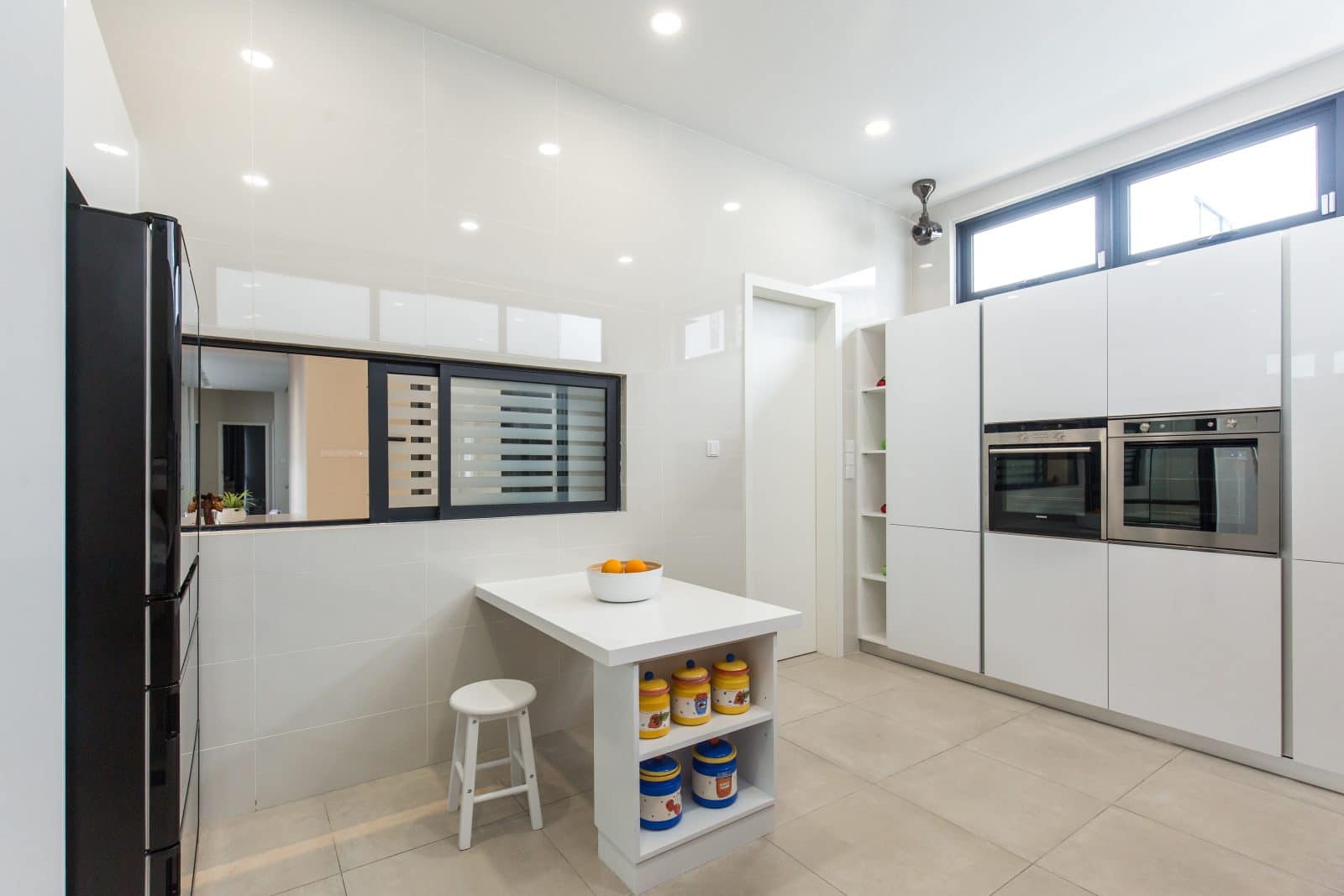 2. Modern classic bungalow interior design in Taman Tar, Ampang
Fusing classic features with modern design, this bungalow in Ampang flaunts a remarkable display of opulence, grandeur, and sophistication. Just look how high the living room ceiling is!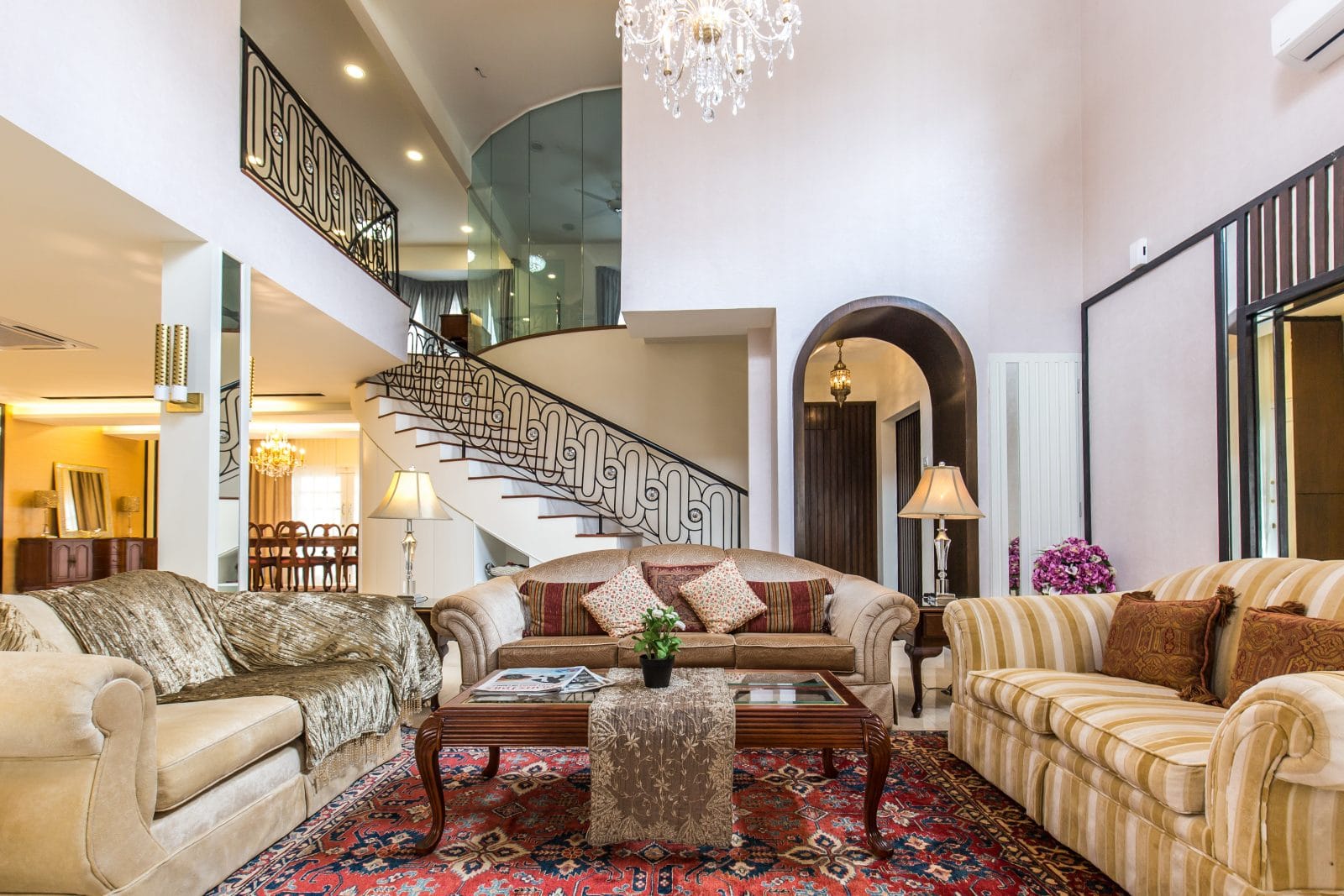 Both the living and dining rooms seamlessly combine classic and modern design styles.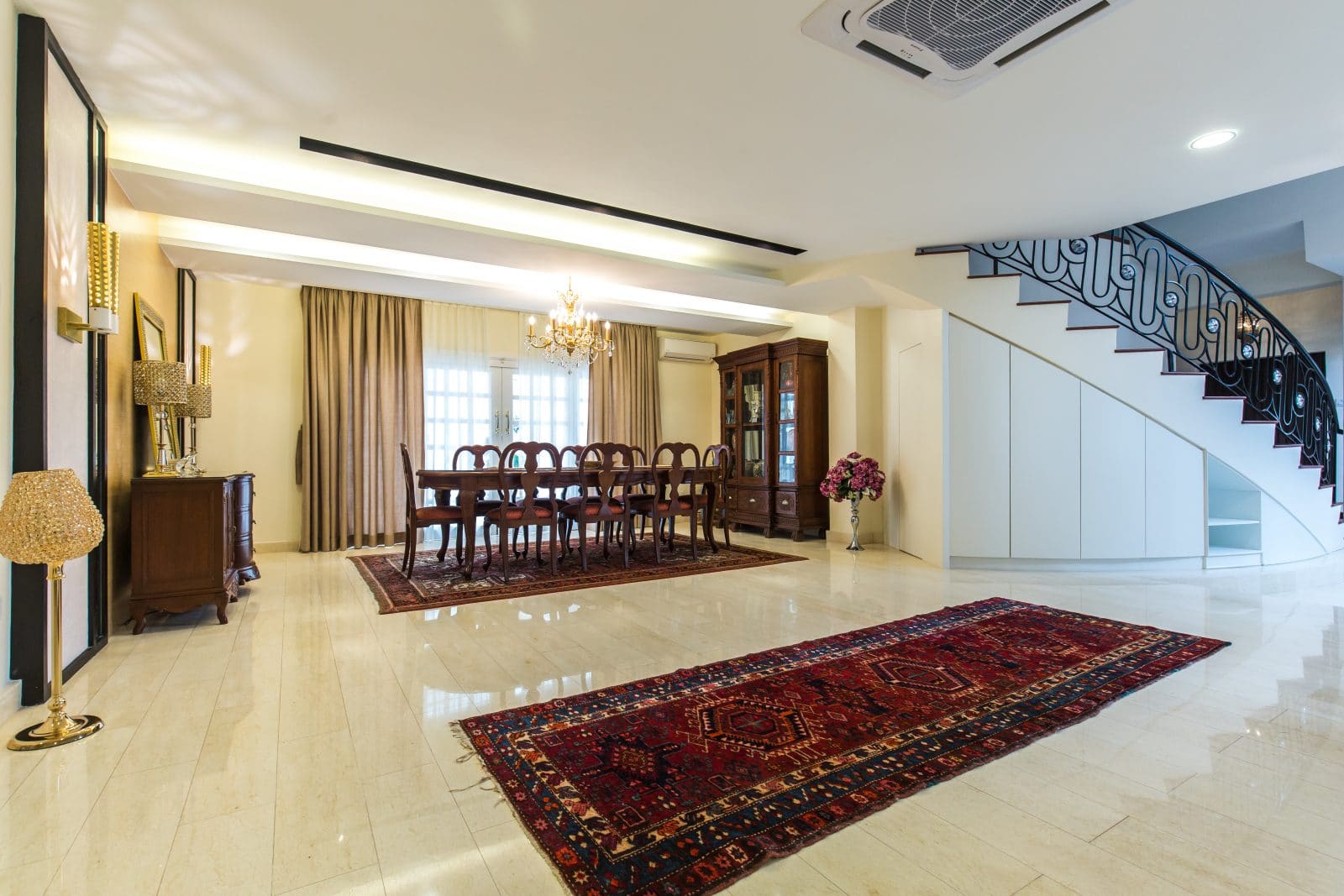 The open plan extends to the kitchen area as well. The kitchen features a classic design layout, with an open floor plan to connect the kitchen with the dining and living areas.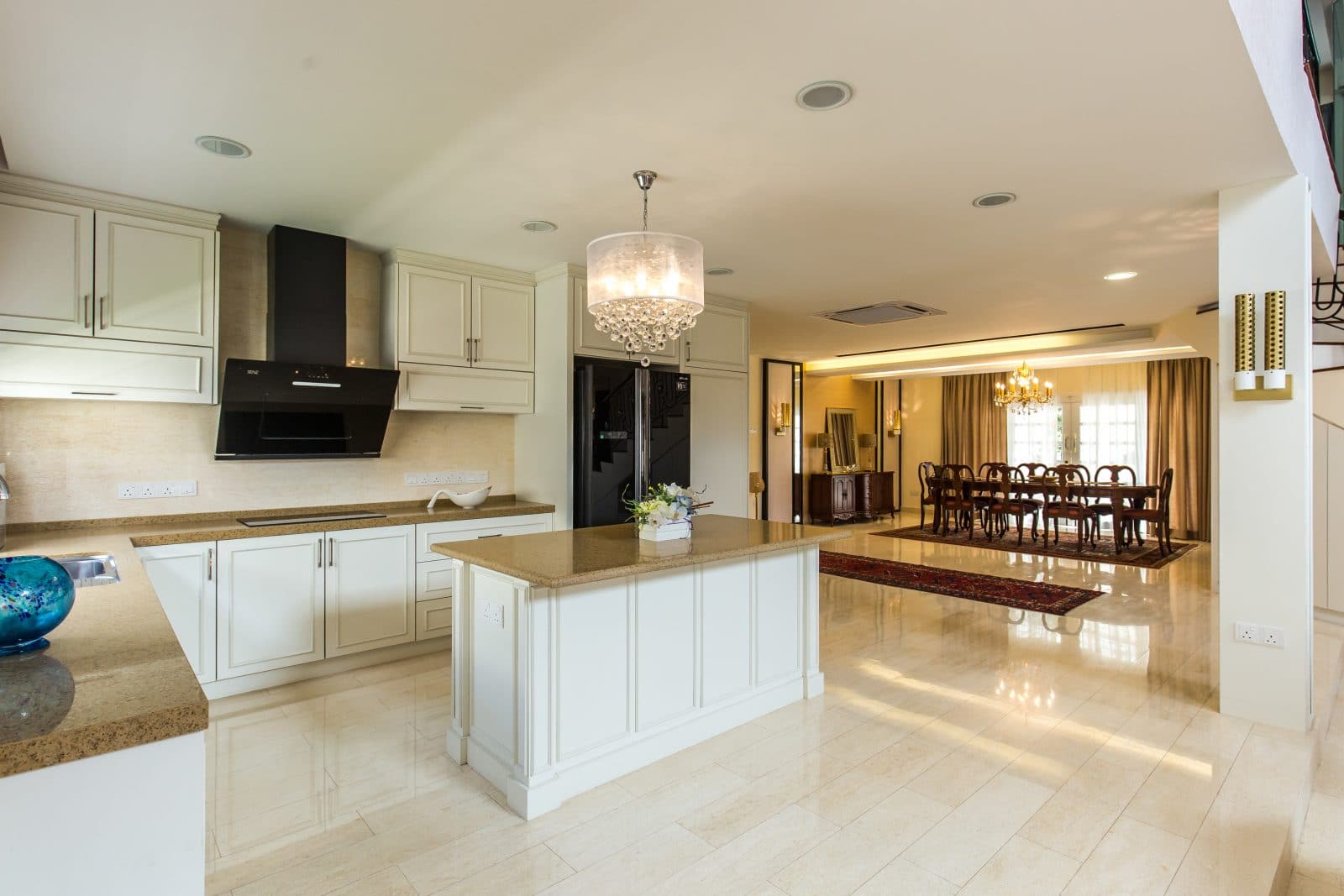 3. Lofty bungalow design in Setia Alam, Shah Alam
This home design may have a l-box false ceiling, but it's only used to provide cove lighting that emphasises the over-3m height of the living room ceiling.
Muted accents, different textures, and eye-catching colours add lots of visual interests around.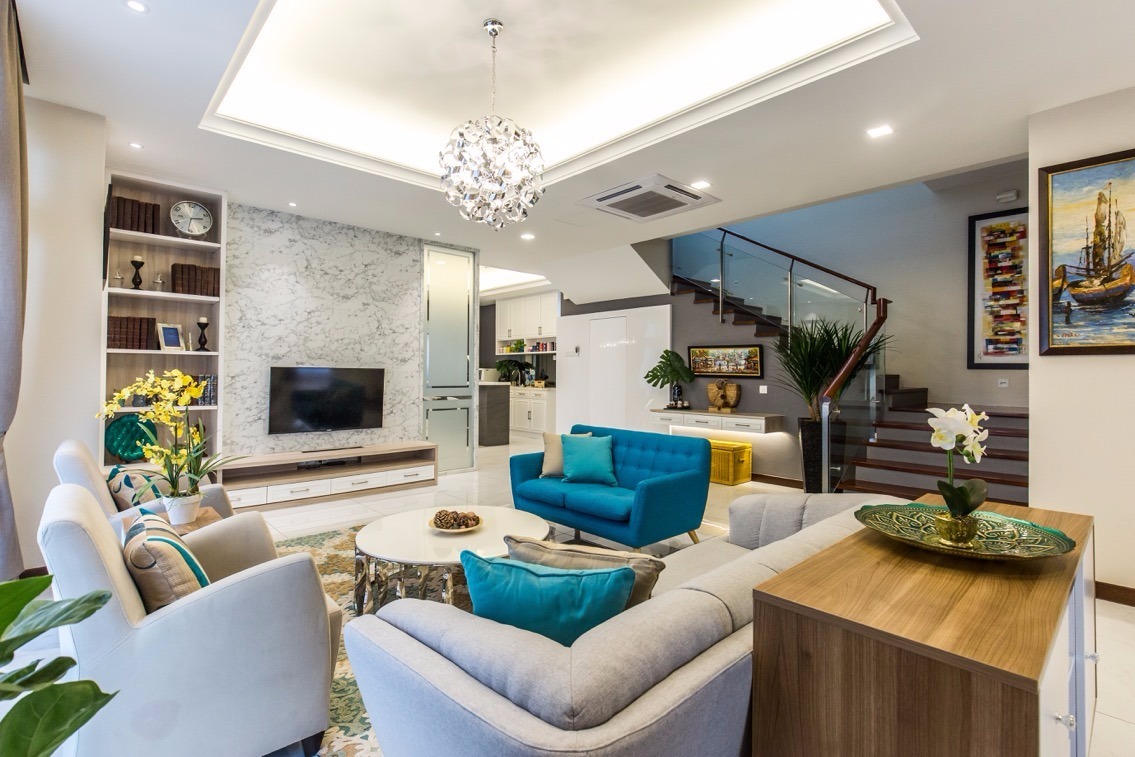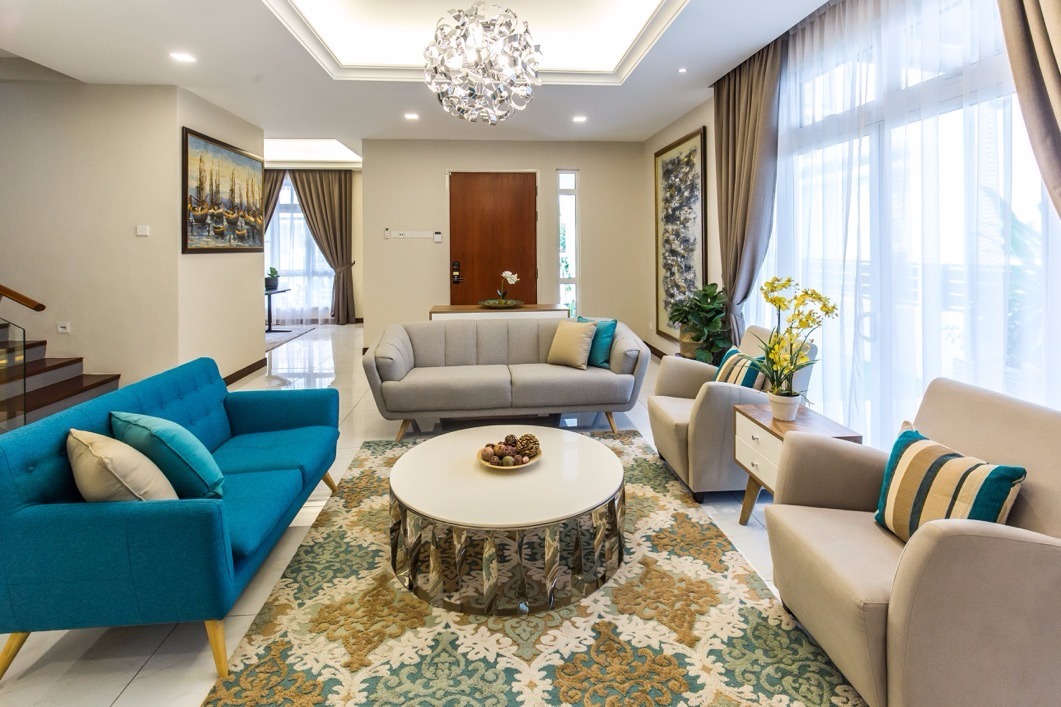 The same technique is used in the dining area, providing a demarcation of the dining space from the living area.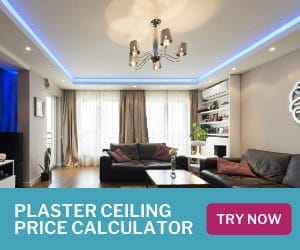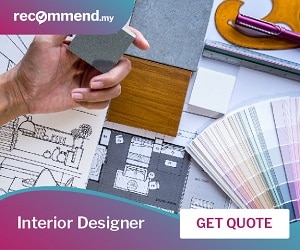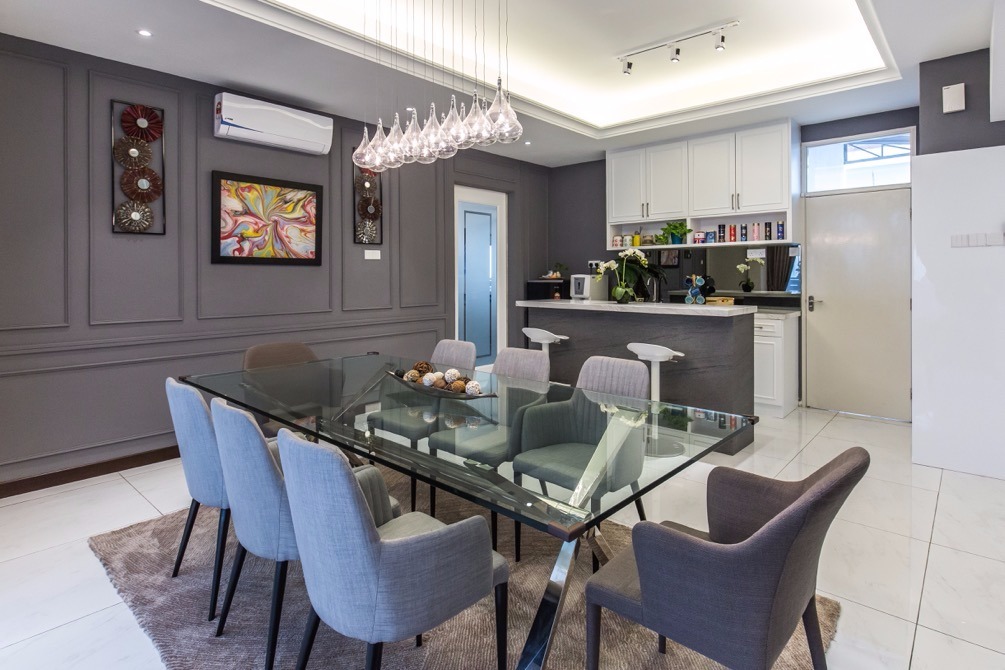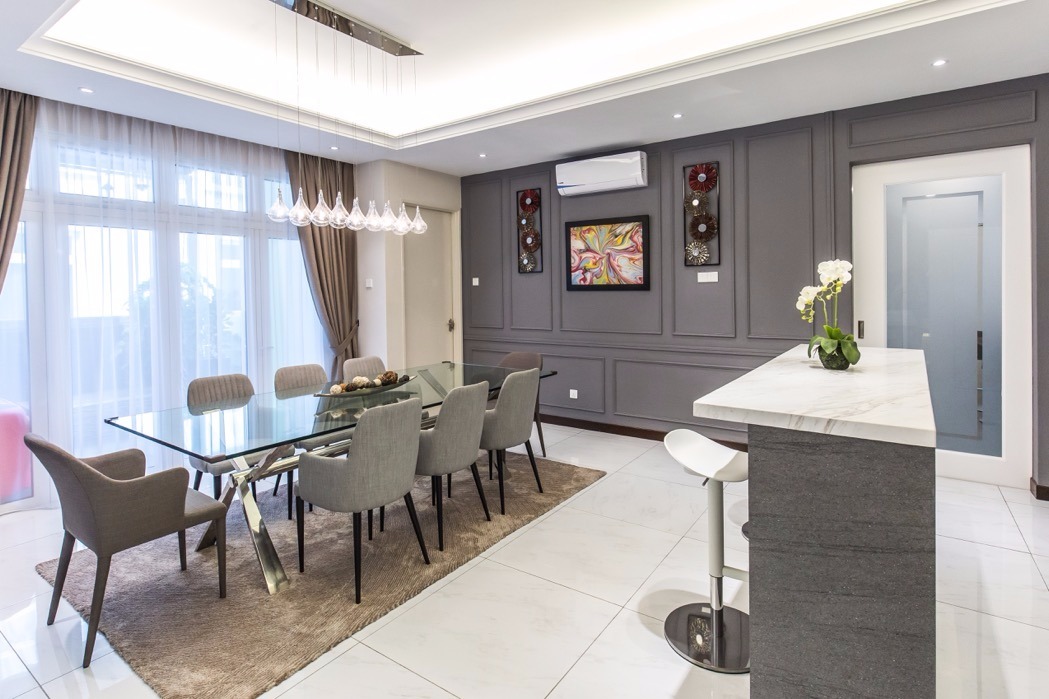 An open-concept design ensures that the streamline design is consistent throughout the living, dining, and kitchen areas.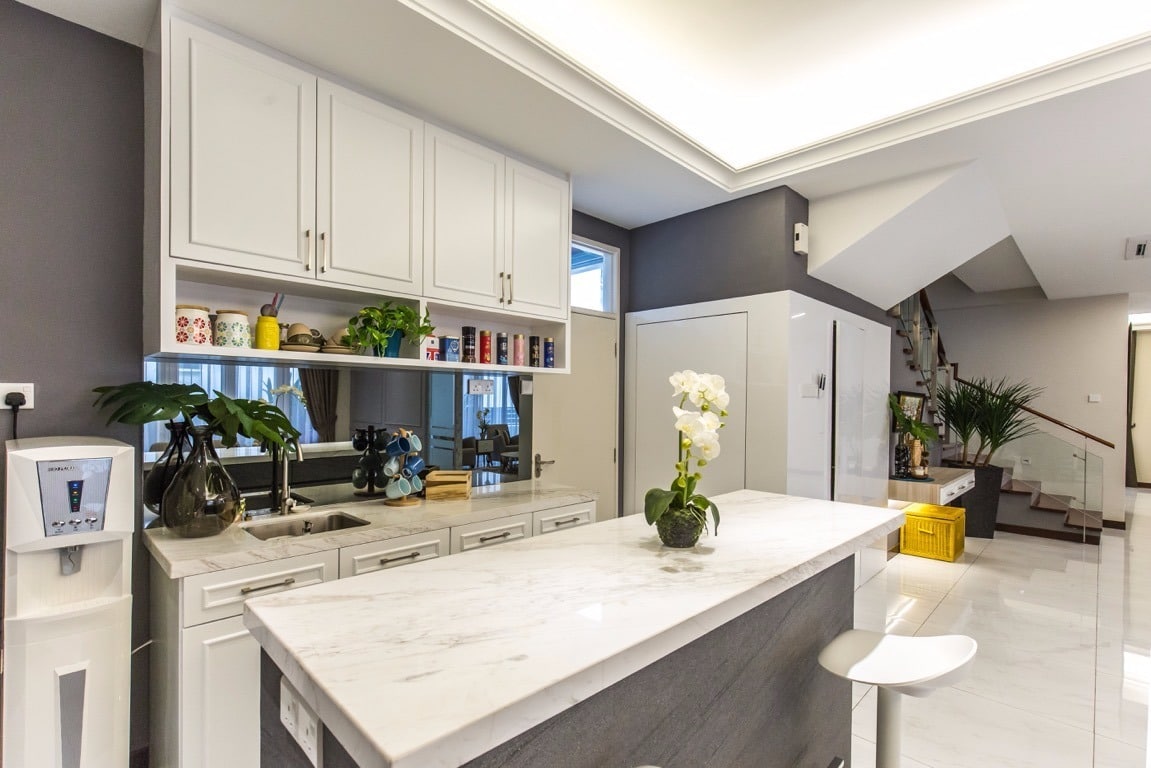 The study also includes an above-3m ceiling that is beautifully lit with cove lighting.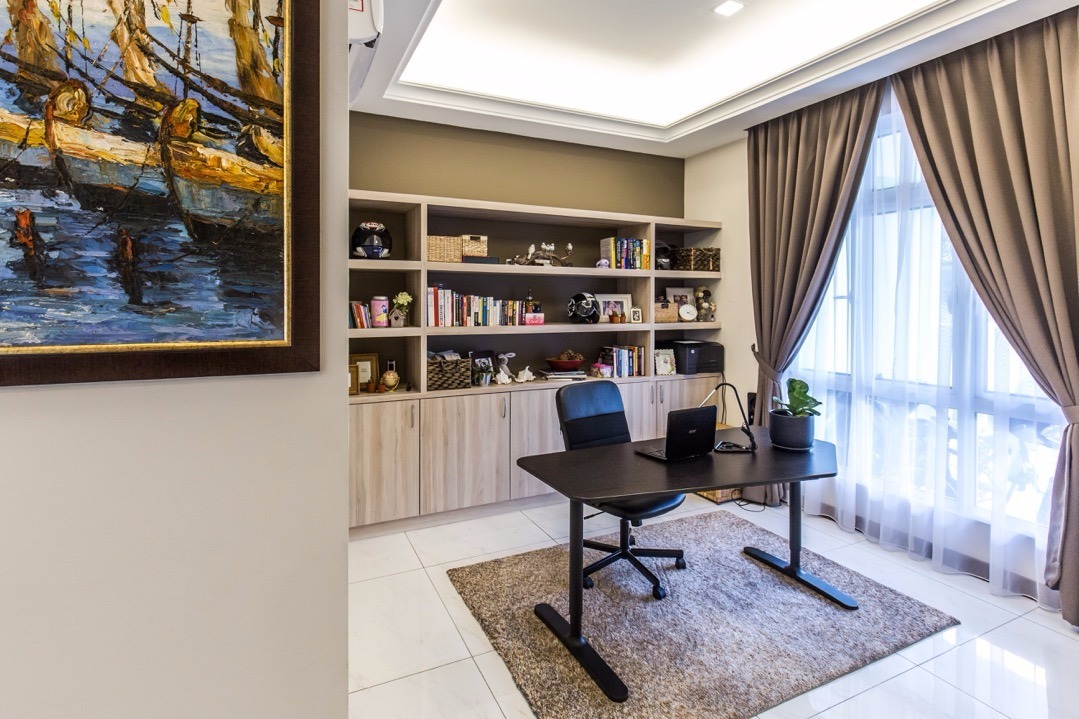 4. Semi-D Interior Design in Shah Alam
In this example, the high ceiling is positioned above the dining area. However, the living room has been cleverly heightened through a mirrored ceiling.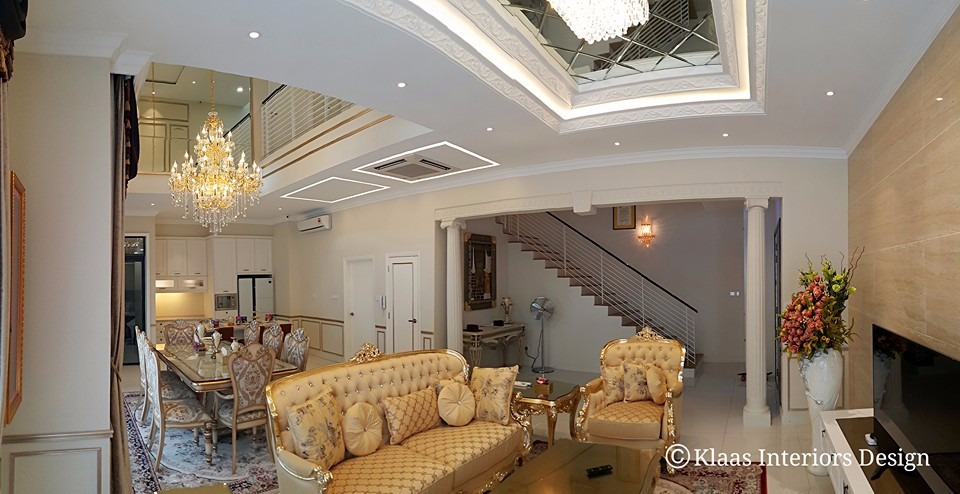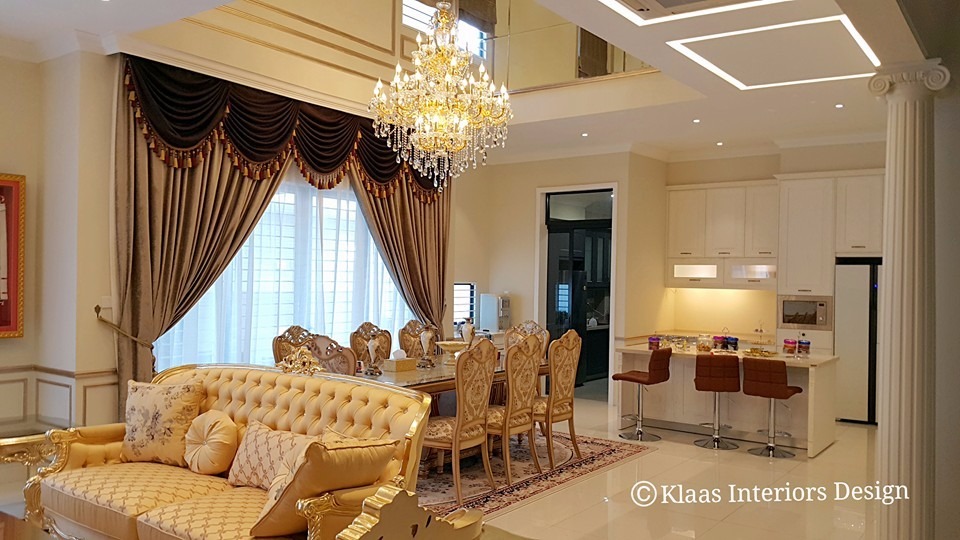 5. Modern bungalow design in Setia Eco Park
The owners of this bungalow decided to draw the eye upwards by incorporating a beautiful curved design into the ceiling, centred by the cassette air-conditioning unit. A reflective dark surface contrasts with the white ceiling to give the feeling of the ceiling extending into infinity.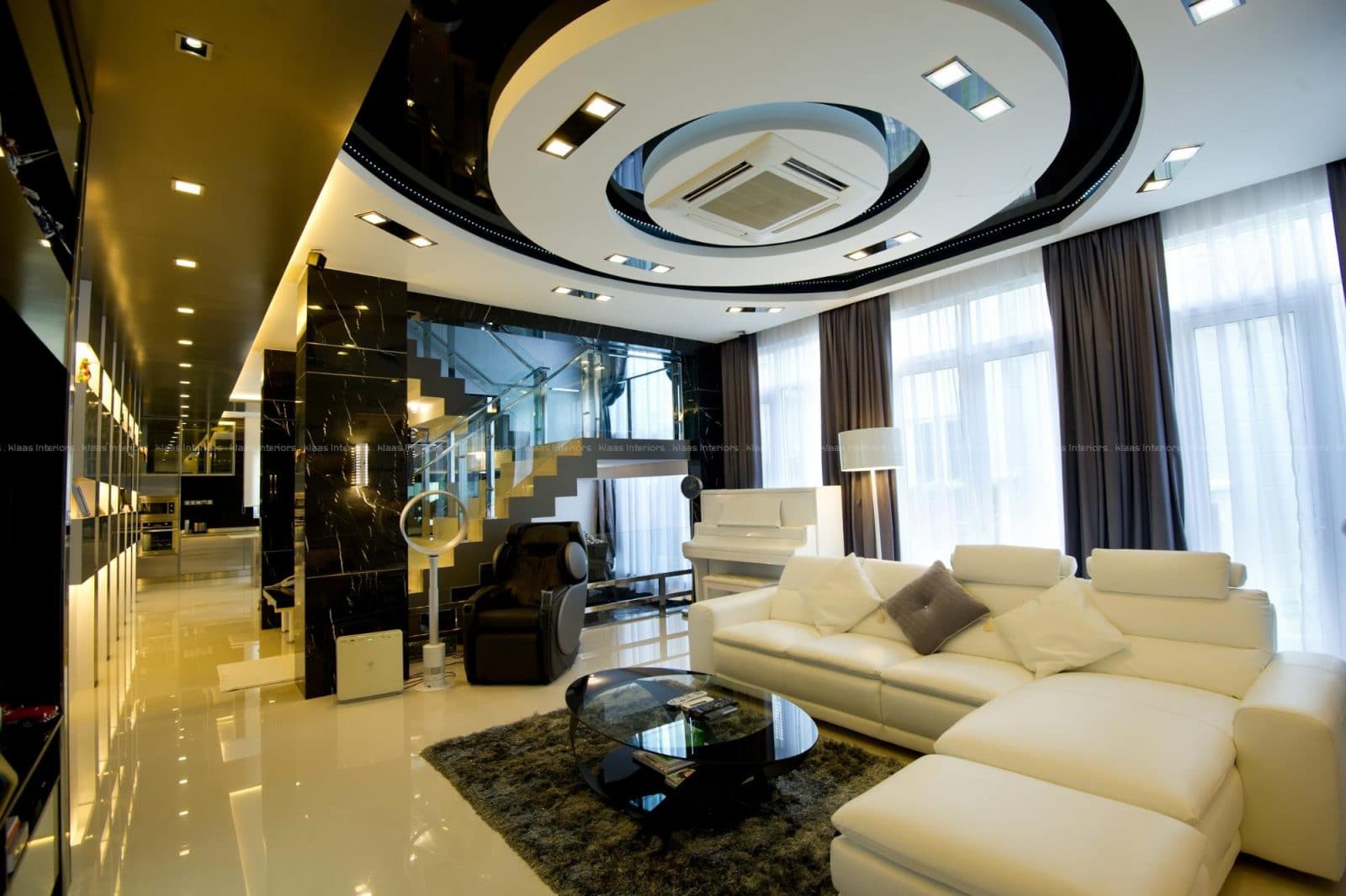 6. Bungalow design concept in Kuantan
This concept design makes full use of an all-glass, double-height ceiling to create a living room that feels like a conservatory or sunroom. However, if the sun gets too direct, double height curtains can be drawn to create a cosier space when needed.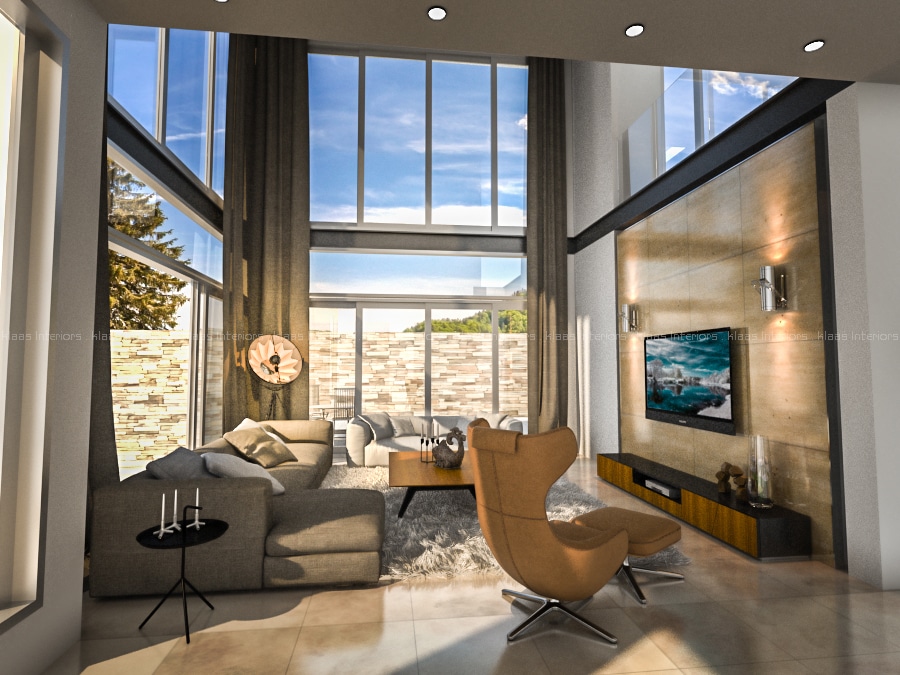 7. The Mansion at Desa Park City
This modern concept design puts the dining table at the centre of the high ceiling. However, to avoid the room from feeling too bare, a raindrop chandelier has been added that stretches all the way down the first floor.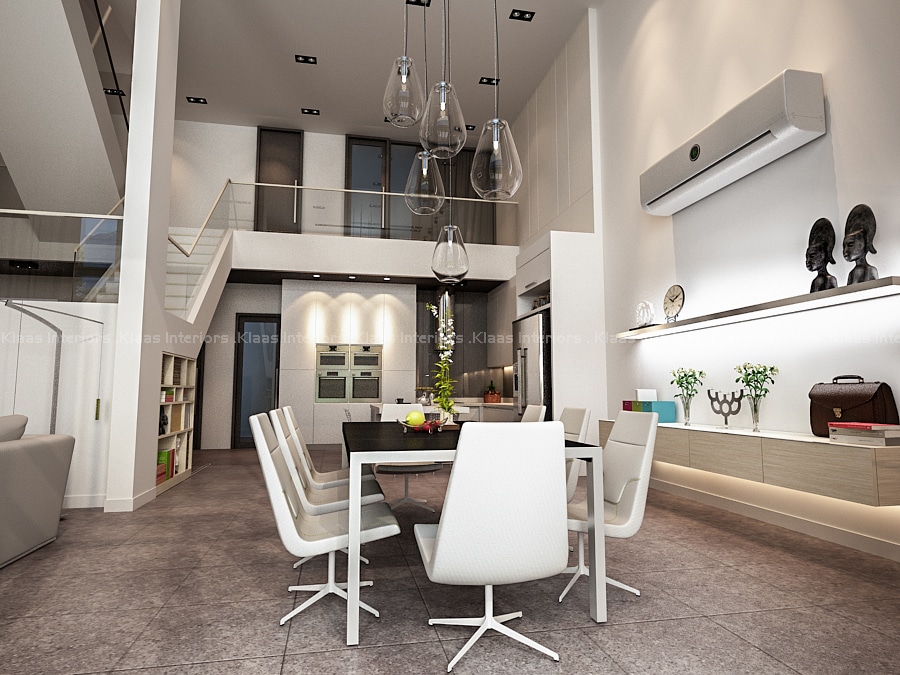 Need interior design for your home?
Recommend.my has one of the largest collections of interior design firms in Malaysia.
Our pros specialise in interior and architecture design, concept and space planning, project management and more.
To book a consultation and get quotes from our pros, submit an interior design request at Recommend.my now. Our team will work behind the scenes to match your requirements to the right interior design companies, who will contact you to kickstart your design project.
All local designs in this article courtesy of Klaas Interiors Sdn Bhd, an interior design and architecture specialist at Recommend.my.