Are you getting bored with the look of your living room? Most homeowners will feel this way after living in their home for a few years. And, getting more furniture may not be the answer.
Instead, what you need could be a living room renovation or facelift. We're not talking about something major, like hacking down the walls between your kitchen and living areas. Instead, it can be something smaller that won't cost too much.
A simple living room design update is a great way to breathe new life into an old home. It can also be a way to get a new home ready for tenants.
Here are some ideas of living room designs that you can do in your home.
Hire the right renovation contractor in Malaysia
Renovations in Malaysia should be safe and convenient. Let us find the best renovation firms in Malaysia to help you.
1. Change the flooring
One of the reasons why your living room may look dull is because the flooring has become worn out. Old parquet flooring can fade after many years, and the varnish may scratch off. Or if your living room uses marble or tiles, it may have become scratched and scuffed, or the grout lines have darkened.
Changing the flooring can have a dramatic impact on your living room design. For example, switch from dark to lighter floors to brighten your space. Or use large floor tiles instead of small pieces. Finally, experiment with different layouts, such as a herringbone pattern.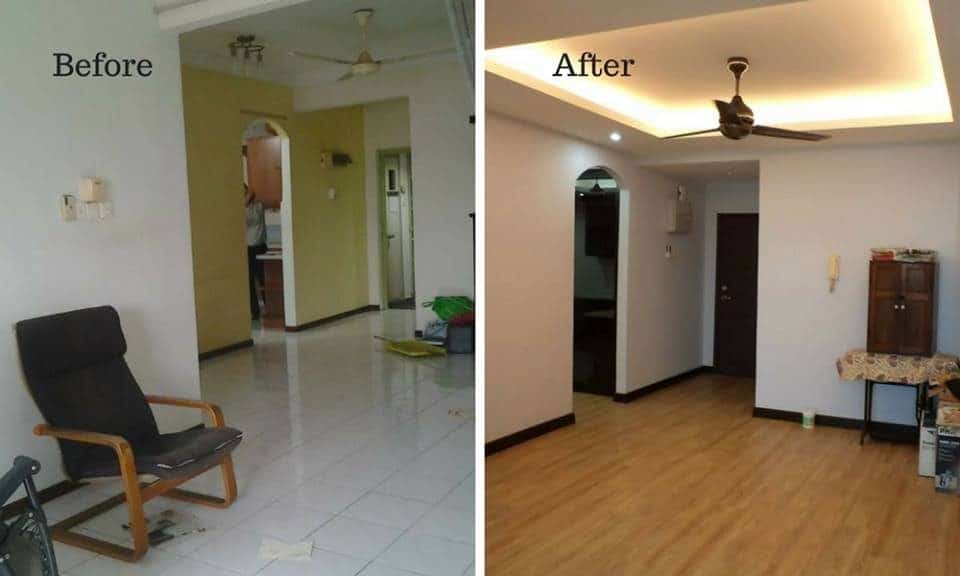 Above: Updating your living room flooring. In the condominium renovation at Bukit OUG, Bukit Jalil above, the owners changed the flooring from square tiles to a light-toned laminate. The result is a warm and cosy living space that is much more inviting! Source: ML Engineering Construction
2. Change the fans and lights
You may not realise it, but old fan and lighting fixtures may be the reason why your living room is starting to look dull. Canvas lampshades can start to yellow over time, and lights with chromed parts can look tarnished and cracked after a while. Even your ceiling fan can make a living room "feel" old if it makes squeaking noises, or wobbles when turning.
Replace your lights with new ones that reflect your updated style. And while you're at it, why not switch to LED bulbs for added savings? According to our calculations, LED bulbs cost 50% less to run compared to CFL, even after including the slightly higher cost of the bulb itself.
Another benefit when upgrading your lighting is that you can add more variety of lights, such as ambient, accent and task lights. In fact, there are six ways to light your living room according to interior designers, so mix it up!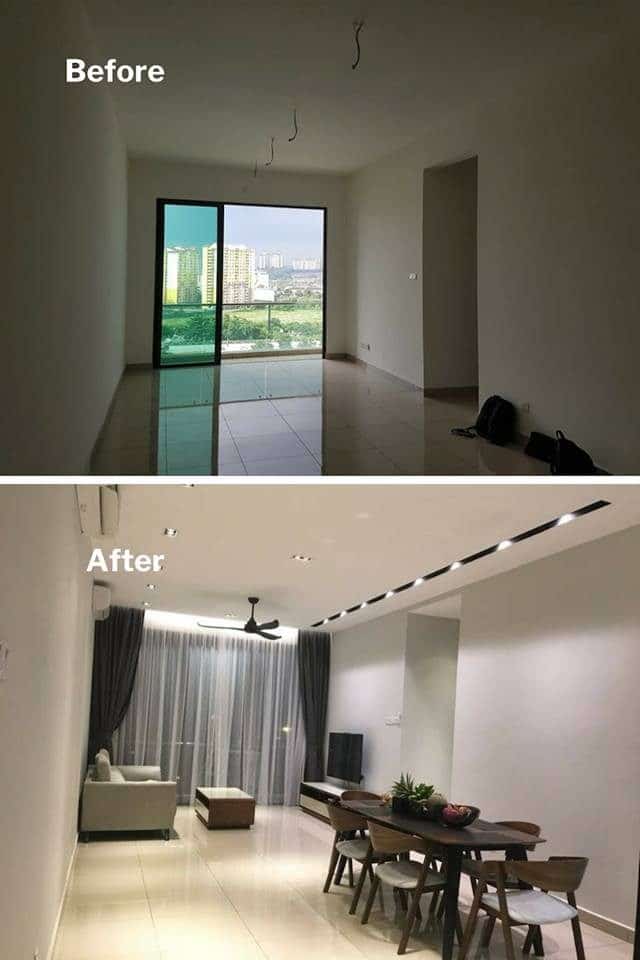 Above: In this living room renovation in USJ One Park Condo, the designers have used a mix of recessed downlights and recessed track lights to provide ambient pools of light on the floors and walls. Source: Renovation Equal
3. Change your furniture layout
Your furniture does not always have to follow the suggestions in the original floor plans. By optimising the arrangement of your furniture, you can open up new spaces and improve traffic flow. It may even free up hidden power outlets that can now be used properly!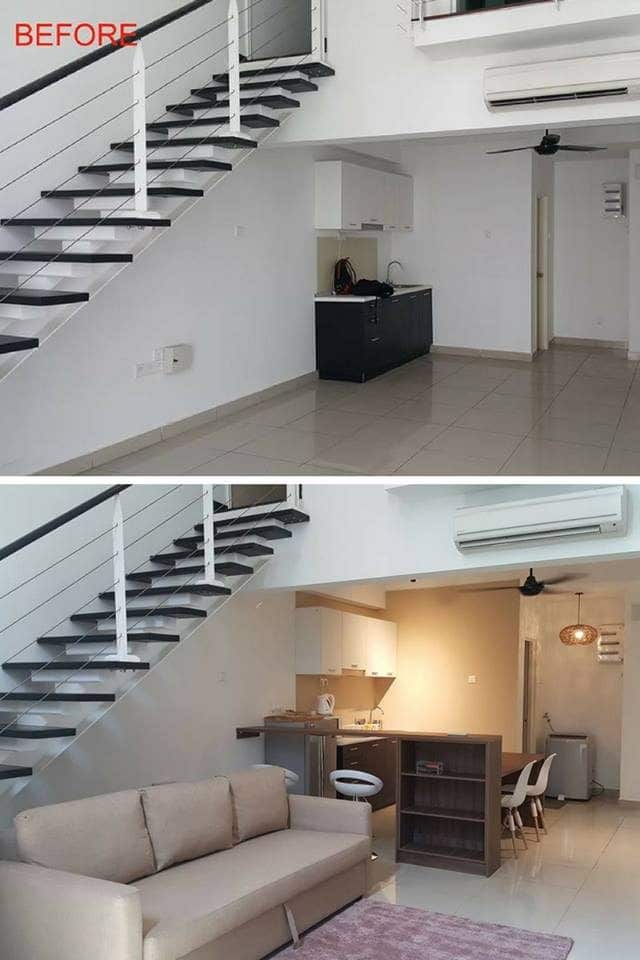 Above: In this apartment in Scott Garden, Jalan Klang Lama, the small pantry near the living area has been extended with a small bar counter, dining table and floor cabinet. This has added a clever display area near the living room couch, and also lets the owner watch the living room TV when preparing food in the pantry. Source: Ideal Plus Design
4. Add more storage
Who doesn't need more storage in their home? Custom-built cabinets help you make full use of awkward corners and tricky spots. And when all the clutter is safely kept away, you get a brighter living room that is easy to move around in!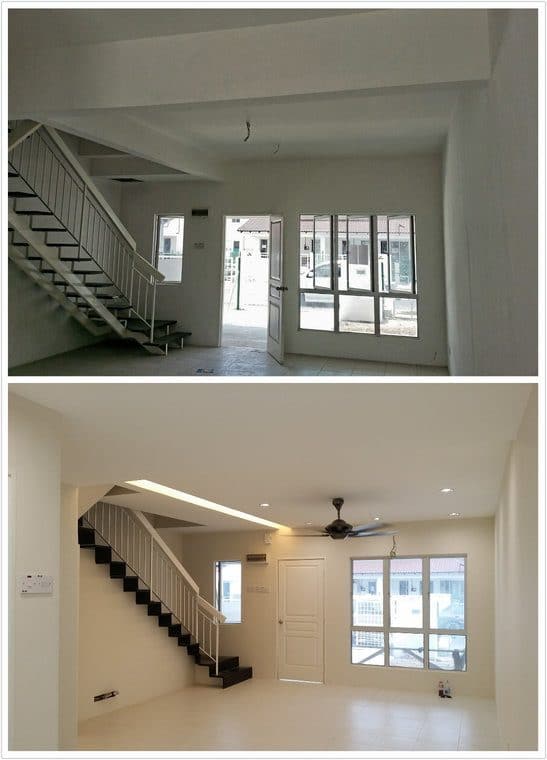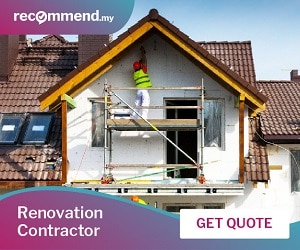 Above: Adding storage cabinets under the stairs. Source: Renovation Equal
The most obvious places to add living room storage is under the stairs, at the TV, or along the wall. And if you have a high ceiling, why not extend your shelves all the way up to create a beautiful feature wall at the same time?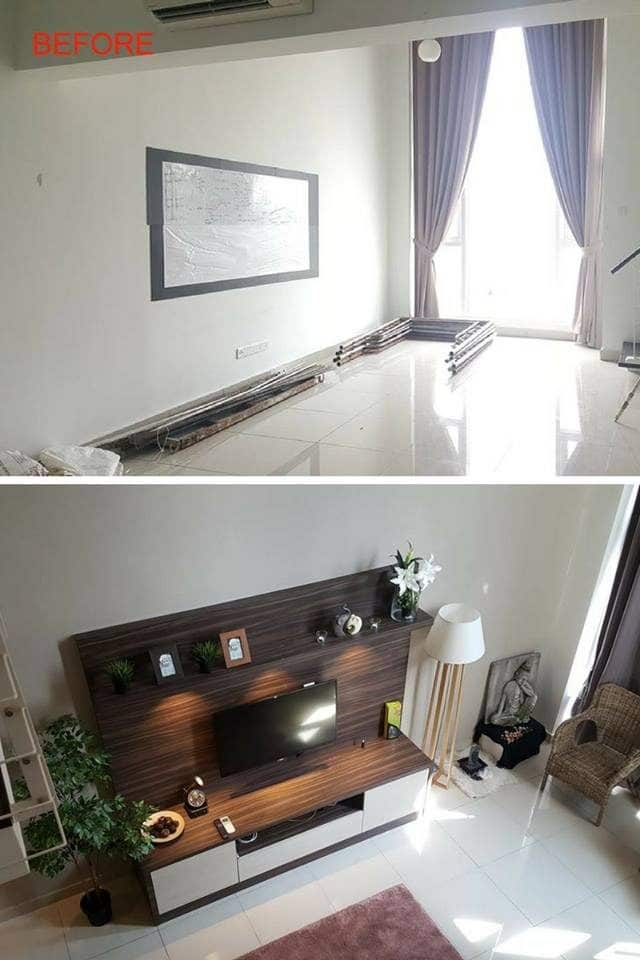 Above: Adding TV cabinet storage in this Scott Garden apartment, Old Klang Road. Source: Ideal Plus Design
5. Update your windows
Your windows are one of the most prominent features inside the home. Worn out or warped windows will make your living room look old. If you have the luxury, you can also increase the size of your windows to let in more daylight.
Window frames are not the only thing you can update. Your curtains can also dramatically improve the look of the living room. For example, get floor-to-ceiling height curtains to make the room feel taller, and add extra fabric width so that the pleats are evenly distributed when they are closed. Here are the most common ways to hang your curtains.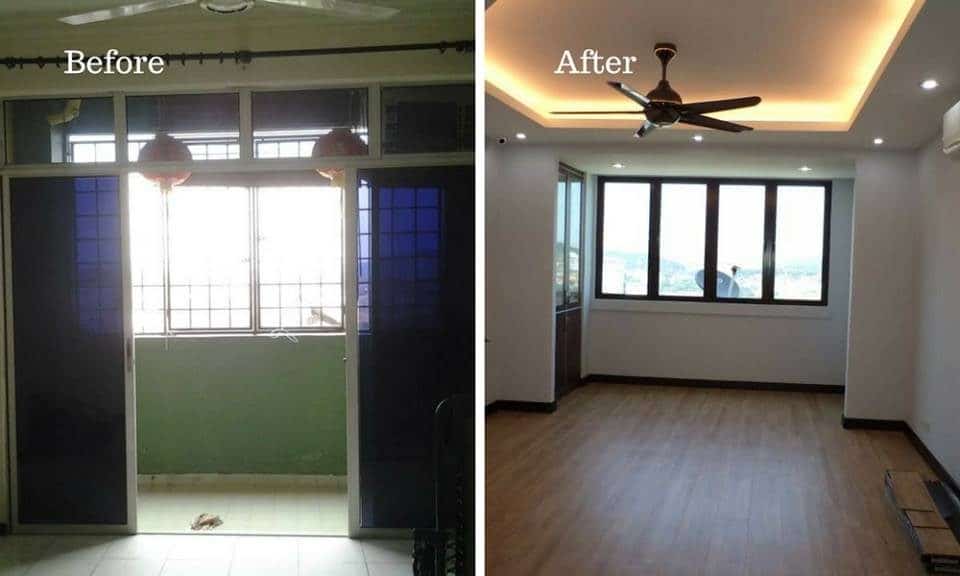 Above: This condominium balcony in Bukit OUG was closed up years ago, but the sliding door was adding an unnecessary divider. The owners decided to open up the space by removing the window grilles and sliding door, and replacing the old aluminium window frames with a modern 4-panel sliding window with a dark frame. Source: ML Engineering Construction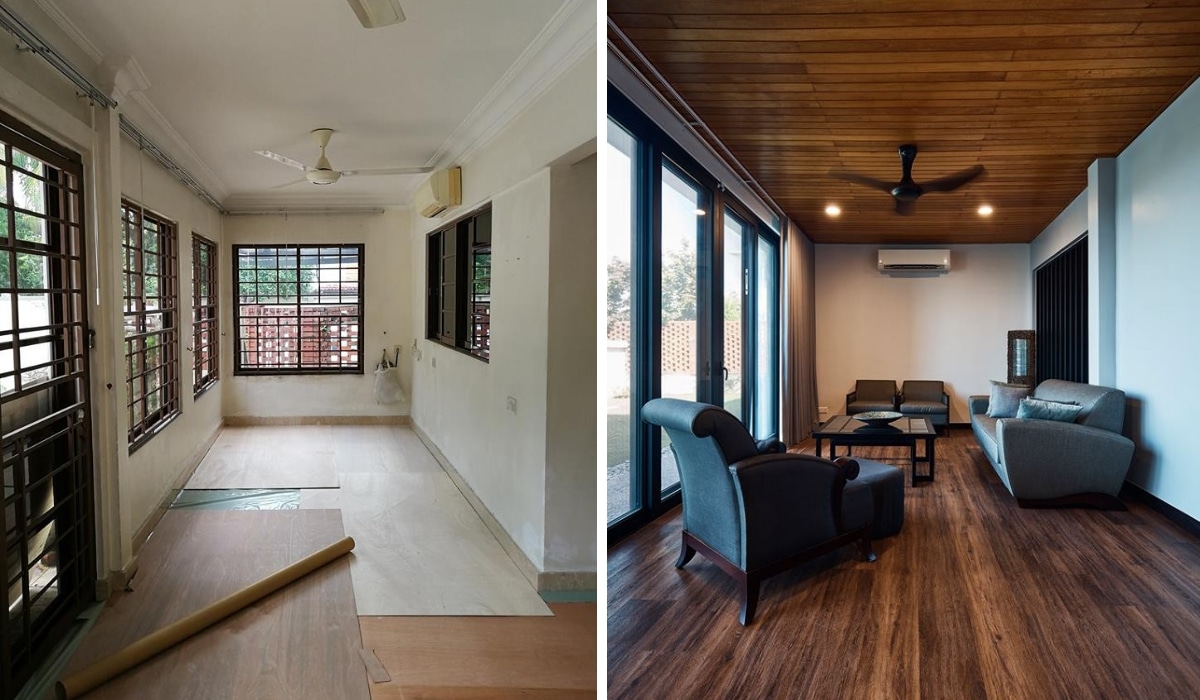 Above: In this Damansara bungalow, the owners have changed the windows to a full glass sliding door that overlooks the side garden. With so much natural daylight, they had the luxury of adding dark wood-toned laminates to the floor as well as the ceiling, creating a beautiful symmetry to the space. Source: Movent Design
6. Repaint the walls
Adding a fresh coat of paint is one of the simplest ways to update your living room design. And depending on the colours that you choose, it can affect your mood as well! Instead of plain white, try adding blue for a calming effect. It's no wonder that 25% of Malaysians say blue is their favourite colour!
And, instead of adding a simple coat of paint, you can also use different painting techniques to add special effects. Sponging, rag rolling, and dragging are just some examples of painting techniques that can really add a dramatic effect to your living room design. Here are some of the common painting methods.

Above: In this living room at Reflection Residence, Petaling Jaya, the designers have added a beautiful shade of Oxford blue to create a feature wall behind the TV. In addition, the same blue has been added at half-height on the opposite wall. Source: You Home Design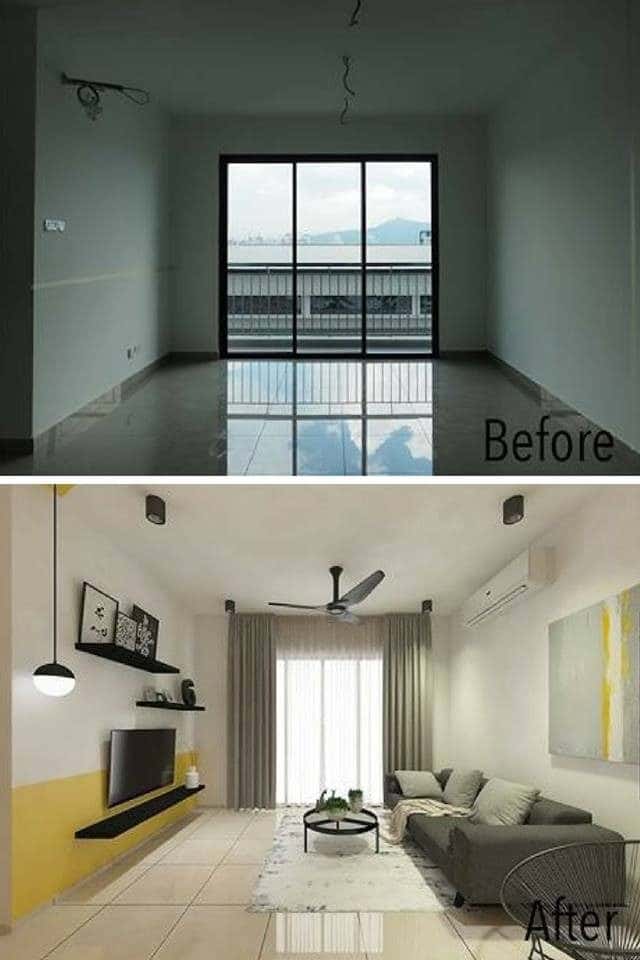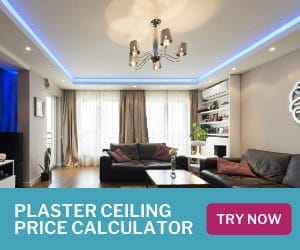 Above: A strip of bright yellow adds cheerfulness to the living room. Source: Interior Hunters
7. Create a feature wall (and ceiling) as a focal point
A feature wall is a way to give the living room a focal point. It's the first thing that guests will see when they step into your home.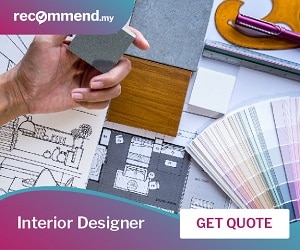 You can create a feature wall out of almost anything; a large hanging artwork, wallpaper, even decorative plates. But one simple and affordable way is to add a coat of paint.
When your gaze is drawn to the feature wall, keep it going by adding a statement piece at the ceiling, such as a stylish light or plaster ceiling design. The possibilities are endless!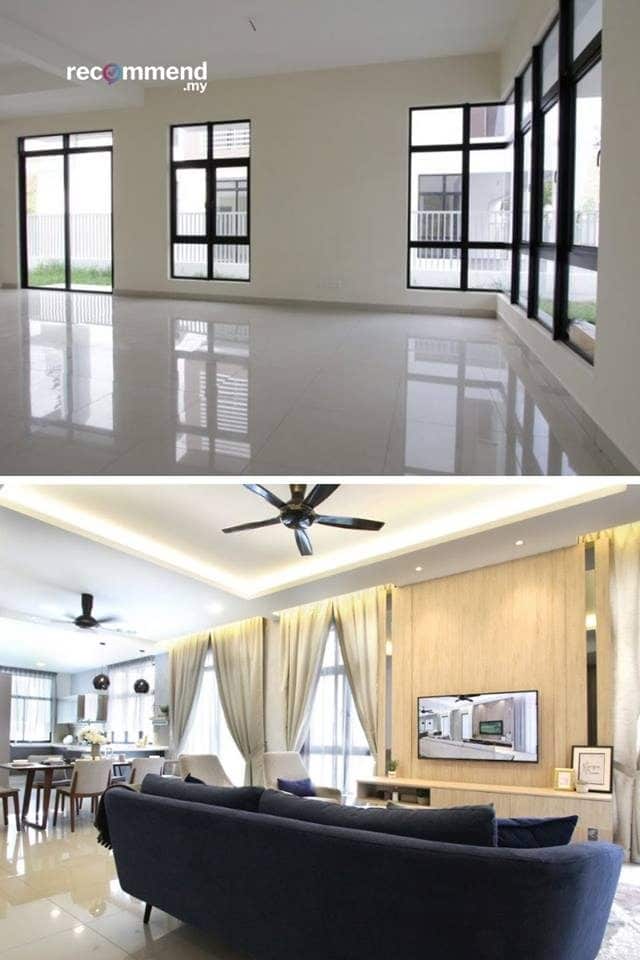 Above: This corner semi-d unit in Southville City, Bangi has large windows brightening the living room, but it's still possible to create a feature wall in between.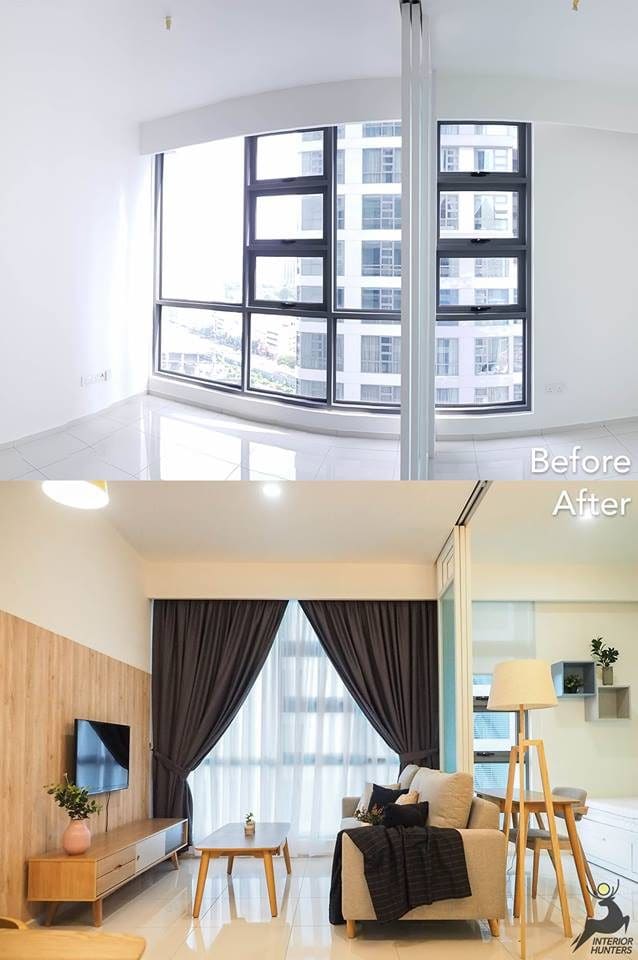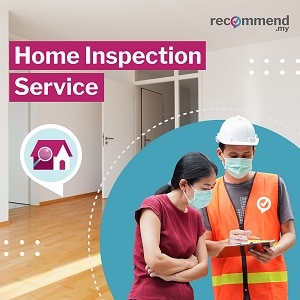 Above: This 689 sq ft unit in the Robertson Residences Bukit Bintang was updated with a feature wall made from wallpaper. Source: Interior Hunters
8. Update the ceiling
We've talked about improving the floors, furniture, walls and windows. But another important area to consider is the ceiling. Adding a unique plaster ceiling design (or even removing the plaster altogether to add more height), can create a visually interesting look.
A ceiling renovation for your living room has the added benefit of adding better light distribution. For example, a plaster ceiling with an island adds beautiful cove lighting for a soft, warm ambience.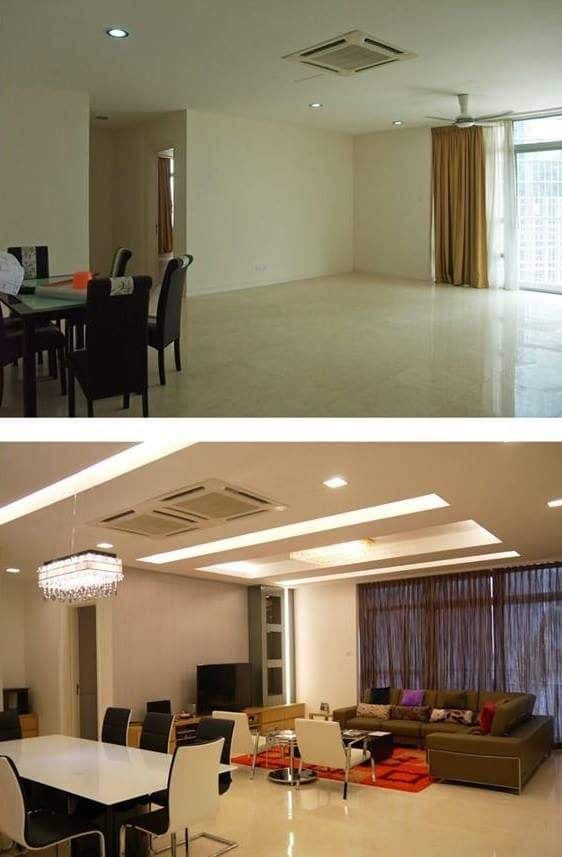 Above: Living room ceiling renovation at Idaman Residence, Kuala Lumpur. Source: AC Design and Construction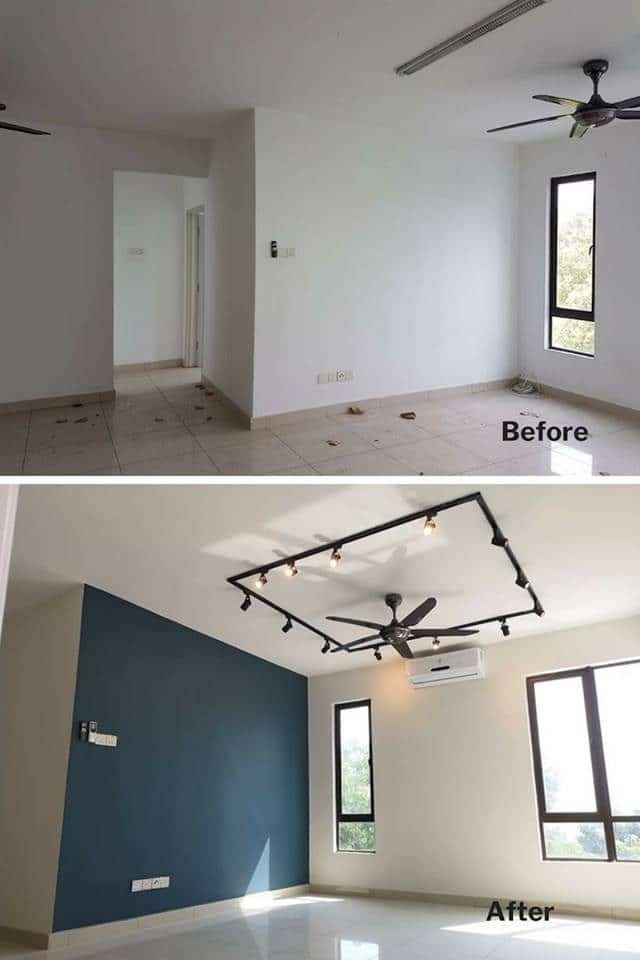 Above: Before after living room renovation at Atmosfera Condominium in Puchong. The TV wall has been painted a dark blue wall, and a four-sided track light installed around the fan to draw the eye upwards. Source: Renovation Equal 
Ready to update your living room design?
Hire the right renovation contractor in Malaysia
We make renovations in Malaysia safer and more convenient. If you need professional help to redesign your living room, let us know. Recommend.my has hundreds of qualified and experienced interior designers and renovation contractors in Malaysia who are ready to discuss your plans.
Let us know your requirements using our online form, and we will find suitable pros to contact you. Plus, we also offer payment protection service, so you get your money back in case the job does not complete.