Some homes don't have a concealed laundry area to stay organized. Their laundry areas are always open, which consume more space than necessary.
That's when a laundry nook is introduced. It is a designated built-in space for laundry-related appliances and items like the washing machine, dryer, shelf and cabinet space.
It enables you to tuck them away while also allowing easy access whenever you want. Thus, with a laundry nook, your house can maintain an organized and seamless look.
Check out these hidden laundry nook ideas that would fit anywhere perfectly in your house, even the smallest spaces.
1. Hidden Laundry Nook in Pristine White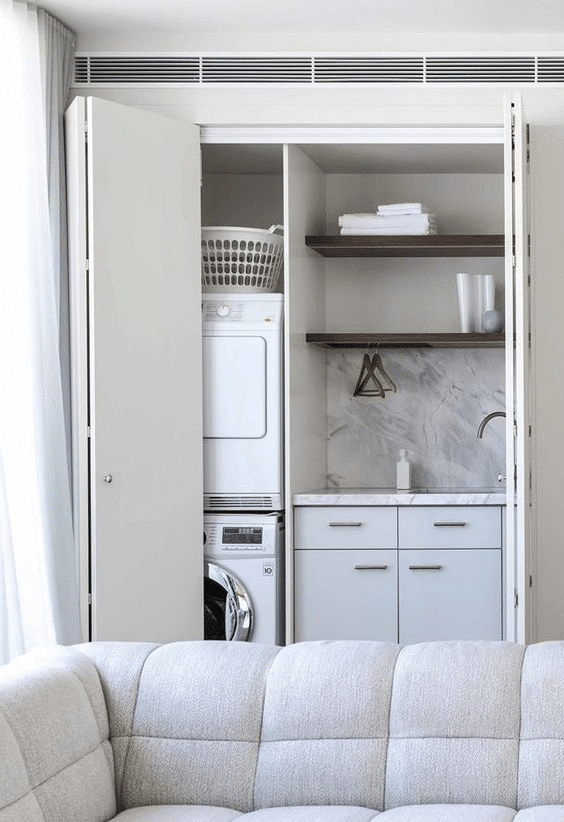 The colour, white is often associated with purity and freshness, and that might be the theme you want for your laundry nook.
The pristine white colour of this laundry nook improves the sense of cleanliness of the area. On top of that, the white marble area beside the laundry machine has accents for a touch of class.
In terms of function, the white double bi-fold doors offer the option of keeping one side concealed when not in use. This can make the overall interior look neater.
Additionally, the area comes with a small sink and some overhead shelves and cabinets. One of the key elements of designing the perfect hidden laundry nook is to invest in a little sink. Although plumbing may be a hassle, a sink provides additional space for cleaning garments that require hand washing.
2. Matching Laundry Nook by the Kitchenette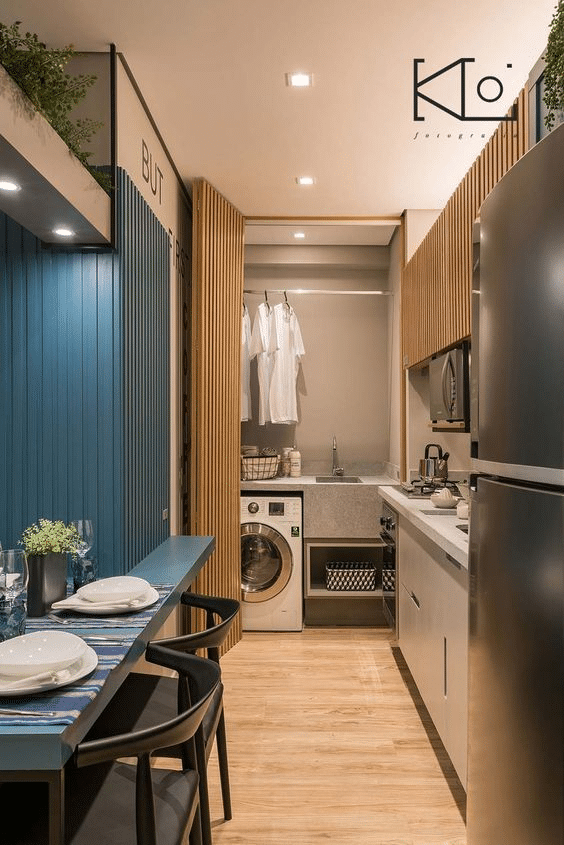 If you are living in a studio apartment or a house that has limited space, then you might want to consider joining the laundry nook with the kitchenette within the same area.
However, before doing so, you have to take the required space into full consideration. Estimate carefully for a laundry nook or you'll make your kitchen or bathroom too cramped.
This laundry nook is effective in saving space, it also contributes to the overall sense of harmony in your house. For instance, the door is made of the same wooden panels as the kitchen cabinets, making the design seem more flawless.
Similar to the first idea, the laundry nook includes a little sink with a storage space that fits perfectly below and a long closet rod above.
3. Hidden Laundry Nook with Closed-off Cabinets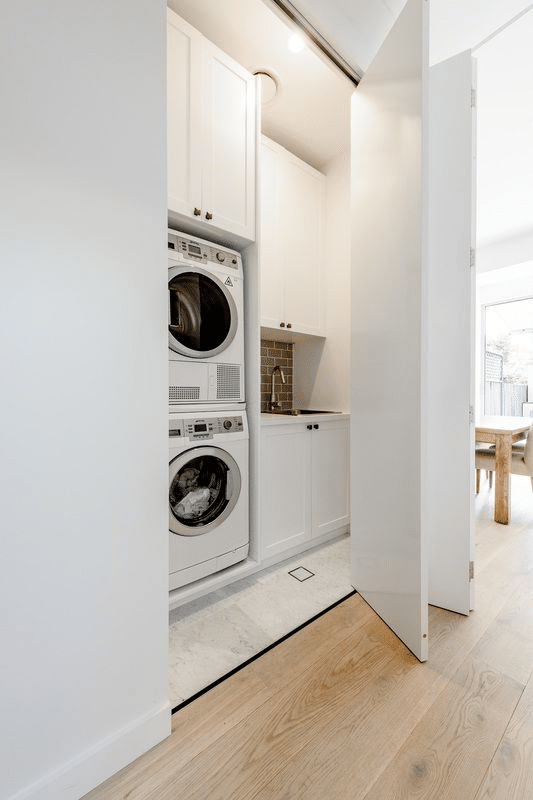 Perhaps this is one of the very few laundry nook designs that exudes the sense of luxe. Aside from the bright white colour, a small ramp with marble texture is added to smooth over the different levelled floors.
Instead of incorporating open storage like the previous designs, it encompasses closed cabinets to further conceal the content inside the laundry nook.
Another interesting feature about this laundry nook is the lighting at the top. Never forget to add at least one lighting point to brighten the nook in case it faces away from the room's lighting.
Furthermore, the folding door has the exact same design as the wall, making the concealment of the laundry nook more flawless. This polished and minimalist style is perfect if you're going for a Scandinavian designed home.
4. Laundry Nook within the Bathroom Cabinet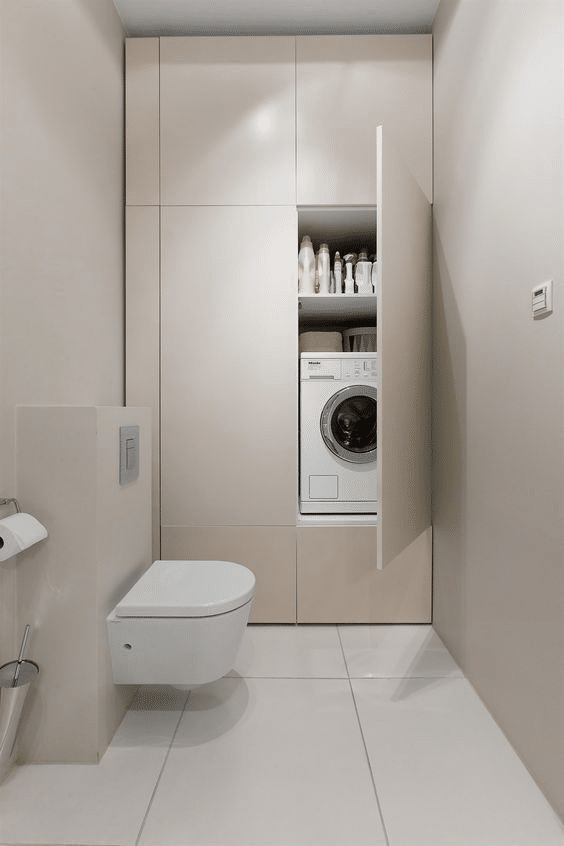 People from the older generation tend to wash their clothes while taking baths. If you are one of them, then this design is for you.
The laundry nook is perfectly concealed inside a deep built-in cabinet just beside the toilet bowl. Open the shiny light brown door to reveal a raised washing machine and shelving space.
Short of space? Opt for this effective space-saving solution. The shelving space allows you to store a wide range of toiletries and cleaning tools.
5. Monochrome Industrial Laundry Nook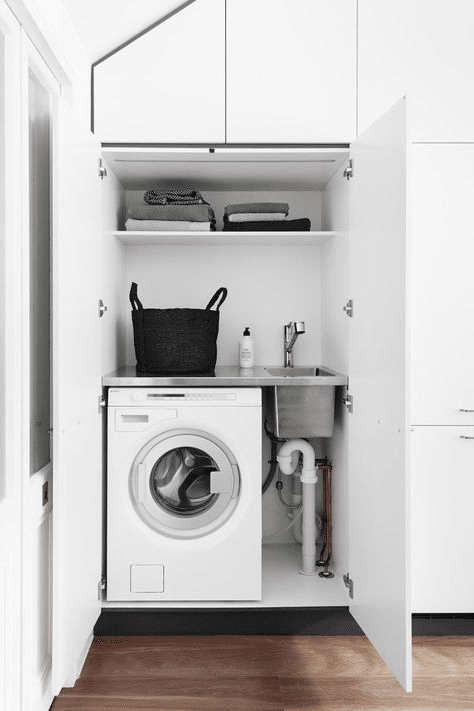 Now, this modern and stylish laundry nook is something you would expect from a luxurious European home design.
Interestingly, the sink and countertop are made of stainless steel with a chrome finish. It has stronger endurance against laundry agents as well as moisture.
Accompanied by the chrome finish, the exposed piping adds a raw industrial quality to the overall design. Although this laundry nook doesn't look as spacious as the others, it has several other cabinets on its top and side that fit well into the wall.
6. Black Hidden Laundry Nook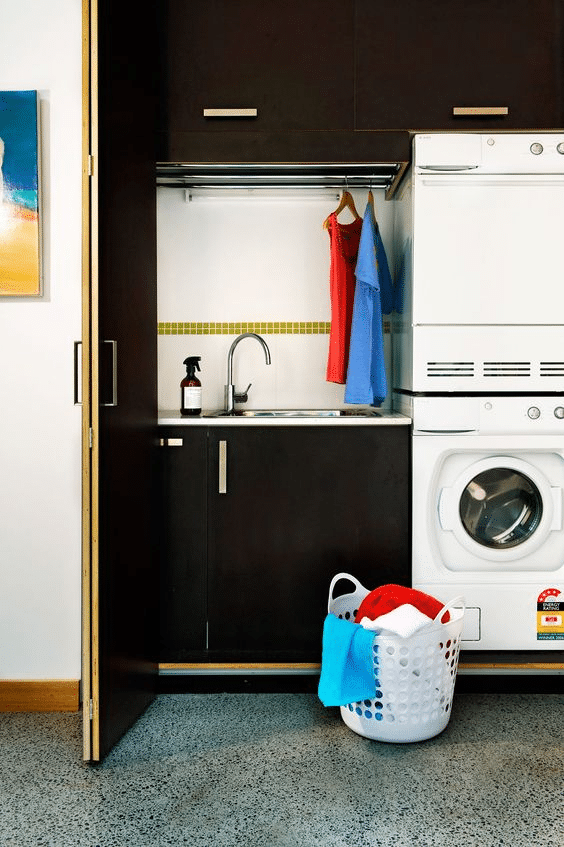 This audacious home design displays a bold contrast with the black concealed laundry nook. It might not be favoured by homeowners who love the sense of harmony.
The laundry nook comes with a single bifold door, revealing a white backsplash with a yellowish-green stripe inside. In addition, three closet rods hang over a large sink and counter, giving you extra space to hang your clothes.
Moreover, the cabinets inside match the door, creating an uncluttered appearance which is essential for keeping your home organized.
7. Laundry Nook with Pull-out Racks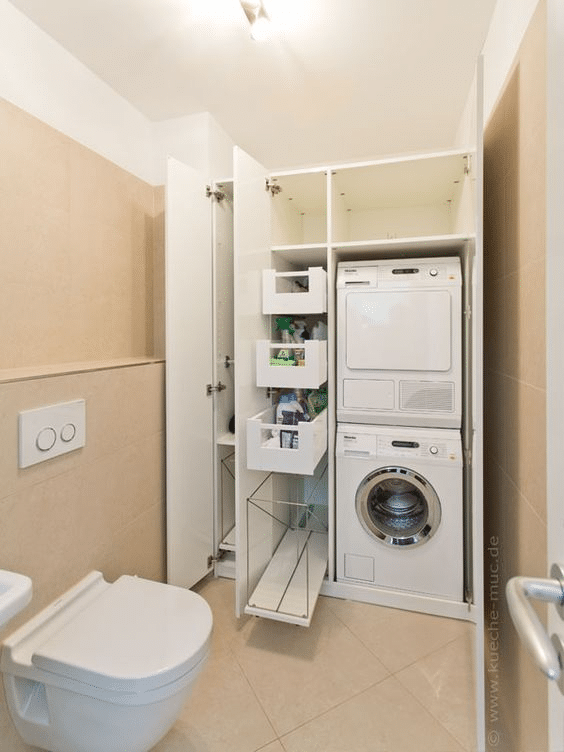 In addition to relying on appearance to stay organized, a more practical way is by adding more ample storage spaces with pull-out racks and drawers.
For instance, this laundry nook enables you to store laundry detergent bottles and various toiletries in a more orderly manner.
Besides, there's a slim cabinet with pull-out racks to utilize the remaining space. Keep in mind that it never hurts to add more compartments, shelves, and cabinets for cleaning products and appliances.
8. Ultra Minimalist Laundry Nook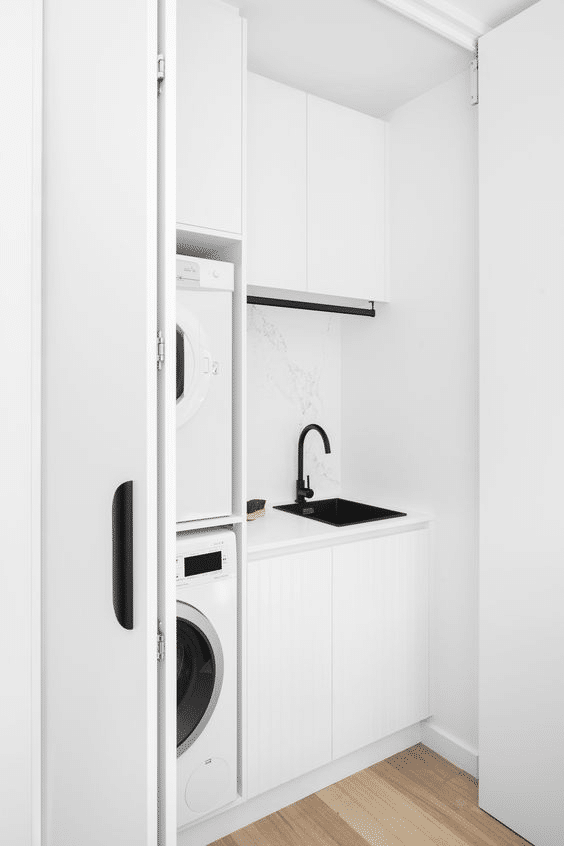 As compared to other laundry nooks, this one is much simpler with the minimalism it depicts. The beauty of this design lies in the brilliant contrast created by black accents, rather than the combination of several elements.
Only a single black rod is installed over the sink, creating a sense of simplicity. The washing machine and the dryer are stacked below a tall cabinet, minimizing the consumption of space. Additionally, there are also two cabinets below the sink.
It might seem small but it is one of the most adequate designs. The secret here is to measure the built-in space carefully and accurately. Note that most of these nooks are meant for front-load washing machines, so if yours is a top load model, leave enough space above for the lid to open.
9. Laundry Nook within a Wall of Cabinets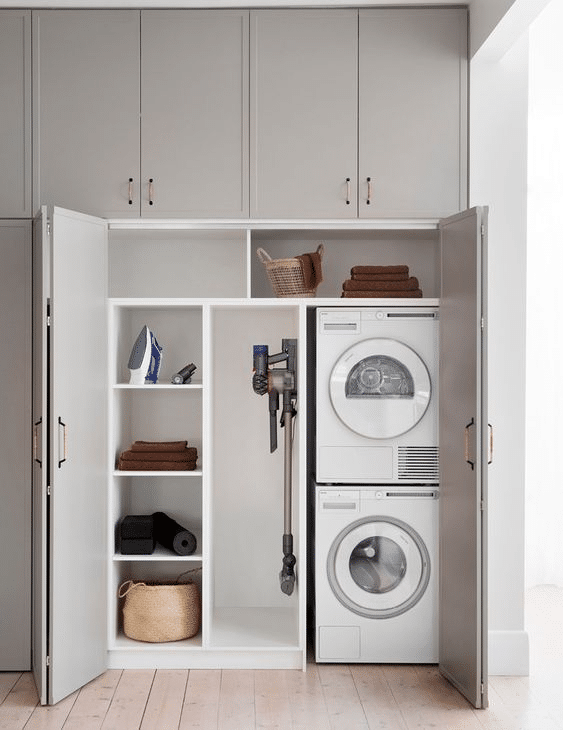 Nothing represents perfection better than this laundry nook. It fits seamlessly into an existing bank of cabinets, thanks to their similar design and colour.
It offers a generous amount of floor-to-top storage to keep bottled cleaning products, vacuum cleaners, irons, and laundry baskets, not to mention that the dryer and washing machine are already stacked together.
The practical and classy design is also complemented by the wooden floor, which harmonizes in colour and texture with the laundry nook and cabinets.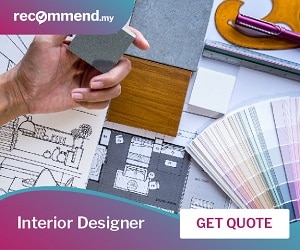 Nonetheless, the tricky thing about incorporating this design is the measurement of space. Remember to leave an excess of a few inches when fitting your washing machine into the wall for maintenance purposes. The same goes for the backside of the washing machine for proper air circulation.
10. Laundry Nook with a Natural Touch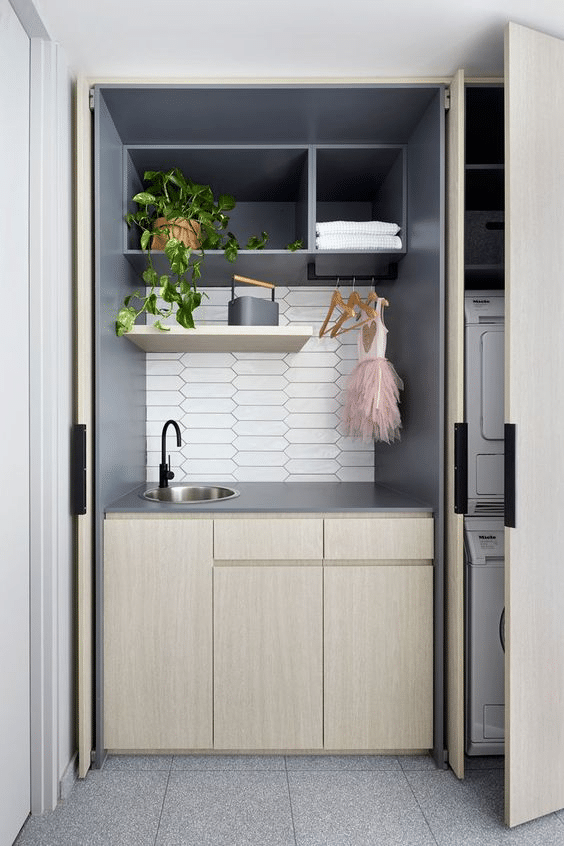 This laundry nook is designed with an eclectic and contemporary style. Not only is it derived from a wide range of elements, but it also suits the modern preference of people nowadays.
Firstly, the potted plant adds a natural and earthy quality to the design. Then, it is compensated by the grey modern floating shelf.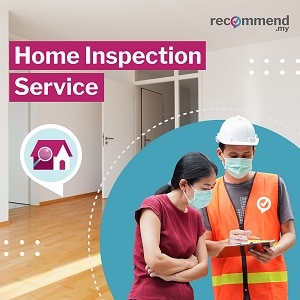 Lastly, the unique tile backsplash offers a stylish flair which sparks a sense of diversity along with the texture of the cabinets.
Put the dirty laundry away
Laundry nooks are a worthy investment for any home. These hidden laundry area design ideas can be incorporated into your existing layout to keep your home organized.
Looking for more varieties? Get connected to our professional cabinet contractors to create the perfect and well-equipped space for your laundry area based on your requirements.
Submit your details and get connected to the best cabinet contractors in Malaysia now.
Hire a cabinet contractor