I'm going to tell you the biggest misconception about working from a home office…
You might think that working from home means you can save on travel costs, run errands in the middle of the day, and spend more time with your family, right?
While all the above is true, there's a problem. They don't mean a thing if you're not ACTUALLY getting any work done.
In fact, there's only one way to get any work done at home… Ready for it?
If you want to be an effective home worker, you need to create a "zone of productivity" around you.
That's it. Simple, isn't it? That means no kids, no Candy Crush, no distractions.
The right home office ensures that you maintain a high level of productivity, just like you would if you were at the office.
How to Build Your Most Productive Home Office Design Ever
Since Recommend.my is also a small business with many remote workers, we asked our friends and colleagues for the best tips to setup the ultimate home office design.
Then, we took all the information and cut it down to 10 essential steps. Follow these steps, and you will have an awesome home office interior design that let's you stay productive, and looks great on Instagram. Let's go!
Step 1: Find the best location in your home
Your home is a sanctuary for you and your family, but it doesn't mean you can simply do your work at any section of your house.
You need to be able to switch on and switch off, so find a spot where it becomes obvious that, when you're there, you're saying to everyone , "I'm working now".
Ideally, you want an entire room where you can close the door and isolate yourself. Your home office can also be in your bedroom. But if you share the bedroom with someone else, they will not appreciate you doing work late at night.
If you can't spare an extra room, then find a spot with less foot traffic. People have converted narrow hallways, dining room corners; even the space under staircases.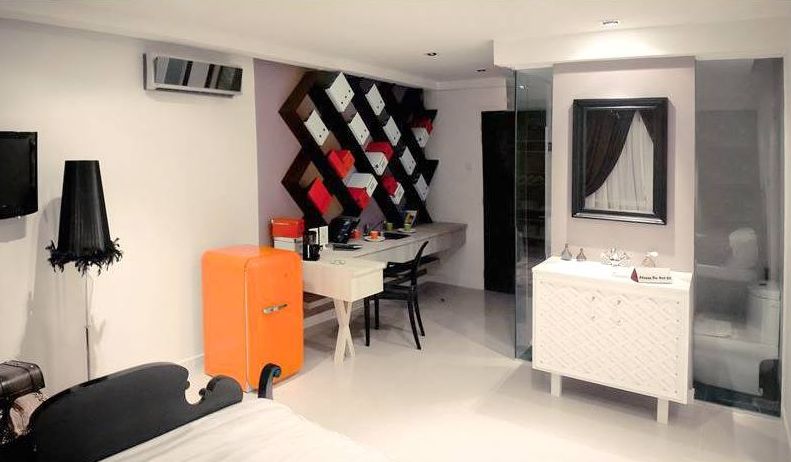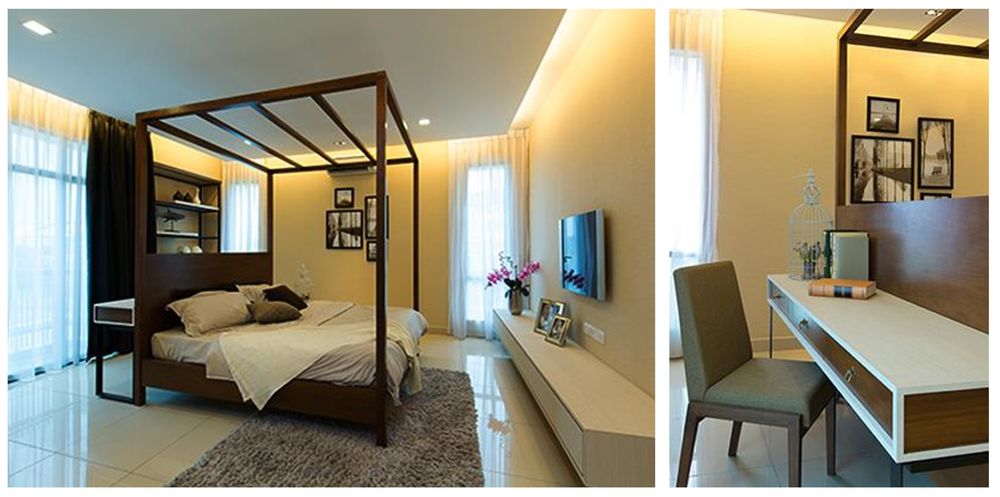 Once you identify a suitable location, it's time to think about your walls…
Step 2: Pick a suitable wall colour or wall decoration
Unless you have a window with a panoramic view, chances are your workspace will be facing a wall. And you will be looking at that wall all day.
Why not brighten that wall with colours that can boost productivity? According to a study from the University of Texas, the best colours to increase efficiency and productivity were blue and green. Yellow on the other hand triggers innovation and red  is said to stimulate emotion and passion. You can check this infographic to understand how colours impact productivity.
You can also decorate your walls with inspirational images and quotes. Or, if you want a workspace with a view, you can create custom-made vertical blinds to give you a nature backdrop.
Step 3: Adjust your climate for comfort
Everyone knows that when you work in an office, the temperature is never "just right". Most of the time, it's freezing cold.
But in a home office, you can set the temperature, humidity and ventilation the way you like.
Here are some considerations:
Temperature
Make sure your workspace is not exposed to direct afternoon or evening sunlight. The walls and the floor will retain that heat and release it in the late evening, making you very uncomfortable if you work later at night.
Ventilation
If you choose a quiet corner, keep it ventilated by installing a ceiling or wall fan. You can find reliable contractors in Malaysia to help you install a support beam for a ceiling fan, as well as a recommended electrician to extend your wiring so you can position your fan at just the right spot.
Humidity
If a fan is not enough, then you need air-conditioning to dry the air. Make sure to find a recommended aircon specialist to help you find an aircon unit with the right amount of cooling power, install it, and provide you with a proper maintenance plan.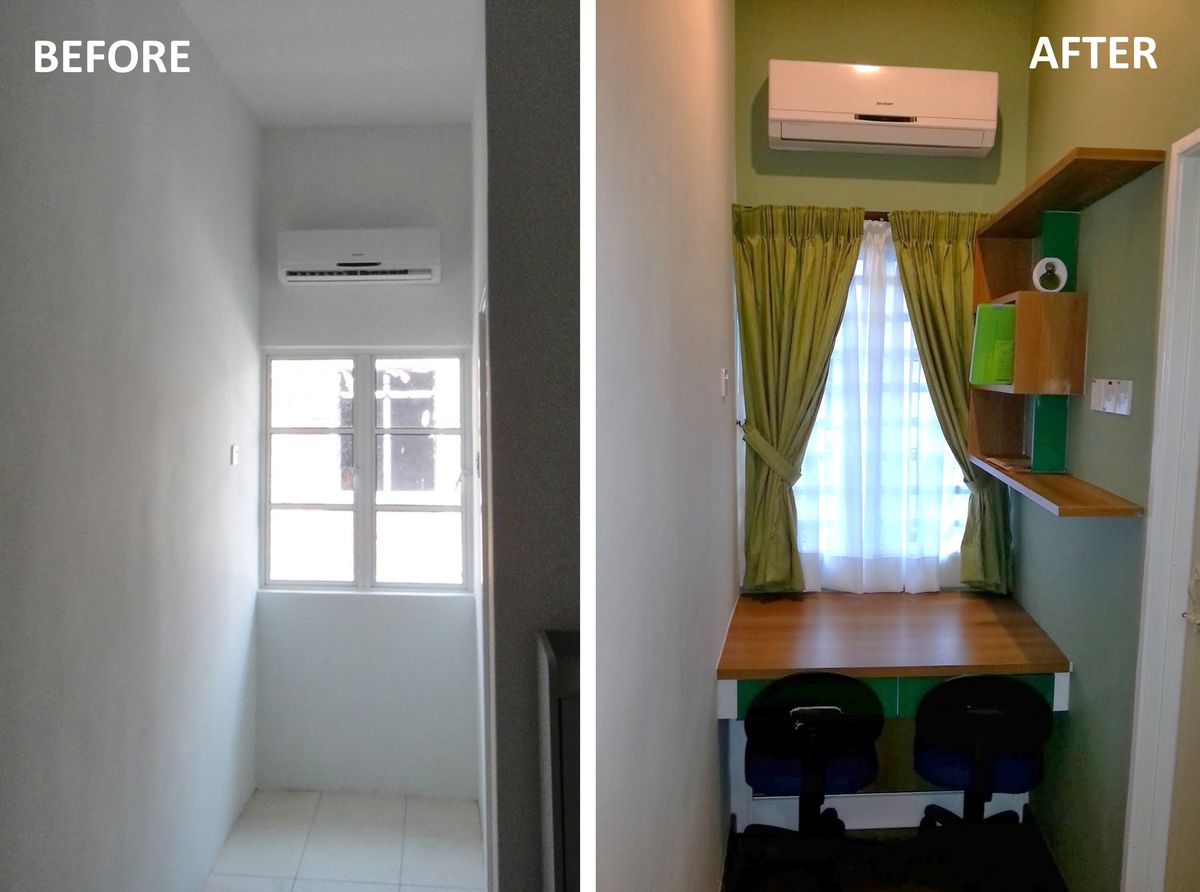 Step 4: Block out external noise
Some people need the radio on when they work. Others like complete silence. But we all agree that nobody likes the sound of construction or Mat Rempit outside our window.
If you want to cut out external noise distraction:
Consider insulating the doors and windows of your home office. Some doors and windows come with rubber seals built in, or you can buy some sealing strips from the hardware store.
For really noisy locations, double-glazing windows may be an option.
Add heavy curtains for added buffer.
Learn more: 5 Ways to Block Traffic Noise in Your Home
Instead of soundproofing the room, you can also invest in a comfortable pair of headphones with active noise cancellation features. Unlike passive noise cancellation headphones (which basically uses padding to plug up your ears as tightly as possible), active noise cancellation listens to the sound coming to your ears, and plays an "anti-sound" to cancel them out.
Now that we've got the environment of your home office settled, it's time to look at amenities.
Step 5: Install lots of power points
You can never have enough power points. Under my desk right now, I have plugged in the following:
desk lamp
phone charger
desktop
monitor
speakers
printer
That's a lot. And it's not even counting the extra points needed when I use my laptop.
It's not a good idea to daisy chain several extension cables and three-way adaptors together as this could lead to a short circuit or overload. And even if you use just on extension cord, you have to keep the extra wires tidy to avoid tripping over them.
The best way to set this up: Ask for a recommended electrician to install more built-in sockets into your wall. You can conceal the wiring by hacking into the wall, or simply covering it up with PVC conduit.
A qualified electrician will also be able to work out the maximum electrical load, so you don't trip the circuit breakers.
Step 6: Get a fast Internet connection
This is a big one. If you rely on the Internet to work (and we all do), you need to invest in a high-speed subscription. Depending on your area and type of home, you have a choice of Time, UniFi, Streamyx, Yes, P1 and more.
We won't go into which subscription plan is better, but regardless of the plan, there is one thing you need to get right:
Ensure that the wireless signal around your workspace is optimised for minimal interference.
Quick tips for minimising wireless interference:
Change your wireless channel
Your neighbours are probably using wireless, too. And if you all live in close proximity, their wireless signal may interfere with your own. To fix that, use a phone app like Wifi Analyzer to see what channels they are broadcasting on (typical channels are 1 to 11, and 36 to 161). Then, change your own wireless channel to one that is least crowded.
Move your wireless router away from other appliances
Other household appliances can cause interference too. These include microwave ovens and cordless phones.
Place your wireless router high up
Wireless routers tend to broadcast downwards, so mounting it higher up the wall can help improve the signal reaching your workspace
If you don't want to bother with wireless channels and interference (or simply want a dedicated network connection for your home office), you can ask an electrician to install a network point directly at your workspace. Or talk to our home broadband experts for advice.
If you followed tip #5 above (install lots of power points), then you can consider a wired connection over powerline or Broadband-over-Powerline (BoP). This means using the electrical wiring built into your home to send network data.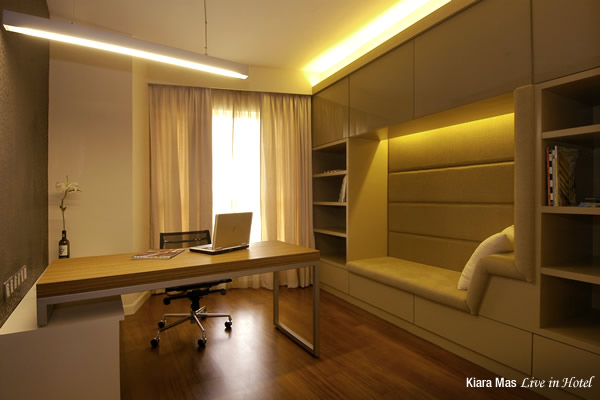 Step 7: Never sacrifice ergonomics
Do you get back aches now and then?
Sometimes we get so engrossed in our work that we don't realise we have been sitting down for hours without a break.
Scientists recommend the 52/17 rule when working. Take a 17-minute break for every 52 minutes of working. And by break, we mean getting out of your chair. Don't look at cat videos.
You can set your stopwatch for this, but as always, there's an app for that.
During the times when you ARE in your chair, consider your sitting posture. Get a comfortable, adjustable chair that keeps your elbows and knees at roughly 90 degrees with your shoulders relaxed at your keyboard.
Why not custom-build your workdesk? Instead of buying a workdesk, you can ask a contractor to custom-build a desk with a lower height for comfortable typing, and a second level for computer screen at eye level.
The key here is to find the most perfect balance between your chair and your desk. Trust us, your body will thank you later. You can read more about ergonomics here.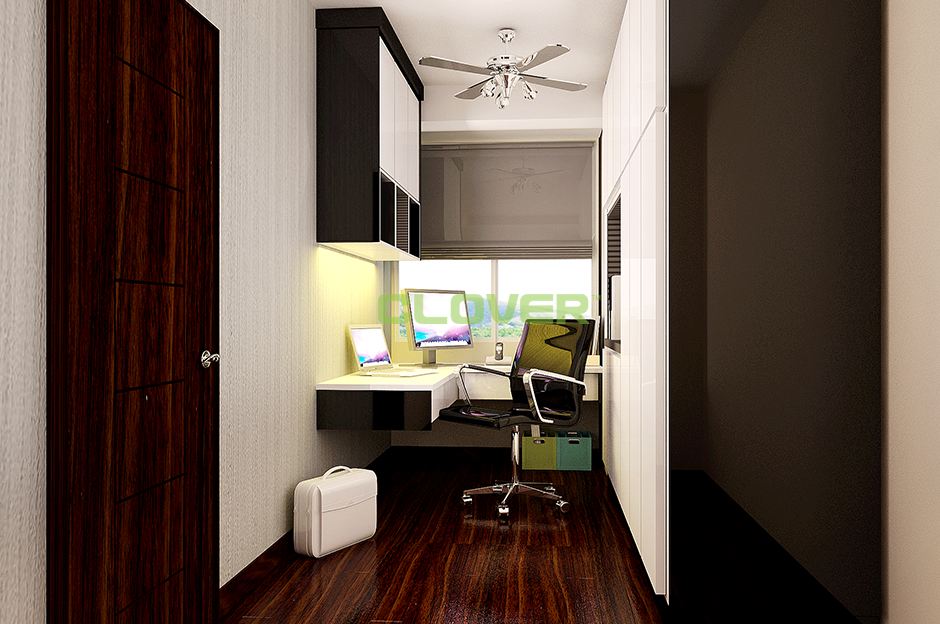 Step 8: Get organised with lots of shelves and storage space
Now where did I put that folder? Having an organised work space is important in maintaining productivity and boosting efficiency.
The common way to organise your workspace storage is to break it into several zones:
Supply zone for consumables. Paper, stationery, pens, labels, sticky tape, etc.
Reference zone for books.
Admin / archive zone for folders and important documents.
Action zone for items that need your attention, or are waiting for a response. This is usually your desktop itself.
You would typically have one or two open shelves on the wall for your frequently-used items as part of your reference zone, followed by closed shelves or drawers for your supply zone, or store them in a pedestal next to you. Finally, you would keep the rest in closed shelves, and more valuable documents in locked drawers in your archive zone.
Step 9: Good lighting helps set the mood
In the old days, one room would simply have one long fluorescent tube with high wattage bathing everything in white daylight.
But now, "layered lighting" is the way to go. This means dividing your workspace lighting into:
Ambient lighting
Task lighting
Natural light is ideal for ambient lighting. Some studies show that exposure to natural daylight may help you get 46 more minutes of sleep.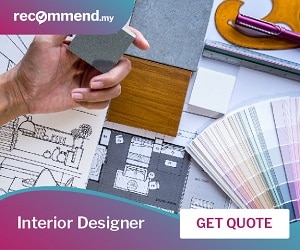 But, since not all of us have the luxury of renovating our home office to add a skylight, you can position your work station to be as near to a window as possible. However, you should consult with a curtain or blinds specialist to add day curtains or blinds to block direct sunlight and glare.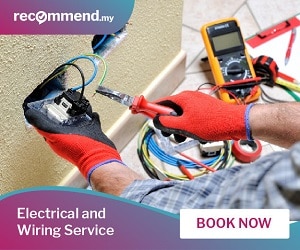 For task lighting, LED lighting is the industry standard. Durable and environmentally friendly, LED lights provide flicker-free illumination for your desktop area. LED lights are also more cost-effective than CFL bulbs, as our friends at eLED Sdn Bhd explain.
You can speak to a recommended lighting consultant who will recommend the right lights and intensity.
Partition to separate workspace lighting from bedroom area, Design by Neo In Design, Puchong. Source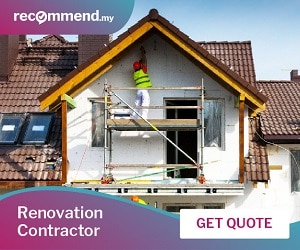 Step 10: Inject your personality
Now that your ideal home office is almost done, it's time to decorate!
You may hold client meetings at your home office, so it's important to make an impression.
Adding a few plants to the space will also liven the room with some natural elements, while keeping the air fresh.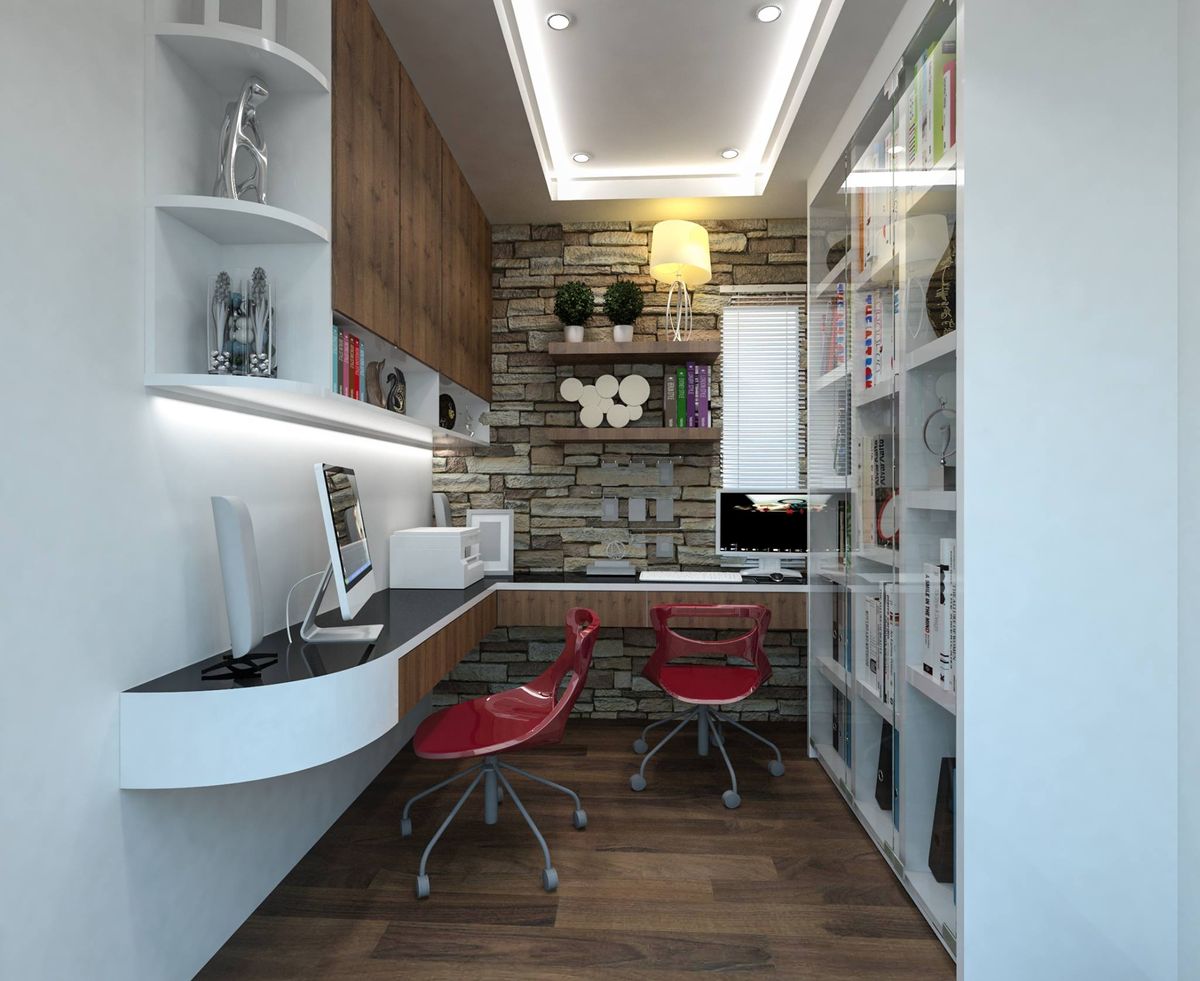 Now make your home office awesome!
Find Recommended Home Improvements Service Professionals at Recommend.my
It takes many skillsets to setup a home office. From renovation contractors to electricians to aircon specialists and interior designers; many people need to get involved. You also need lighting consultants to add light, and curtain specialists to block it out 🙂
At Recommend.my, we have compiled hundreds of highly-recommended home improvement professionals in Malaysia, making it easy for you to get introduced to qualified and reliable services. Just pick the service you need, send us the requirements, and we will find the right ones to contact you, often within hours.