If you have a small kitchen, it can be tough to find the space to make your favourite dishes.
But, every budding cook has to start somewhere. With good kitchen design, it's possible to maximise your cabinet and counter space, and make room for all the tools you need to cook up a storm.
When your kitchen covers the area of a small study table, you need to make it functional. Install lots of high cabinetry to make use of every inch of space, and keep the space bright with the right colour palette. You'll find that even the smallest kitchens can become a lovely space to cook as well as entertain guests.
Here are some small kitchen design ideas we found in Malaysian homes. The kitchen interior designers have used all the tricks in the book to make these small kitchens look bigger and feel more spacious.
Need interior designer for your kitchen?
Recommend.my is Malaysia's best home improvement site. We have over hundreds of trusted and verified pros in our directory ready to help you! Just submit your request to us and we will get in touch with you.
Kitchen concept in Taman Puncak Jalil, Seri Kembangan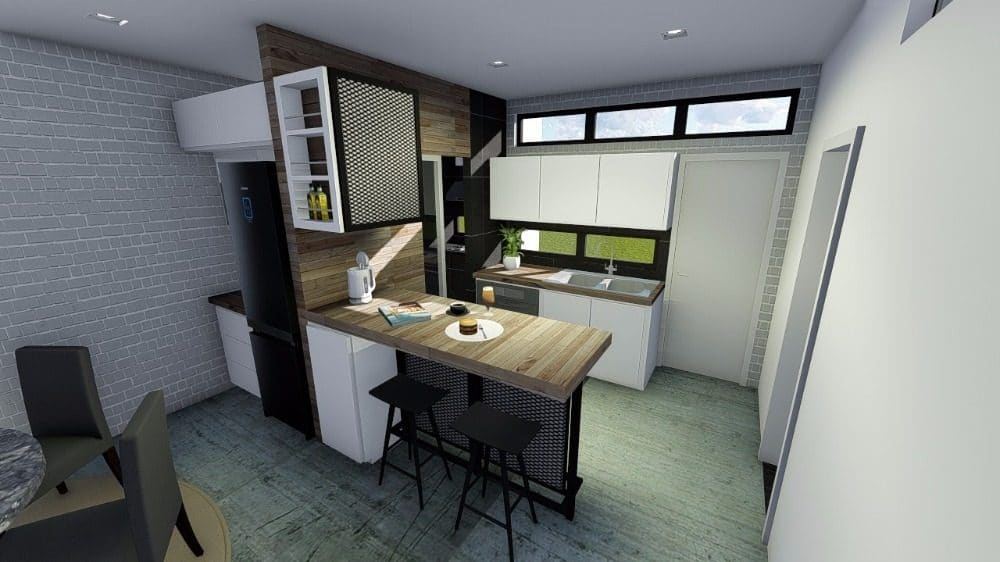 If you want your space to look larger, go for a modern kitchen design that emphasises on no-handle cabinet doors and clean lines. This kitchen consists of a bar table with high stools where you can enjoy your breakfast. This kitchen may be tiny but it stays functional with lots of shelving storage, drawers and cabinets.
Two-bedroom apartment in Semenyih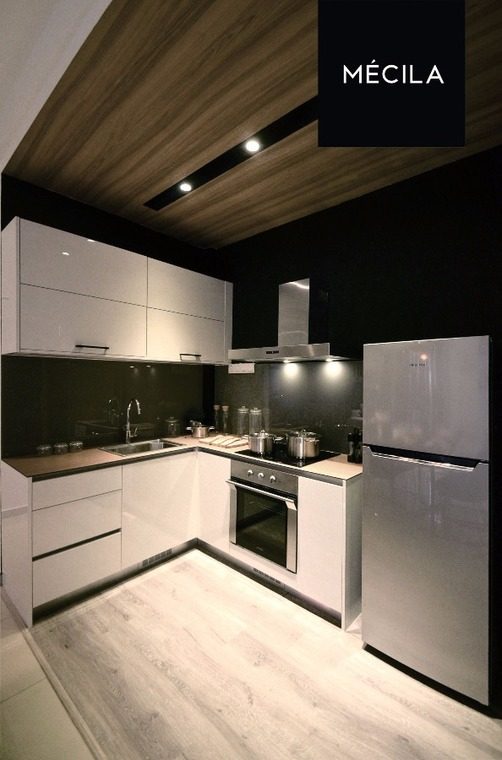 These are minimalist inspired kitchen design with a very classy feel to it. Every minimalist design creates a very streamlined look and it's suitable when you have a small space. It helps makes it less cluttered and to appear more spacious. This kitchen fits a cooker hood, built-in oven and a fridge. Also, this kitchen cabinet has a good amount of countertop space.
Single-wall kitchen in Rica Residence, Sentul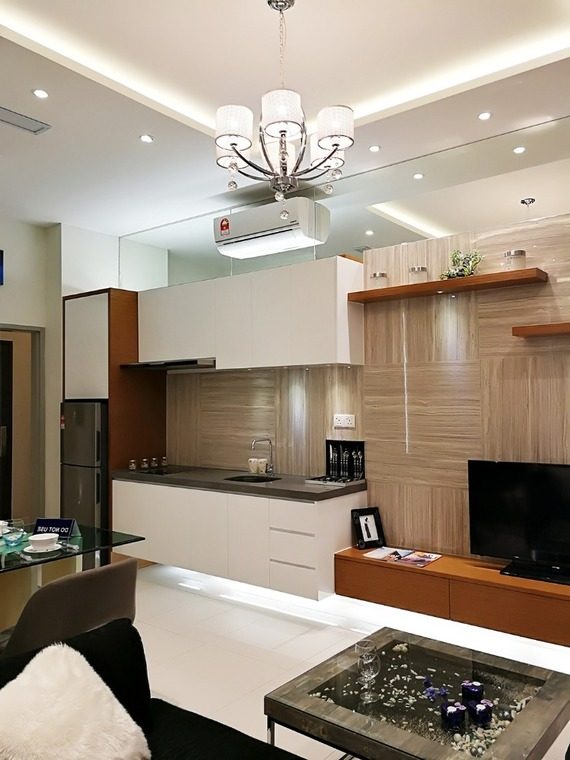 Even though this unit is around 1000 sq ft, very little space has been allocated to the kitchen area. Yet, this single-wall kitchen manages to fit a small sink, cooker hob and hood, while adding a floating effect under the base cabinet with LED lights.
L-Shaped Kitchen Design in Setia Eco Park, Shah Alam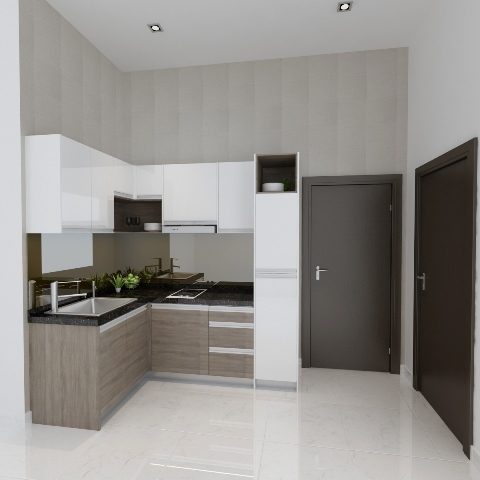 This small L shape kitchen design shows a very compact and functional space. If you have a small home, you should opt for a brighter palette for your furnitures to help make the space appear bigger. Also, the tall cabinet does double duty as a divider between the kitchen and doorway, as well as a utility closet for brooms and mops.
Modern Condo in Taman OUG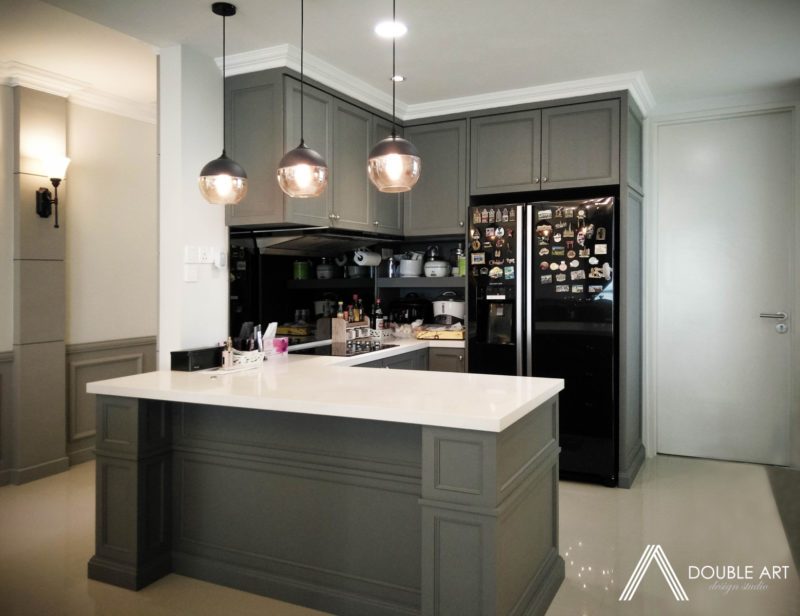 Many of us love the idea of sophistication and simple beauty of a modern classic style. This grey cabinet with white countertop shows a very classic feel. You can also add pendant lights to brighten up space. Overall, this kitchen design has good storage space with a kitchen island that makes it efficient and functional.
Old Condo Refurbished @ Pandan Cheras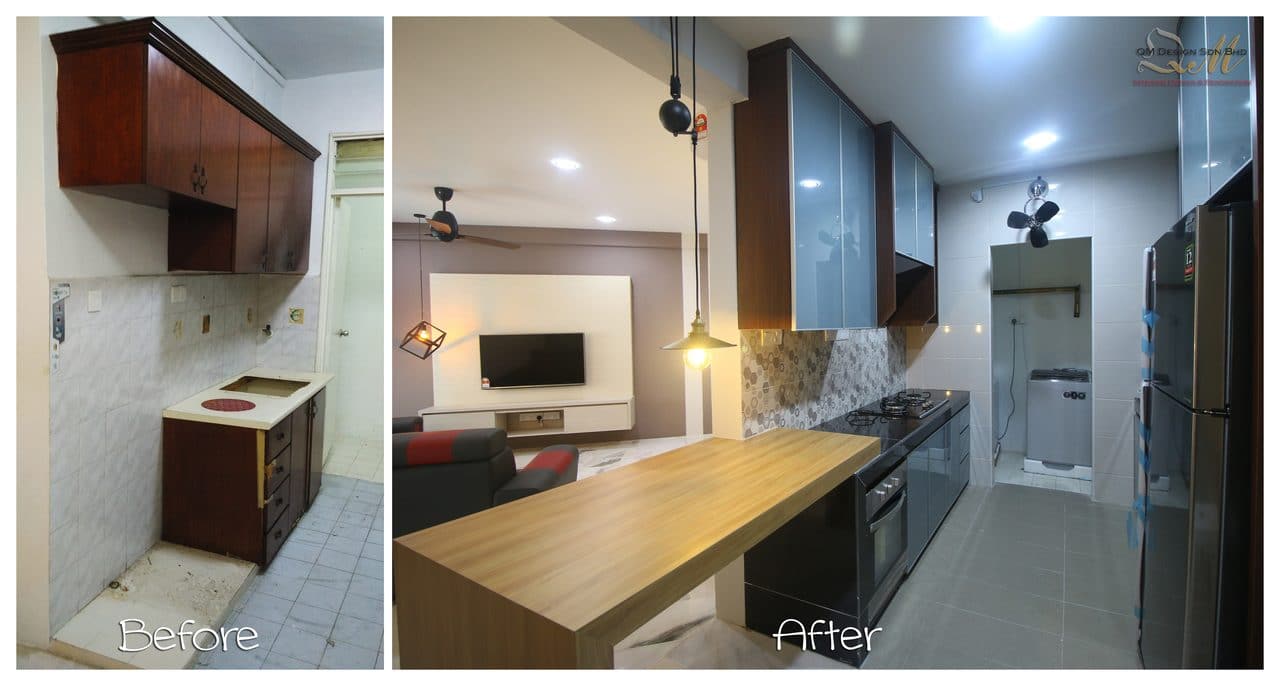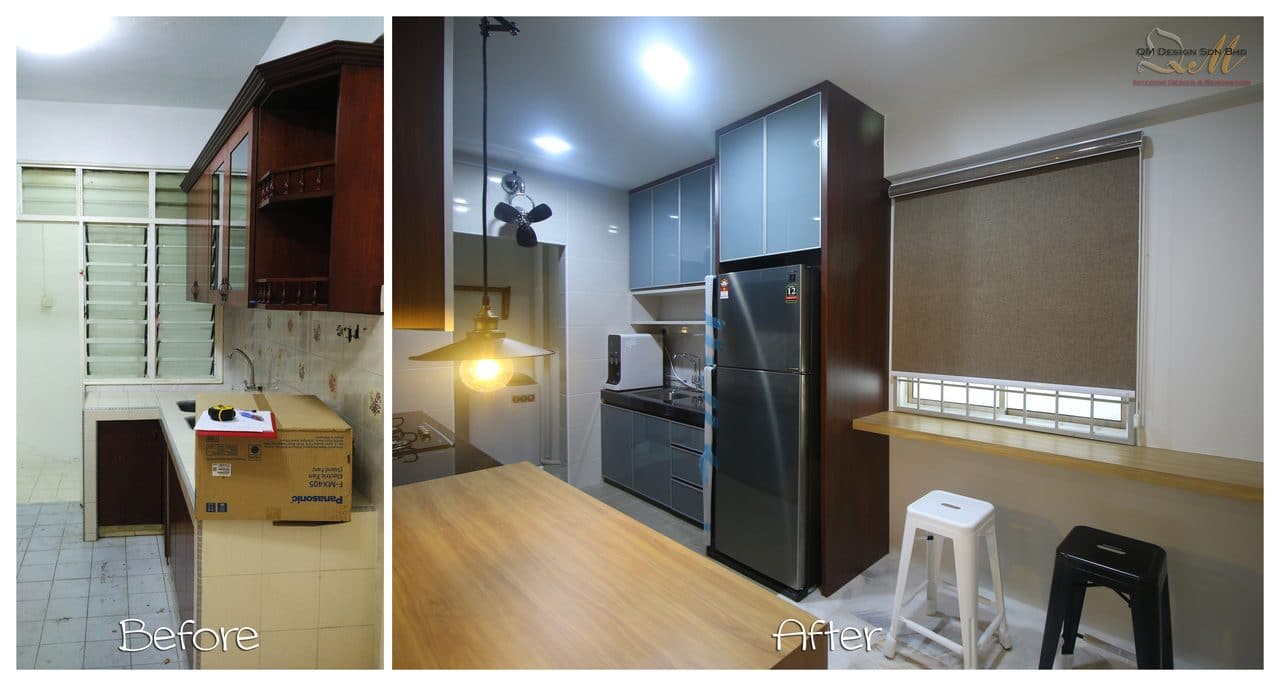 This narrow kitchen has been refurbished to add a long dining counter facing the living room. On the other wall, another long shelf has been added to provide more seating spots. The glass cabinet doors provide a reflective appearance to give the illusion of space.
Airbnb unit in Vista Alam, Shah Alam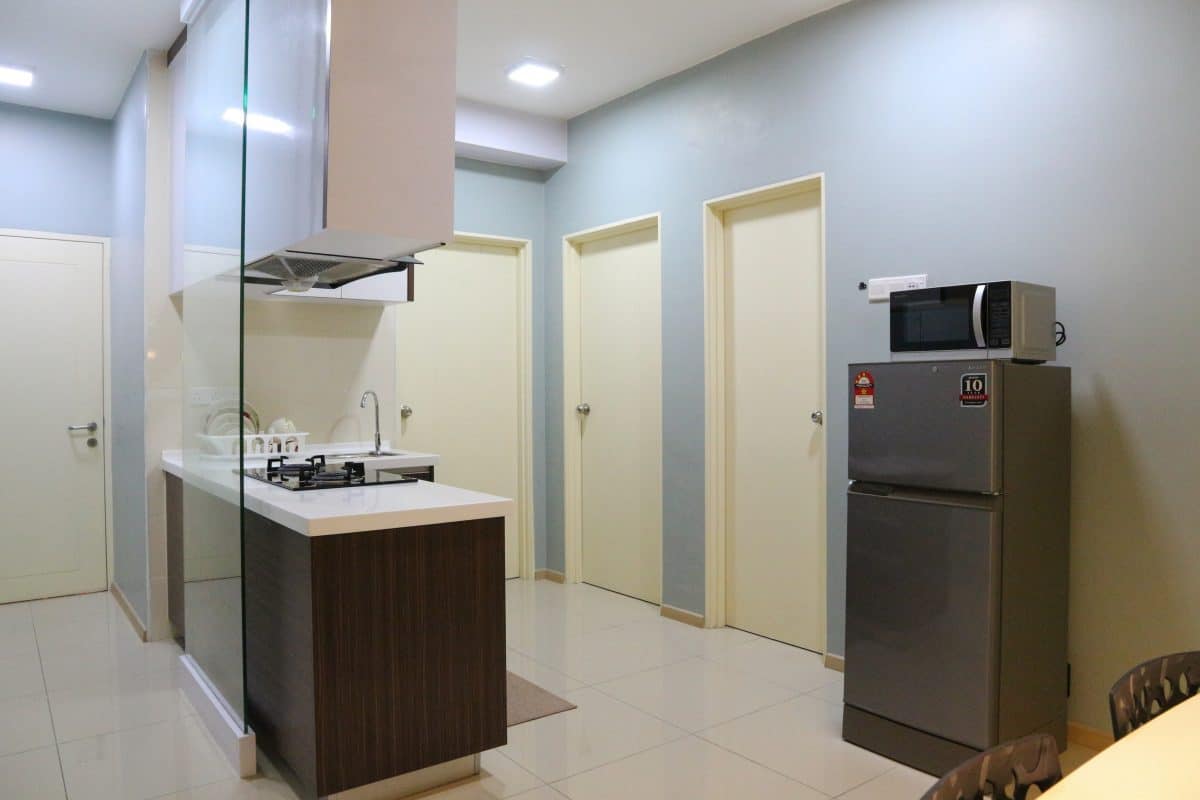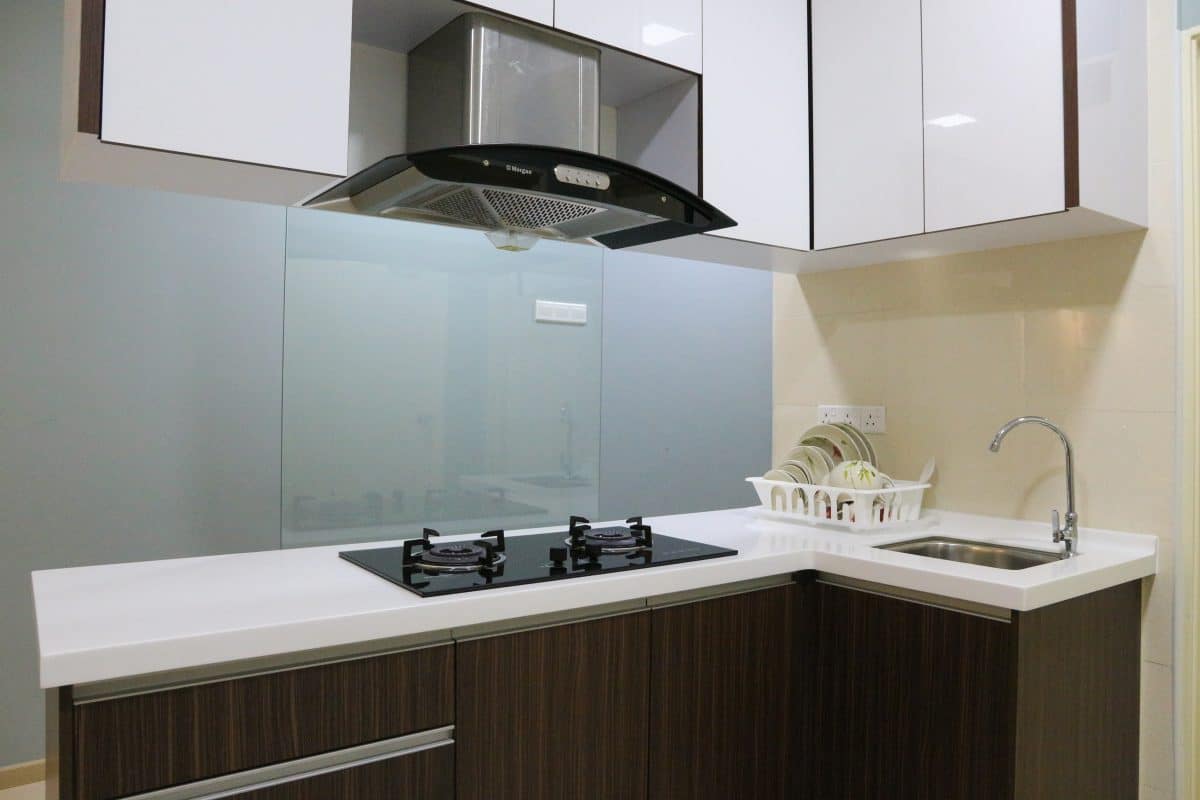 The unique layout of this condo, where the bedroom doors occupy most of the space behind the kitchen means that the kitchen itself is restricted to just one side. However, the designer has cleverly created an L-shaped counter, and added a glass divider that doubles as a partition and a backsplash.
Studio in Six Ceylon, Jalan Ceylon, Kuala Lumpur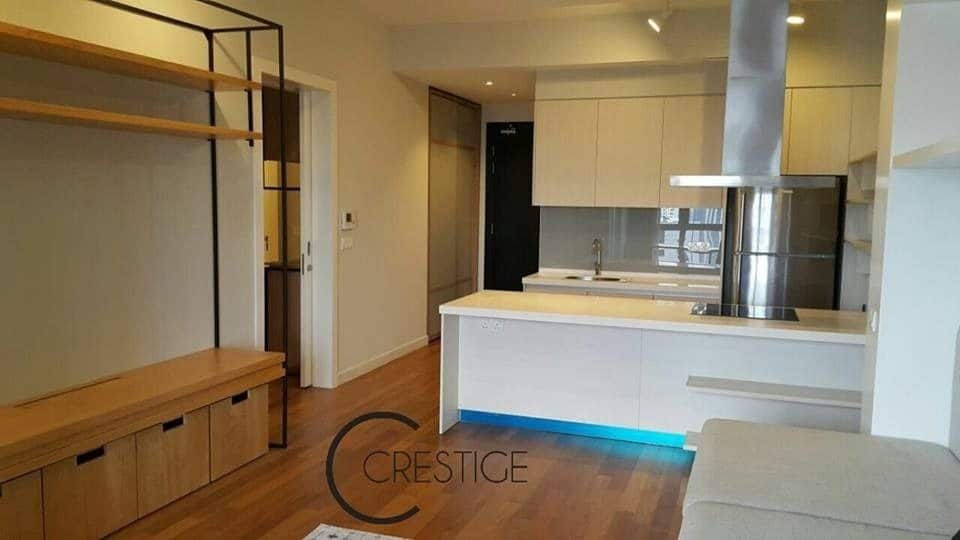 This property is only around 800 sq ft, but the kitchen has been given a lot of space. Along the wall, clean white kitchen cabinets provide a minimal and sleek look. In front of that, an island counter has been added, with a drop-in cooker hob, and a suspended cooker hood that extends from the ceiling.
Tropicana Avenue in Petaling Jaya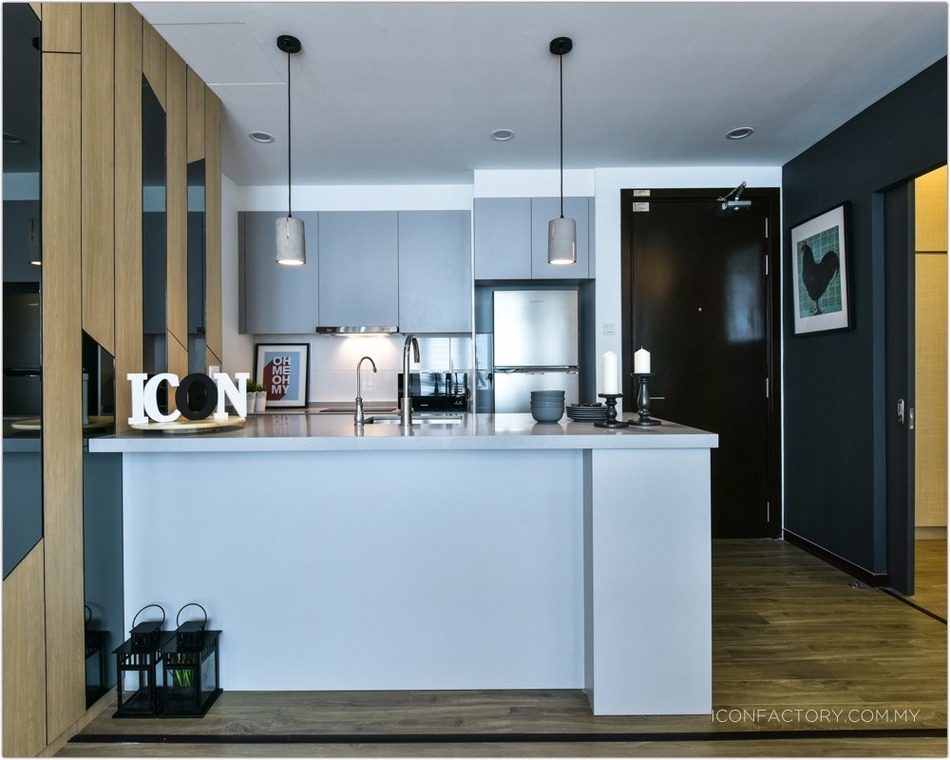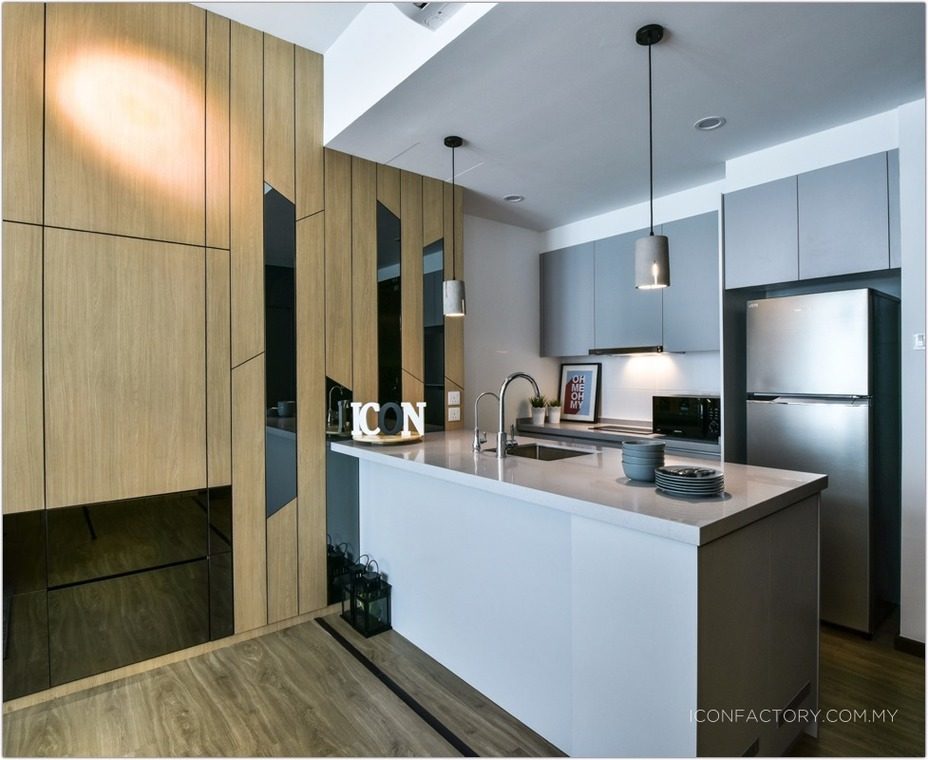 This kitchen shows that grey can be cool and modern instead of looking dull. The cabinet blends well with the grey pendant light on the ceiling as well.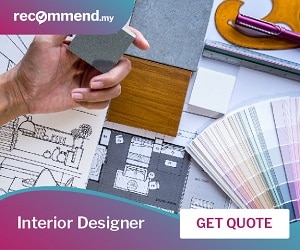 Overall, this kitchen space definitely gives enough room for you to entertain your guest and to do some light cooking.
One-wall kitchen at The Wharf, Puchong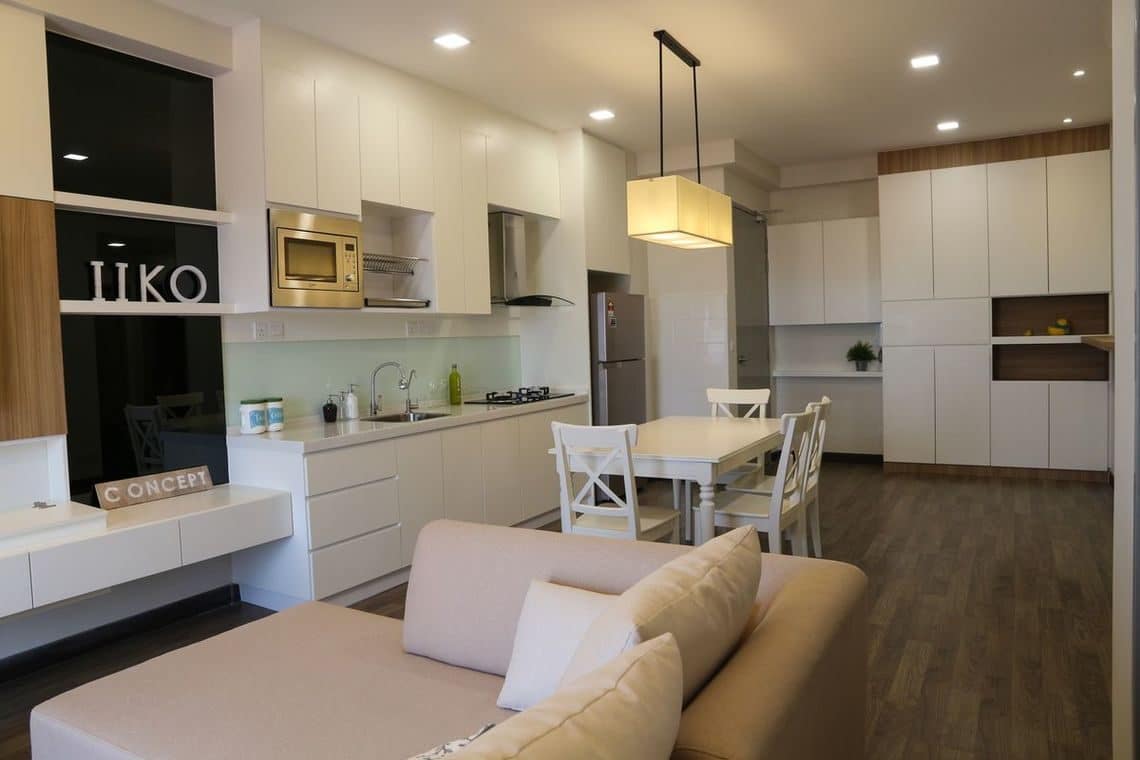 Modern, sleek and classy is the best to define this open concept kitchen. The designer has cleverly integrated the wall cabinets to conceal the L-box for aircon piping. The all-white theme and no-handle cabinet doors are repeated at the closets along the adjacent wall, creating a unified style and keep the space uniform and bright.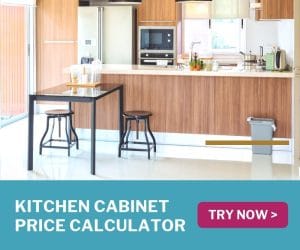 Minimalist studio design in CyberSquare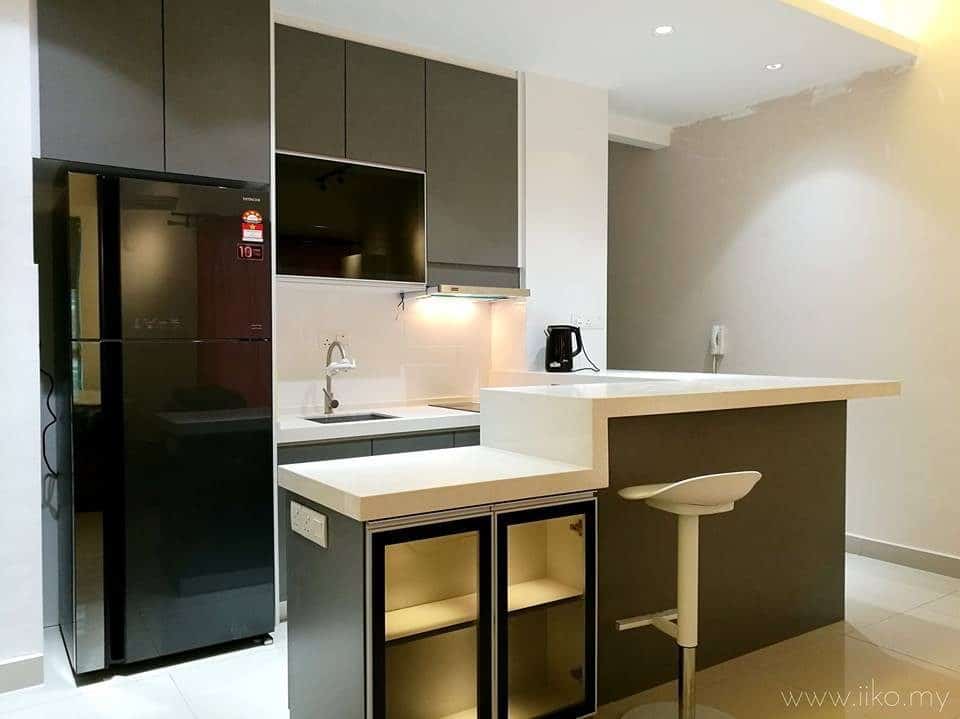 Here is another modern and minimal kitchen design with grey cabinets along with a white countertop. The base cabinet includes glass doors with internal lighting, creating a unique display case. These cabinets helps to tuck away all your kitchen necessities and making it clutter-free.
Narrow kitchen in RT2, Rawang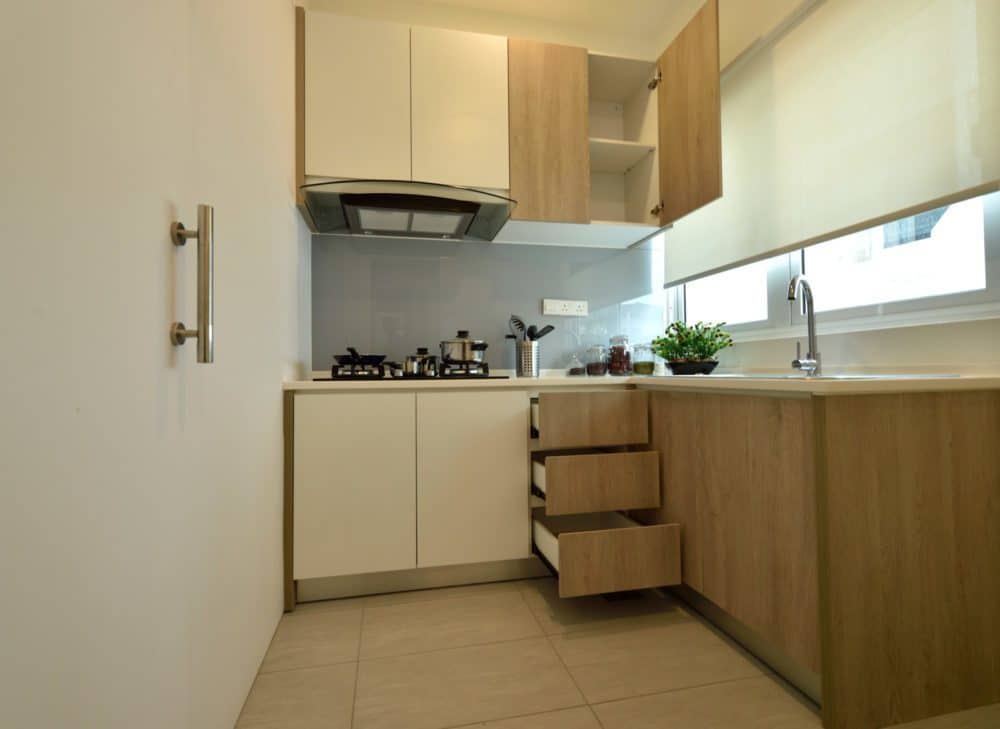 This modern L shaped kitchen combination of wood elements creates a warm and inviting feel to the space. It comes with drawers and cabinetry storage space that is useful to store kitchen appliances and cutleries. The backsplash is also designed using grey tiles.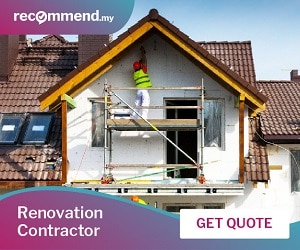 Studio kitchen in Nadi Bangsar, Kuala Lumpur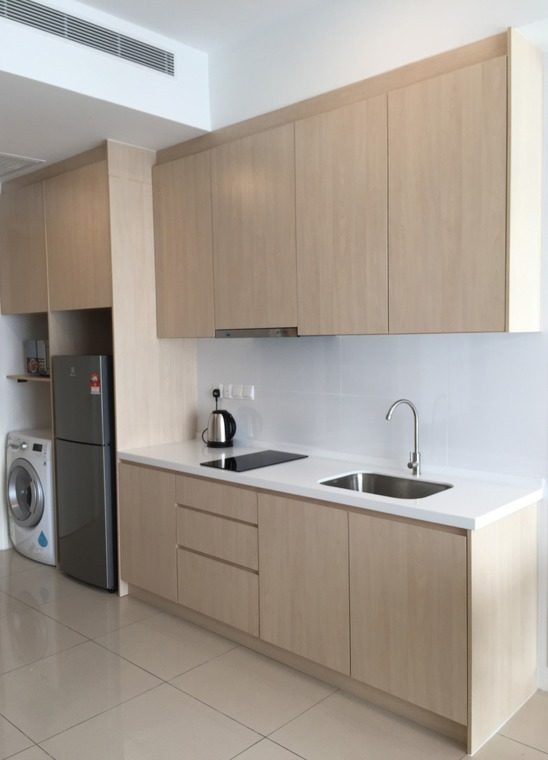 This Scandinavian-inspired kitchen uses light wood-tones and a slim profile counter to maximise space. The cooker hood is also hidden behind a cabinet front to reinforce the uniformity of the space.
Another studio kitchen in Nadi Bangsar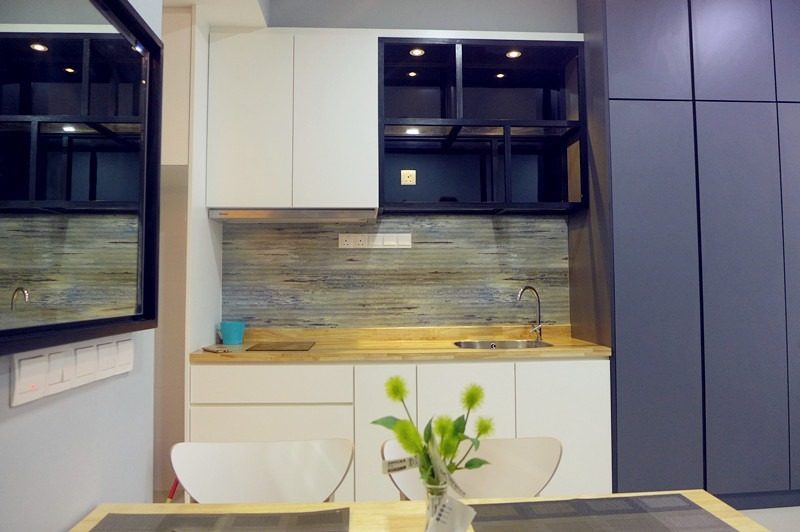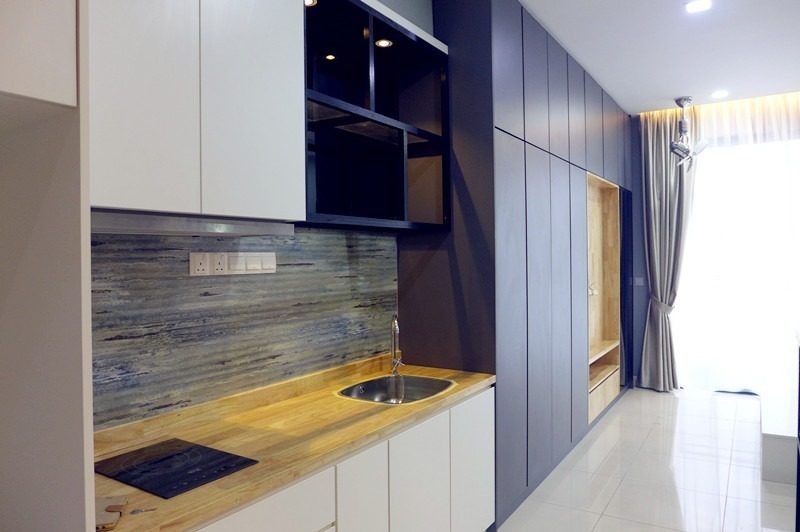 Black and white combination kitchen gives a very edgy feel to the space. This kitchen design looks very spacious and it has many storage space. It has large space for entertaining your friends and family. Besides, those wooden backsplash is used as an added contrast and texture for the kitchen.
Cozy kitchen in Puchong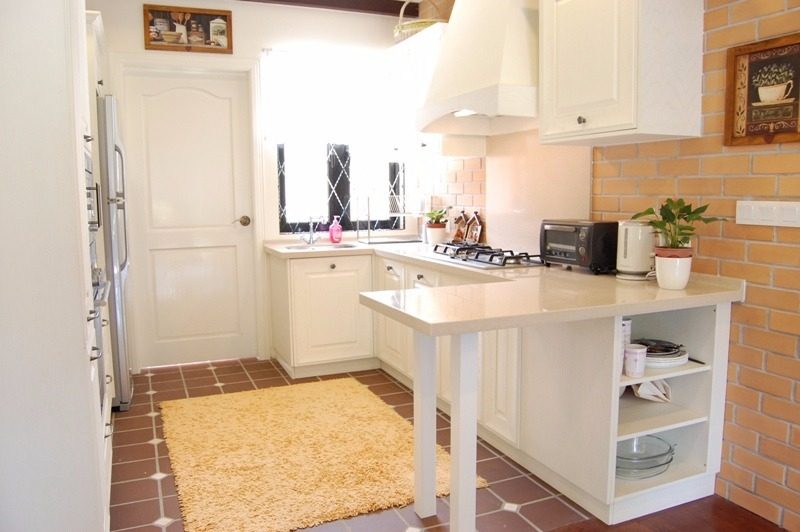 If you love a classic English kitchen, then this kitchen design is definitely for you. The white countertop; the panelled doors; and terracotta tiles give off a very homey feel. The ideal place to make an apple pie!
Get quotes for your kitchen interior design
Recommend.my is Malaysia's best home improvement site. We have over 700 verified and trusted pros in our directory, and we can connect you with four of the most suitable ones based on your requirements. Tell us more about your home requirements and we will get in touch with you!