Over the last few years, there have been many new launches of small condo apartments, also known as "shoebox" or small-office-home-office (SoHo) units. Together with serviced apartments, these types of properties are typically smaller in size (800 sq ft and below).
These units were built by property developers to enable property ownership or tenancy in central locations at a lower price range, particularly in Kuala Lumpur, Penang and Johor.
In fact, in the first quarter of 2018, over half of all SoHo and serviced apartments (about 25,000 units out of 48,000) were located in Johor alone.
But, these small apartments are becoming less popular among buyers. According to this report, the states with the largest number of serviced apartments and SoHos – Johor, Kuala Lumpur and Selangor – have unsold stock of 29.12%, 13.53% and 17.86%, respectively. Penang has unsold stock of 33.12%.
That's not to say that there is no demand from tenants. According to a Knight Frank report, rentals of most high-end condominium / serviced apartment continued to hold steady in the first half of 2018.
Need an interior design for your small apartment?
To make your unit stand out and attract potential tenants (or buyers), get the help of an interior designer at Recommend.my. We have over 700 interior designers specialising in Malaysian residential units.
To get multiple quotes and arrange for a site visit, submit your interior designer request and we will be in touch
Making small units more attractive
Apart from a central location, buyers and tenants are drawn to small units for its focus on compact and efficient living. With the right built-in furniture, layout and planning, a small unit can be a very comfortable sanctuary for young working adults, as well as short-stay visitors.
Here are some of the ways that interior designers use to make a small apartment or studio apartment more liveable.
1. Light colours; natural wood elements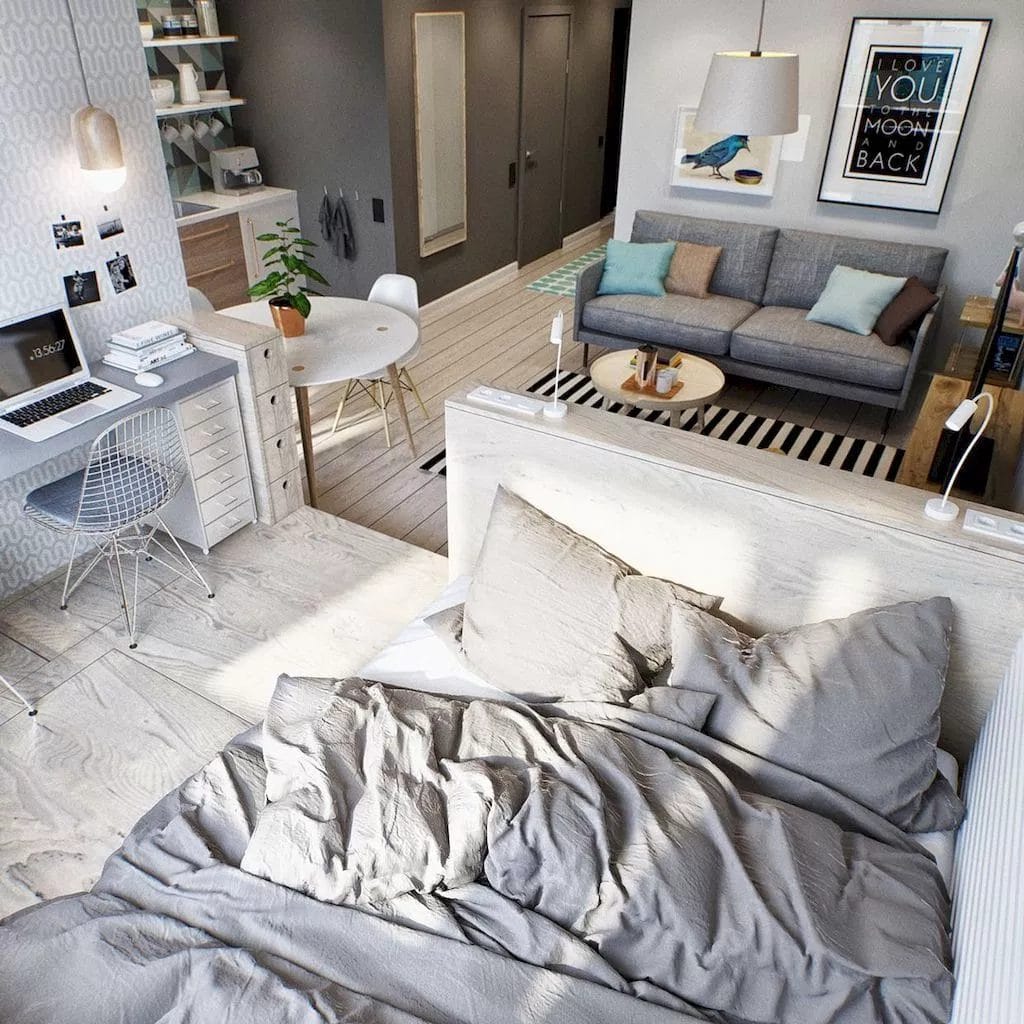 This Scandinavian interior studio apartment looks simple and functional. Just the simplicity complements the very basic nature of the apartment. This studio space has a good amount of storage such as kitchen storage, shelving and a workstation with drawers.
With using neutral-toned colours helps brighten up space and make it look more spacious. Thus, the interior matters a lot in bringing out the best of the space especially in smaller homes.
2. Add a multi-functional divider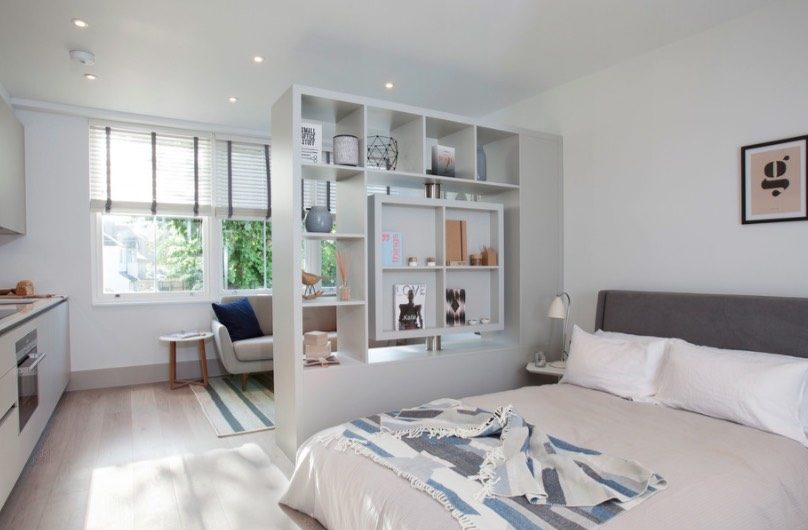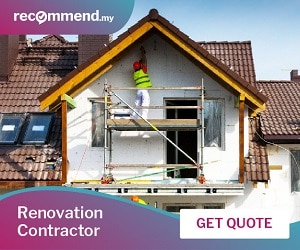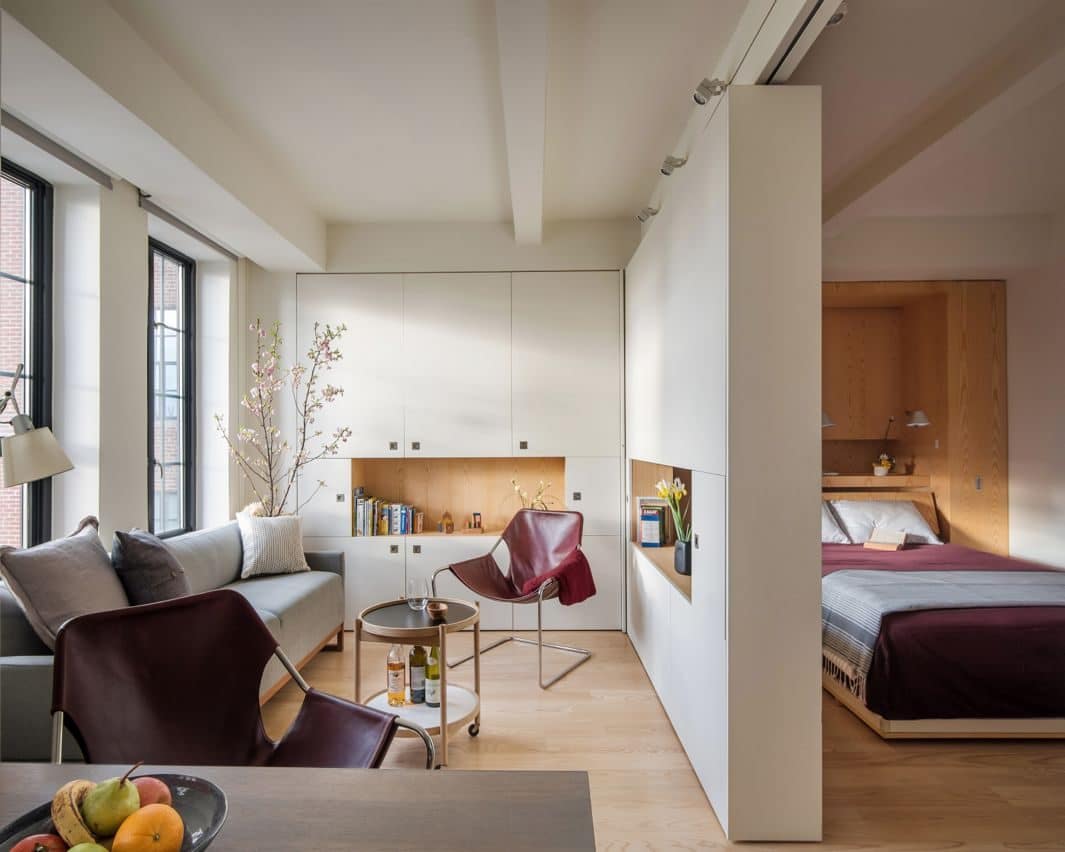 Instead of plain partition walls, use a shelf that doubles as a divider to create a separation. It gives you more privacy between the living hall area and the bedroom. Not only that, this divider also provides good storage space for you to display decorative items. Thus, making it neater and organised.
3. Stick to one main colour tone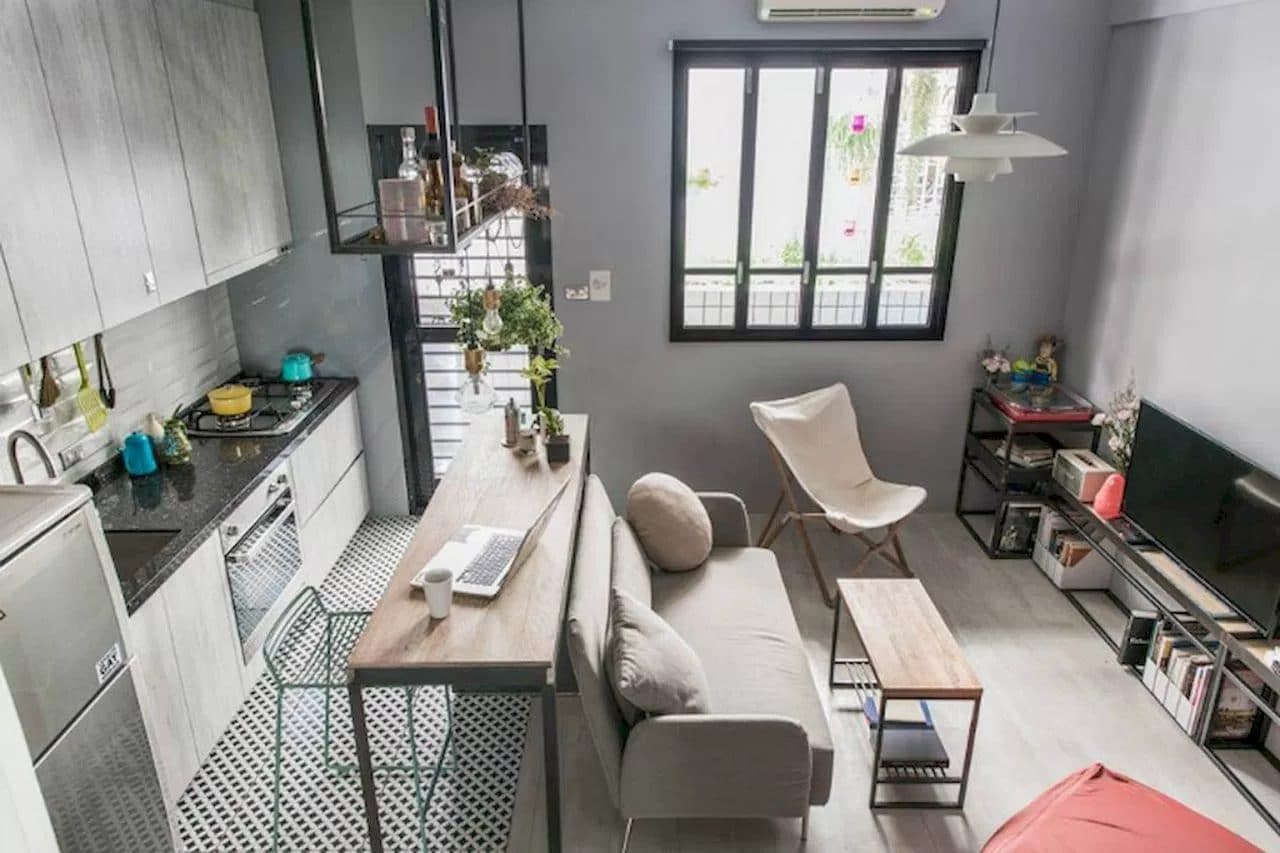 Neutral colours allow you to create space more easily. Using simple furniture and colours is the key to creating warm and well-designed space. This studio also has natural light coming through the window which helps light up space.
4. Go for the all-white interior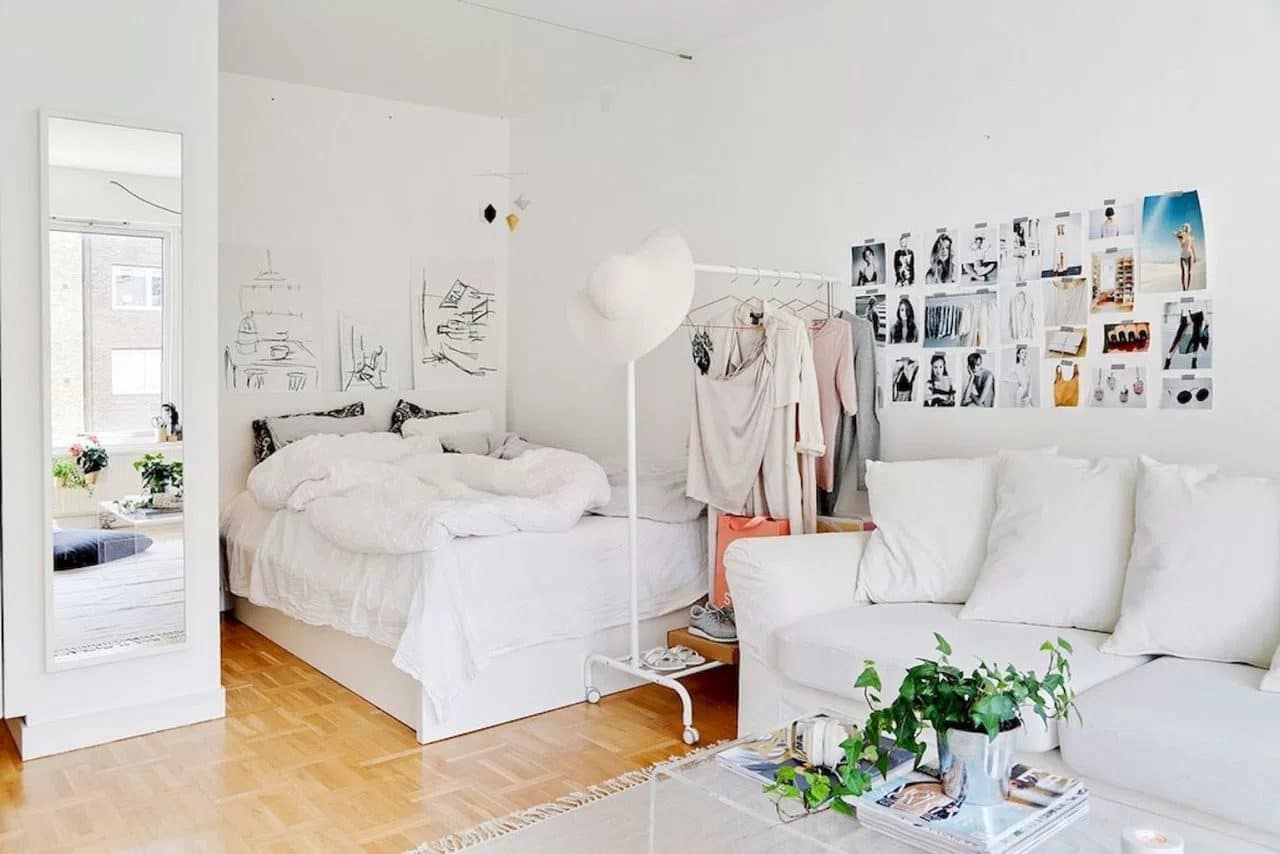 This all-white studio interior shows a very minimal and clean look. It makes you notice the light coming in through the windows, the art, and the furniture. Those wooden flooring gives such great warmth to the space.
You may also decorate the space with green plants so that it feels lively. Plants are known to elevate space because of its bright colour.
5. Build storage under the bed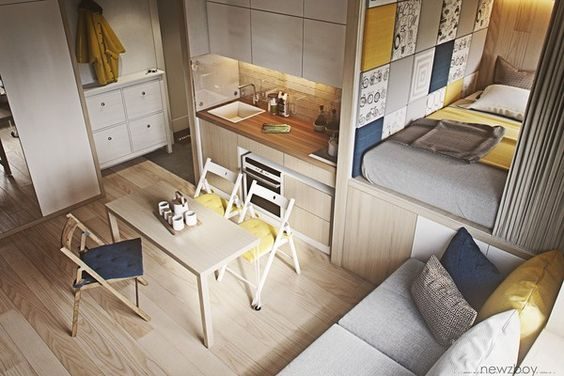 Who needs all that space above the bed? By adding storage space underneath and creating an elevated platform bed, you can give your space a very unique look. This studio design frees up space that can be reallocated to the living area so you (and your guests) won't feel cramped.
6. Stay clutter-free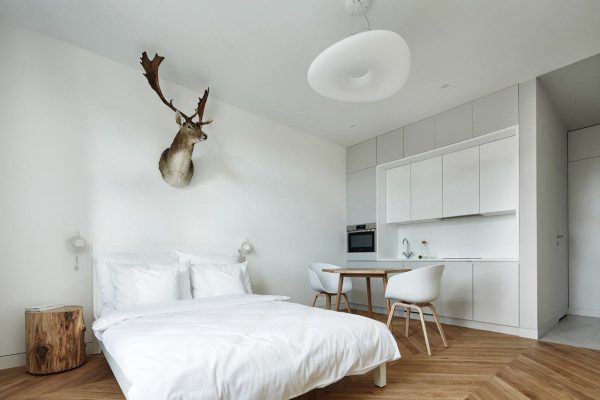 In a small space you don't have the luxury of having too much furniture or possessions. Keep things simple and functional, and have lots of storage to conceal items. It makes the space less cluttered and streamlined. You can stick with just two types of colour for your furnishings so that it looks well-balanced. For example, wood and white goes very well together.
7. Different light sources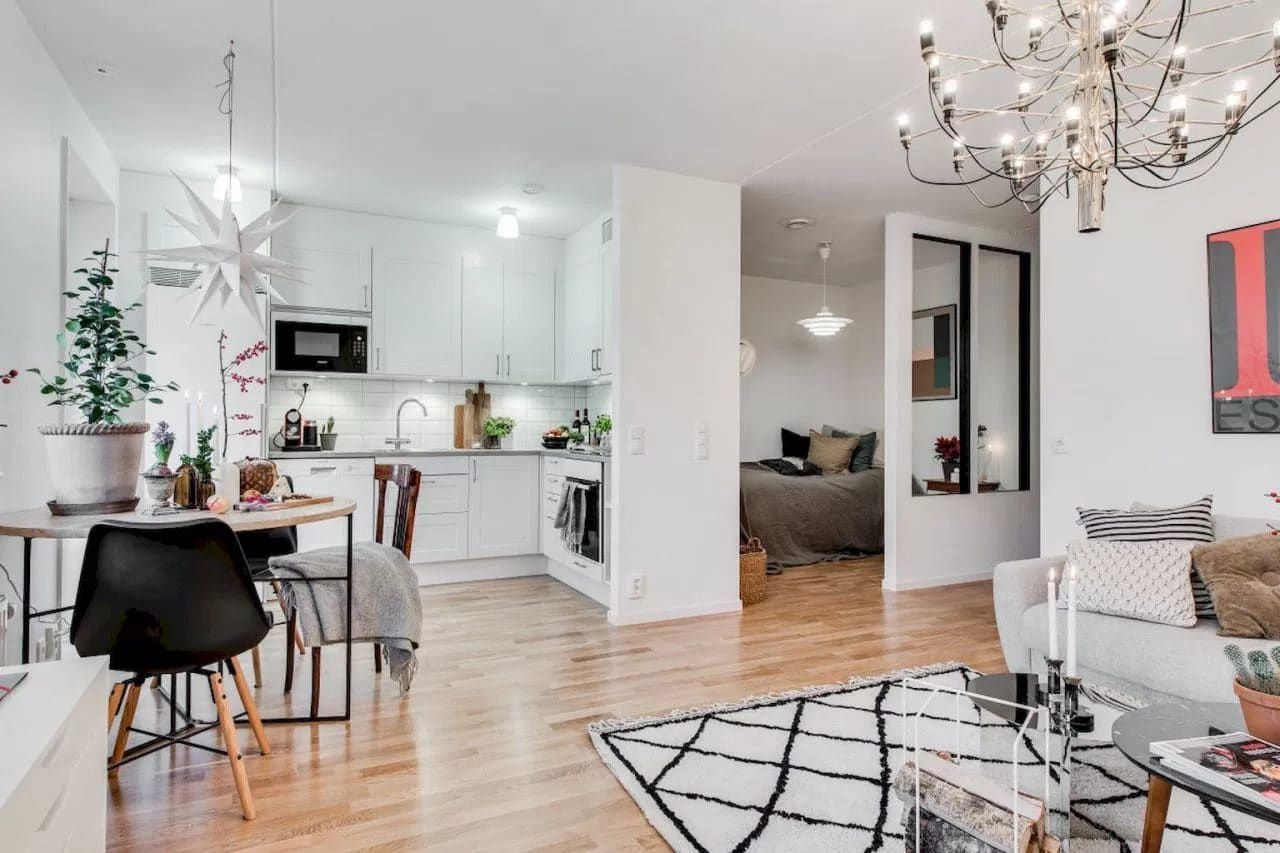 To keep the space from feeling cramped and dark, make sure you install different light sources, including ambient, task, and spotlighting. This studio apartment shows that you can utilise all corners even in a small apartment. You've got the functional kitchen, dining area, living area and bedroom with divider.
8. Add wood elements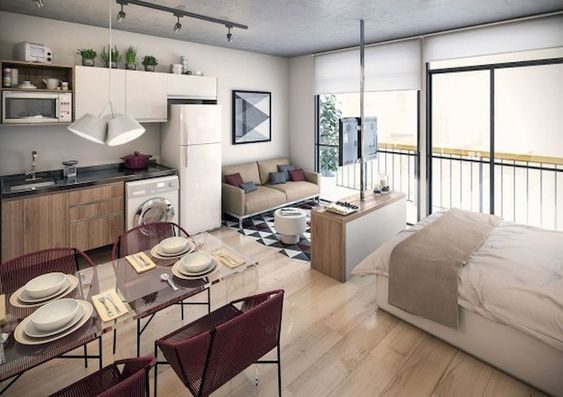 Wood brings an automatic warmth and cosiness to a home. Not only there are beautiful hardwood floors throughout the studio, but the natural grain carries up across the shelving units and cabinetry.
There are also beautiful ceiling lights, decorative potted plants that complement well with the space. Thus, all these wood elements result in a very cosy and bright home.
9. Build upwards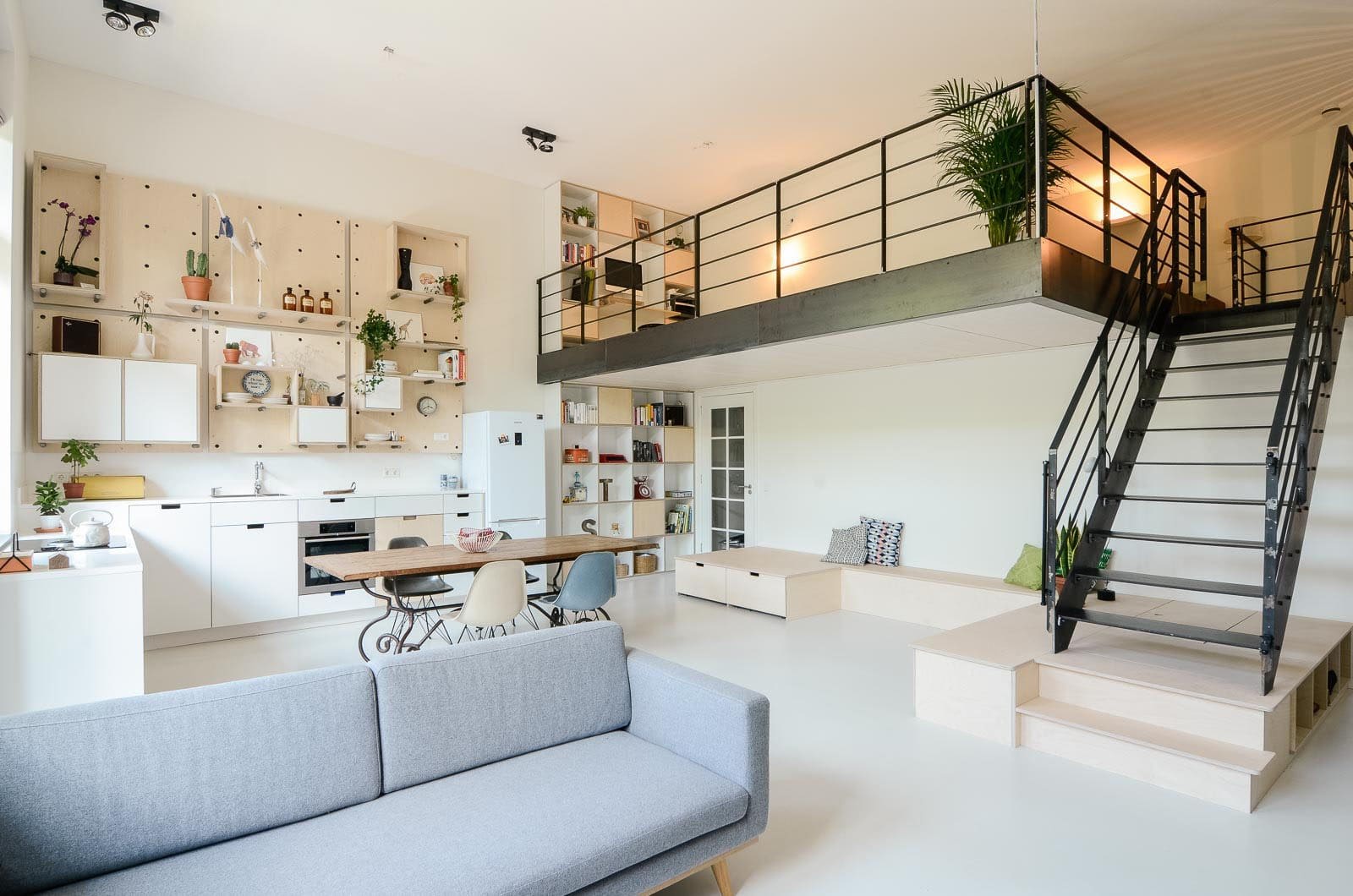 If the space allows it, you can create a loft area and practically double your space. Also, the living area and the bedroom are separated on a different level, it gives it more privacy especially when you have guest over. And, with all the built-in storage cabinets and kitchen space makes it very functional.
10. Minimalist studio interior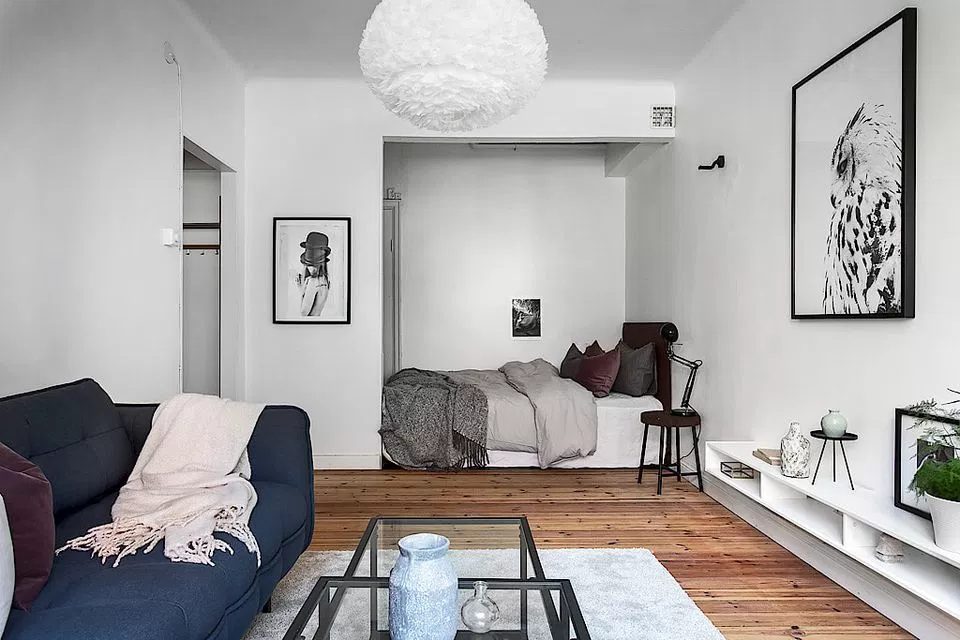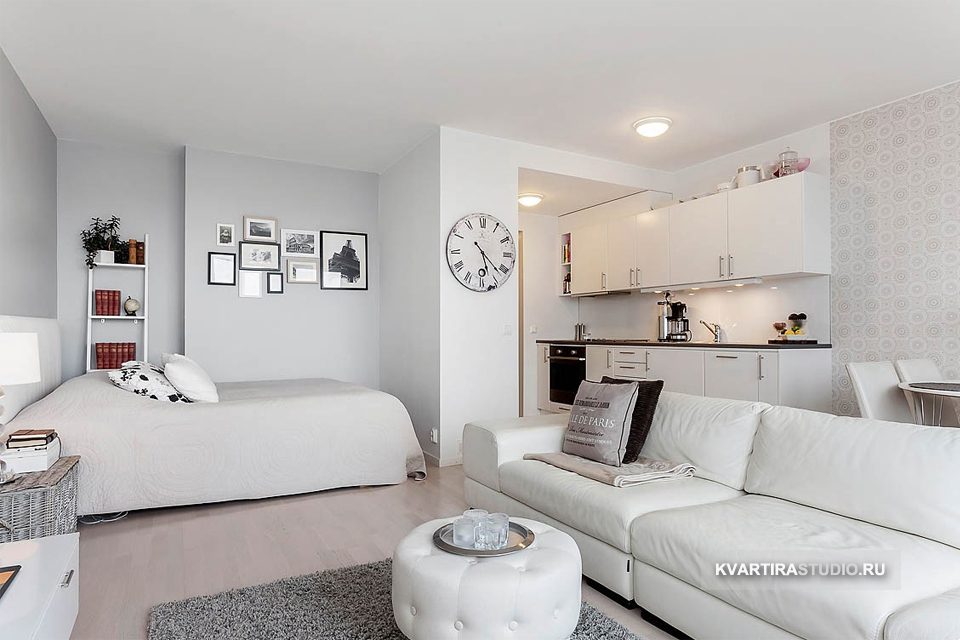 This minimalist-inspired studio apartment shows a really open and clutter-free space. It's clean, fresh-looking, and inspires a sense of calm.
A minimalistic room with all-white furnishings can sometimes feel a little bland. So, decorate the space with coloured pillows, photo frames, rugs, and potted plants for that much-needed comfort factor.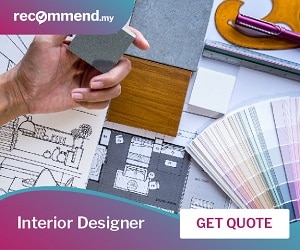 Then, sit back and relax to enjoy a clutter-free, peaceful and calming home.
11. Use every inch of space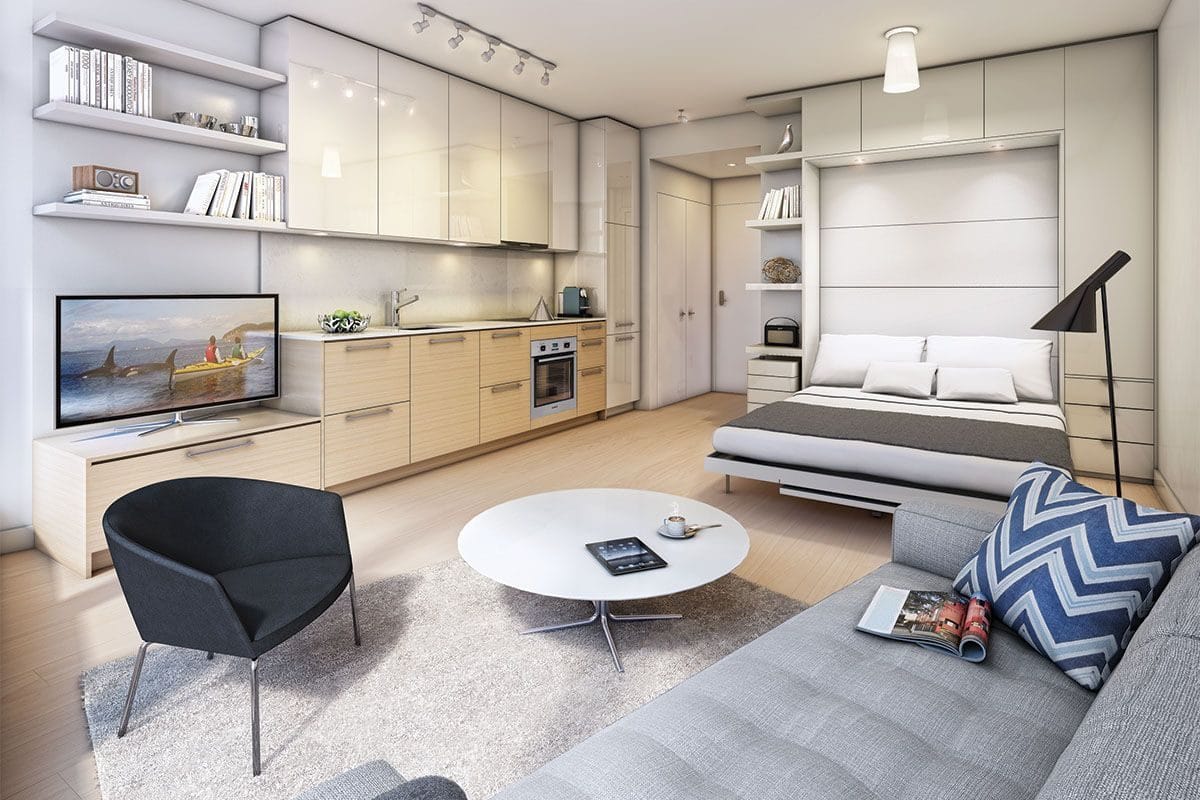 This studio apartment shows plenty of built-in cabinets and shelving for lots of storage. That kitchen cabinet is attached with a TV cabinet which is very creative especially when you have limited space.
Nonetheless, this studio design is very compact to live in along with the living hall space and bedroom area. It also has all-around storage as the bed frame for you to store your necessities.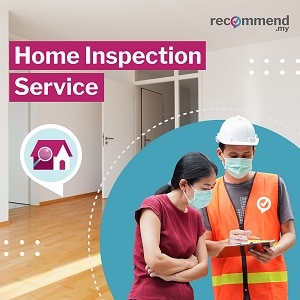 12. Use vibrant colours sparingly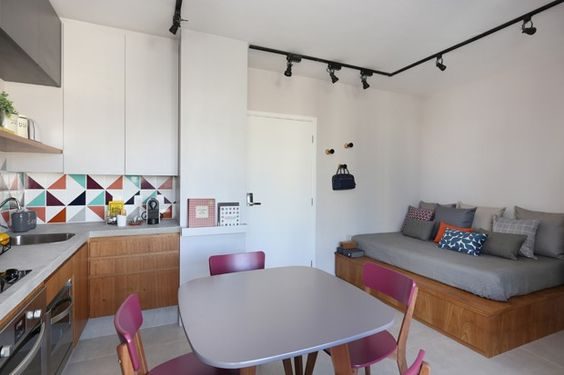 Start off by incorporating a few bright accents into your colour scheme. Rugs, kitchen backsplash and furniture pieces all can be in bright colours. Using bright and vibrant colours will make your home less dull looking.
13. Add built-in cabinets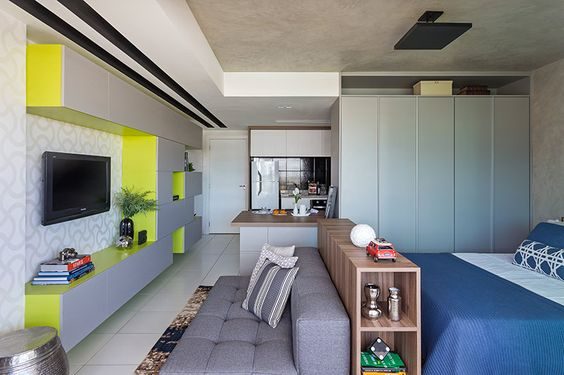 This studio apartment shows lots of built-in cabinets. Clever built-ins are a great way to incorporate storage and any other functionalities. Especially when you are living in a small studio home, built-in cabinets are a smart way to really get the most out of your space.
With all these storage spaces from the built-ins, you do not need to worry about running out of storage. You can also display lots of beautiful decorative items on the open shelves.
14. Include open shelves for frequently-used items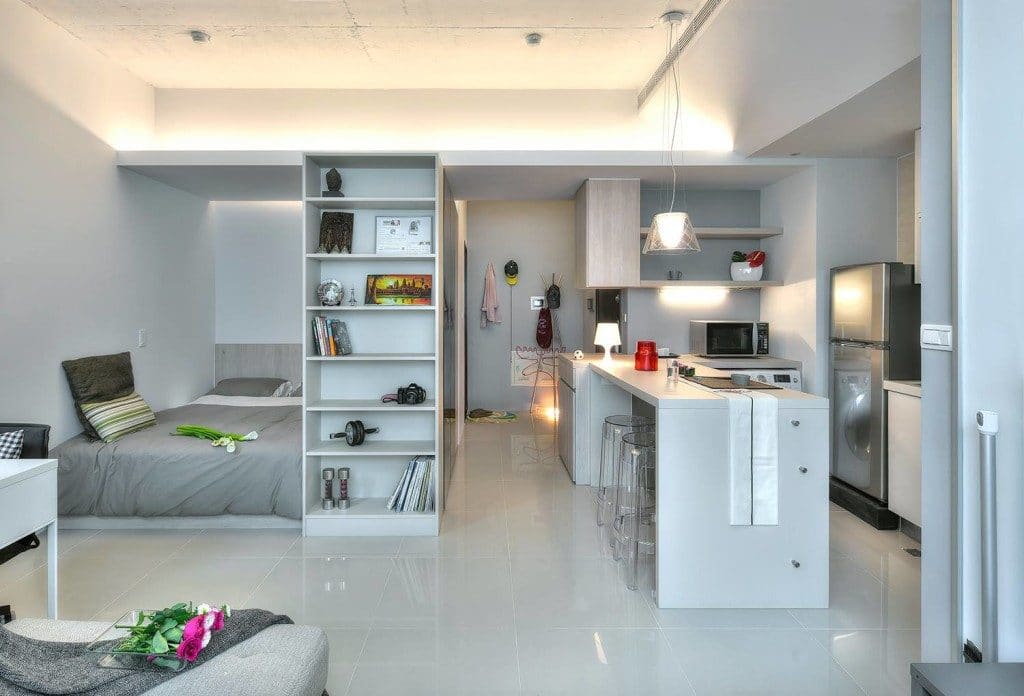 Open shelving is very useful, and it helps increase your storage options. An open shelving lets you display decorative items or to organise your stuff. Thus, those floating wall shelves in the kitchen also provides a very clean feel and it perfectly fits the interior.
15.  Used the ceiling to separate living spaces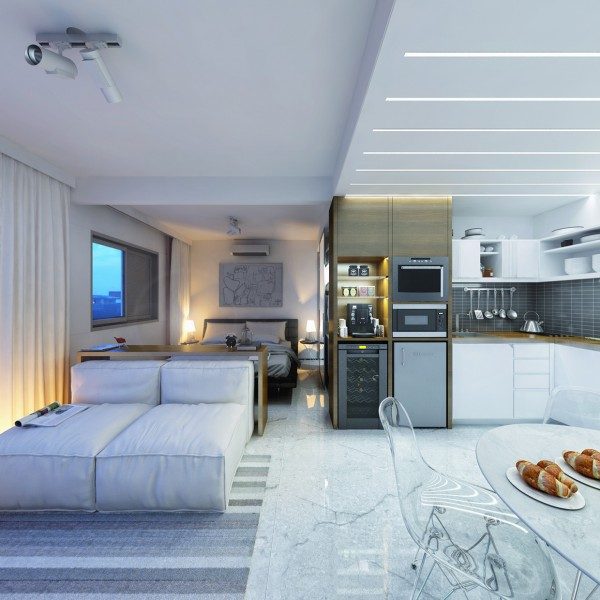 Since the floor of a small apartment is typically of a single design, such as marble flooring throughout, another clever way to separate the kitchen from the bedroom from the living room is to change the ceiling design. In this unit, the designers have added strip LED lights in the kitchen, while adding a boxed-up plaster ceiling in the bedroom to create three distinct areas.
Need an interior design for your small apartment?
To make your unit stand out and attract potential tenants (or buyers), get the help of an interior designer at Recommend.my. We have over 700 interior designers specialising in Malaysian residential units.
To get multiple quotes and arrange for a site visit, submit your interior designer request and we will be in touch