Once a bare unit with only plain walls and floor tiles, this refurbished micro-apartment in Penang is the result of clever planning to create the ultimate cosy abode for a budding family.
In the beginning, space was certainly an issue in this tiny 400 square feet apartment. The clients desired a versatile and functional space for themselves and their toddler to learn and grow. Thus, creating a space that helps foster this relationship was very important.
Thanks to the team at Grov Design Studio, the once compact and awkward apartment is now reinvented into a gorgeous and practical living space.
About the property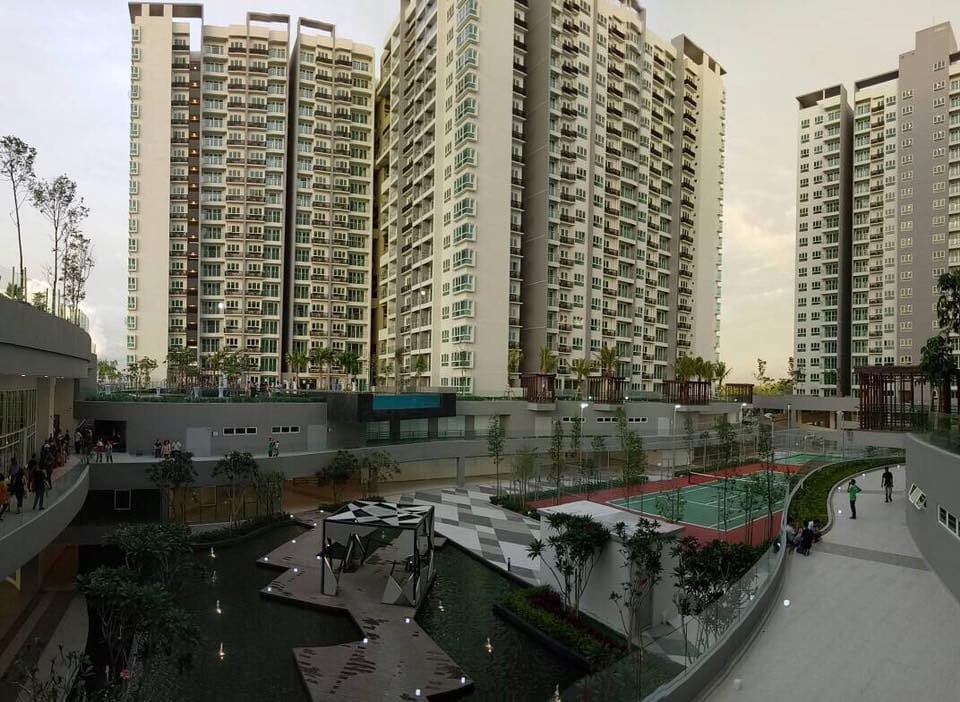 Located in Bayan Lepas, Penang, Tropicana Bay Residences is a freehold waterfront lifestyle condominium that is part of Penang WorldCity's mega-city project. It consists of 6 blocks which carry a total of 1343 residential units across 41.5 acres of freehold land.
Among the many facilities that can be found are a lap pool, sky deck, badminton hall, playground, gymnasium, a multi-purpose hall, aero yoga room, and tennis courts.
This unit is built up of 400 square feet, with 1 bedroom and 1 bathroom.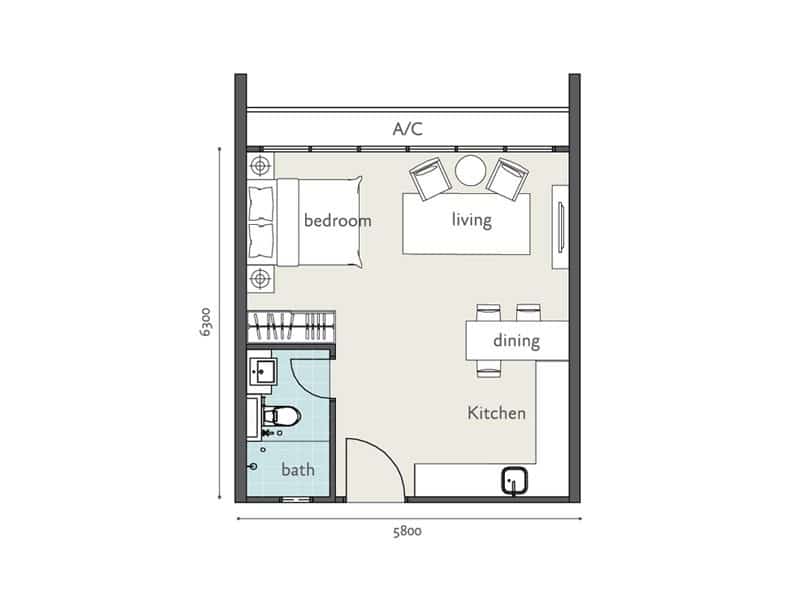 Creating a hygge and functional family home
The main inspiration for the client's new interior was to create a flowing interior landscape that takes advantage of every corner, creating a practical and open home.
This means putting every inch of space to good use with fittings and elements that are multifunctional.
The remaining design layout is kept minimal, with flexible furniture arrangements and streamlined storage solutions resulting in a cohesive environment needed to live comfortably.
"The concept of the space is built as a practical, hygge home to create unforgettable memories for the family." – Cherry Yeoh, Founder and Director, Grov Design Studio
Regardless, the renovation makeover was not an easy stretch all the way. The biggest challenge for this project was to design the confined master bedroom that stands at only 120 sqft.
Sharing the space with a 1-year-old toddler, the family needed a solution that would help them keep their bedroom and the rest of their home neat, organised and child-proof.
Knowing this, the team had to overcome space limitations to accommodate a comfortable bed area, while sticking to their overall design aesthetic.
Delivering smart results
Weeks after, the apartment is crafted into a beautiful family home that streams seamlessly into an open space concept.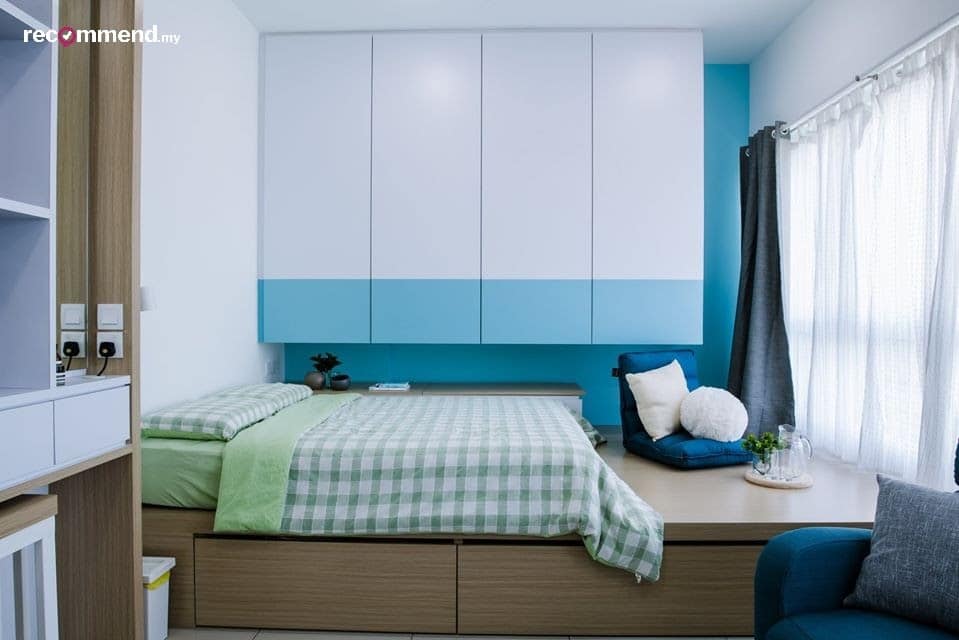 By extending the master bedroom, a platform bed is used instead of a bulky bed, which allows the bed area and their toddler's crib to be on the same platform.
Hidden bed drawers and full-height cabinets provide a space-saving solution for the family to have effortless storage capacity within reach at all times.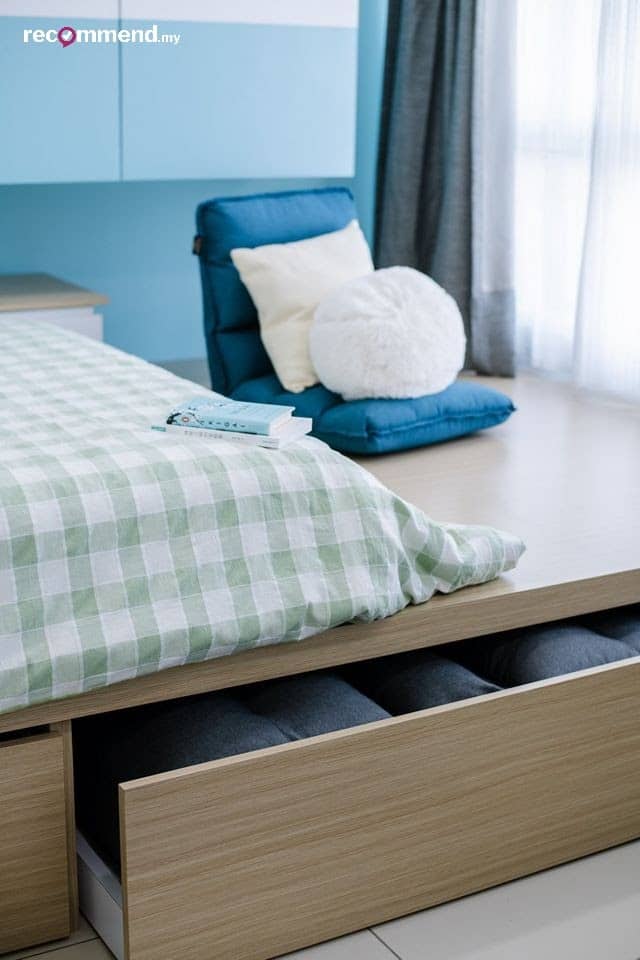 The pull-out drawers are perfect to store the toddler's favourite toys or fit an extra mattress. Every element works hard to perform double duty, which can make even micro-living feel like a private retreat.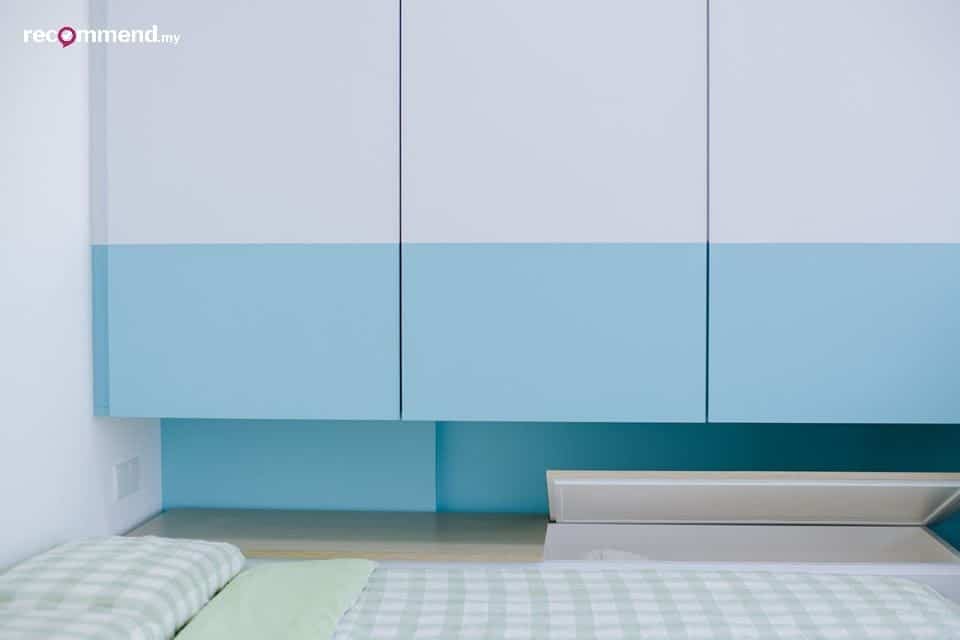 With calming shades of blue on the furniture, walls and cabinets, the design team created an allure of elegance and simplicity through a timeless colour duo that stays trendy in every season.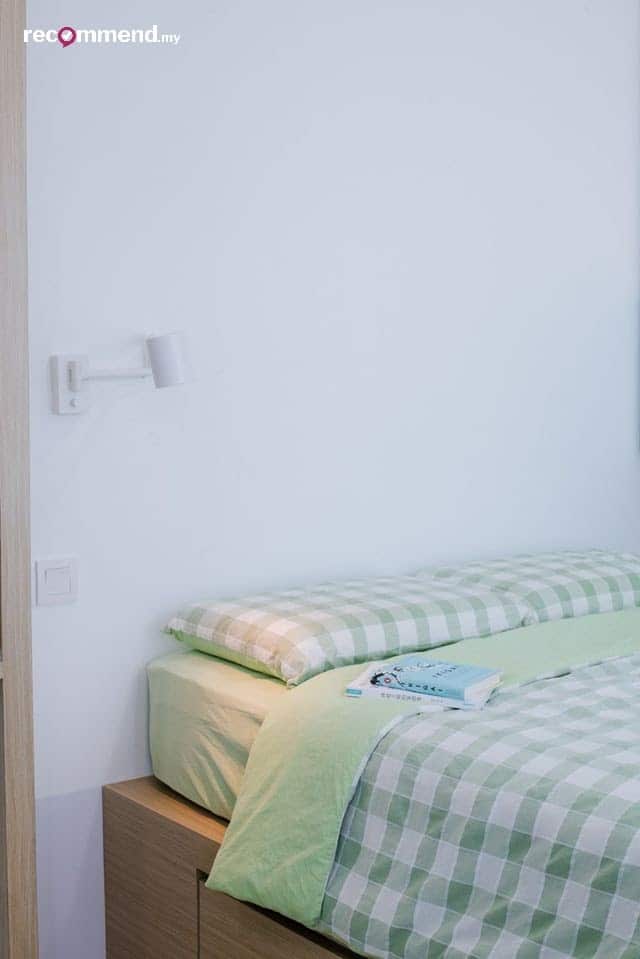 Focusing on the little details such as good lighting goes a long way when it comes to micro spaces. Here, a simple light fixture has the ability to create an intimate atmosphere in an instant.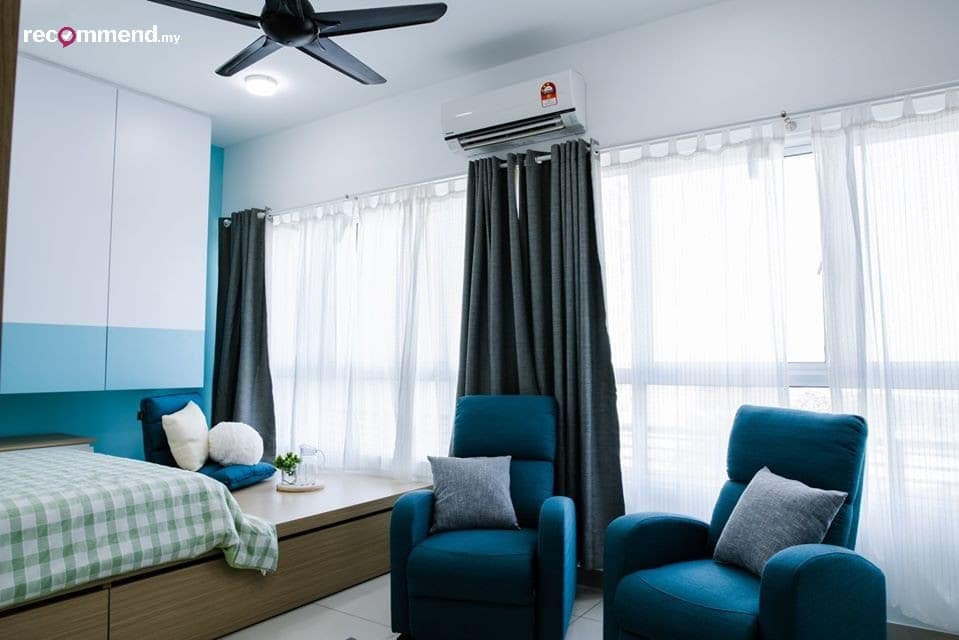 Meanwhile, the largely untreated windows in the bed and living room stream in plenty of unobstructed natural light during daytime. In the evenings, downcast ceiling lights wash the home in ambient, warm luminescence.
This balance between cool downlights and natural daylight is complemented by soft tones of light blue and patterned grey surfaces to enliven the unit's aesthetic.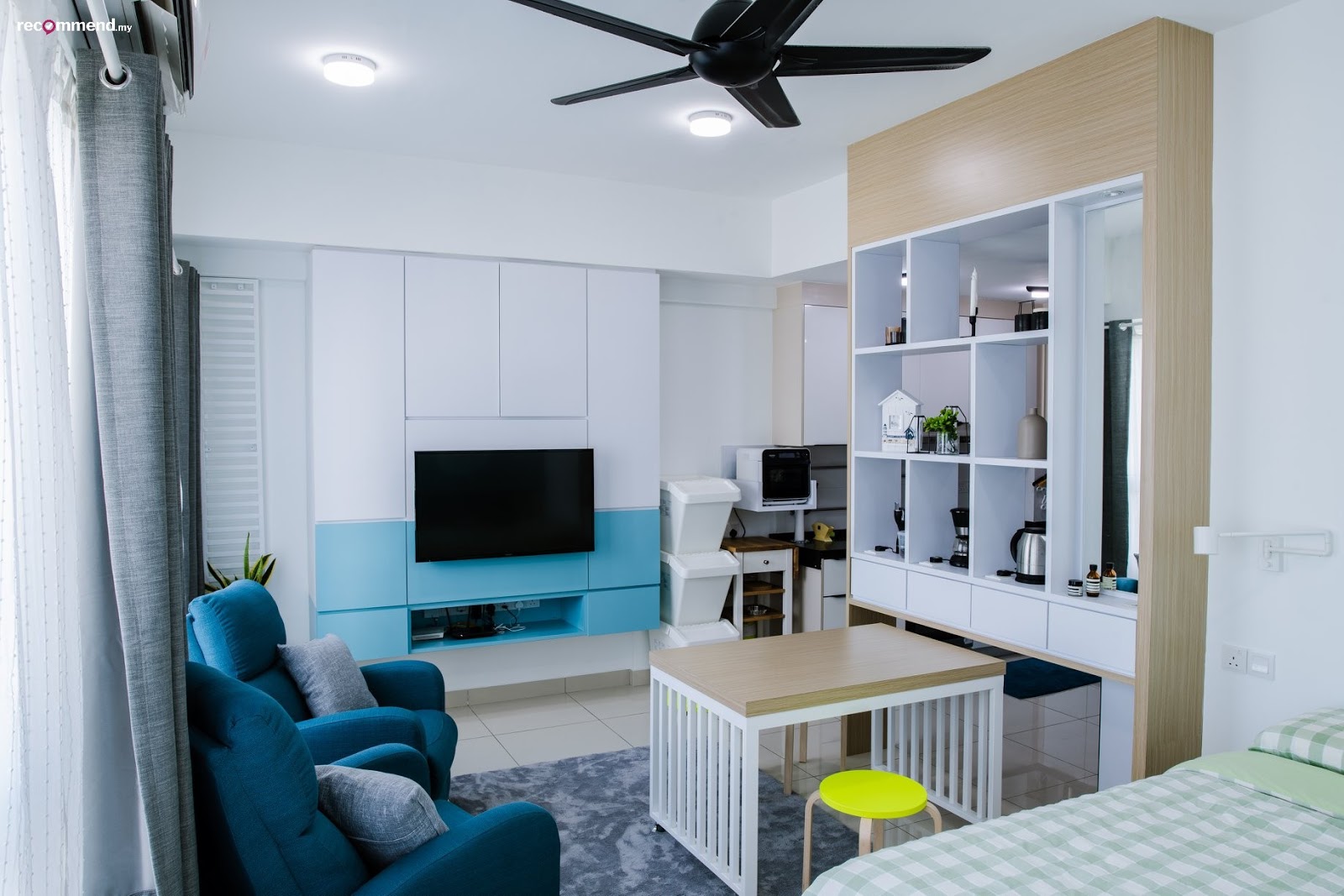 In the living and dining room, the structure is kept to a minimum to allow all spaces to flow into one another through an open-space concept. The layout is left uncluttered to encourage playtime and development with their child.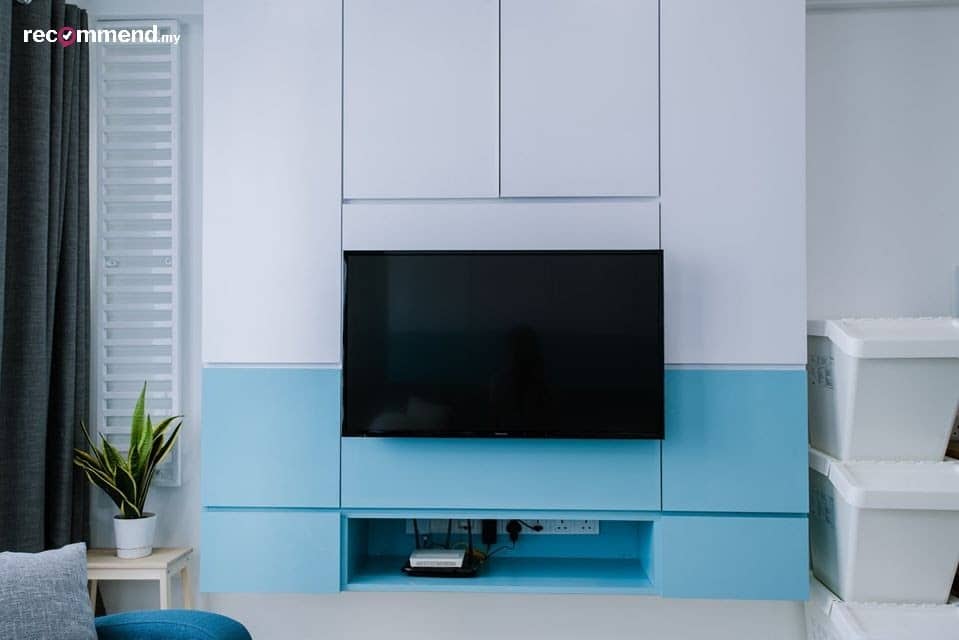 The living area features a sleek and space-saving built-in TV cabinet wall in similar light blue hues. To save even more space, the designer used ceiling-height cabinets to maximise the area vertically by using high-quality, durable materials.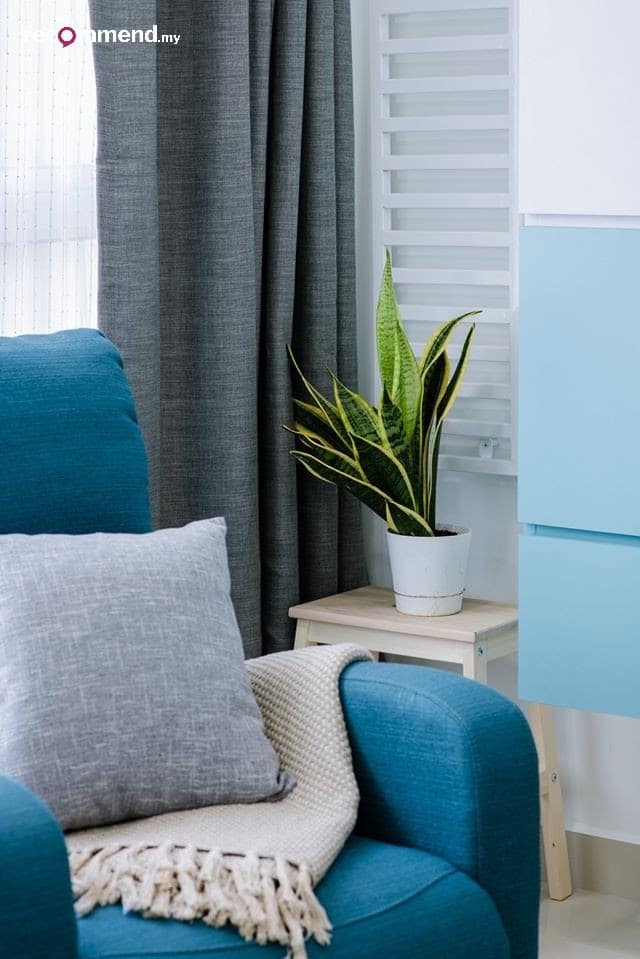 To add visual depth to the living room, the designers combined a union between colours and textures for the furniture and accessories to emphasize a prominent focal point.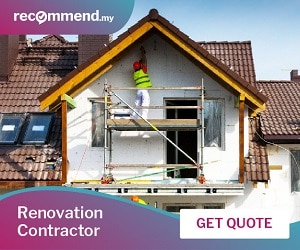 The strategy was to keep patterned surfaces subtle through complementary hues of greys and beiges," informs the designer. The sofa, cushions and curtains all combine to give off a harmonized look.
"The strategy was to keep patterned surfaces subtle through complementary hues of greys and beiges" – Cherry Yeoh, Founder and Director, Grov Design Studio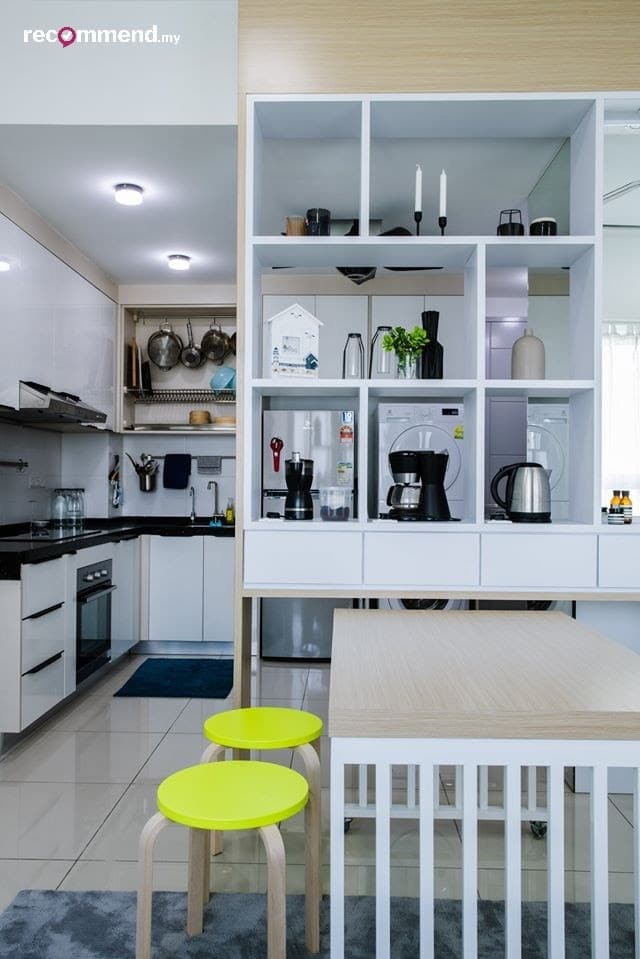 The designers also included a multifunctional open display divider that came with built-in compartments for the family's convenience.
Not only does the divider create an illusion of open space, but it also serves as a stunning display cabinet, make-up table and kitchen pantry for the family.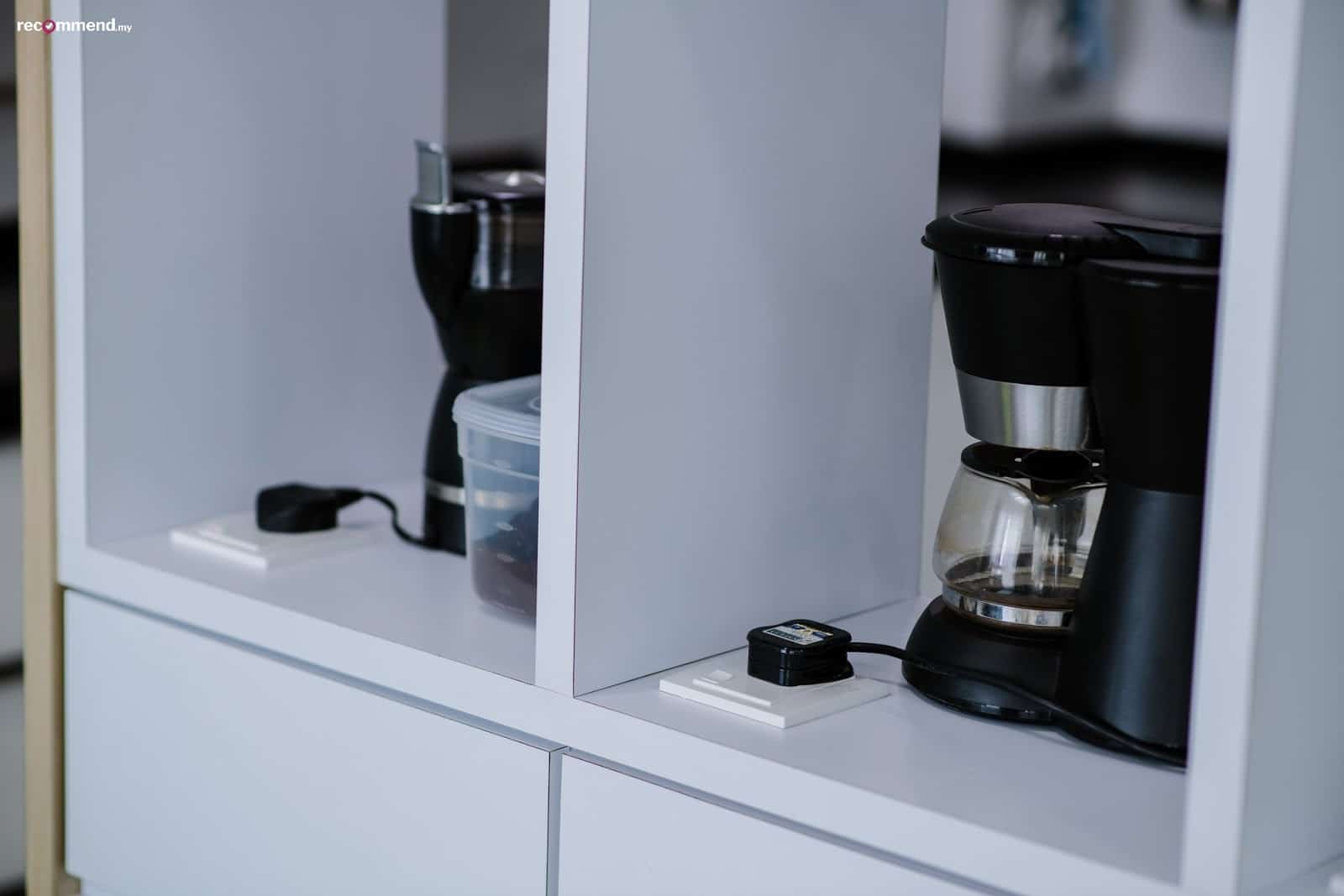 The display cabinet in the kitchen includes convenient built-in electrical plug-points for easy access to operate any appliances, allowing the family the freedom to charge their electronics or make their favourite cup of coffee.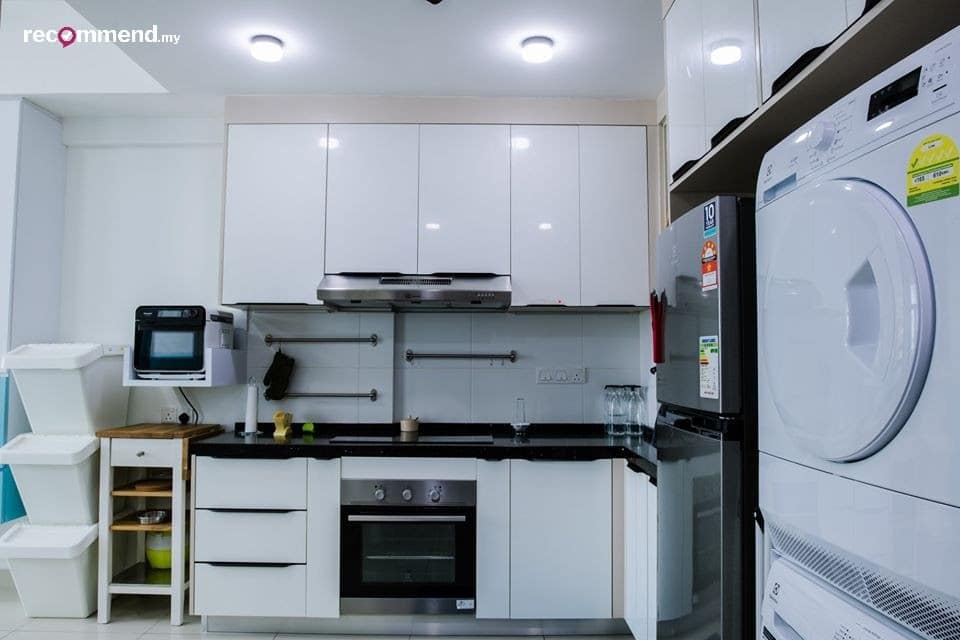 In the kitchen, the designers modelled an L-shaped kitchen layout while sticking to the 'work triangle' to create an ideal workflow for an enjoyable cooking experience.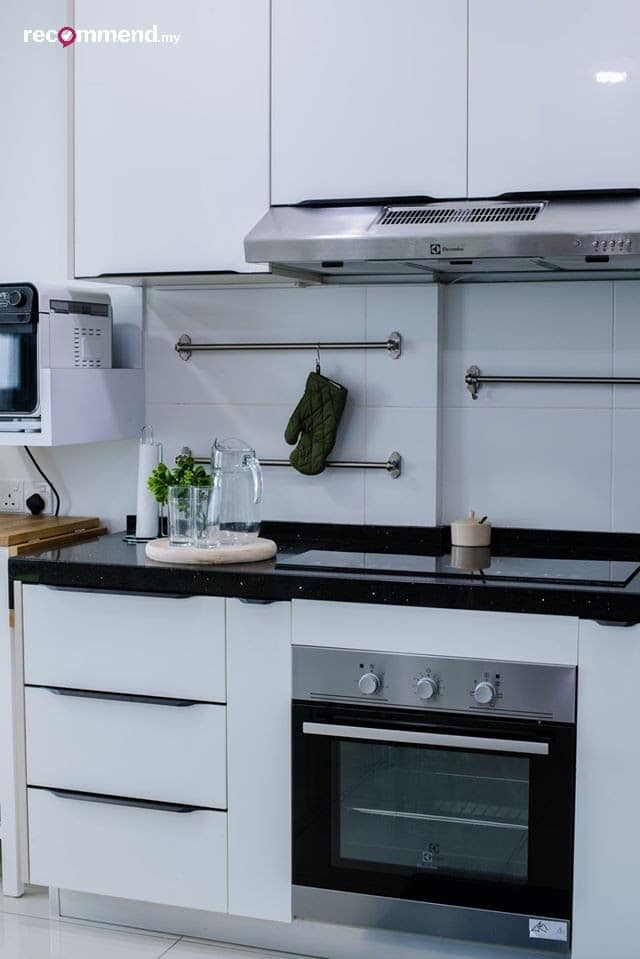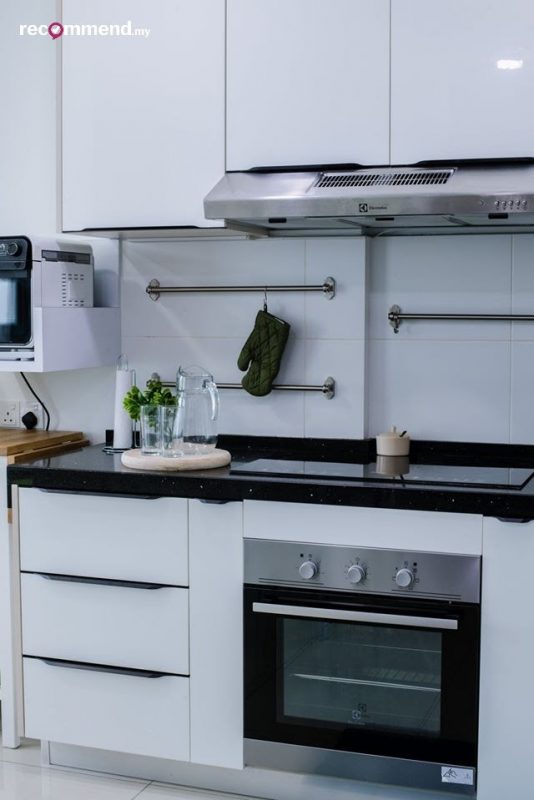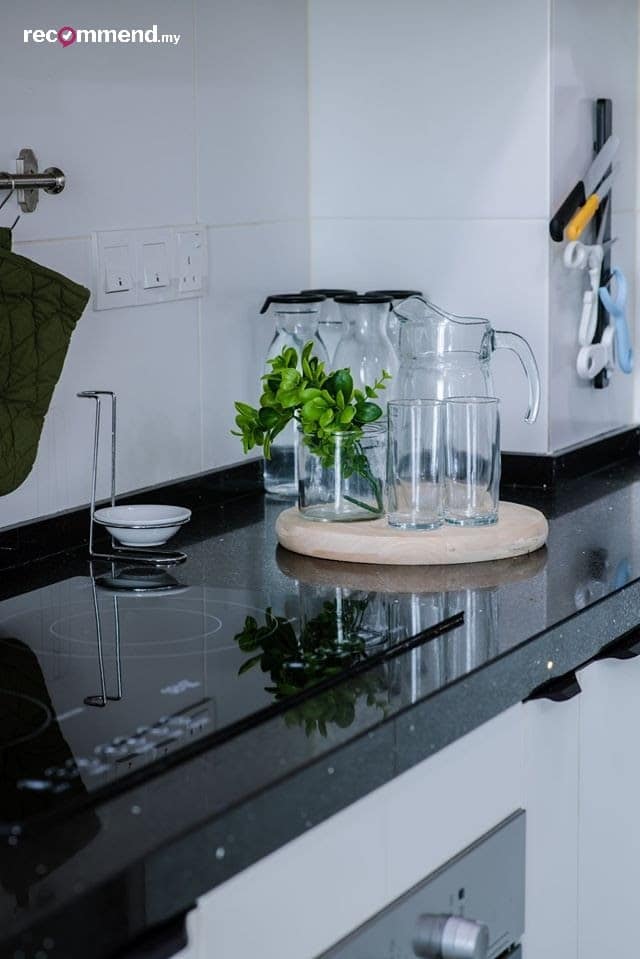 The use of sleek built-in appliances such as the oven and induction stovetop adds a touch of luxe to the kitchen, complementing the contrasting black glossy kitchen countertops and white polished cabinets.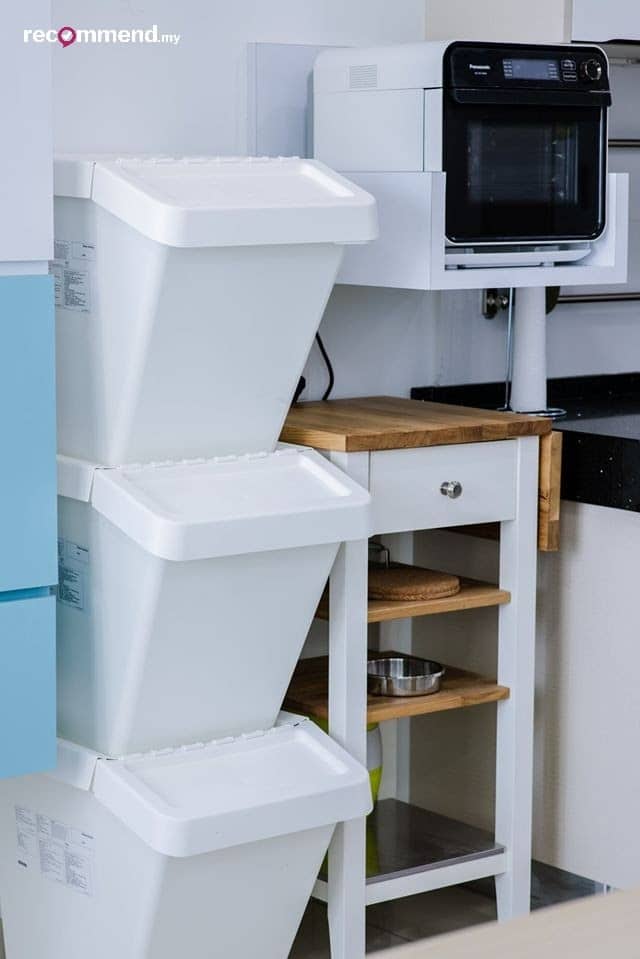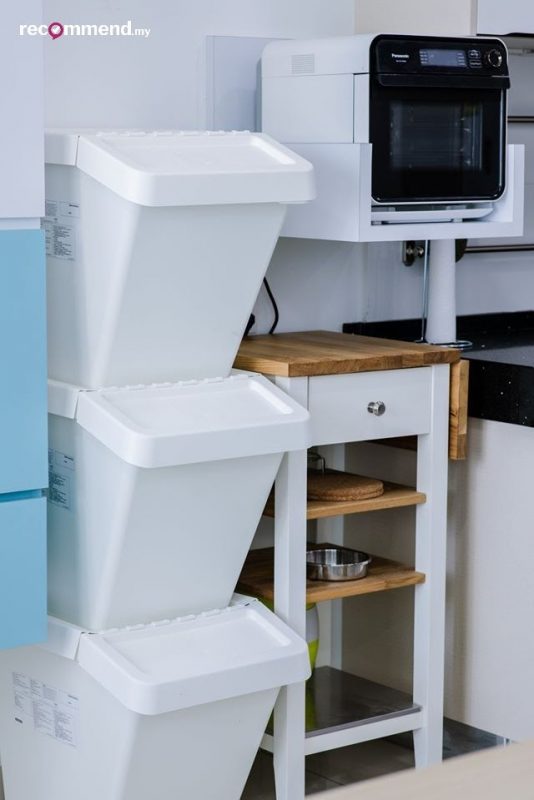 Making the most out of every space is a key aspect of the home, especially in the kitchen. Stackable storage bins are preferred over large, conventional ones while a handy bar table fits snug between an otherwise idle space. Both are less obstructive and can easily be accessed.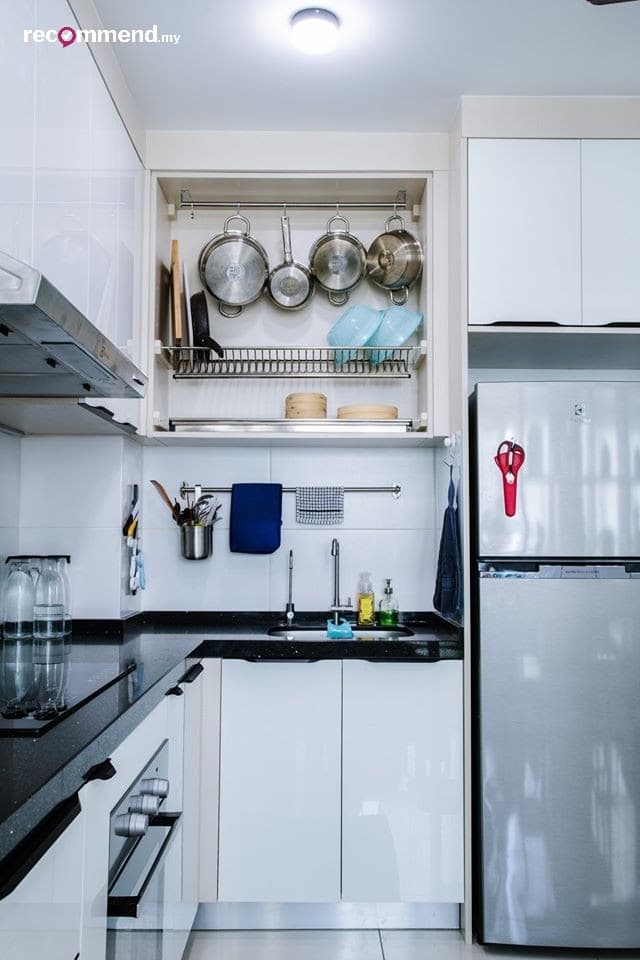 Exposed cabinets and mounting rails offer another space-saving and stylish solution to display utensils, tea towels and cookware. This keeps all items neatly organized and out of reach from children.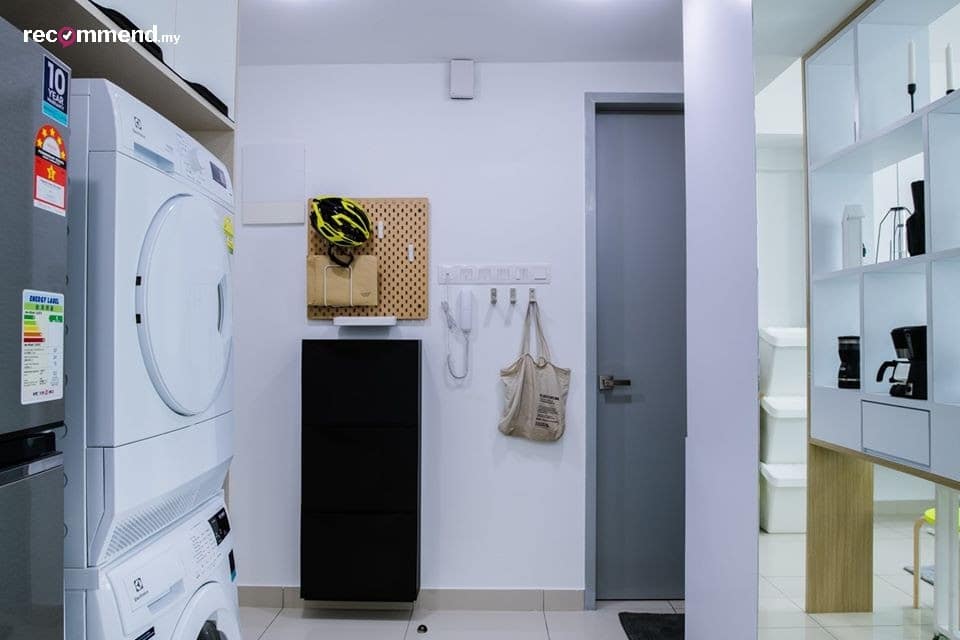 While designing the entryway, it was crucial to keep things organized at a glance. Utilising a pegboard, hooks and a shoe cabinet to keep all essentials in place, accessing keys and other necessary daily items will be a breeze for the parents.
Overall, the apartment makes the most out of every inch to transform into a stunning space that is built for cosy living.
Project Details
Location: Tropicana Bay Residences, Penang WorldCity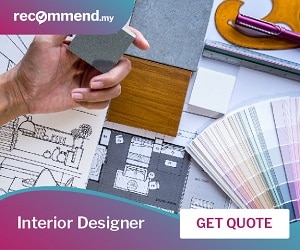 Property size: 400 sq ft
Price: RM95k
Purpose: Renovation makeover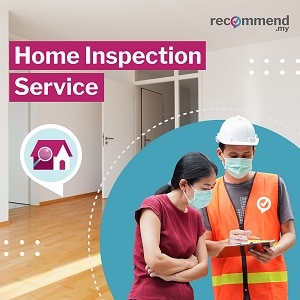 Design: Modern and minimalist micro apartment with a hint of hygge
Works done: Living room furniture, bedroom furniture, dining furniture, kitchen cabinets, soft furnishings, interior design, interior styling, renovation
Result: A functional family home with custom-designed furnishings
This project by Grov Design Studios has been presented the Silver Award under the Renovation Category for the Recommend.my 'Best of 2019' Awards.
Looking to redesign your home?
We're all about helping you unlock the potential of your property. That means connecting you to trusted and reliable contractors to provide you with helpful implementation for all your project's needs. Get quotes from a list of local renovators and decide who fits best for your individual projects. Submit a quote and realise your dream home with us!