If you want to cook up a great meal at home, you need lots of counter space.
But if you have a small kitchen, it can be hard to free up the space you need.
However, it's not all gloom and doom because we've compiled a list of practical and functional storage so you'll get to squeeze every inch of space without sacrificing style.
1. Hanging kitchen shelves
When it comes to kitchen shelving, most homeowners think they need a bare wall to mount it.
But, that's not always true. A hanging or suspended kitchen shelf can add lots of functional storage, while also acting as a classy display space.
This Brooklyn apartment has it all figured out: wooden shelves nestling on top of metal beams provide easy access to tableware, spices, and even cooking utensils, which it also gives an extra airiness to small kitchen spaces.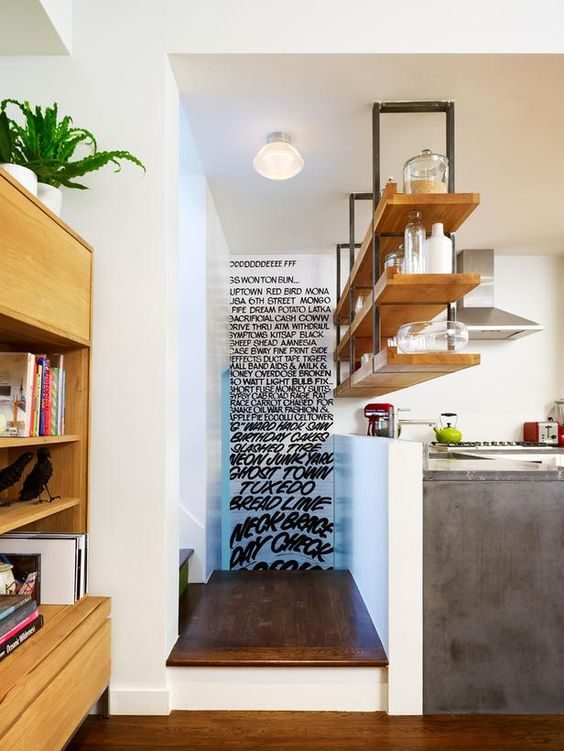 2. Kitchen pegboards
What's there not to love about pegboards? Their practicality and versatility (you simply just hang them on a wall) means you don't need to invest a truckload of money on fancy cabinets, shelves, or kitchen renovations.
Pegboards help to declutter your kitchen with the maximum efficiency and gives you the freedom to organise your kitchen essentials according to your needs.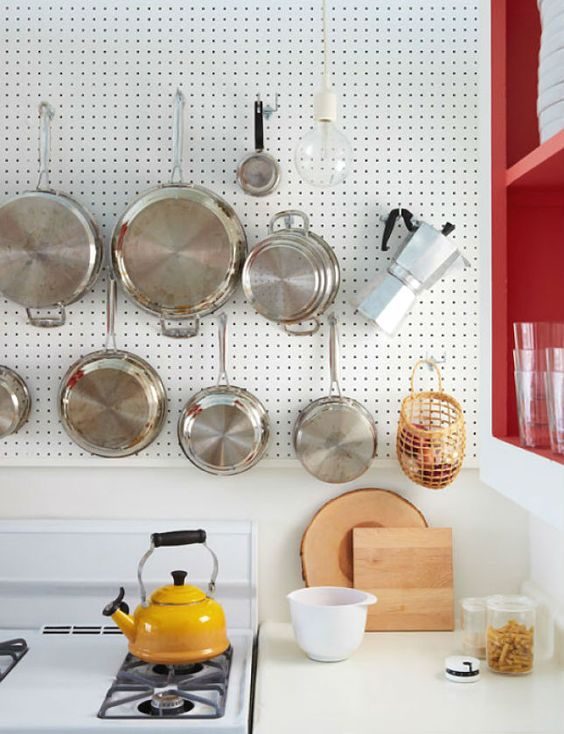 3. Use a rollable trolley
For an easy storage solution, a portable trolley helps to offload some of the kitchen items while creating extra countertop space.
Use it to place all your baking and cooking ingredients so you don't have to walk back and forth around the kitchen, and they're also handy to move snacks and drinks from the kitchen to the living room with ease.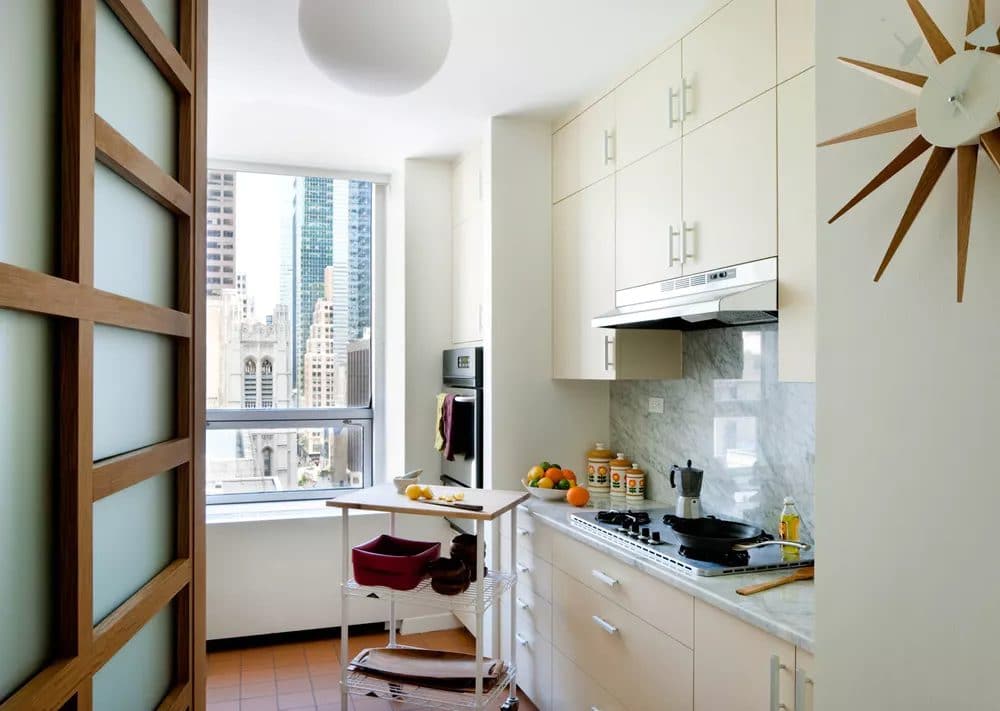 4. DIY hanging kitchen racks, bars and hooks
When you have plenty of cooking utensils – but don't have the luxury of extra cabinets or drawers – hang them to resolve your storage problem!
You can add hanging space in lots of places; under the wall cabinets, along the backsplash, even behind the door! Place all your cooking pots and pans on the racks above, or add extra movable hooks to hang anything from cooking utensil to decorative plants on the rails.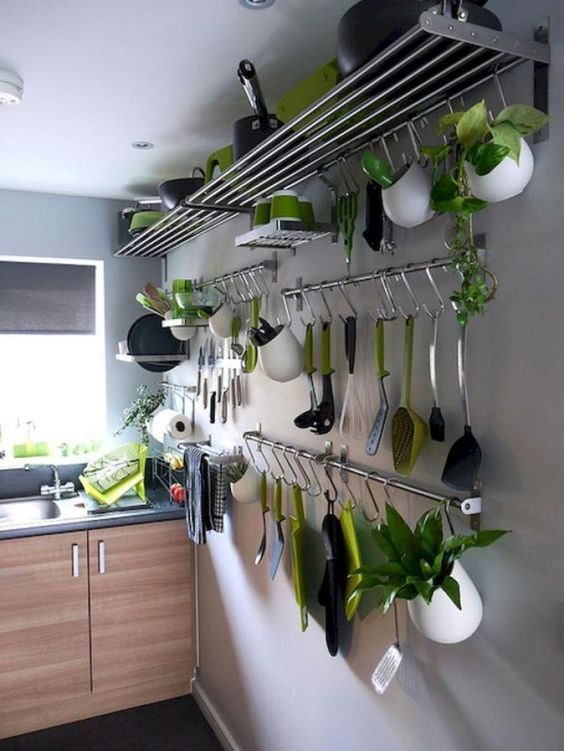 5. A secret spice rack
Getting the most out of your pint-sized kitchen often requires innovative ideas, and one of those ways you can squeeze every inch of space is by installing a mini space rack next to your kitchen cabinets.
In addition to being easily reachable, this also helps you to organise your spices in orderly fashion.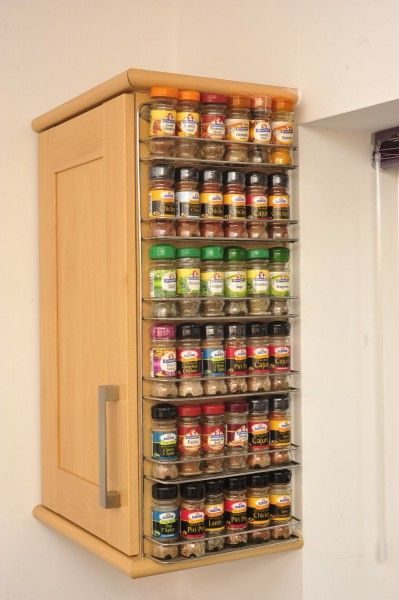 6. Slide-out countertop space
Working in a small kitchen with limited countertop space can prove to be challenging, and if you add more island space to accommodate your kitchen countertop space, you risk affecting your kitchen workflow.
One clever way to improve functionality is this slide-out countertop idea by these homeowners, not only does this help to increase countertop space but it also does so without sacrificing your kitchen's fluidity.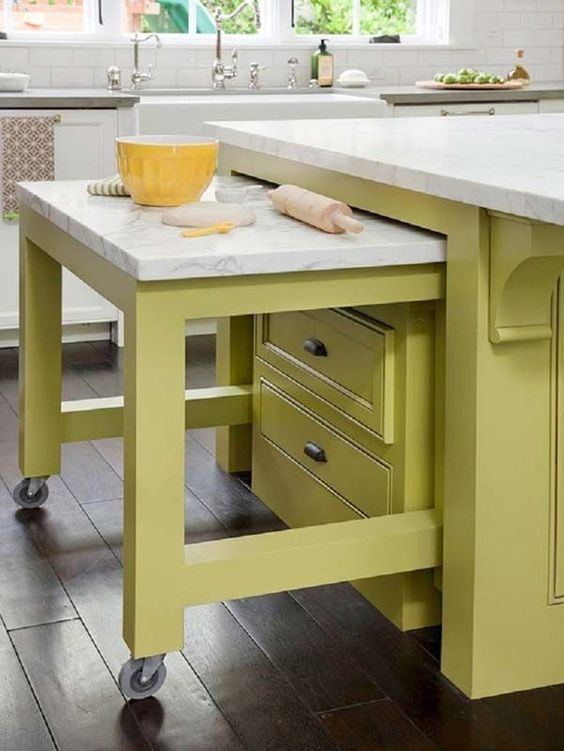 Need help to install these ideas in your home?
Whether if you need an interior designer, cabinet contractor, or a custom furniture builder to help you install these ideas, submit a request on Recommend.my and pros will respond with free quotes.
7. Customised slim rolling shelves
Have you ever looked at that narrow space in between the fridge and the wall, and wondered how you can take advantage of that space?
This couple from DIY Passion managed to build this ingenious customised storage pantry that helps to free up useful space, and it's also versatile enough to slot seamlessly into unused spaces around your kitchen.
If you are worried about the heat from the fridge spoiling any food on the shelf, you can store other things, such as aluminium foil, cling wrap, and party items there.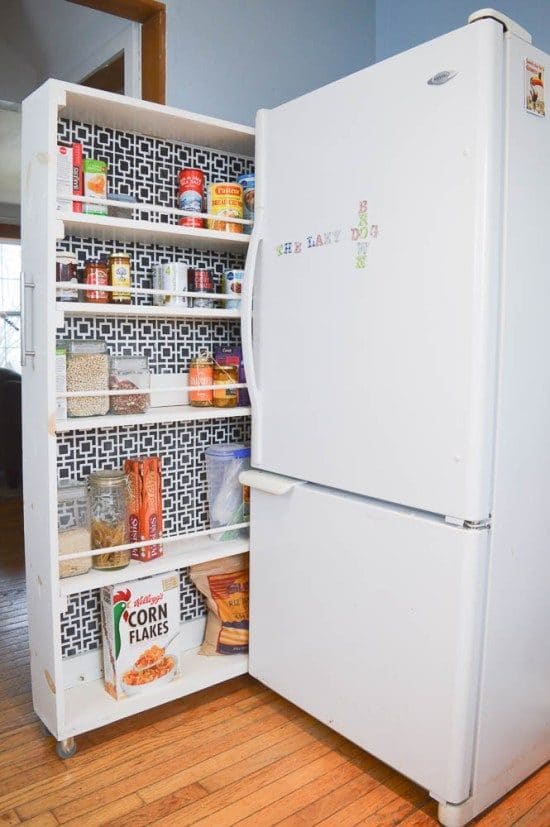 8. High shelves
Don't forget to use the extra space above your wall cabinets, as well as your fridge. Sure, it might be slightly harder to reach, but every inch of usable space will be considered wasteful if it's not properly utilised, especially if you're a small kitchen owner.
This customised kitchen shelf idea by Bev Cooks allows you to place heavy and large kitchen items on the space above, while there are also separate slots to organise your chopping boards.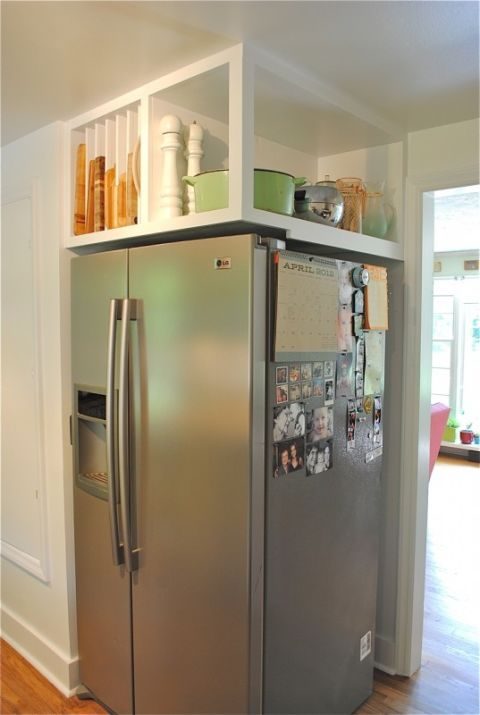 9. Use the back of the cabinet doors
The space inside cabinet doors can also double up as slim storage for pot lids and tea towels. Or, use it to store your spices, cleaning solutions, even your chopping boards.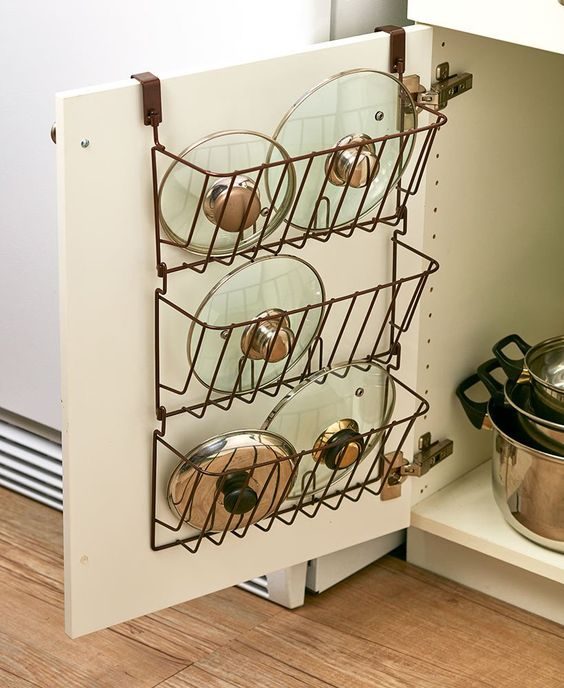 10. Under cabinet drawers
Add a "secret" pull out drawer at the bottom of your cabinets and you can utilise it as an extra space to keep small and pocket-sized items. You can even install a push-to-open latch to allow your drawer to open effortlessly.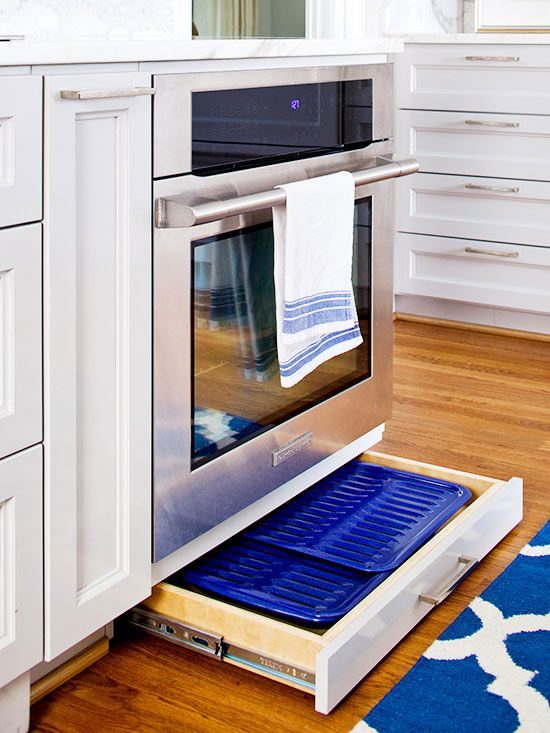 11. Behind the sink
The space between your backsplash and the kitchen sink may have enough room to fit a modified container. Use it to store your plates and cutlery as well as your chopping board. This helps to free up useful space while increasing your storage.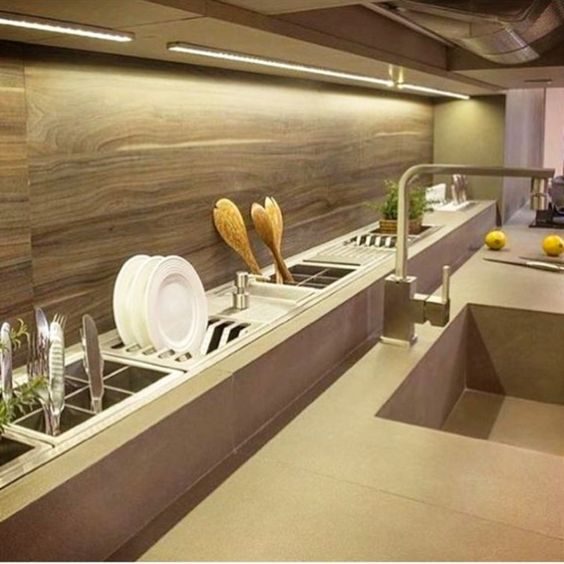 12. Add built-in cubbies around the door
So, you found ways to make use of the unused space between the wall and your fridge, below your cabinets, and even between the kitchen backsplash and sink, but what about around your kitchen entryway?
Install several cubbies around the door like this design by Lauren Rubin Architecture and you create a perfect vertical storage area to place bulky items, cookbooks, and chopping boards.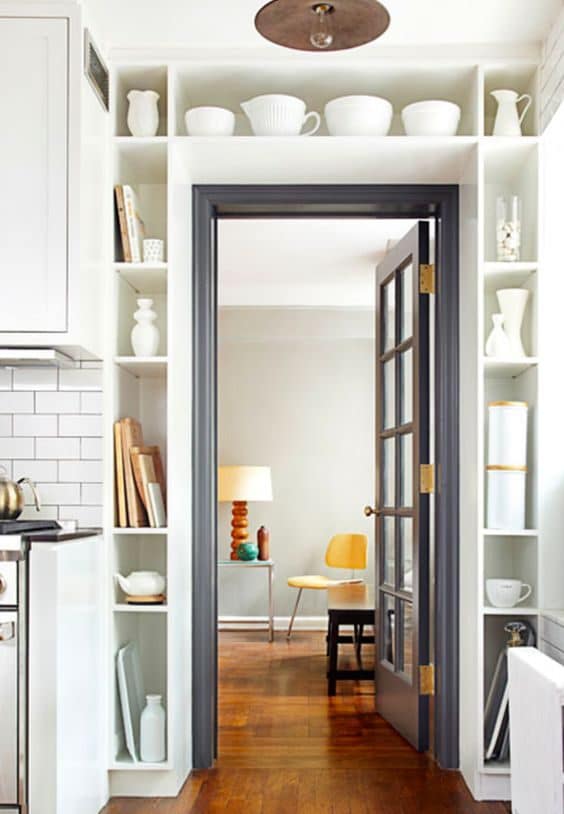 13. Install a fold-out table by the wall
If you live in a studio unit with a small kitchen, it probably does not have a dedicated dining area. One clever trick to conjure up extra space is to create a fold-out dining table. All you need is an empty wall area and you'll have a table that's flexible as well as an extra dining spot.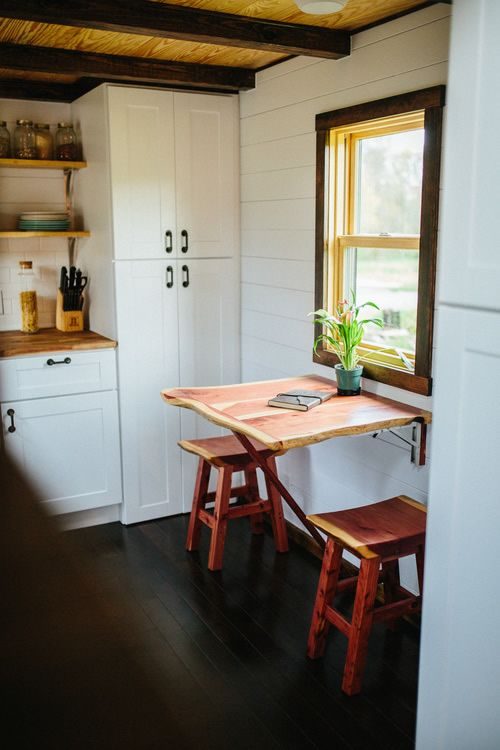 Need help to install these ideas in your home?
Whether if you need an interior designer, cabinet contractor, or a custom furniture builder to help you install these ideas, submit a request on Recommend.my and pros will respond with free quotes.