When you step into your home, or your bedroom, what's the first thing you feel? The floor, of course!
Different floors will have a different impact on the room.
On one hand, the texture and colour of the floor will impact the overall interior design style of the room. At the same time, different flooring materials will feel different in terms of warmth, strength, and noise.
With many different types of flooring options available in Malaysia, it can be daunting trying to choose the right one for your home.
To help you decide, we take a look at the various materials, from tiles to wood to laminate flooring to marble and natural stone flooring.
Use this guide to get a better idea of the options and prices of flooring and find what suits you best.
Talk to our flooring experts!
We have hundreds of interior designers, renovation contractors and flooring experts in Malaysia ready to discuss your home improvement projects. Tell us what you need, and we will recommend suitable pros to give you a quote.
Ceramic tile flooring
Ceramic tile is composed of natural clay, sand and water. These ingredients are moulded to form a square or rectangular tiles before being baked in a kiln to remove most of the moisture.
Ceramic tiles are mainly used for rooms like the living room and bedroom. Designed to be used indoor, ceramic tiles are also suitable to be installed as wall tiles due to their lightweight.
They are lighter and available in both gloss and matte finishing. They are also considered the most basic tiles and the cheapest amongst the three.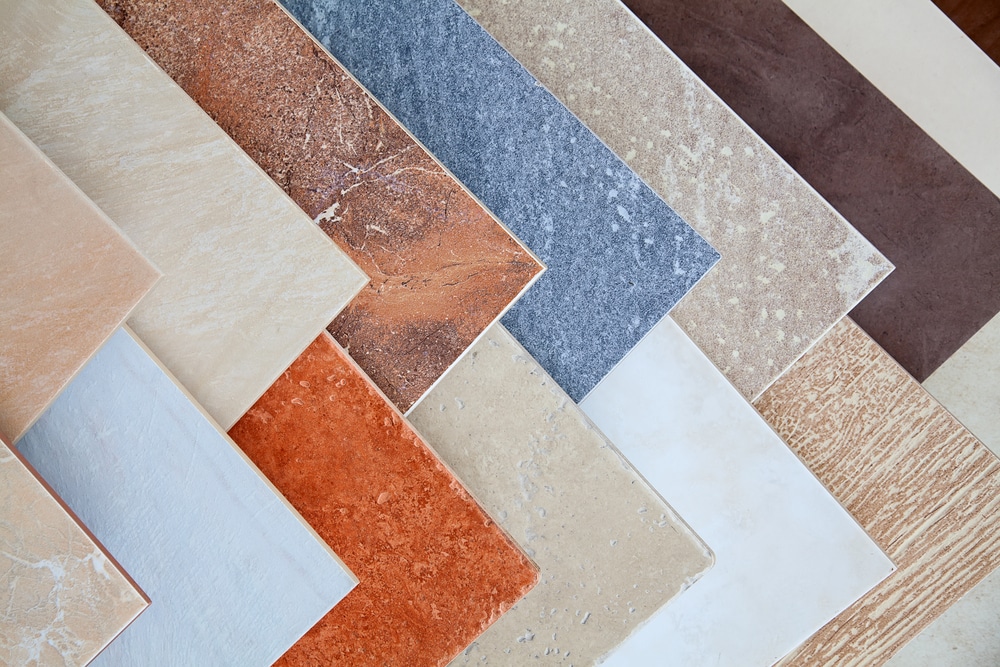 However, ceramic tiles are not recommended for heavy traffic areas and areas under heavy load. Best places to install ceramic tiles are the bedroom and guest bathroom.
The most important reason for choosing tiles is in a variety of designs. Homeowners who prefer a clean, matte floor can choose large tile slabs in grey tones. Others may want to create a mosaic pattern such as those found in old European churches or Peranakan houses. Whichever look you are going for, there is a tile design that will suit your needs.
Suitable for: bedroom, guest bathroom
Price of tile flooring: starts from RM8 – 12 per square feet for labour. Tiles start from RM2 per sqft
Porcelain tile flooring
Porcelain tiles are also made from clay, sand and water. However, the density of the clay used in porcelain tiles is higher compared to those used for ceramic.
Porcelain tiles are baked at a very high temperature for a long period of time so that almost all moisture is removed. The denser clay and longer drying time make porcelain tiles much harder and durable than ceramic.
Porcelain tiles are available in a huge variety of colours, designs, and surfaces. Not only do they come in both gloss and matte surfaces, they also have other unique appearances like sugar surface, which can bounce back light that shines on them.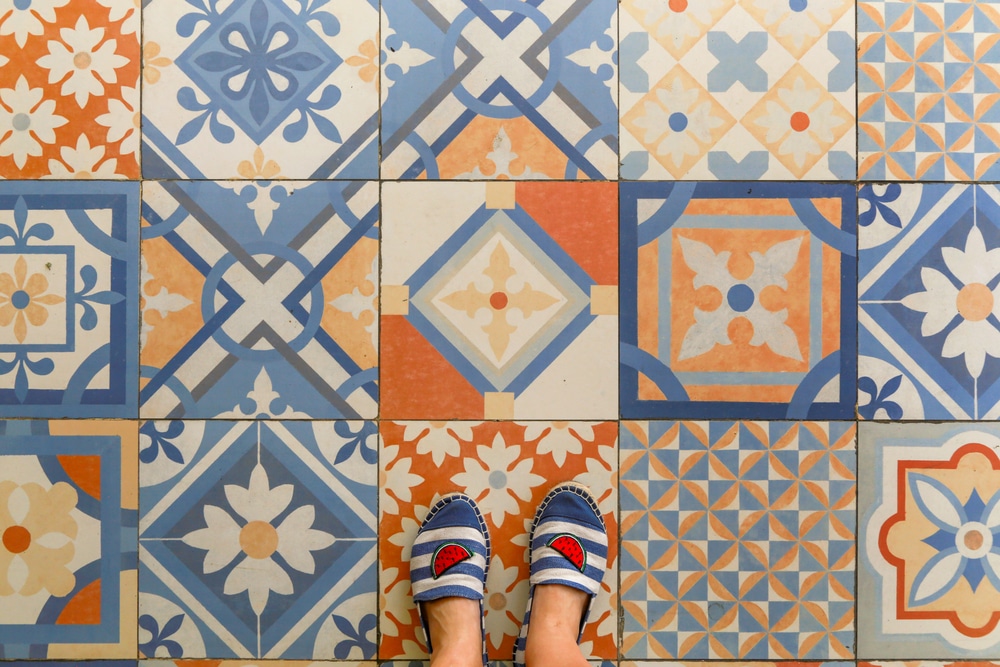 Porcelain tiles are very versatile as they can withstand heavy foot traffic and stronger resistance against wear and tear. This makes them suitable to be installed for both indoor and outdoor use as well as light- or medium-duty commercial applications. Read more: How to choose tiles for your floor
One of the biggest selling points of porcelain tiles has to be its low maintenance. Not only do they need very little maintenance, but tiles can also withstand heat, water, spills and stains. Normally, soap and water will be sufficient to clean your tile floor. And, if one of your tiles gets chipped or cracked, that single piece can be replaced.
Suitable for: bathroom, kitchen, porch and balcony.
Price of tile flooring: starts from RM8 – 12 per square feet for labour. Tiles start from RM5 per sqft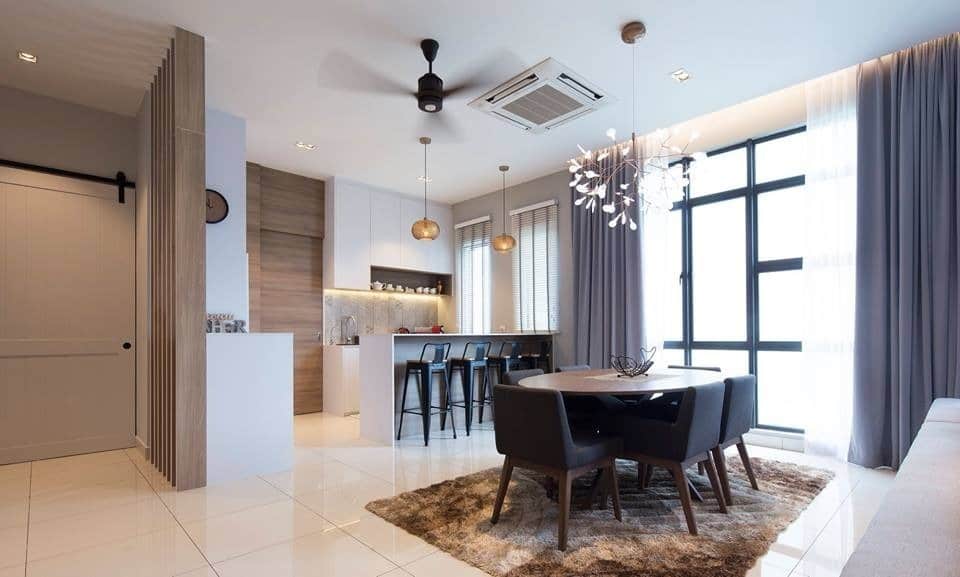 Solid hardwood flooring
Solid hardwood flooring is, as its name suggests, made of 100% solid wood pieces.
The wood can come from balau, nyatoh, merbau, kempas, chengal, Burmese teak and belian, as well as imported ash, beech, white oak, Tasmanian oak, Russian pine and walnut. Some of these species, such as merbau, Burmese teak, and belian, are well known for being termite-resistant, which makes them highly valuable.
Depending on the pattern you want to achieve for your floor, you can lay down hardwood strips, or wide planks, or arrange them in a parquet form. And since they are all real wood, no two pieces will be exactly alike, giving your floor a wonderful natural look. Perfect for Scandinavian interior design!
Hardwood floors can last a lifetime if it is well taken care of. Many old houses that use hardwood floors still look beautiful even after a hundred years or more. However, they are vulnerable to scratches, and can start be noisy to walk on, and may start to squeak after a while.
To maintain it, solid wood floors can be sanded and refinished or stained over and over again. This means you can change the appearance of the floor to match with the décor whenever there is a renovation. However, the more you polish the floor, the thinner it gets each time a refinishing is done.
Suitable for: All rooms except bathrooms
Price of hardwood flooring: starts from RM22 per square feet for supply and install of solid hardwood flooring. This may vary depending on the type of wood used.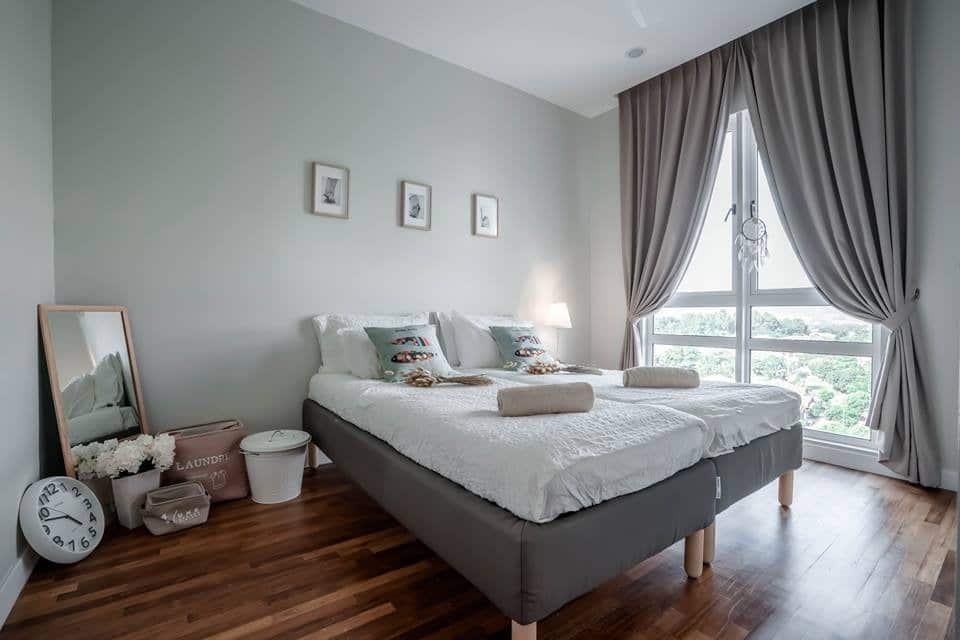 Laminate flooring
Laminate flooring is made of compressed wood fibres and a resin to form the core.
The top layer is the design layer, and is made of a printed image, covered with a clear layer to protect it. The printed image is carefully chosen to look like wood, marble, or stone; anything you like! Even experts can have a tough time telling whether a laminate floor is real wood.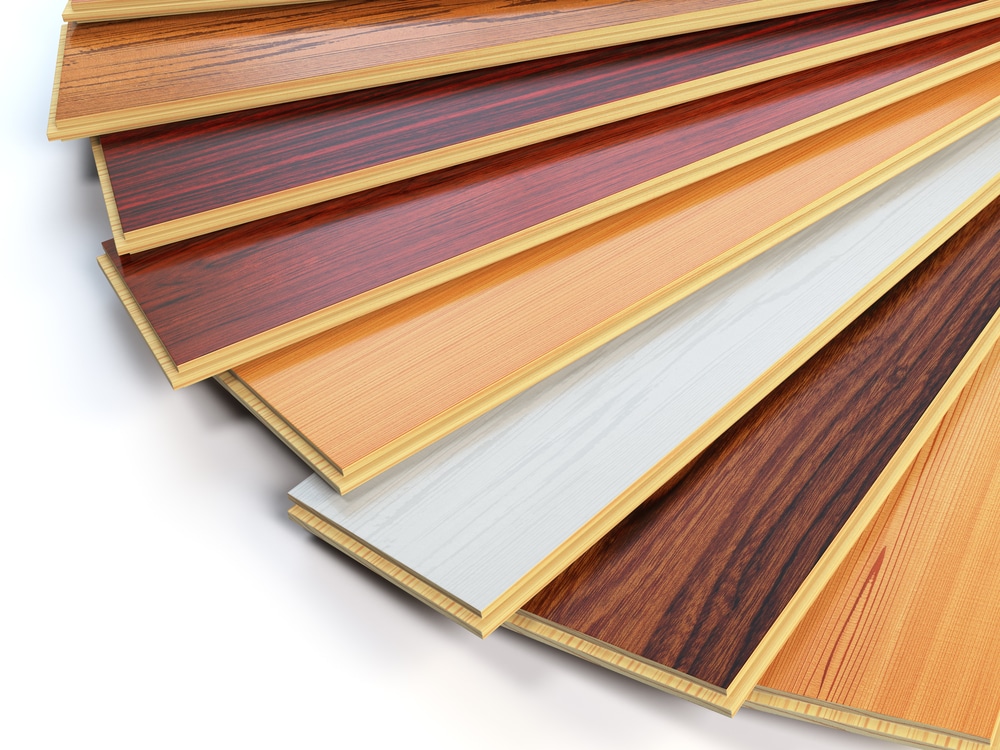 Homeowners can choose from a huge range of designs, ranging from natural hardwood appearances to natural stones and ceramics.
Suitable for: living room bedroom, dining, bathroom, kitchen, laundry
Price of laminate flooring: From RM6.50 per square feet for supply and install, depending on the chosen design.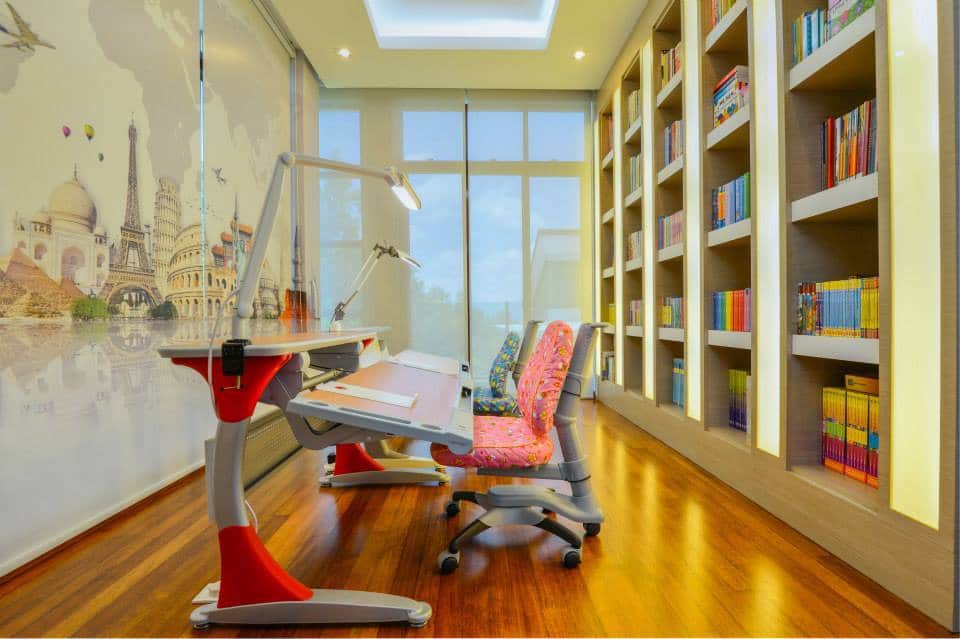 Engineered wood flooring
Engineered wood flooring is made of multiple layers of plywood. Then, a 3mm layer of hardwood is added to the top and bottom layer (known as a veneer) to give it a beautiful timber hardwood look at an affordable cost.
Engineered flooring comes in planks and can be installed with glue or as a floating system that just clicks together without glue.This makes it easy to install and repair.
Engineered wood can be vulnerable to scratches and dents, just like solid wood floors. If that happens, it can be repaired with wax repair kit. Engineered wood flooring can be sanded and refinished until the thin layer of veneer runs out.
Suitable for: all rooms, including areas where moisture accumulates, as long as there is proper subfloor with a moisture barrier.
Price of engineered wood flooring: from RM20 per square feet for supply and install of engineered wood flooring. This will change depending on the type of hardwood veneer used.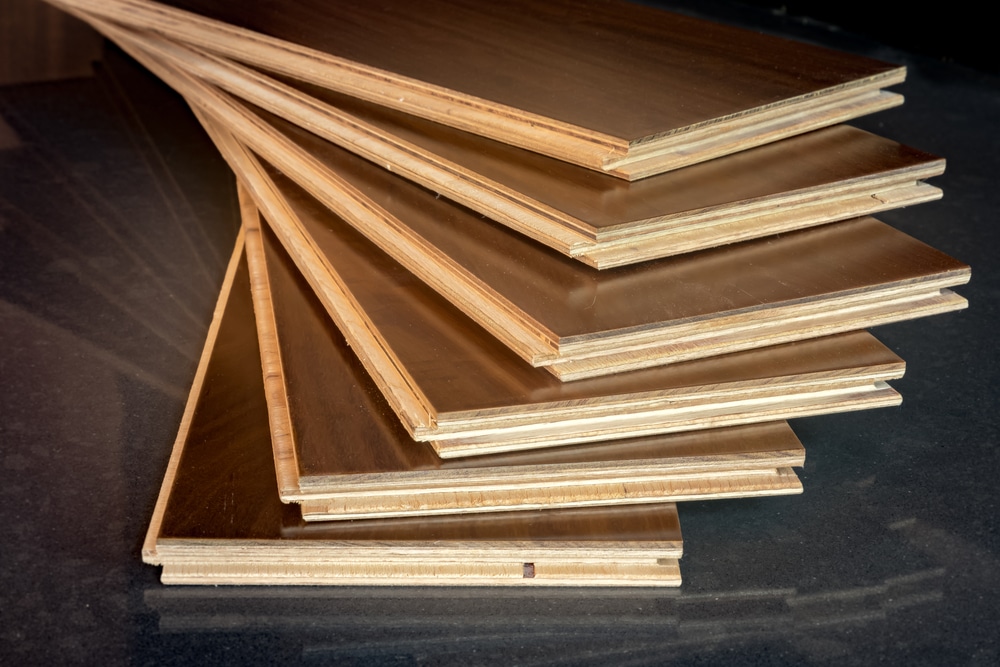 Vinyl Flooring
Vinyl flooring or PVC flooring is made of coloured polyvinyl chloride (PVC) chips that are compressed into solid sheets of varying thickness by heat and pressure. It is available as planks, sheet and tiles.
They can be easily installed over a smooth layer of most floor types with a glue that adds more cushioning and helps to level out uneven floors. There are even plank options that are DIY-friendly as they are available in interlocking or tape-down systems where no glue or nails are needed.
Vinyl flooring is an economical option available in a wide range of colours and textures that resemble wood, stone, terrazzo, concrete and other designs. It is aesthetically pleasing yet requires very minimal maintenance.
This type of material is highly resilient to abrasion and impact damage. It can be repeatedly refinished when necessary with chemical strippers and mechanical buffing equipment. It also has a cushiony surface compared to that of wood and tile floors, making it easier to stand on for a longer period of time.
When shopping for vinyl flooring, look out for brands that are certified to be non-toxic and harmless to the environment and health. This is to avoid getting certain brands that emit chemical fumes.
Suitable for: bathroom, kitchen, laundry and high-traffic areas.
Price range: From RM6 per square feet for wood series (plank) and RM8 onwards for stone and marble designs (tile). This includes supply and install.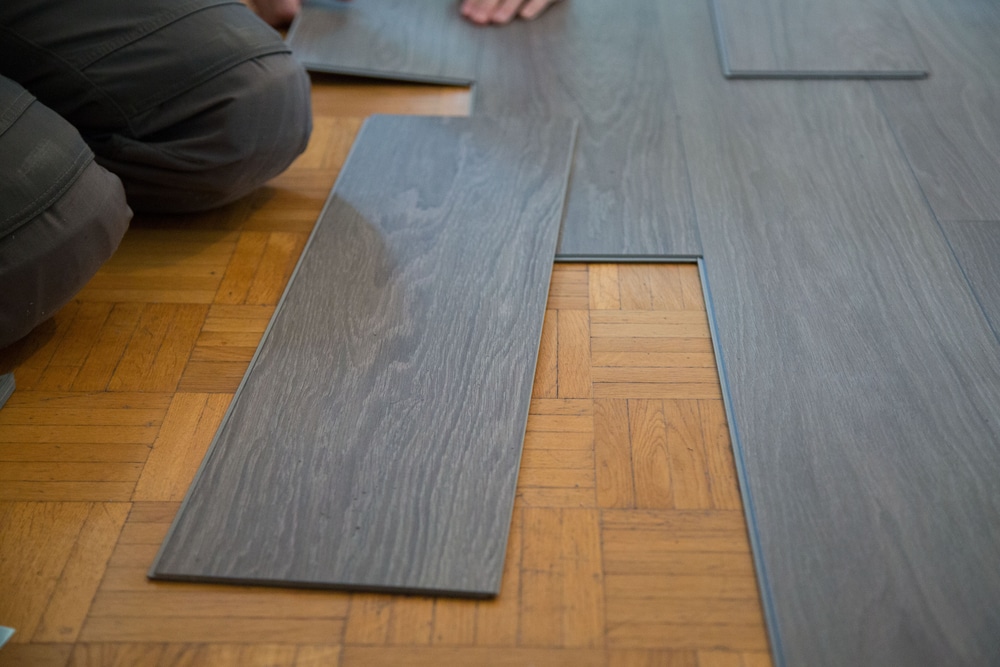 Carpet flooring
Carpet flooring may not be so popular in Malaysian homes but it is a common material used in offices.
Generally, there are two types of carpet flooring – roll carpet rugs and carpet tiles.
Roll carpets normally come in a width of 12 feet and can roll out to cover the entire length of a room. However, they require professional installation and the process is very time-consuming.
On the other hand, carpet tiles are available in squares of 18, 24 or 36 inches, which can fit perfectly on most floor spaces. Carpet tiles come in various designs and types that cater to the different needs of their users. If you have tricky shaped floor spaces, carpet tiles will be the option for you as they can be installed even in rooms whereby there are fixtures that cannot be moved.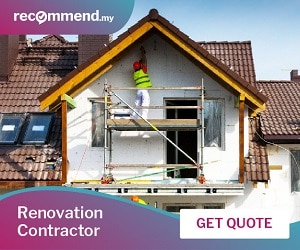 If your carpet flooring is damaged, you can replace the damaged pieces of carpet tiles instead of the entire flooring. Carpet tiles also have a tile backing material, which is made up of vinyl or fibreglass, which can withstand moisture and enhance their durability. These days, carpet tiles are also stain-resistant, making them a flooring option suitable even for families with young children and pets.
The downside of carpet tiles is they may not look seamless compared to roll carpet. The gaps between each carpet tile can become very obvious if the pieces were to shift.
Suitable for: office, bedroom
Price range: From RM4 per square feet supply and install for carpet tiles. From RM3 per square foot for roll carpet.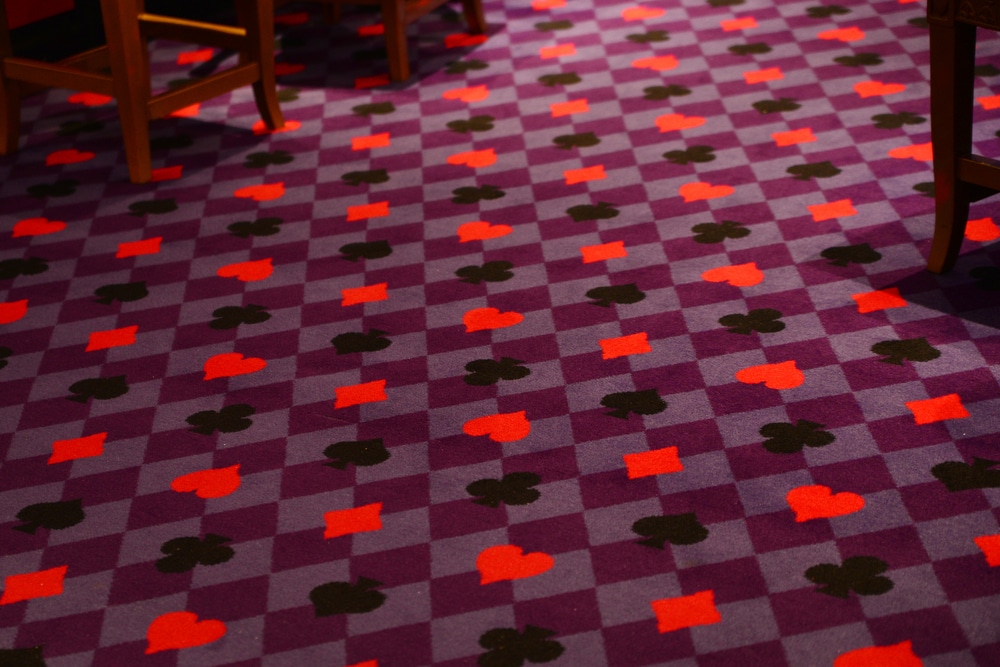 Marble Flooring
Quarried from mountains around the world, marble is known for its beauty, style and elegance. Since it is a natural product, each piece of marble is unique. It is available in multiple colours or even in a mix of different colours and can be cut into rectangle or triangles of varying sizes.
Marble is considered soft rock, which can be easily scratched, scraped, and chipped. Any contact with acidic substances from food, beverages and cleaning products will cause permanent discolouration. It is also prone to water penetration, which can be prevented by applying both below the surface and above surface sealers annually.
In Malaysia, marble floors are commonly found in high-end properties. Once installed, it needs to be polished to give it a beautiful shine.
Suitable for: living room and bedrooms. However, it is not a great flooring option for families with senior citizens or young children as it can be extremely slippery when it gets wet.
Price range: from RM15 per square foot, plus RM10 – 15 per sqft for labour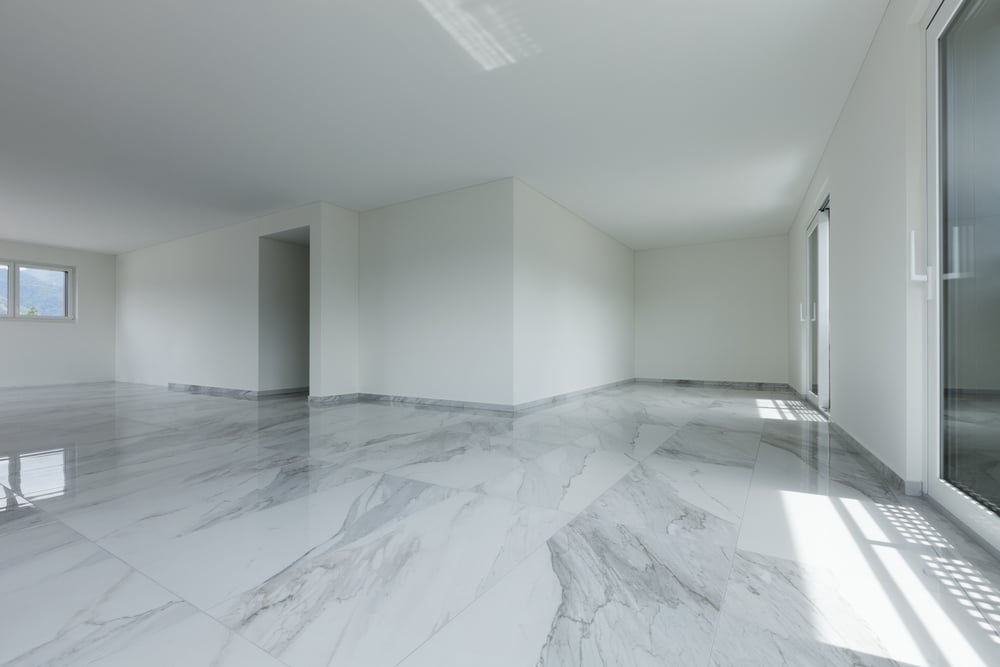 Granite Flooring
Granite is a hard natural stone that is mined in quarries similar to marble. However, it is much harder than marble, making it a more durable stone flooring option than the latter. It is both water- and stain-resistant but it is recommended to be sealed in moisture-prone rooms like kitchen and bathrooms.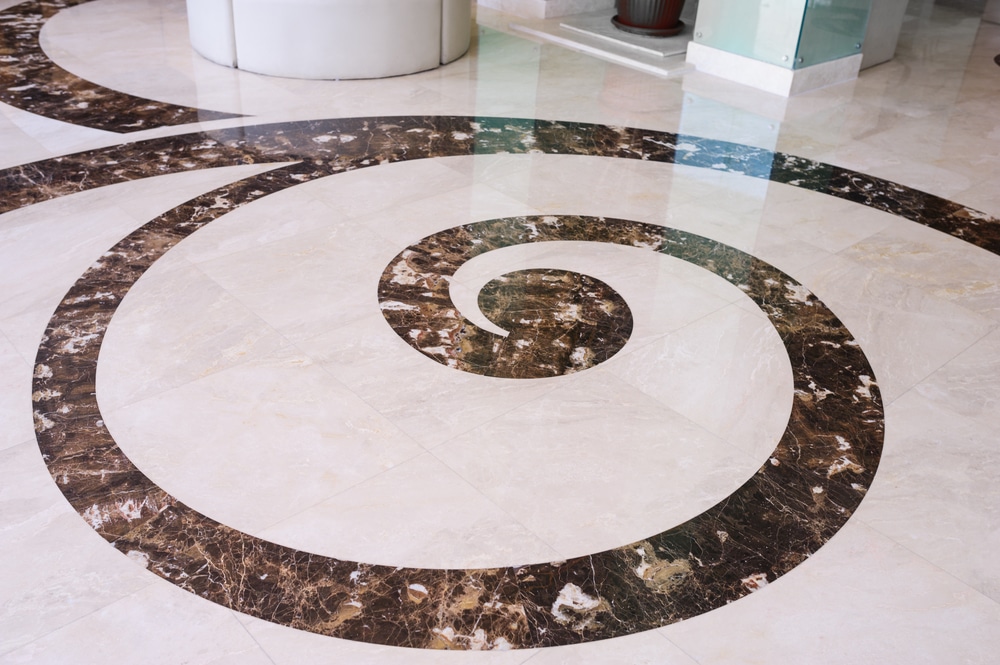 Granite flooring is a popular choice for many homeowners as it is water and dirt resistant, and has a rich speckled or veined pattern, so your floor will always be unique.
High-quality granite flooring is highly valued by homeowners and it adds value to a house. It is long-lasting and does not release any VOCs.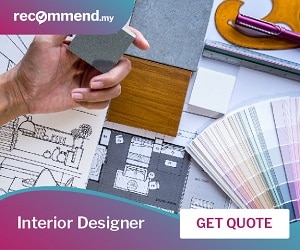 Suitable for: living room, dining area, kitchen, bathroom
Price range: from RM15 per square foot, plus RM10 – 15 per sqft for labour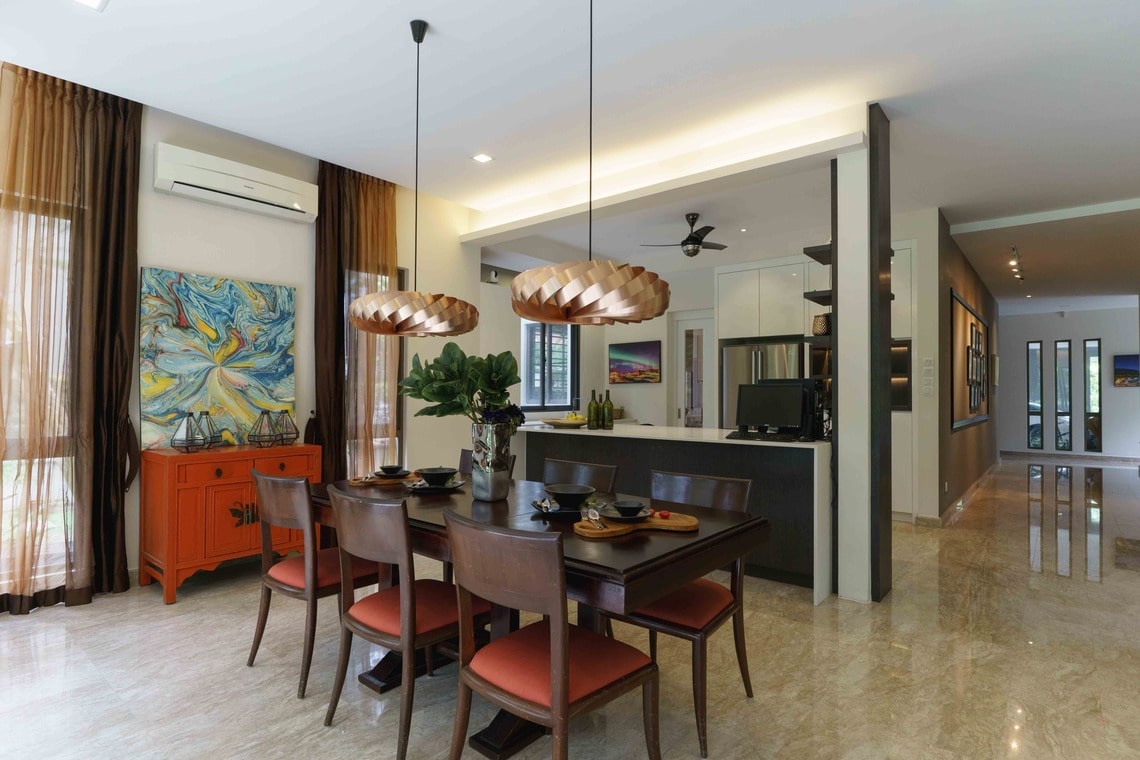 Polished Concrete or Cement Screed Flooring
If your foundation can take the weight, you can add a new layer of concrete to your subfloor, and then polish it to a soft shine. Finally, add a coat of epoxy or sealant to protect it from wear and tear.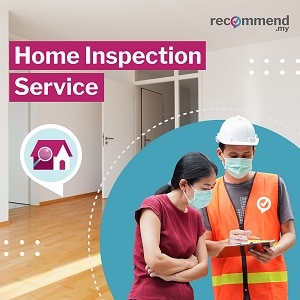 However, this method can be expensive, as it requires you to remove all existing floor tiles or wood planks, and even hack away the existing cement screed. Your renovator will also need to know how to cure it properly to prevent cracks.
A slightly more affordable method is to simply add a thin layer of cement screed on top of the existing floor. This gives an industrial look that is popular in many cafes today. Or, you can even paint over it in any colour you like, or use different brush tools to create a mottled effect that looks almost like granite flooring!
Using concrete or cement may look great, but it can feel cold to the touch. And it can be slippery and dangerous for children and the elderly if they were to fall on the hard ground. If you don't mind having some joint lines, it may be more cost effective to use porcelain tiles that have a cement design.
Suitable for: living rooms designed to an industrial theme; outdoor driveways, patios, backyard
Price range: Unconfirmed, but we have seen quotes as high as RM30 per sqft for polished concrete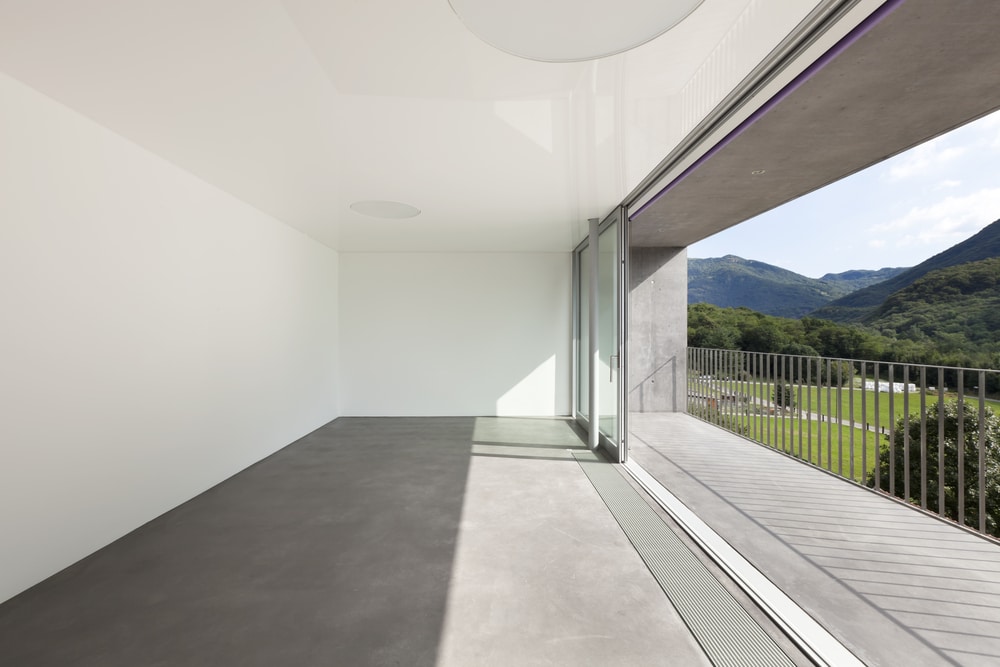 Talk to our flooring experts!
We have hundreds of interior designers, renovation contractors and flooring experts in Malaysia ready to discuss your home improvement projects. Tell us what you need, and we will recommend suitable pros to give you a quote.