If you grew up in Malaysia, the terms wet kitchen and dry kitchen would probably be familiar to you.
Essentially, a wet and dry kitchen is a type of kitchen layout where the kitchen is split into two areas.
The dry kitchen is usually in the air-conditioned part of the house, and open to the dining area or living room. It can be used for light meal preparation e.g. breakfast, sandwiches; or even light cooking. For example, you can install a microwave oven or convection oven in the dry kitchen, as well as a sink for putting dirty cups.
The dry kitchen can also function as a bar counter, for family and friends who like to mingle and chat while preparing meals together. It's the best place to put your coffee machine, wine cooler, and toaster oven.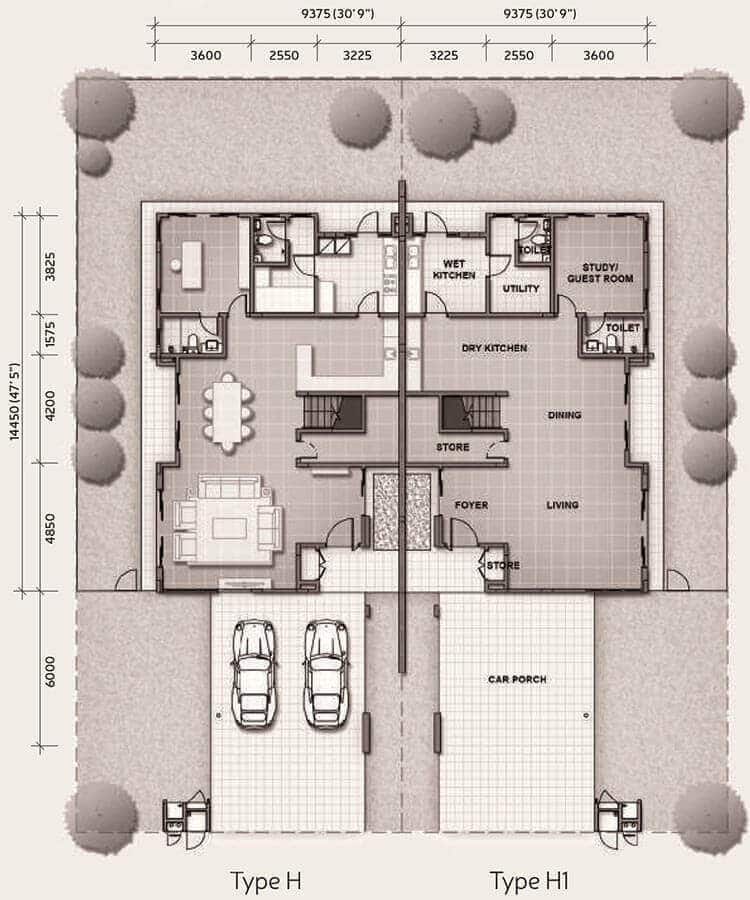 Above: Example of wet and dry kitchen floor plan from Setia Eco Glades, Cyberjaya.
The wet kitchen, on the other hand, is meant for Malaysian cooking. For example, wok frying garlic, chillies and sambal belacan. For more traditional cooks, this means having a gas cooker with high intensity burners.
To prevent the heavy cooking smells from getting into the curtains and fabrics in the rest of the house, the wet kitchen usually comes with large windows and extractor fans or cooker hoods.
The wet kitchen would also be designed for easy cleaning. For example, the floor and walls can be tiled, and the cabinets can be raised on a concrete platform so that the floor can be washed.
Here are some examples of kitchen interior designs in Malaysia that incorporate wet and dry kitchen designs.
Wet and Dry Kitchen Design for Bungalow in Subang Jaya
In this beautiful monochrome-themed kitchen, the dry kitchen (on the right of the image below) is made out of a U-shaped cabinet with black quartz countertop. The counter also doubles up as a seating area with bar stools, with aluminium pendant lights.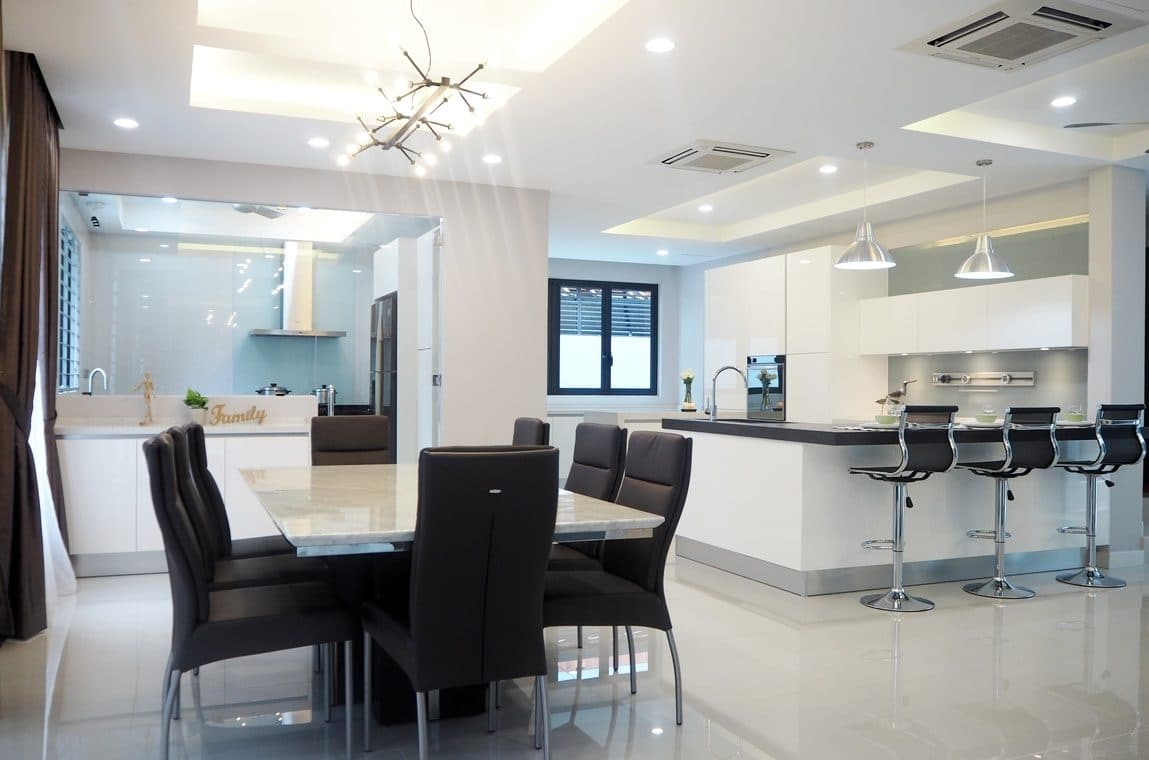 The dry kitchen is equipped with a sink as well as a built-in oven, so the homeowners can get a good roast going, while the smoky stir frys can be done in the wet kitchen, making it much faster to get a meal ready.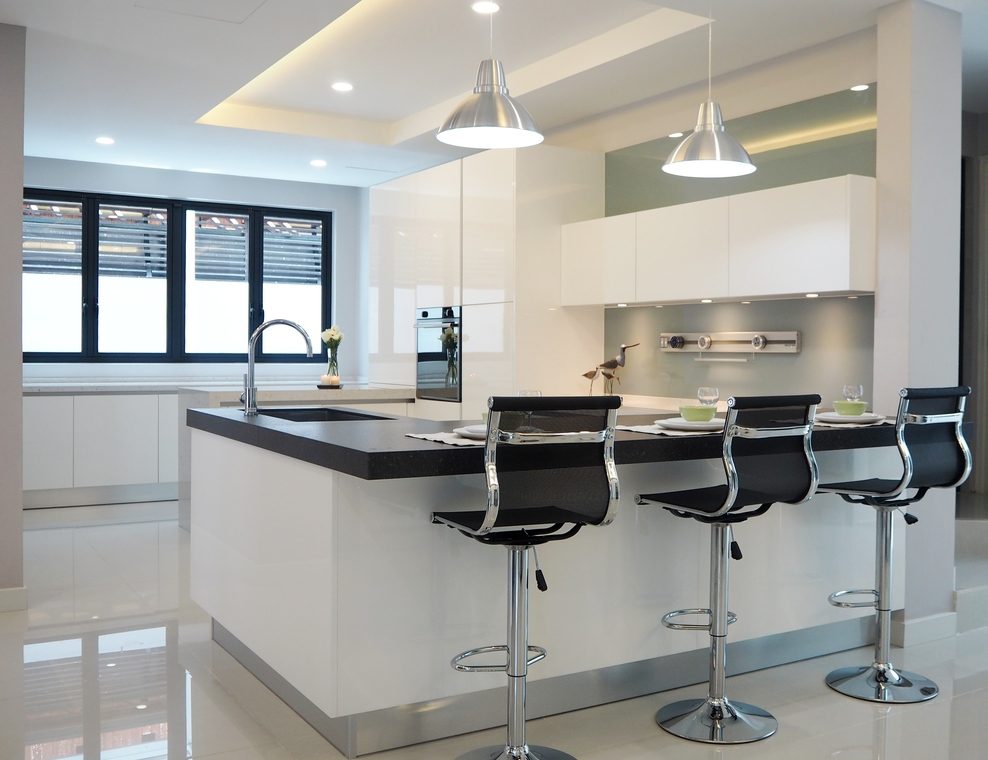 The wet kitchen has a similar black quartz countertop, and this is where the heavy cooking takes place. The owners separated the wet kitchen with a tempered glass partition and glass swing door to keep cooking smoke away from the house. It is even equipped with a ceiling fan.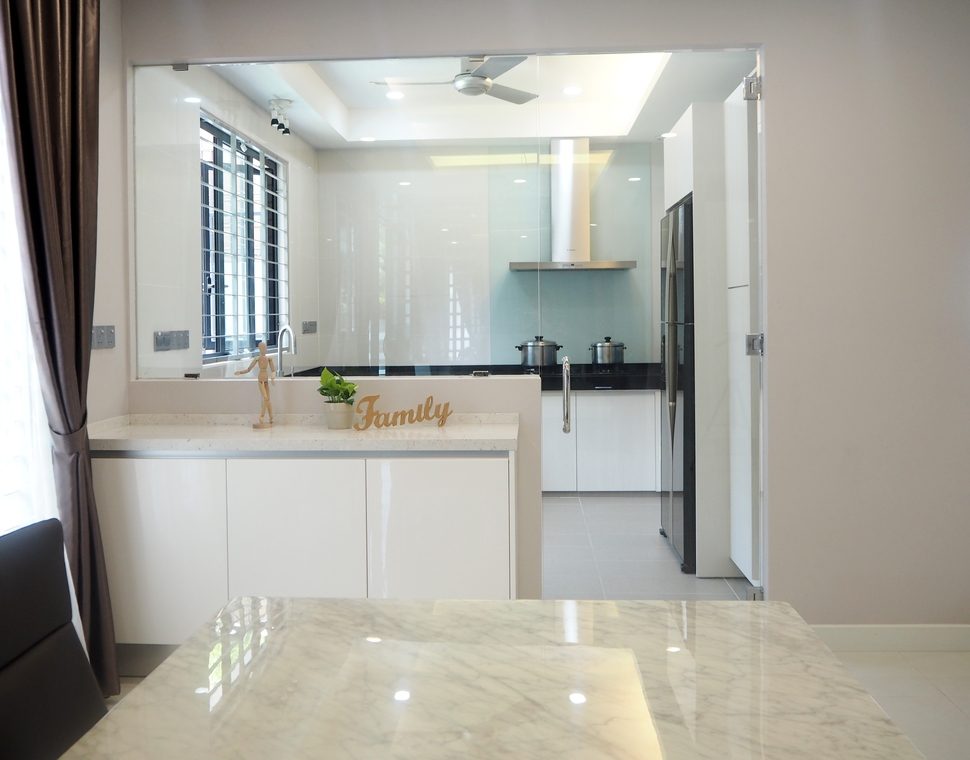 Modern White Kitchen for Double Storey Home in Subang Jaya
In this home, the dry kitchen is similarly equipped with a sink and built-in oven. But it is the beautiful marble kitchen island that takes centrestage. The island in the dry kitchen is great for entertaining and serving drinks and snacks, beautifully lit by graphite and copper pendant lights. During non-mealtimes, the kitchen island can even be used by the family as a study area.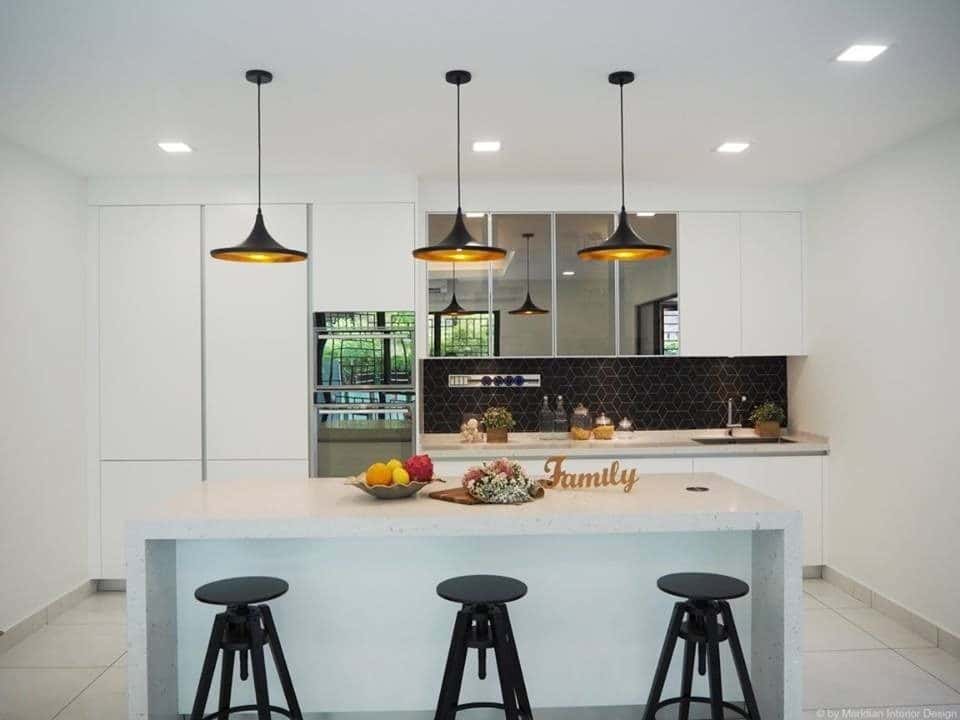 Next to the dry kitchen, the wet kitchen is built as a kitchen extension. The space is clearly defined as the floor tiles switch from light-coloured porcelain tiles to dark anti-slip tiles. To keep the smells away, the wet kitchen can be closed off with sliding glass doors.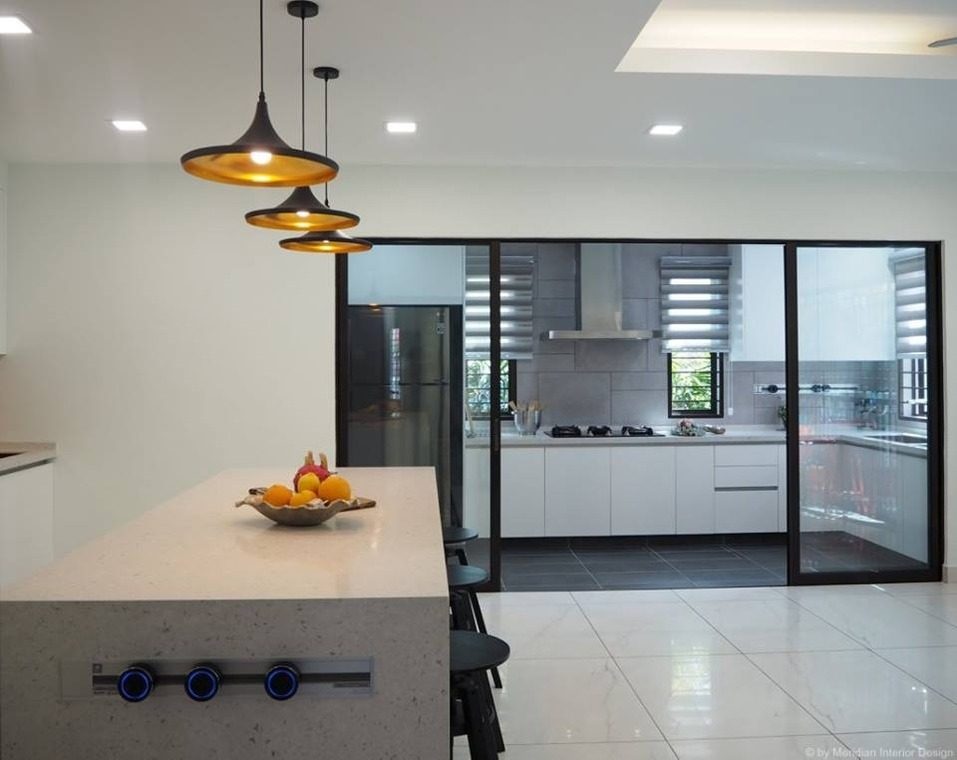 Semi-D in Sutera Damansara
The dry kitchen in this semi-d makes a real impact through the use of dark, bold wall panels, reflected by a large mirror occupying the entire opposite wall. In the middle is a dark kitchen island with a white solid surface worktop that extends down the end panels. The kitchen houses a sink and lots of cabinets for convenient storage. Along the custom-built, ceiling-height dark wall panels, a built-in oven also sports a black front to blend in with the room.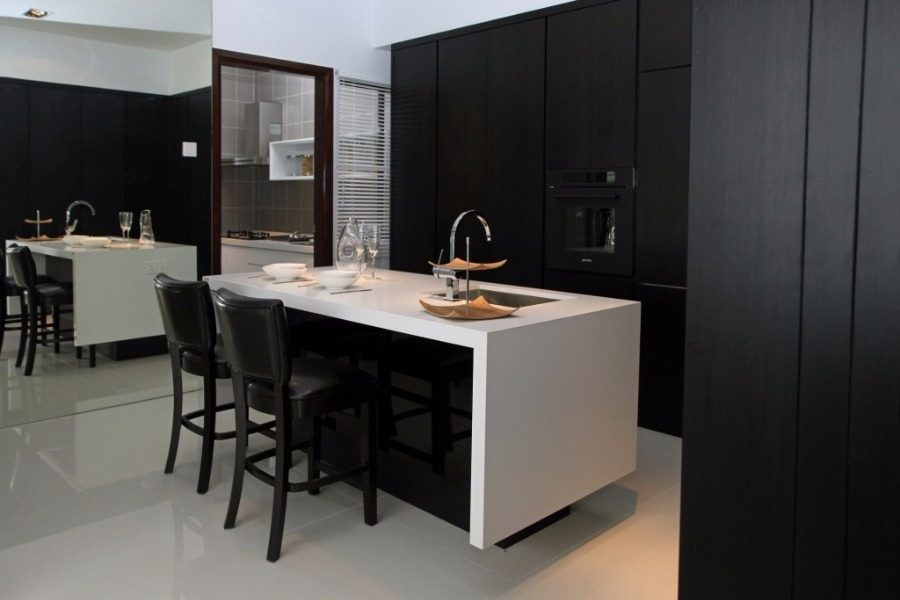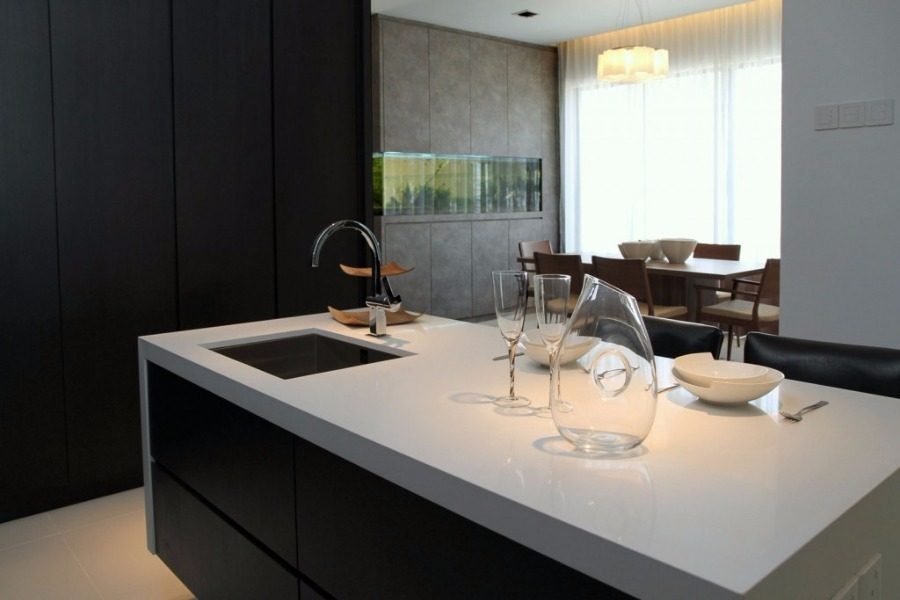 Stepping past the dry kitchen in the wet kitchen, the scene changes from bold to practical. The walls and floor are covered with hardy ceramic tiles, topped by a solid surface countertop in white. The cabinets are made of white laminate, with flush finger grooves to keep the lines clean and minimalist.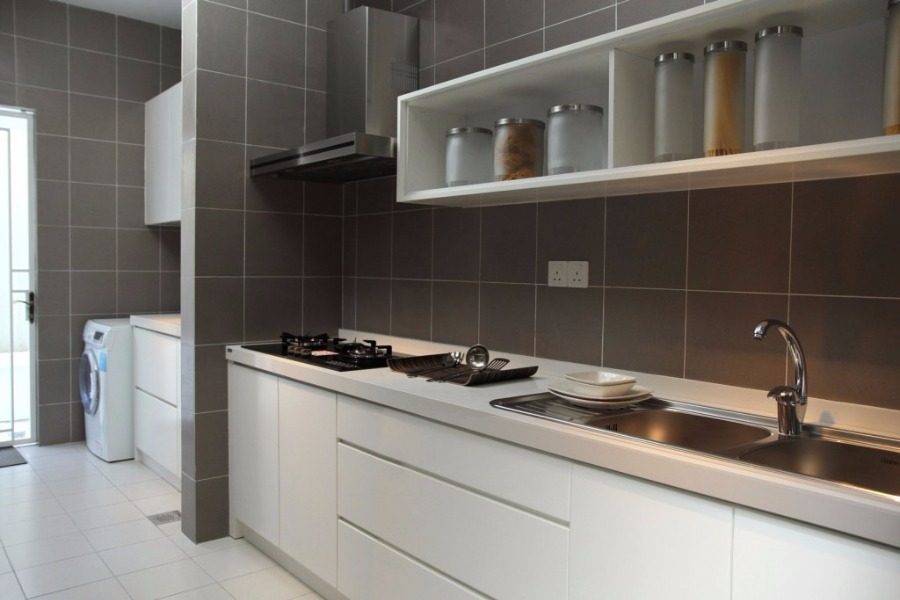 Terrace house in Kajang East
Kajang East by MKH Berhad is made of two-storey terrace units with built-up between 1,837 sf and 2,341 sf, with 4 bedrooms and 3 bathrooms.
In this home, the dry kitchen includes an all-white cabinet along the wall, with a white kitchen island that acts as a natural divider between the dry kitchen and dining area. The island also creates a pathway from the living room to the wet kitchen.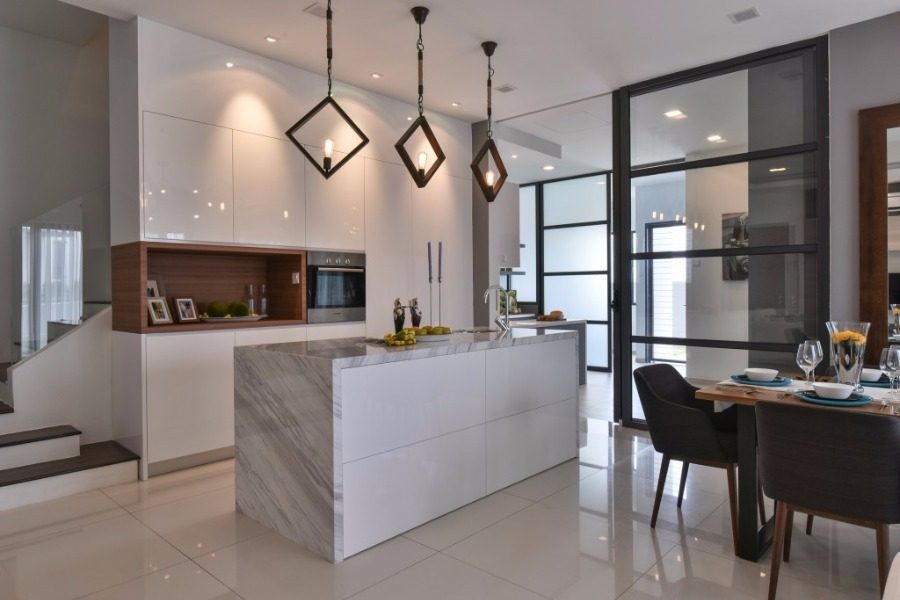 The wet kitchen is separated by a set of frosted glass sliding doors. The glass decor continues to the glass backsplash that follows the L-shaped kitchen cabinet.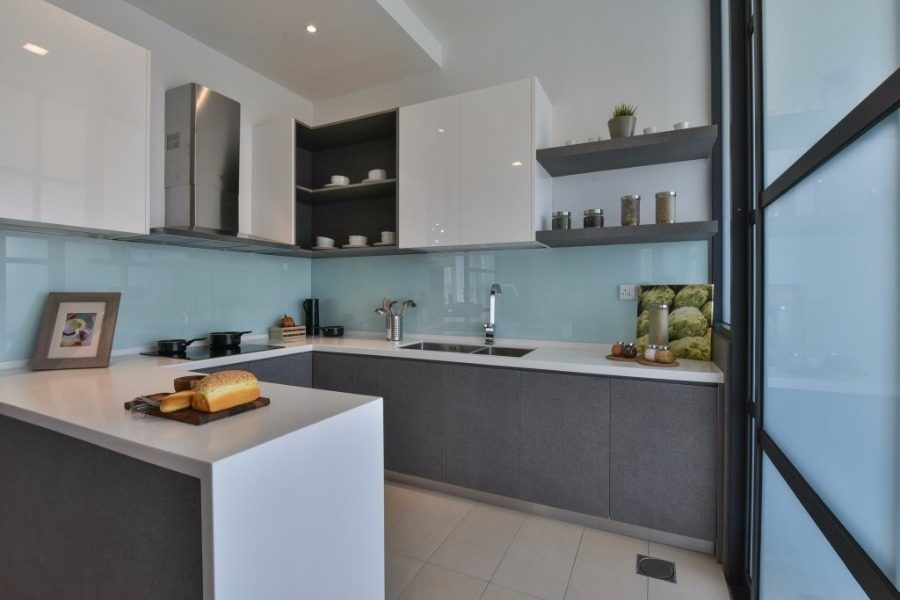 Long Branch Residences@HomeTree, Kota Kemuning
The dry kitchen in this bungalow oozes rustic charm, with shaker doors that frame the windows and entryway to the wet kitchen. The glass-fronted cabinets above the sliding doors act as a display area, while the inner-copper lined pendant lights create a simple bar counter.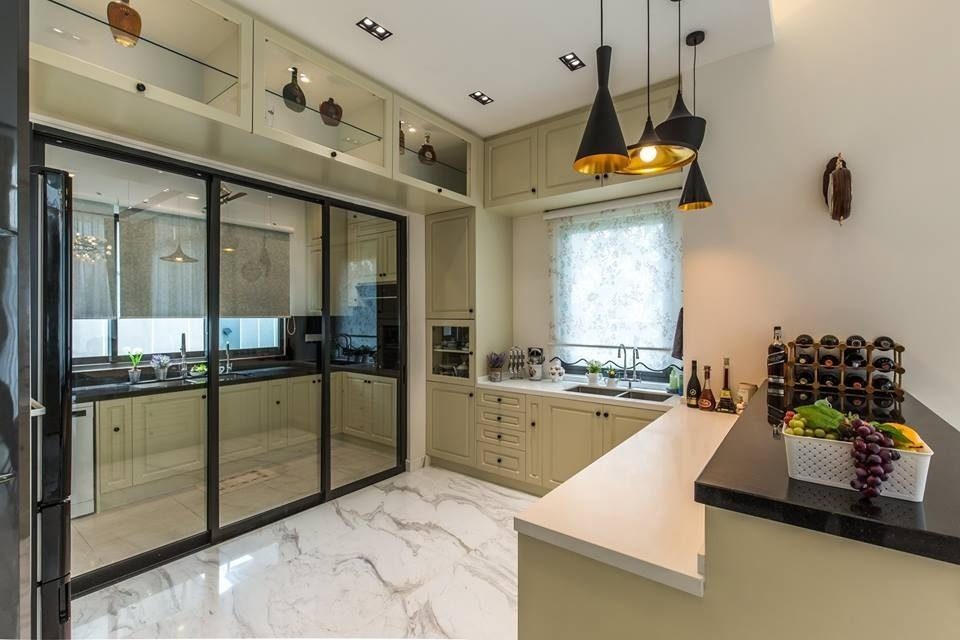 Behind the sliding glass doors, the wet kitchen is done up using a dark engineered quartz countertop, with simple beige floor tiles for easy cleaning after a big fry up. The dark countertop is balanced by large windows that let plenty of daylight in. There's also no shortage of cabinet space here, as the shaker panel doors and cabinets extend to full ceiling height.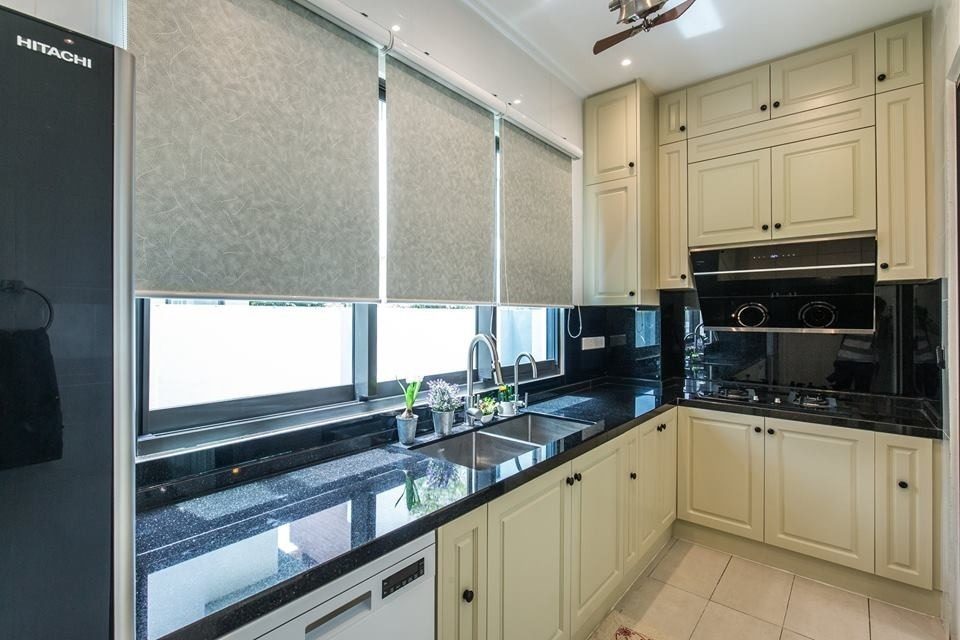 Condominium in Casa Tropicana
Can you create a wet and dry kitchen design in a condominium space? This condo is a perfect example. With luxurious, thick marble countertops and a long marble island, this galley style dry kitchen makes the most of its space. It is modern and sleek utilising elements such as dark flooring that creates a seamless space between the living and dining area.
The marble kitchen island doubles up as a dining table, with lamp shade style overhead lights to add a touch of softness to the room. The dry kitchen is open to the living room, while a doorway leads to the wet kitchen.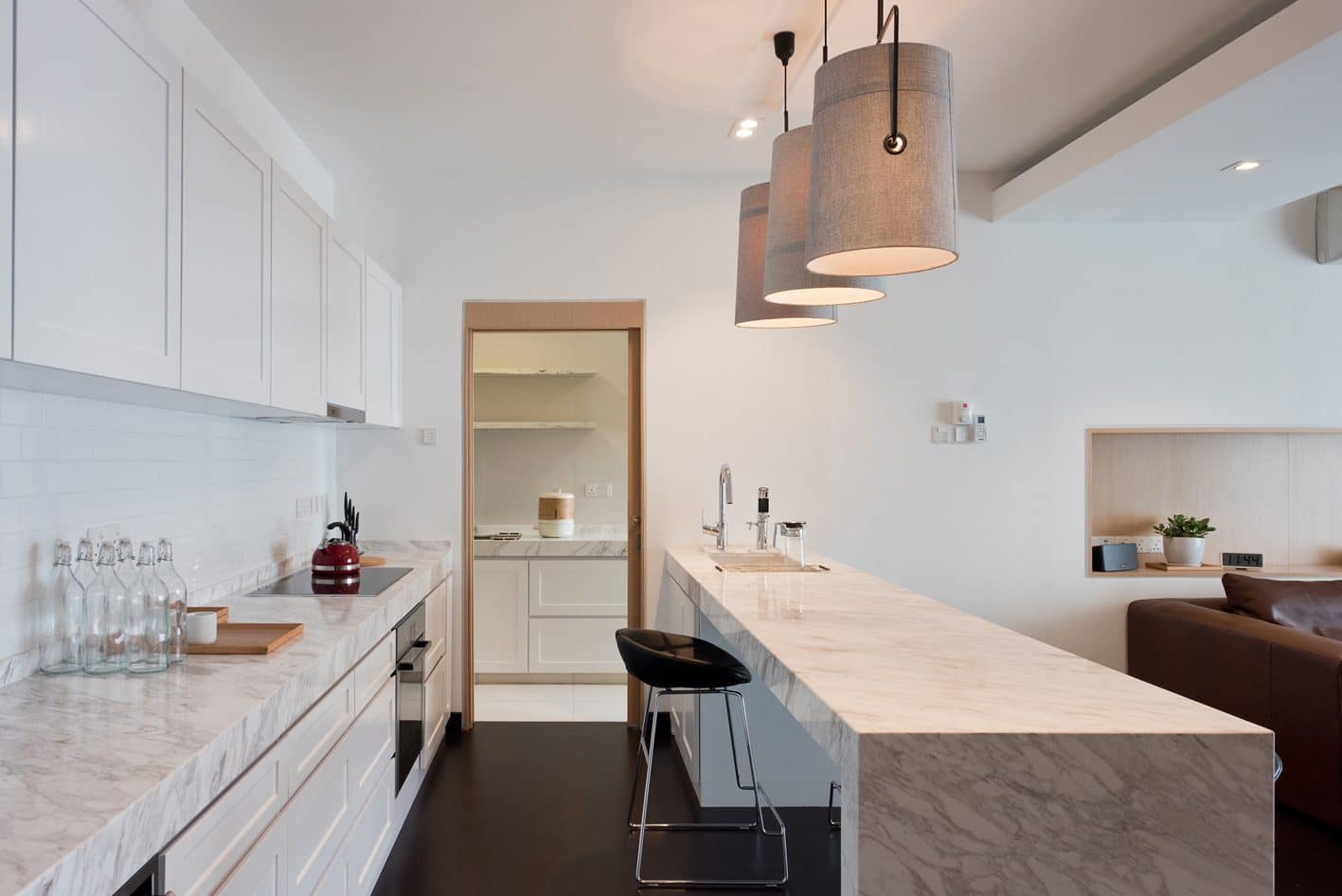 Semi Detached House in Ecohill, Semenyih
This modern classic kitchen design creates a unique kitchen island made from concrete cinder blocks, framed by a laminate counter. Along the wall, a ceiling-height kitchen cabinet is finished in a natural wood grained laminate. Open shelves are brightly lit with LED tracks to create a display area, making the dry kitchen look more like a contemporary cafe.
Beyond the black steel-framed glass sliding doors, the wet kitchen is made as an L-shaped layout, with black solid surface countertop. There's even a small ceiling fan to circulate the air when cooking.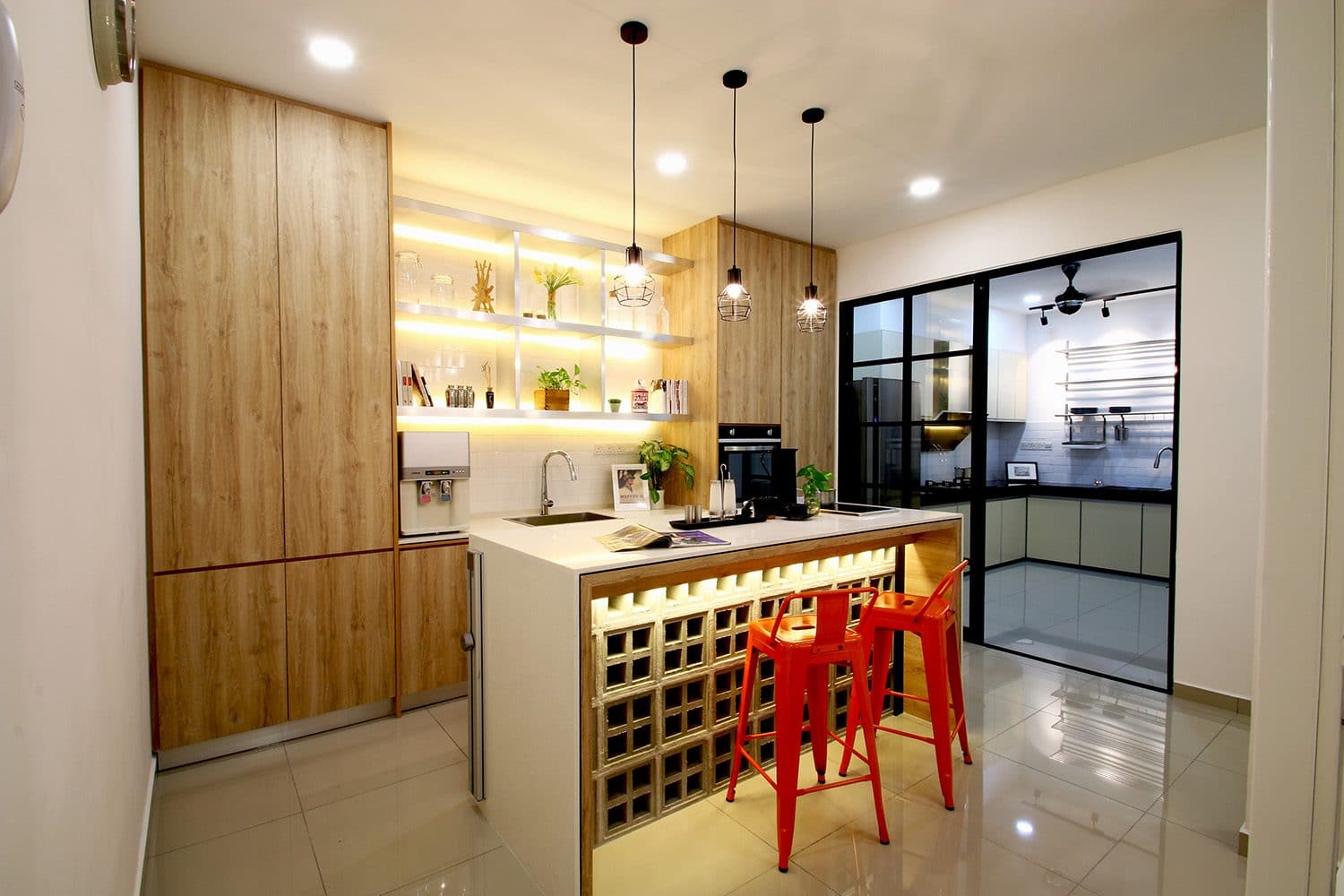 3-Storey Terrace House in Cyberjaya
The minimalist dry kitchen in this terrace house features a slim kitchen island in grey quartz, with natural beech wood toned laminate shelves. The cabinet fronts feature flush mounted finger grooves instead of door pulls or knobs.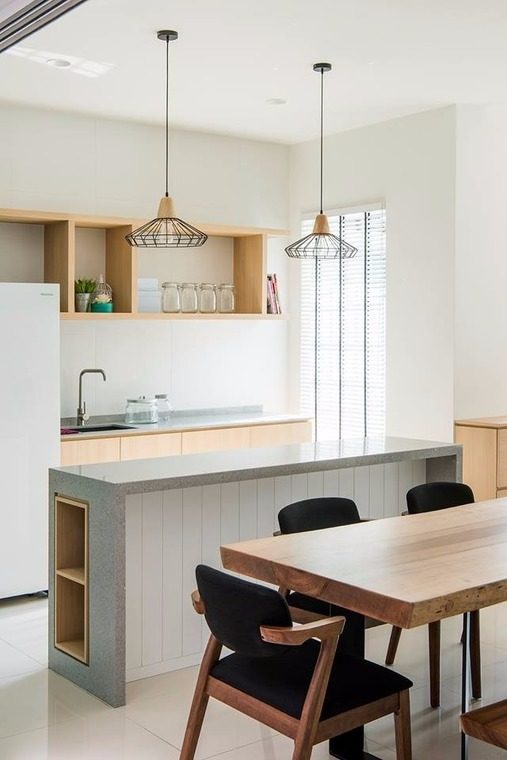 The same theme carries over to the wet kitchen, where the wall cabinets are made in all-white laminate, and the base cabinet in beech laminate with a similar grey countertop that also houses an induction cooker hob. In addition, a powder coated steel frame adds an industrial touch to the otherwise minimalist kitchen.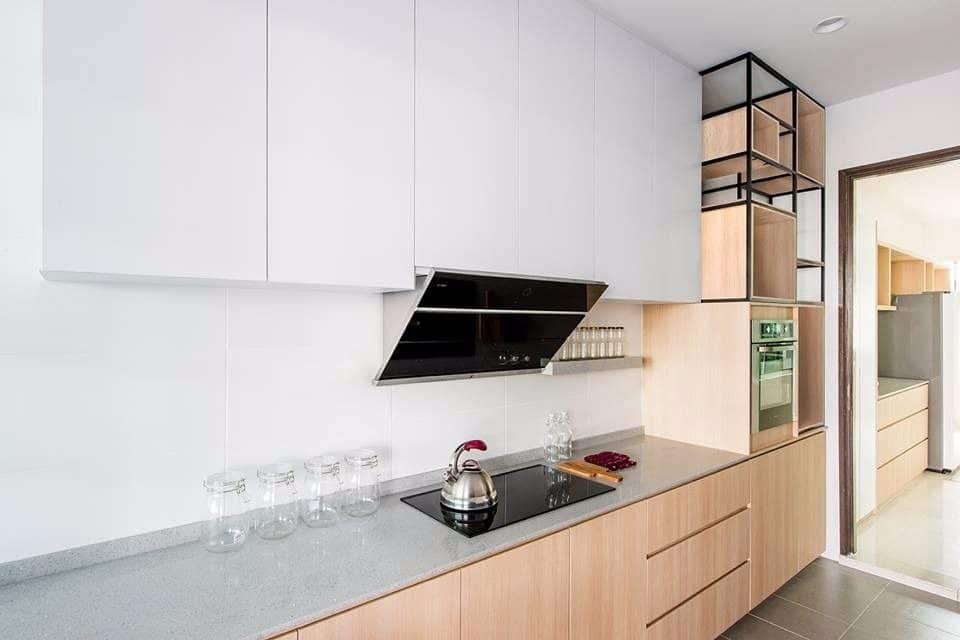 Setia Eco Glades, Cyberjaya
The Setia Eco Glades township in Cyberjaya includes a phase of semi-d units known as Ludwigia. With 3,200 sqft of built-up space, there's plenty of room to create a wet and dry kitchen design.
In this design, the dry kitchen is made of a U-shaped cabinet layout, with one end of the cabinet doubling as a bar counter with high bar stools. The kitchen design includes space for a sink, built-in oven, double-door fridge, and even a wine rack.
Stepping past the dry kitchen to the wet kitchen, this space also doubles as a laundry room. With the entire 3m wall used to house a wall cabinet and base cabinet that includes an induction cooker, cooker hood and double basin sink.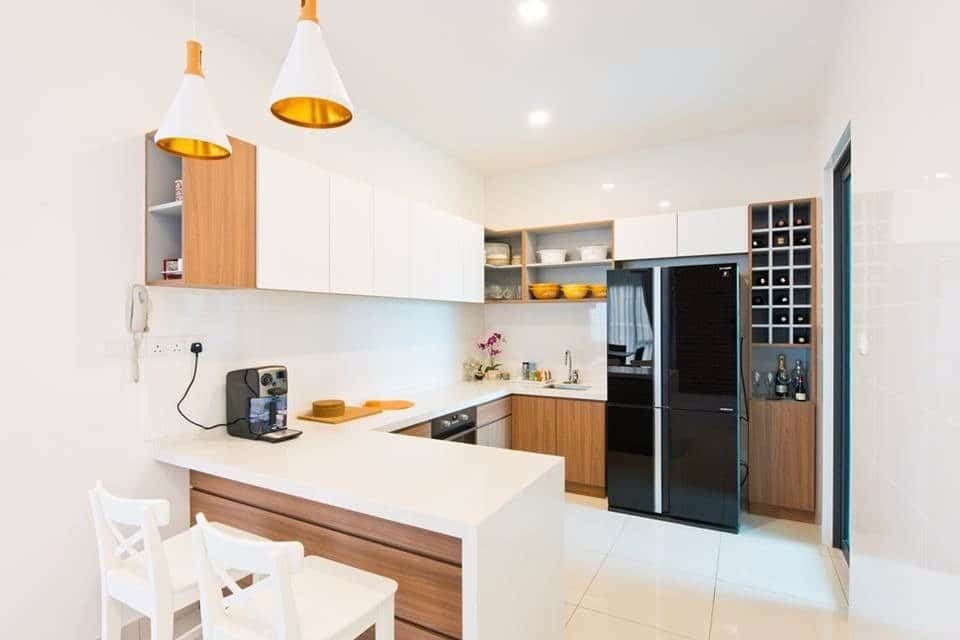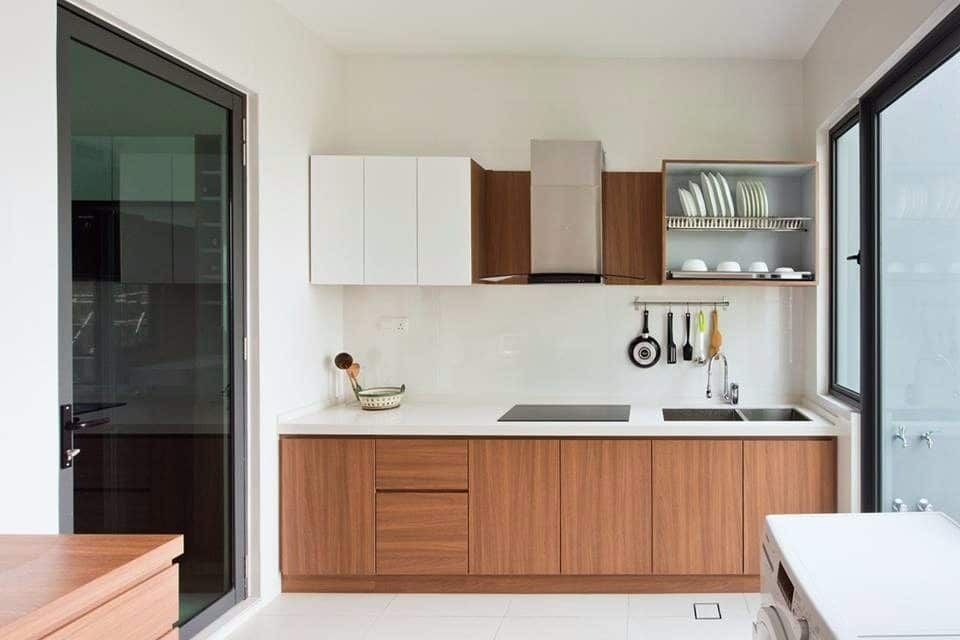 Semi-D house in Viridian, Cheras Idaman, Kuala Lumpur
This 3-storey semi-d unit features a dry kitchen that is open to the dining and living area. The granite flooring continues across all three spaces, making it feel seamless, with the L-shaped kitchen counter functioning as a natural divider. In the dry kitchen, a microwave, oven, sink has been added.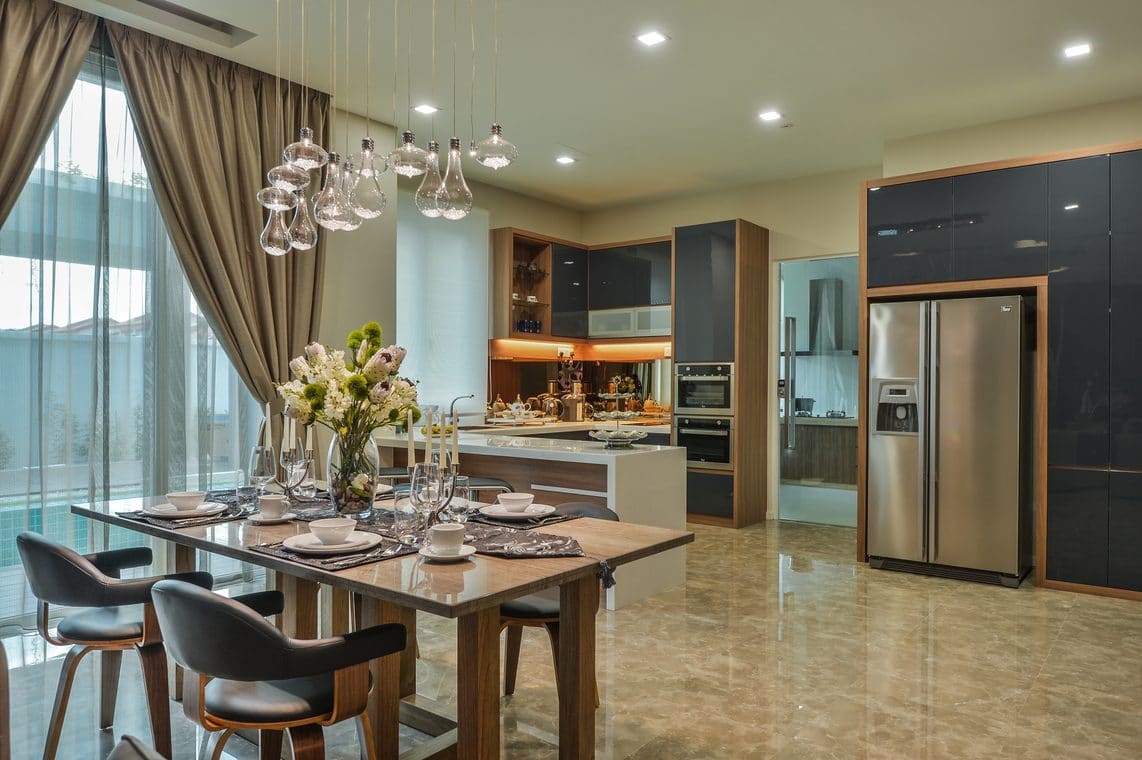 The wet kitchen is accessible behind a swinging glass door, and in there you will find a large fridge, gas cookers, cooker hood and double basin sinks. The wet kitchen also features a large corner window for improved ventilation. All cabinetry is built on a raised concrete platform and the countertop and floor are made of porcelain tiles for durability and easy cleaning.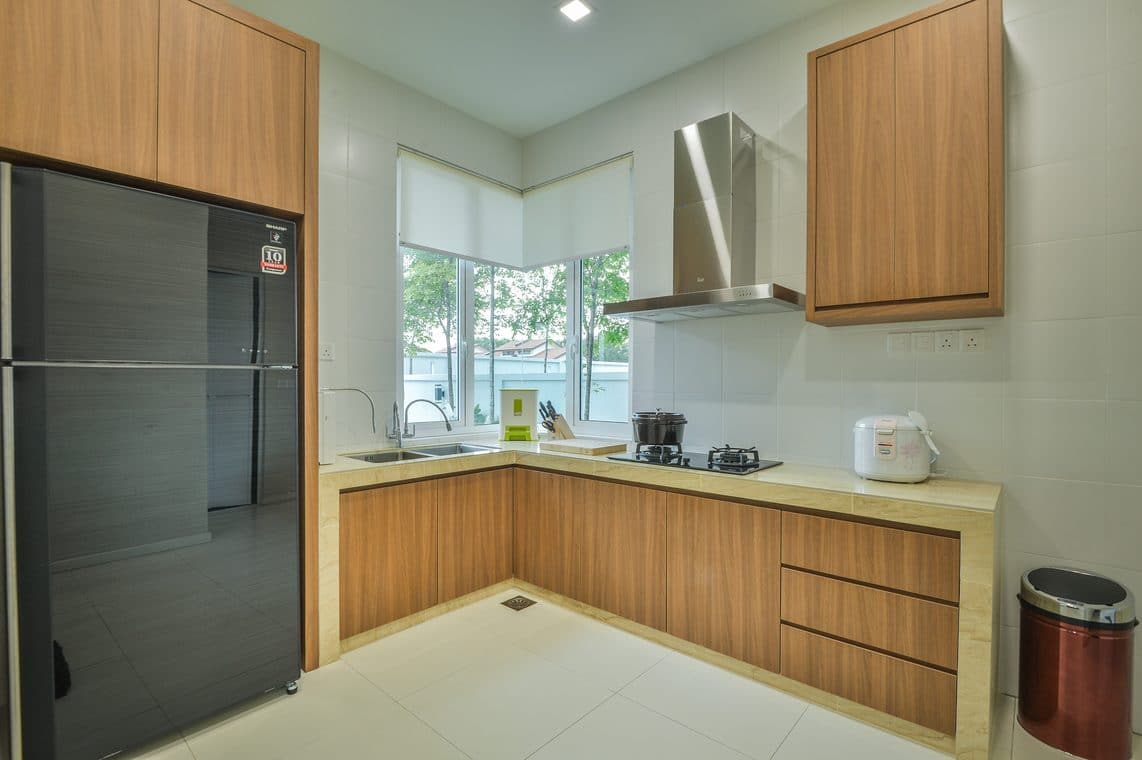 Modern classic bungalow at Setia Alam, Selangor
In this bungalow layout, the dining room and dry kitchen is partitioned away from the living room by the TV panel and a slim frosted glass divider (image below)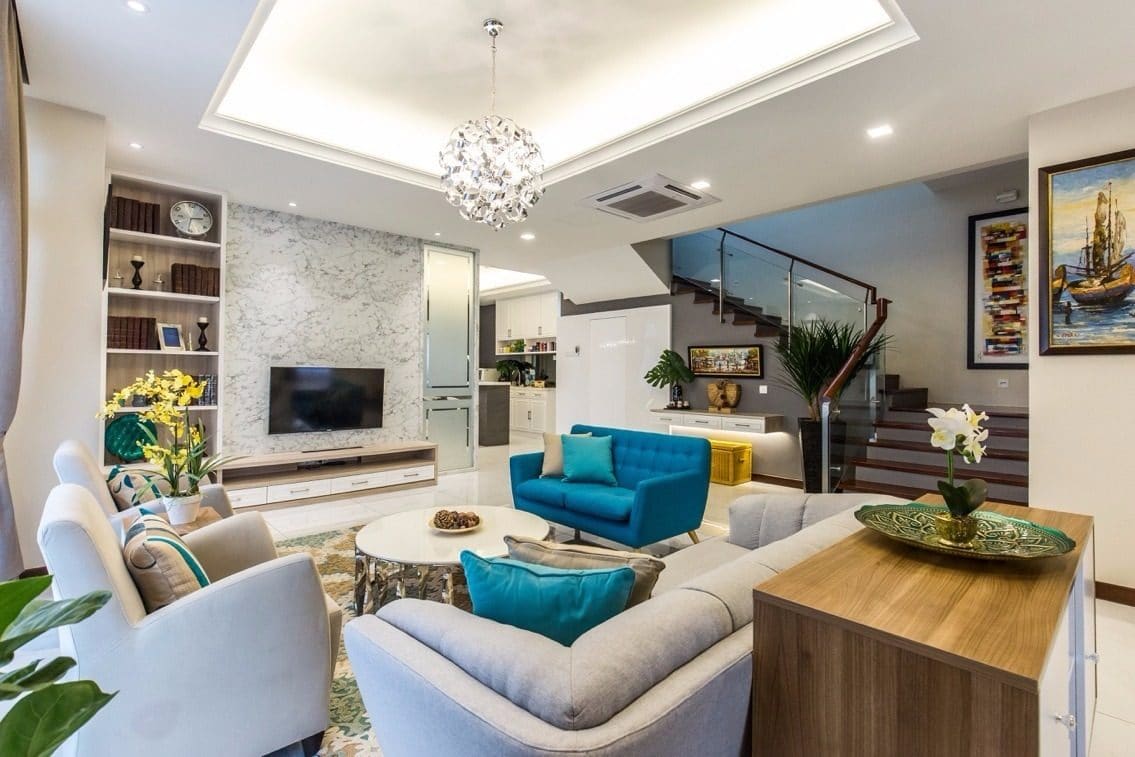 Stepping into the dry kitchen, it is equipped with a marble island counter, with a row of base and wall cabinets lining the wall. The base and wall cabinets are of a shallow custom depth, so a mirrored backsplash was added to extend the illusion of depth.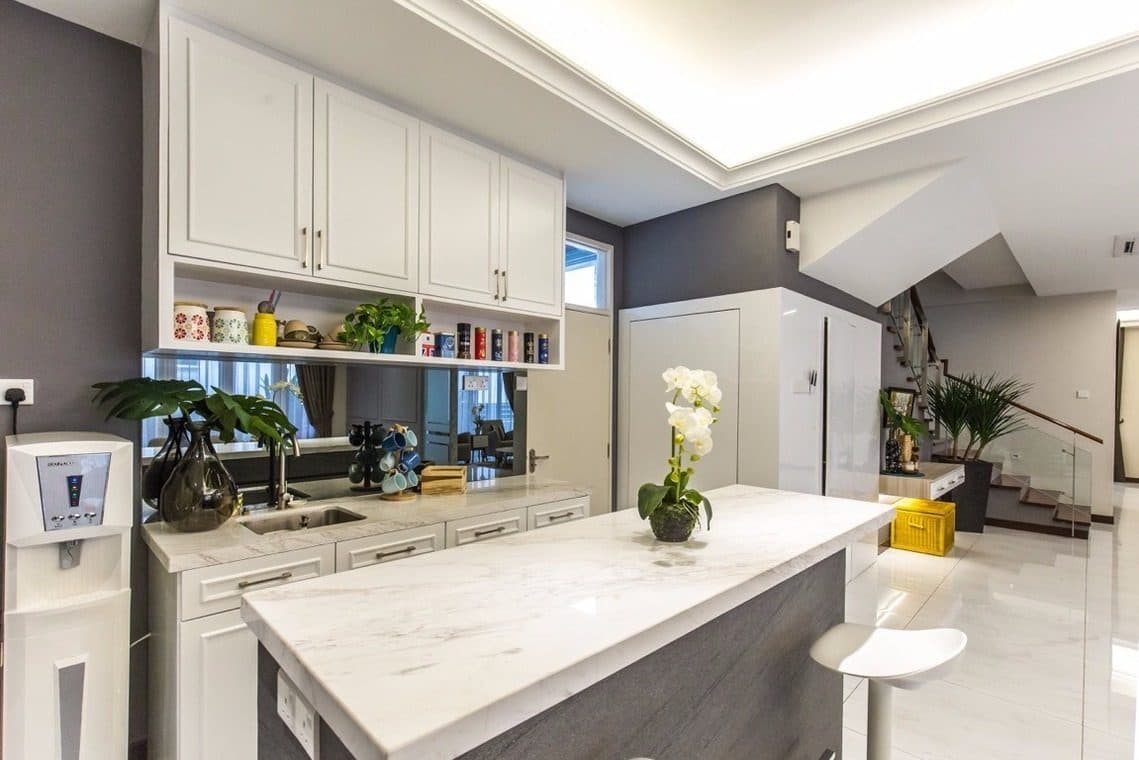 In the wet kitchen, the space opens up to reveal a generous amount of counter space. There's even a second kitchen island for friends and family to chat while preparing meals.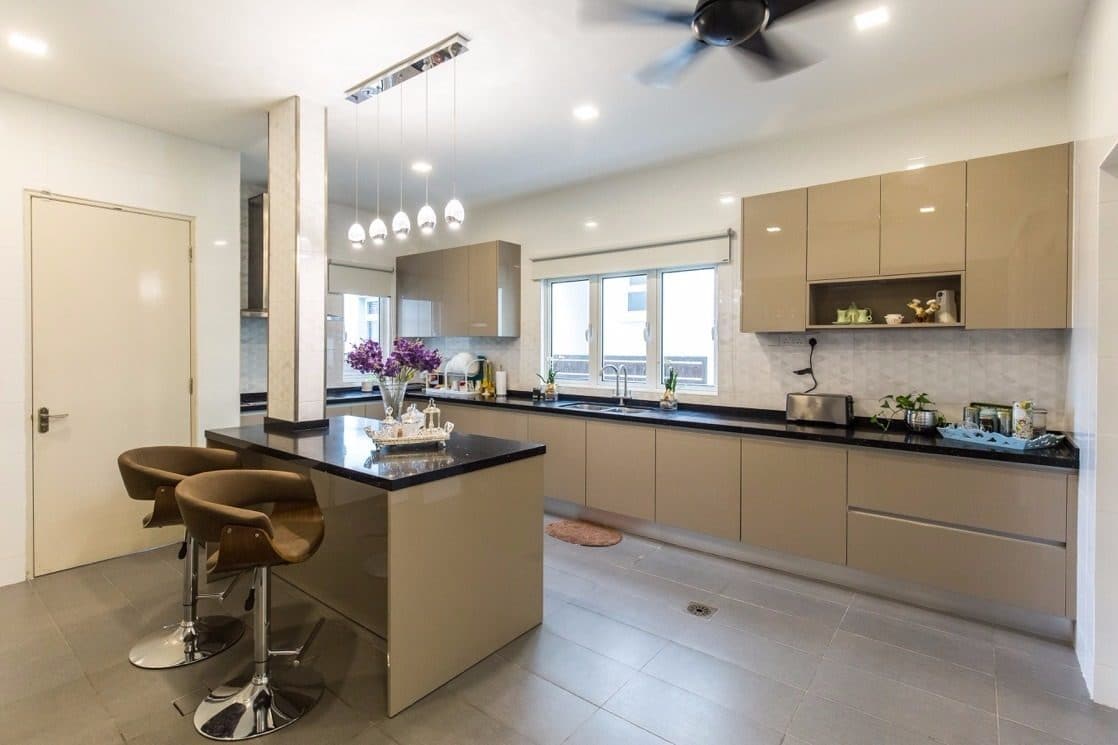 2 ½ storey landed home at Sunway SPK
This wet and dry kitchen design embodies the black and white theme in an ultra-stylish way. With reflective white laminates covering most of the cabinetry, an all-white kitchen island, and black steel legs for the bar counter. Even the fridge and appliances are in black.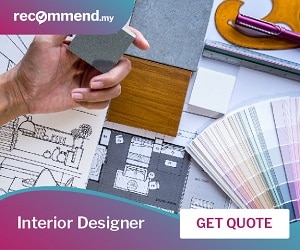 Interestingly, the dry kitchen also has an induction cooker in the island for simple cooking tasks, with a ceiling-mounted cooker hood to absorb any cooking smells.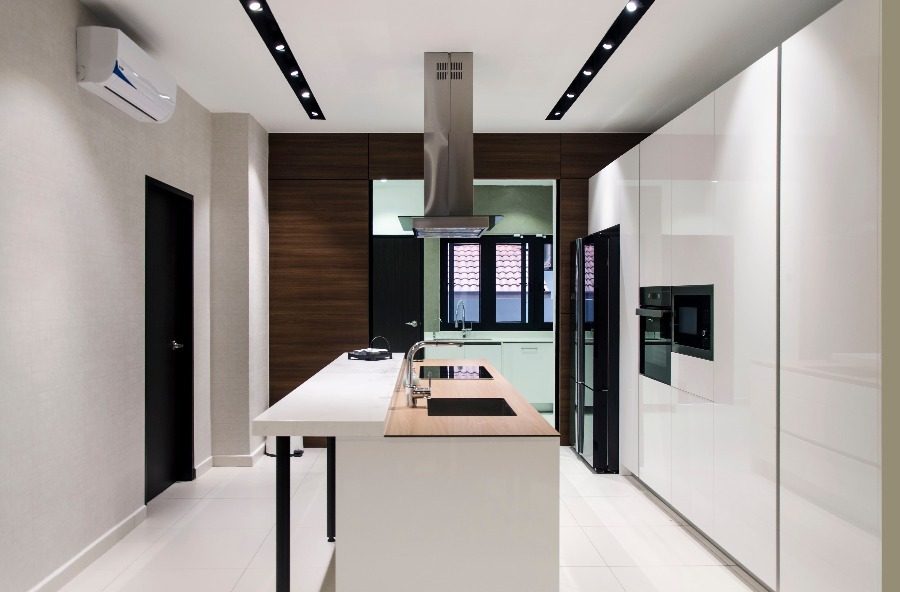 Through the dark wood panelled doorway, the wet kitchen is much simpler, featuring all-white laminate cabinets, glass backsplash, and a double burner gas cooker for extra "wok hei".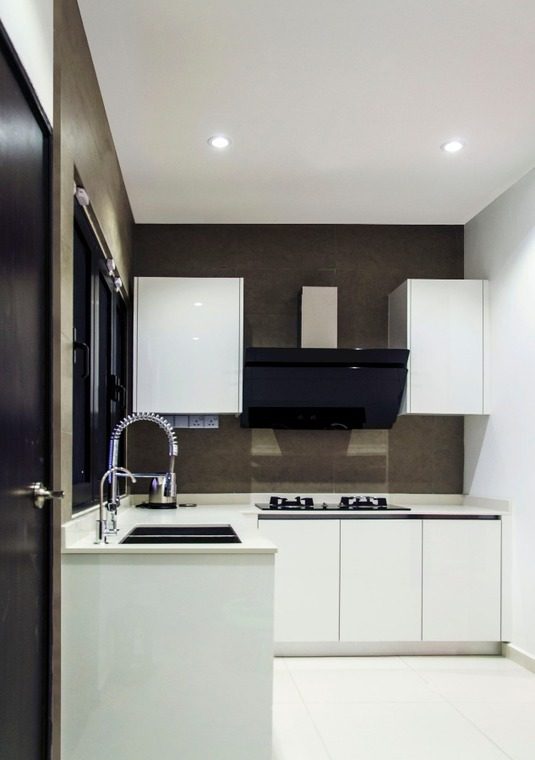 Condominium in SS2, Petaling Jaya
In this wet and dry kitchen design, the dry kitchen functions more like an open bar, as it faces the living room and covers an entire side of it. There are bar stools along a kitchen island that is lit by large copper pendants. The dry kitchen also includes a fridge and a built-in oven and sink, so that guests will always have a cool drink or warm snack ready for them.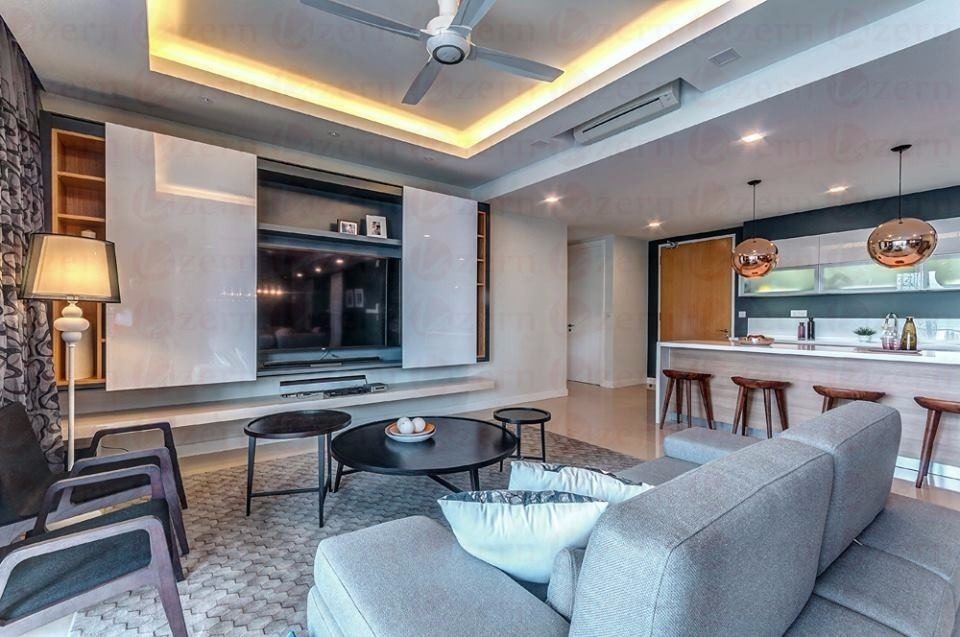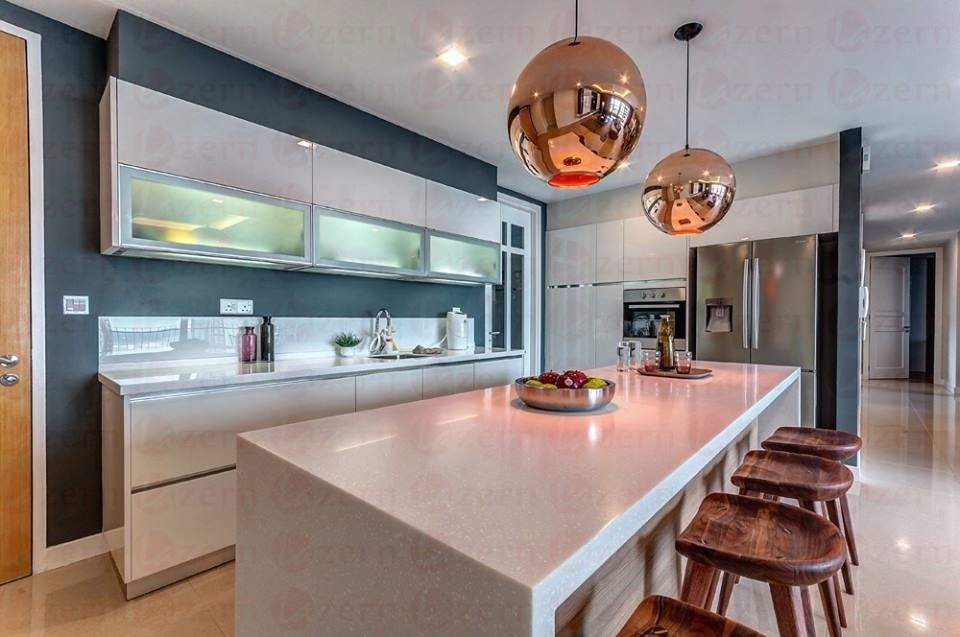 In the wet kitchen, the granite floor is replaced by simpler ceramic tiles, and the long base cabinet includes handles where you can hang a kitchen towel. There's also an induction cooker and cooker hood. The backsplash is also done up in 1″ x 8″ tiles in a random offset arrangement to create a unique feature wall.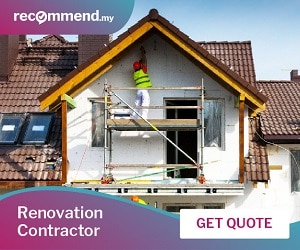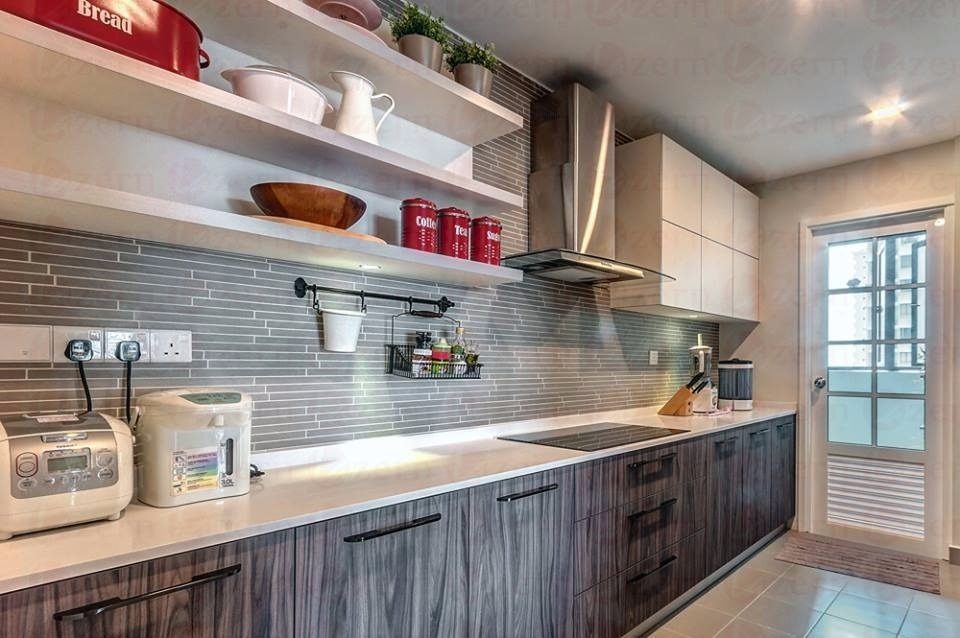 Superlink terrace house at Ipoh
In this home in Jalan Gopeng, the designers created a wet and dry kitchen design that is heavy on wood textures. The dry kitchen island has a unique angled countertop, and the entire unit is framed in an oak laminate with contrasting grain patterns.
The wet kitchen is accessible via two separate swinging glass doors, and the wet kitchen counter is done in white solid surface. Since the wet kitchen area has so many large windows, rolling blinds have been installed instead of wall cabinets.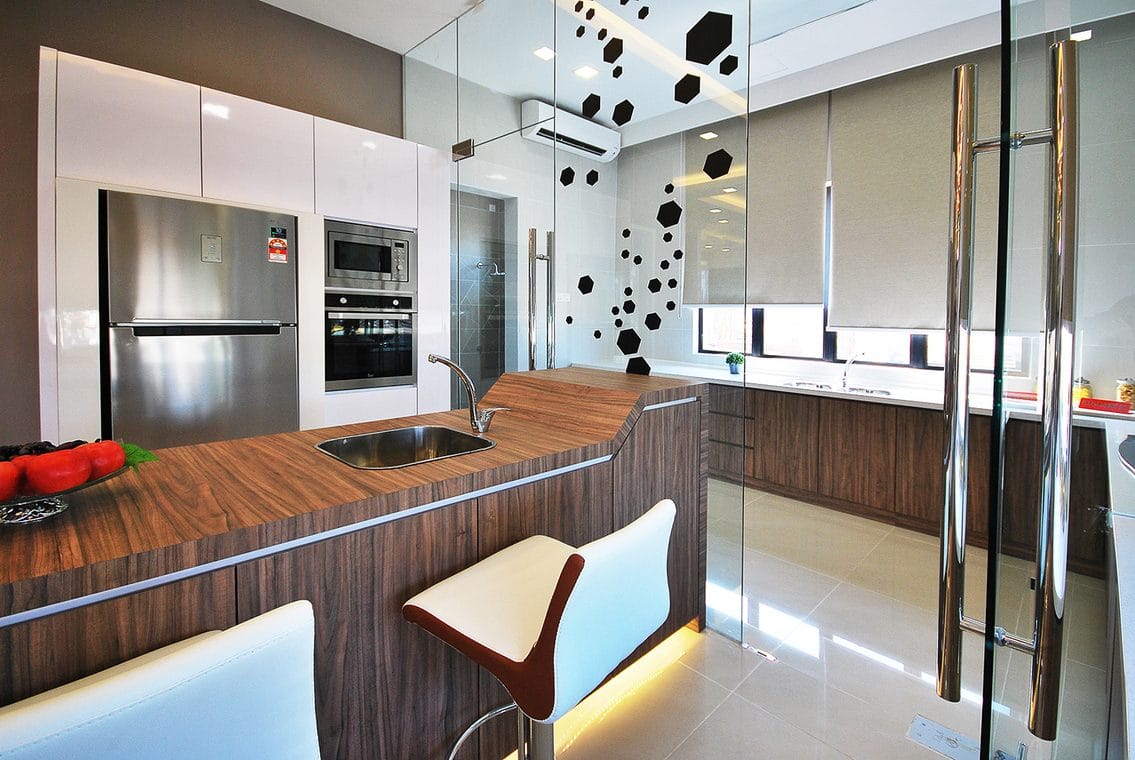 Another view of the dry kitchen below. Below the island counter, the designers used glossy laminates with an angled groove line. There is also a distinct glass partition on both sides of the counter, with a hexagon pattern.