Are you the type of homeowner who likes lots of balcony space? Or, do you prefer as little balcony space as possible in your floor plan? If you own a condo or terrace house, chances are it will include a small balcony.
In many cases, the balcony will simply be used as an extra clothes drying area. Or worse, it ends up as a storage area for boxes and old gym equipment.
That's a shame, because with a little bit of creativity, your small balcony can be transformed into an immensely useful space.
On one hand, you can do a balcony renovation to update the flooring, add some counter space or vertical hanging space, and you have a pretty little zen dining area.
To block the harsh afternoon sun or protect your privacy, you can cover your balcony with bamboo blinds, rolling shutters, or even use hanging plants to block the view.
If you are even more ambitious, you could convert the balcony into a room with an aluminium window frame, and turn it into an air-conditioned study.
We found some gorgeous examples of open and closed balcony designs below. If you want something similar for your home, talk to our interior designers to get an instant free quote.
Get the best prices from local professionals.
Get instant quotes, verified customer reviews, view completed work and be secured.
Covered Balcony Renovation Ideas
If you are able to renovate your balcony to close it off, you can replace the railings with a simple window frame. Or, if your balcony is already built from concrete, you can add your window frame above it. Finally, you can remove the balcony railing entirely and build a full concrete wall with windows.
For terrace houses, the rules about renovating your balcony are quite relaxed. Depending on your local town council regulations e.g. MBPJ, MBSA, etc, a renovation permit may only be needed if you are extending the boundaries of your house, such as a kitchen extension.
Once you have closed it off, you can turn the extra space into these ideas:
Home Office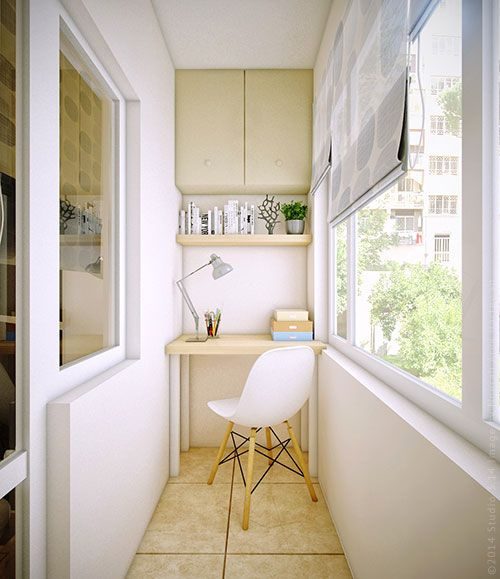 Source: shelterness.com
In the converted balcony above, the owners have added a simple window frame above the balcony wall, and added a made-to-measure cabinet at one wall to create a cosy study area. When needed, the bright daylight is blocked by roman blinds.
Hanging chair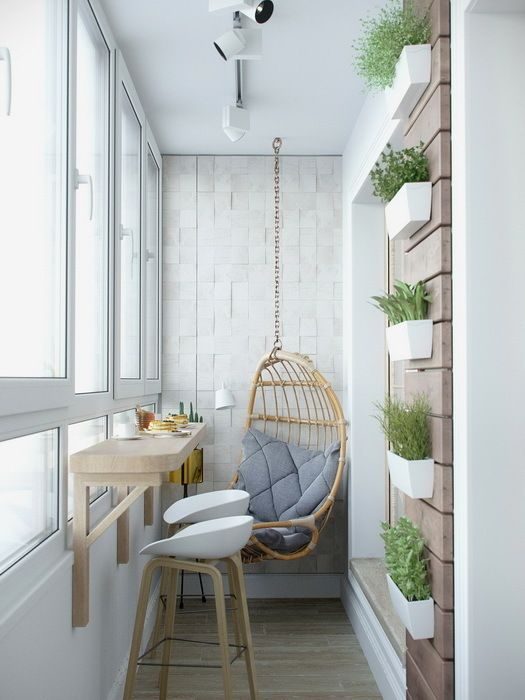 Source: inmyroom.ru
This converted balcony cleverly adds some counter space by the window, along with a hanging chair to create a relaxing breakfast room.
Laundry area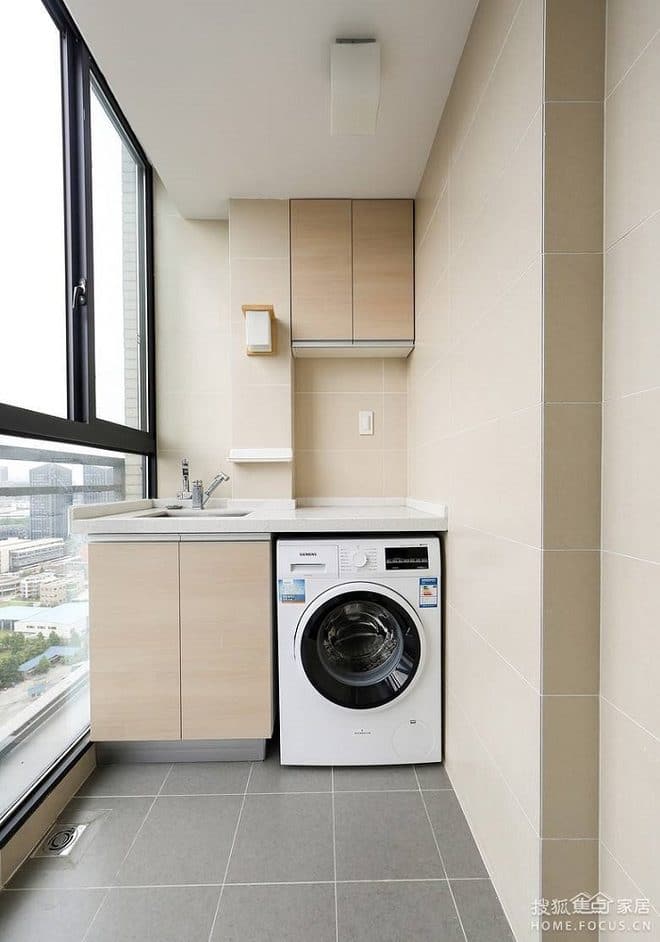 Source: Zhihu
If you are doing a full balcony renovation, why not add the plumbing and create a laundry room? The additional wall cabinets, sink counter and low cabinets create a utility room. You can even add ceiling rails to hang your washing after.
Open Balcony Ideas
If you live in a condo or other strata titled property, it may not be possible to renovate your balcony to close it off without the approval of the joint management body (JMB) or Strata management.
Most newer condos will disallow this in order to preserve the look of the facade. You will likely require management approval even if you wanted to add balcony grilles.
But that shouldn't stop you from creating a relaxing spot to enjoy the view, and these balcony ideas prove it!
If you really wanted to close it off, you can add bamboo blinds or outdoor roller blinds.
Vertical Garden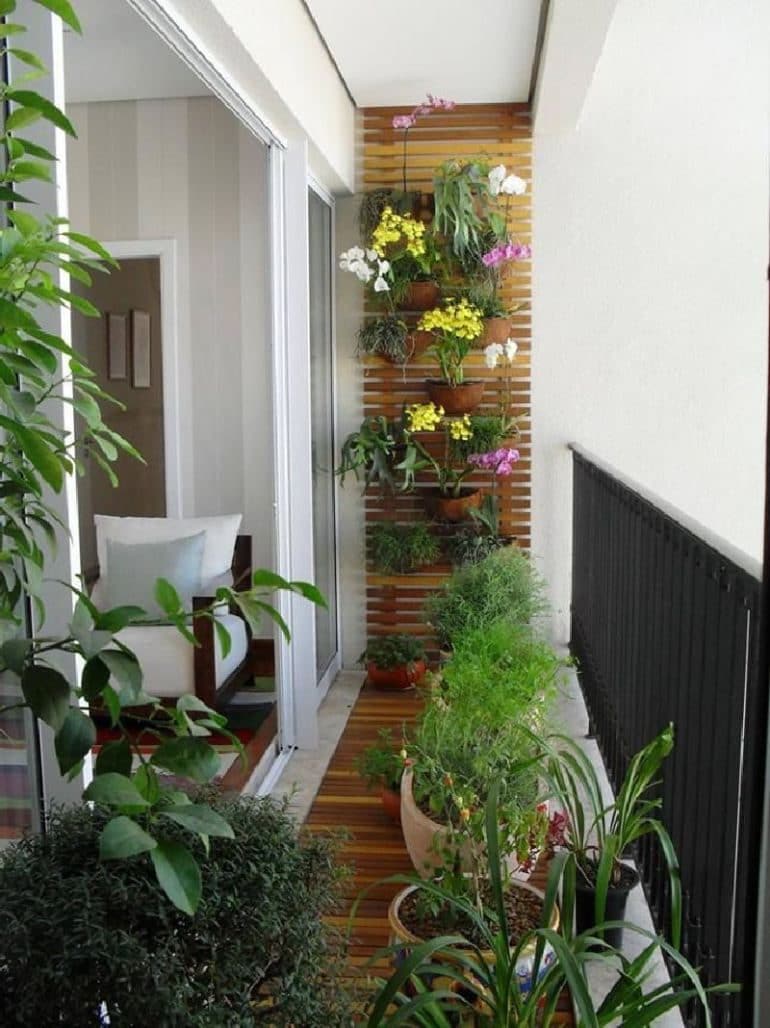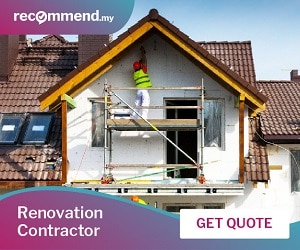 Source: homestethics.net
This balcony adds parquet strips along the floor, continuing as timber strips going up the wall to create a vertical planter space. The wooden pallets provide plenty of space to hang planter pots.
Bay seating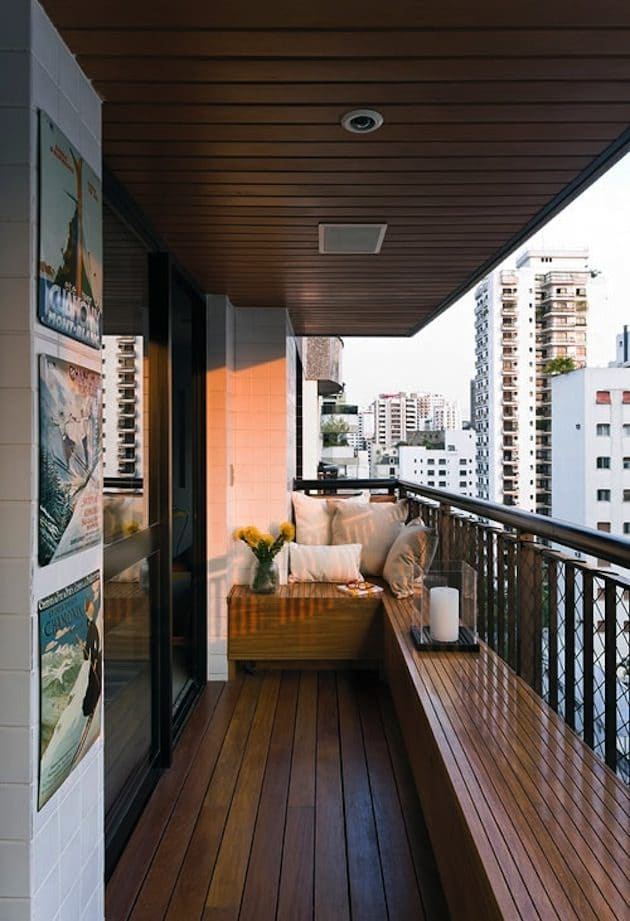 Source: balconygardenweb.com
This balcony takes a bold step at creating a social space for entertaining guests by adding a custom-built seating bench along the balcony. With the right choice of wood, the seats will be unaffected by rain or sun.
Bar Counter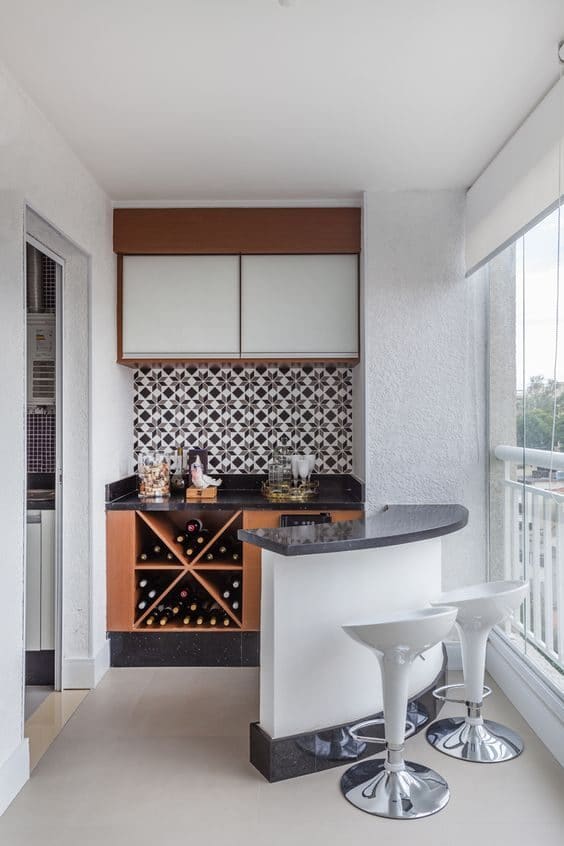 Source: br.habcdn.com
For the serious socialite who loves having guests over, what better way to entertain than to create a bar counter at your balcony? Add wall cabinets for your wine fridge, a small countertop with bar stools, and plenty of food and drink, and you've got a great space to mingle. Views are optional 🙂
Bamboo walls and swing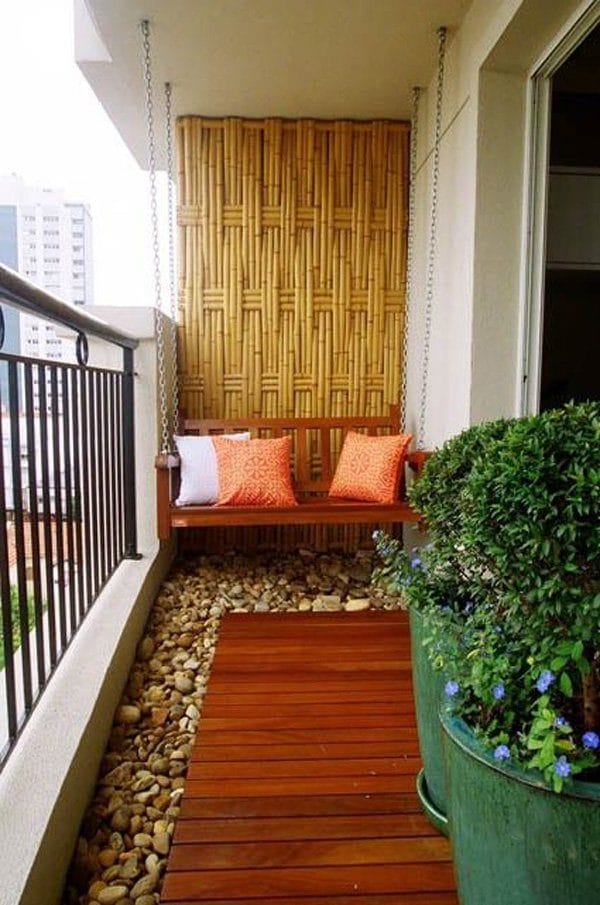 Source: cuded.com
Nature lovers will enjoy this balcony design featuring a woven bamboo feature wall, a mixture of stone pebble and timber decking, and a cosy hanging bench to enjoy the outdoors without stepping outside.
Privacy wall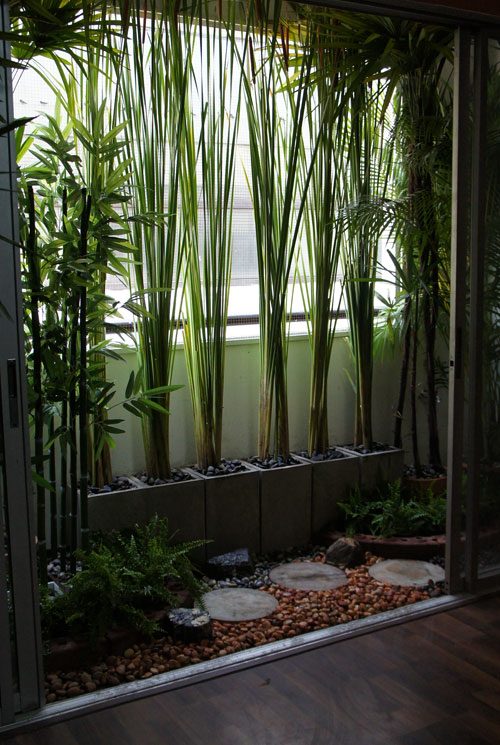 Source: thaigardendesign.com
This balcony in Bangkok did not have a great view, so the residents decided to block it off by creating a green wall of plants, and filling the floor with red stones and stone slabs.
Luxurious balcony garden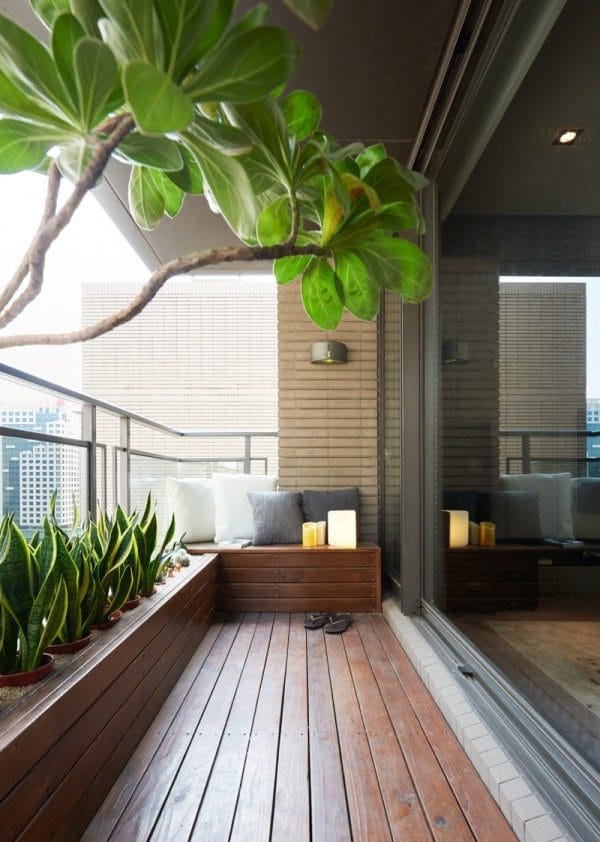 Source: home-designing.com
This home in Taiwan enjoys a beautiful panoramic view, so the owners made sure to create a cozy seating bench along one side of the glass balcony wall, with a long planter at the front of the balcony. By consistently using the same timber decking material, they created a seamless look that is both luxurious and durable.
Grassy garden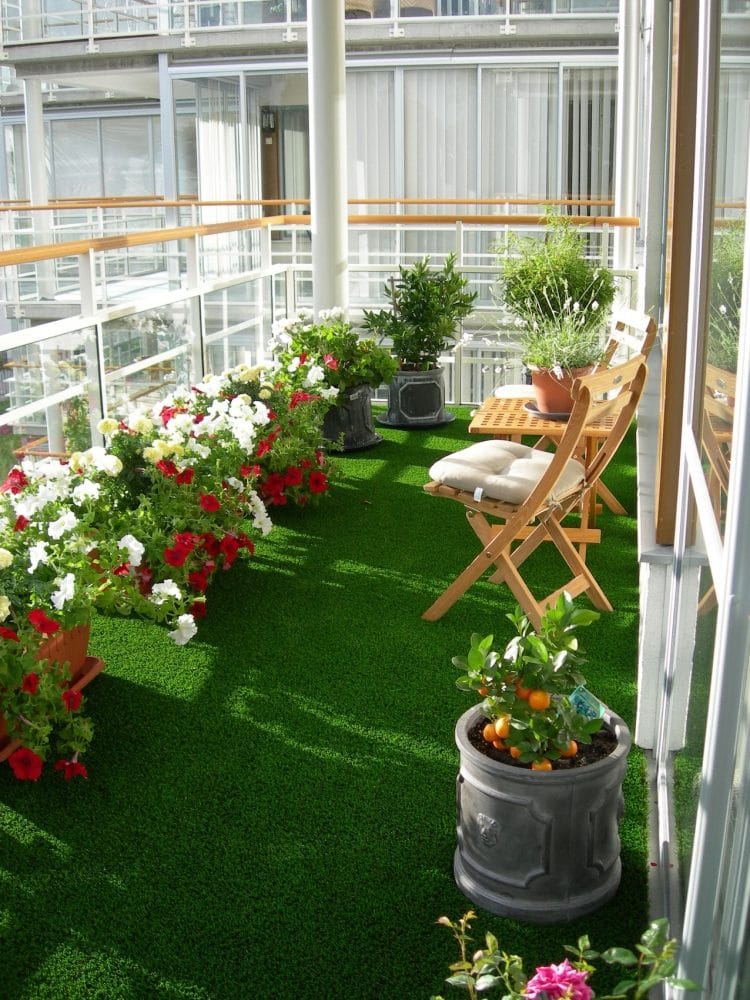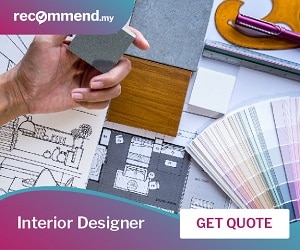 Source: deavita.com
If you don't want to spend on balcony renovations, you can add a carpet of artificial grass to create a pretty garden. Various potted plants and simple folding chairs complete the look.
Contemplative space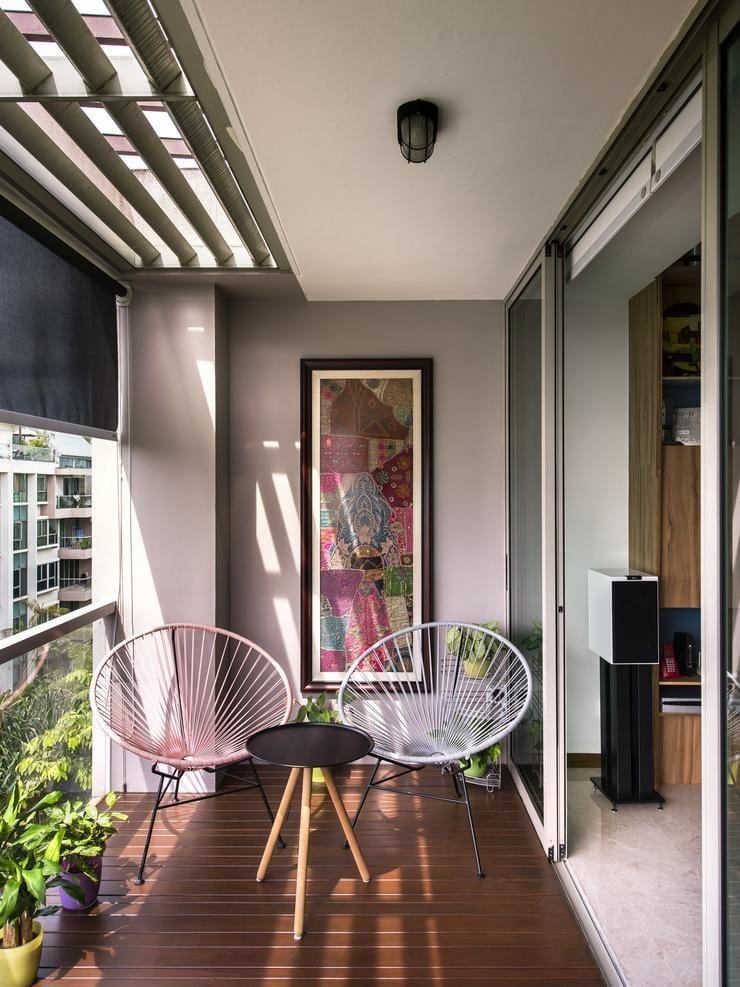 Source: homeanddecor.com.sg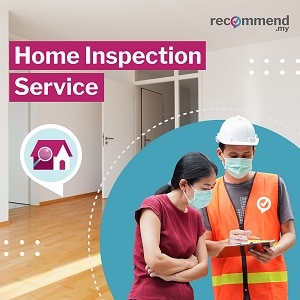 In this home in Singapore, the owners added a timber flooring and roller blinds to close the  space. A couple of Eames-inspired wire chairs and stool create a comfortable sitting area surrounded by your favourite plants.
Traditional style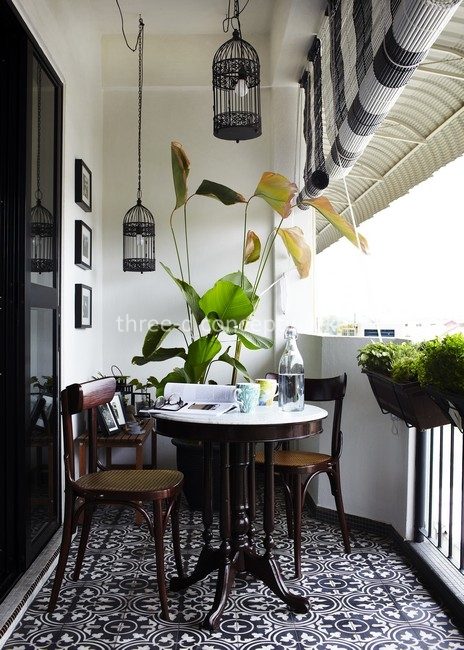 Source: three-d-conceptwerke.com
This Peranakan-inspired balcony design uses black and white patterned tiles and traditional furniture to evoke a bygone era. Hanging birdcages and matching striped bamboo blinds make this space even more charming.
Hammock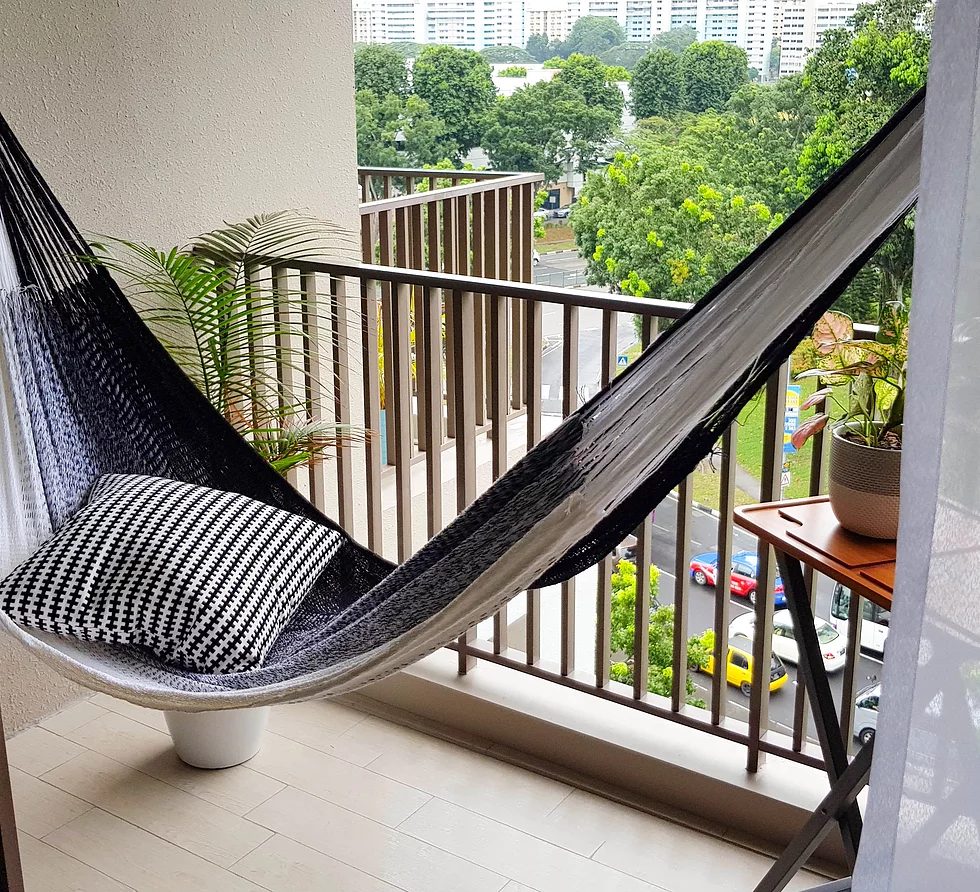 Source: zenhammocks-singapore
Finally, for ultimate relaxation in even the smallest of balconies, you can add a simple hammock to lie in and enjoy the evening breeze.
Ready to turn your balcony into a beautiful space?
Hire interior designers and renovation contractors at Recommend.my
Whether you want to convert your balcony into an extra room, or create a natural outdoor garden, you can get help from over 700 interior designers in Malaysia.
Tell us the ideas you have for your balcony design, and we will find suitable pros to respond. Talk to our interior designers to get an instant free quote.