You can tell a lot about someone's personal style from their kitchen cabinets.
Some prefer the clinical, clean and sleek look of white glossy cabinets, while others like the warm and cosy feel of dark brown wood cabinets.
Maybe you fancy yourself as a contestant on Masterchef? If so, you probably like the brown laminates and stainless steel counters of the hit show. Or perhaps you prefer the warm and cosy kitchen from Julia Child's home.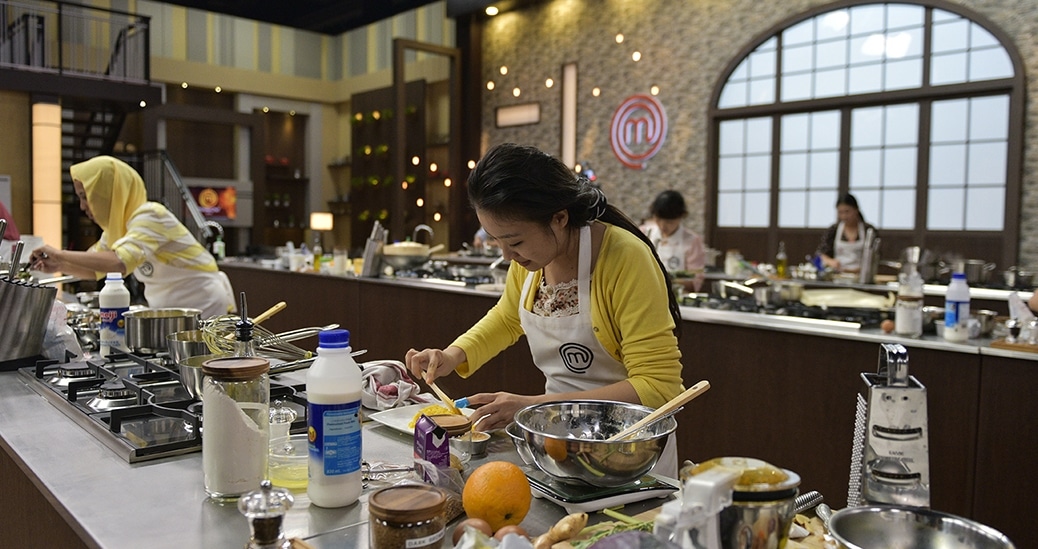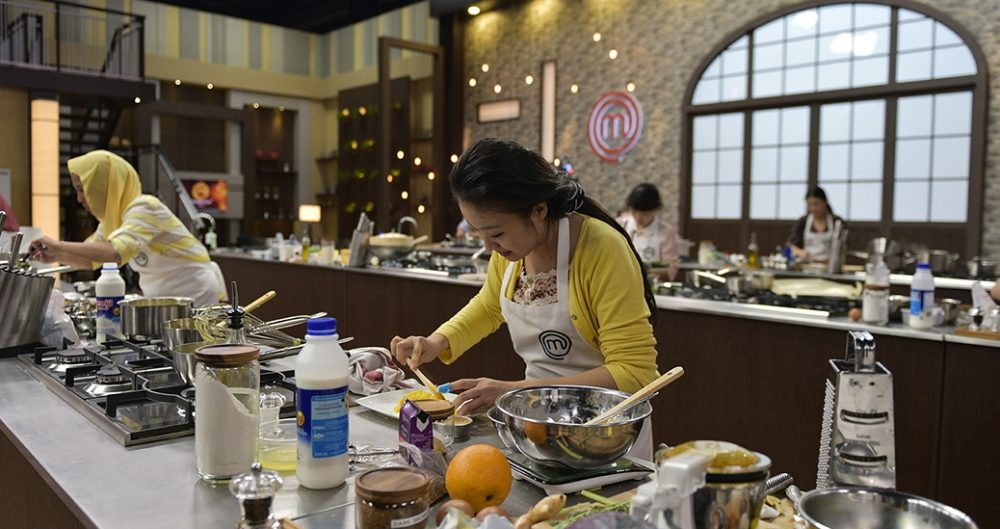 No matter your taste, get some inspiration from this list of 20 kitchen cabinet designs in Malaysia. We picked some of the best designs created by kitchen cabinet specialists in Malaysia, and you can now hire them through Recommend.my!
Ready to renovate your kitchen?
Let us know your budget and requirements, and a list of cabinet contractor pros will respond with free quotes.
1. Glossy white kitchen cabinets with medium wood finished breakfast counter.

The combination of white and wood gives this kitchen an open and sleek feel, making it seem more spacious. The cabinets are also cleverly integrated with power track systems so you put your appliances anywhere.
2. Red and white trendy kitchen design with a large island counter.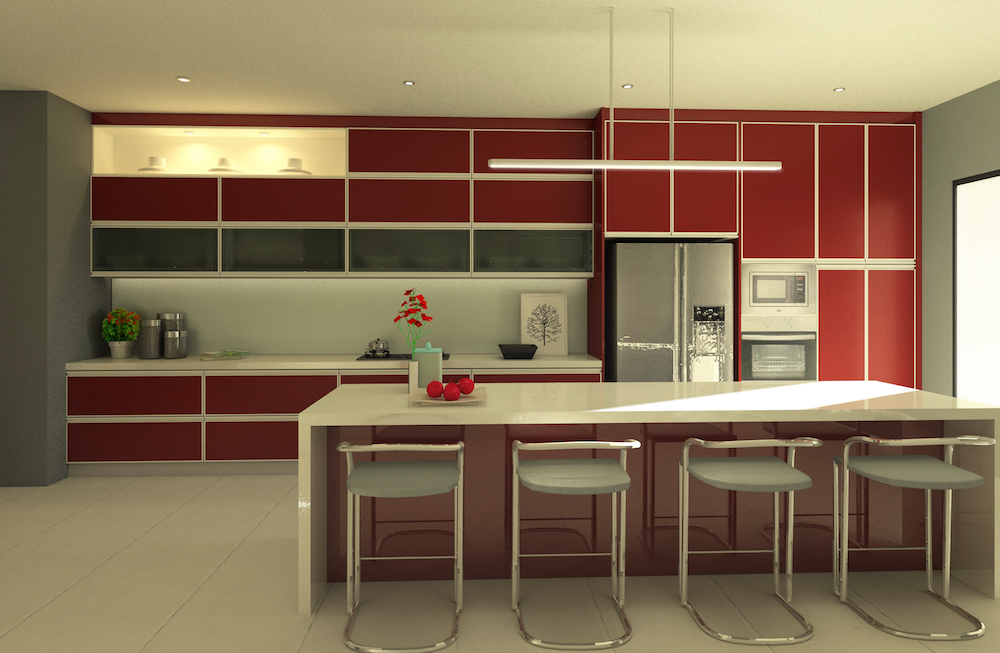 This modern kitchen 3D concept rendering uses a bold red colour for the kitchen cabinet fronts to really transform it. Grooved cabinet doors mean you need door handles or pulls that interfere with the clean glossy lines.
3. Modern all-white 4G cabinets with kitchen island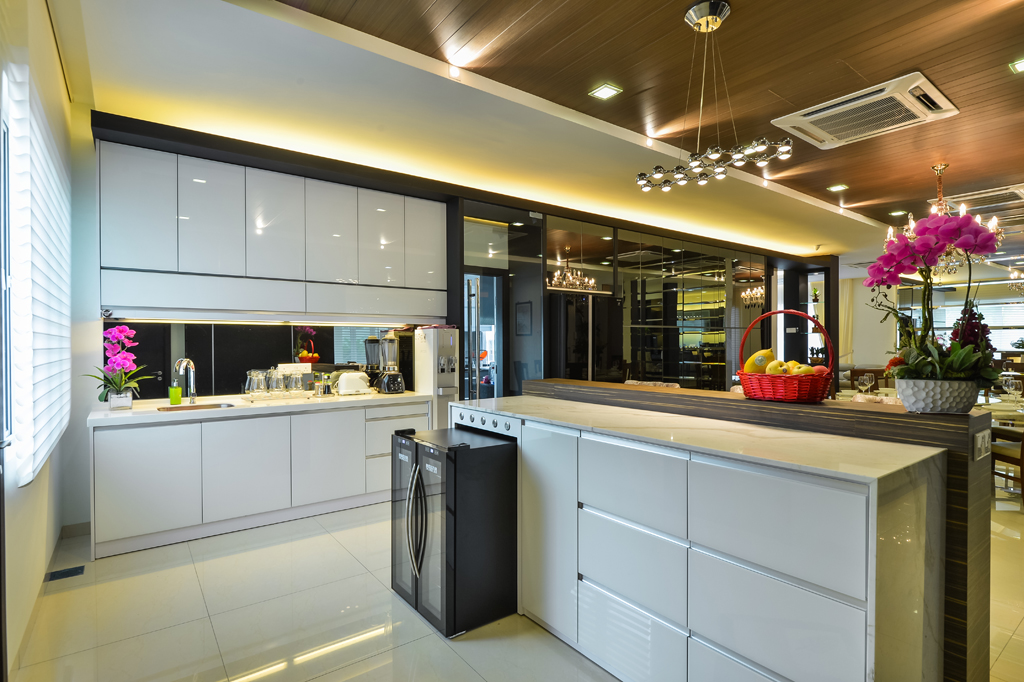 This kitchen carves out a clean, clinical space that contrasts with the rest of the open floor plan. Since the entire living, dining and kitchen area uses the same flooring, the kitchen island creates a natural partition. 4G cabinet doors (i.e. aluminium frame around laminated plywood) provide narrow gaps to make the cabinets feel seamless. A mirrored backsplash is used as a continuation of the fully mirrored wall panels in the living room.
4. Spanish kitchen tiles paired with all-white kitchen cabinets.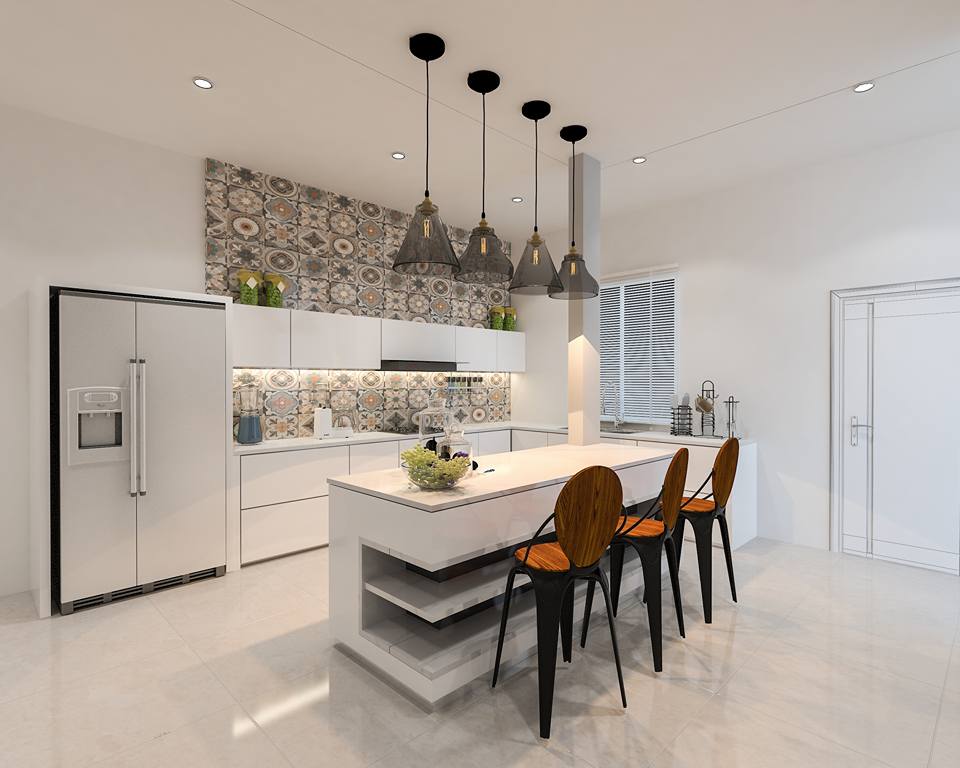 This concept kitchen uses Peranakan or Spanish tiles as a backsplash that also extends above the wall cabinets. A beautiful accent that goes with the all-white cabinet design.
5. Unique multi-level kitchen cabinet design
Here's an interesting concept. This kitchen includes a ceiling-height cabinet along one wall, and combines it with an L-shaped island counter. The island counter also includes a knee-height console with deep drawers. Perfect for displaying books or decorative items.
Need price estimates? Try our kitchen cabinet price calculator
6. Neutral beige for small kitchen with glossy cabinet fronts
This kitchen includes clever features suited for small kitchens. Firstly, the cabinet fronts use coloured glass to create a highly reflective surface. This gives the illusion of extending the floor area to make the kitchen feel bigger. There are no drawers here, and the cabinet fronts have no handles or pulls, so they create a highly organised grid that gives the kitchen very clean, unbroken lines. The neutral tones give a stylish and modern feel and have been paired with black countertops to up the cool factor.
7. Sleek kitchen design with floor-to-ceiling storage.
No matter the size of your kitchen, you can always do with lots of cabinet space. This practical cabinet design is perfect for families or the chef who has lots of tools and gadgets. Store your fancy plates, appliances, cutlery and other things away in multiple cabinets so your kitchen is always tidy and organised.
8. Monochrome kitchen design with a jet-black counter and white cabinets.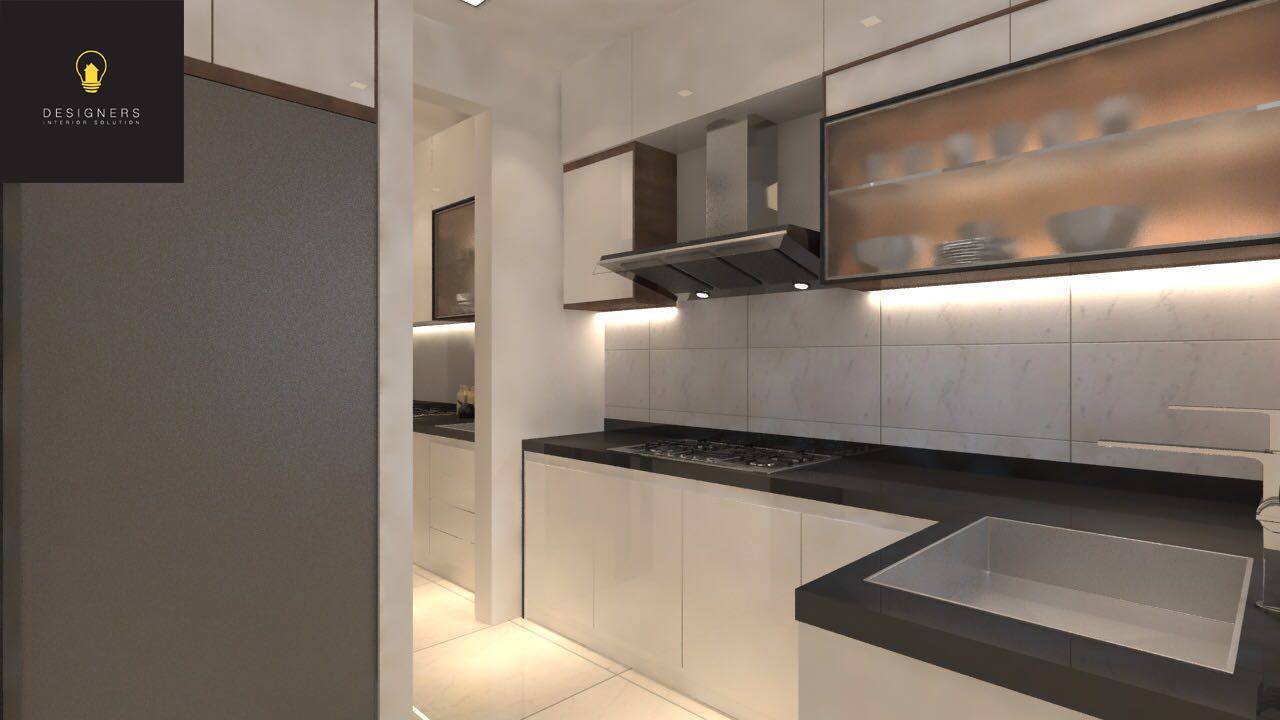 Monochrome never goes out of style. Create a timeless look for your kitchen with elegant black countertops and marble-white glossy white cabinets. This kitchen layout is split to wet and dry kitchens, so you have the luxury of long counters for food preparation.
9. Steel and stone inspired kitchen cabinets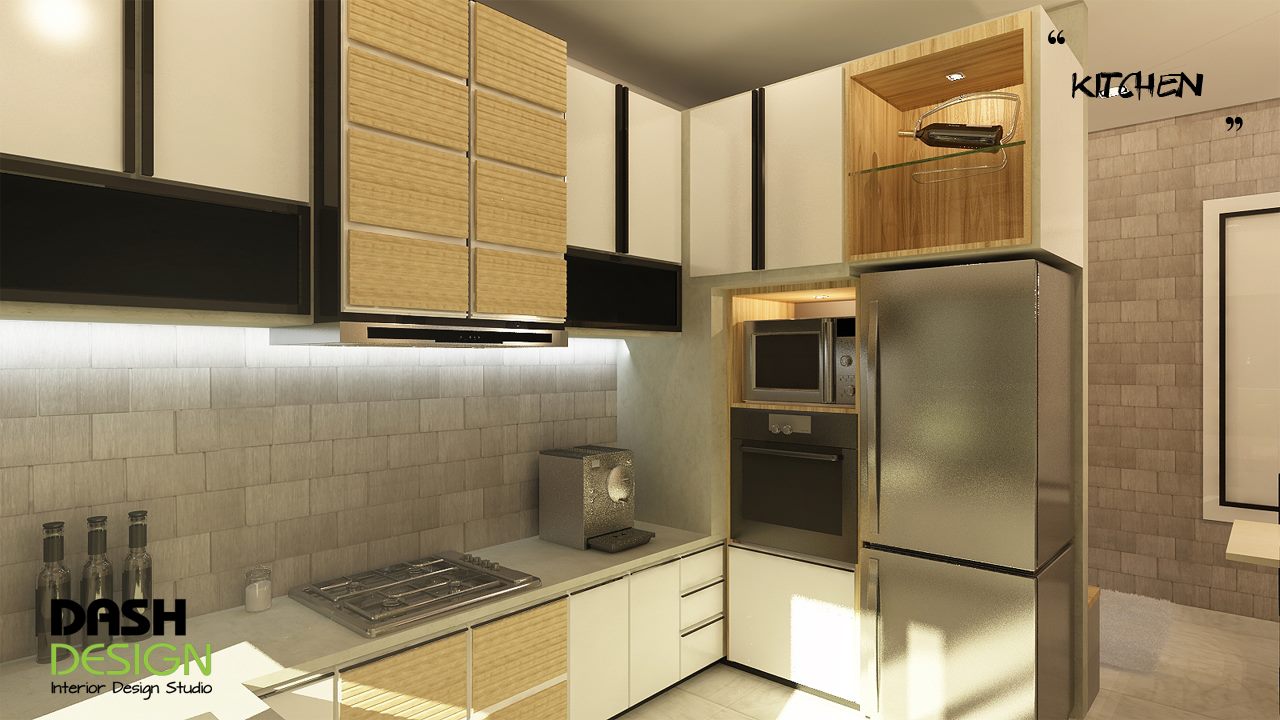 This inspired idea brings the rough, cool feel of stone and steel into the kitchen. The walls and backsplash are done up with matt ceramic tiles to give a lovely texture, while stainless steel appliances and 4G aluminium cabinet doors add a reflective contrast to create a contemporary look that is not overwhelming but trendy.
Need an estimate price for your custom kitchen cabinet? You can get a rough estimate for your kitchen cost by using our online kitchen cabinet price calculator
10. White cabinets with black counter and glass panel backsplash.
This kitchen cabinet design is practical and timeless. A glass backsplash provides an easy-to-clean surface, complemented with black quartz counters that won't stain easily. The monochrome look is complete with white cabinet fronts and end panels with aluminium handles that you can hang your tea towels from. This kitchen cabinet design means you do more cooking and less cleaning!
Read more: How to choose your kitchen cabinet materials
11. Modern kitchen with frosted glass doors for the top cabinets and solid burgundy doors for the bottom cabinets.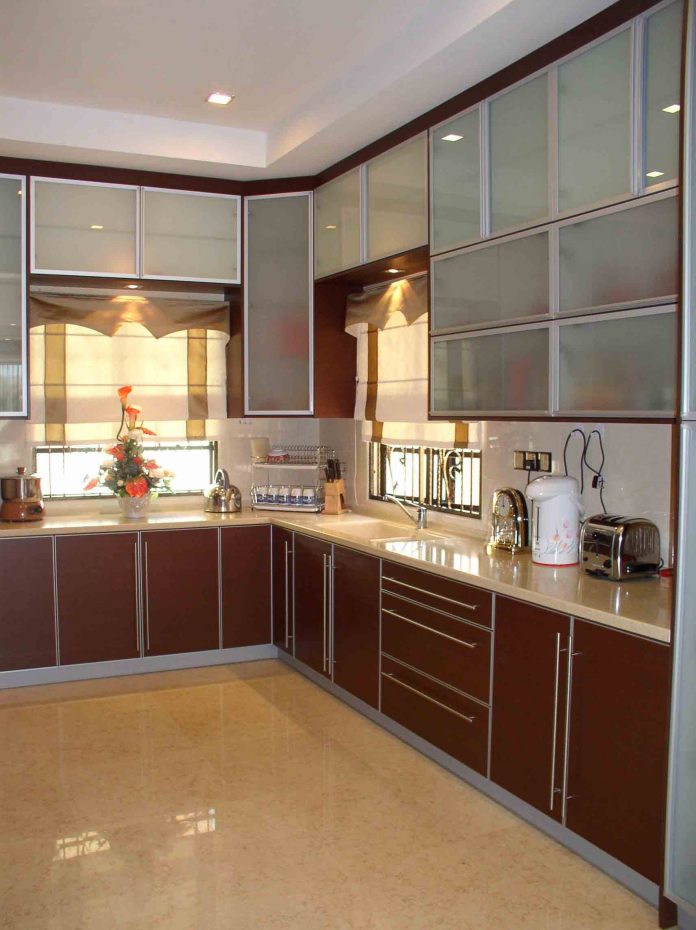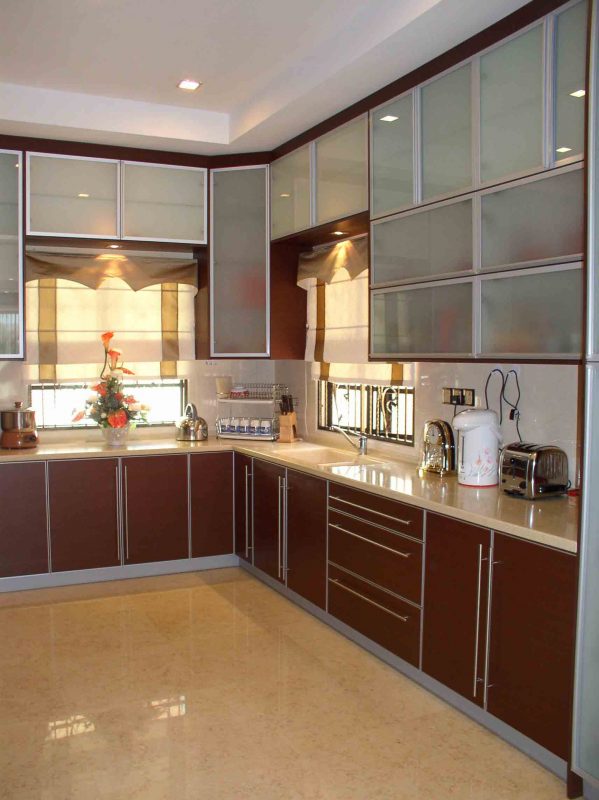 This is a beautiful look for a big kitchen with the warm woodsy cabinets complemented with frosted glass. It also has an angled corner cabinet that is less common in modern kitchens but provides extra storage space within easy access.
12. Classic luxury kitchen design with wainscoting detailing on the cabinet doors and marble island counter.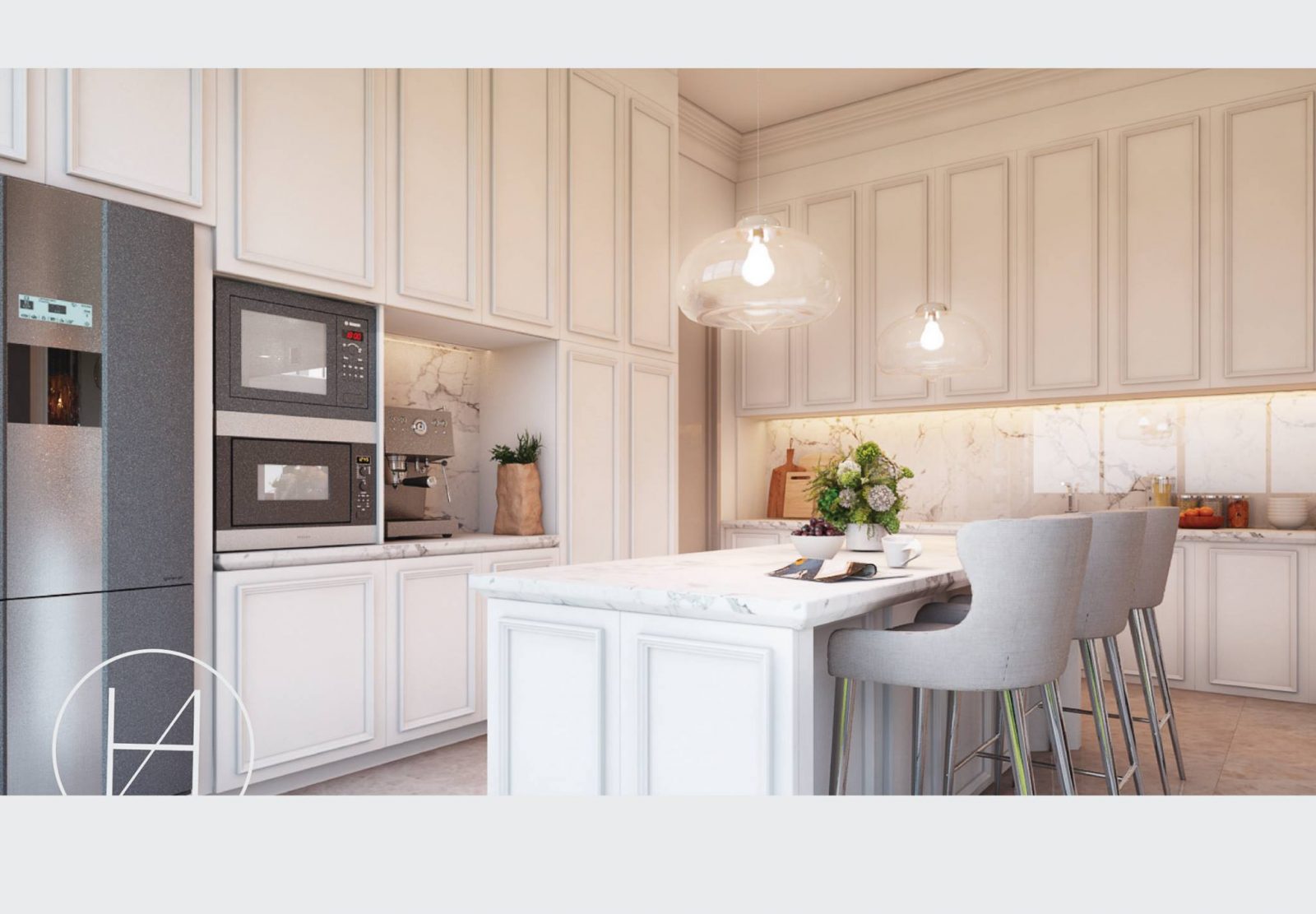 Add a touch of elegant luxury with wood trim detailing on the white kitchen cabinets. Pair it with a beautiful marble kitchen counter and backsplash and you've got a kitchen that's to die for.
13. Modern kitchen cabinet design with dark wood frame and white doors.
This dry kitchen concept features a solid surface island with metallic trim and undermount lighting. Another great and classy way to combine wood and white. This design uses minimal dark wood to create a bold statement set against the stark white. A great way to add a pantry space for entertaining, while the main cooking is done in the adjacent wet kitchen area.
14. Modern kitchenette with black and white cabinets.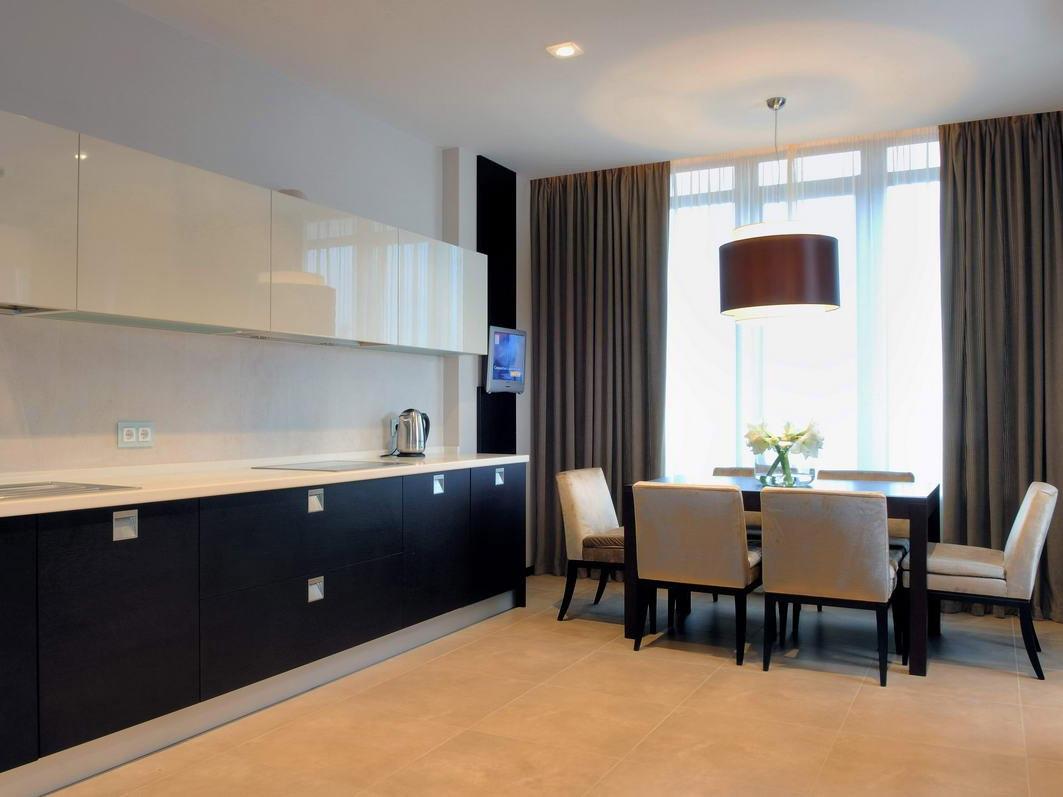 If you are preparing your home as a short-stay unit, consider creating this kitchen cabinet design. Simple white cabinets at the top and lower cabinets with black fronts create a chic look. The unique cabinet door handles make this entire design feel minimalist and clean.
15. Grey kitchen cabinets with grey backsplash and a white island counter.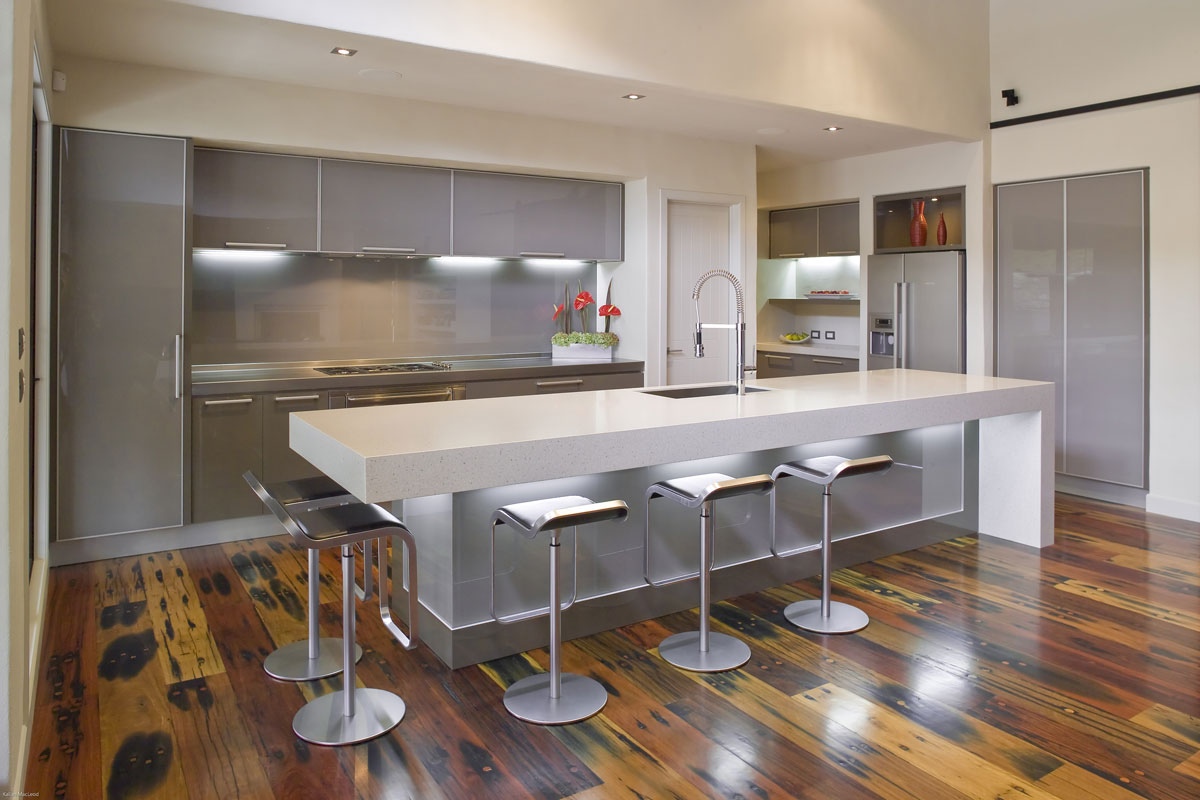 Want the look of a commercial stainless steel kitchen without the cost? Then use a combination of white speckled solid surface and combine it with grey tiles and grey cabinets with glass fronts and you have a similar look. This long kitchen with island counter works beautifully in an open plan kitchen and gives it a chic new look.
16. Simple, affordable kitchen design full of storage space.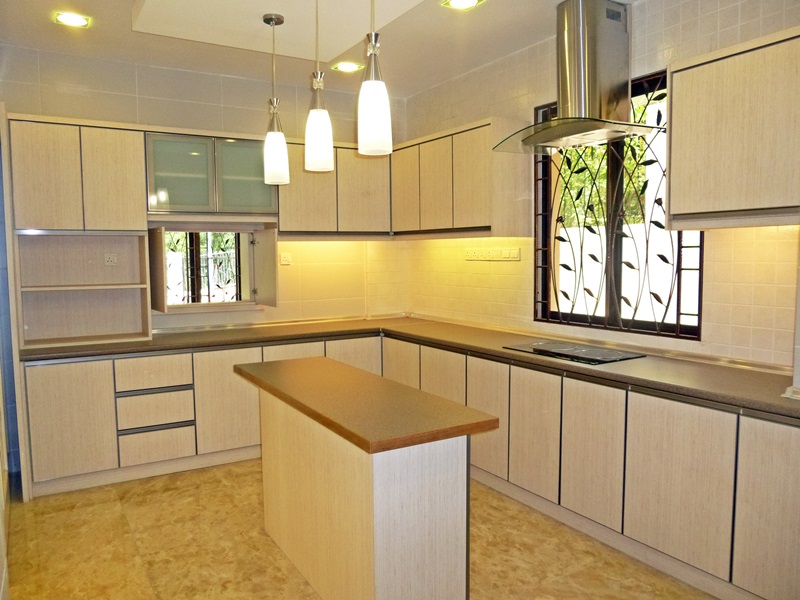 This no-nonsense, classic look also has a lot of storage so your kitchen always looks tidy with a welcoming feel. Melamine kitchen cabinets with laminated counter and 3G aluminium doors make this kitchen project very affordable and practical. The island adds a nice touch for mingling and socialising while you cook.
17. Modern classic kitchen design with khaki-coloured cabinets.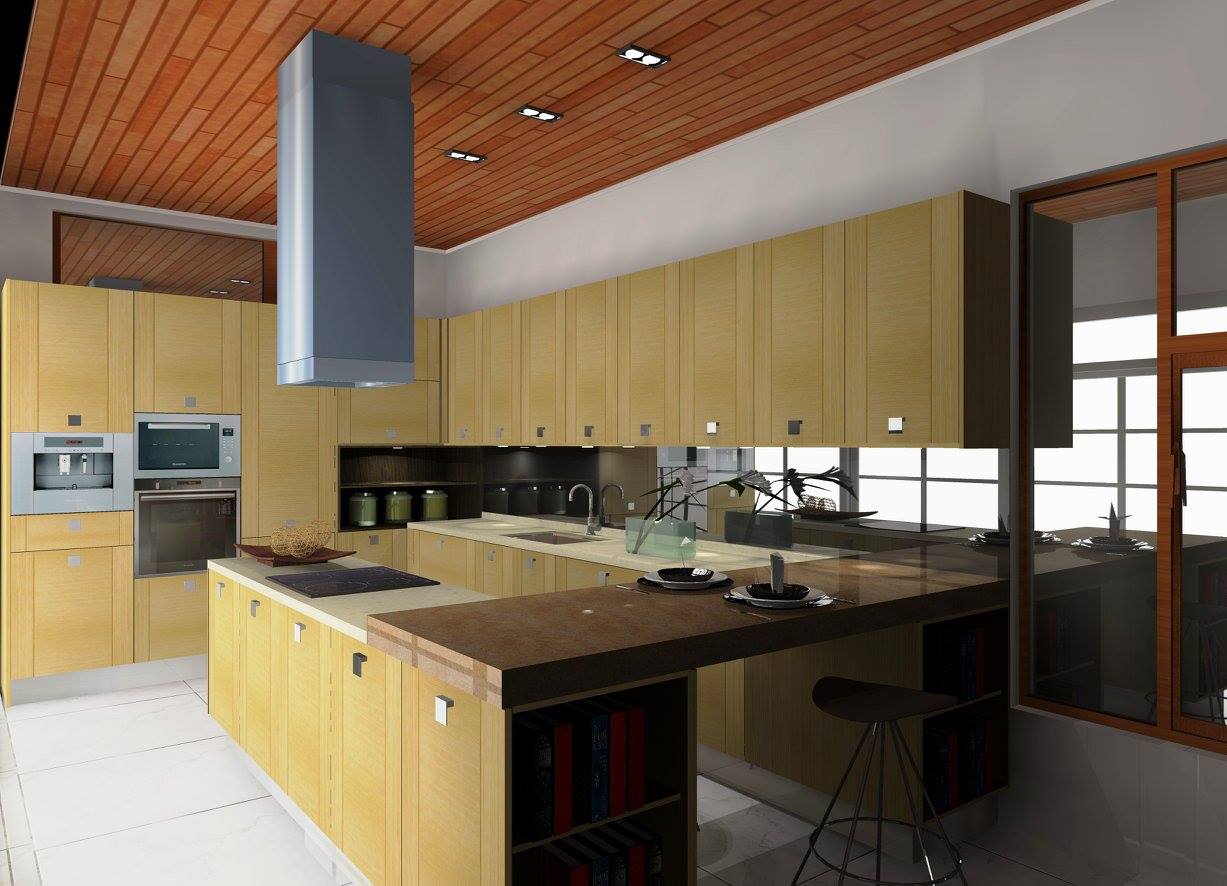 Easy to match with other decorations, khaki and other similar accents always make a kitchen feel inviting. Great for bringing the family together. The cabinet fronts have a unique design by using three laminate panels with 90-degree grain patterns. A simple wooden butcher block plank is laid across two cabinets to create a stylish, rustic counter space.
18. White kitchen cabinets with marble island counter.
Black granite is a always beautiful in a kitchen, especially paired with glossy white cabinets. The central kitchen island features glass doors to display your best kitchenware.
19. Compact L-shaped kitchen design with red cabinets and white countertop.
This kitchen cabinet uses a maroon as the primary colour, and is paired with a simple white quartz countertop. The cabinet doors provide a glossy reflective surface that helps to bounce light around the small kitchen space.
20. Long kitchen cabinet design with brick backsplash design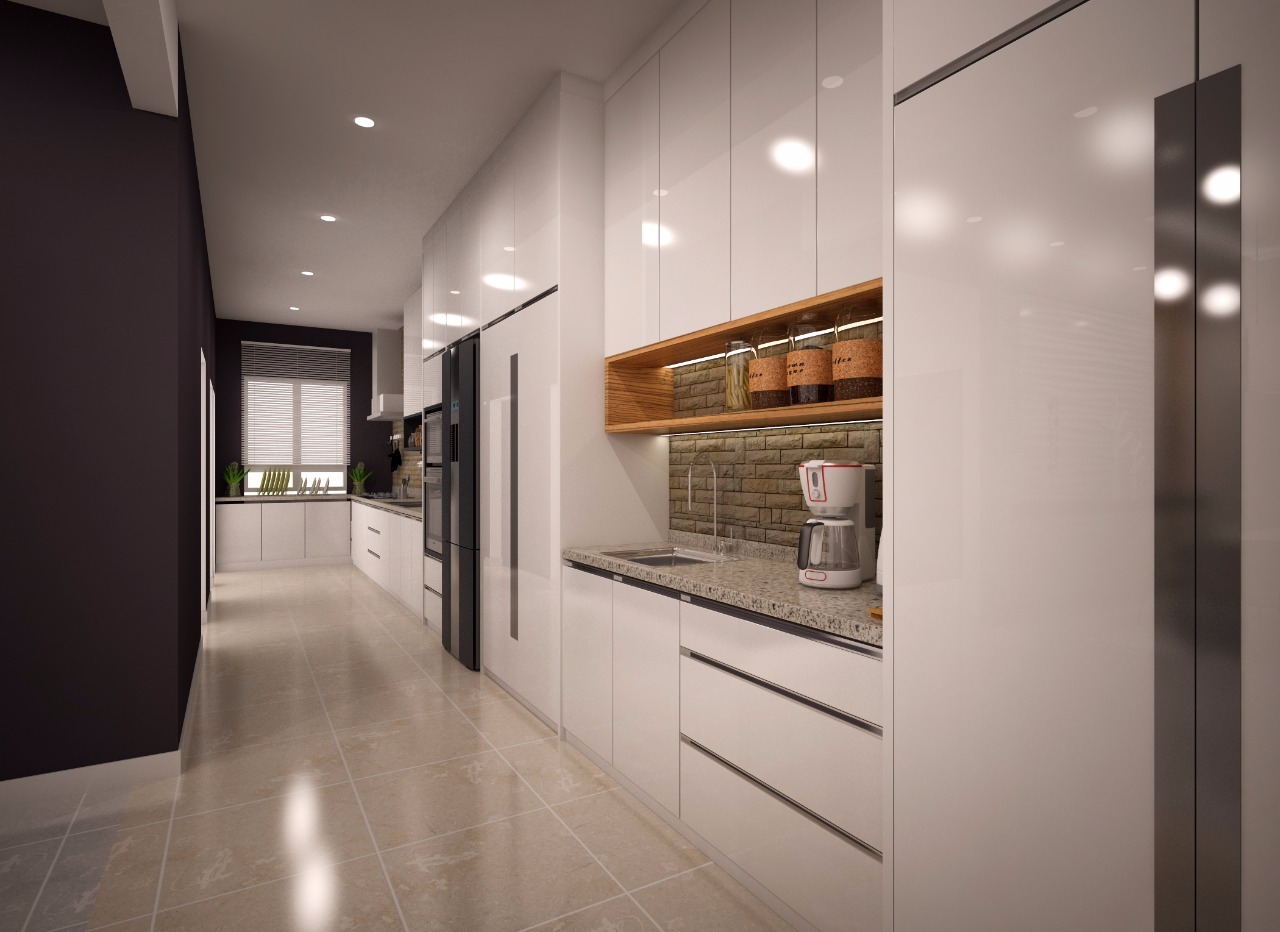 This kitchen concept mixes all-white 4G cabinet doors with a stone-patterned solid surface counter. The stone feel continues in the backsplash that can be created with laminate planks, or even wallpaper. This kitchen is extremely long, so the designers split it to create a wet and dry kitchen area, separated by a tall kitchen cabinet.
Do you like these kitchen cabinet designs? Get a quote from our kitchen designers and create your own Masterchef-inspired space!
Recommend.my has hundreds of experienced cabinet contractors in Malaysia to work on your home design. Submit your kitchen cabinet job and we will connect you with the best pros. Ask our cabinet contractors for advice on designs, materials, and installation and create the kitchen you've always wanted.