If you had a choice, would you want more or less kitchen cabinets in your house?
Of course, everyone wants more cabinet space in their kitchen!
And for good reason, too. Other rooms in the home are meant for comfort and relaxation, but the kitchen is meant for productivity. So it needs lots of cabinet space to use as a worktop, and for storage.
The kitchen is where families put in their labour of love, from preparing the ingredients of the food they serve to dish out healthy homecooked meals.
That's why homeowners demand a lot from their kitchens cabinets. We may have different preferences for kitchen cabinet designs, but everyone can agree that it should be well-organised in terms of layout and storage, long-lasting and durable against heat and moisture.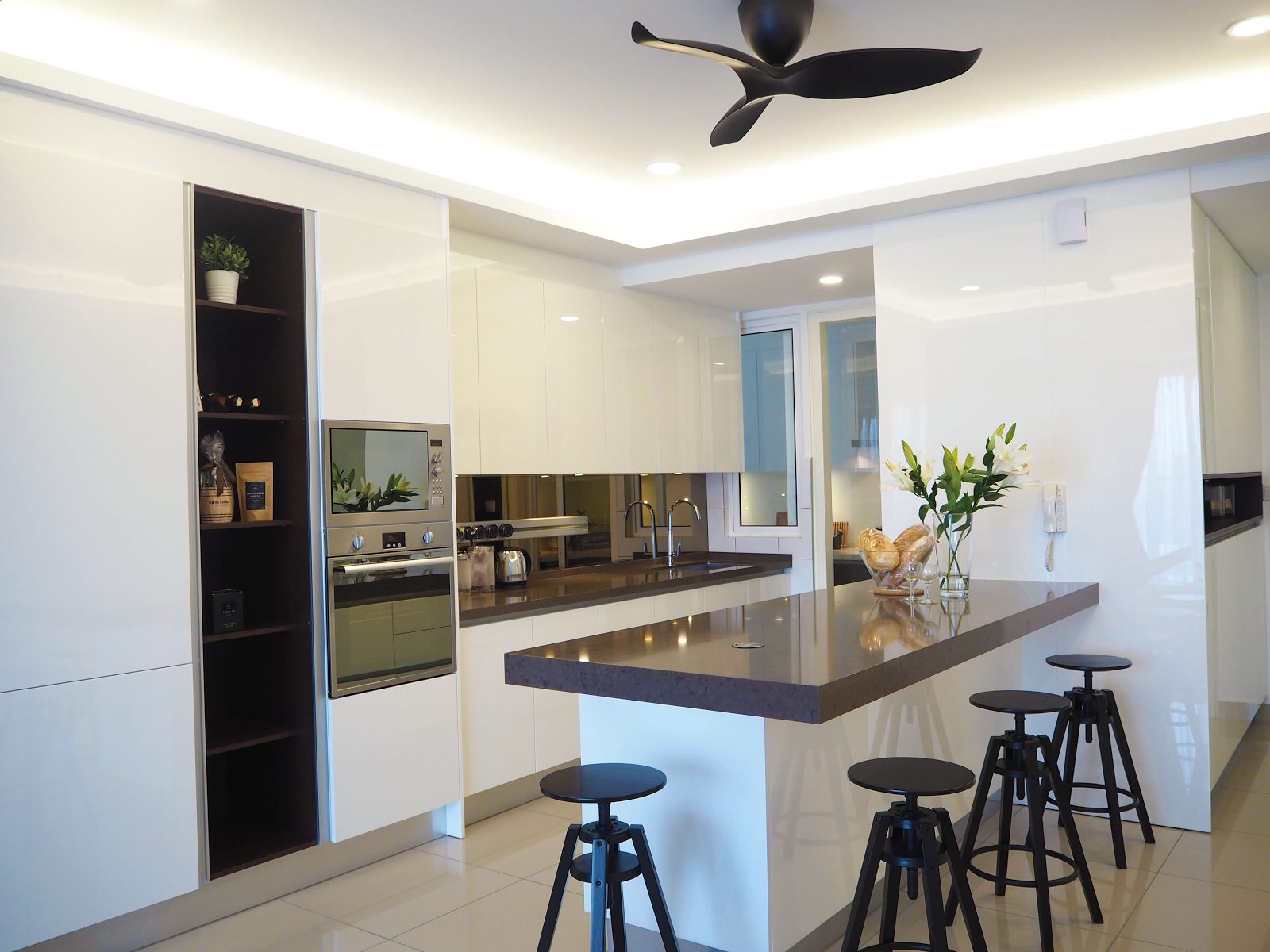 Get instant free quotes now!
At Recommend.my, we have many cabinet contractors to help create your dream cabinets! Tell us more about your preferred designs and styles so that we can connect you with the best contractors near you.
Kitchen cabinets frames take up a large portion of any renovation budget
Any home renovation should be planned in detail. But when it involves the kitchen, the bulk of your attention will always go to the kitchen cabinets.
That's because the kitchen cabinets are the main anchor of the space. And, cabinets may take up to 30% of the entire renovation budget.
A quotation for kitchen cabinets can be broken down into these main areas:
Cabinet frames
Cabinet doors
Kitchen countertop or tabletop
Drawers, shelves, pull-out trays, and baskets
Hardware and accessories such as door handles, knobs, and soft-closing hinges, sink, taps
Appliances such as cooker hood and hob, under-cabinet lights
Of course, labour and installation fees make up part of the bill too, which varies depending on how complicated a job is.
In this article, we will explore common options for kitchen cabinet frames, and provide a simple comparison of kitchen cabinet materials.
Common materials used in kitchen cabinet frames
There are three main cabinet frames in any kitchen:
The base cabinet frame that houses the cooking hob and sink.
The wall cabinets frame.
The tall cabinet frame. This is an optional cabinet that extends from floor to ceiling.
All three cabinets are usually made of an inner carcass or support frame, covered by an external shell or outer frame.
The inner carcass is the main support structure for the drawers and shelves. It should be strong and long-lasting, and resistant to water, heat and smoke.
The outer carcass provides the overall look and design of the cabinet. This consists of the sides of the cabinet, as well as the cabinet fronts (before they are covered by the kitchen cabinet doors). The outer carcass should have a finish that resists scratching and moisture, and easily cleaned.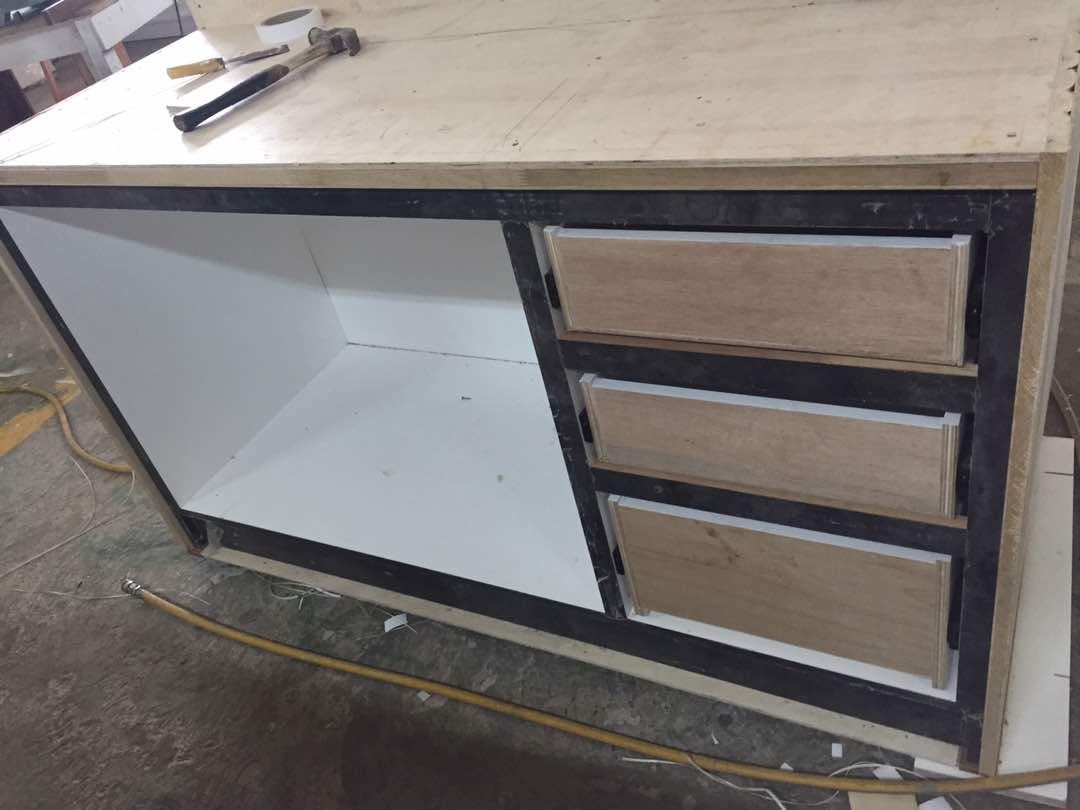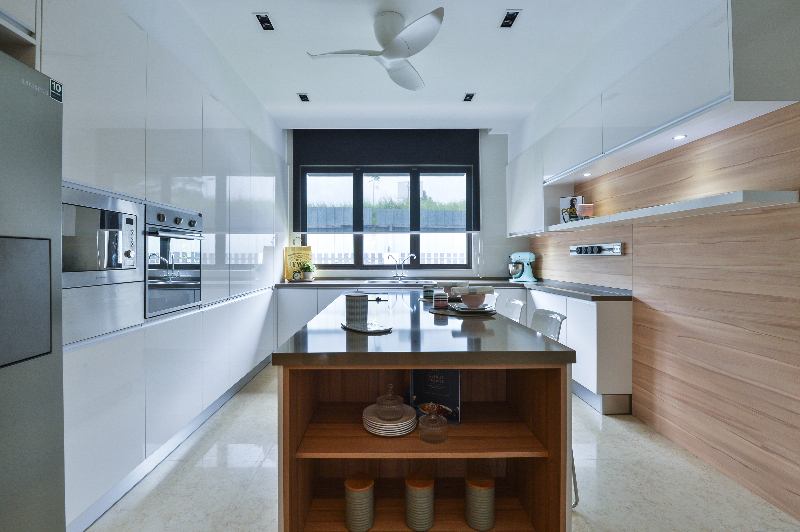 In Malaysia, there are several common materials used in the construction of kitchen cabinets frames:
Chipboard with melamine finishing
Block board with melamine finishing
Plywood with laminate finishing
Plywood with veneer finishing
Most Affordable: Chipboard with melamine finishing
The most value-for-money option is chipboard with a melamine outer finishing. If you ask for cheap kitchen cabinets, your contractor will most likely go with melamine chipboard.
This is also the primary material that IKEA kitchen cabinets (the METOD base cabinet frames) are made from.
Melamine chipboard is commonly used to build the kitchen cabinet carcasses, frames, and doors. They come in a range of colours, but the most common (and cheapest) comes in solid white. This is the reason why the insides of kitchen cabinets are usually white.
How melamine chipboard is made
The chipboard core (also known as particleboard) is made of wood chips, soaked and bonded by a synthetic resin and compressed by heat and pressure to form boards.
The top and bottom coloured layer is made by soaking a sheet of coloured paper in a melamine resin, or liquid plastic. This sheet is cured under heat and pressure, and glued and pressed onto the chipboard core under low pressure. The coloured paper is what determines the look of your cabinet, and also protects the wood chips from water.
Each finished board comes in 6ft x 8ft sheets of between 1 – 2 cm thick.
Each board is then cut into different sizes according to your kitchen cabinet design. When the board is cut, the sides of the board will have exposed chipboard, so it needs to be covered. The normal way to do this is to cover it with a strip of ABS plastic, which is a high-pressure laminate banding that is abrasion-resistant.
Video: Melamine sheets being applied to chipboard
Advantages of melamine chipboard
Melamine creates a strong and hard surface, which is resistant to scratch, abrasion, and shock. It is also resistant to fungus, borer insects, and household chemicals. It is easy to clear and maintain but always bear in mind to wipe dry any spills, which can cause damage to such material in the long run.
Weakness
Chipboard is not suitable for areas with high humidity, as it tends to swell up if it comes into contact with water for an extended time.
Even though it is protected by the melamine layer and the ABS edges, water can get to the chipboard if you leave cold things on the surface for a long time (that's why we need coasters).
And, if the edge of the melamine starts to crack and water gets in, it will start to peel away in layers, and wood chips inside will swell up. Therefore, it is not recommended for installation near any basin.
According to Jasper Kum from Intech Kitchen Sdn Bhd (A Recommend.my kitchen planner), the number of available designs for melamine chipboards is also limited.
"Melamine-finishing chipboards are mass produced in fixed sets of colours and textures. That means a particular texture may only be available in a very limited number of colours," he said.
He said currently, there are only about 50 colour and design selections for melamine finishing chipboards in the market.
Price of melamine kitchen cabinets in Malaysia
From RM220 per foot run for wall cabinets
From RM280 per foot run for base cabinets
From RM450 per foot run for tall cabinets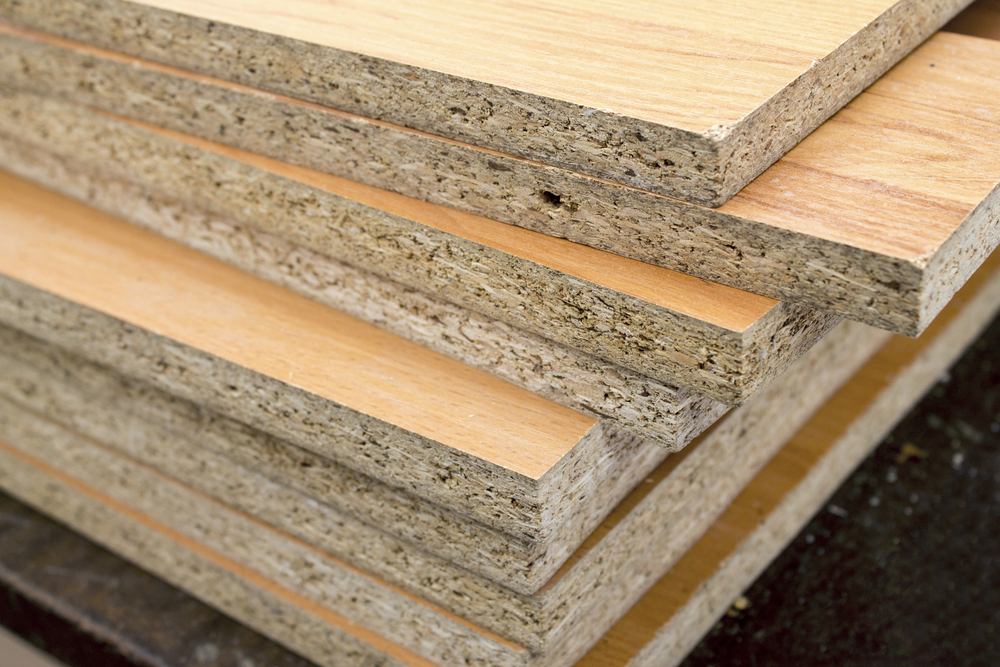 Good balance: Plywood with laminate finishing for outer frame; block board for inner frame
Melamine chipboards have low resistance to water. Therefore, kitchen specialists will suggest making the inner frames out of block board, and the outer frame with plywood laminate.
According to Kum, the area underneath the kitchen sink is the best place to use block board. That's because water may condense under the sink (especially if you defrost frozen meat in the sink) and drip into the cabinet.
"Sometimes we even recommend our customers to use aluminium doors specifically near the basin area to have better ventilation and to prevent moisture from being trapped inside the cabinet," he said.
Block board also comes with a white melamine layer by default.
Then, the outer shell is made from laminated plywood.
How block board is made
Block board is made by lining up softwood strips side by side (a bit like lining up a row of pencils) and gluing a thin layer of melamine to the top and bottom. It comes in 4ft by 8ft boards (see video below)
Video: How block board is made
How laminated plywood is made
Plywood is made of many thin layers of wood, arranged so that the grain of the wood is alternating. It is then glued together to form a hard plywood board.
Laminated plywood is made by taking the plywood board and adding a plastic layer similar to melamine. The difference between melamine and laminate is that laminate is made of many more layers of resin impregnated paper, with a plastic-coated finishing, and cured under much higher pressure. The laminate is then glued to the plywood.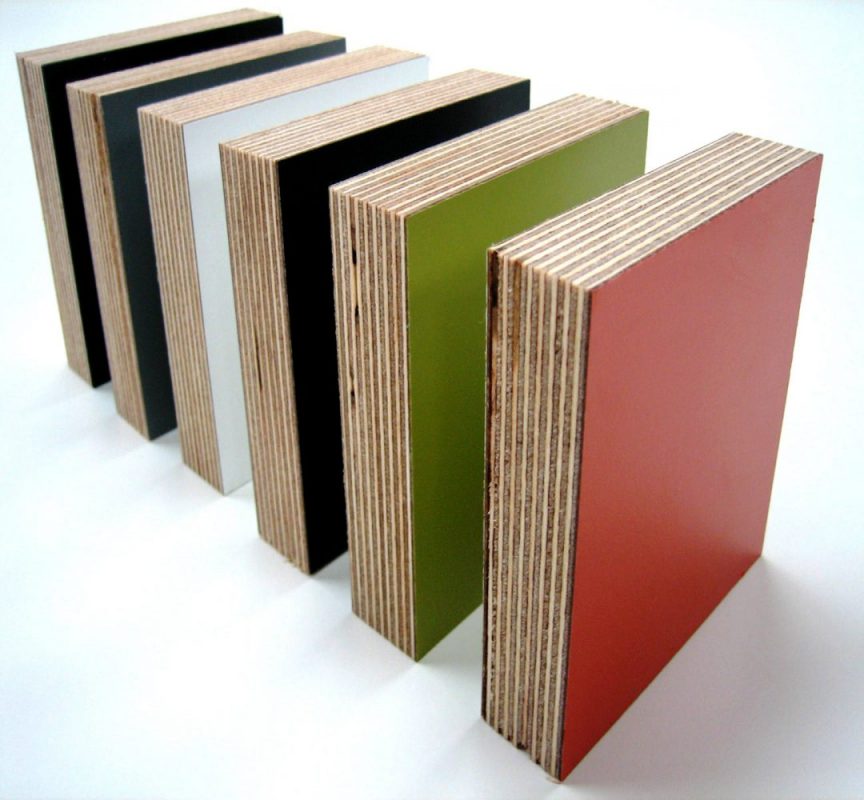 Advantages of laminated plywood
Block board is more water-resistant than chipboard. And, laminated plywood is more solid and abrasion-resistant compared to melamine chipboard. It is also easy to clean and maintain, with a high resistance against moisture.
Laminates also come in a wider variety of colours and textures.
BT Tey from Iiko Concept (a Recommend.my renovation specialist) says, compared to melamine chipboard, laminated plywood allows for more sophisticated designs due to its wide styling options.
"There is a wide selection of over 1,000 colours and textures for laminate surfaces, ranging from denim colours to real wood and stone appearances." – BT Tey, Iiko Concept.
Weakness
Tey says that one weakness of laminate finishing is, when you join one board to another, the patterns may not match up perfectly. This inconsistency in terms of colours and textures is due to the way this material is produced.
"Laminate is produced in batches so some wood grain patterns may appear to be wider or narrower when comparing the products of different batches. To avoid disappointment, we always inform our customers in advance about the possibility of such issue," she said.
Price of laminate plywood kitchen cabinets (with block board inner frame) in Malaysia
From RM330 per foot run for wall cabinets
From RM390 per foot run for base cabinets
From RM570 per foot run for tall cabinets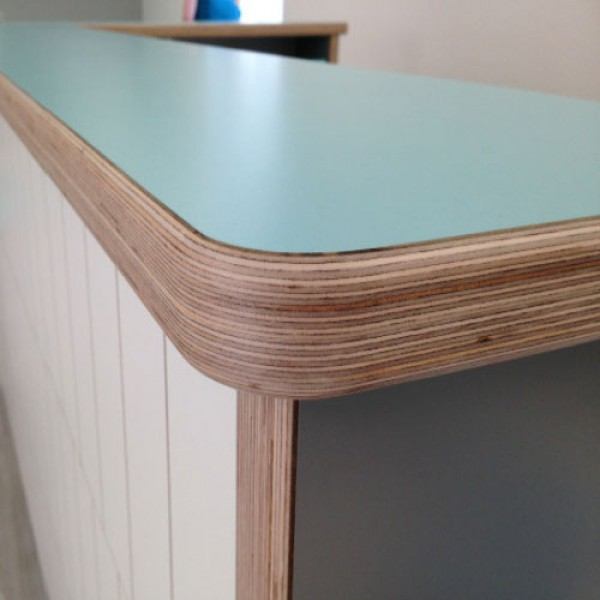 Premium: Plywood with wood veneer finishing for outer frame; block board for inner frame
Some homeowners prefer wood veneer vs. laminated plywood kitchen cabinets as it gives a natural wood appearance compared to laminate.
Wood veneer is a cheaper alternative to solid wood cabinets, but it is still considered a premium product, and not as common in Malaysian kitchens.
Those who opt for wood veneer will normally choose block board for the inner carcass for better support.
How wood veneer is made
Wood veneer is a thin layer of real wood that stripped from the timber log, similar to peeling an apple in an ever-decreasing spiral.
The way a timber log is cut will determine the grain pattern of the veneer. It is then stained, painted or varnished, and bonded to plywood to give the material a solid wood appearance.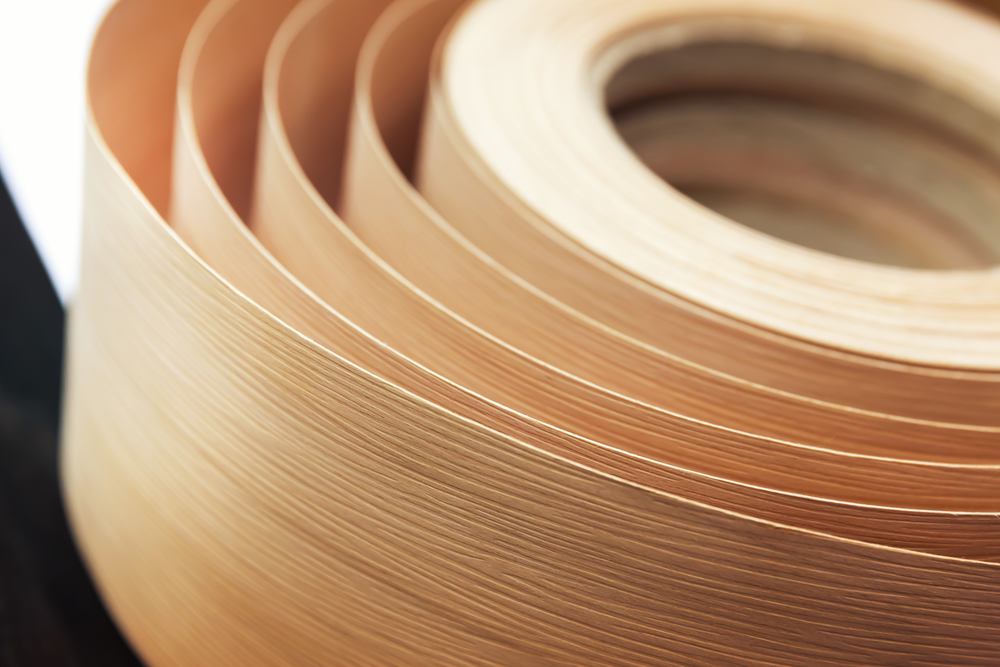 Advantage and disadvantages of wood veneer kitchen cabinets
Since veneer is made of real wood, it offers a distinctive intrinsic pattern that makes your cabinets unique. This works well on the outer cabinet shell, especially on the end panels and drawer fronts.
However, veneer is prone to expansion if it is exposed to moisture for an extended period of time. It can also discolour after a prolonged exposure to high temperature.
Price for wood veneer kitchen cabinets in Malaysia
From RM380 per foot run for wall cabinets
From RM420 per foot run for base cabinets
From RM690 per foot run for tall cabinets
Alternative kitchen cabinet materials
Instead of wood, you can also build your kitchen cabinets from concrete.
Concrete kitchen cabinets are normally found in traditional homes. They can also be tiled over to create an extremely strong, heavy and durable platform for cooking. And if you needed storage space, you would simply add wooden or metal doors.
Concrete kitchens are rare today, but homeowners who want an industrial or brutalist look in their kitchen may want to consider this.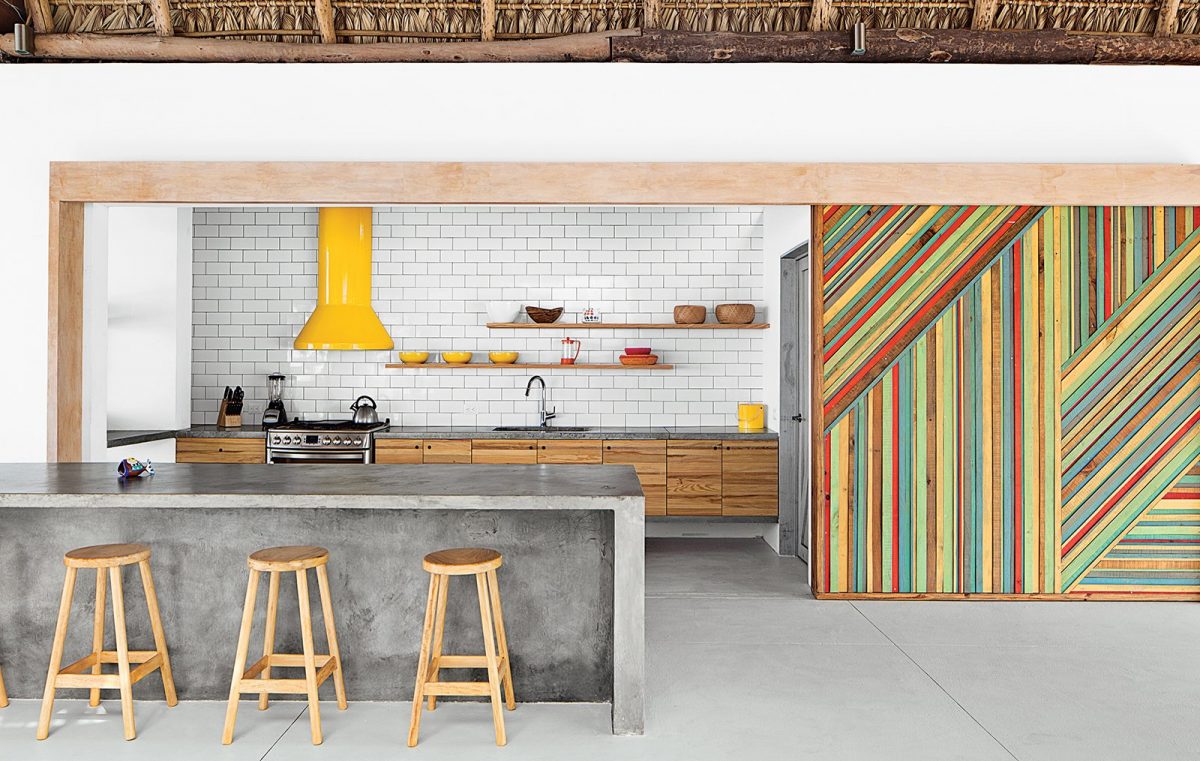 Another rarely used alternative are stainless steel kitchen cabinets. These are commonly installed in commercial kitchens, since they don't need to be anchored to the floor, and can withstand lots of punishment.
Stainless steel kitchens are extremely durable and easy to clean but it costs even more than solid wood, making it expensive to be installed in a home environment.
How to estimate your kitchen cabinet price?
Before approaching a kitchen specialist for a quote, you can get a rough estimate by using our kitchen cabinet price calculator.
The kitchen cabinet price is calculated based on "per foot run" (pfr), meaning the length of the cabinet.
In other words, if you wanted laminated plywood for your base cabinet and wall cabinet that is 6 feet in length, the estimated price for the cabinet frame alone will be:
Base cabinet: RM330 * 6ft = RM1,980
Wall cabinet: RM280 * 6ft = RM1,680
Total = RM3,660 for cabinet frame (excluding countertop, backsplash, and accessories)
The calculator can also provide estimate prices inclusive of other kitchen components, such as solid surface countertop, glossy acrylic doors, and glass backsplash.
How long does it take to install kitchen cabinets?
According to Kum, the entire process takes about a month.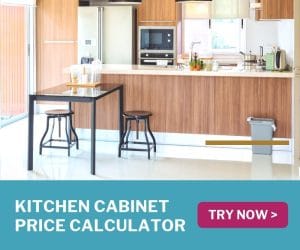 After a customer has viewed different kitchen ideas, and has an idea of the cost, they can make a request on Recommend.my.
"Once a request is received, we will meet with our customer at the site to show them the catalogues and discuss about the design and materials they prefer. During this meeting, we will also take measurement of the kitchen." – Jasper Kum, Intech Kitchen
"After that, a sales order will be issued and a design plan will be sent to the customer for review," he said.
Kum said once the customer agrees with the design, he or she is expected to pay a deposit, usually 50%.
"We will then place the order for the materials needed for the construction of the cabinets," he said.
Upon delivery of the item, a customer is expected to pay another 40% of the total bill. The remaining 10% is to be paid after the installation of the cabinet is completed.
Conclusion
The kitchen cabinets are one of the most expensive parts of any kitchen renovation, but they also determine the overall look and feel of your kitchen.
Therefore, it's important to build kitchen cabinet materials that look good, are well-organised, and will last a long time.
By choosing the right kitchen cabinet materials to suit your budget, you can invest in materials that have good water and heat resistance, while providing a range of designs that match your style.
After browsing for ideas from other kitchen projects, you can get a price estimate for your kitchen cabinets using this free online calculator. Then, you can submit a request for an appointment with a kitchen specialist, and hire them with confidence.