If being locked down at home for weeks is stressing you out, these balcony makeovers will make you feel like you are working in a fancy cafe with a view.
Enduring weeks of lockdown, working from your dining table, and surrounded by four walls can give anyone cabin fever. You can feel irritated and restless, and the whole day goes by without being productive.
But, one way to improve your mood while working from home is to have lots of natural light. The vitamin D you get from natural sunlight can improve your mood and your immunity.
And if you want to work in lots of natural light, sitting by the balcony or bay window is a great way to do it.
With some modifications and the right furniture and accessories, your balcony can be turned into a stylish and productive workspace.
Take a look at the balcony makeover inspirations, and replicate the look in your home!
Muji-inspired balcony makeover
A glass table supported by trestle table legs, and pushed away from the wall, gives a great background for Zoom meetings. Simple white shelves on the wall lets you display books, photos and other keepsakes.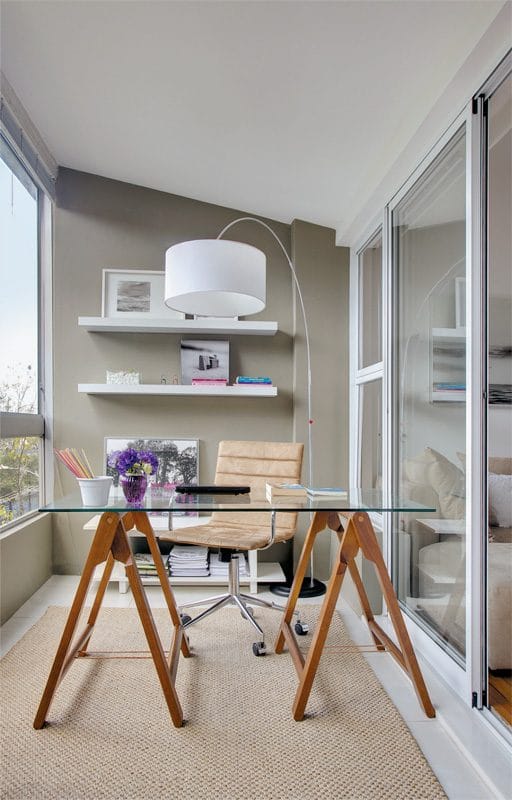 Get the look
Post-modern study
A simple table and chair setup facing the view. A folding glass window allows you to close up the balcony anytime, while still allowing for lots of light. Roller blinds can be added when the sun gets too harsh, or you can add UV tinting film to the windows.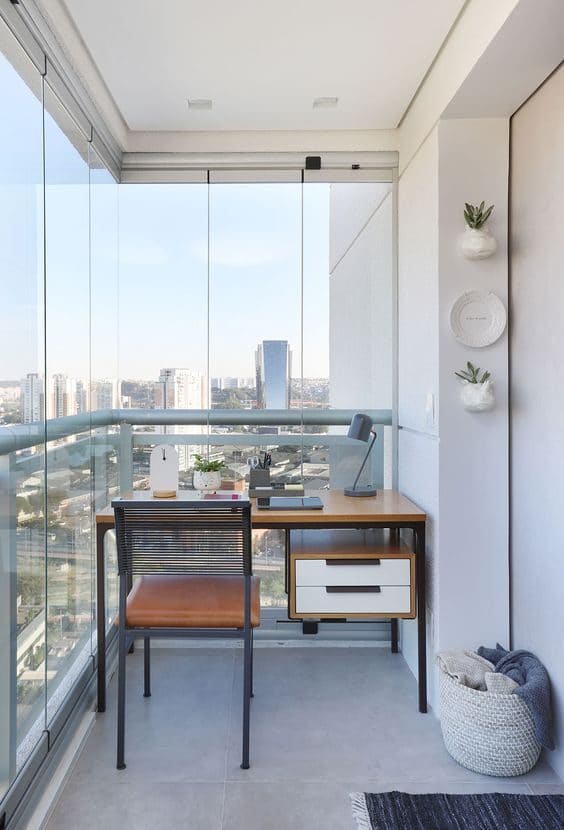 Get the look
Wood slats feature wall study area
In this enclosed balcony, the owner added wooden slats against the wall to create a feature wall with adjustable shelving. A simple long counter is used as the work surface. The same wooden slat pattern is used for a side table. When not in use, simply move the chair away and let this area be your nature spot with lots of plants!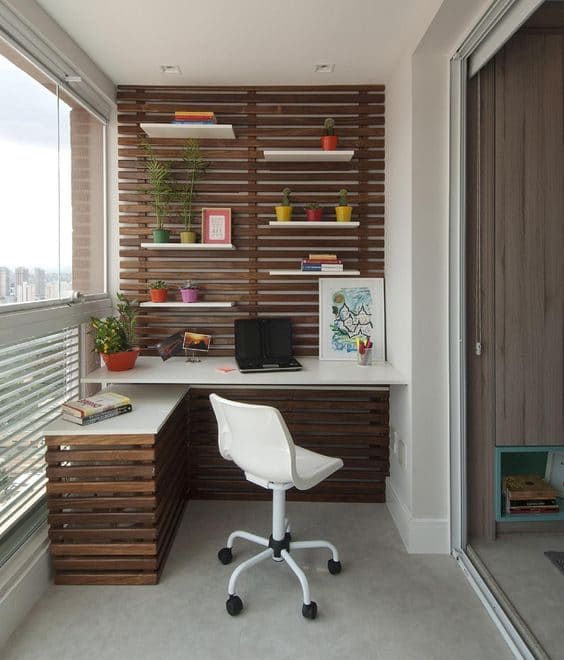 Get the look
A slatted wall like this may require the help of a carpenter in Malaysia. View our directory of verified cabinet contractors and ask them to quote this photo.
Bay window custom bar counter
Facing a bay window gives great lighting on your face for any Zoom meeting. A sheer roman blind helps keep the glare down. And, using a high chair keeps your shoulders more relaxed when typing (but you may need to invest in an external monitor). As for the timber strips on the wall, you can ask our carpenters to do it for you.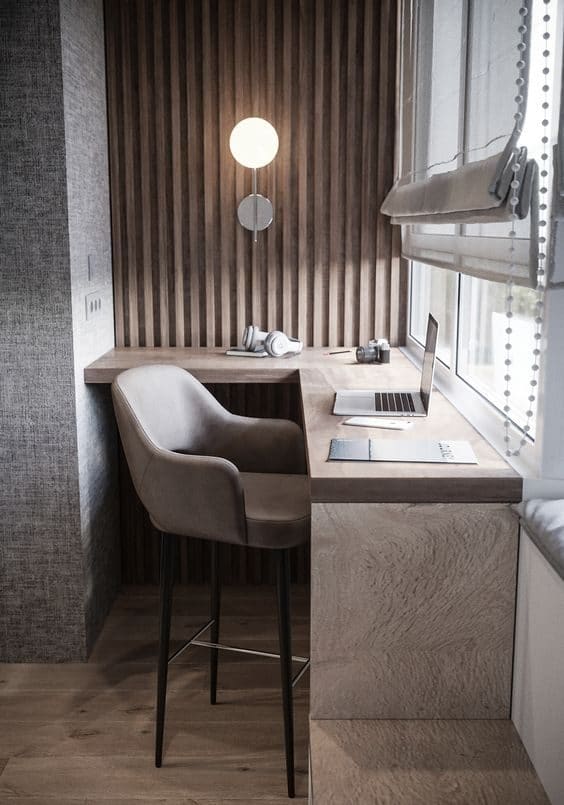 Get the look
Enclosed balcony makeover with greenery
This simple countertop is supported by a wall bracket on one side, and an end panel on the other. A high shelf is added for plants and books, creating a simple work nook that you can go to whenever you need a change of scenery.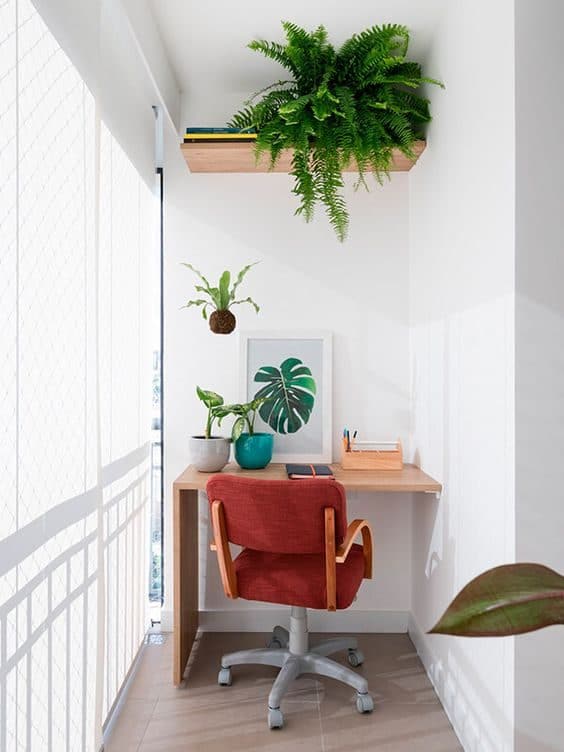 Get the look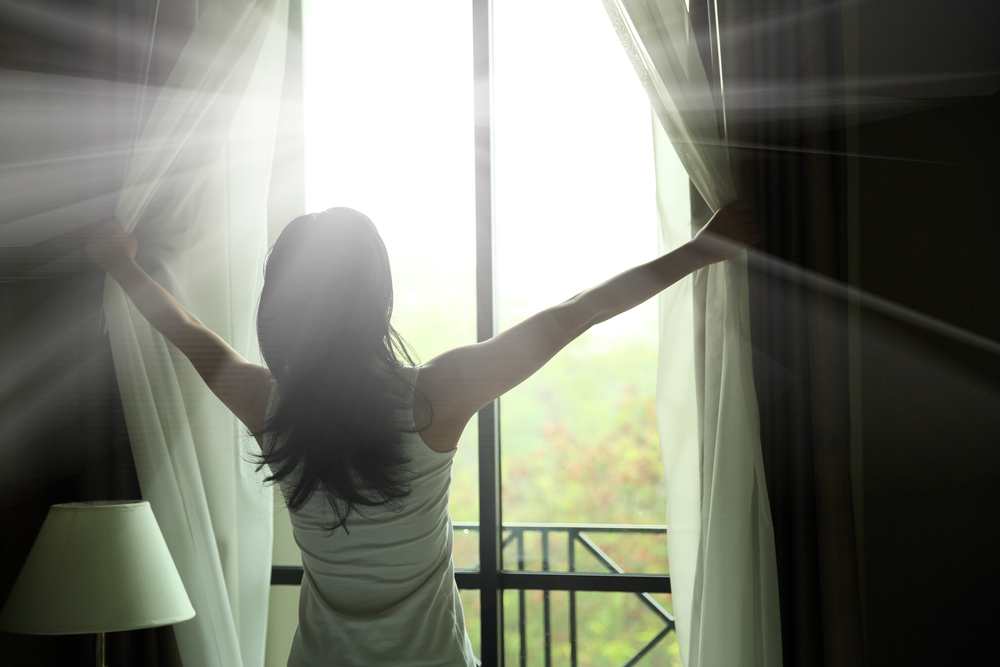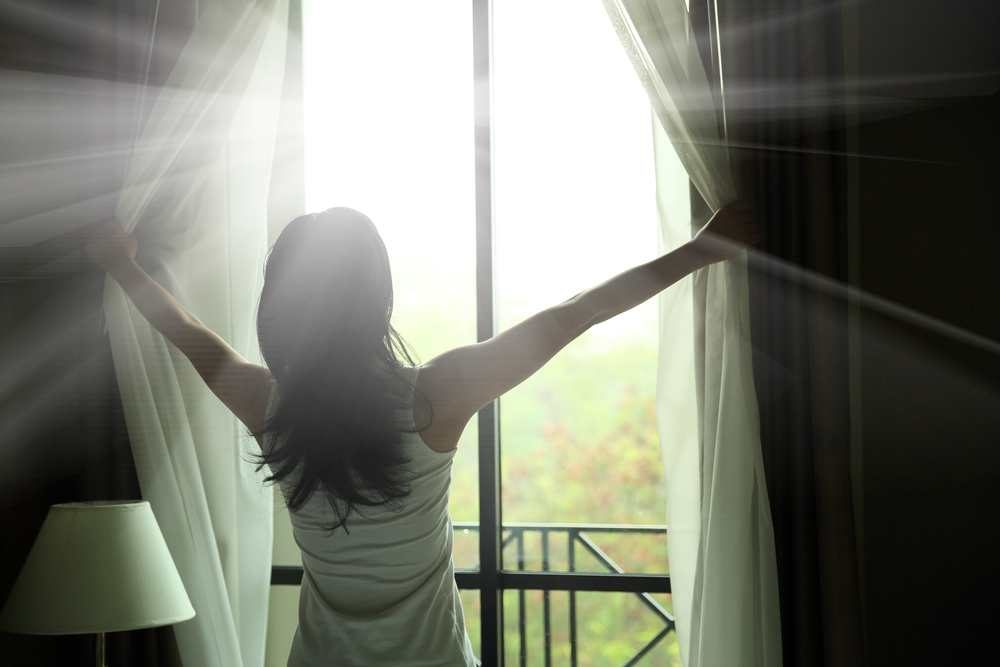 Get a quote for the window blinds from a curtain/blinds supplier
The suspended table may require the help of a carpenter in Malaysia. View our directory of verified cabinet contractors and ask them to quote this photo
Industrial style balcony study makeover
Create a stylish workspace with a rugged industrial feel. The shelves are supported by metal piping frames, giving you loads of space to store books and display photos.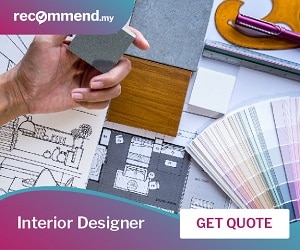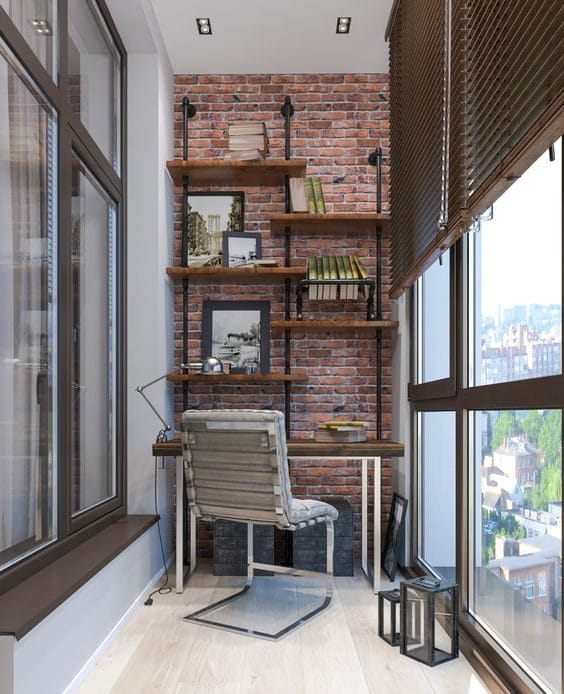 Get the look
Modern Colonial Workspace
This space oozes old world charm with the wall wainscoting and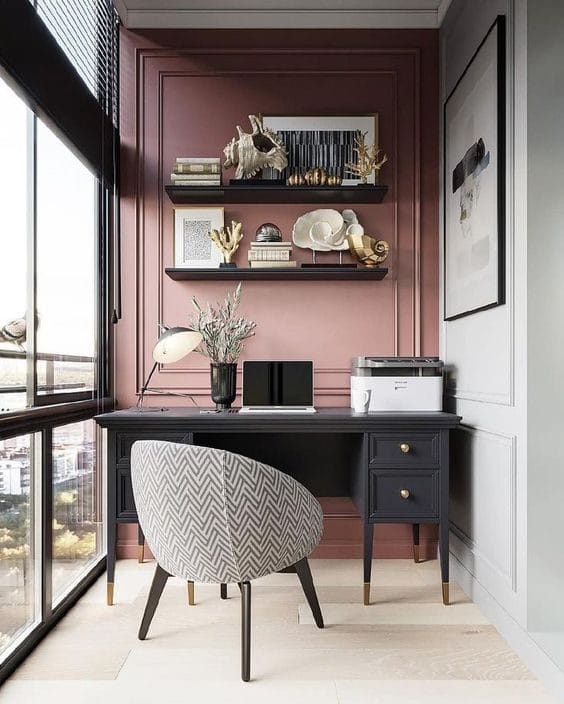 Get the look
Ask a handyman to create the wainscoting and paint the walls
Rotating work desk with laminate feature wall
This custom-made work desk features a swivel-out counter that stows away when not in use. With the striking laminate design pattern on the wall, your conference calls are sure to catch attention.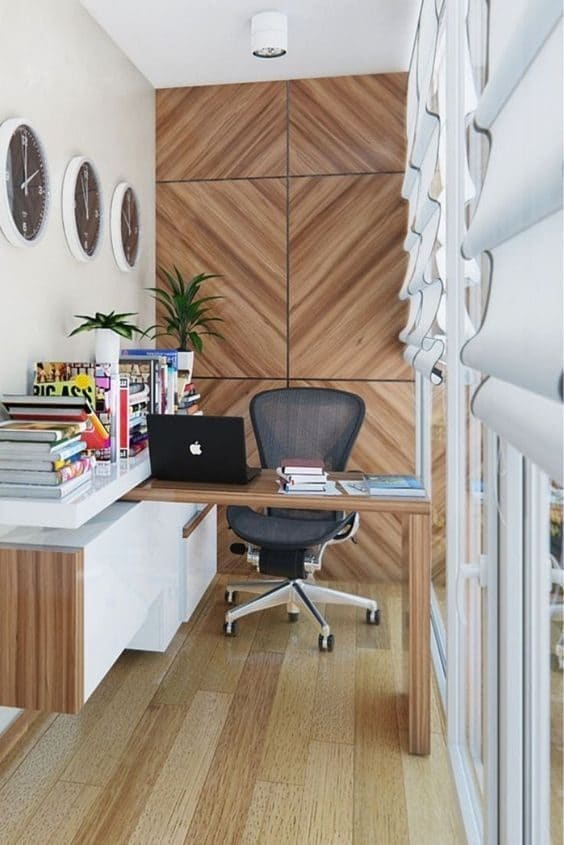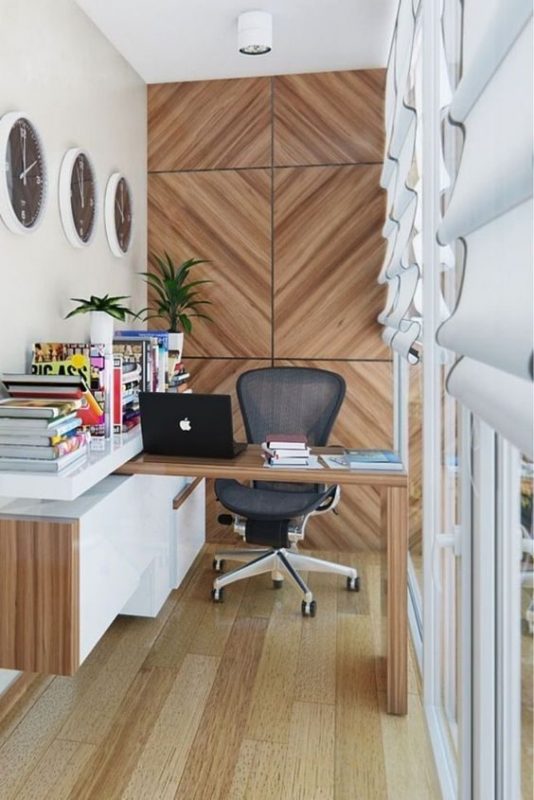 Get the look
Nordic light wood tones
A wall cabinet and simple desk is all you need to create a minimalist workspace by your balcony.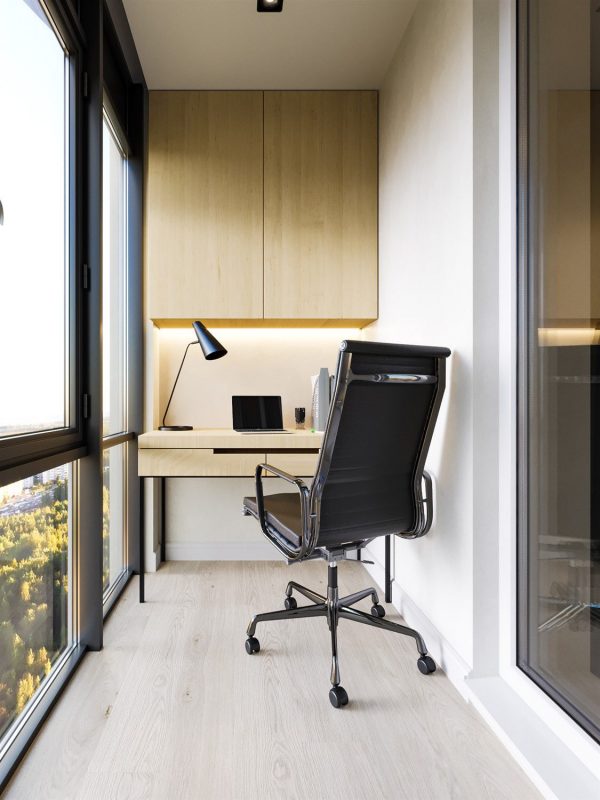 Get the look
Home library by the window
If you have a larger balcony, why not move your entire library there? A beautiful display cabinet adorns the entire length of this balcony, with the addition of a reading desk at the corner. To preserve the books, add roller blinds or zebra blinds to close up the balcony when it gets too sunny.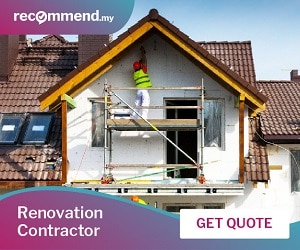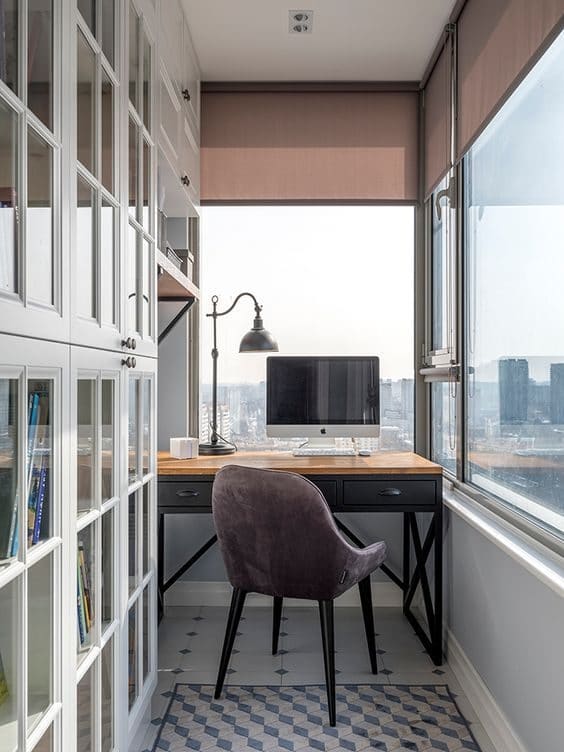 Get the look
Chill vibes study area by the balcony
This balcony is more hangout area than work area. The funky retro wood pattern on the floor gives the space a casual feel, and the simple table and chair makes it a great spot to catch some rays while studying.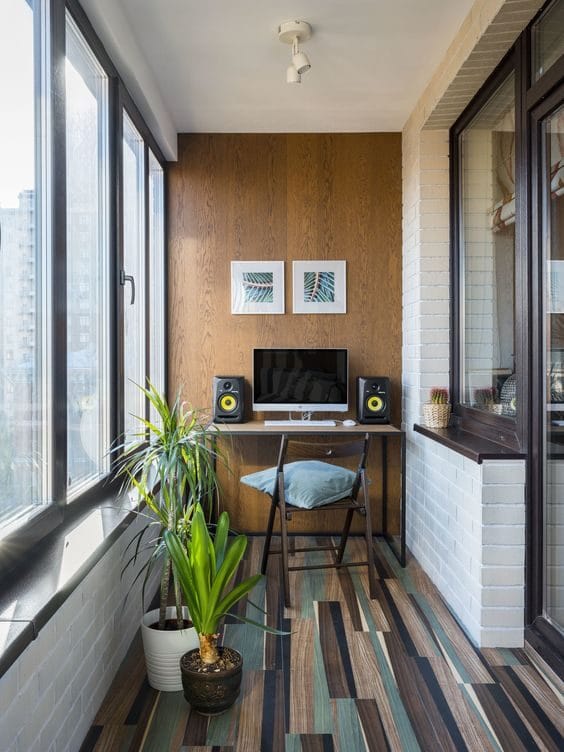 Get the look
Want a stylish work-from-home space at your balcony?
Talk to our interior decorators to discuss your makeover, and hire cabinet contractors to make it happen. You can find it all at Recommend.my!
Note: Product suggestions may not exactly match the item in the inspiration photos. This is the closest thing we could find on local ecommerce sites 🙂