Imagine it's the weekend and you're lounging on the living room sofa. The front door is open for ventilation.
Then, imagine your neighbour or the newspaper man walking by your gate and looking right into your living room, and seeing you in your pyjamas.
Embarrassing, isn't it? It's times like these when you need an entrance partition.
What is an entrance partition?
Many terrace or high-rise homes in Malaysia are not designed with an entryway or foyer. Instead, the living room is the first thing your guests will see when the front door is opened.
If you want to avoid people peeking in, you can add some privacy to your living room by installing a partition in front of the main door.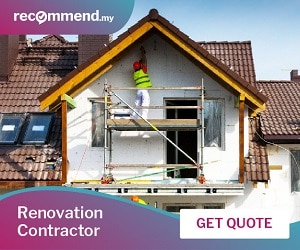 The most basic partition is a simple plaster wall. But, if you want to add more style and functionality to your entrance design, you can also create built-in cabinets, open shelves, benches, or even artwork.
How you position the partition will depend on the layout of your living area and what you want to block. You can put the partition facing the front door so that it opens to it. Or, you can place it 90 degrees to create a foyer of sorts, where you can put a shoe cabinet.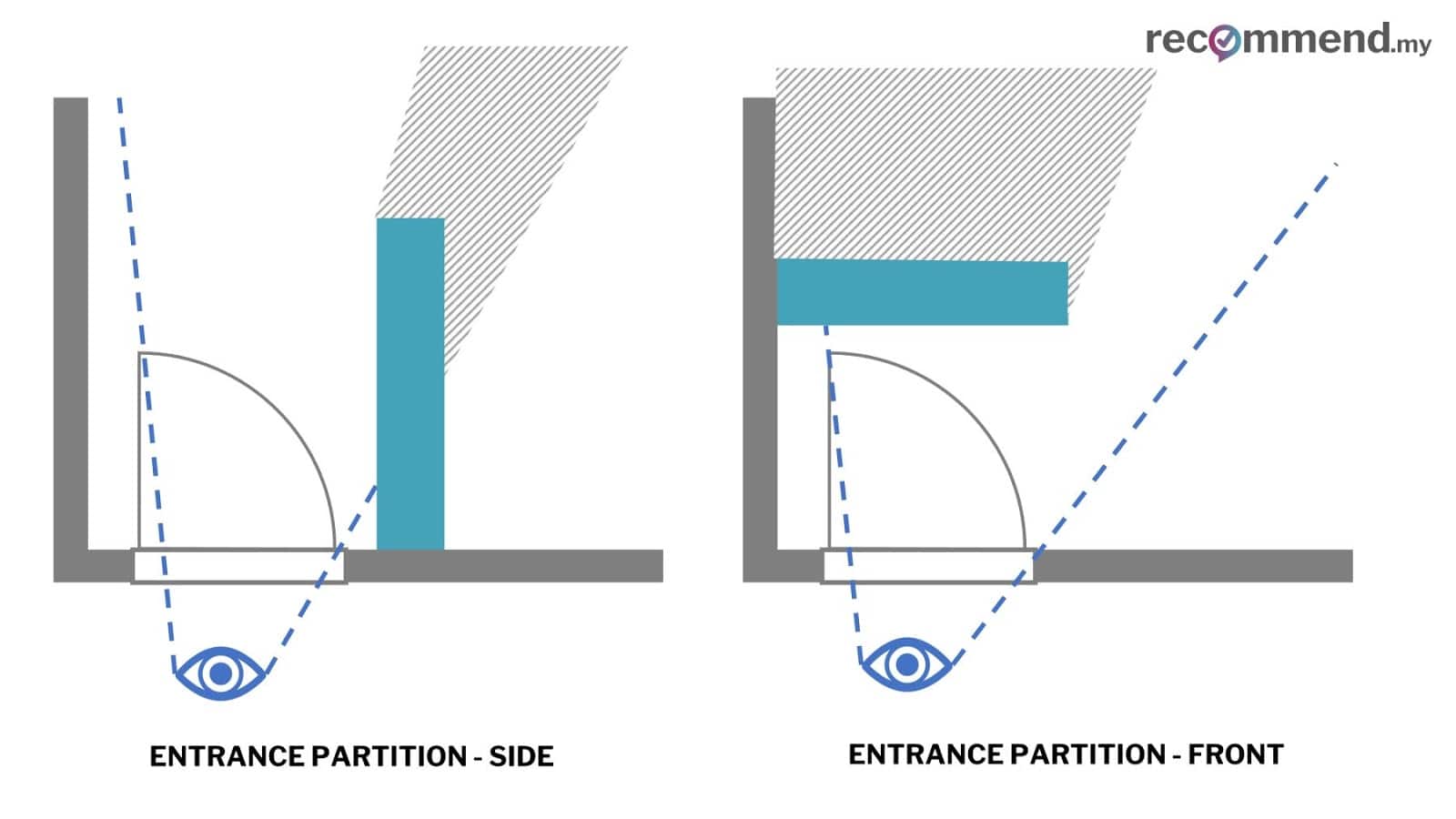 An entrance partition also helps to keep your entryway organised and clutter-free. You can build one with an open counter to put your keys and mail, or add shoe cabinets and a seat.
Surprisingly, if you don't install a partition at your front door, it may even be considered bad luck. According to Feng Shui principles, if your front door opens into the main living area, or the kitchen, and there is a window directly opposite the front door, your "wealth" is thought to flow out easily. Adding a partition will allow the positive energy to gather inside your house, rather than flowing straight through.
Now that you understand why a partition is useful, here are some front door partition designs that will make your entryway more stylish and practical.
1. "Bumpy glass" entryway divider with seating bench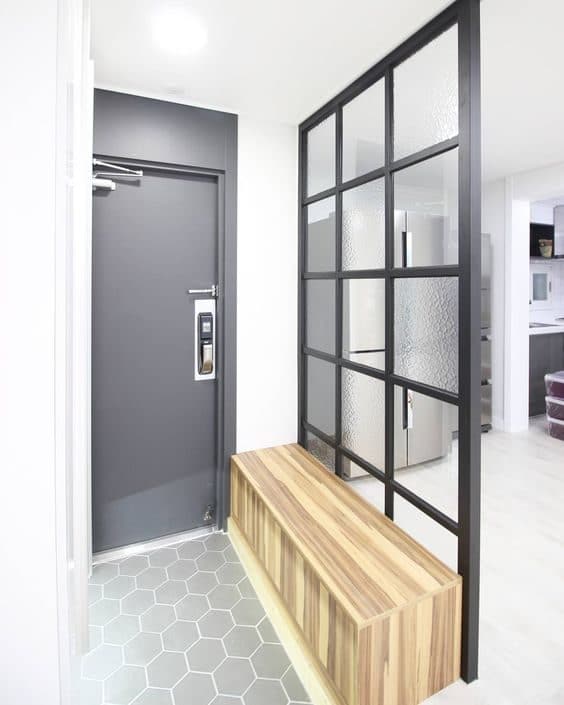 Glass partitions are useful since they won't block the light and make your entryway dark. For privacy, you can use frosted or textured glass. In the example above, some of the glass panels are using textured "bumpy" glass.
2. Entrance partition with "reeded" glass texture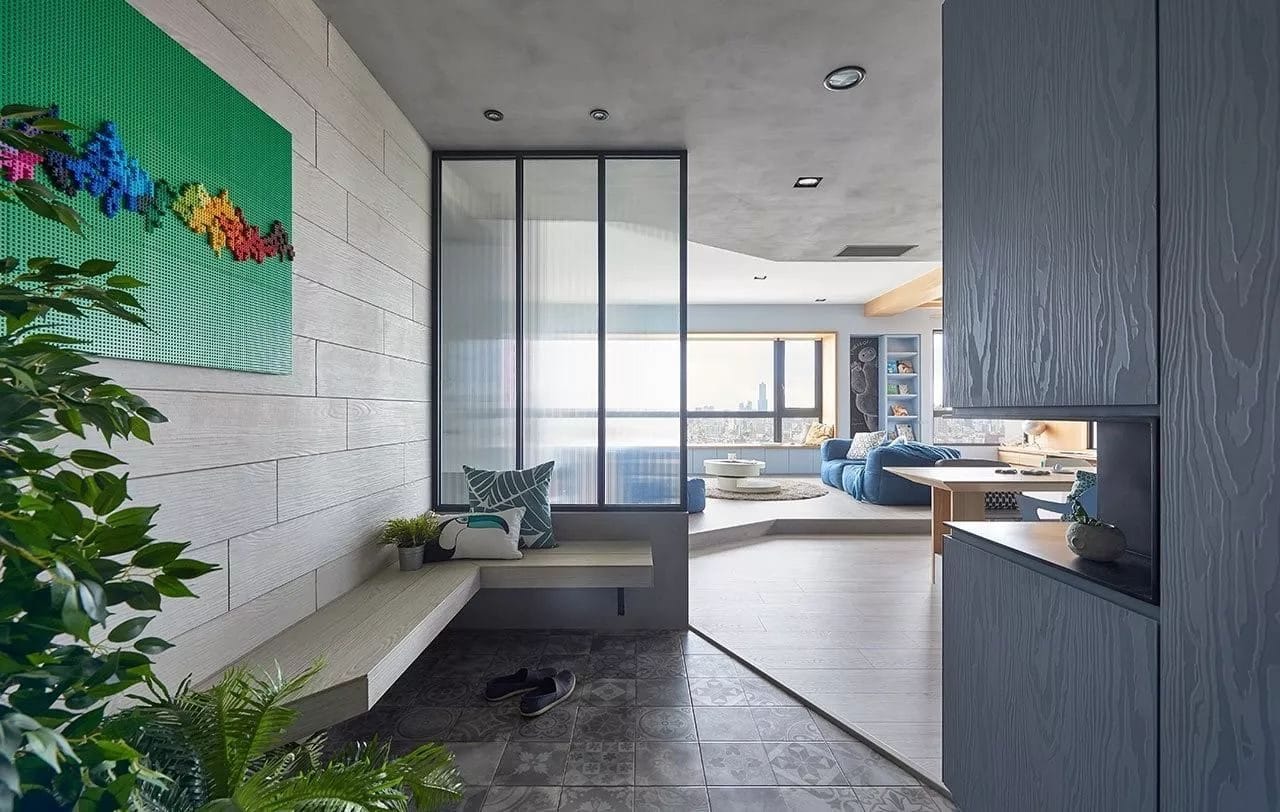 Another glass partition design with bench seating. This example uses textured glass with vertical lines (also known as "reeded" glass), to give it a modern look. Since the front door opens directly to a large window on the opposite wall, adding the partition will prevent the positive energy from going straight out the back window. To improve Feng Shui even more, decorate the area with a tall plants.
3. Compact all-in-one entryway cabinet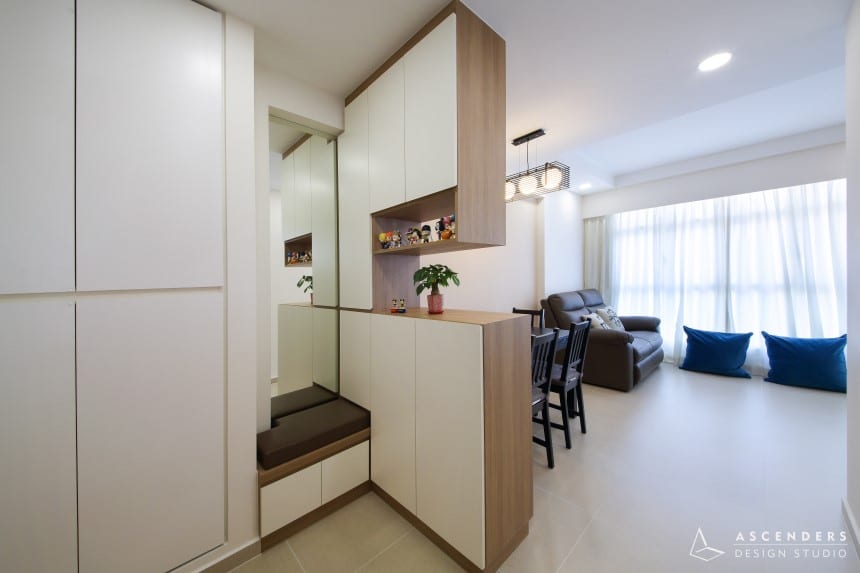 If you have a small entryway, it's still possible to combine many functions into a single space, as this cabinet demonstrates. It includes a seating area for shoes; an open display shelf; closed cabinets; and even a built-in mirror!
4. Glass display cabinet as entrance partition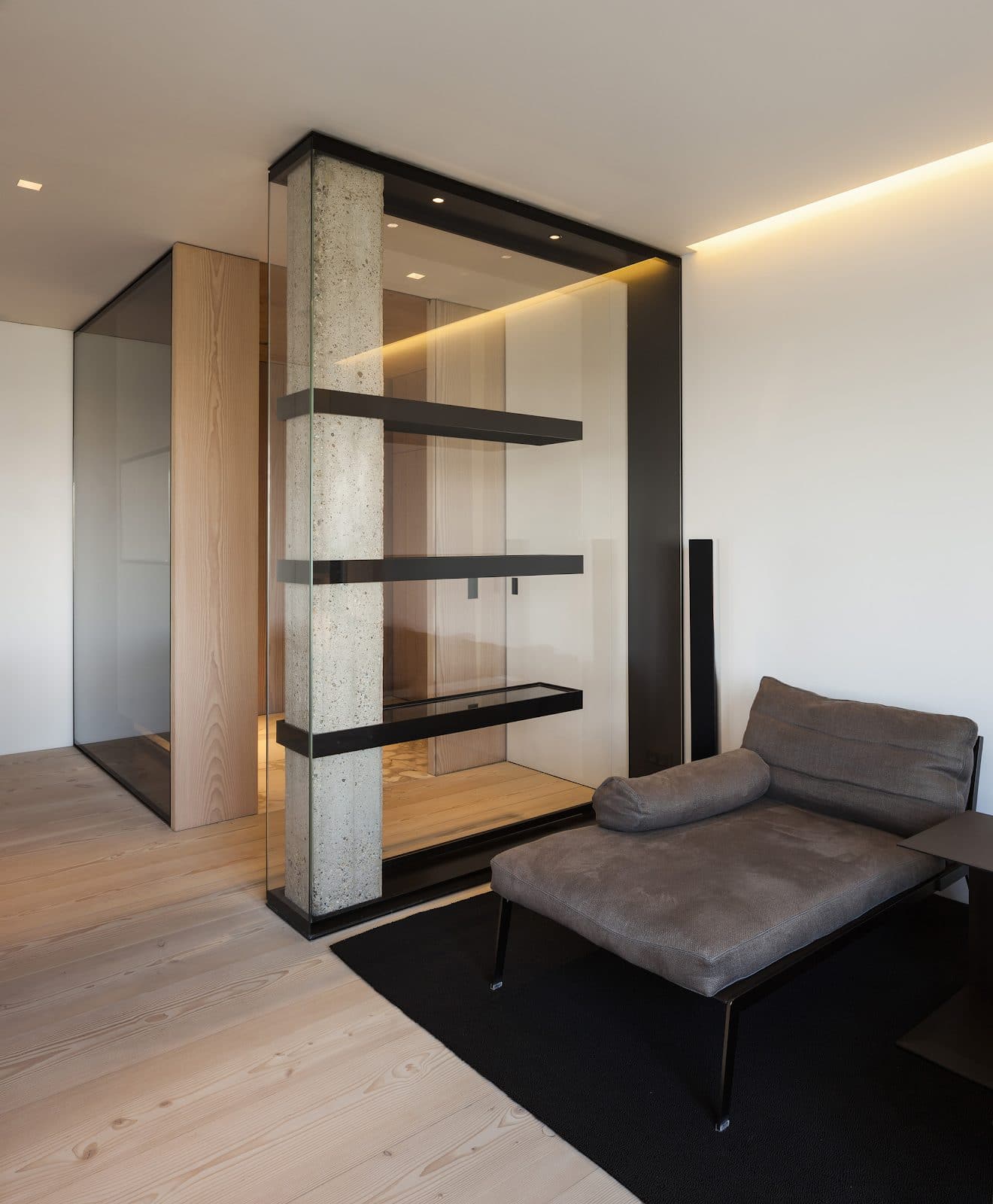 Instead of building a flat wall, why not add more functional space at the same time? A glass cabinet is a great way to partition the front door from the living area. You can use it to display your books, souvenirs from your travels, family photos, or even show off your collection of antiques.
5. Entrance divider using vertical wooden slats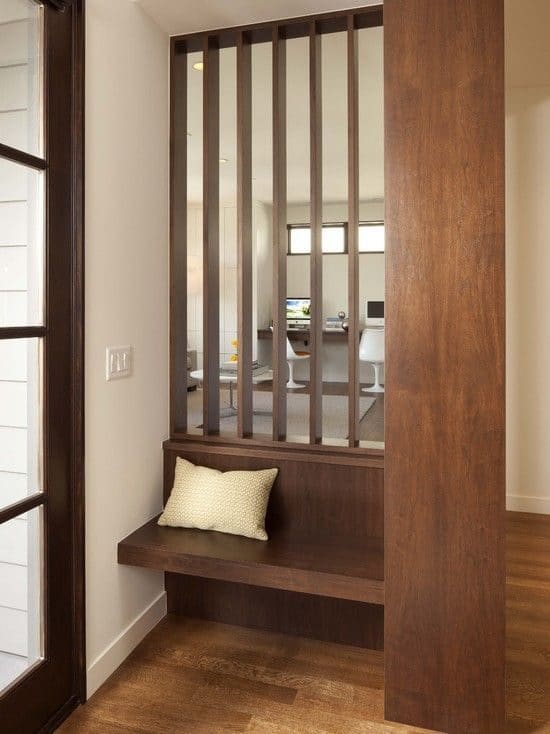 If you're worried about having too much reflective glass at your entryway, you can install a divider made of vertical wooden slats. Wooden slats go well with a minimalist, Scandinavian or Japanese-inspired interior design, and they do just enough to hide the living area from prying eyes.
6. Partition with rounded metal bars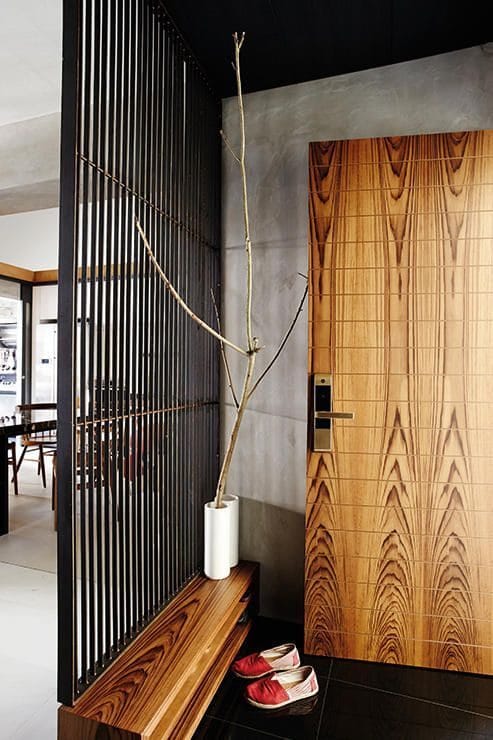 You can also install a divider made of rounded metal bars. This helps to split the space while adding a sense of privacy, while the gaps between the slats give your entryway an airy feel.
Metal bars can be considered "jail" looking, so consult your interior designer to find a design aesthetic that works for you.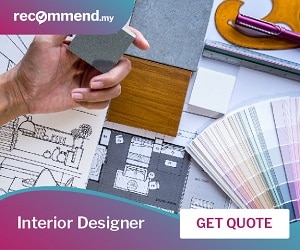 7. Partition using horizontal wooden planks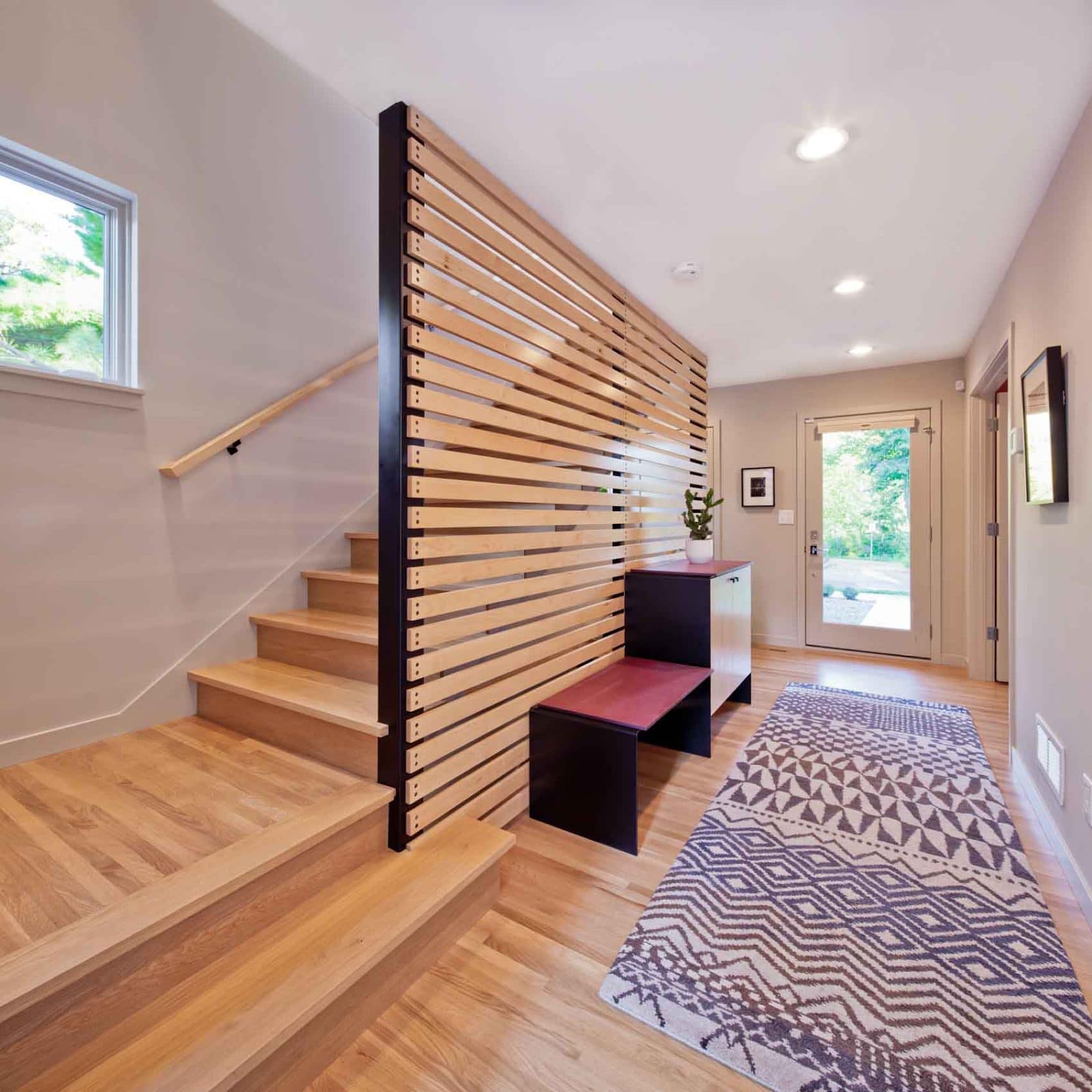 A wood slat partition design also works great in between your stairway area and your entryway; it helps to segregate the areas without making your entryway feel too claustrophobic. Plus, with a partition wall, you can use it as a seating area and place a shoe cabinet.
8. Bright yellow partition with wooden slats and seating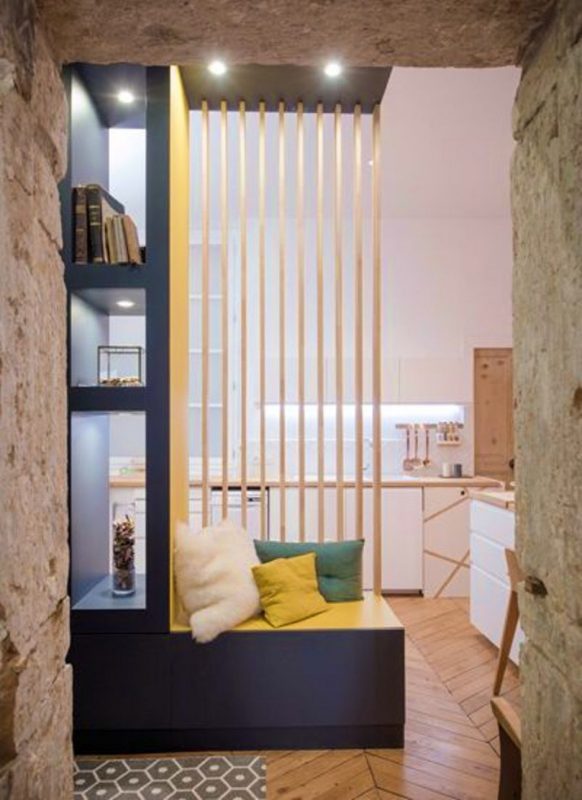 Apart from segregating space, a wood slat partition design can also make your entryway more functional. This design doubles as a seating area with a few cubby holes for storage.
9. Japanese-inspired doorway partition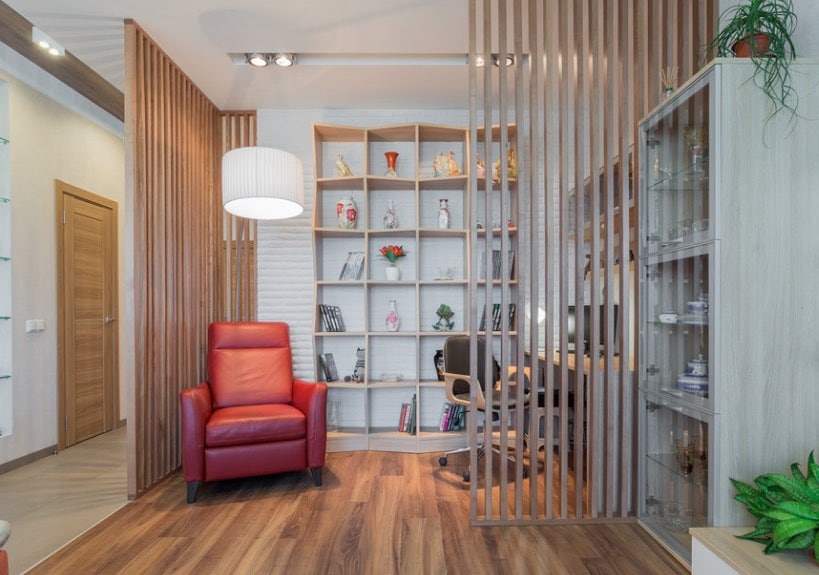 And let's not forget that wood slats will enhance the interior too! The design gives a strong Japanese zen look and with a partition, you can segregate the area as a cosy workstation.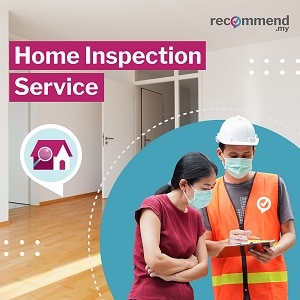 10. Exposed brick wall partition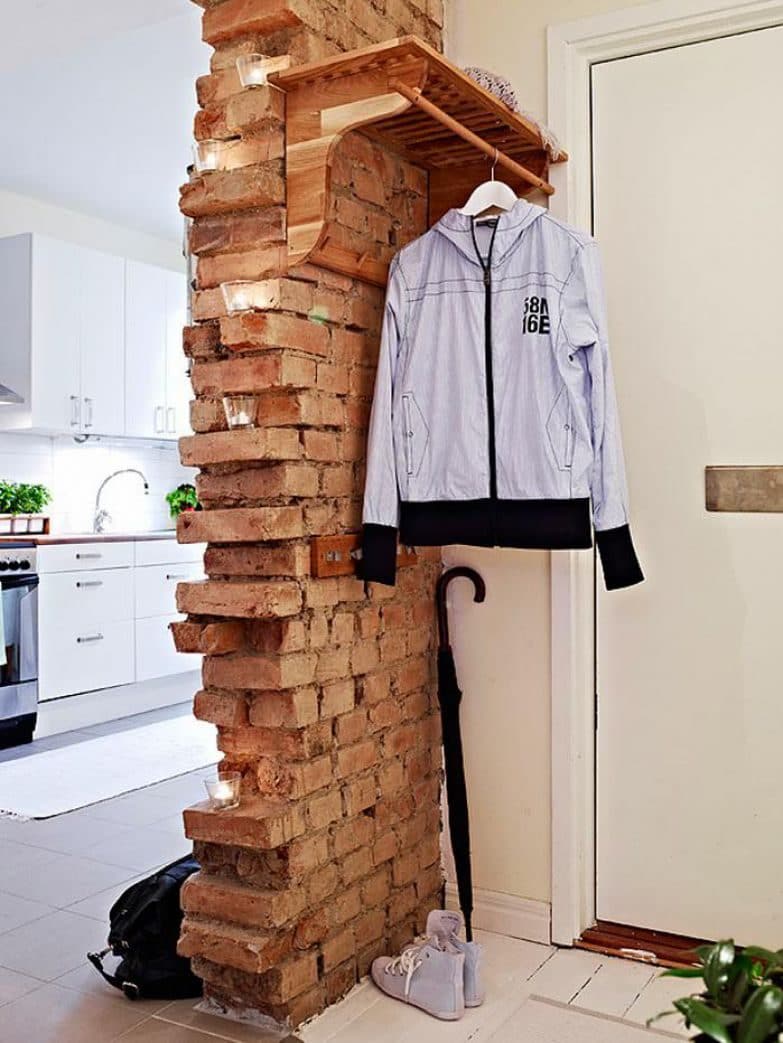 Fancy a rustic or industrial look? A brick partition is a bold way to separate your entryway from your kitchen and you can even install a hanging rack to hang your bags or umbrellas.
11. Low bookshelf partition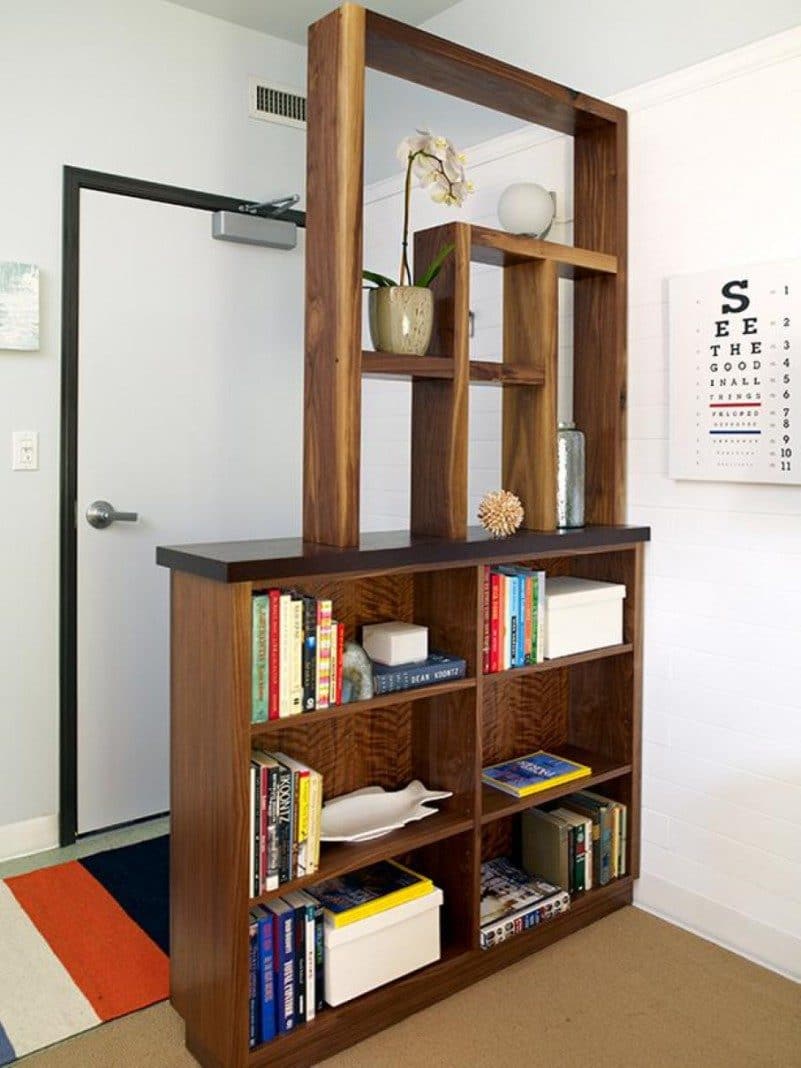 When you don't have an entryway, a bookshelf can function as a creative partition that stores your favourite books and as a convenient place to drop your mail or house keys.
12. Nature-inspired reeds as partition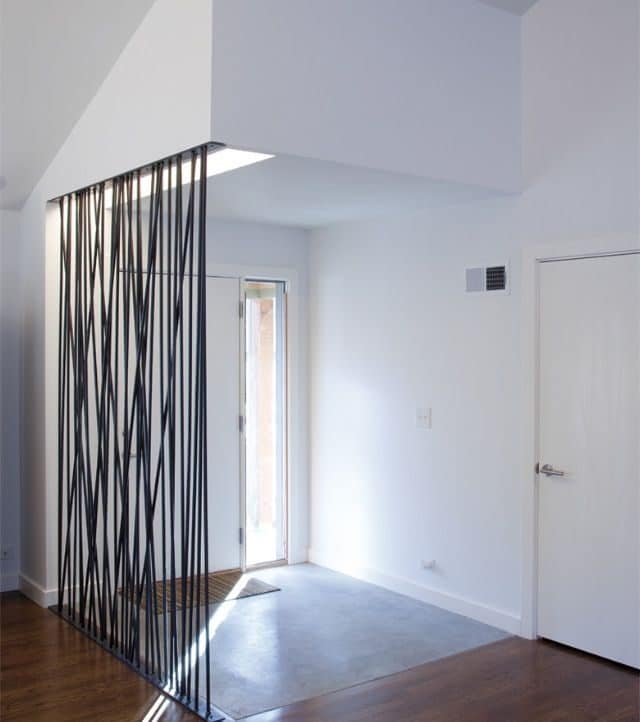 A partition doesn't always necessarily need to be a solid wall; take these strip dividers for instance, adds a modern look to your entryway without taking a whole lot of space.
Hire the best interior designers in Malaysia to beautify your home
At Recommend.my, your home is in safe hands. We can match you with the right interior design to create your home just the way you want. Plus, all projects hired through us are protected against damages, theft and job abandonment.
Tell us about your project
Tell us your requirements and we will find suitable IDs to contact you within a day.