When it comes to Airbnb listings, the appearance is more important than you think.
Think about it; if you look past amenities like WiFi, shower heaters, and air conditioners (which are almost always included), what sets a listing apart from the rest?
It's the interior of the home.
After all, one of the main draws of Airbnb is a more personalised experience that a host can offer.
Given the choice to decide between staying in an "average" home and a home that has a distinct vibe, it's not surprising which one a guest would lean towards — considering that the price difference isn't too drastic, that is.
That's why investing in good interior design is so important. 
An eye-catching design not only boosts your listing, but it also helps to give you a competitive and psychological advantage.
In other words, the impression of your home says a lot about you as a host. It can also increase more bookings, positive reviews, and rental value.
But, to make your listing stand out, you need professional design help. Hiring an expert interior designer is the best way to do this.
Or, you can browse on sites like Pinterest or Instagram for ideas and inspiration. However, this can be can very time-consuming and overwhelming. Not to mention you'll also need to have a good design sense to know what works.
So, if you find yourself struggling with what designs to pick, why not see the ideas in this article that we've compiled for you?
Because we've scoured the internet for some seriously gorgeous Airbnb designs in Malaysia that you can steal from. These interior designs range from condos, apartments, and even private rooms. Scroll below to see them.
Want to design your empty unit for Airbnb/Rental?
Simply tell us your preferred design style along with your home's floor plan for our designers to give you quotation.
Midori Concept Home [email protected] Austin Heights, Johor Bahru
Pops of soothing colour and wooden elements are the main standouts of this home, giving it a homely and charming vibe.
Meanwhile, the cosy energy around the house is infectious; fueled by sleek furnishings and gentle light rays that bounce around the house.
Moreover, this home also has lots of furniture with "legs". This helps to create an illusion of a more spacious room. Combined with white accents, the house feels lofty and open.
Also, an open floor plan design means that the living and dining area are combined into one multifunctional space. This helps to make efficient use of space.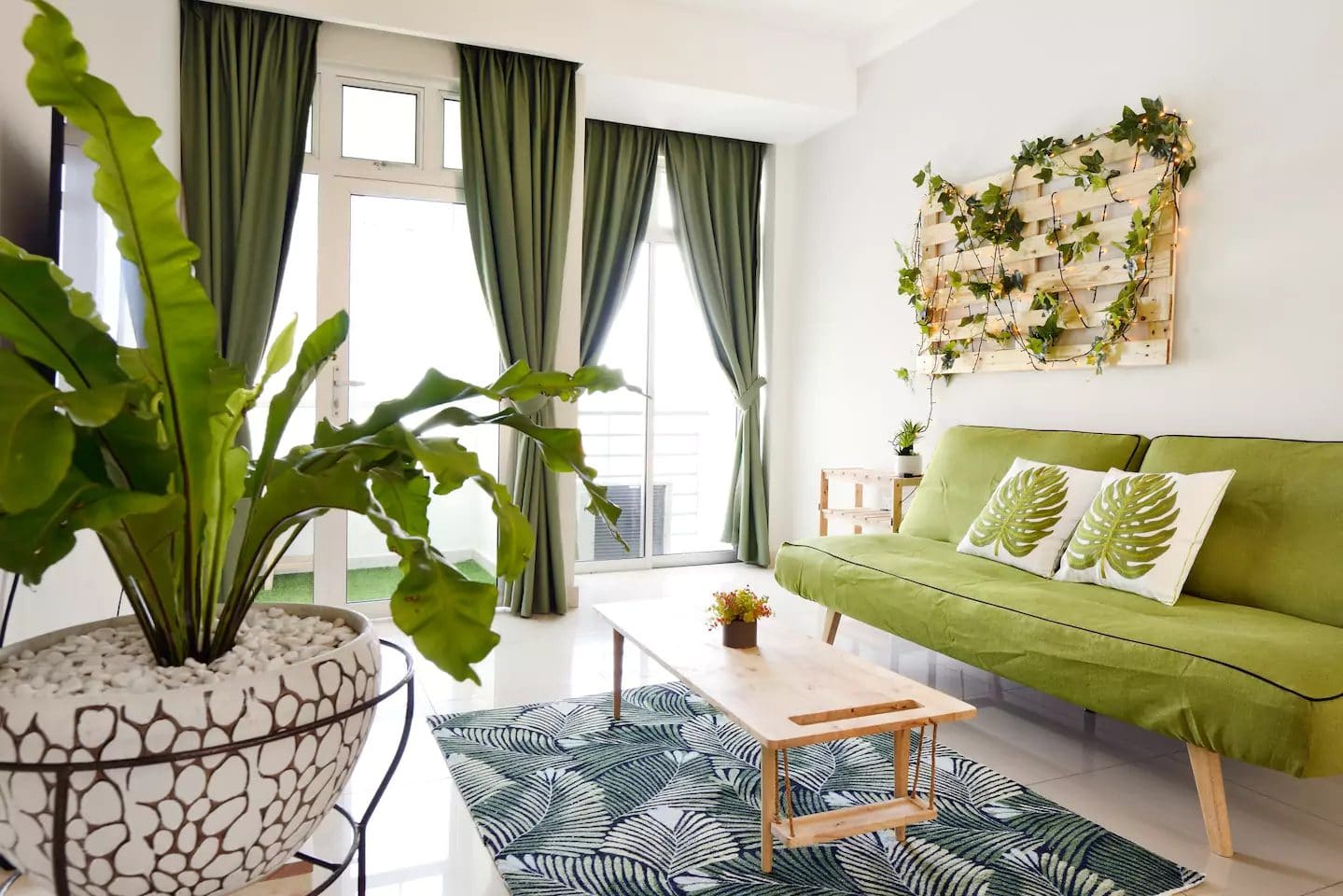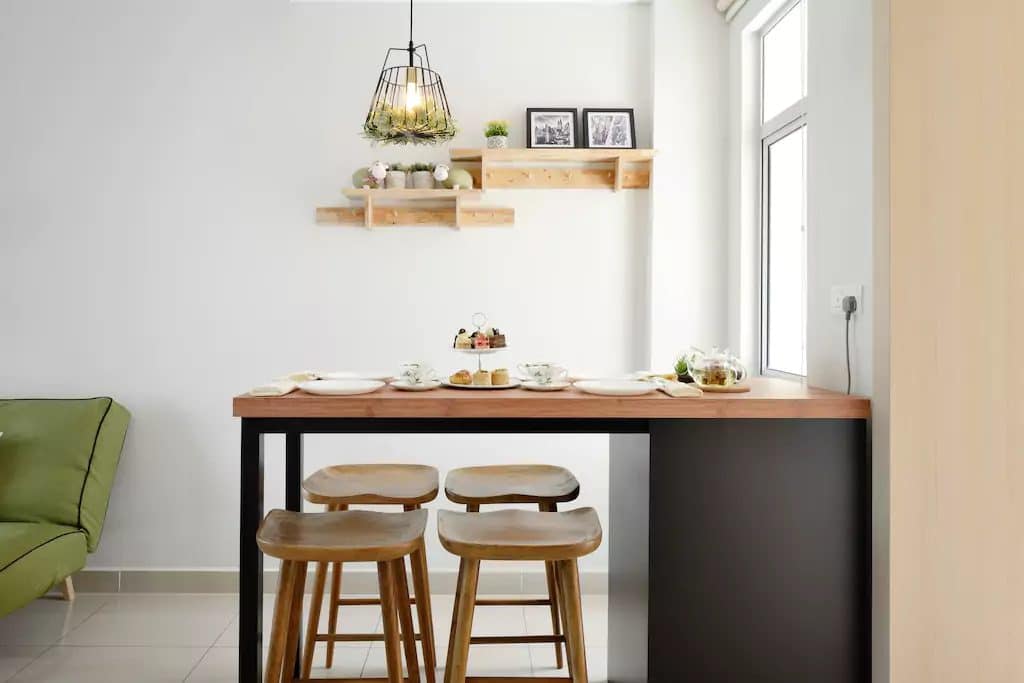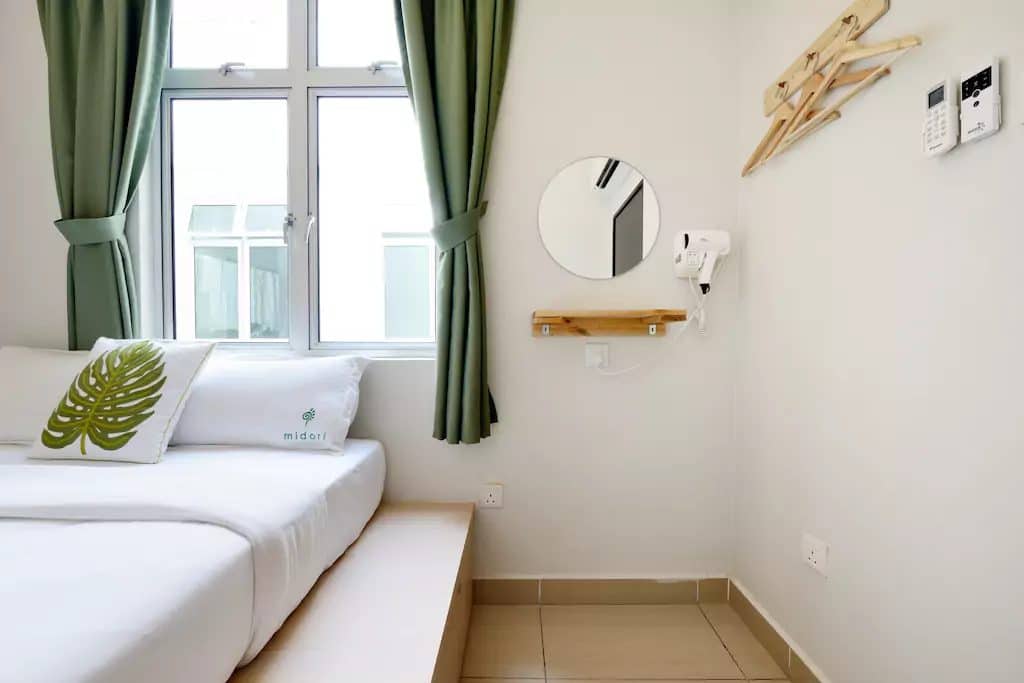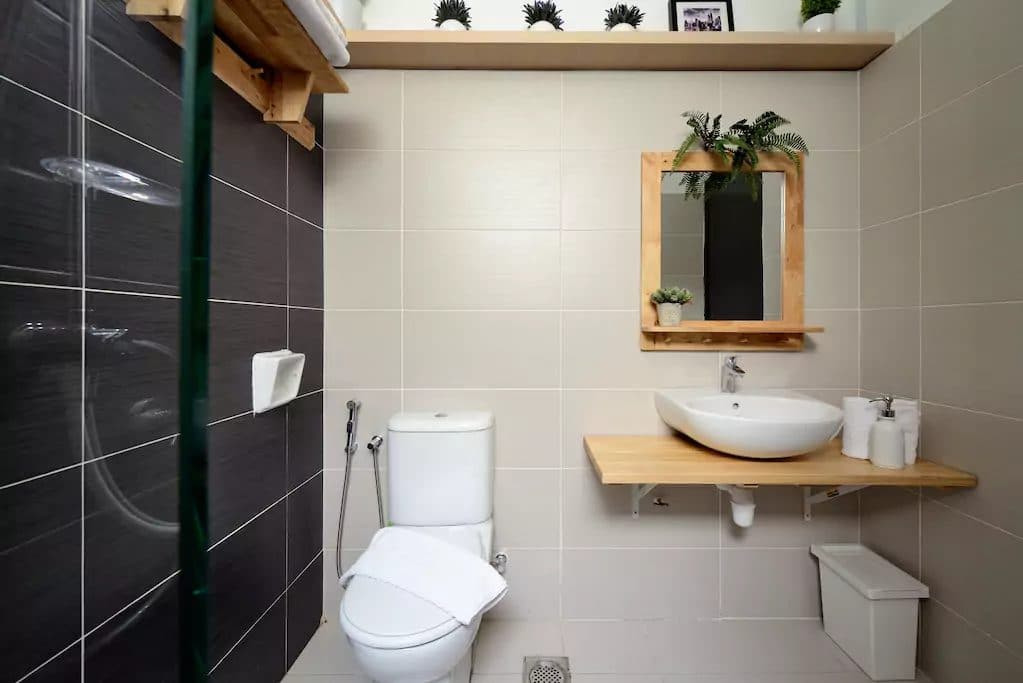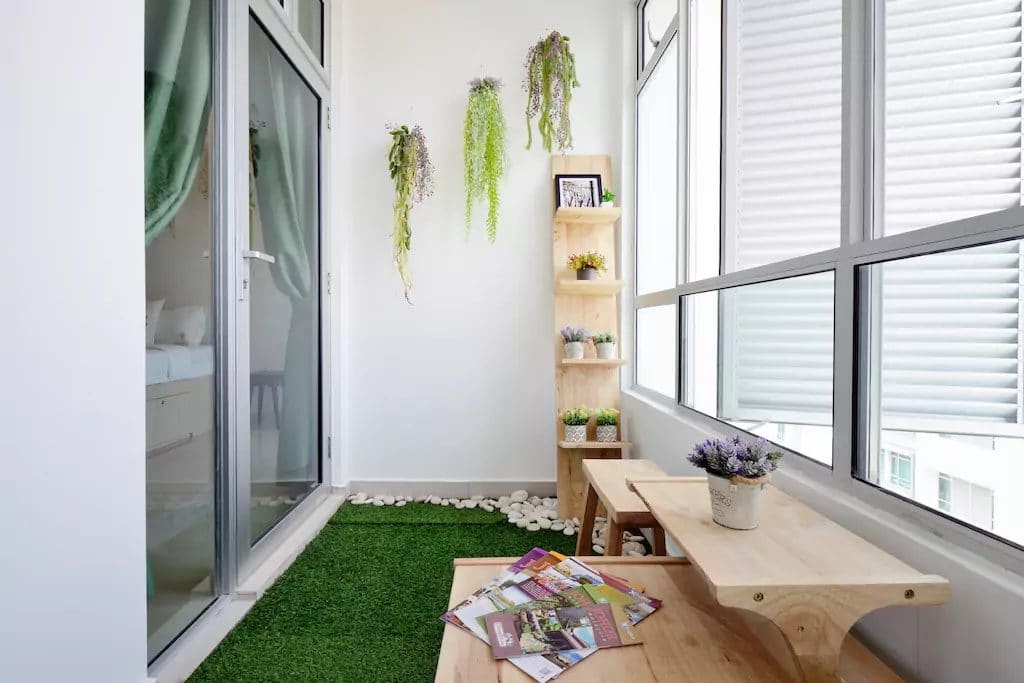 Midori Concept Home [email protected] KSL D'Esplanade, Johor Bahru
Like many of the interior design on this list, the norm of this apartment design is to keep things uncluttered and sleek.
Blues and greens pair well with natural wooden accents for comfy ambience. While the minimal furnishings help to prevent unnecessary clutter from eating space.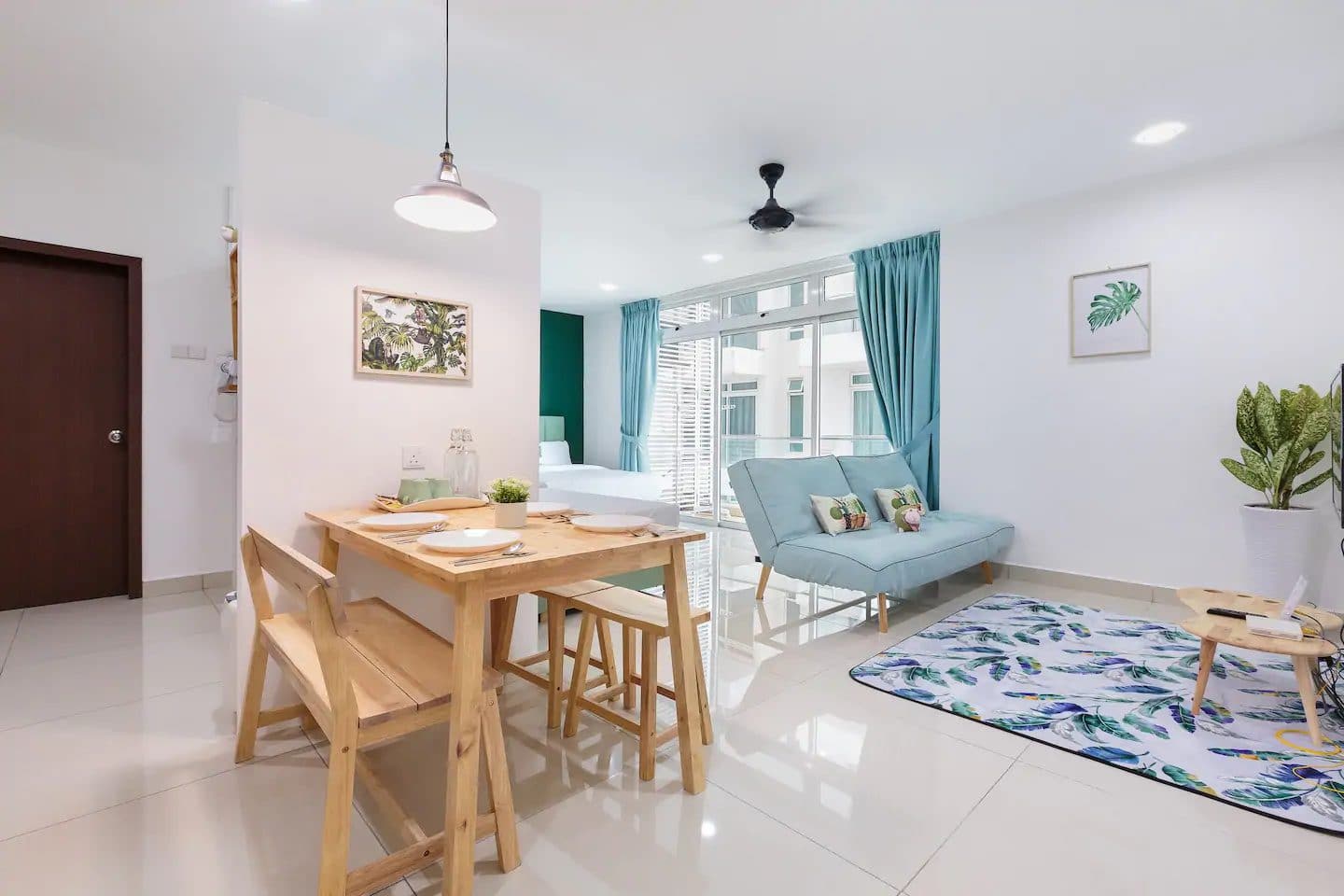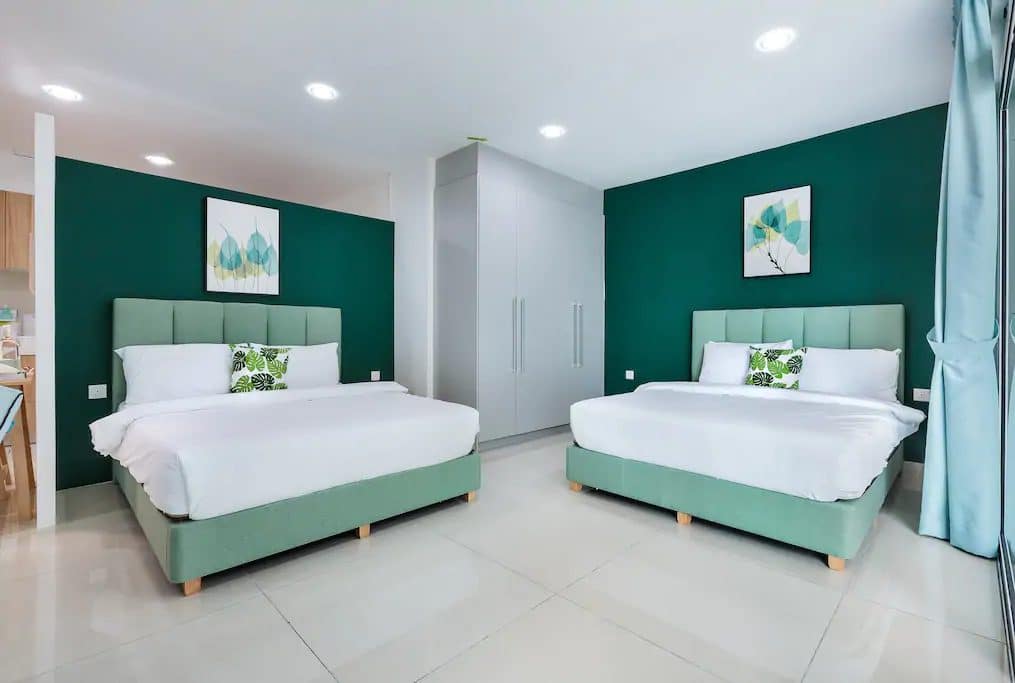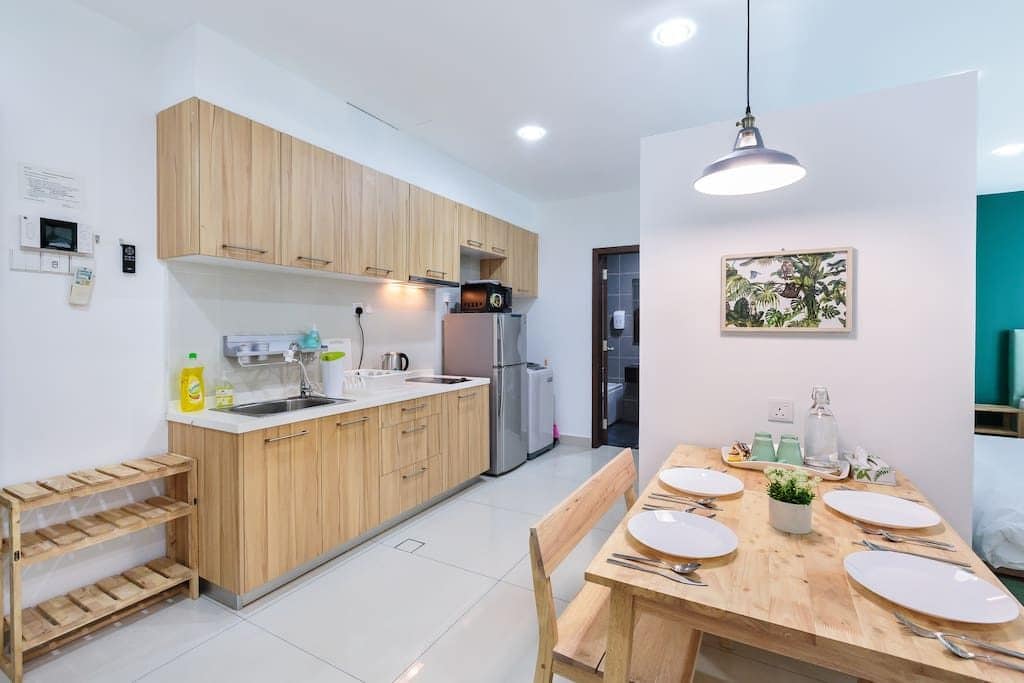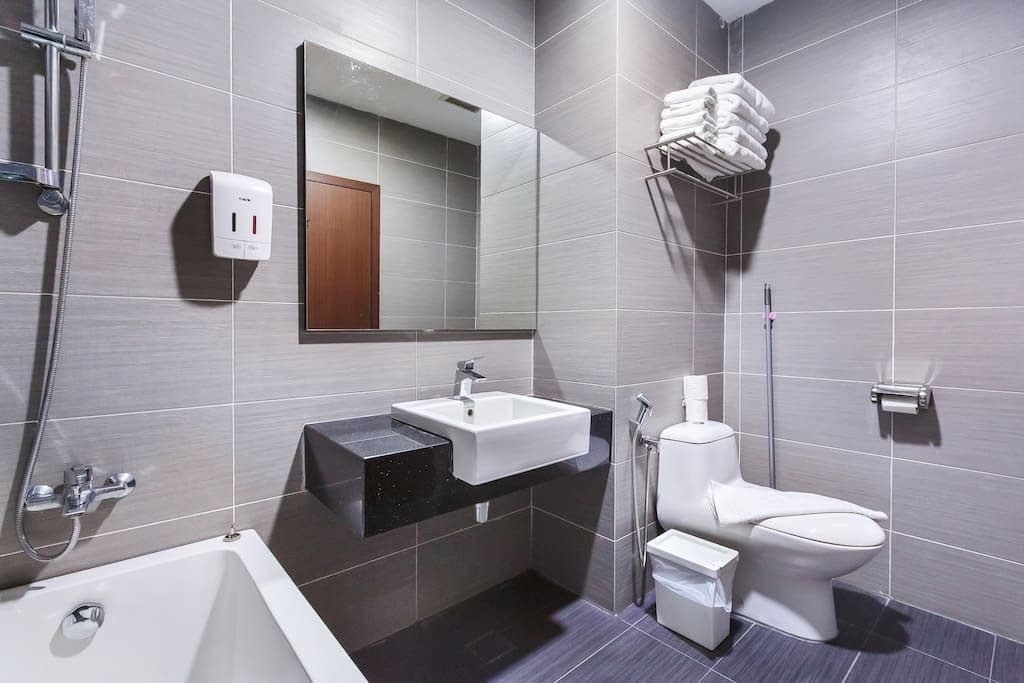 RentRadise Alfa Studio, Johor Bahru
The interior design of this studio has a nice homely ambience, thanks to a combination of streamlined wooden accents and ambient lighting. Perfect for working trips when you want some peace and quiet.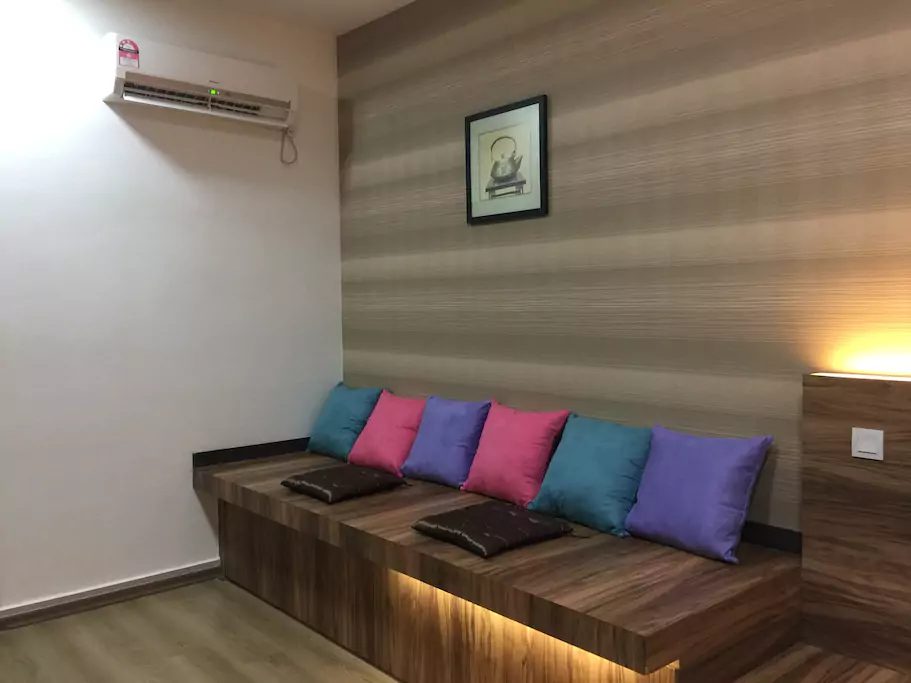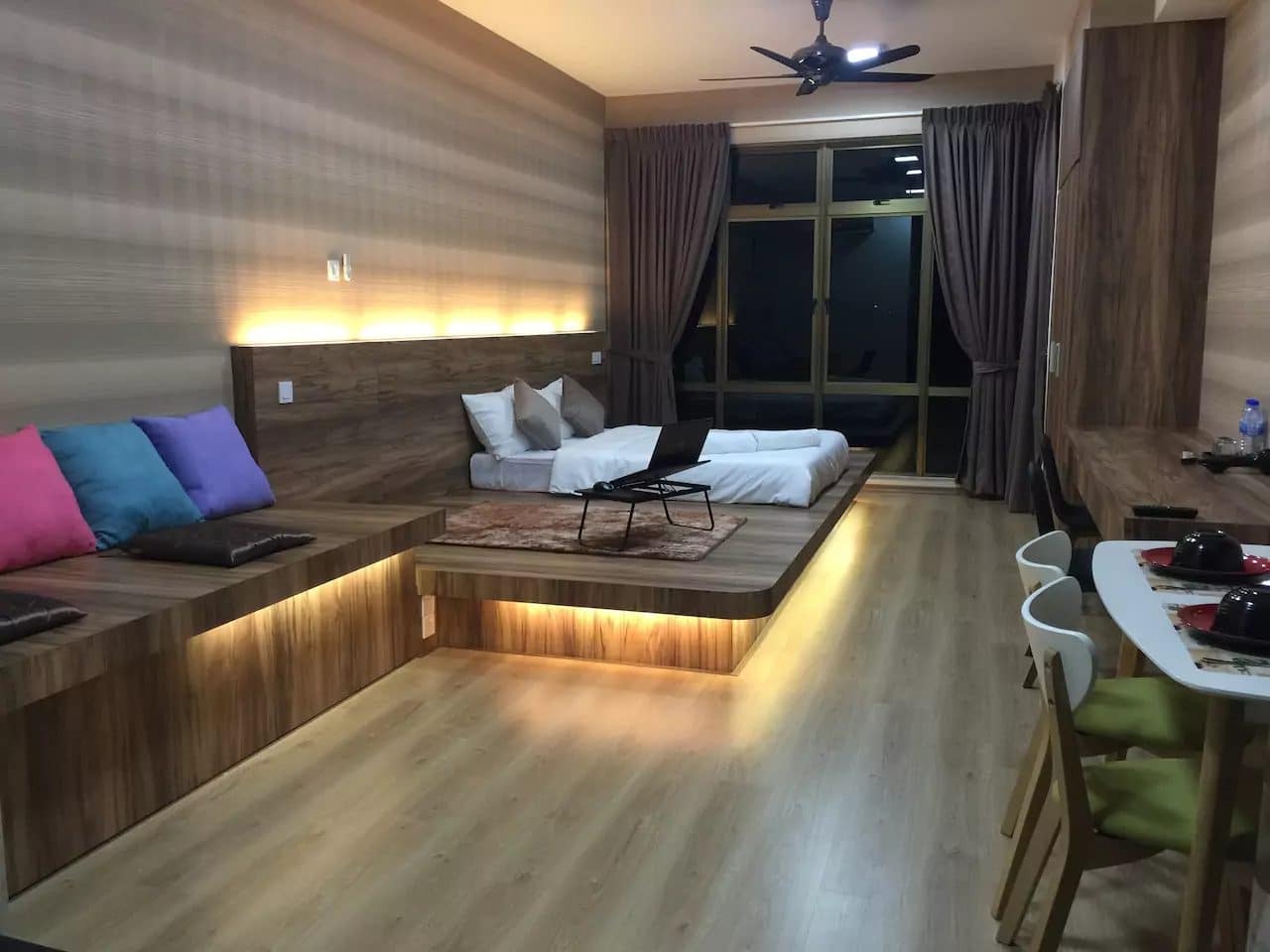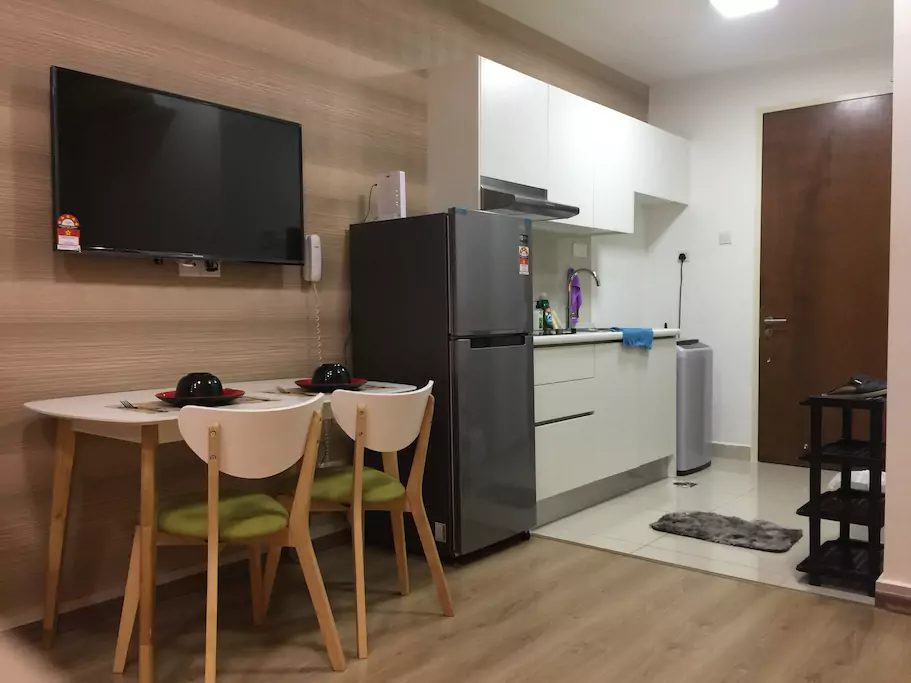 The Happiness Home 2 – The Scott Garden, Kuala Lumpur
We can only say chapeau to this owner for turning his apartment into a charming and cosy paradise.
There's an interesting mix of colour and cute ornaments interplay — whether if it's the photo clip string, inspirational messages, or artificial plants — that look every bit as colourful as they are comfy.
The decision to use bold yellow further injects a pool of warmth to the home.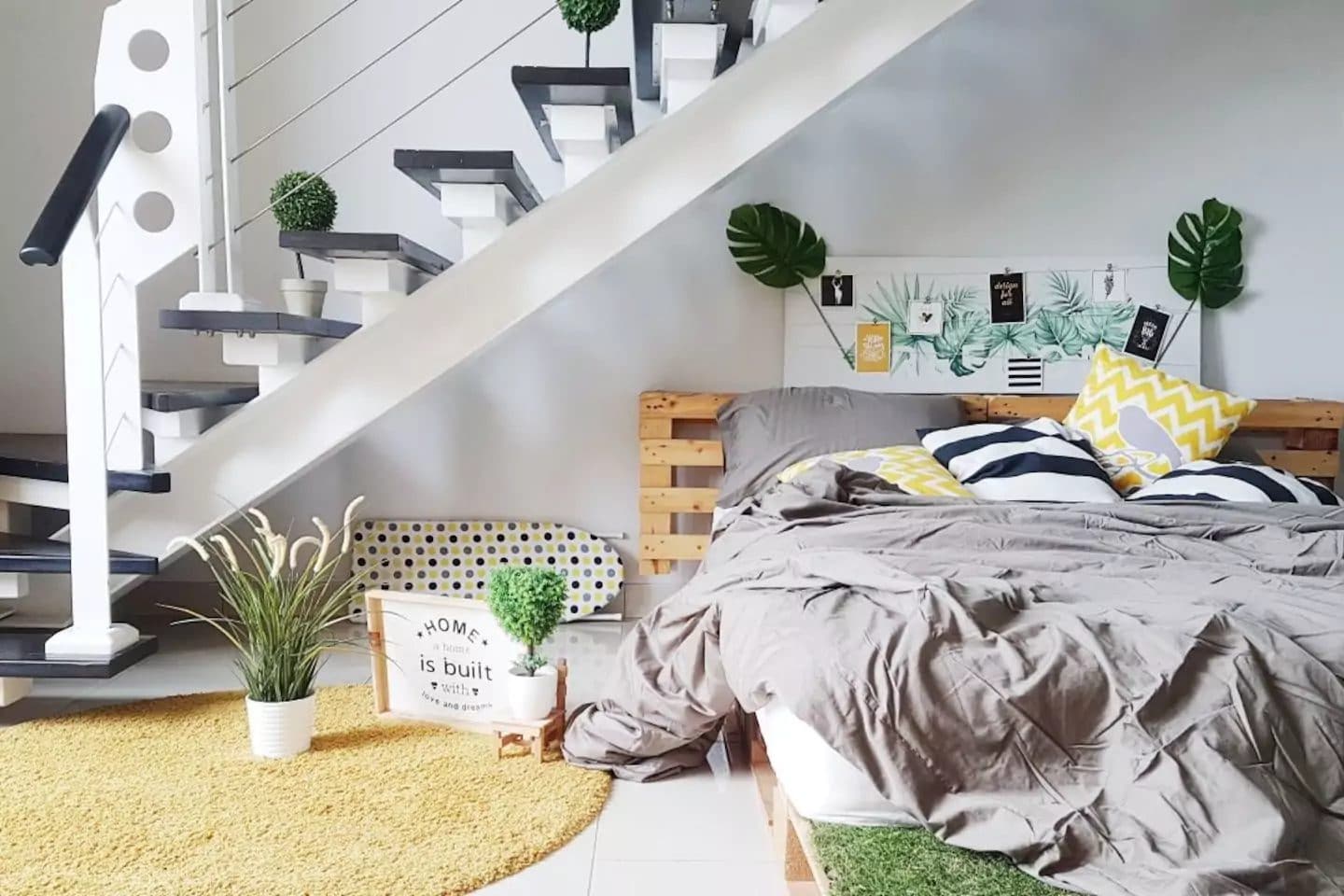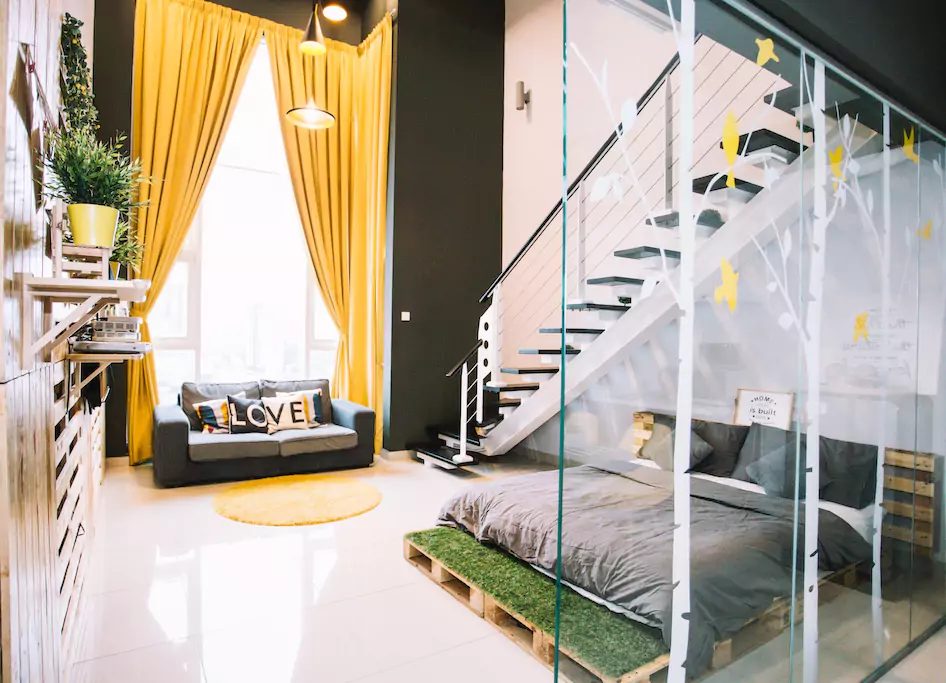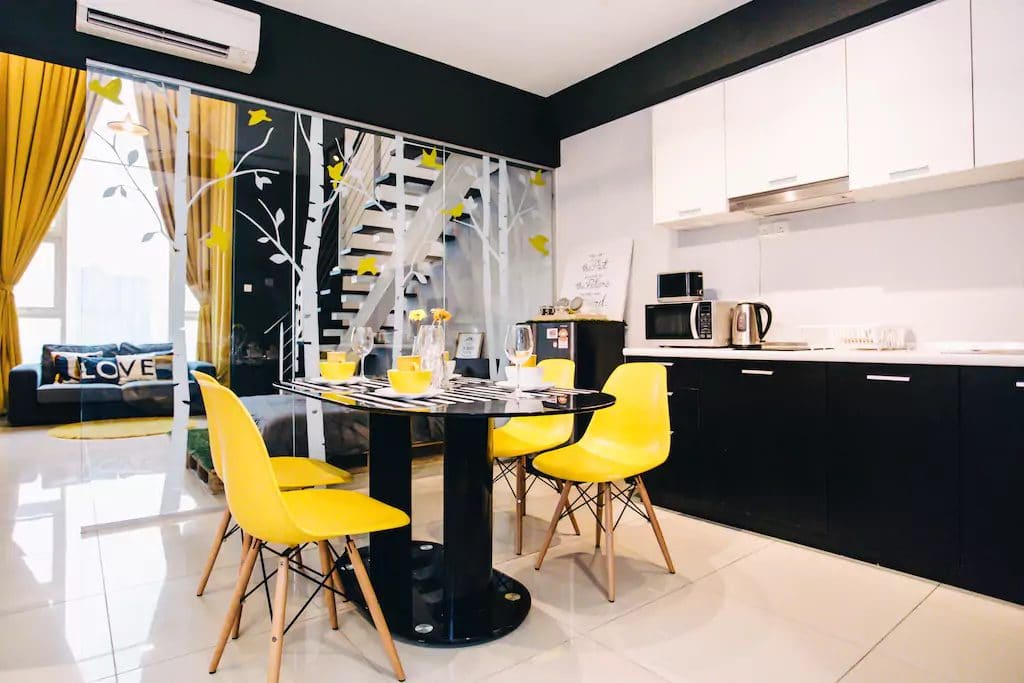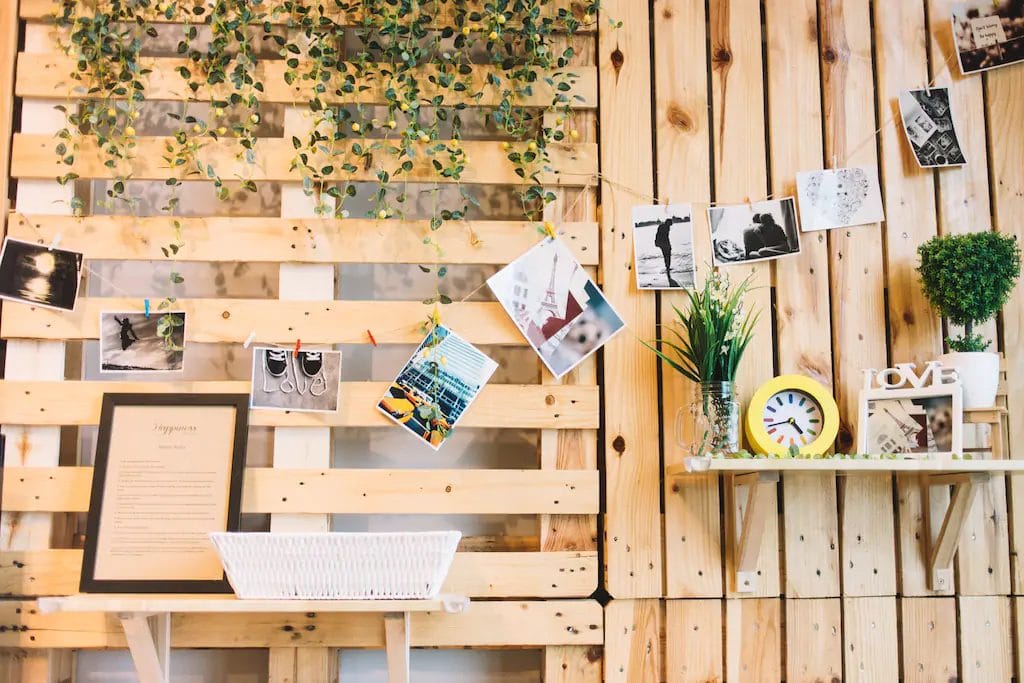 The [email protected] The Robertson KL, Kuala Lumpur
This sparkling apartment has plenty of eye-pleasing visuals and a colourful interior design style.
A neutral colour palette helps to create a calming and refreshing look, while simplistic furniture and open spaces make it inviting for guests.
In addition to that, you'll also get to enjoy a romantic view of Kuala Lumpur's breathtaking Skyline at night.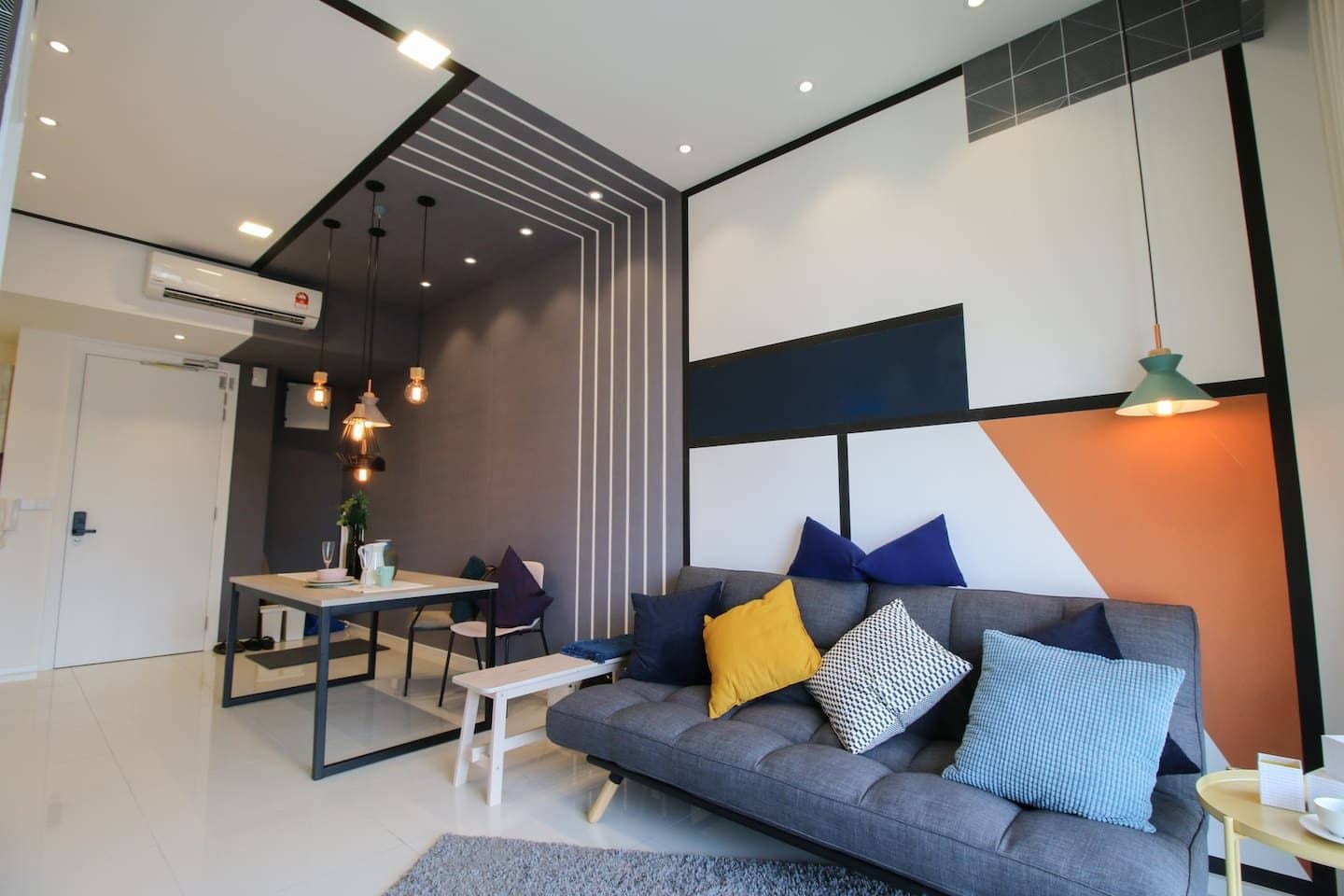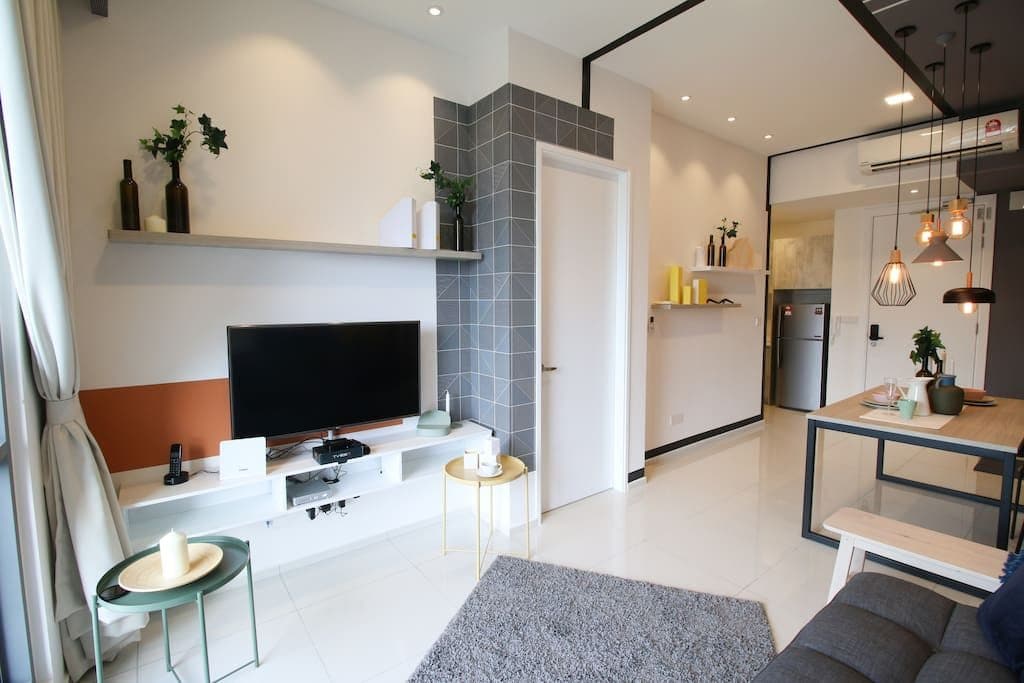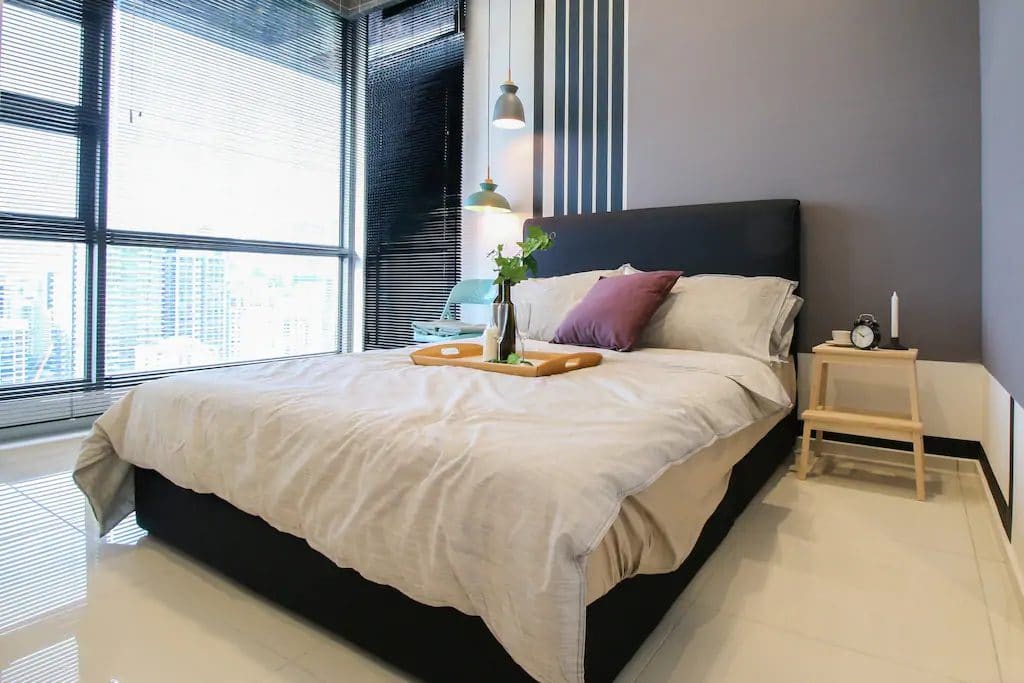 Featuring sleek finishes, a neutral colour palette, and wooden accents, this apartment feels lofty and open.
Meanwhile, large windows and linear design help to add to already cosy space. And we just love the mosaic wall tiles in the bathroom!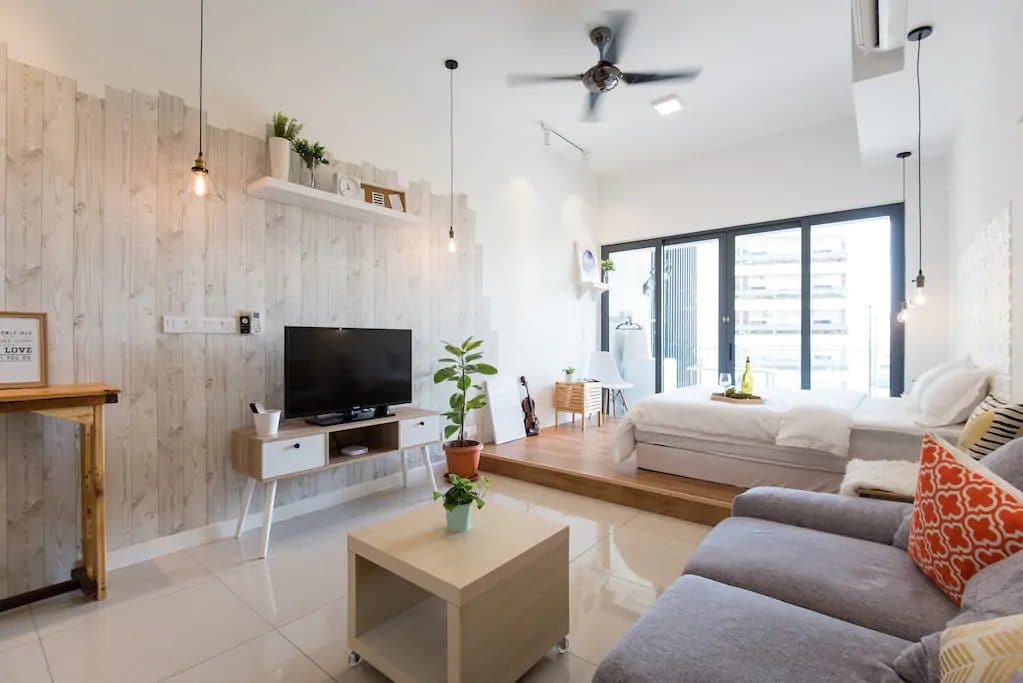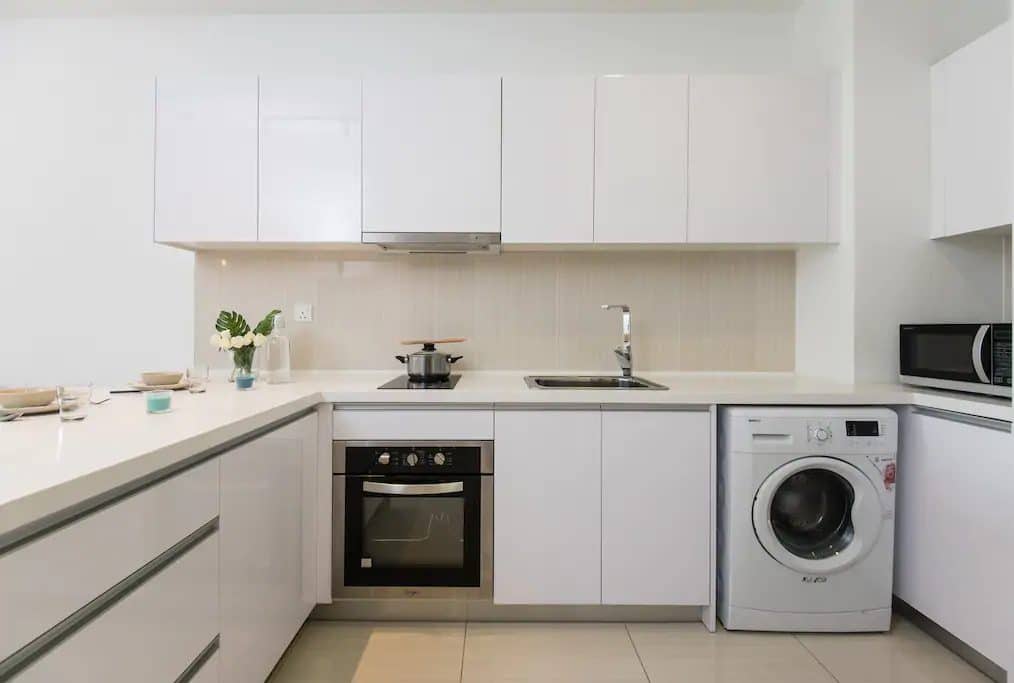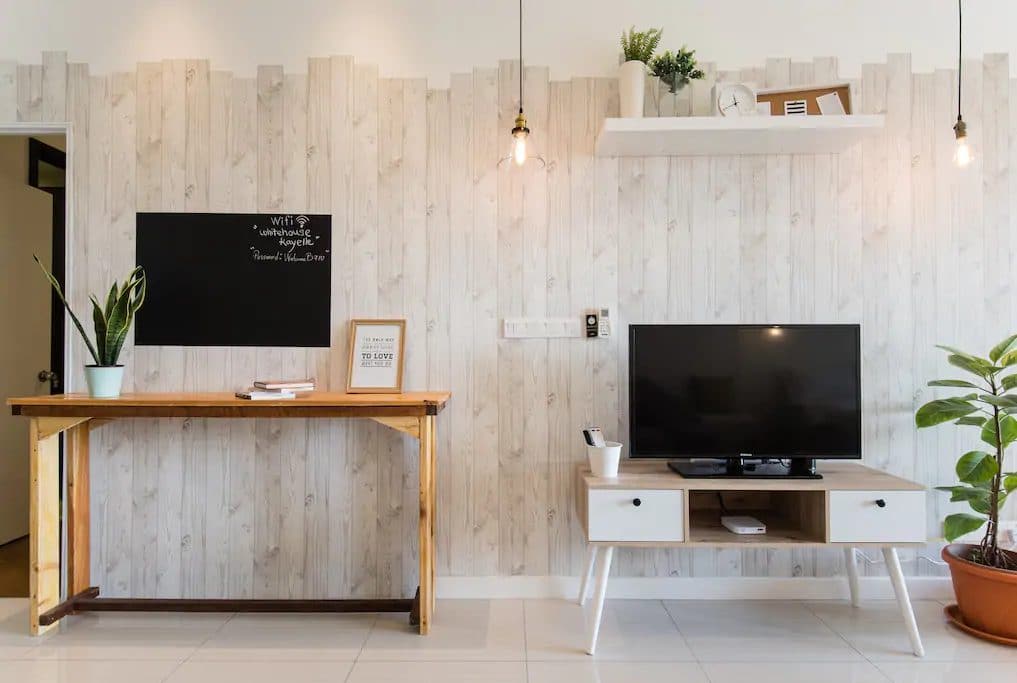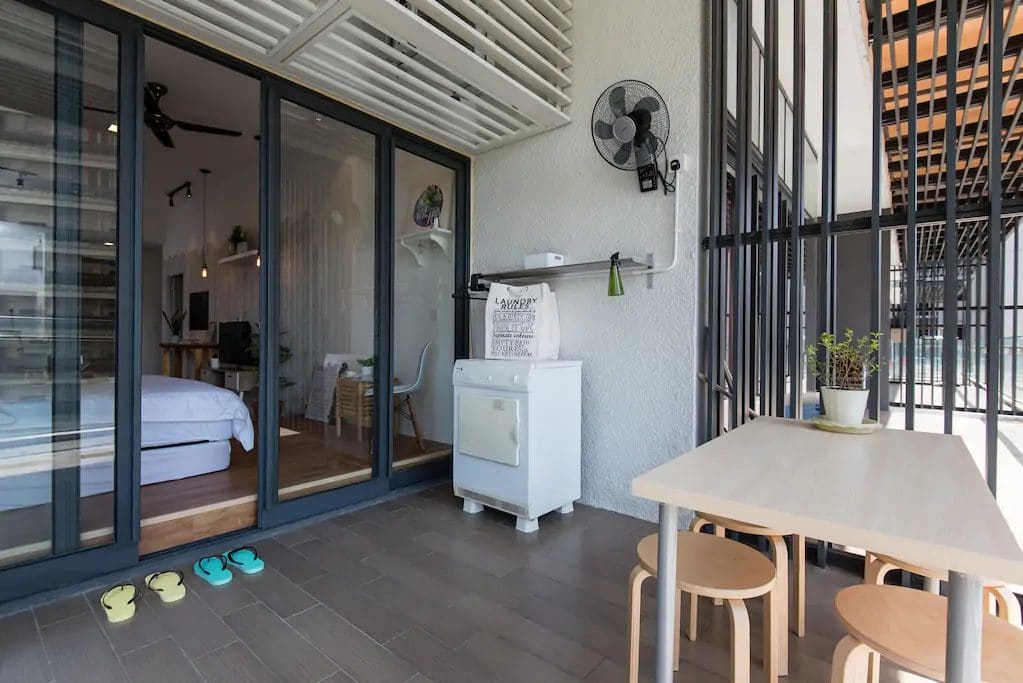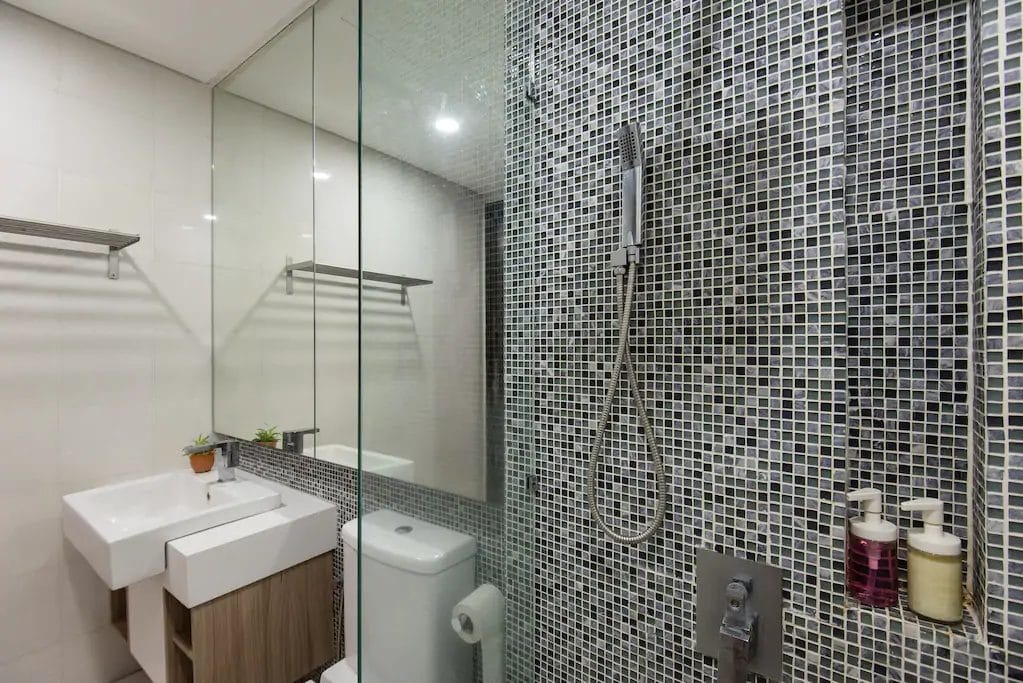 CozyStudio1, Summer Suites, Kuala Lumpur
This Airbnb apartment proves that you don't always need to punctuate your home with charming decor or rustic textures to create a comfy space.
All you need to do, is to keep the design streamlined and simplistic, then refresh it with bright pops of colour.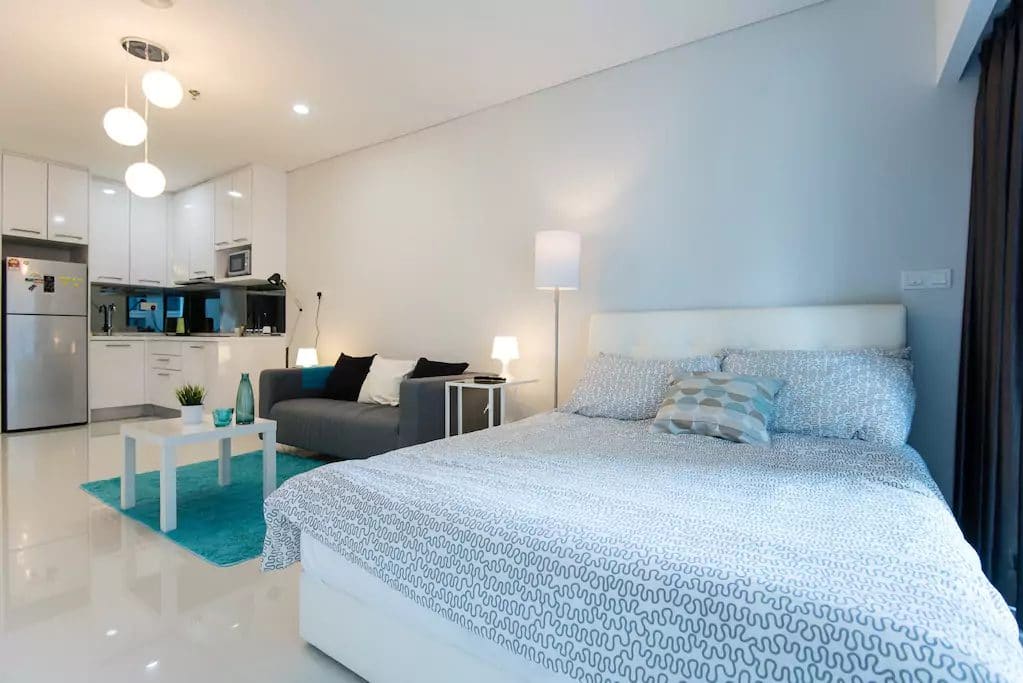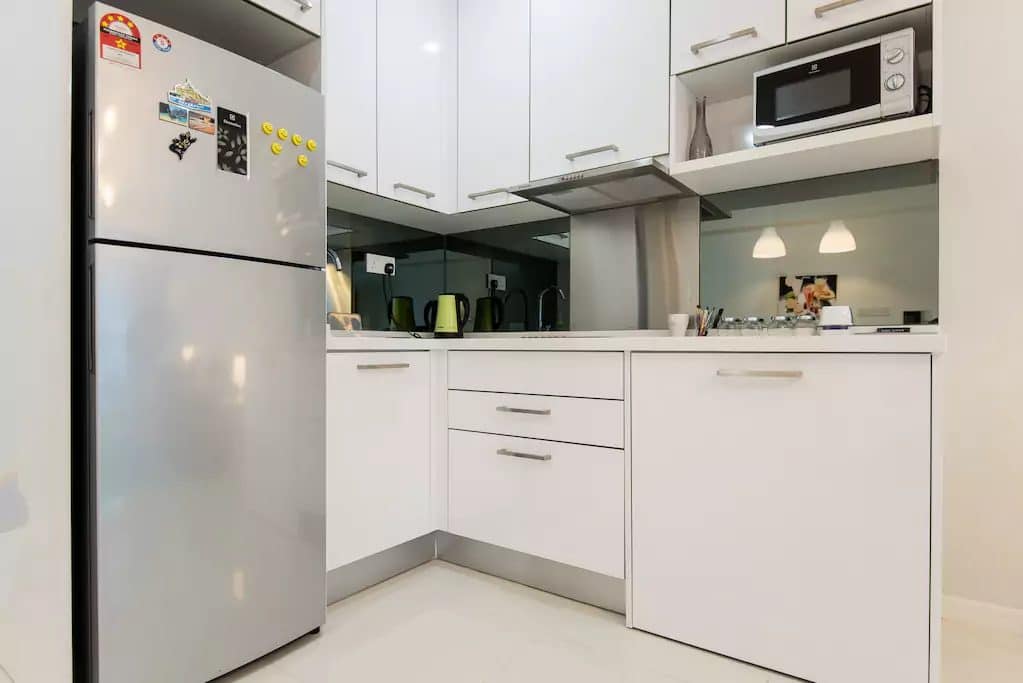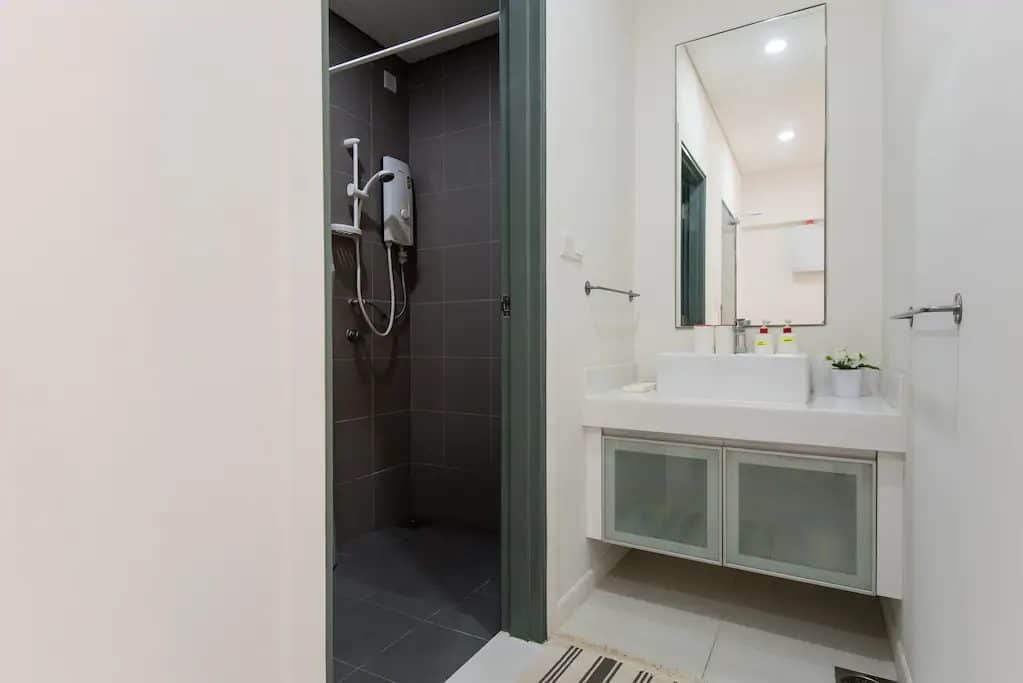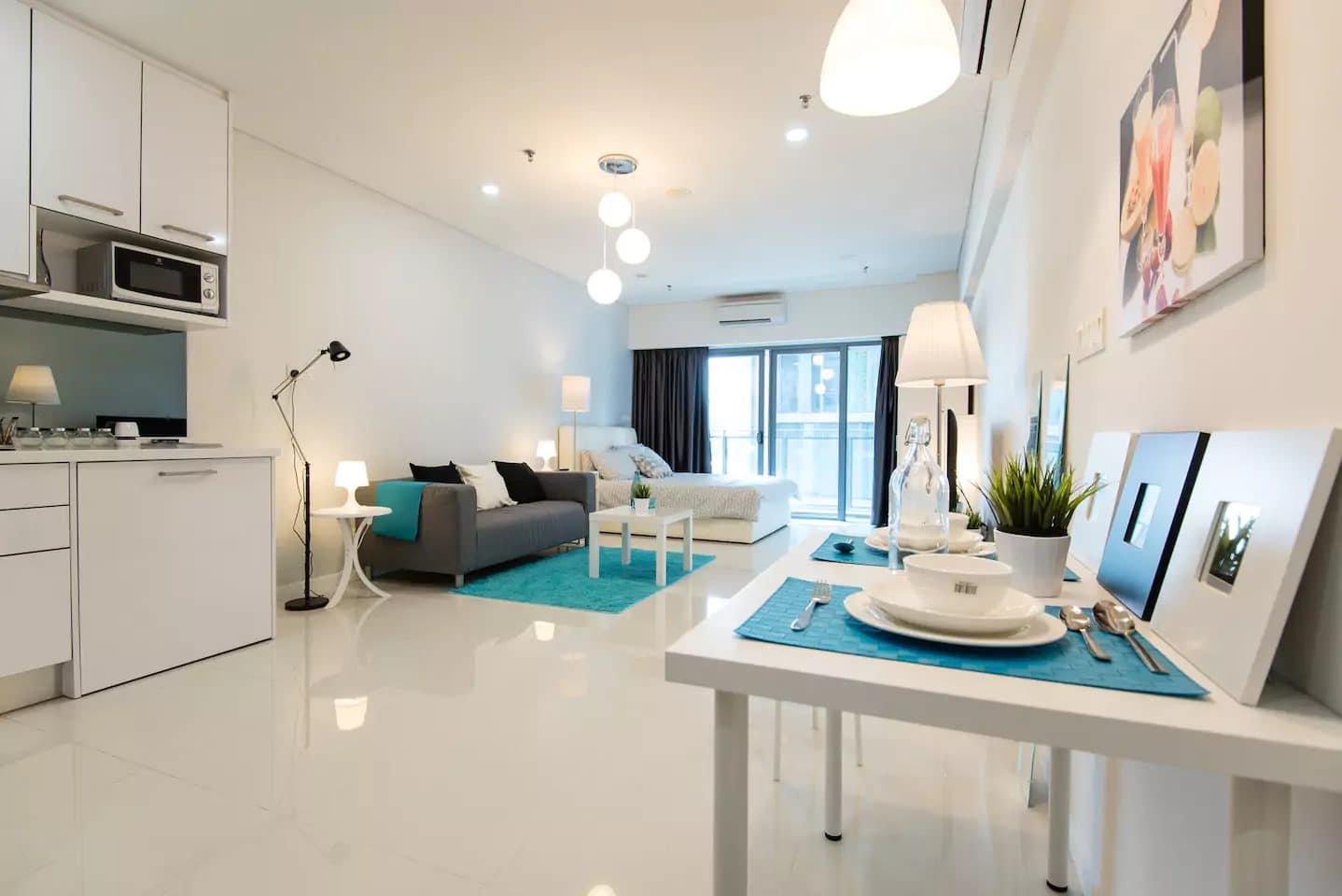 Need interior designers to beautify your Airbnb unit?
Send in your design request on Recommend.my, and receive free quotes from local designers.
Trefoil Setia Alam, Shah Alam
It's obvious that wooden accents are the main standouts in this studio interior design, adding warm vibes and energy to the entire space.
Likewise, the decor is kept as simple and sleek as possible, while a warm palette fills the space with serenity.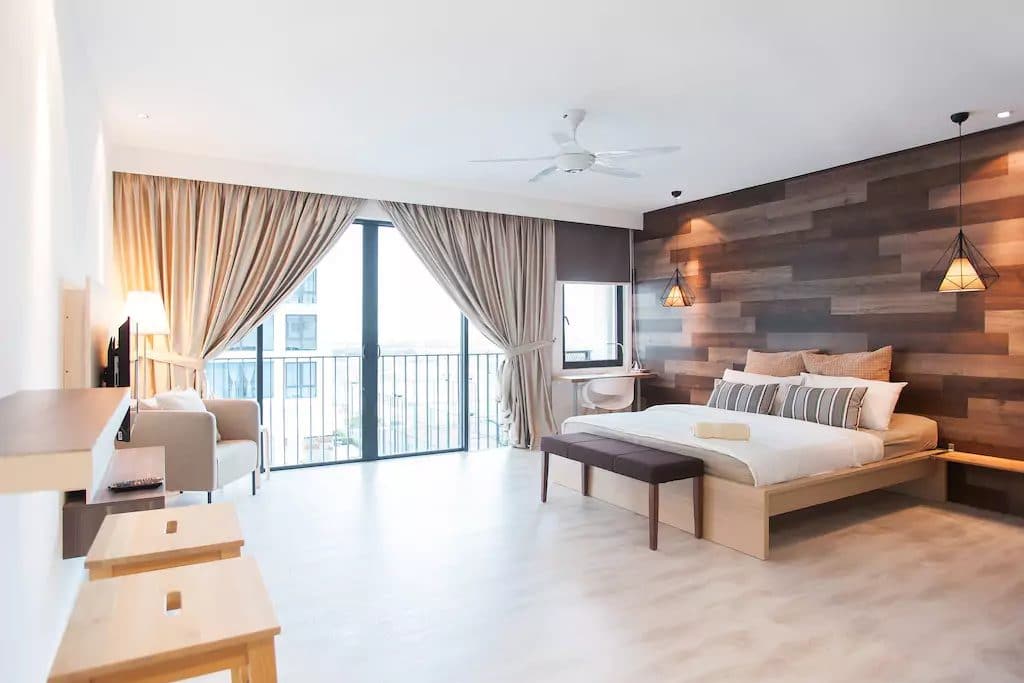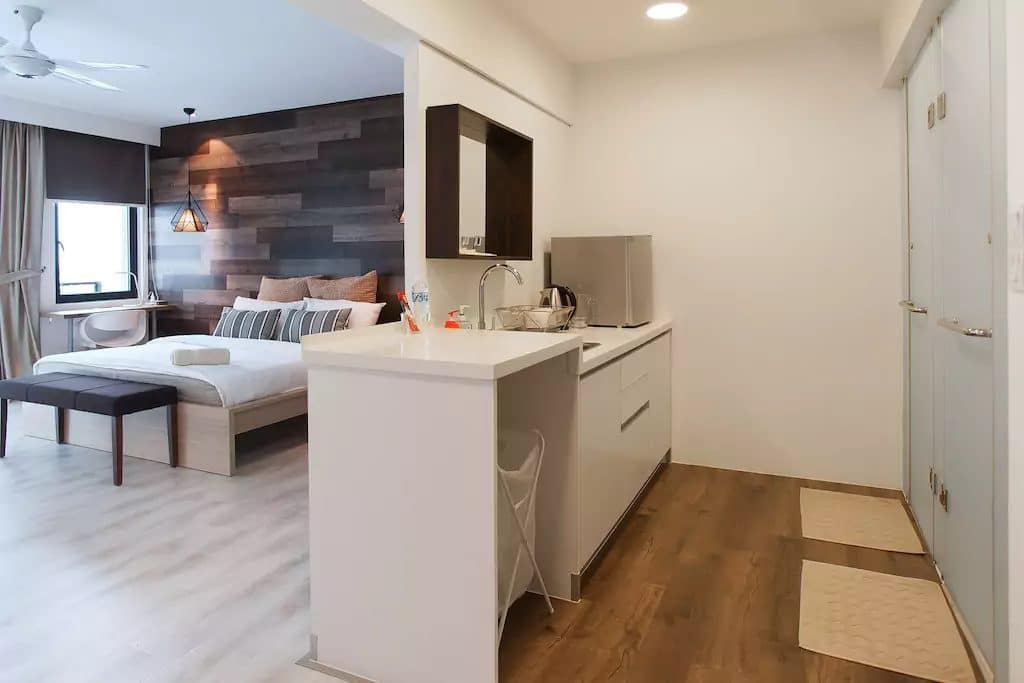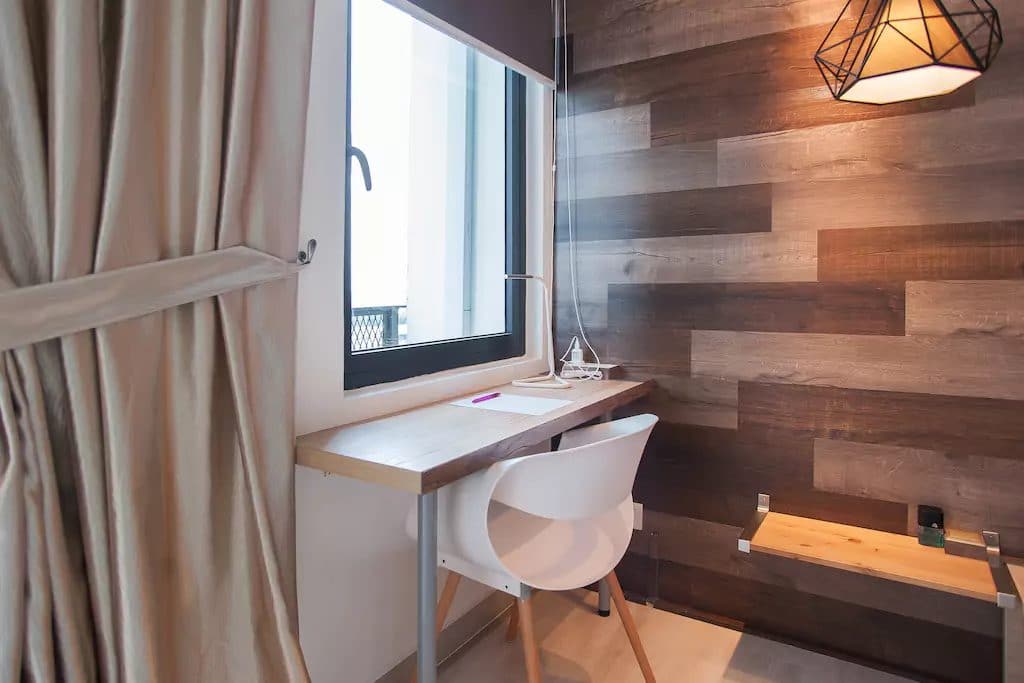 This condo interior design is loaded with artsy decor (we love the hanging bicycle), colourful schemes, and eclectic visuals. The result is a rustic and comfortable home.
Additionally, the exposed brick wall creates a nice texture contrast too. While oceans of empty spaces and large windows drench the home with airiness.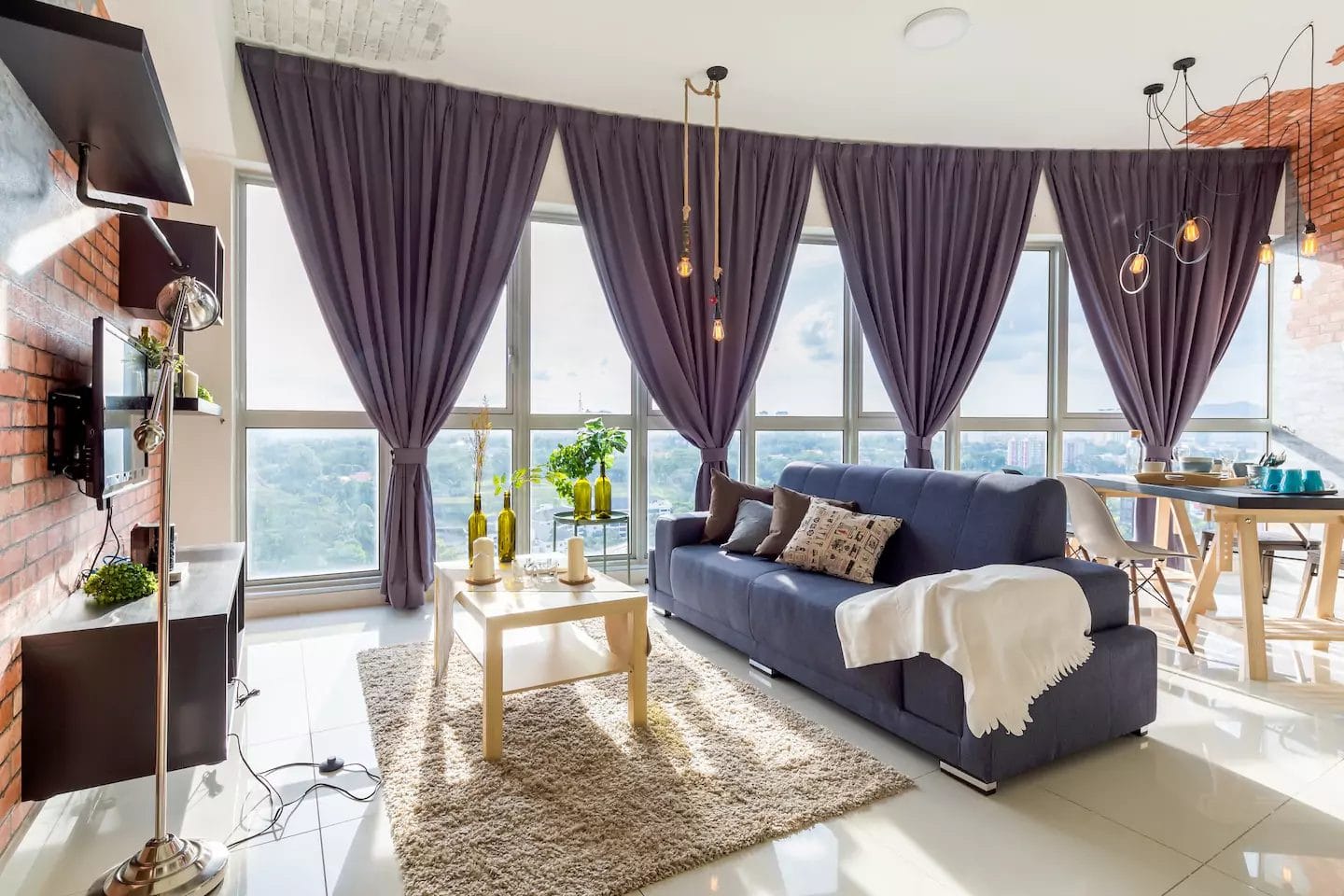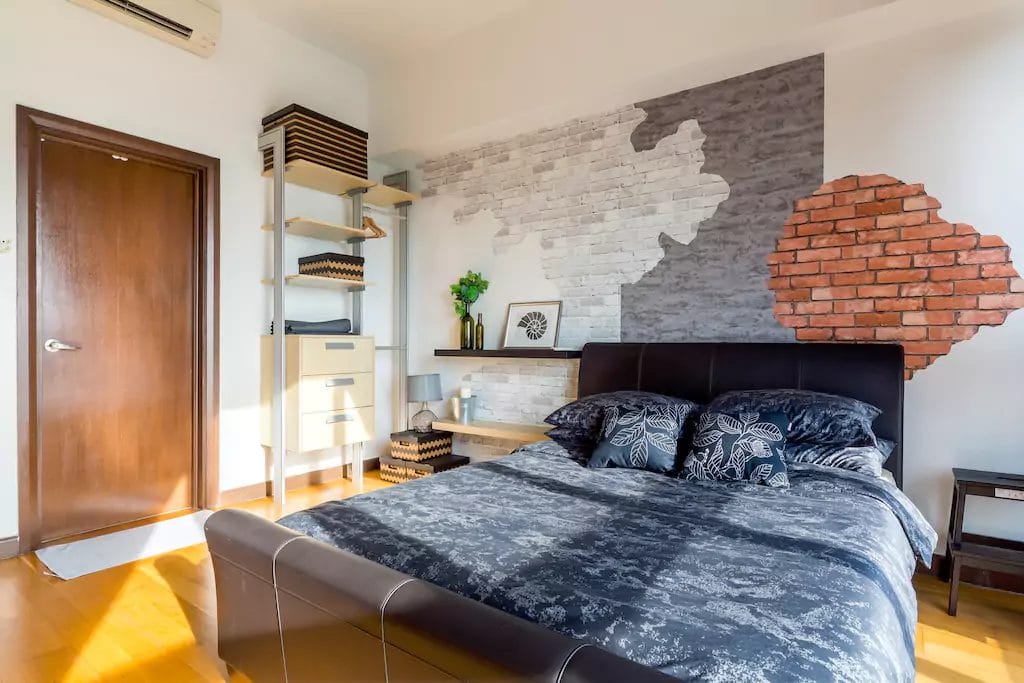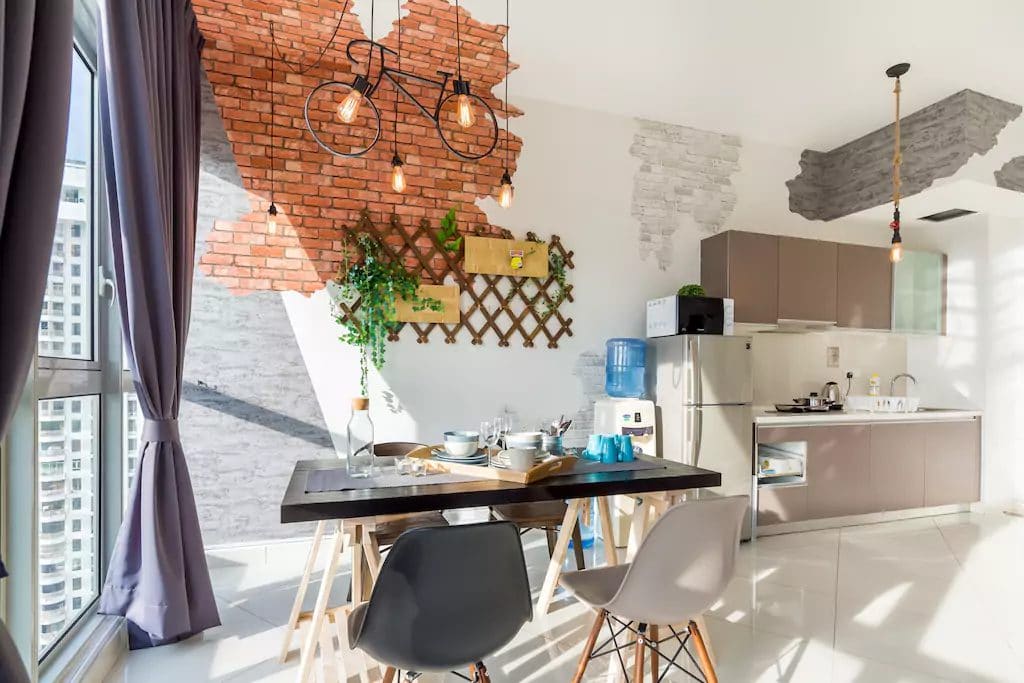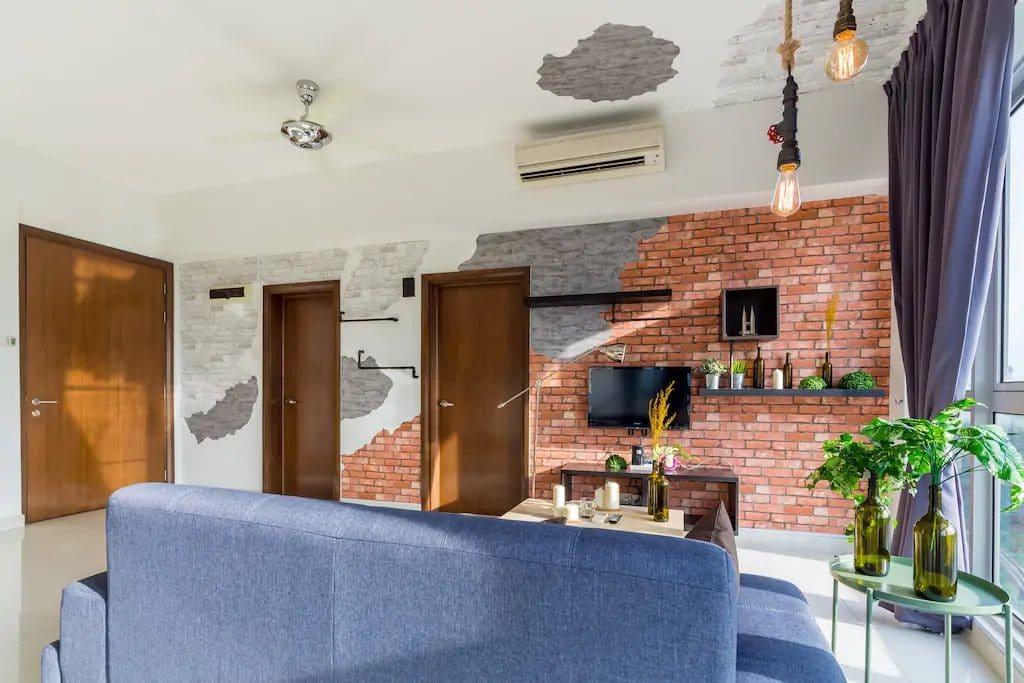 The Gatherings Place, Melaka
There's something zen about this apartment interior design. Wooden accents, neutral colours and minimalistic decors combine to make this home a cosy magnet.
Also, the photo frames on the wall is an easy way to a statement point without spending heavily on painting, wallpapers, or renovation.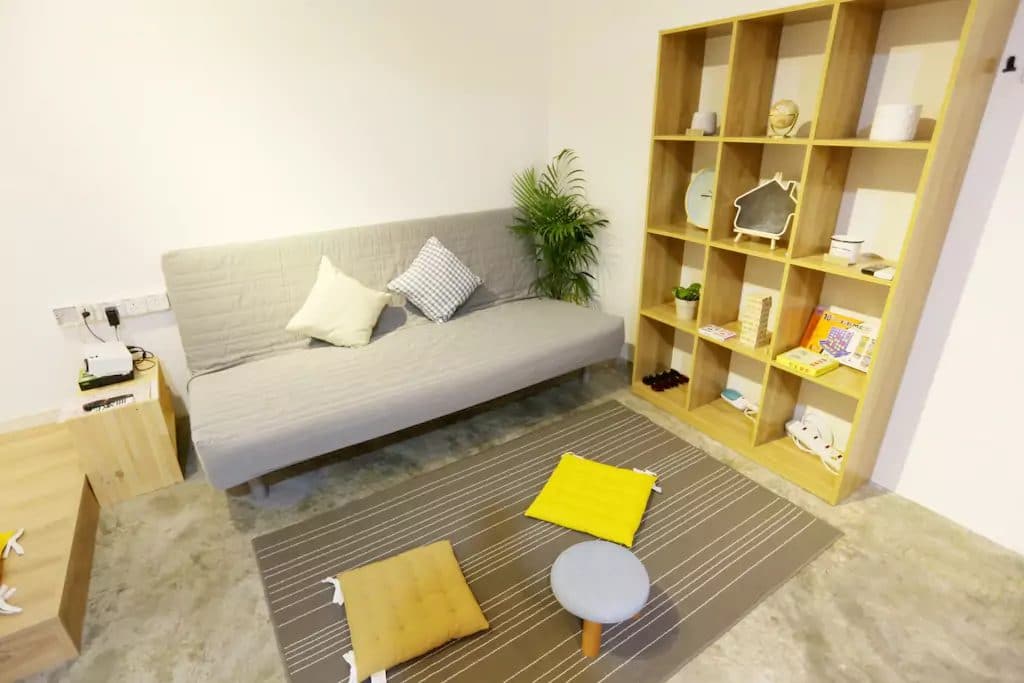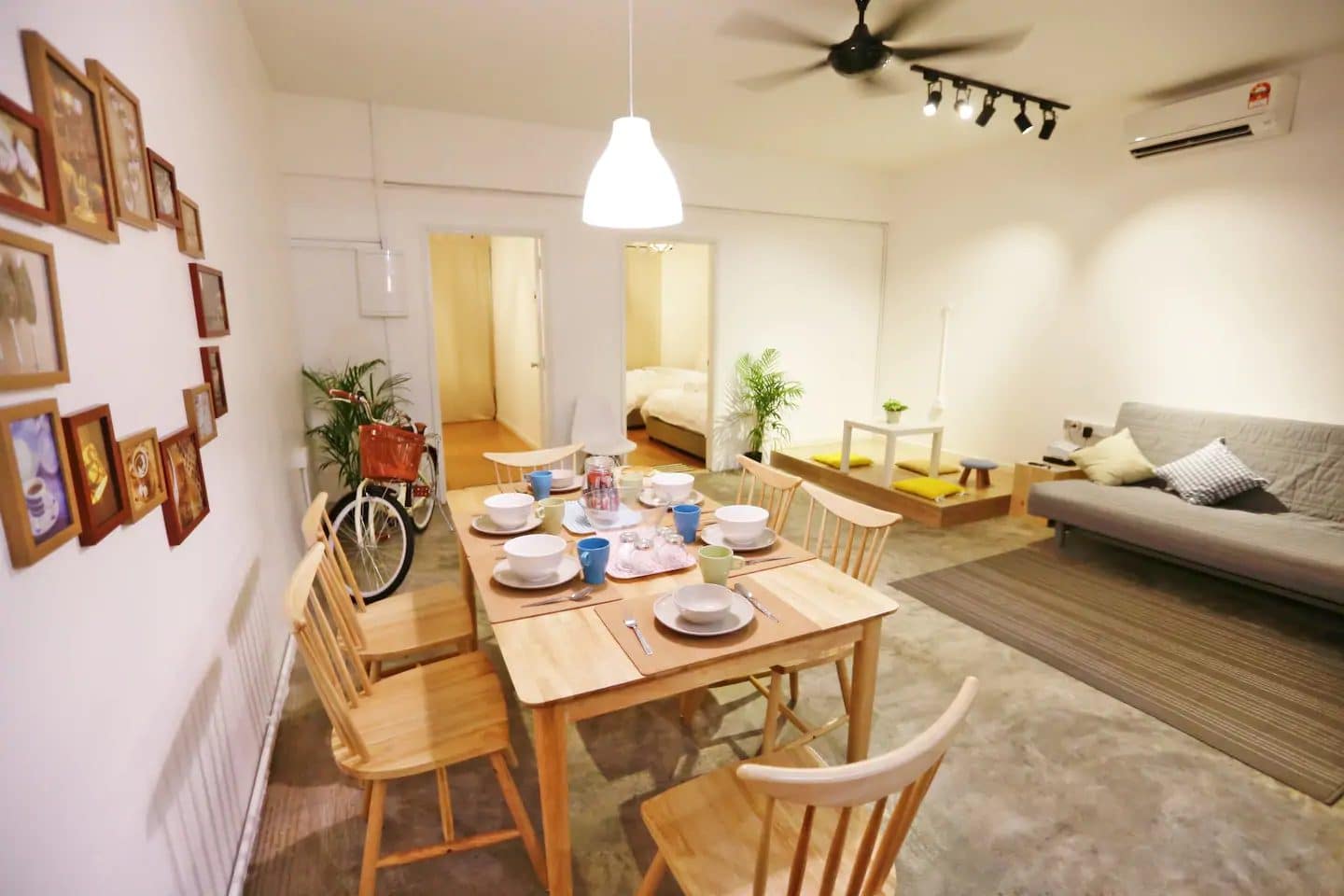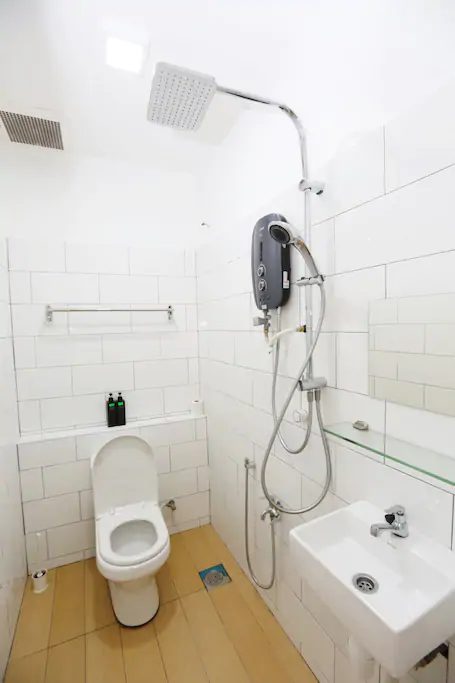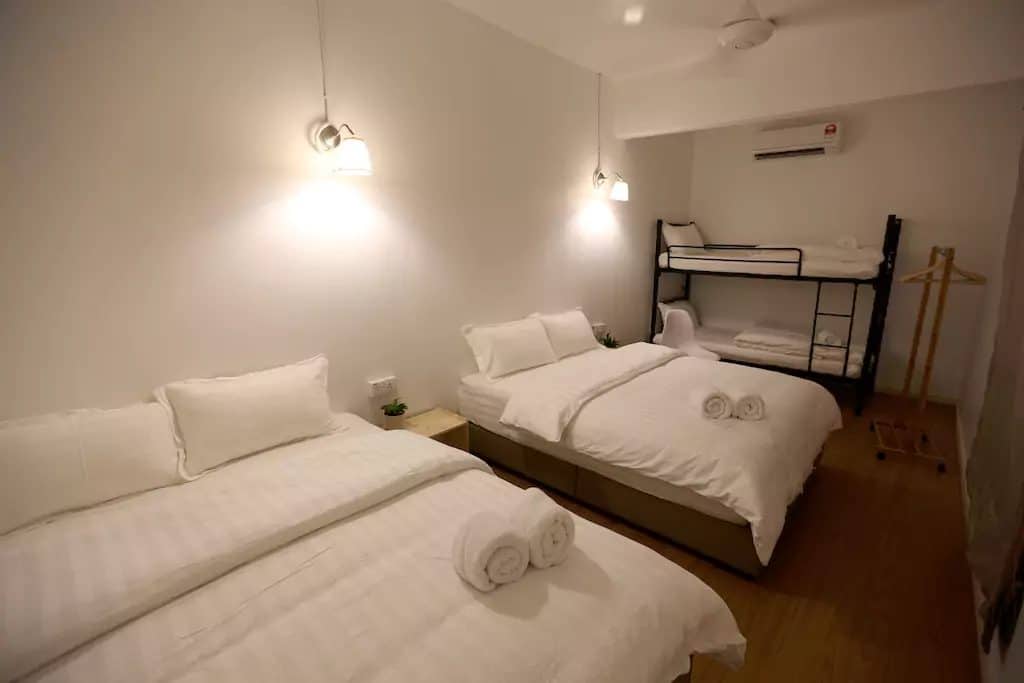 Backyard Rio Melaka, Melaka
This 3-storey vacation home is conveniently located close to various interest points like Jonker Street, Chinatown, and the Melaka River.
Inside, you'll find a cosy ambience with plenty of warmth; the sleek aesthetic is complemented by rustic elements and warm lights.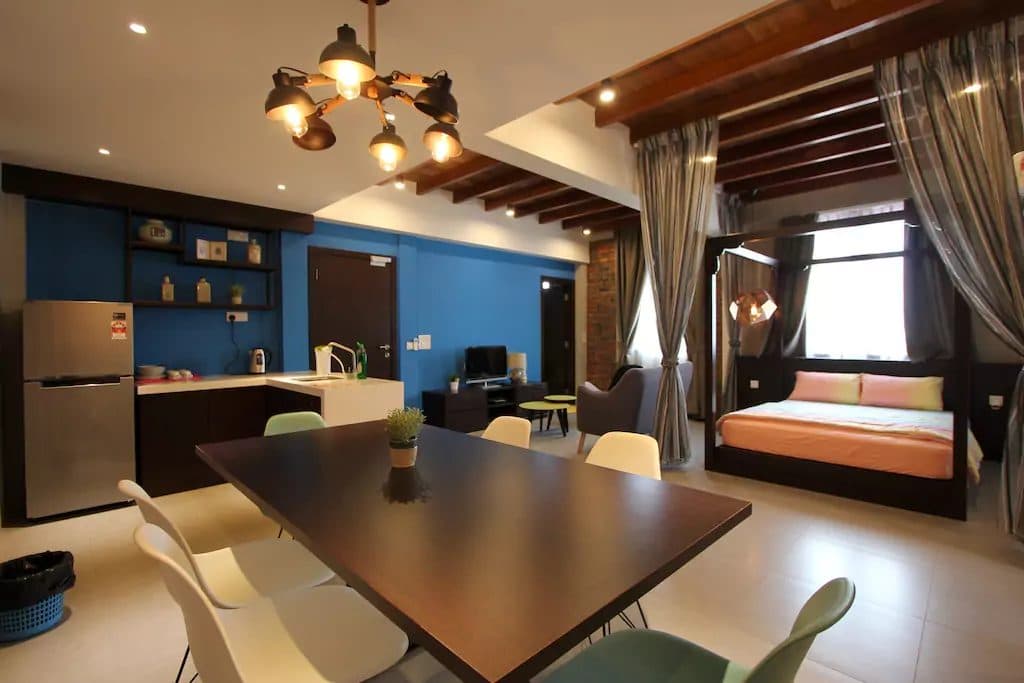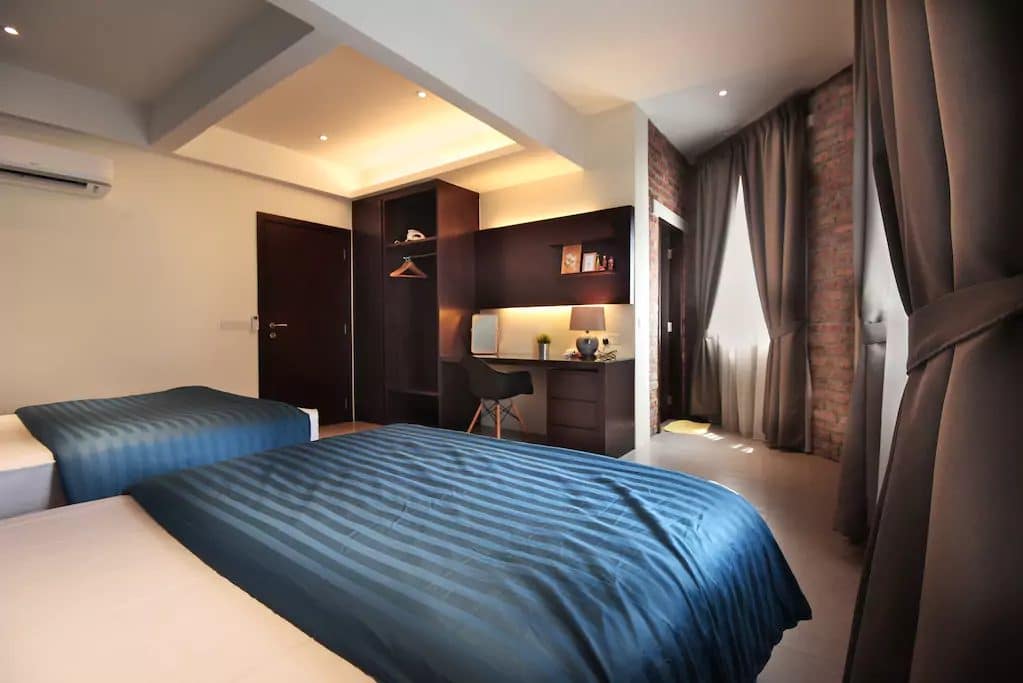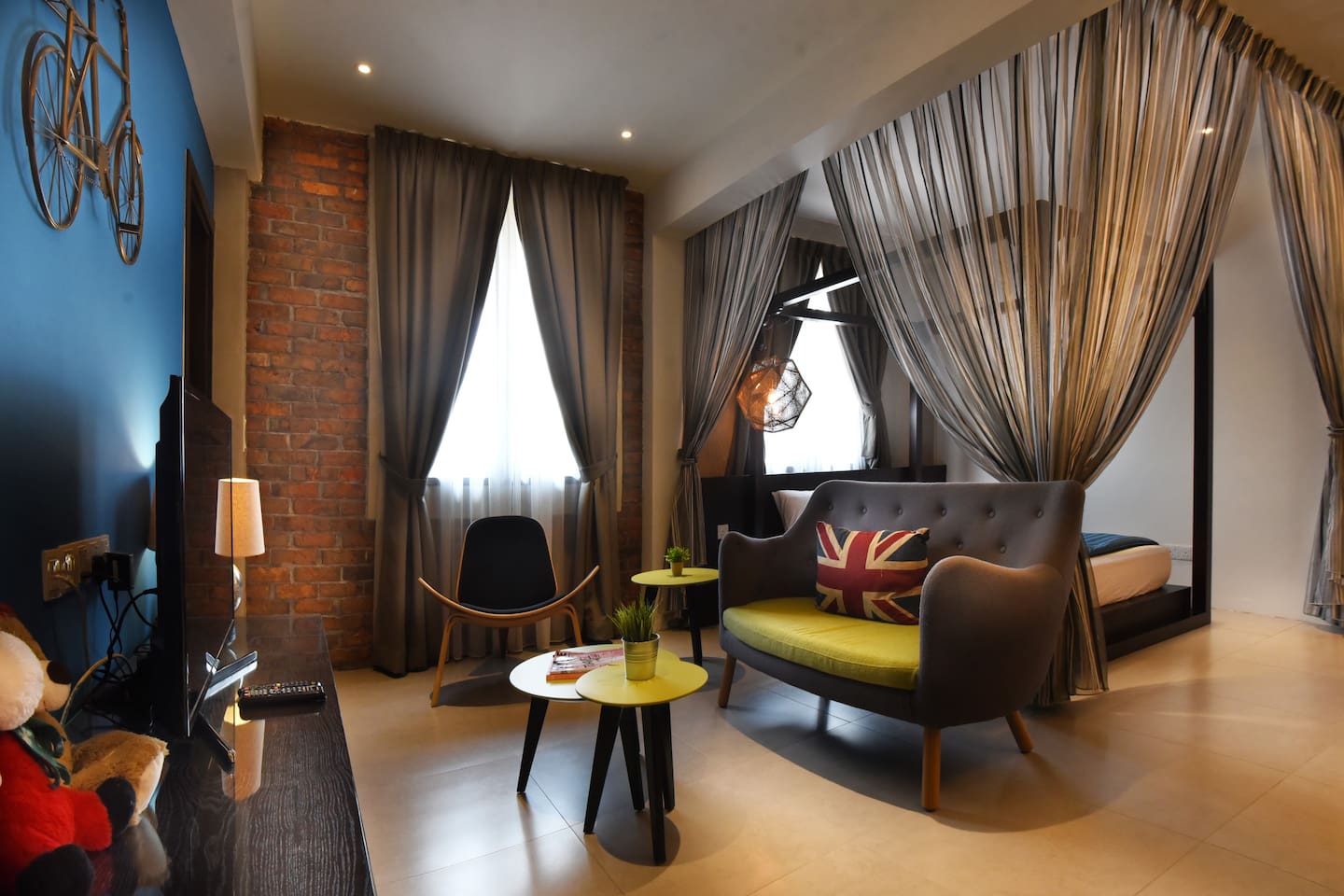 Rimba Hang Kasturi, Melaka
How often do you get to stay in a heritage building?
Despite the worn-out look of the building's facade, the interior has been refurbished and restored with doses of industrial design, with hints of old world structural charm.
Elements like exposed pipe beams and concrete give a brutalist look.  Meanwhile, the inner courtyard garden fills the space with vibrancy and awe.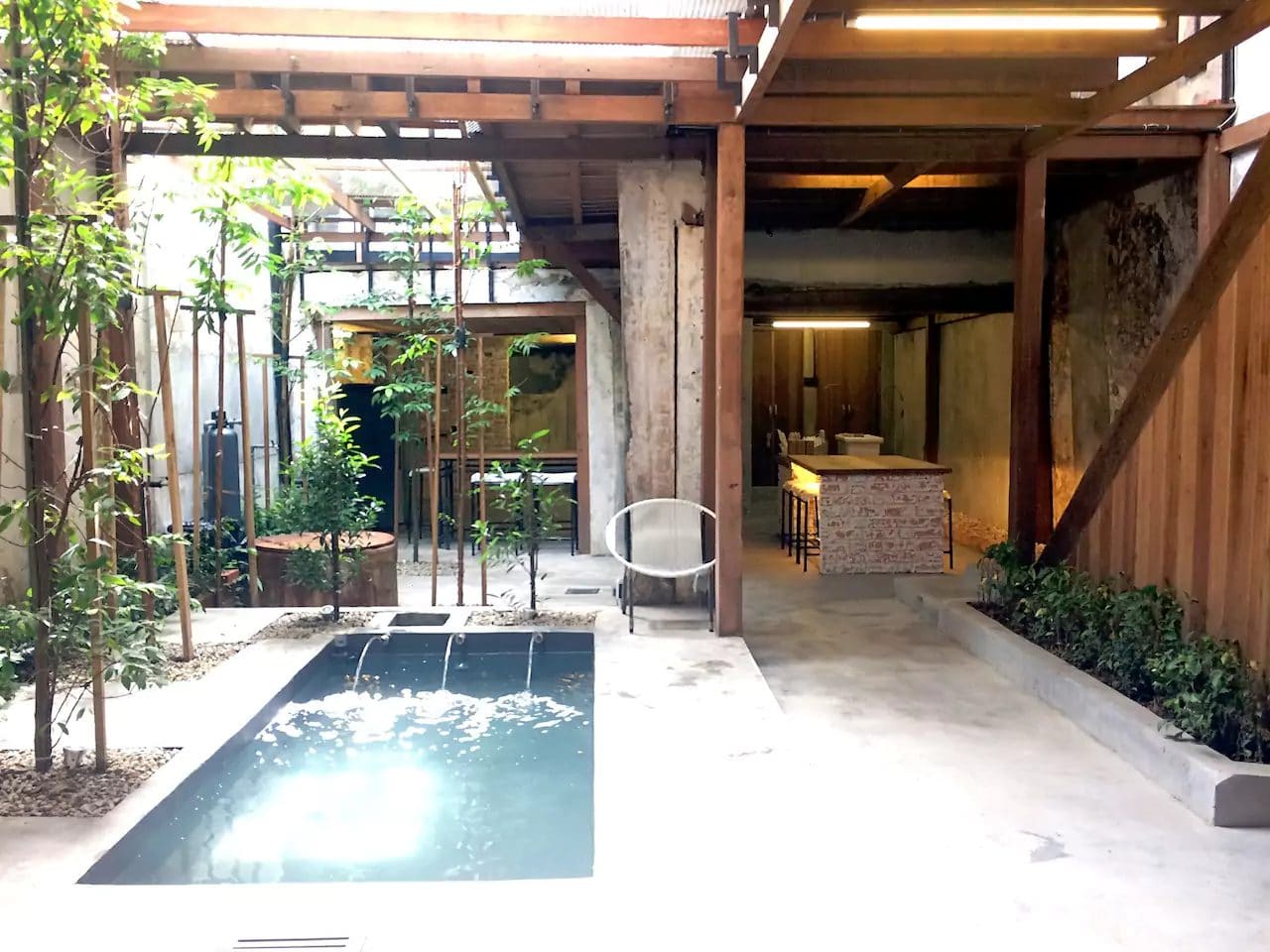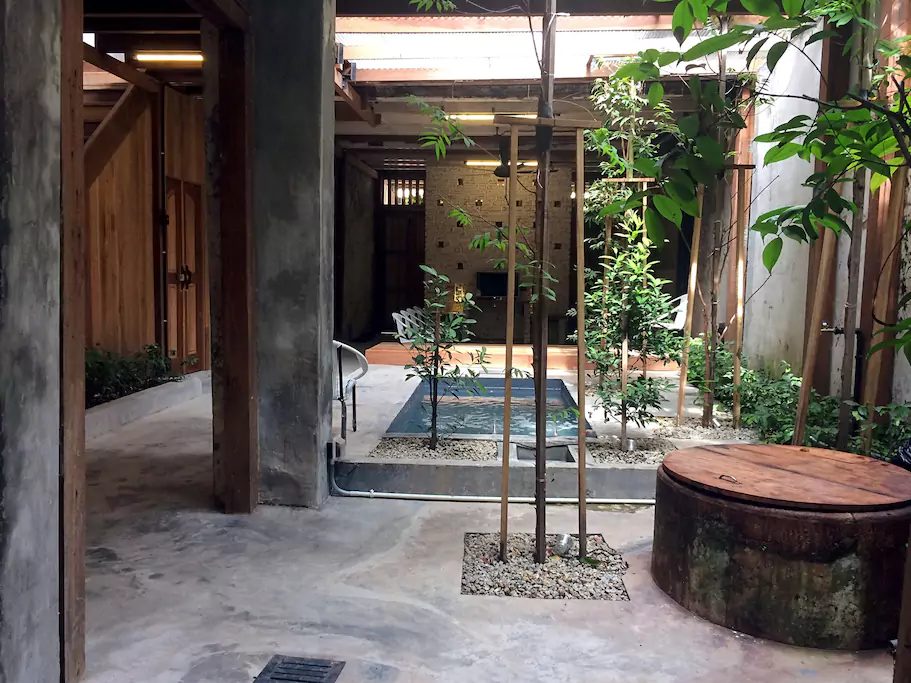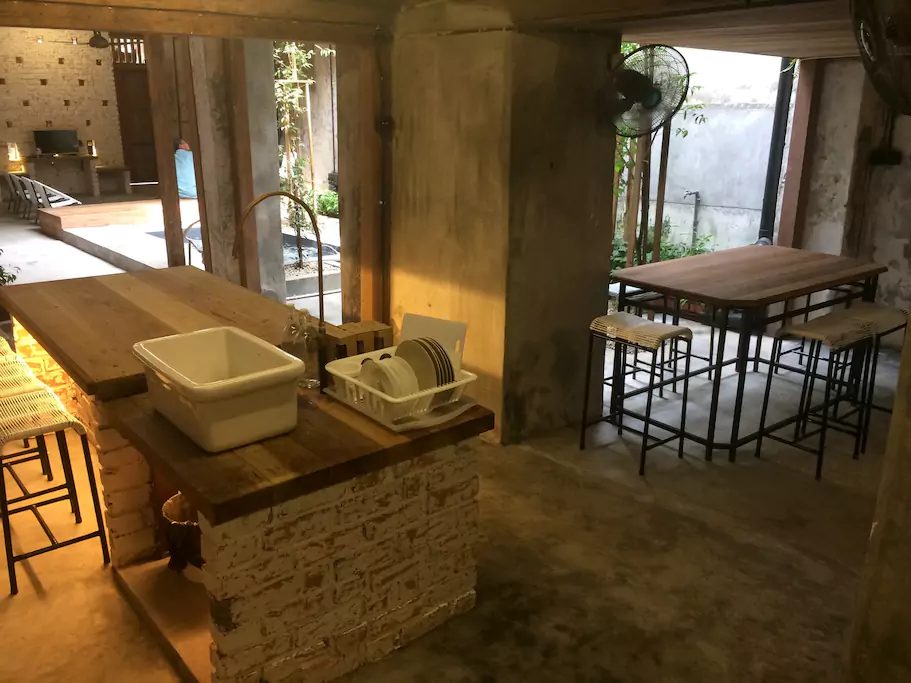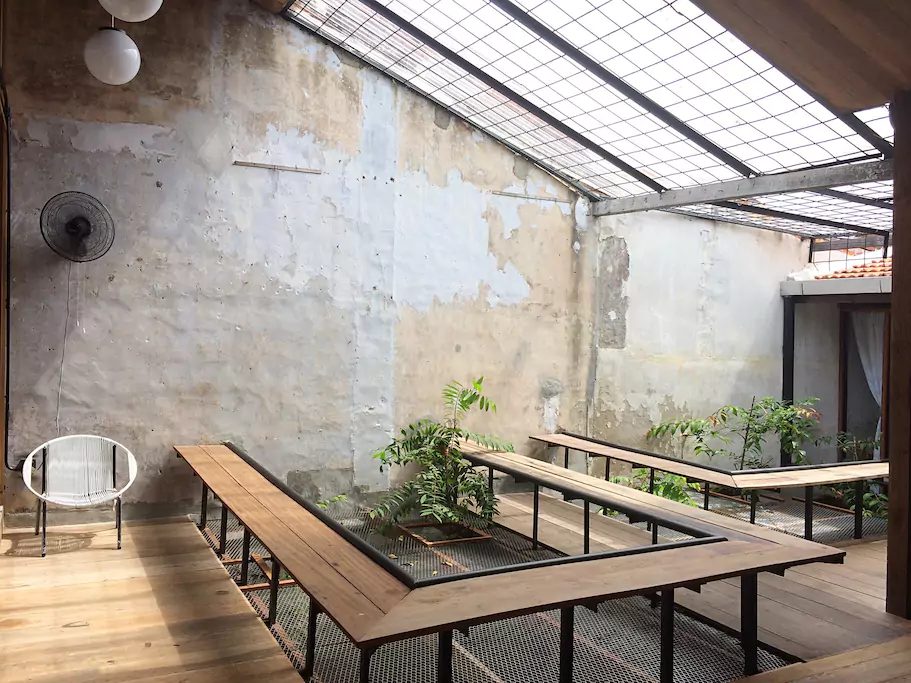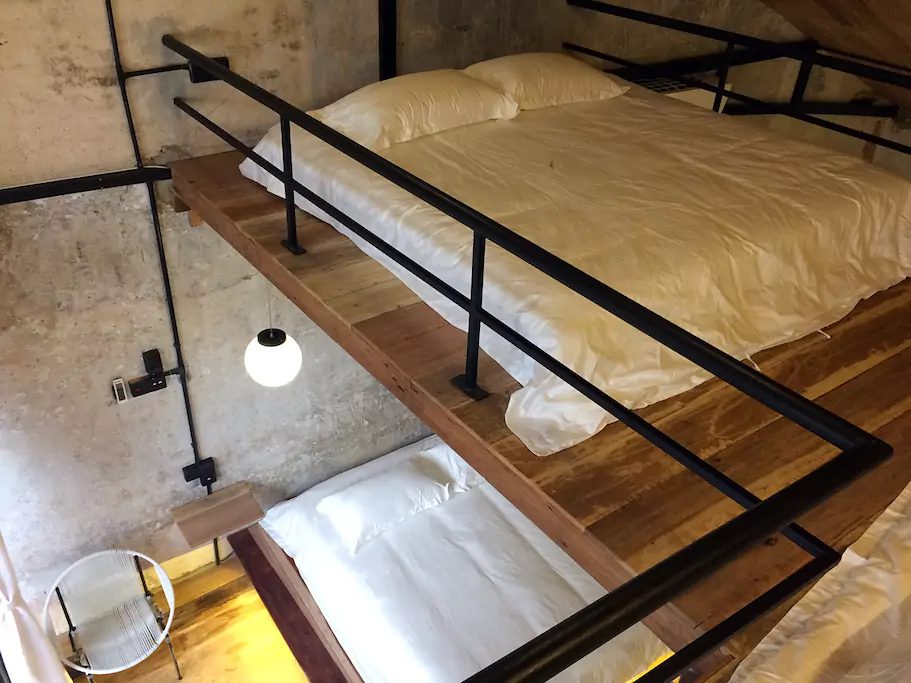 Roti Bakar Homestay, Penang
The Roti Bakar homestay is one of the private rooms-turned-homestays of a family home.
According to its Airbnb page, it's one of the "few remaining Shanghai plaster bungalows in town" that have a Straits Chinese-influenced architecture.
Nevertheless, the interior of the room has a nice cosy vibe, with a wooden partition in-between the room for a little privacy. In addition to that, there's also an inner courtyard garden to add a bit of calmness.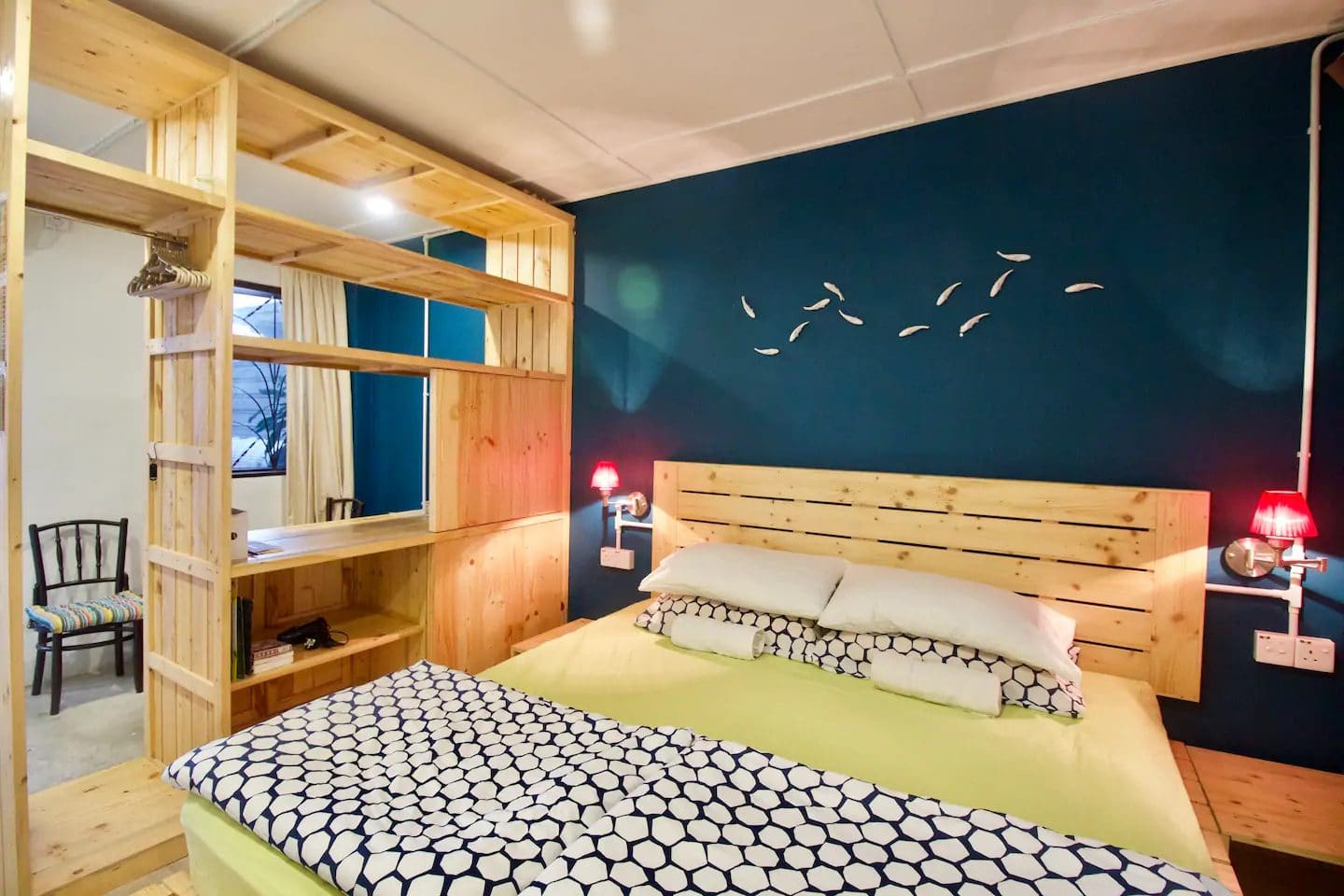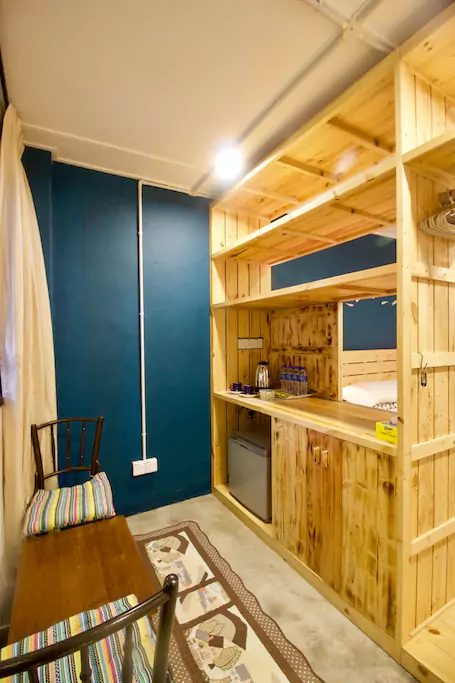 Straits Garden Suites, Penang
This condo interior design looks incredibly stylish, thanks to strong hints of burgundy and a streamlined design. The bold colour selection and glossy surface combine to add a visual punch all around. Plus, the home also offers a panoramic view of the sea and George Town.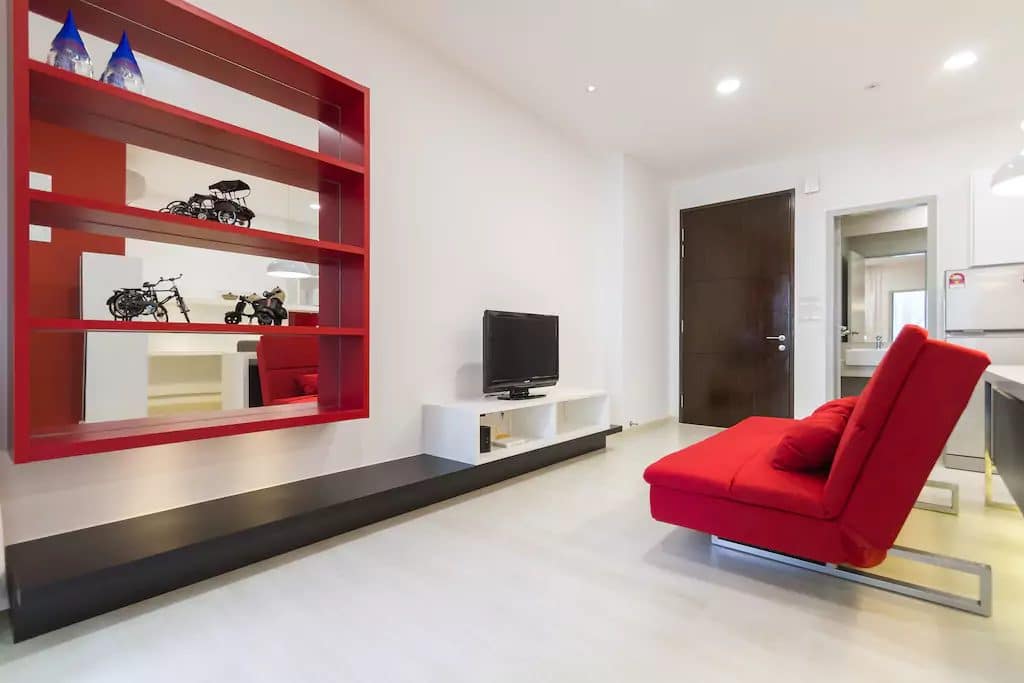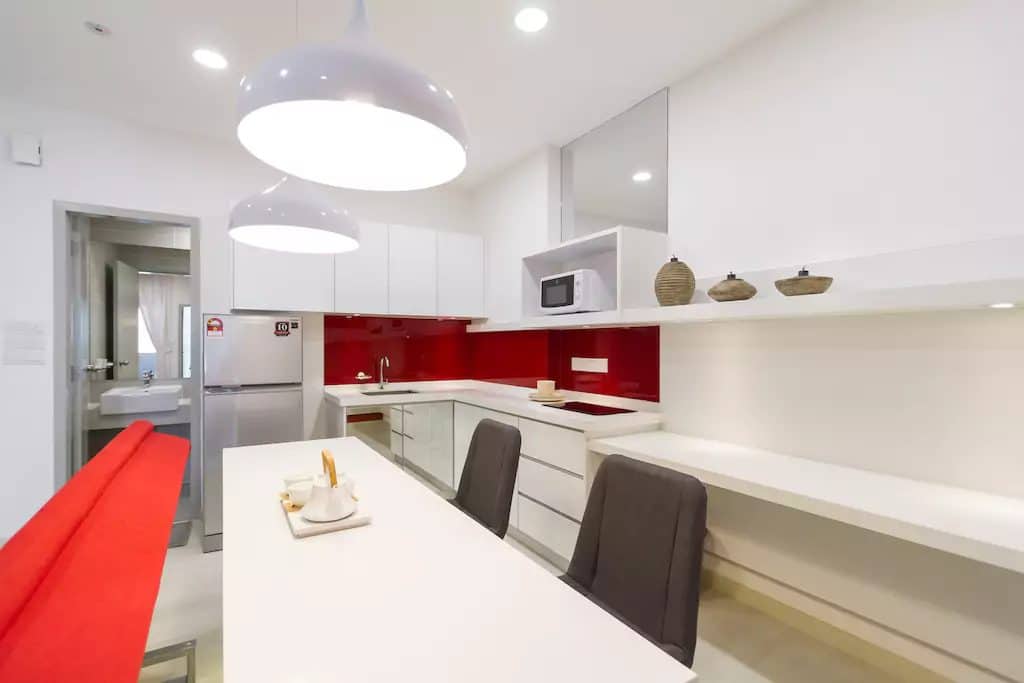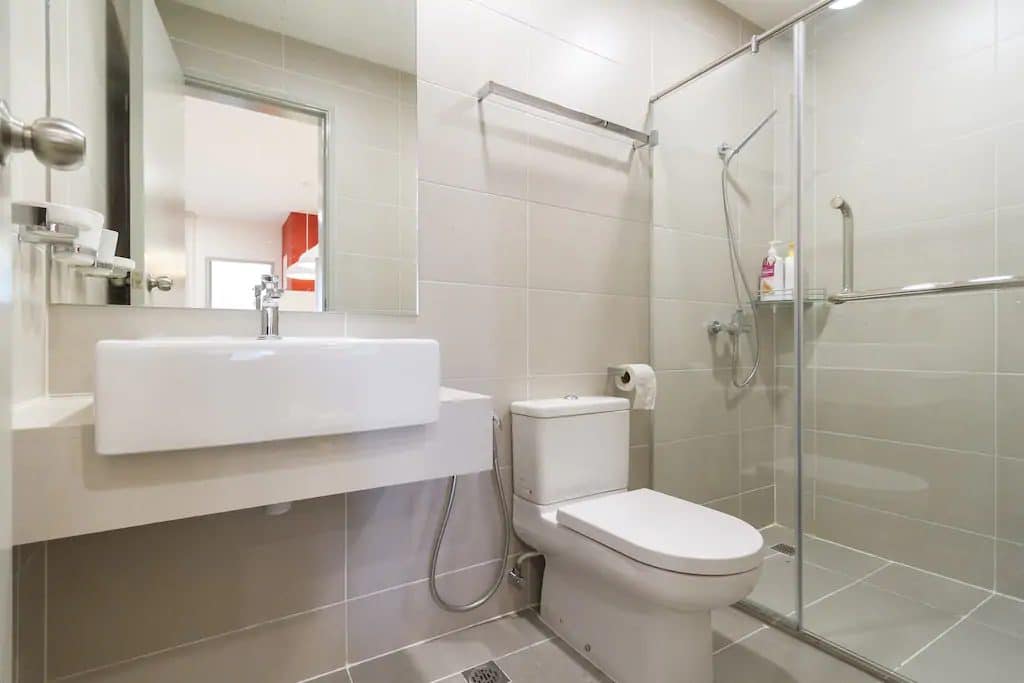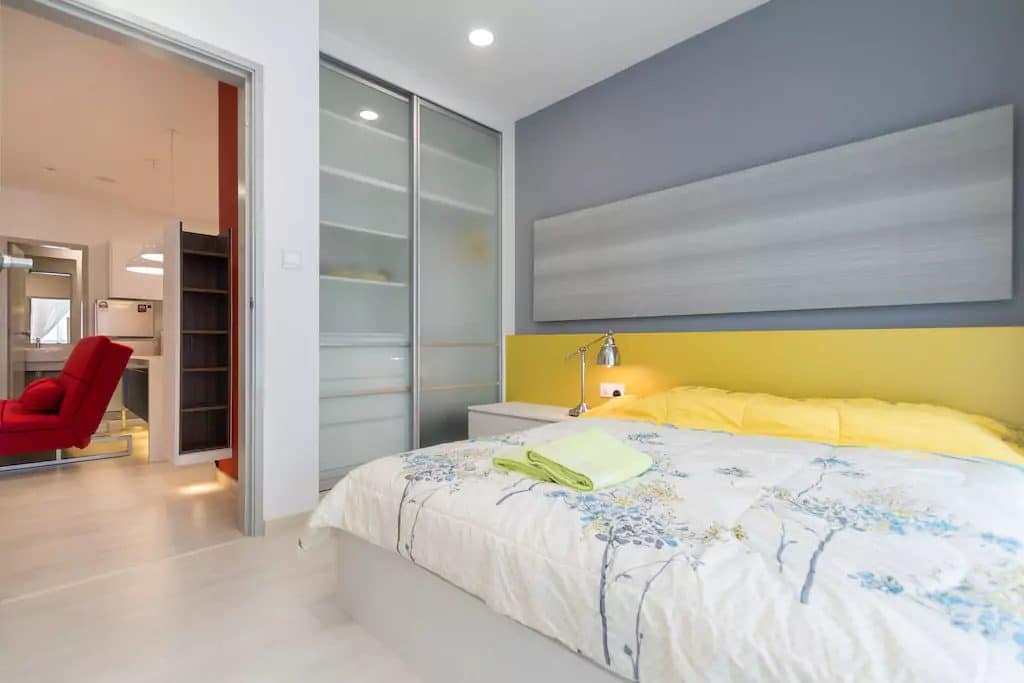 So, what are the key takeaways from these designs?
1) Keep things sleek, simple, and uncluttered: When it comes to interior design, space planning is key.
Proper space planning will result in efficient use of space and helps to remove unnecessary clutter. This is especially useful if your home is small. An added bonus is that this makes cleaning easier!
2) Use a neutral colour palette: You don't need to dominate your home with colours left and right.
Instead, go for neutral colours like grey, white, and beige. They exude calmness, are easier to maintain, and have a more "neutral" appeal. Add bold colours for more visual contrast.
3) Emphasize functionality: Most of these homes have an open-concept layout. Why?
Because it makes space functional, convenient, and purposeful. The entire space becomes a multi-functional hub for cooking, entertainment, and socialising.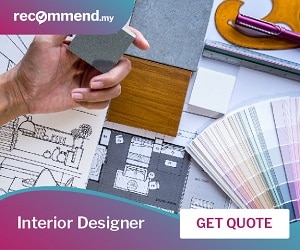 4) Create a cosy home:  Make sure your home has plenty of natural light flowing through. And don't forget to install lots of indoor lights, especially in the kitchen area.
The materials that you use is important too. Generally, it's best to use natural materials like wood and exposed bricks as they give a warm and rustic vibe.
5) Add a personal touch: We know everything we've mentioned up to this point is about playing safe, but no one wants their home to be the same carbon copy as others. After all, your home says a lot about your personality.
Maybe you think neutral colours are too dull. That's ok, saturate your home with bright pops of colour to add more life. Want to design a superhero-themed listing? Go crazy!
While most designs are catered to the majority, remember, the main charm of Airbnb is to provide a personal experience to your guests.
If your space is interesting enough, there's definitely nothing stopping guests from staying and turning your space into an Instagrammable place!
Need interior designers according to your budget and style?
We hope these designs will help you out. In the meantime, if you need help from interior designers for your Airbnb unit, we're always happy to connect you with some of the best ID firms in Malaysia.
Here's one of our previous works: SoHo Unit in 3Towers Jalan Ampang
Receive free quotes from designers when you submit your requirements on Recommend.my – Malaysia's #1 home improvement site. Your projects are also insured for up to RM100,000 via Allianz Malaysia (terms apply).
Want to design your empty unit for Airbnb/Rental?
Simply tell us your preferred design style along with your home's floor plan for our designers to give you quotation.