Do a search online and it's easy to find videos of snatch thefts and break-ins happening in landed homes in Malaysia.
Nobody wants their home to get hit by crime. As a result, many homeowners are investing in security systems such as wireless CCTV cameras and home alarm system in hopes that the sight of a home CCTV camera outside and inside the home will deter burglars from attempting a break-in. It can also be used to capture video evidence of theft for insurance purposes.
In fact, according to a recent survey, crime and violence was the top concern of Malaysians, followed by inflation and cost of living. In fact, a crime can happen in just seconds. So it's no wonder that you will find more and more people installing surveillance cameras at home.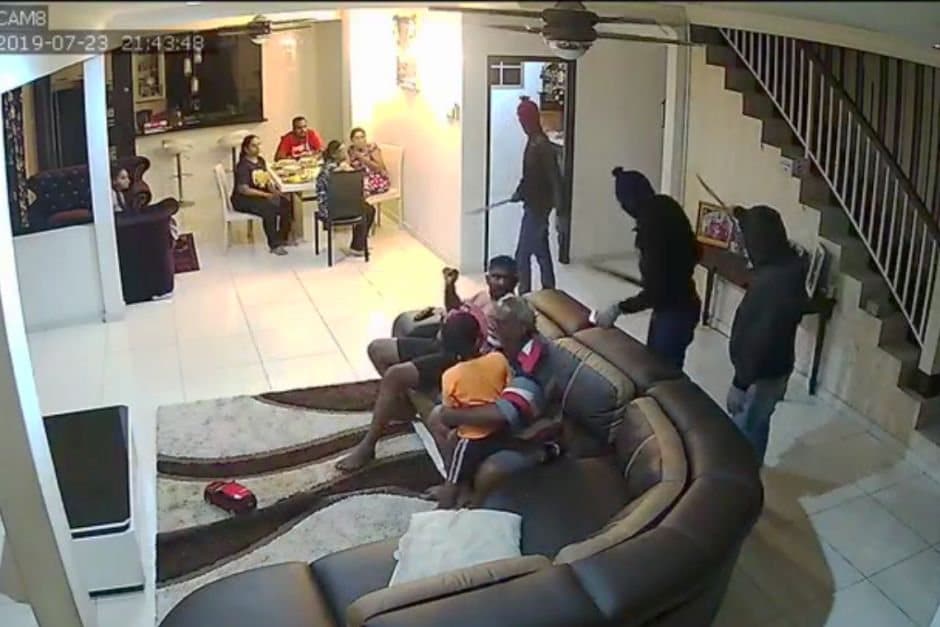 But, with a huge range of home surveillance solutions in the market, how do you know what type of CCTV cameras to get? We will break it down for you.
Talk to our CCTV specialists
Firstly, how does home CCTV work?
A home CCTV solution is basically a set of cameras placed all over your home. The cameras capture footage and record it, or send it to a recording device.
CCTV has been around for decades. Older CCTV cameras are analog, meaning they don't create any digital video files like MP4. Similar to how Malaysia has moved from analog to digital TV, CCTV solutions have also moved to record digital video files. However, analogue cameras are still cheaper to install and will work just fine, as the video footage can be converted to digital using a digital video recorder (DVR).
It's worth noting that most people refer to home security cameras as "CCTV", but that term is a bit misleading. CCTV stands for "closed-circuit television", but many solutions these days are no longer "closed-circuit", since they can connect to the Internet.
And with the Internet, home CCTV solutions continue to get more advanced. For example, wireless CCTV cameras just need a power cable to start working; Internet-enabled cameras (also known as cloud cameras) let you view the camera feed in real-time using your mobile phone. You can also trigger recordings based on movement or zones in your house, or even use facial-recognition software to turn on the lights according to each user's preferences when they enter the room.
Read more: 12 simple ways to stop house thieves in Malaysia
But, the most important reason to get a CCTV in Malaysia has always been for security.
A home CCTV solution together with a home alarm system helps deter crime and break-ins, keeping your home and your family safe.
A basic home CCTV setup without the advanced features above is relatively affordable. Even so, it's important to understand how different CCTV features impact the price.
Key factors to consider when buying a surveillance camera system for your home
Before deciding on a home surveillance system, here are the key factors that will influence the price and complexity:
Where will you place the cameras?
How are you going to power them?
Where will you store the recorded videos?
How will you access the surveillance footage?
Location: Where do you want to install your CCTV cameras?
The most common areas to monitor are your front door, sliding door, front porch and side garden (if you have one). These are the most common points of break-ins.
Inside the house, you may want to monitor your kids with your domestic helper, or keep an eye on a sleeping baby. Rooms may include the living room, the dining room and the baby room. A point to note: some cameras come with advanced features that allow the camera to be automatically switched off when the room is occupied by room owner. This is done using the Bluetooth feature on the owner's phone.
If you are going to install a CCTV outdoors, it must be weatherproof to withstand the sun and rain.
The location of the camera will also determine the resolution of the camera. For example, if you were to install a camera in the baby's room, you may not need a very high-resolution camera (but you may want a night-vision camera). But, if you want to monitor your front porch, and capture details such as car license plates, you will need a much higher-resolution camera.
Read more: Can you install CCTV in your Airbnb home?
Camera resolutions are normally expressed in megapixels, and today's industry-standard is 2.1 megapixels to capture 1080p video (also known as Full HD). Just for comparison, the latest iPhone 11 can capture videos in 8 megapixels, but such resolution is normally overkill for a CCTV camera.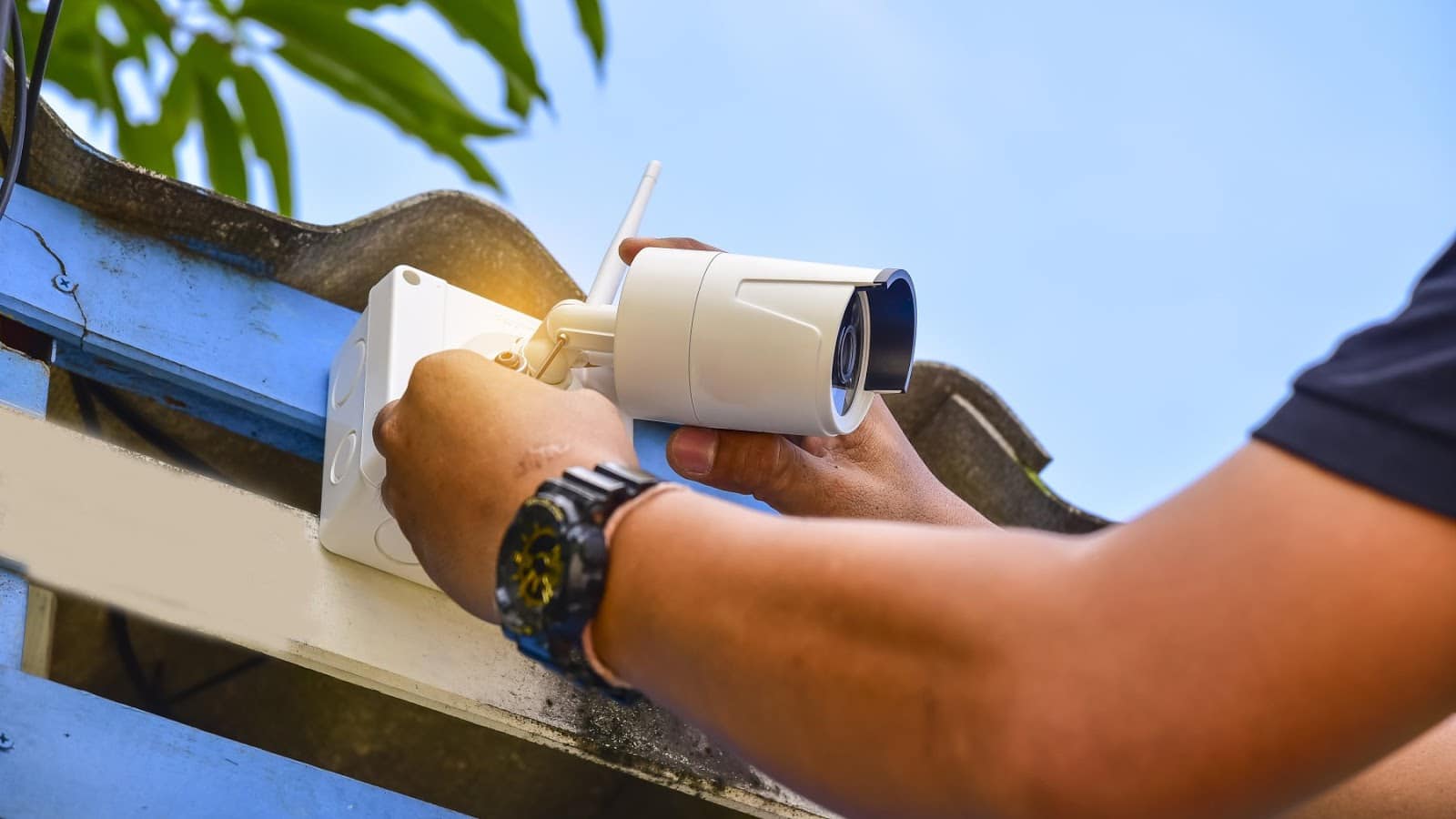 How are you going to power them?
All surveillance cameras need a power source. Even a wireless CCTV camera needs power. So, the options are to plug them into an AC power outlet, or to buy battery-powered CCTV cameras.
For AC-powered cameras, the challenge will be finding an outlet to plug it in, especially if you are going to mount your camera high up at the corner of your walls and ceiling. To avoid a mess of wires, consider asking a CCTV or Alarm specialist or electrician to do the installation for you. They can extend wiring from the nearest outlet, and hide it behind your plaster ceiling, or lay some trunking to conceal it.
Alternatively, you can also find battery-powered surveillance cameras on the market. These cameras don't need to be plugged in, so you can mount them anywhere, and even reposition them later.
The limitation of battery-powered CCTV cameras is that they need to be recharged (or have its batteries replaced) every few months. Some models claim to last for 6 months.
Another limitation is that you will not be able to do a continuous 24-hr recording with battery-powered cameras. They will only be capable of recording when activated, for example by a button, or when it detects movement. That's why, such cameras are more useful as doorbell cameras, or mounted in places with very little human traffic, such as your backyard or side garden.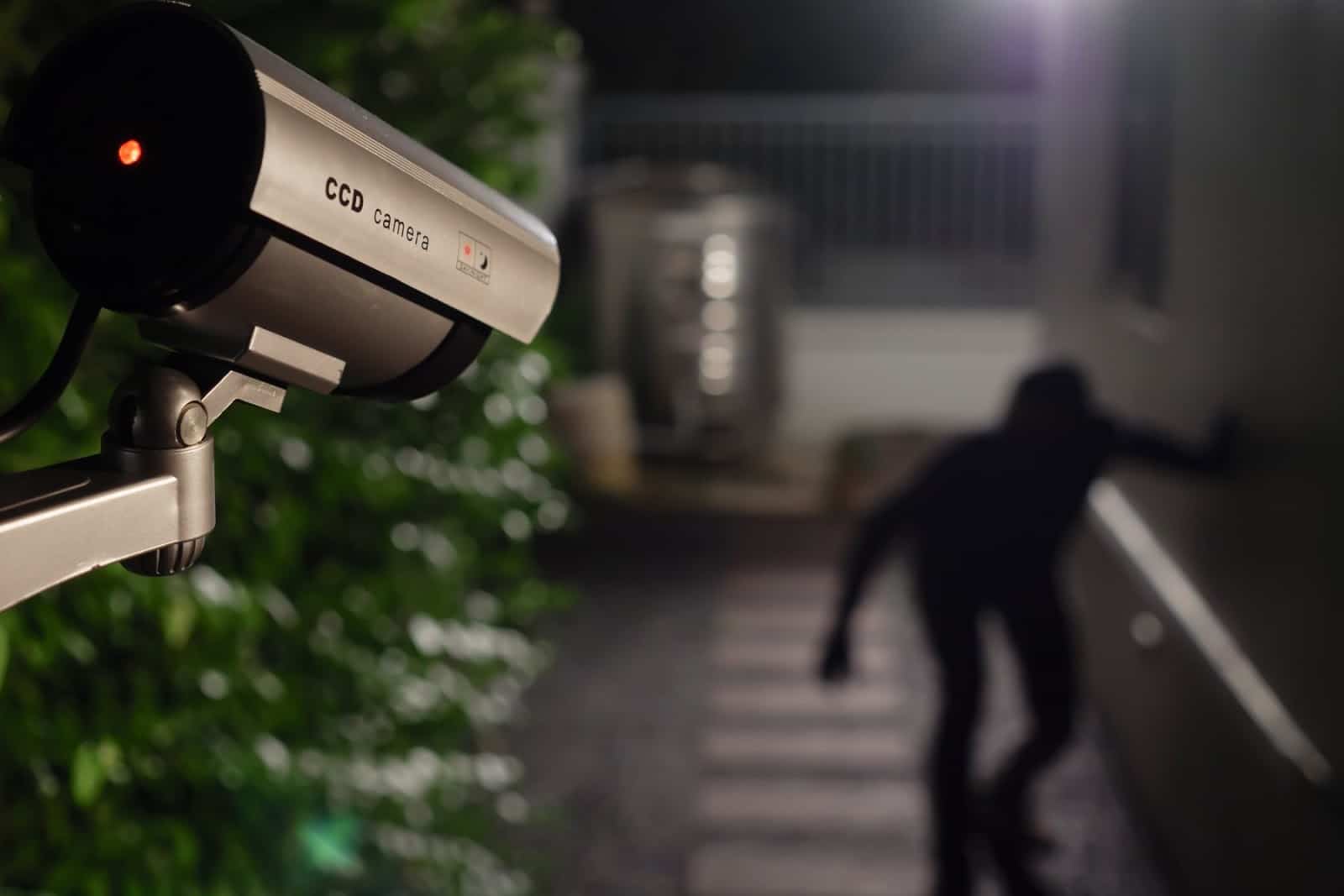 Where will you store the footage?
Modern surveillance cameras store all recorded footage digitally in one of three places.
Option 1: Store all footage in a digital video recorder (DVR). A DVR is a device that contains a hard drive (usually around 1TB or more). In a DVR setup, your cameras can be analog (meaning that they are a bit like old film cameras, and don't create any digital video files). The cameras send the video to the DVR, which converts it into a video file such as MP4, and saves it. The benefit of using a hard drive is that you can store much more footage before disk space runs out.
Instead of using older analog cameras, you can also install digital cameras, also known as IP cameras. These are modern cameras that record digital video the same way as your mobile phone, and send it to a video recording device known as a network video recorder (NVR). Many IP cameras can also send the video to the NVR over your home WiFi. But, if you have many floors or thick walls in your home with weak WiFi coverage, it may not be possible to save the video properly.
Option 2: Store all footage on the camera itself. If you have an IP camera instead of analog camera,. It will probably have an SD card slot. Because an IP camera produces digital video files, you can just store all footage on the device itself, on a micro SD card.
But, depending on the size of the micro SD card, and the resolution of the video, the storage card may fill up in just a day or two. Even if you have a 64GB SD card, it may only be able to record 6 days worth of continuous video. Then, any new footage will overwrite the oldest footage. This method is recommended if you have fewer cameras.
Option 3: Store all footage on the Internet. Some brands of IP cameras provide cloud storage (may require a monthly subscription fee) to store your footage, so you don't need an NVR in your home.
Just like having a One Drive or iCloud account, all recorded footage is uploaded to your cloud storage account over through your home router, so you don't need additional cables.
The benefit is that all your footage can be stored for as long as you want, and you won't lose any of it. But, all this footage could eat up your home Internet connection, slowing down other services like Netflix or gaming.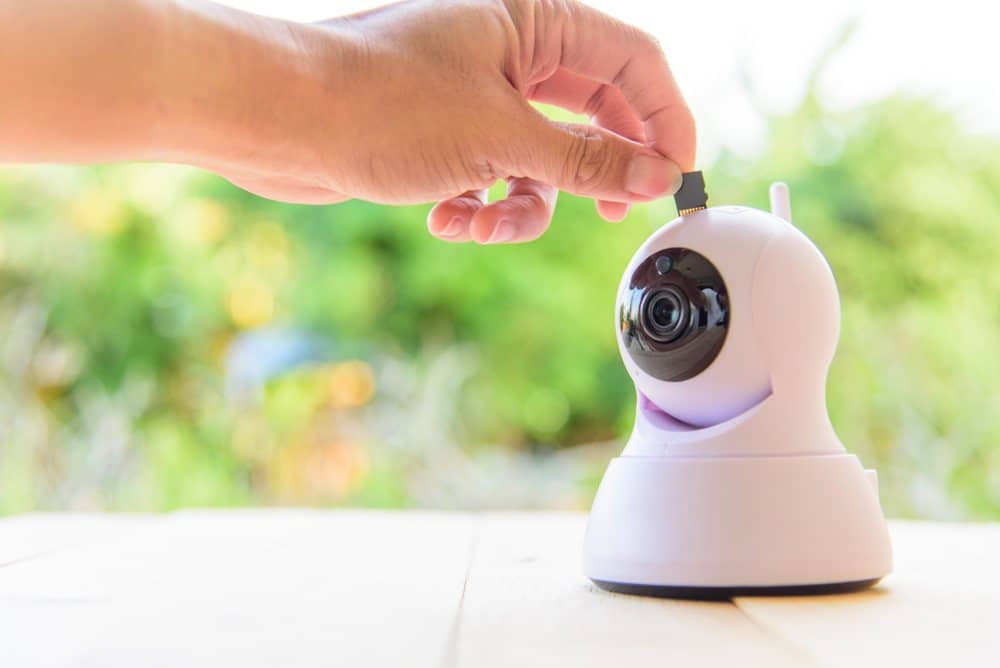 How will you access the surveillance footage?
How you access the footage will depend on where you stored it in the first place.
If you stored it on a DVR or NVR, you can plug in a monitor to the DVR or NVR. Or, you can plug the DVR or NVR into your home router, so that it can be accessed through your phone over the Internet.
If you stored it on an SD card on the IP camera itself, you can eject the SD card and view the contents on your laptop. Or, if you have a wireless IP camera, you can connect to it through your home WiFi network. When a camera is also Internet-enabled, you can connect it to your home router to view the recorded footage from anywhere.
When you access your IP cameras over the Internet, you also get live monitoring, which means that you can use your phone to view what your cameras are transmitting, in real-time, using a mobile app. You can also get alerts on your phone when the cameras are activated by movement. Even if you are on holiday overseas, you can get a live feed of your cameras whenever you want.
If you uploaded all footage to the cloud, then your provider will give you a login to their website to access your footage.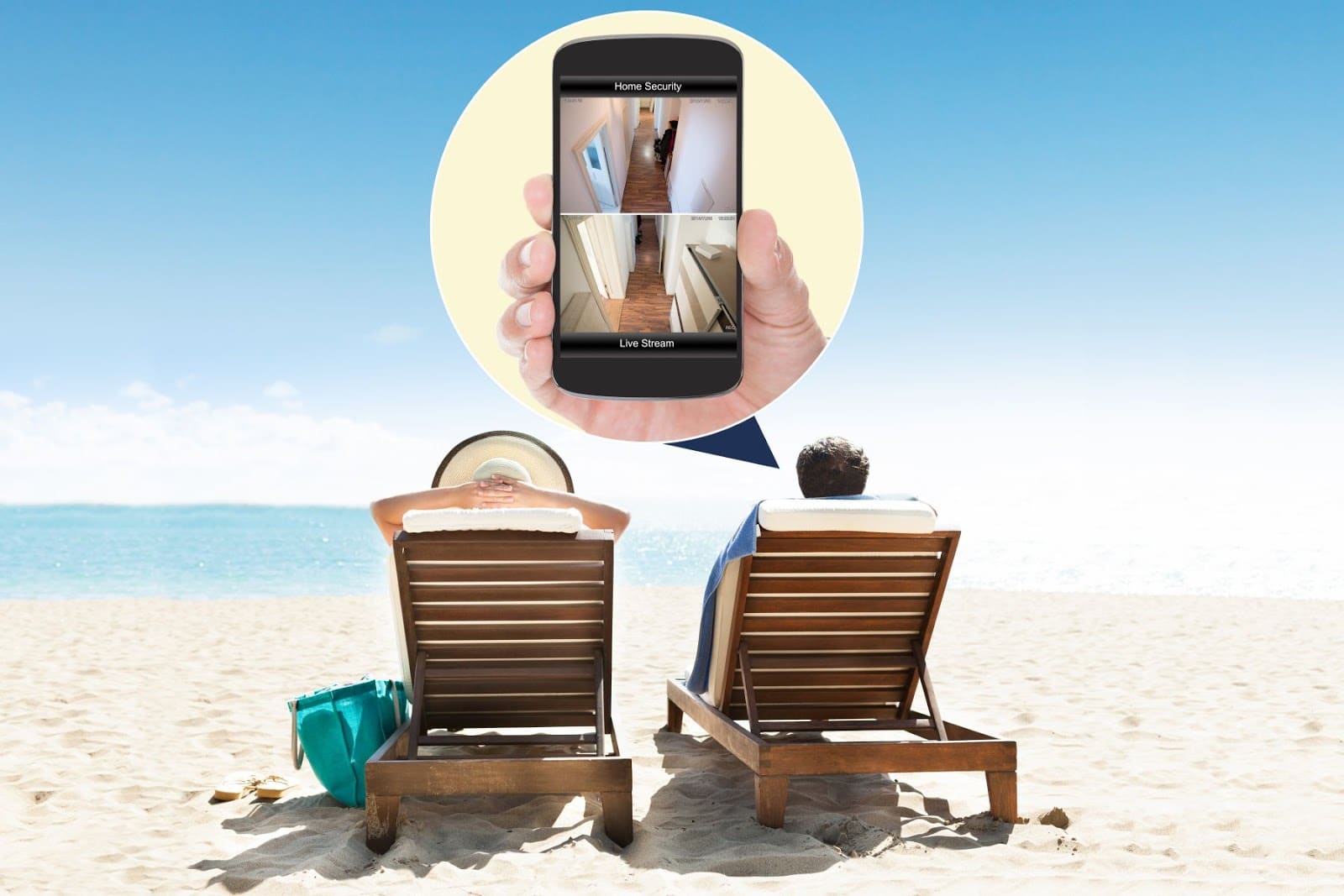 Home CCTV installation prices in Malaysia
Let's take a look at a few examples of home surveillance quotes from Malaysian CCTV solution providers, to help you understand what the different specifications mean:
Example A: Analog camera CCTV solution connected to a DVR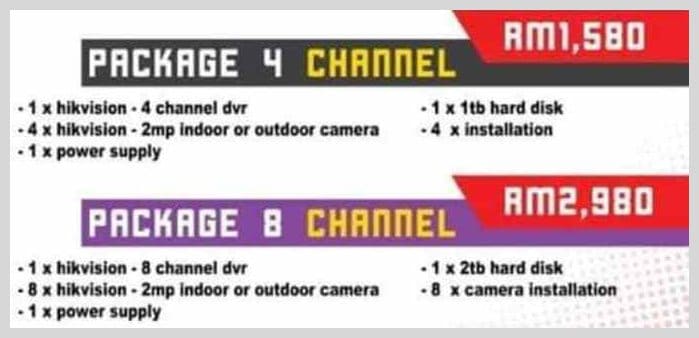 The RM1580 CCTV package provided by KNCY Smart Solutions above includes:
1 unit * HIkvision 4-channel DVR
4 units * 2MP indoor or outdoor cameras
1 unit * 1TB hard disk
1 * power supply
4 * installation
How to read this quote:
"4-channel DVR" means that the DVR can record a maximum of 4 cameras simultaneously. If you plan to get more cameras later, you will need the 8-channel or 16-channel DVR
"2MP" means 2 megapixels. This is also referred to as "FullHD". The video resolution is around 1080p, the equivalent of Blu-Ray quality. With a 1TB hard disk, you can probably record around 19 days of continuous footage in the DVR before it becomes full
As this is a DVR solution, we assume that the cameras are analog, and will need to be connected to the DVR using coaxial cables. Furthermore, each camera will need its own power supply
Example B: IP camera solution connected to an NVR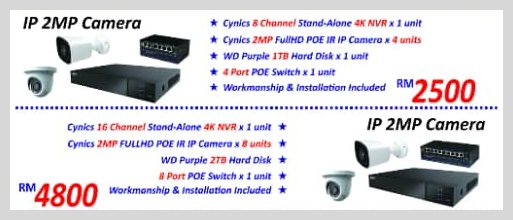 The RM2500 CCTV Installation quote provided by SOS Solution above includes:
1 unit * 8-channel stand-alone 4K NVR
4 units * 2MP FullHD POE IR IP camera
1 unit * WD Purple hard disk
1 unit * 4-port POE switch
Workmanship and installation
How to read this quote:
"8-channel NVR" means that the NVR can record a maximum of 8 camera feeds simultaneously
It's an NVR, so that means all the cameras are IP cameras, not analog
"Stand-alone" means that the entire system is not connected to the Internet. It also does not use your home WiFi. All the cameras will be wired up to the NVR using CAT-6 network cables
"4K NVR" means that the NVR can handle higher-resolution cameras above 2.1 megapixels. However, note that this package only includes 2.1-megapixel cameras
"POE IR IP camera"."POE" means power-over-ethernet. This means that the network cable connecting the NVR to the camera also powers it. This is the same as your mobile phone's USB cable used for charging as well as data transfer
"IR" means infrared, so it can record clear footage even at night (up to a certain distance)
"FullHD" is the equivalent of 1080p or 2.1 megapixels. With a 1TB hard drive, you can probably record around 19 days of continuous footage from 4 cameras before it becomes full
"4-port POE switch". This is the network switch where all the cameras (and the NVR) will plug into. It will need to be plugged into a power source as well
Based on the two quotes above, you can see that a 4-unit IP camera solution is almost RM1000 more expensive compared to a 4-unit analog camera solution. However, the benefit of the IP camera solution is that it can be expanded to 8 cameras later on without needing to replace any components.
How does this compare to buying a few CCTV cameras from the electronics store?
Looking at the CCTV prices above, you may be tempted to buy your own cameras from Lazada or Senheng, and set them up yourself.
For example, an equivalent 1080p wifi CCTV camera from D-Link costs around RM300 each. Buying 4 of these would cost a total of RM1200, right? But, don't forget you also need to buy storage cards for each camera and install each camera by yourself. You will also need a power outlet nearby each camera.
Another downside: All 4 cameras will transmit data using your home WiFi. If you have problems with your WiFi when you are overseas, then you won't be able to view the live feed. And, if your cameras regularly save footage to a cloud storage account, it may slow down your Internet.
Conclusion
Home surveillance cameras, traditionally known as home CCTV, is getting more common in Malaysia homes. The main reason is security; to prevent or capture break-ins and other crimes. But, it is also used to keep watch over the occupants e.g. the baby and kids. Advanced features also turn the camera into a smart home, with face recognition and motion sensors.
There are many CCTV solutions in the market, but in general, you will make your decision based on key factors such as the location and number of cameras, as well as how you want to access and record the footage. Analog cameras tend to be cheaper than IP cameras, but the price gap is narrowing as technology improves.
For best results, you should talk to a CCTV specialist in Malaysia who will recommend the right solution for your home (or office).
Talk to our CCTV and Alarm specialists
Recommend.my is Malaysia's #1 home improvement platform. If you are interested in improving your home security, you can get quotes from CCTV specialists, alarm specialists, door grille and window grille makers and more. Submit your requirements today.
Get instant quote from CCTV and Alarm supplier and installer