Stainless steel kitchens have been around for a very long time. But it was commonly found at commercial kitchens such as in hotels, restaurants and central kitchens. With an endless amount of cooking and cleaning that happens in these kitchens, it is only natural that stainless steel cabinets are able to withstand that amount of heavy-duty work.
Why are stainless steel cabinets being used in the kitchen?
The quality of stainless steel itself makes it the most viable option for kitchens. Stainless steel is an alloy that is resistant to many things such as moisture, heat, minor knocks and even anti-bacteria! Just like other built-in wooden or MDF kitchen cabinets, stainless steel cabinets can be customised according to the kitchen size and layout as well.
In recent years, stainless steel kitchen cabinets have gained a lot of attention from homeowners all over the world. Industrial and modern style kitchens have become a trend, and stainless steel is the perfect material to create that exact look and feel.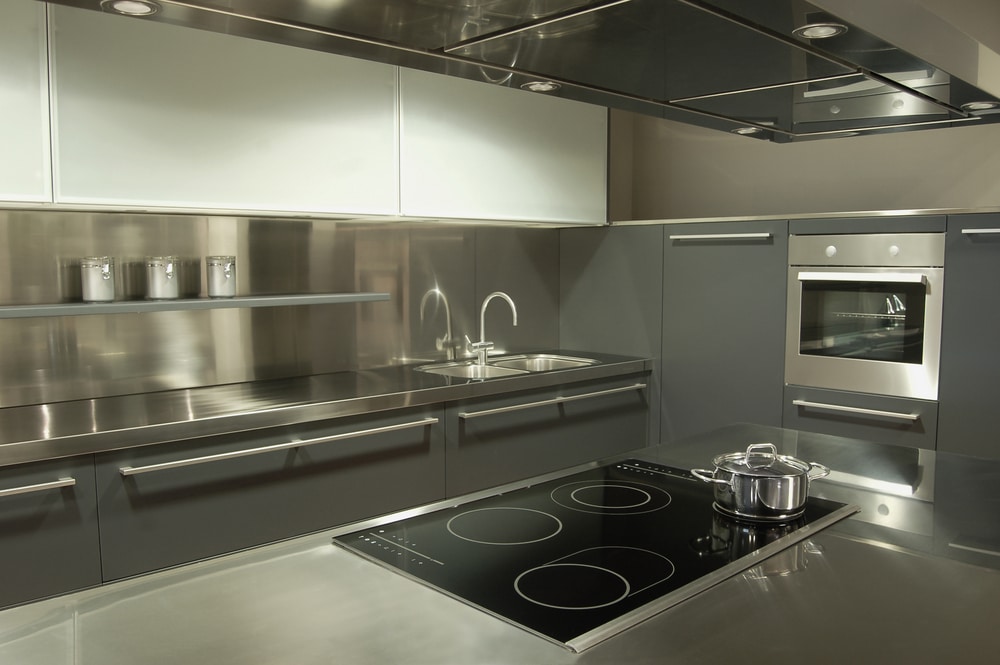 Additionally, families who do a lot of cooking at home are also looking into having a heavy-duty set-up for their kitchen. If the stainless steel kitchen cabinets are meant for heavy use, they are definitely suitable for light to medium use.
There are so many advantages in equipping the kitchen in your home with stainless steel cabinets. Let's take a look at them one by one.
The advantages of stainless steel kitchen cabinets
1. Durable and hard-wearing
Stainless steel is a material commonly used to make your sink, pots, knives and spoons in your kitchen. And how often do you hear people change their kitchen sink because it is ruined?
This is because stainless steel is anti-rust and anti-corrosion, making it very durable and great for heavy-duty use. So instead of just having some items in the kitchen that are made of stainless steel, having the same material for your kitchen cabinets is definitely a brilliant idea.
Stainless steel is also resistant to extremely high heat. It is a perfect material to be in a space where a lot of hot pots and pans are going around from AM to PM. Besides that, it also can withstand the tropical Malaysian weather, making it the best material for an outdoor and open-air kitchen cabinet.
2. Hygienic and easy to clean
Stainless steel has non-porous and anti-bacterial properties that promote good hygiene. It doesn't absorb liquid, smell and stain from the cooking ingredients nor will it release any chemical reaction to the food. So no fresh turmeric, soy sauce or cherry juice can leave stains on this material.
With all those qualities, a stainless steel kitchen requires very little maintenance work and cleaning it is such a breeze. A mixture of baking soda and vinegar, and a clean cloth are all you need!
3. Anti-termite
Termites infestation is a common problem for homes in Malaysia. Wooden cabinets, floorings and doors are always the victims. Sometimes the damage is so deep that the wooden furniture can't be restored anymore.
With stainless steel cabinets, you wouldn't have to worry about this issue.
4. Custom size and design
Stainless steel cabinets do not come in as many options as a wooden or MDF cabinet. Fortunately, it does have several types of finishes that you can choose from. Matte, brushed, sleek chrome and patterned finishes are some of the options available.
Different finishes have their own pros and cons. For instance, a matte finish is perfect for the cabinet doors as it will make minor scuffs (and fingerprints) look less visible. The mirror finish has the advantage of making a kitchen look bigger as it reflects more light.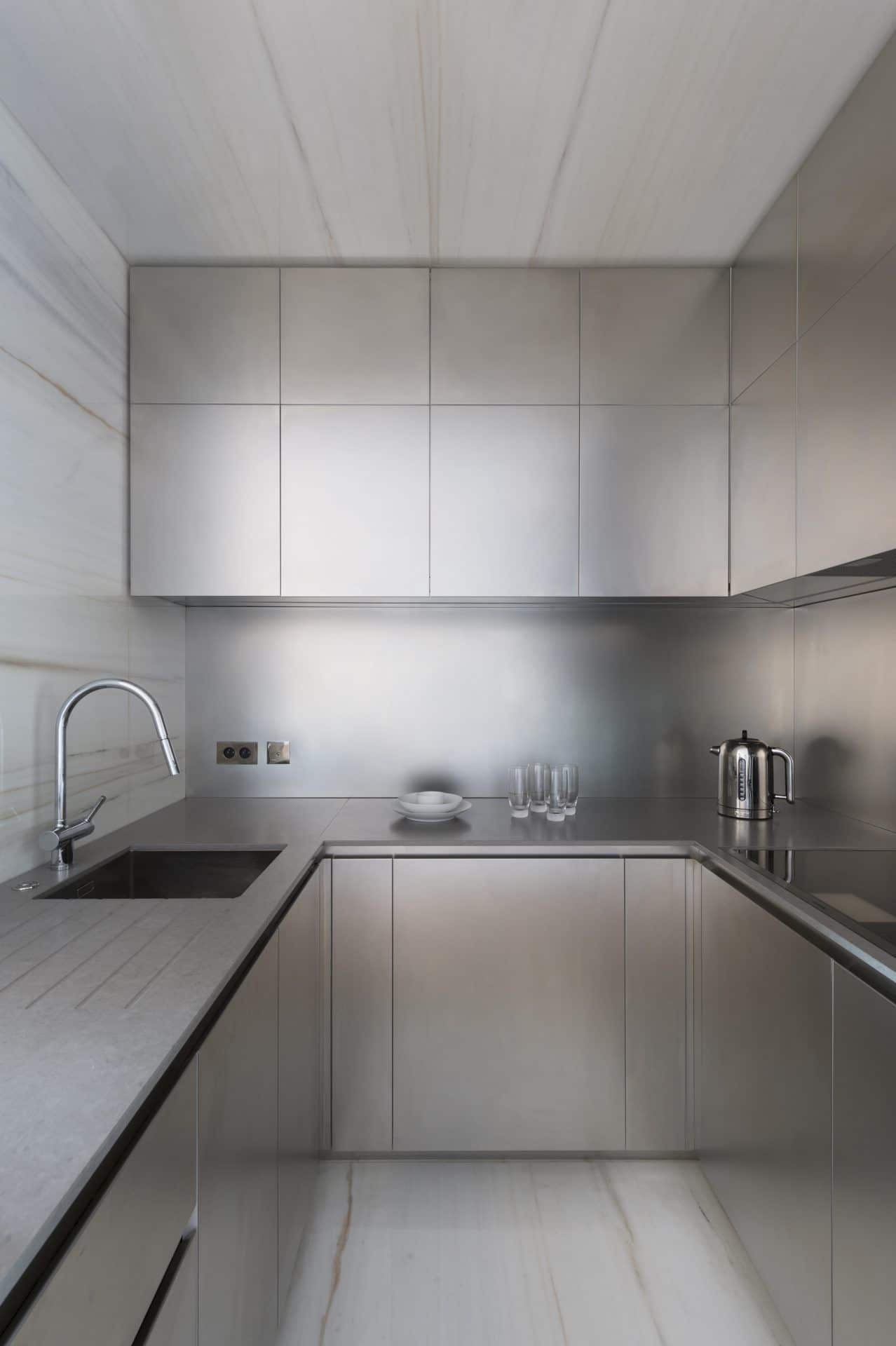 Mix and match the finishes and materials used to build a bespoke stainless steel kitchen cabinet design. You can request from the cabinet maker to use a wood frame and stainless steel door to create a modern kitchen at a lower price. Besides that, stainless steel cabinet doors can be paired with a concrete kitchen countertop to create an industrial-themed kitchen too.
Read: 12 Minimalist Black Kitchen Cabinet Designs
5. Timeless look and feel
The angular and sleek design of stainless steel cabinets just never go out of style and the material itself doesn't age. 40 years down the road, it will look just the same! In fact, a lot of kitchen designers love to add a stainless steel centrepiece like a stainless steel island cabinet to give a high-end and professional vibe to the kitchen.
6. Environmental friendly
Stainless steel is a material that can be fully or 100% recycled many times over, without losing its properties along the way. Even so, you wouldn't have to worry about recycling it as it will be a long-term investment for your home.
Unlike the wooden kitchen cabinet, the stainless steel cabinet still has second-hand and trade-in value even after so many years. So this is a profound option for those who want to save the environment and money 🙂
The disadvantages of stainless steel kitchen cabinets
1. Make loud noises
Just like any other type of steel, stainless steel also creates a fairly loud noise. Accidental hard material bangs or drops on the cabinet will shock you for a millisecond. When you are putting away your pots and places in the cabinet, it will also be slightly noisier than usual. But after a while, you will get used to it.
2. Prone to dents and scratches
A low-grade stainless steel cabinet can be susceptible to denting and scratching. So make sure that the cabinet contractor is using a good SUS304 grade stainless steel with the right thickness for your kitchen cabinet. Thicker material has a higher resistance to dents.
3. Replacement is inconvenient
If there is a problem with the cabinet doors, for example, the replacement can be a hassle as it will not be cheap. However, this rarely happens for normal usage at home. Normally after a few years, the stainless steel cabinets would just need some restoration work.
Stainless steel kitchen cabinet pricing
Given that stainless steel cabinets are far more durable and long-lasting, the price comes as a hefty one as well.
The latest 2021 pricing in the market comes up to RM2,100 per foot run for a base unit, inclusive of the stainless steel carcass, 700mm walls, drawers, swing doors, and electropolishing, a process that makes them corrosion-resistant.
Tips when buying stainless steel cabinets
1. Use high-quality stainless steel
SUS304 is a good stainless steel grade commonly used for building kitchen cabinets and appliances. With the right amount of thickness, it will not be easily dented by knocks and clangs that normally happen in a home kitchen. Hence, making it look as good as new for decades.
2. Get it professionally painted
Stainless steel cabinets can be painted in various colours too, just like wooden cabinets. If you opt for this, remember to have it professionally done. It is because regular primer and paint will not adhere to a stainless steel surface. An experienced contractor would suggest the best type and quality of primer and paint for the stainless steel cabinets.
3. Extra care for outdoor cabinets
Although stainless steel cabinets are great for the outdoors, it still has a risk of being corroded. The risk is higher when it is exposed to air that has a higher salt concentration, like somewhere near the beach. So take extra care by wiping it down regularly or covering up the island cabinet with canvas when not being used.
Stainless steel kitchen cabinets are perfect home kitchens too
Overall, there are so many plus points for the stainless steel kitchen. The price might be slightly higher than other materials, but if you factor in the value that it has for being heavy-duty, more hygienic and requires less cleaning effort, it is actually worth buying. Also, it has a professional and designer kitchen look that will make your kitchen design relevant for a long time.
Explore more about stainless steel kitchen cabinets through consultation with our professional cabinet makers and get customized quotes within a few hours. At Recommend.my, we have 1200+ highly experienced and trusted cabinet contractors ready to work on your kitchen makeover project. Consult one today!
Hire a cabinet contractor