There are hundreds of metres of electrical wiring running through your house. These wires are essential to deliver electricity to your lights, ceiling fans, air-conditioning, fridge, TV and more.
But, when something goes wrong with the electrical wiring in your home, or you need to make upgrades, it can be difficult to get it fixed without specialised skills or tools.
If you're not familiar with electrical wiring or reading a circuit diagram, it's not advisable to do electrical or wiring work on your own. Unlike plumbing or mechanical work where you can DIY and see if it works, experimenting on electricals could result in serious injury or death.
Talk to our electricians near you.
For any electrical problems, submit your requirements and get an instant quote
In such instances, you should hire a professional electrician to handle your electrical repairs.
When do you need to hire an electrician and wiring contractor?
1. Lightning strike or overloaded circuit
An overloaded circuit happens when a surge of current passes through the electrical wiring. This can happen during a lightning strike, or if you plug too many devices into single socket. An actual surge only lasts about a microsecond. Frequent surges can damage electrical components connected to your home, downgrading its life expectancy significantly.
Your home electrical circuit board (also known as Distribution Board, or DB) has fuses that can cut the current during an overload, but once they are tripped, they may need to be replaced. If you are not sure how to replace fuses, then you should hire an electrician to do it for you.
2. Malfunctioning switches
If you moved into a resale home and find that some switches that don't seem to do anything, or are not connected to anything, it could be a sign that the wiring has been done incorrectly. Or, there could be a potential fault in the outlet, circuit or wiring and should be inspected by an electrician immediately.
Another common problem is when the light switch plate gets damaged or cracked. This will also need to be replaced to avoid exposing dangerous wiring.
3. Circuit breaker tripping frequently
A circuit breaker is designed to protect you and your home, so when it does trip, that's a sign it's doing its job. Depending on the type of appliances being used, items such as microwaves, kettles, air-conditioners and hair dryers can cause circuit breakers to trip, especially when other power-consuming items are in use simultaneously.
To solve this, you may need to upgrade the capacity of your main circuit board to handle more devices. For example, older homes may only be able to support 2 aircon units. But with an upgrade, that number can be increased to 6 or more.
4. Add more power points
As we buy more and more devices and appliances, it becomes a challenge finding power sockets to plug them in. This problem happens a lot at our TV consoles, where we may need to plug in a TV, gaming console, Internet modem, wi-fi router, soundbar and more. It's also a problem in the kitchen if we have lots of appliances on the counter.
An electrician can help to add more power sockets by extending the existing wiring. Depending if you want the new power socket to be flush into the wall or not, they may also need to hack your walls to create a channel for the new wiring and socket. If you don't want to do any hacking, then the wiring can simply be laid along the wall and covered with trunking.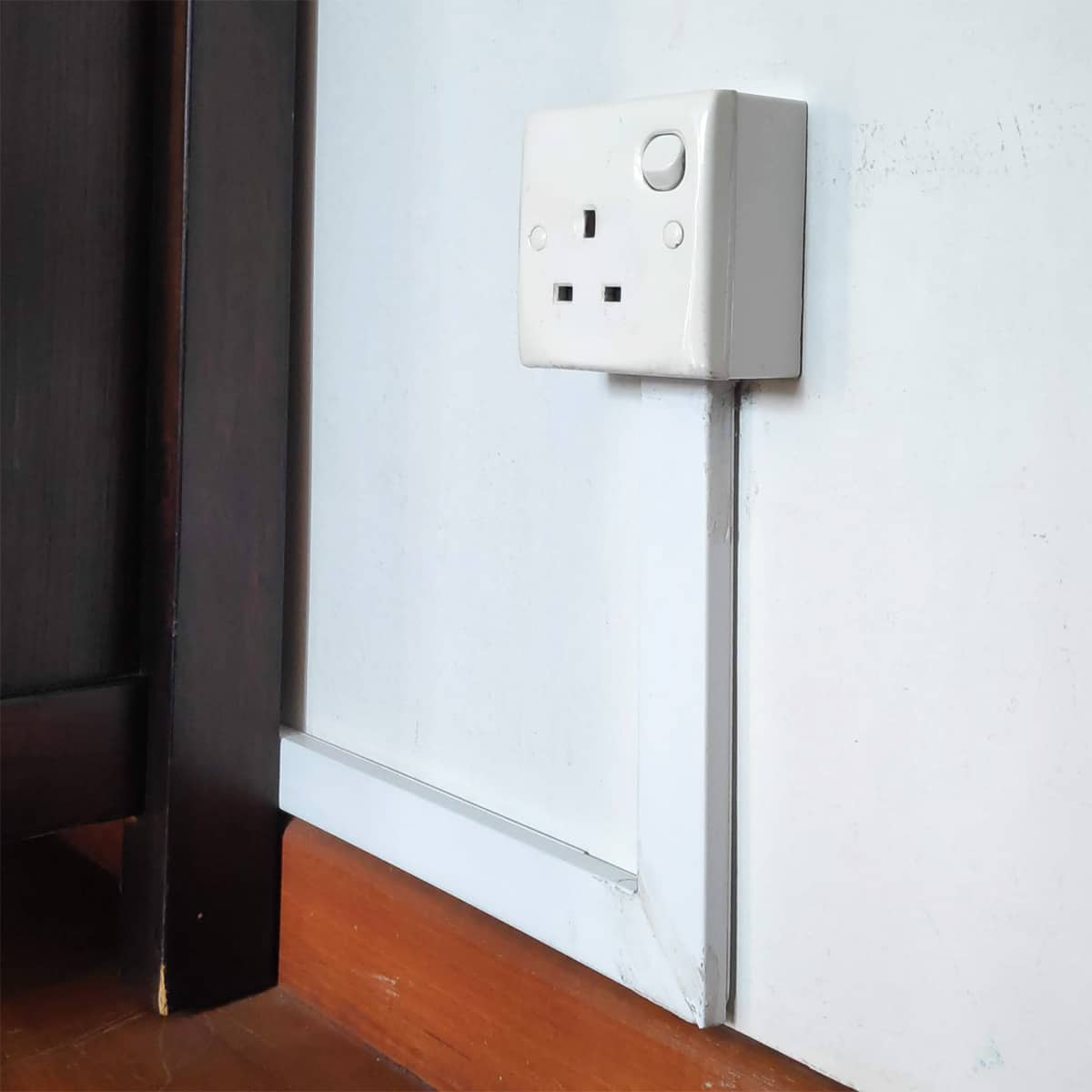 Above: Power socket extension without hacking (the wiring is covered by plastic trunking and the socket is attached to the wall)
5. Relocate ceiling points, or install ceiling fans
If you look at your ceiling of a new home, you will notice wires hanging down at different spots. These are used for new lights, ceiling fans and other fixtures. But, what if you don't like the position of these points? An electrician can help relocate the position of the wires by extending the existing wiring to suit your needs.
6. Installing water heater
When you buy a new water heater, regardless of whether it is an instant water heater or storage tank heater, it will need to be connected to a power source. Since there are no power sockets in the shower area, an electrician will need to extend the electrical wiring to deliver power to the heater. This is then connected to a switch outside the bathroom door (the one with the red light), so that you can get hot water when you need it.
Price of common electrical works (Kuala Lumpur / Selangor, Malaysia)
How much does it cost to hire a professional and trusted electrician with transparent pricing? Use our price guide estimate below for help.
Electrical Wiring Installation price
*Installation for electrical switch at RM80
*Installation for electrical outlet (beside existing outlet) at RM60
*Installation for doorbell at RM100
*Installation for smoke or carbon monoxide detector at RM100 – RM150
*Installation for exterior light fixtures to existing wiring at RM80 – RM150
Water Heater Installation price
Installation with casing wiring RM150
Installation only RM80
Light Installation price

Installation with casing wiring RM130, subsequent unit at RM60
Installation only RM80, every subsequent unit at RM20
*Installation for electrical switch at RM80
*Installation for light fixtures for downlights or 1 string pendant lighting or single track lighting (minimum 6 units) at RM30
*Installation for fluorescent light fixtures at RM30 (minimum 6 units)
*Installation for recessed light fixtures at RM35
*Installation for new wiring for overhead lights at RM30 (minimum 6 units)
*Installation for new single-pole switch at RM80
*Installation for new three-way switch at RM150 – RM180
* Broken light fixture replacement at RM30
* Electrical switch replacement (depending on gang) at RM80 – RM 150
*Ceiling opening at RM5
Ceiling Fan Installation price
Installation with casing wiring RM150, every subsequent unit at RM130
Installation only at RM80, every subsequent unit at RM60
Ceiling fan with built-in lights installation price
Installation with casing wiring RM170, every subsequent unit at RM150
Installation only RM100, every subsequent unit at RM80
Distribution Box (DB)/Board Installation price
Installation of 3 phase RM800
Installation of single-phase RM400
*Electrical panel upgrades (application and follow-up with TNB) at RM2500
Note:
Additional charges apply for concealed wiring
Pricing above is for small office and housing up to 12 feet ceiling height. Different charges may apply for commercial units
Pricings marked with asterisks are sourced by Joey from KMH Electrical
Why hire a professional to handle all electrical works
1. Safety assurance
The main reason why you should hire a professional electrician is for your own safety, your family's safety and the safety of your house. Dealing with indirect or direct electricity can be extremely dangerous and should only be done with expertise, safety training and proper equipment. If repairs are performed incorrectly, you might create long-term safety hazards in the form of electrical shocks (particular for instant water heaters) and fire. If you find yourself in an uncertain situation, your best bet is to hire a professional electrician.
2. Cost
Many people tend to feel discouraged to hire an electrician because of the potential costs that might be incurred. As a result, many homeowners end up calling professional electricians after their DIY repair made the problem even more complicated to fix than it would have been if they'd sought professional help in the first place. Not only does it save on time and money, hiring a professional electrician will ensure your wiring or electrical works gets done safely.
"A cheap electrician may do the minimum amount of work to get the wires connected, but cause a mess in the circuit diagram. This will make it hard to troubleshoot any problems in the future"
3. Accurate diagnosis
A small problem might just be one symptom of a much larger problem. A professional electrician can perform precise troubleshooting and problem solving to conduct proper diagnosis with your electrical system while providing appropriate solutions.
Where to find the best electricians in Malaysia
With Recommend.my, get worry-free electrical contractors and wiring services with transparent and honest pricing at your fingertips without worrying about unproven professionals.
We have qualified electrician in all major cities in Malaysia. To hire one of our electrical and wiring pros, simply submit your electrical and wiring request using our online form and a pro will get back to you shortly.
Jobs done by Recommend.my Professionals
Electrical Installations at Geo Bukit Rimau
Job Scope:
14 x lighting installations
3 x Fan Installations
1 x Heater Installations
1 x hacking and wiring for kitchen cabinet
2 x power point installations
Cost: RM400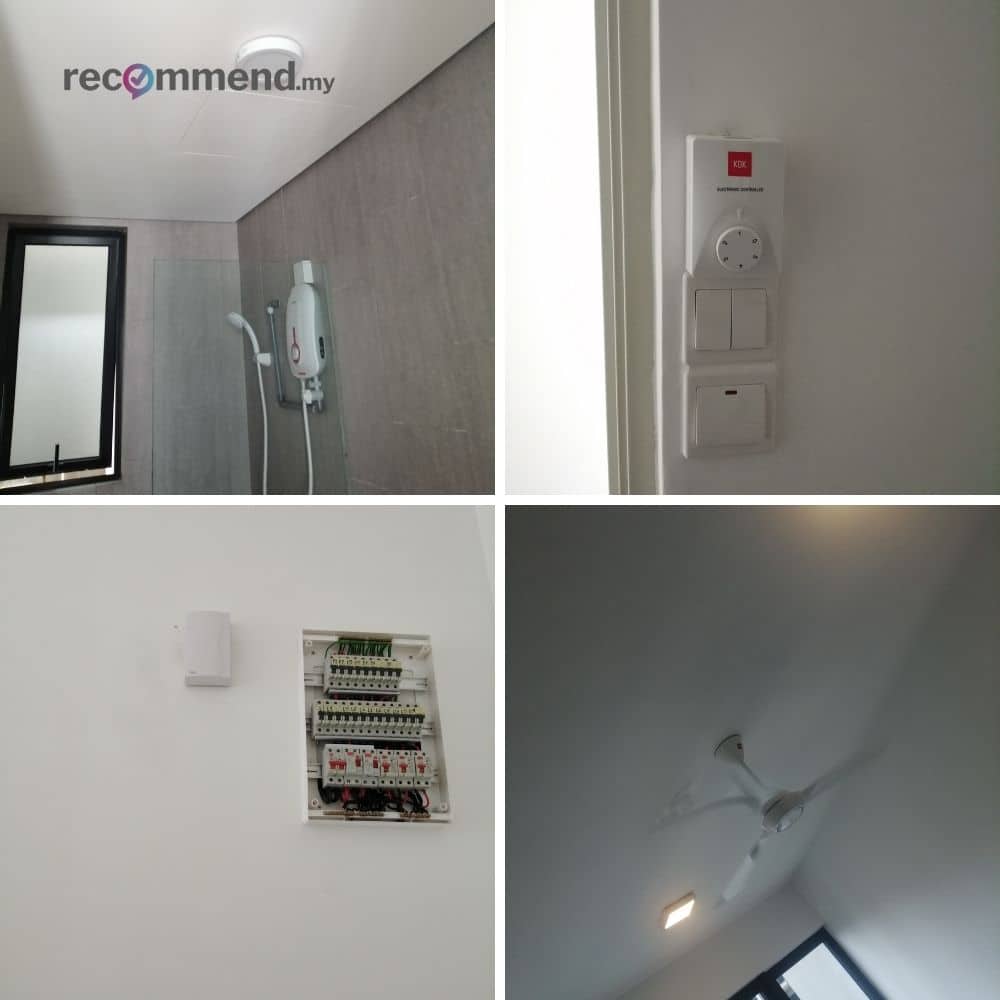 Source: AVVA ENGINEERING SERVICES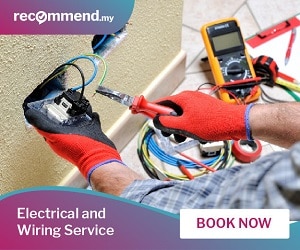 Terrace House Re-wiring
Job Scope: Quality wiring, circuit breaker and DB board. We install new wiring for new house, replace old wiring and add new power plug points and lighting point in conceal type.
Cost: RM13000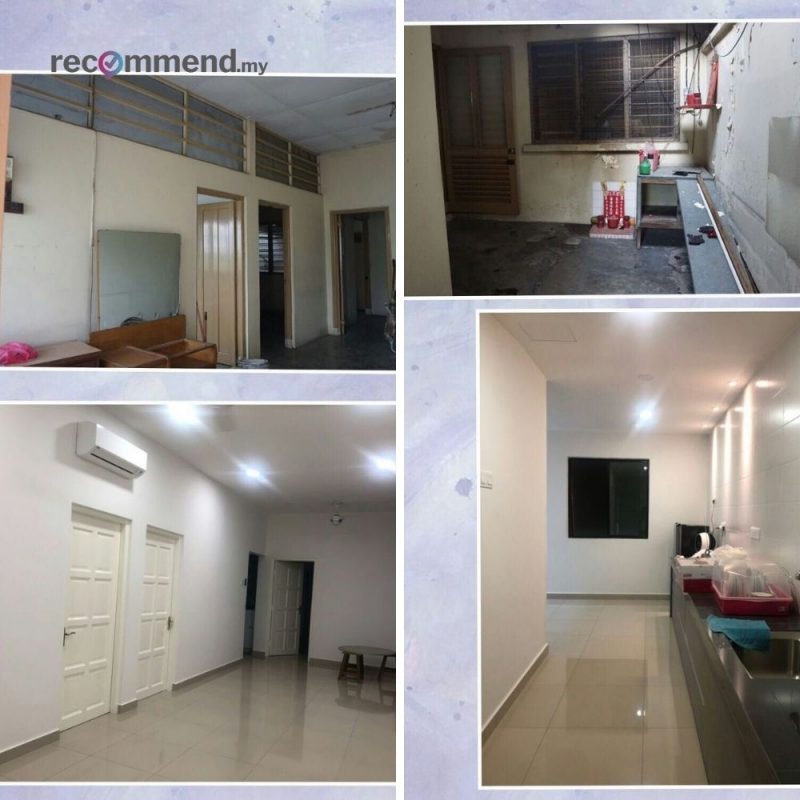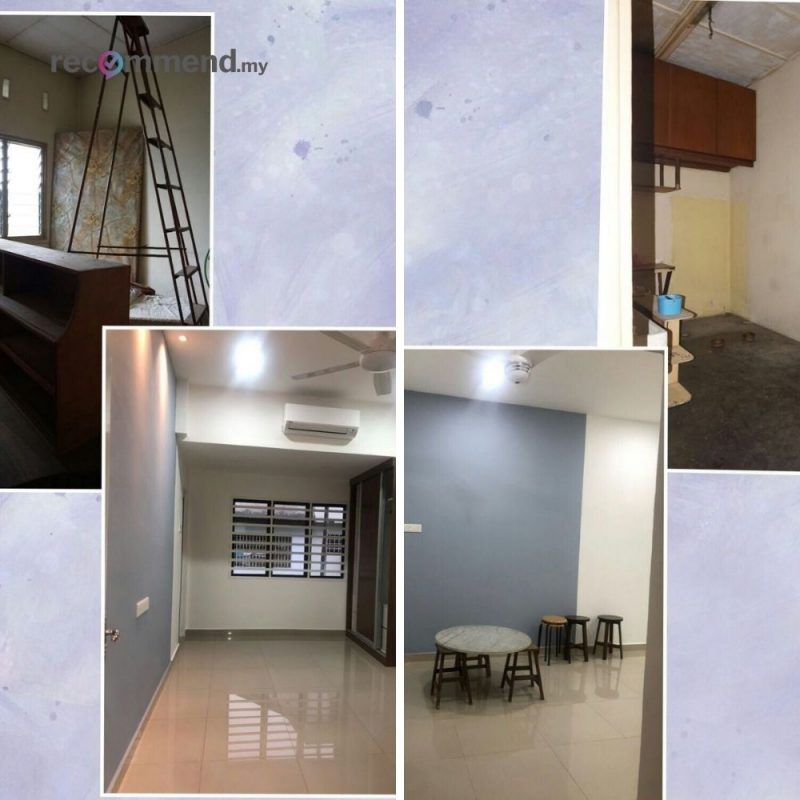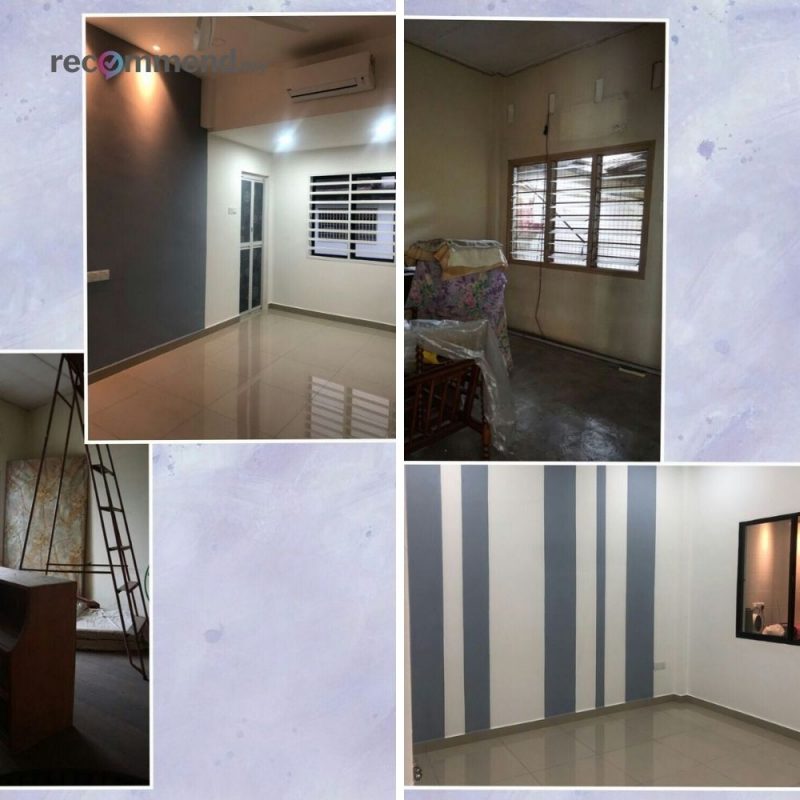 Project by APOGEE ZENITH ENTERPRISE
Browse our directory:
Best electricians in Kuala Lumpur