Our resident interior design specialist, Alexis, was recently interviewed by Her World Malaysia for a story on upgrading your home. Here is her recap of her experience:
In the May 2017 issue of Her World Magazine Malaysia, they asked me to contribute my top tips on what you should know before hiring an interior designer.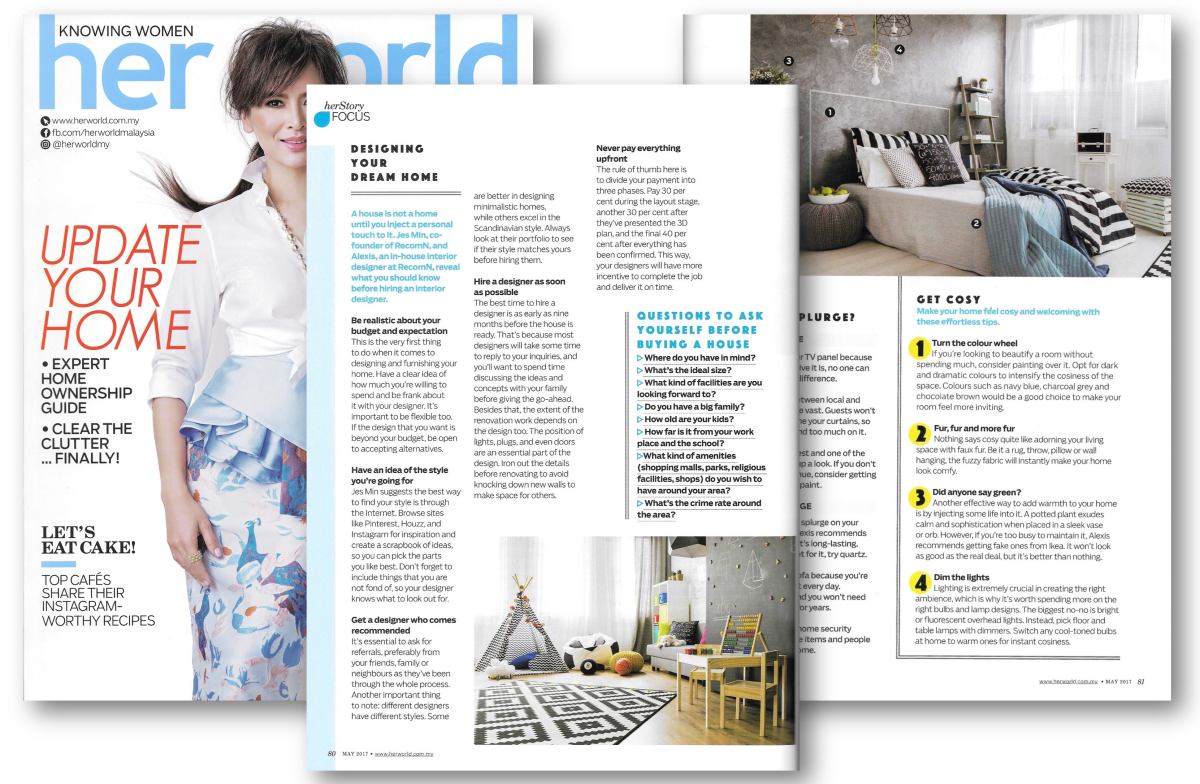 It's a big question, but I tried to boil down the answer to just five main points.
First, be realistic about your interior design budget and expectations. The Ringgit won't get you as much as it used to, so it's important to be frank with your designer on what you can afford, and be flexible to alternatives.
Next, have an idea of the style you like and don't like. Browse sites like Pinterest and Instagram (and our own Recommend.my Interiors) for inspiration and show them to your designer.
Ask for recommendations. Every designer has their own style, so it's important to find one that matches your taste. See if their portfolio matches what you are looking for, or you will end up locking horns.
Start the process early. You should try to hire a designer as early as nine months before the house is ready. This gives them time to come up with a design and project plan, so construction work can start the moment you get your keys.
And finally, never pay in full up front. Divide your payment into phases (e.g. 30% / 30% / 40%) so that your designer has the incentive to complete the work on time, and in full.

Related: RM12,500 to transform boy and girl's bedrooms in Sri Hartamas
Where can you save money on your home improvement?
The next question they asked was, "Which areas of the renovation budget should you save money on, and which ones should you spend on?"
My answer was, "Don't go overboard on curtains; but spend more on kitchen counter tops"
The reason is simple. The gap in price between local and imported curtains can be huge, so go for local. And, since your guests will hardly ever touch or examine your curtains up close, you don't need to aim for high-end curtain fabrics. Want to update your curtains for Hari Raya? Get an affordable quote here.
As for kitchen counter tops, because they are subject to heavy usage, it's best to invest in a durable, long-lasting material. My preference in kitchen counter top material is quartz or granite. You can get an estimate price for quartz vs granite counters using our kitchen calculator.
Other areas where you can save money on your renovation budget
If you are on a very tight renovation budget, you can opt for cheaper cabinet materials for your TV panel. The reason is, TV panels do not have any contact with water, and is a low-maintenance area
For an affordable and quick way to change the entire look of your room, just repaint the walls instead of replacing your furniture
And some areas where you SHOULD invest the money
Invest in a durable kitchen countertop. Quartz or granite if you can afford it
Invest in a good sofa because you are going to sit on it every day
Invest in good home security to protect your family and your home
Thanks Her World!