There's only so much storage space to be found before your toiletries, towels, hair brushes, and makeup essentials start overwhelming your bathroom.
But, if your bathroom space won't allow you to cram any more cabinets, there's one area that you likely didn't think of utilising: above your toilet.
Therefore, why not try these over-the-toilet storage ideas we've compiled for you?
Not only do they help you declutter space, but they're also designed for quick access to your bathroom essentials – because nobody likes ransacking the bathroom cabinets searching for a comb during the morning rush hour.
1. Install suspended hanging shelves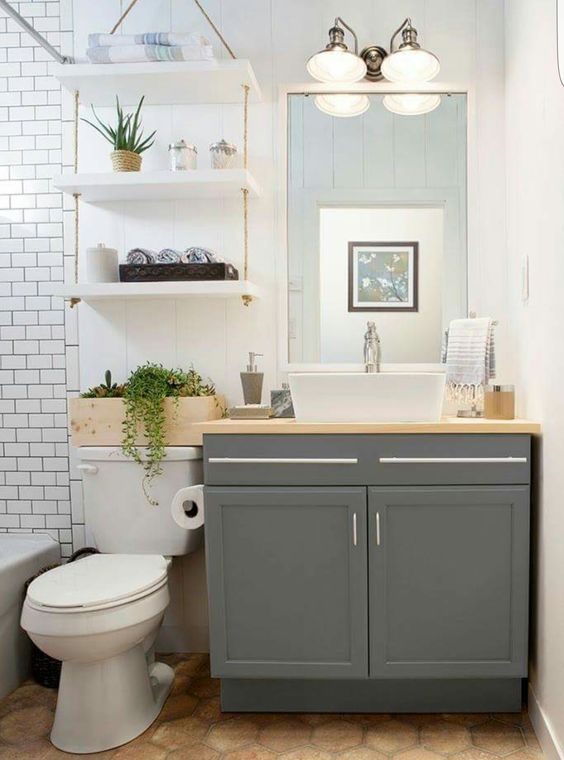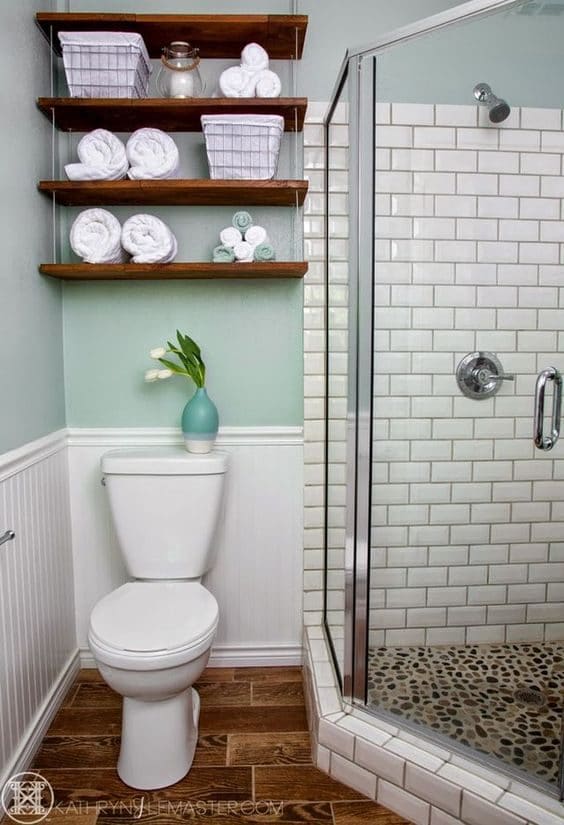 What we love about suspended hanging shelves is that not only are they handy for placing towels, toilet rolls, and other basics, but also they can do this without making space feel smaller.
They also contribute to the aesthetic of the bathroom – the ropes and shelves combine well to exude a rustic vibe.
2. Hang a recessed shelf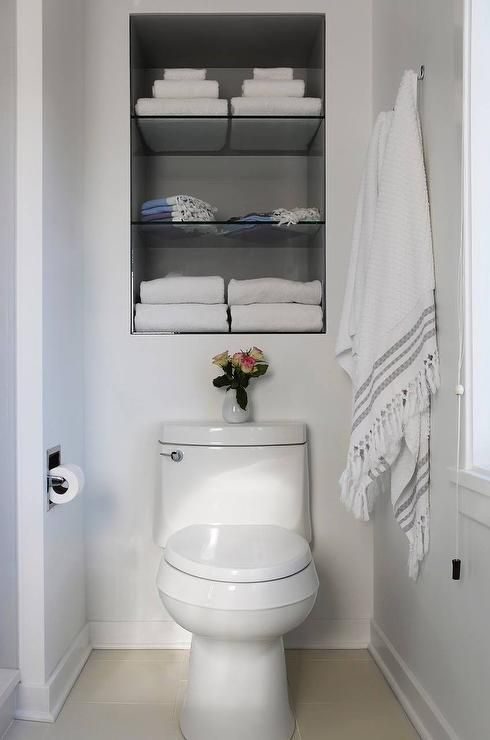 Declutter your bathroom by anchoring a floating shelf above your toilet. This also gives out a clean and streamlined appearance.
3. Install wall-mounted bathroom cabinets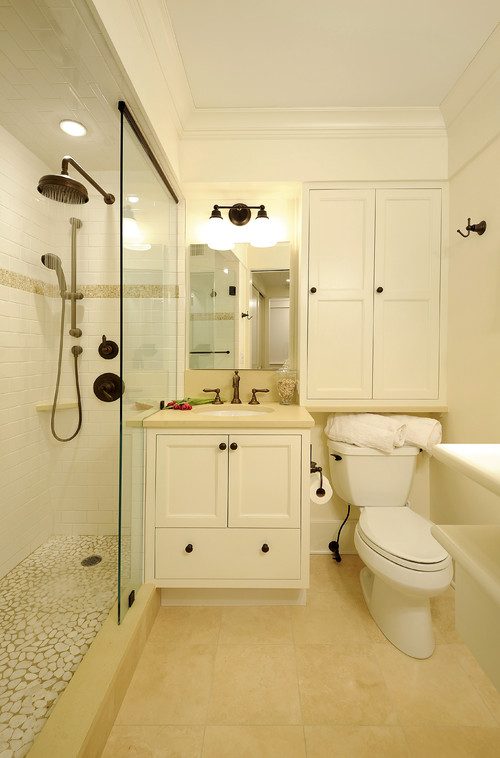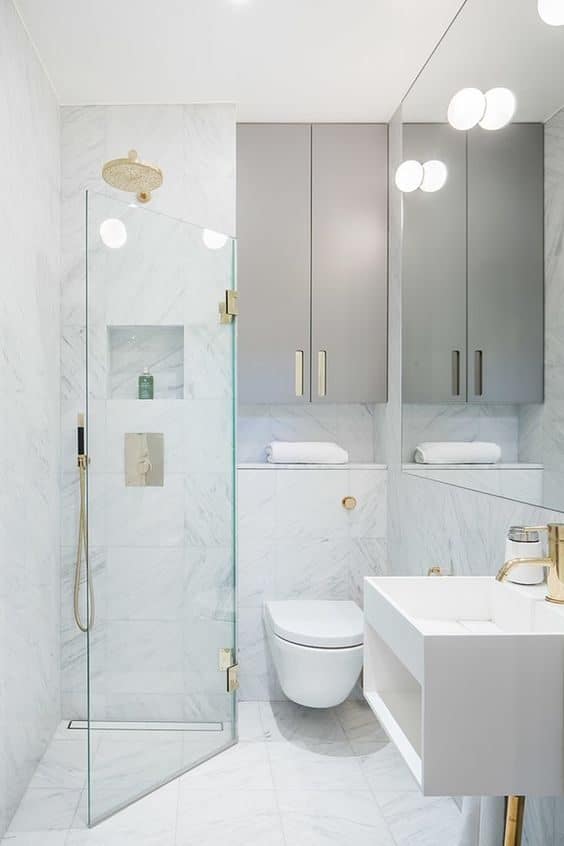 Sure, while it's great to pretty up your bathroom, but let's not forget that bathrooms are constantly exposed to moisture.
Therefore, one of the reasons why wall-mounted cabinets are popular in bathrooms is because they help protect your essentials against humidity.
Over-the-toilet storage cabinets help to tuck in your items and conceal clutter, so your guest won't see what you don't want them to see!
4. Install a "secret" cabinet compartment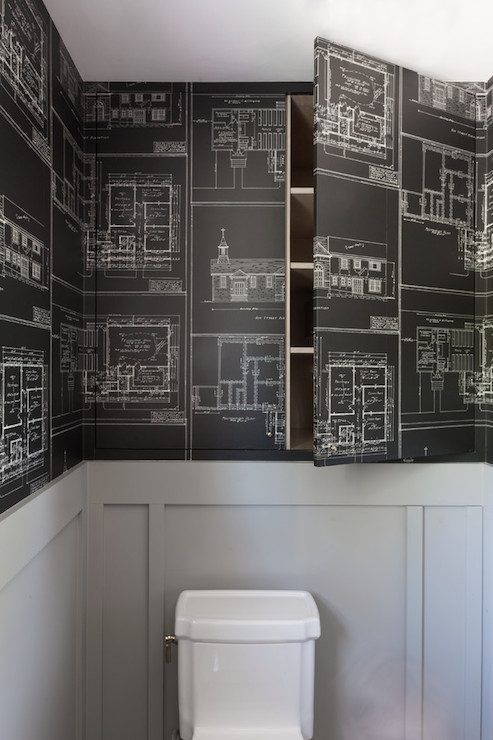 Don't want to ruin the aesthetic of your bathroom? Merge your cabinets as part of the wallpaper design for a clean look.
5. Mount a sliding bathroom cabinet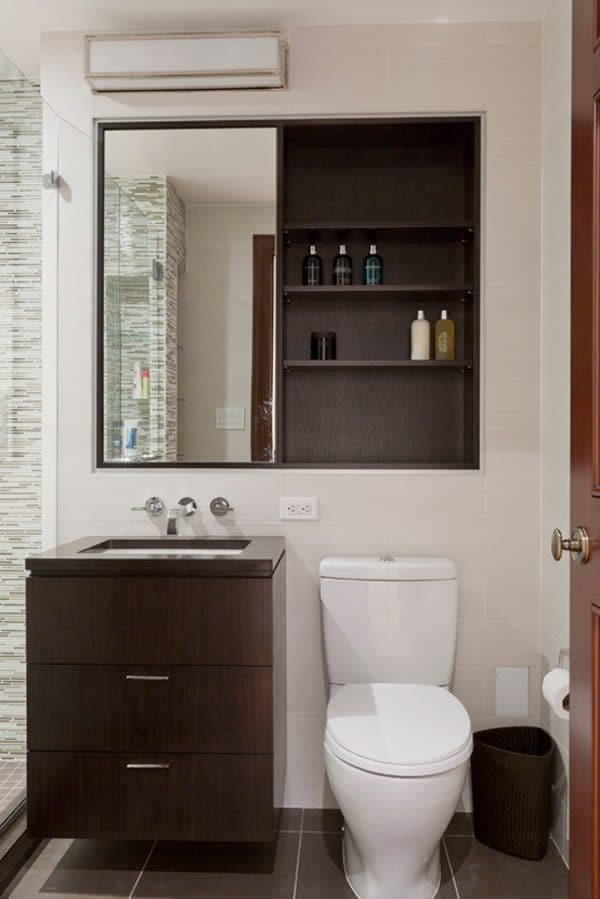 In small bathrooms, functionality should always be the main priority. This floating bathroom cabinet for example, packs all your basics inside and more.
Not only does it stash lotions, makeups, pills, and other toiletries, but the mirrors installed on the sliding doors means you can do without a standing mirror.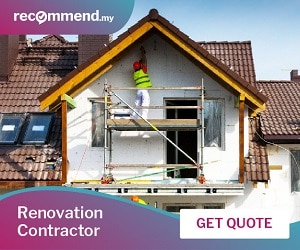 6. Install over-the-toilet storage shelves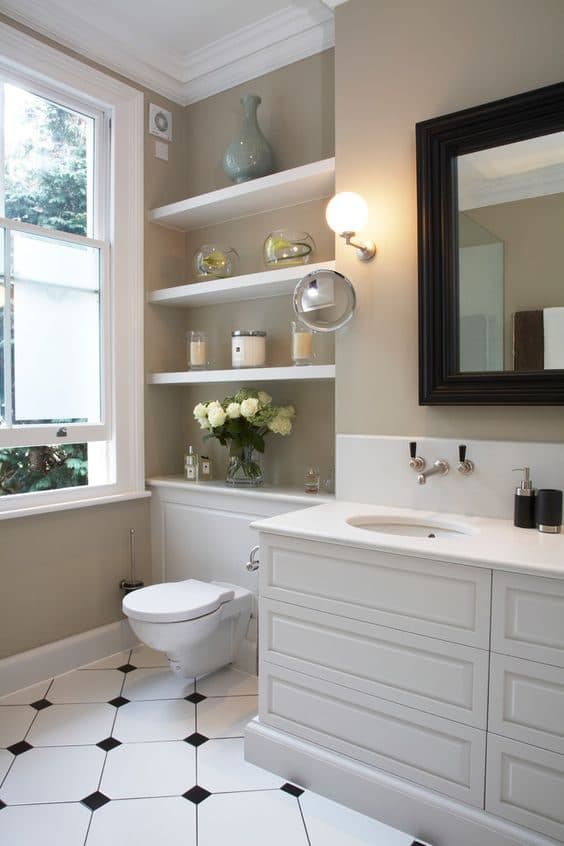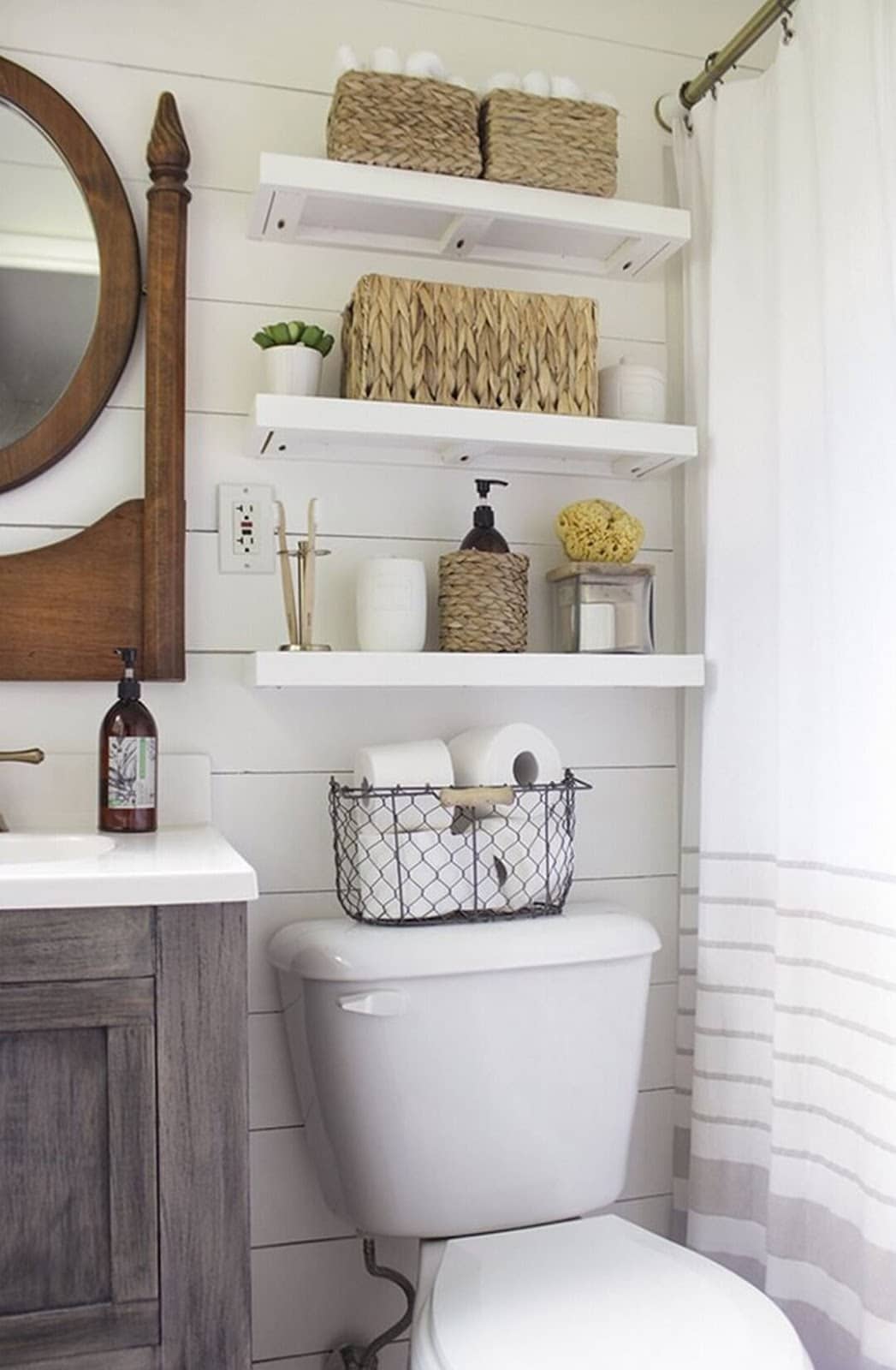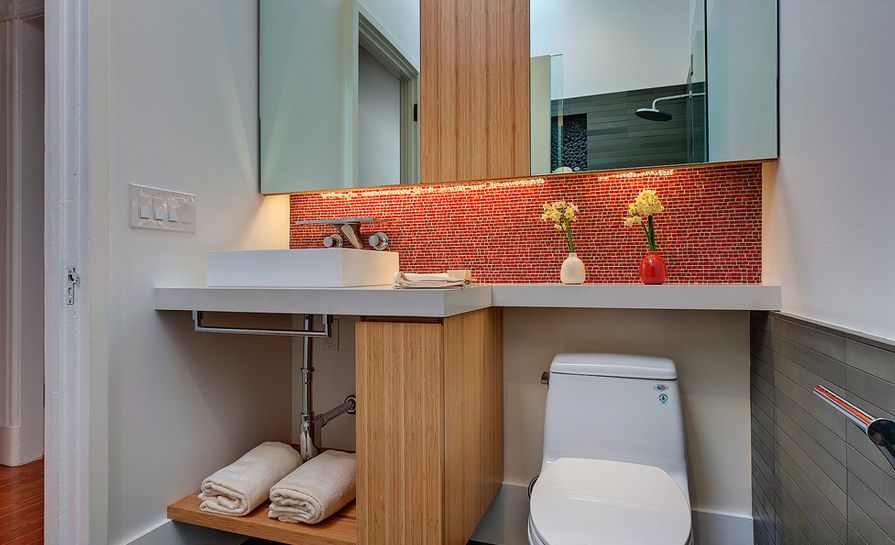 Over-the-toilet storage shelves are always welcome additions in bathrooms especially for tiny nooks, as they make use of the vacant space above brilliantly.
This gives you the license to decorate your bathroom with interesting display items, such as vases.
Use baskets if you want to further organise your toilet rolls and hand towels, and place scented candles to set the mood and tone of the room.
7. Customise a steel frame shelf above your toilet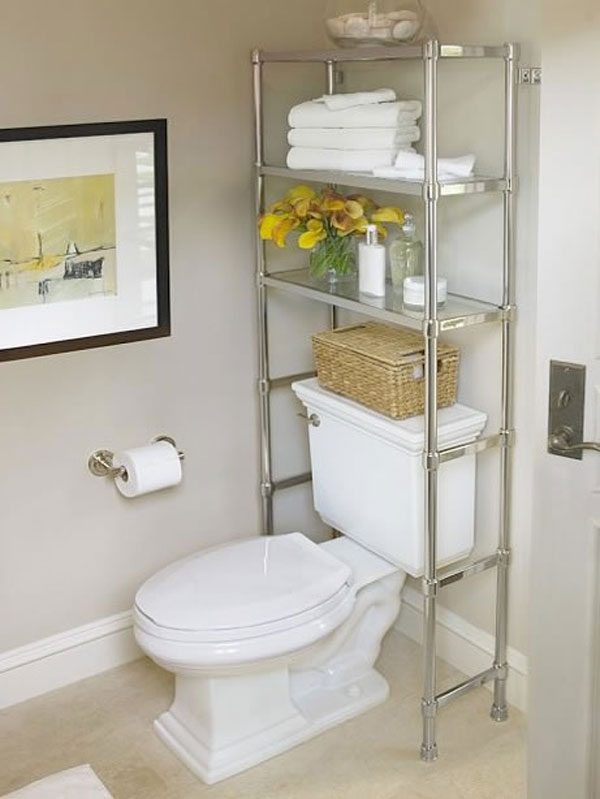 A sturdy bathroom shelf helps to keep your bathroom neat and organised without eating up any additional space. And if you don't want steel, you can always find a cheaper chromed-plastic alternative.
8. Combine an over-the-toilet storage cabinet with shelves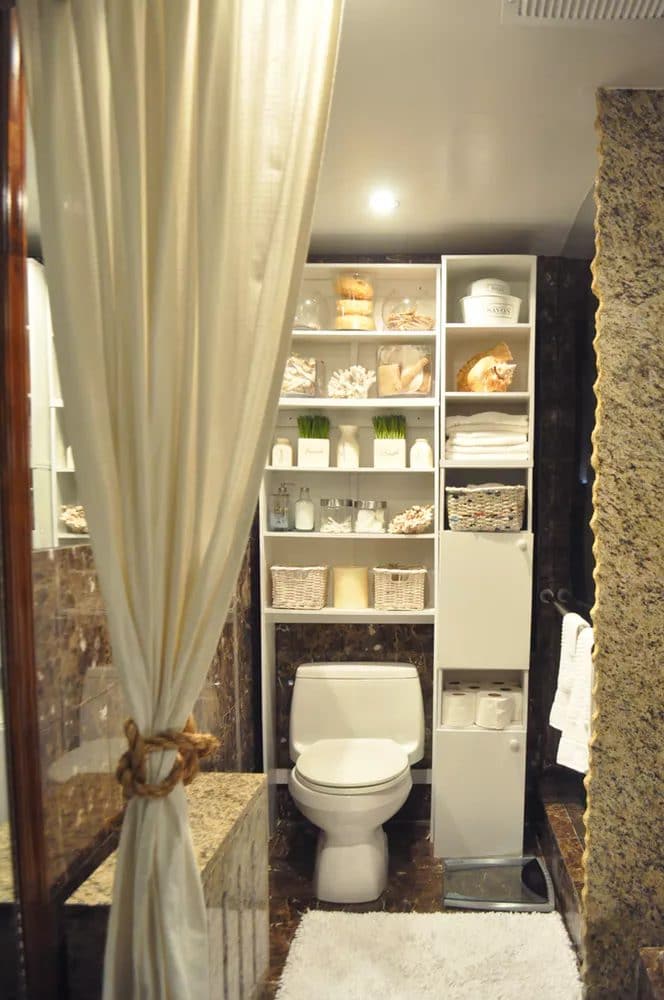 For compact bathrooms: make use of the roomy space above your toilet by installing a custom toilet cabinet with plenty of open shelves.
Then, load and organise all your essential items by segregating them into different compartments.
9. Use a decorative ladder organiser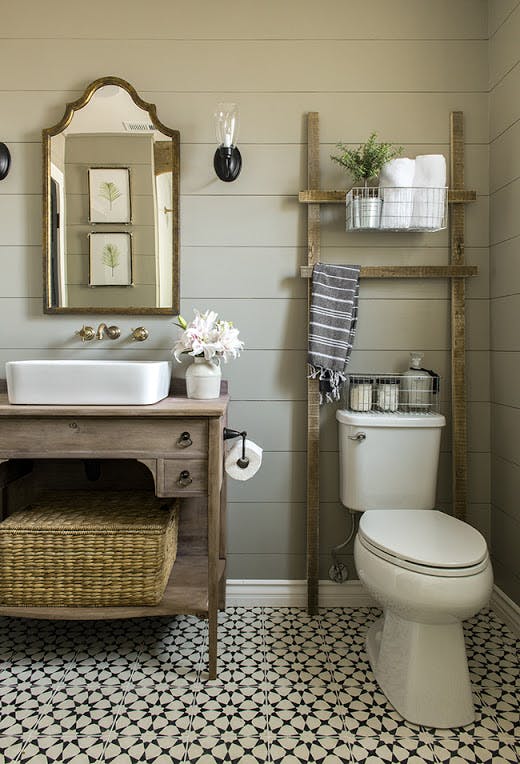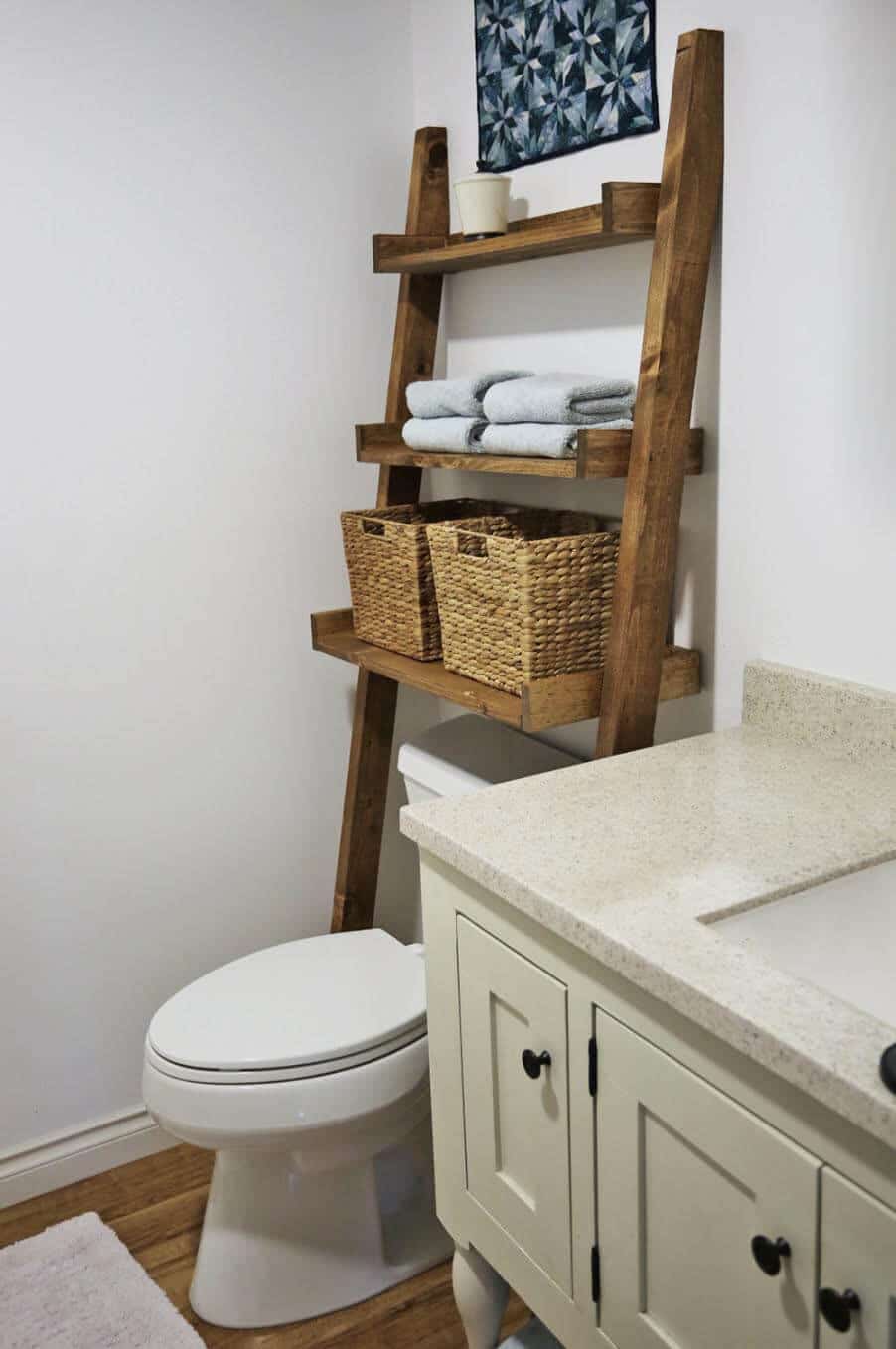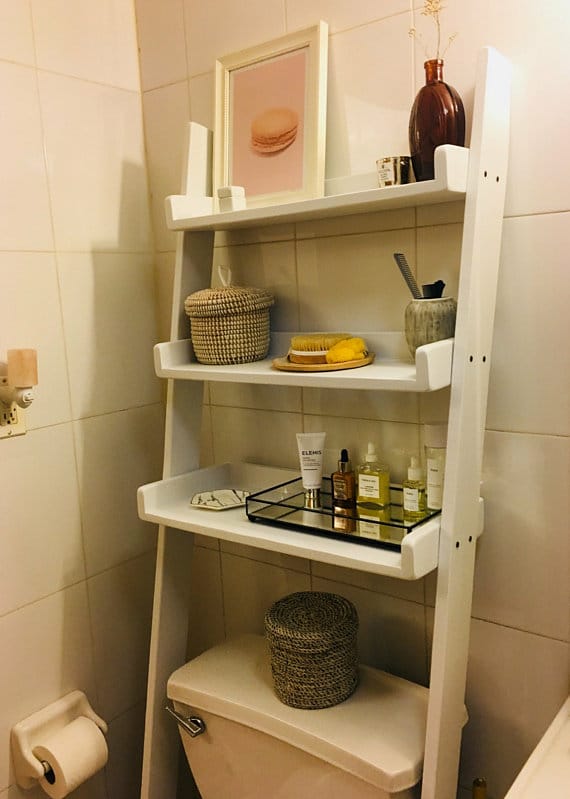 A decorative ladder is a simple and inexpensive way to stash some of the easy-to-reach essentials like hand towels, makeup products, soaps, and brushes. A ladder also doubles as a decorative furniture to help inject a cosy and rustic vibe.
10. Attach a basket-roped shelf combo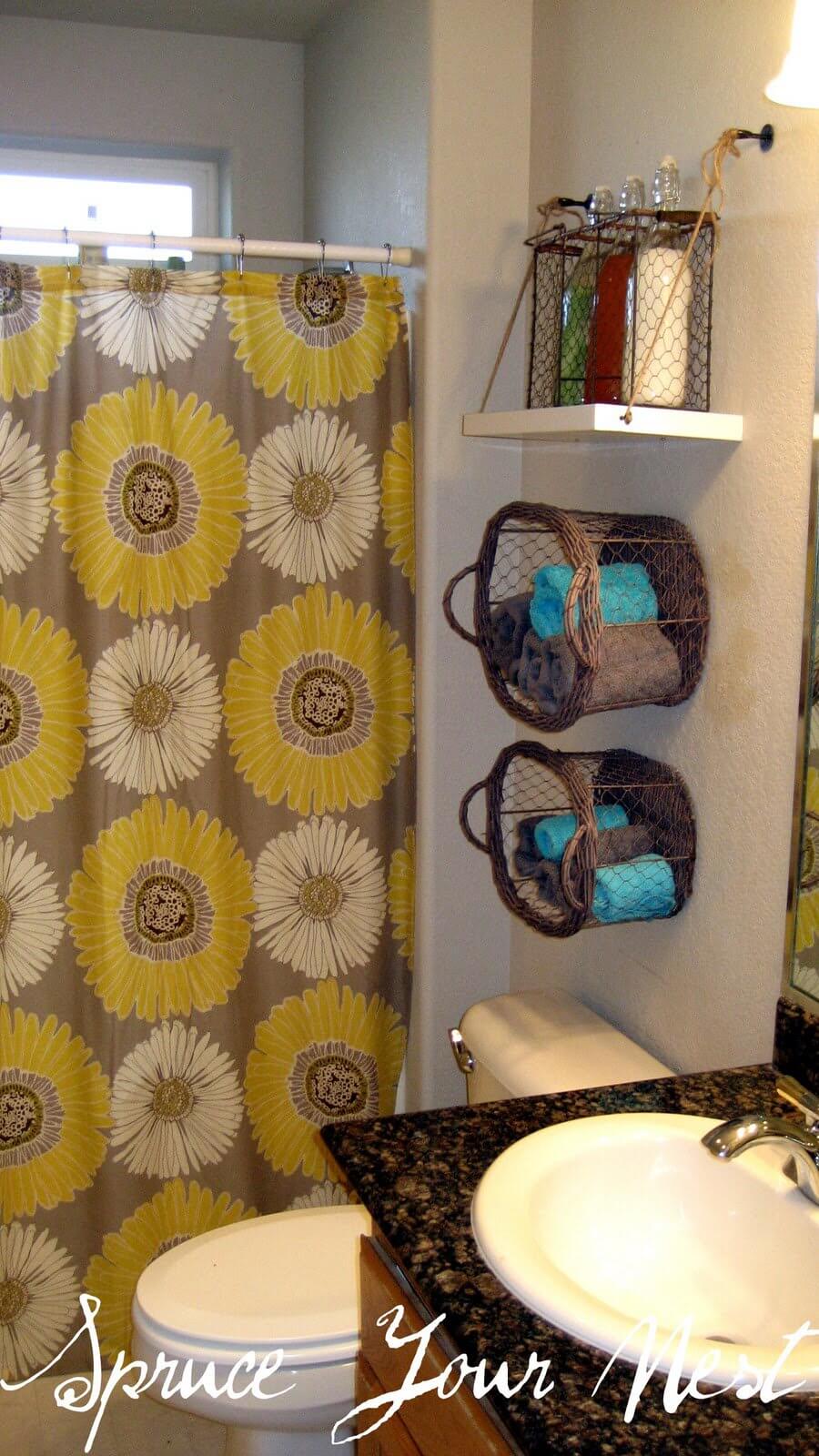 Don't you just hate it when you're in the middle of a shower, only to realise that you forgot to bring along a fresh towel with you?
This cool idea by Spruce Your Nest is not only the perfect antidote for that problem, but it's also done with style!
And the best part is you can achieve this with common household items.
All you need is to anchor a wooden shelf by roping it to a couple of hooks as support, and attach a few baskets on the wall below it.
You can place your shampoos and body washes on the shelf, and freshly rolled towels in the baskets.
This way, you don't have to worry about forgetting your towels again!
11. Install over-the-toilet storage rails and baskets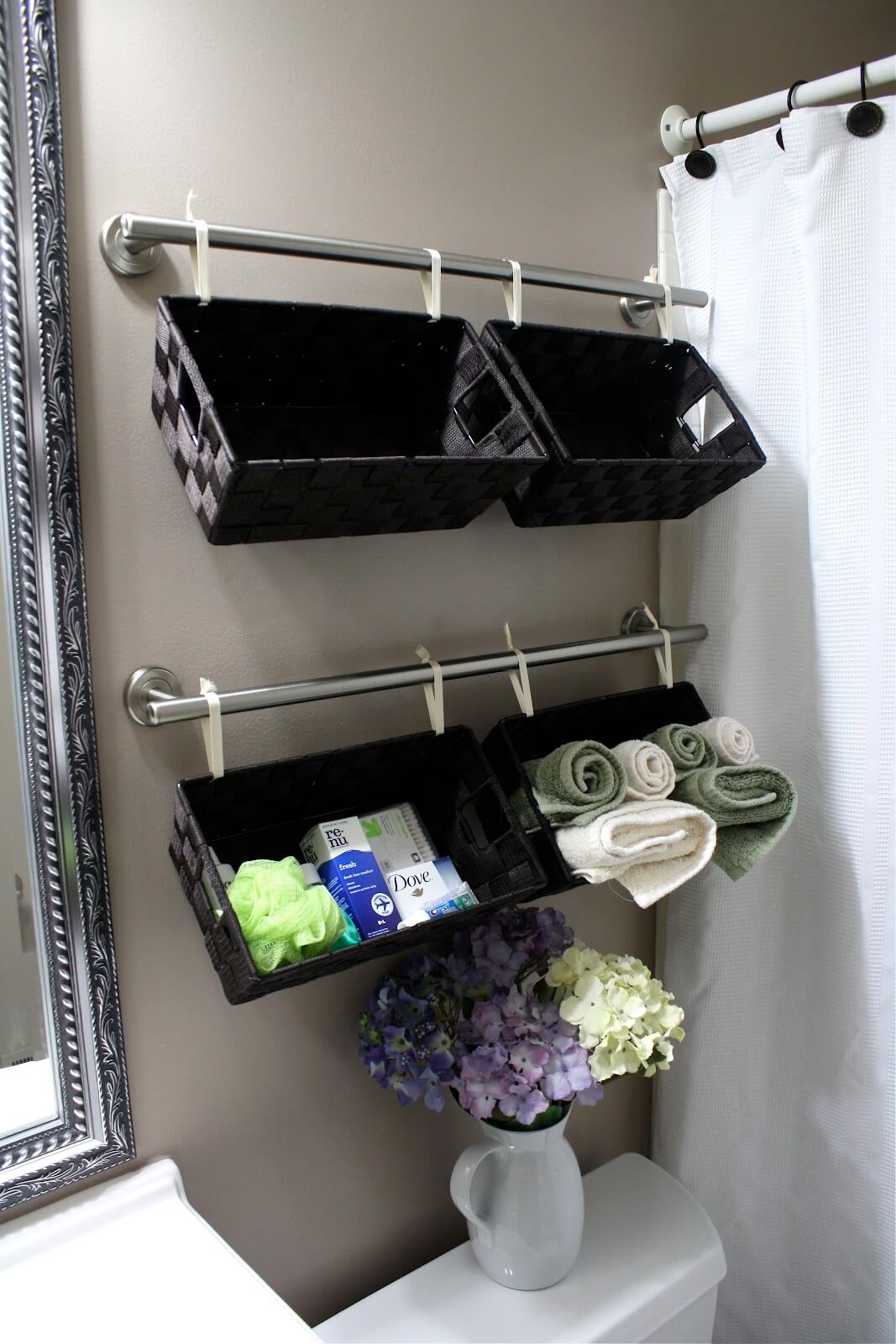 If you happen to have some towel rails hanging around, hack it by hanging or tieing a few storage racks on the rails.
Now you have space for more towels as well as other easy-to-reach toiletries.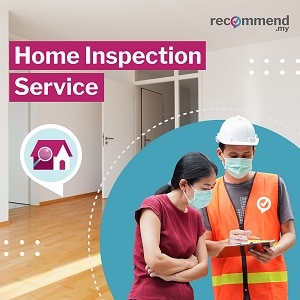 12. Install several over-the-toilet storage shelves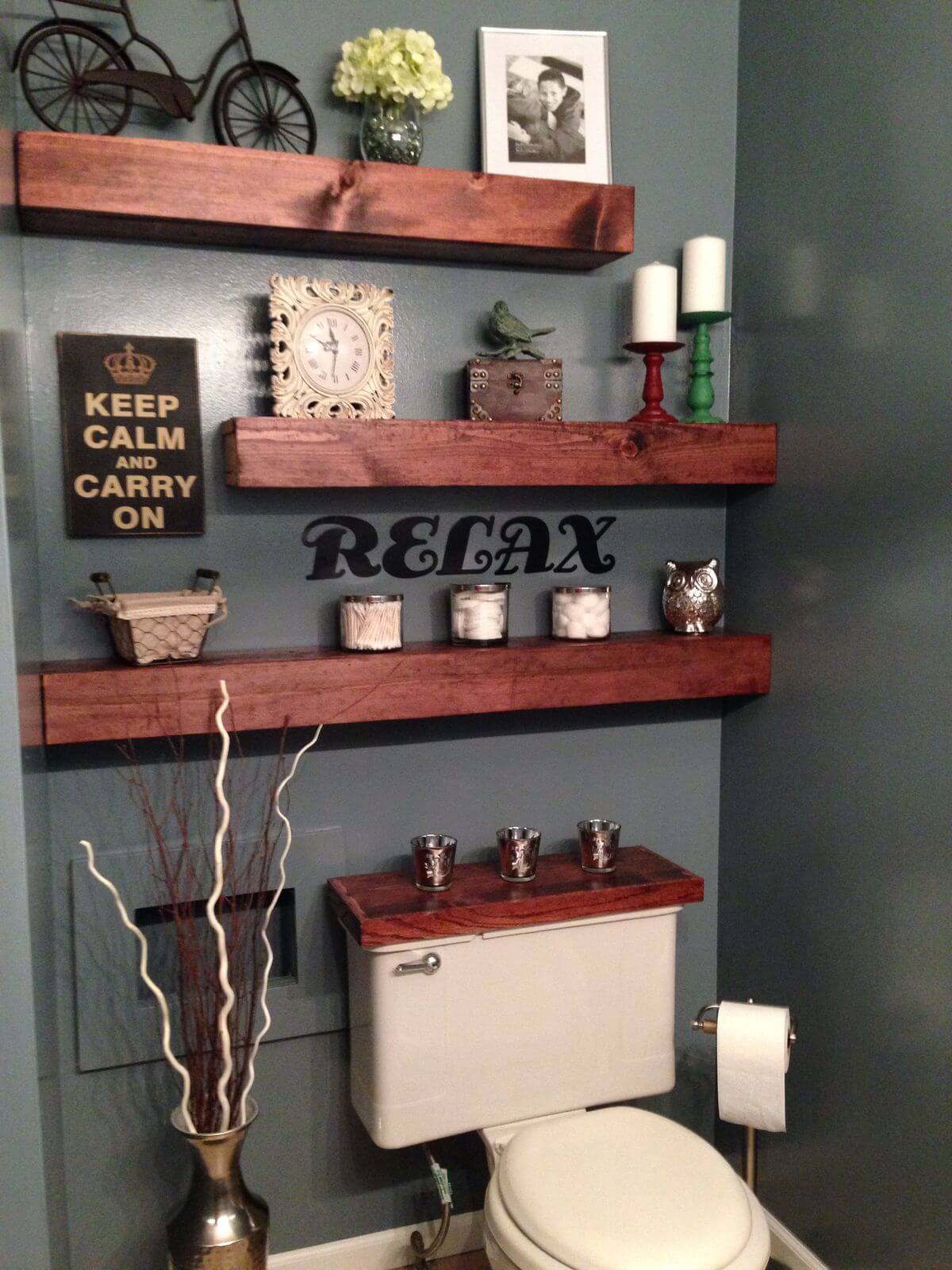 Of course, you don't have to limit your shelves primarily for bathroom storage, you can also use the narrow space as a decorative corner to beautify your bathroom.
Find experts for free to help you install these ideas in your bathroom
Don't have the time to DIY these ideas yourself?
Recommend.my has hundreds of qualified cabinet contractors in Malaysia to help you design, build and install your bathroom cabinets.
Send in a cabinet request and you'll receive free quotes from experts who can do it for you on Recommend.my now.