As you are renovating your kitchen in Malaysia, one of the big decisions will be choosing your countertop material.
There are many options available, including laminate, tiles, solid wood, stainless steel, or solid surface. But the two materials that always cause confusion for homeowners is deciding between granite or quartz.
The reason granite vs quartz causes so much confusion is because both are good choices for homeowners who love the look and feel of a stone kitchen top. But, each has very different characteristics, which may cater to different individuals and their preferences.
Let's examine these differences to give you a better understanding of both options so that you may know which type suits you best.
Get kitchen specialists to install your kitchen countertop
Recommend.my connects you with cabinet contractors for free. Submit your requirements and local professionals will respond with free quotes.
How it's made
Granite (or natural stone) is a type of rock mined from a quarry. Large granite chunks are extracted from underground or hillsides, and sawn into slabs or made into tiles and then polished to a fine finishing suitable for daily use.
Because the composition of granite is different all around the world, you will never find two granite countertops that look the same. Each will have it's own unique colours and patterns. And depending on the quarry, granite comes with a variety of colours, from natural earth tones to different shades of blue, green and rose.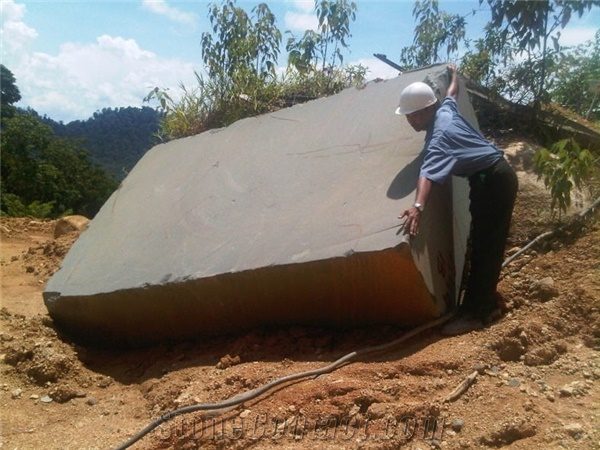 Above: The Bukit Chetai quarry in Terengganu produces a granite known as Terengganu Green. Source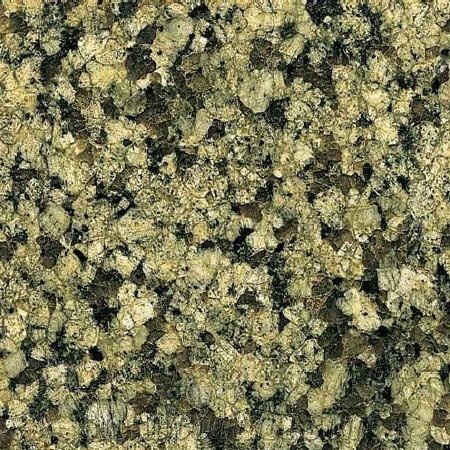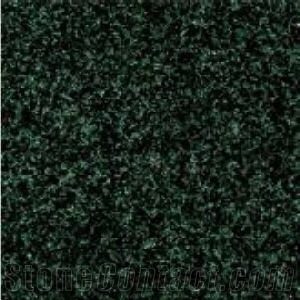 Above: No two granite slabs are the same, even when they come from the same quarry. Source
Since each piece of granite is unique in its appearance, owners may have to spend more time searching for the right colour that goes well with their home décor. Some may find it difficult to find a slab of granite that is consistent enough to match with their colour theme.
Quartz (or engineered stone) countertops also provide homeowners with the feel of natural stone.
Also known as engineered stone countertops, quartz countertops are manufactured by combining crushed quartz with polymer resin and pigments to control its colour. The elements are put under intense vibration, vacuum, and pressure to produce dense and non-porous slabs. These slabs are then cured and produced to precise thickness and polished.
https://www.youtube.com/watch?v=kgg14I6byhQ
Above: Engineered stone manufacturing process
Designs
Granite countertops appeal to those who want natural stone in their homes. It's the same reason why people prefer marble table tops. Both granite and marble table tops have unique swirls, veins and speckles that add a gorgeous look to tables, kitchen counters and bathroom vanities.
Quartz countertops offer a wider range of colours and patterns, since quartz countertops are engineered, rather than mined from the ground. This gives owners the liberty to choose their preferred colour that matches with their home colour scheme.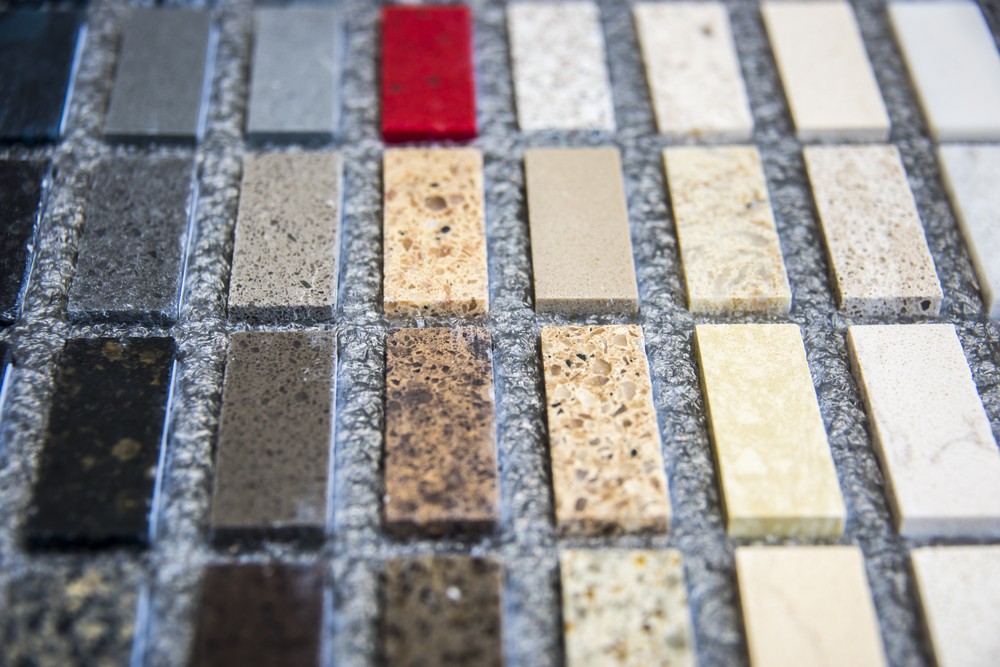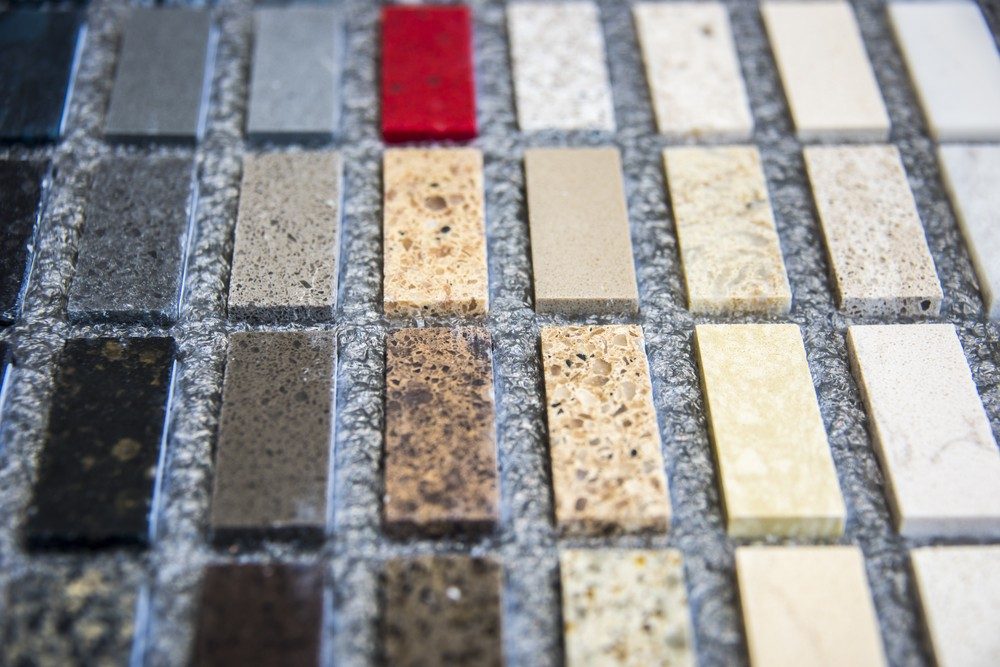 Installation
Both granite and quartz slabs are much heavier than other countertop materials, so you will need a professional contractor to install it. A typical granite slab of 20mm thickness will weigh about 10kg per foot run. And quartz slabs may be even heavier.
If you are using granite as a large countertop, your contractor will need to join several rectangular pieces together to achieve the length or the shape. A professional installer may match the seam colour as close as possible to the granite colour but the seams will still be noticeable. This is common if your cabinet is in an "L" shape.
If you prefer a smoother, continuous surface pattern, then consider quartz countertops. The seams for quartz are hardly visible while those of darker shades do not show any seams at all. This is a huge plus point for those who think the seams in granite is an eyesore.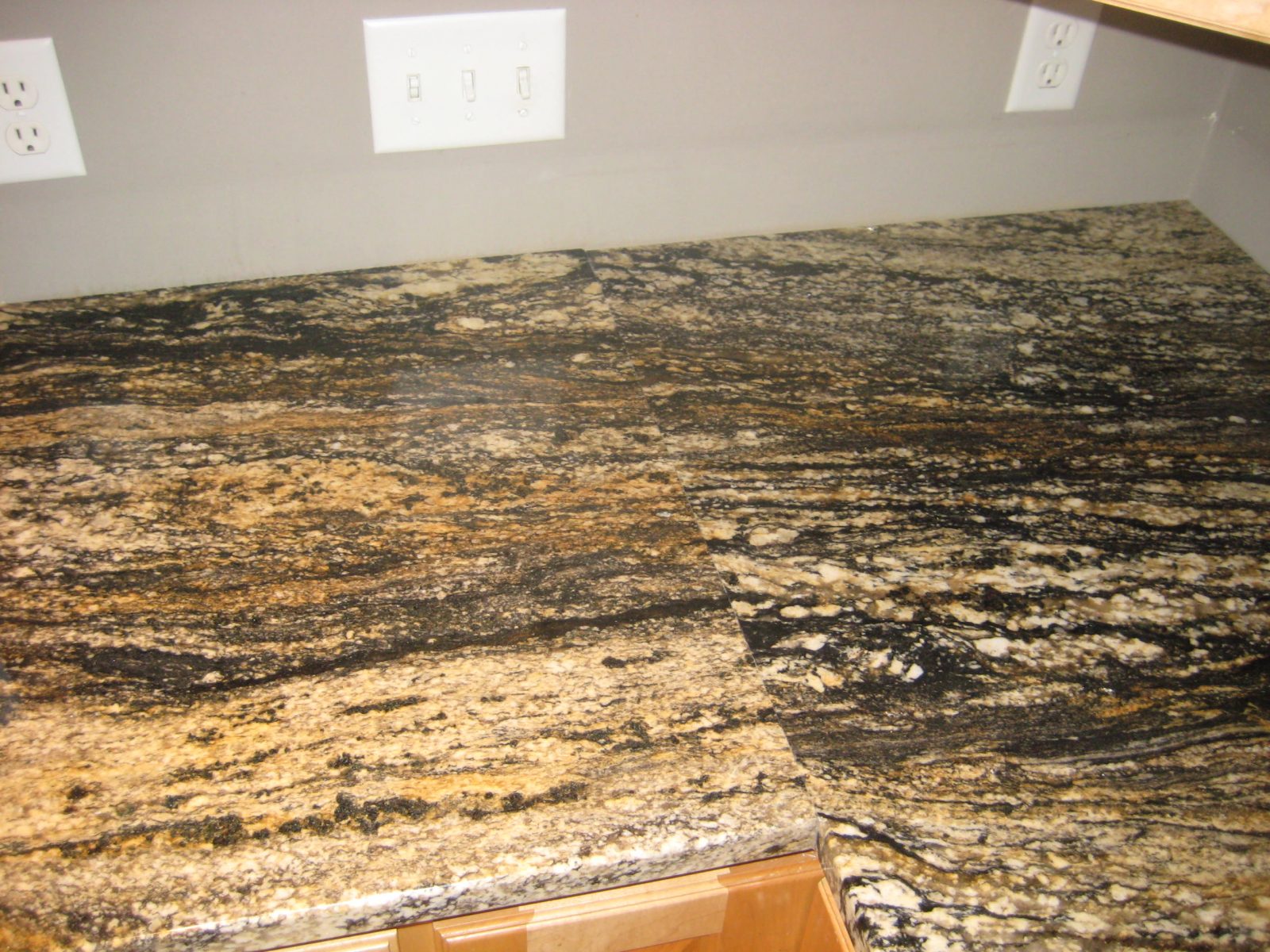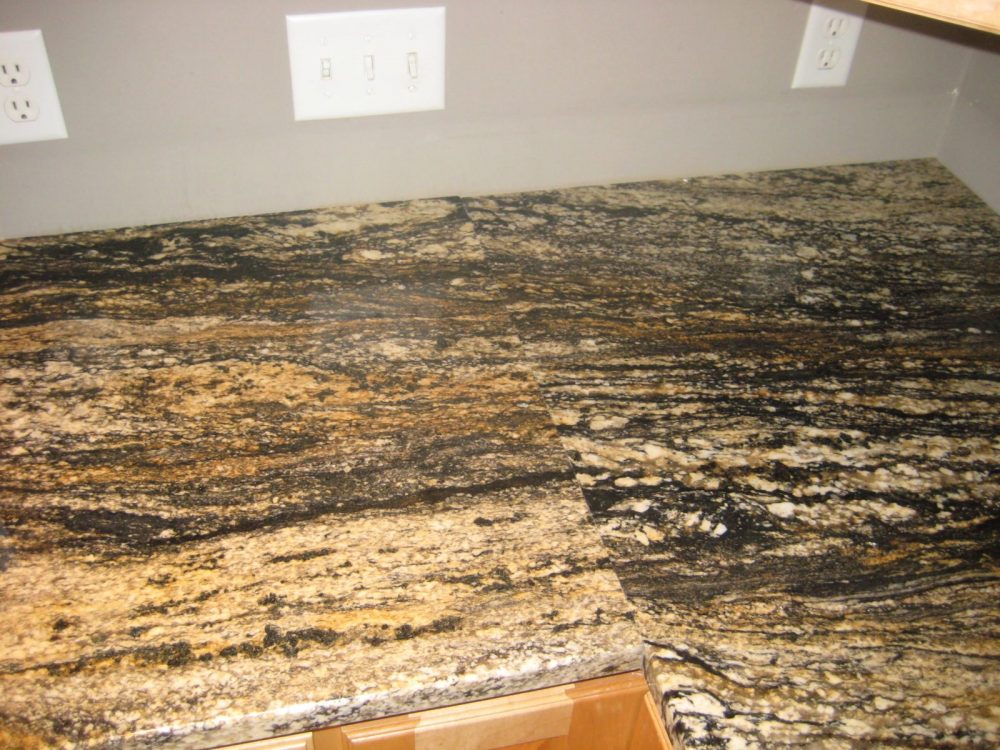 Resistance to stains and scratching
Even though granite is hard and dense, some grades of granite may be more porous than others; allowing water and chemicals to seep into it. Natural stones come with pores and tiny capillaries that can easily retain liquid, which can eventually lead to staining or bacteria growth.
To prevent staining or bacterial growth, most granite suppliers will recommend that you seal the granite with a protective layer, and do it once every year.
It's also possible for granite to chip or scratch if you drop something sharp and heavy on it, just like a regular stone would.
Quartz, however, is non porous, since it is manufactured under high pressure. Therefore, its surface will not collect absorb water or chemical and does not need to be sealed. This makes quartz almost maintenance-free compared to granite.
However, if you are using a quartz countertop near a large window, the constant exposure to sunlight may cause the material to discolour over time.
Resistance to heat
One huge advantage of granite over quartz is its resistance against heat and other kitchen elements. Even without the use of protective tools, you don't have to worry about hot pots spoiling your beautiful countertop.
Though it is almost indestructible, quartz can be damaged by excessive heat. Therefore, the use of heat pads is strongly recommended for hot pots at all times.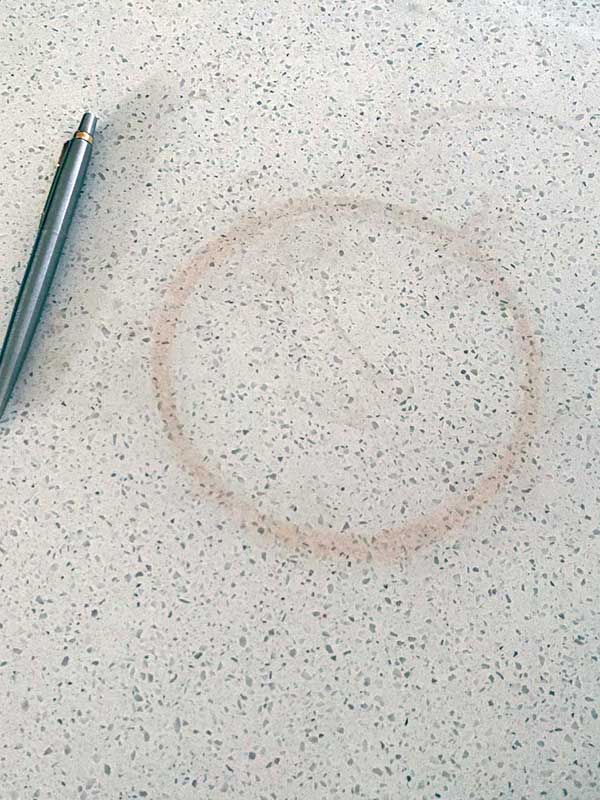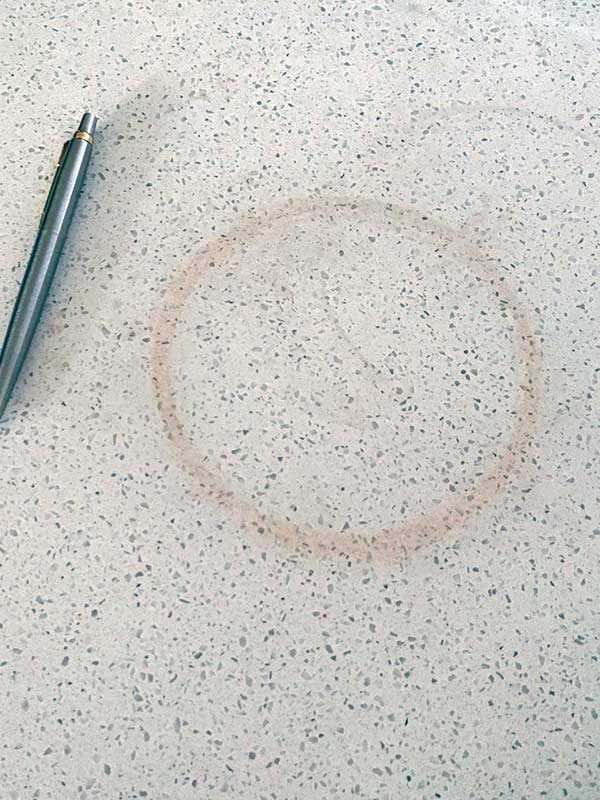 Maintenance
Each granite countertop is sealed with a chemical sealant at installation. This sealing process prevents natural stone countertops from staining and collecting liquid. Remember to always have a dry cloth ready to wipe away any spills and make sure you pour wine or juices while holding them over the sink or a table instead of your granite countertop.
You don't really have to worry about water getting into your granite counter. Since it is a natural stone, the surface will turn dark, but when the water evaporates, the colour will return to normal.
However, if you spill mineral oils, wine, or wet turmeric on it, it could penetrate the surface of the granite and require more work to remove. Therefore, it's recommended to reseal the surface every year.
When you are shopping for your granite counters, make sure you check with your supplier about colours. Even though it is natural stone, dyeing is possible, even in black granite. Its colour may fade especially in those areas where you clean more often or use for preparation of food frequently.
Common granite and quartz suppliers in Malaysia
Some common quartz and granite suppliers in Malaysia include Quartz Stone, Solid Top Sdn Bhd, Marble Granite Malaysia, CM Supreme Ceramics (M) Sdn Bhd, and Best Stone Building Materials Sdn Bhd.
These suppliers carry granite from local and international quarries, as well as popular quartz brands such as Quality Quartz, HanStone, CaesarStone, Samsung Radianz, Jess Stone, Silestone, LG Viatera, Compac, and DuPont Zodiaq.
Price of quartz vs granite
The price of granite may start from RM180 – 300 per foot run. However, this can go up depending on the quality of the stone, and the country of origin. This includes material and installation cost.
The prices of granite are determined by their colours, designs, country of origin. Normally, darker colours are more expensive compared to light colours.
Similarly, quartz countertops start from as low as RM160 per foot run to about RM600 and above from premium brands.
Always remember to check with your supplier on whether the price is inclusive of material and service warranty or not. Please note that for granite, there is no material warranty as they are all natural stone, so it will not be possible to replace it.
Some common questions
Are granite and marble the same?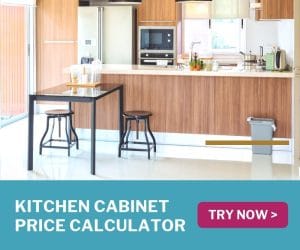 No they are not. Granite is a harder material than marble, and contains about 60% quartz, with the remaining as feldspar, mica and iron. Whereas marble contains calcite and/or dolomite, making it softer.
Due to it's composition, granite will appear to have more speckles, and marble will have more veins.
How to tell the difference between granite and quartz?
Since granite is a natural stone, it will not have a uniform pattern. The veins, swirls and speckles will be completely random. However, since quartz is manufactured, it will have a more even pattern throughout.
Can quartz or granite be repaired?
It depends on the severity of the damage. If it is a deep scratch, it may be able to sand it to smoothen it out. Or, it can be filled with a similar-coloured epoxy. If it is a chip, then the chip can be glued back on, and the edges smoothened after it has dried.
If it is a stain that has penetrated into the granite, then it may not be possible to remove it.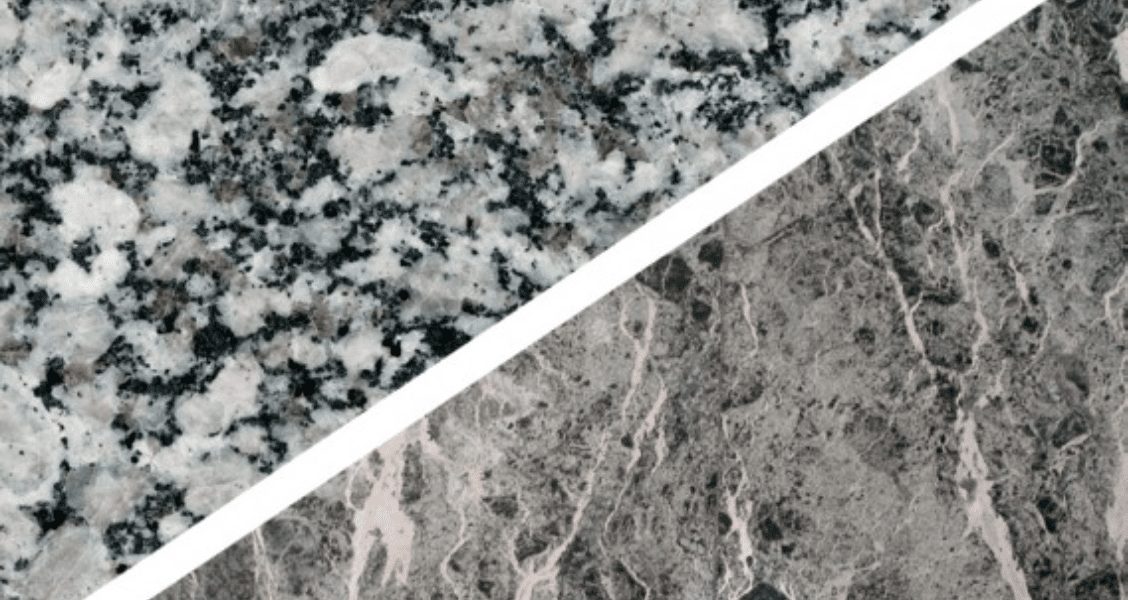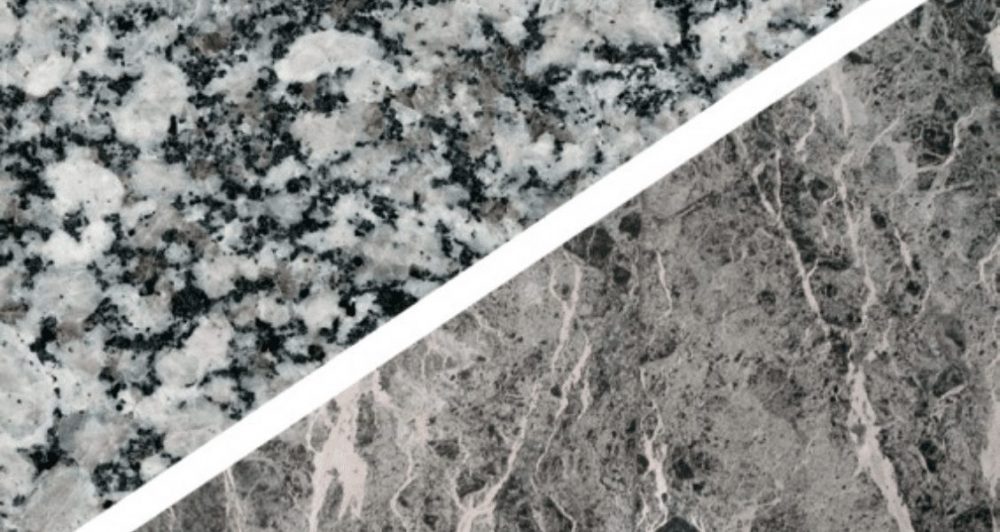 Conclusion
Both granite and quartz countertops have their own group of fans. If you are a person who loves the organic feel of natural stone, granite will be the best option. However, it may require more effort to maintain compared to quartz countertop.
If you want something that looks good and practical for daily use, quartz will be your preferred choice that requires less maintenance. It is also extremely durable, thanks to the way it is engineered. However, depending on the design you want, the cost may be higher than granite.
Need prices for your kitchen renovation?
We can recommend several reliable kitchen contractors to supply and install your kitchen countertops. Tell us your kitchen details and we will contact you to follow up. This is a free service from Recommend.my. Submit your requirements now.