Does your home have a small living room? With homes getting smaller (especially high-rise condo units in the city), the size of the living room can be very small to fit in more bedroom and kitchen space.
That's not great if you consider the living room as your most important space to chill out and entertain. The living room is where you get to relax after a tiring day at work; or catch up with your family; or meet with friends. Simply put, it's the get-together place for everyone in your home.
But when a living room is small, it can quickly get cramped and cluttered. A small living room also makes it more difficult to decorate it the way you want.
There are many tricks you can do to make your small living room area even more spacious. It's all about finding the right furniture, adding the right built-in cabinets and shelves, and selecting the right colour scheme for your space.
By using the right interior designs tricks, it can help transform an area that feels cramped into one that feels cosy and aesthetically pleasing. Thus, your living room, regardless of the size, it should be able to function as a space for relaxation and entertaining.
Here are some examples of small homes in Malaysia that have well-designed living rooms.
Looking for an interior designer for your new home?
Recommend.my has hundreds of interior designers ready to work with you. Tell us your home requirements and we find a few designers to quote for the job. Also includes home damage protection of up to RM50,000 (terms apply).
1. Minimalist Living Room Design in Vista Alam, Shah Alam (785 sq ft)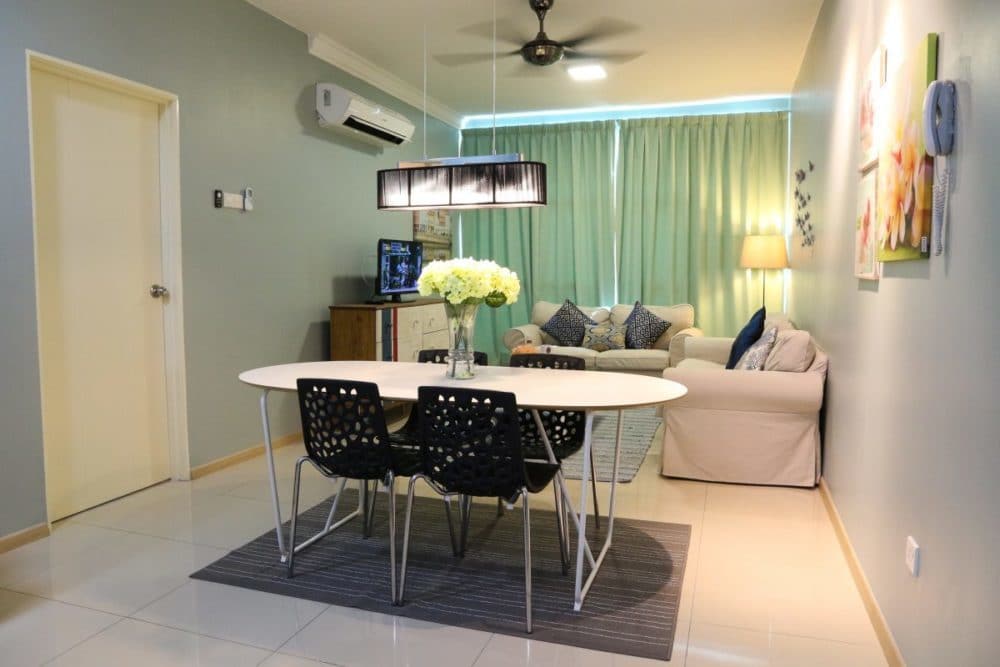 This 785 sq ft apartment in Shah Alam was designed in a minimal way, yet it looks cosy to live in. The furniture is mostly white, and is a popular choice when it comes to designing a minimal home these days. The dining table and chairs are also selected for their slim legs and profile so that it doesn't obstruct the floor.
You could place a simple cabinet with a TV on top along with a sofa and carpet to complete the living hall.
2. Simple Living Room Design in Soho Kanvas, Cyberjaya (485 sq ft)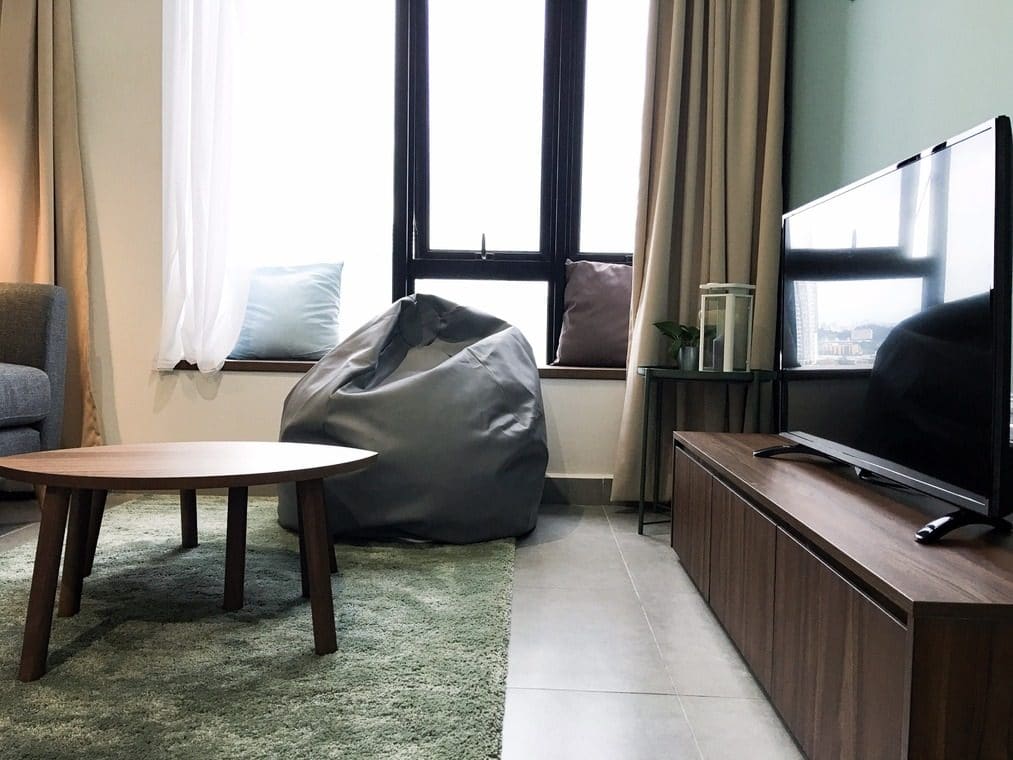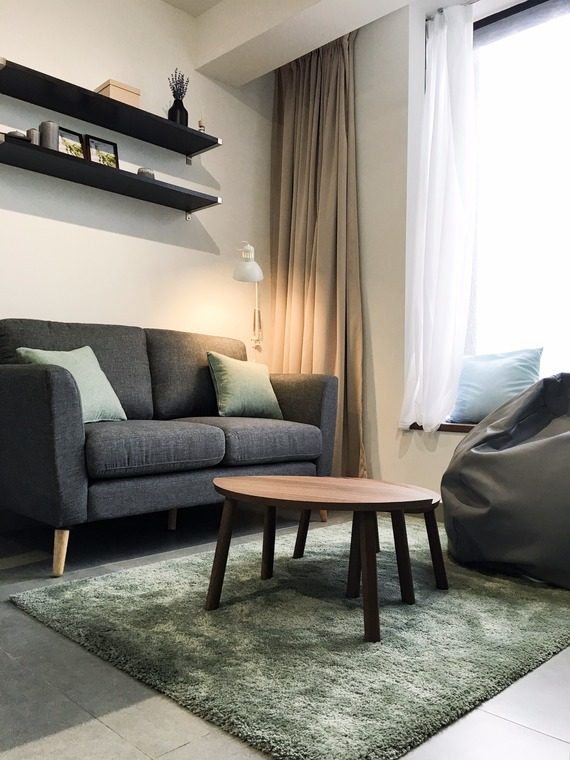 This 485 sq ft Scandinavian inspired studio apartment is minimal and functional. The simplicity and colour of the furniture complements the home very much. This studio apartment also has a TV cabinet, window bench, and a coffee table making it functional to live in.
With the neutral colour used along with the natural lights from the window makes the home brighter and spacious.
3. Simple Living Room Design in Ecosky (861 sq ft)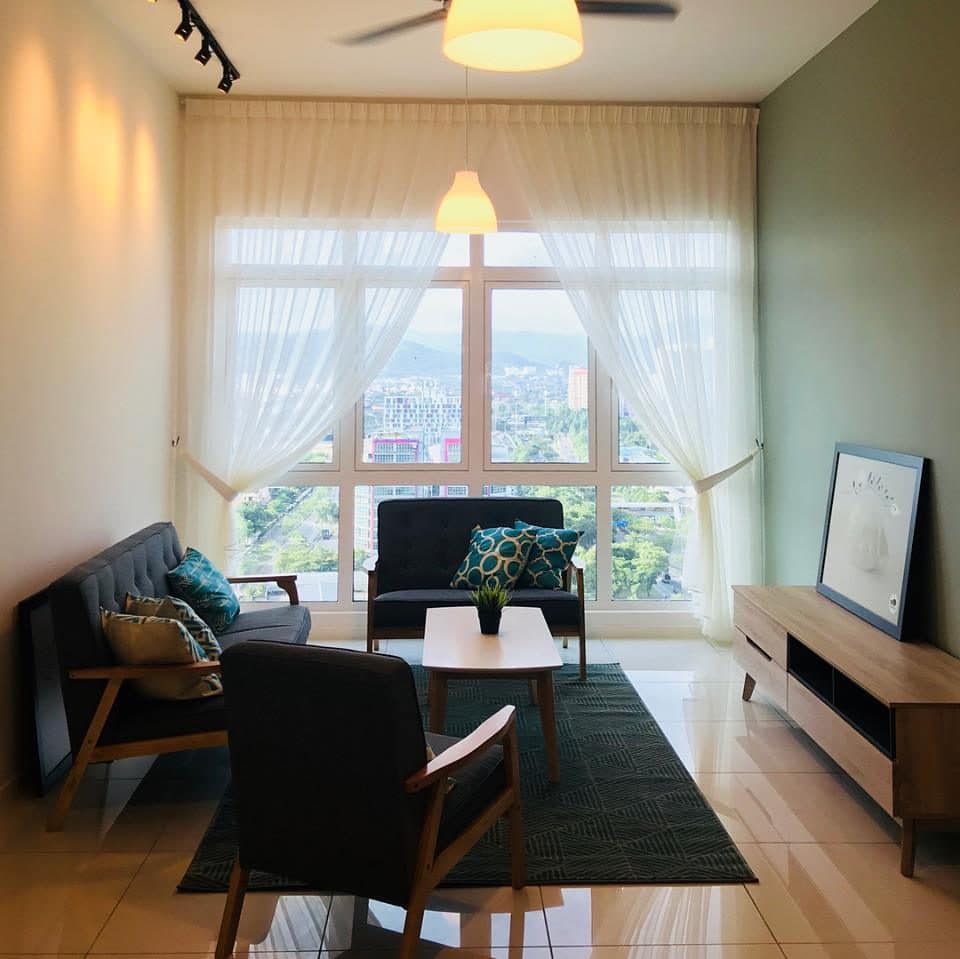 This 861 sq ft Scandinavian inspired home looks gorgeous even with simple furniture placement in the living hall. Wood elements are usually found in every Scandinavian home. You can also add colours to make the home feel vibrant.
There's something about a vibrant, patterned blue rug that brings a space to life. That carpet design can add warmth to any room.
4. Narrow Living Room Design in Kepong Terrace House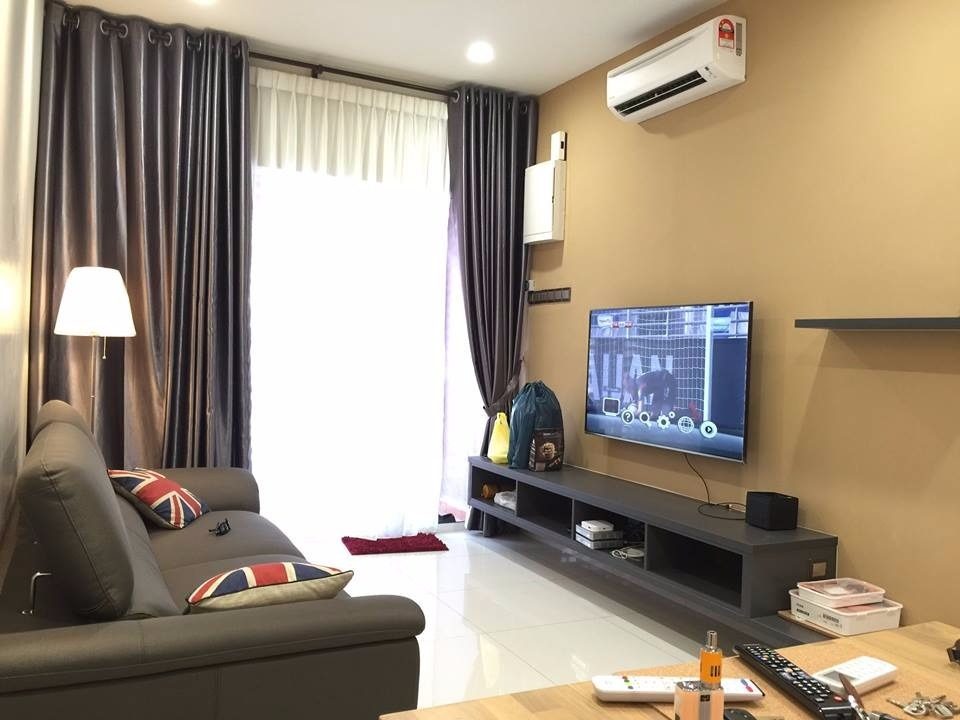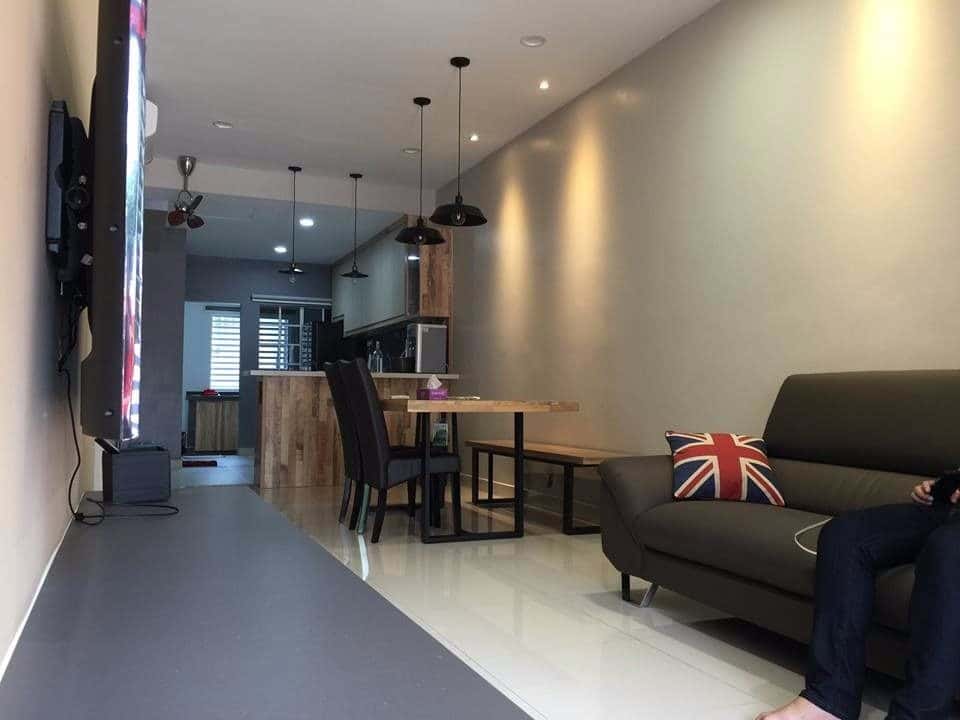 This single storey home looks modern, clutter free and fully-functional. The grey furniture makes such a good combination with the wood dining table and kitchen island.
That built-in TV cabinet is well paired with the light brown painted wall. It does make the home clean and cosy.
5. Small Modern Living Room Design in a  Condominium in Subang, Malaysia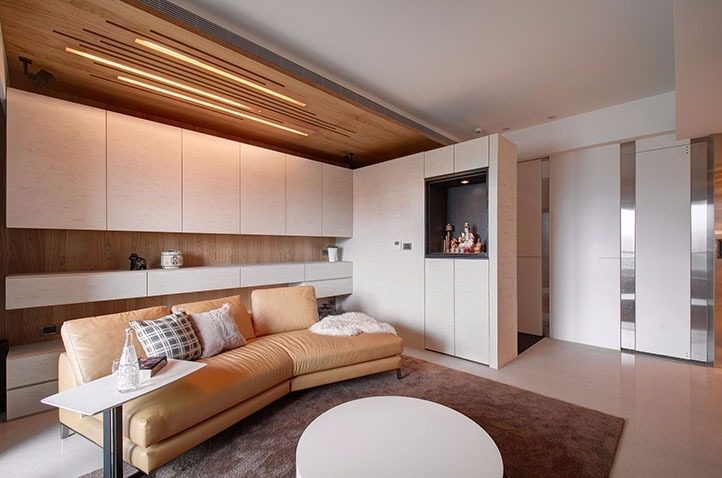 This minimalist inspired condominium is next level. Those built-ins all around the wall is a great way to maximise space. It provides plenty amount of storage solutions that you'll ever need.
Besides, add on a large rug on the center of the living hall to give it a relaxing feel. Also, you can install light fixtures on the ceiling to glam up the space.
6. Living Hall Design in The Saffron, Sentul(1087 sq ft)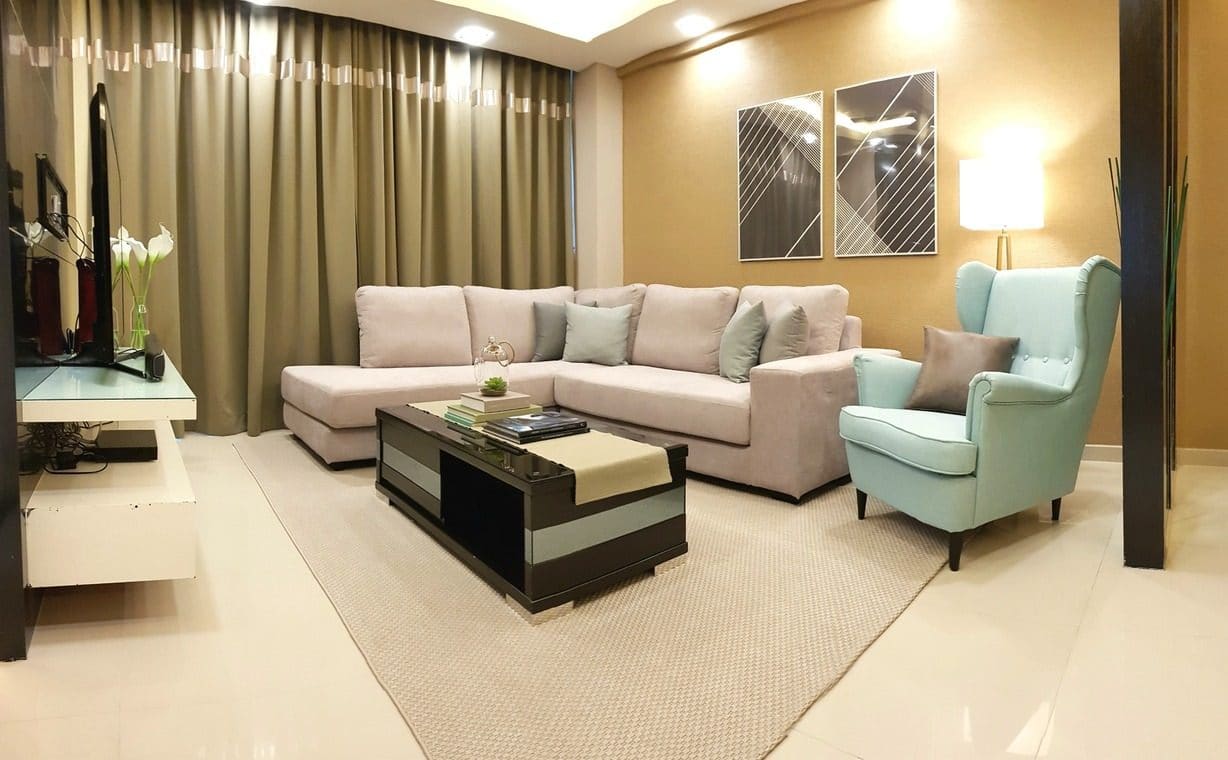 This 1087 sq ft condominium shows us that we can play with different types of colours for our home and make it look beautiful. Opt for impact with a sugary shade such as pastel colours like pink and tiffany blue. The yellow painted wall makes a good balance in complementing the two coloured chairs too.
This is another way to make your living hall a warm and inviting space for your family and friends to relax.
7. Meridin Bayvue @ Sierra Perdana Masai Johor Malaysia (900 sq ft)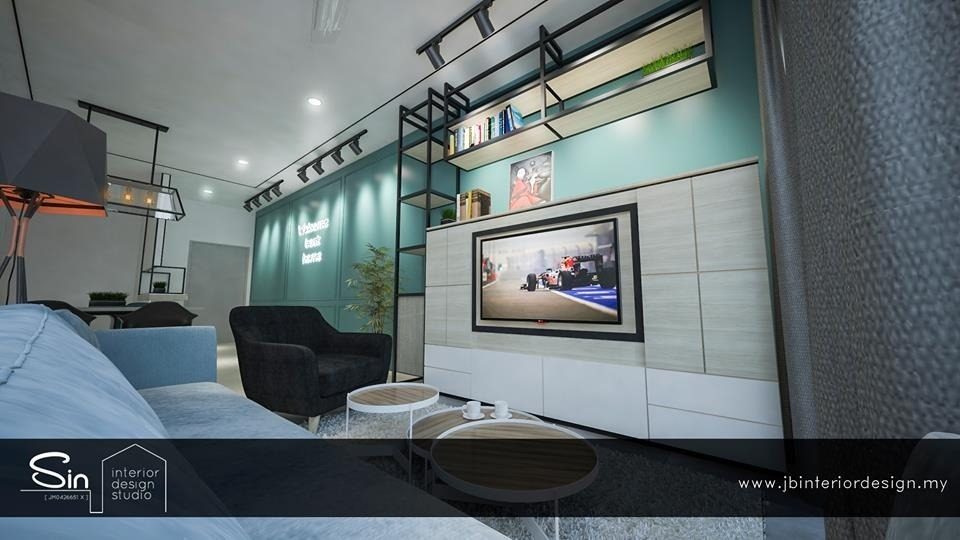 This 900 sq ft apartment is a "Scandustrial"-inspired design. Many people admire the beauty of a Scandinavian home because it never fails to satisfy. That built-in TV cabinet looks very functional with the amount of shelving and drawer storage.
Not only that, coloured chairs is a very popular choice when it comes to Scandinavian homes. It is like an essential where you just can't miss out on.
8. Modern minimalist living room design
in Setapak, Malaysia (600 sq ft)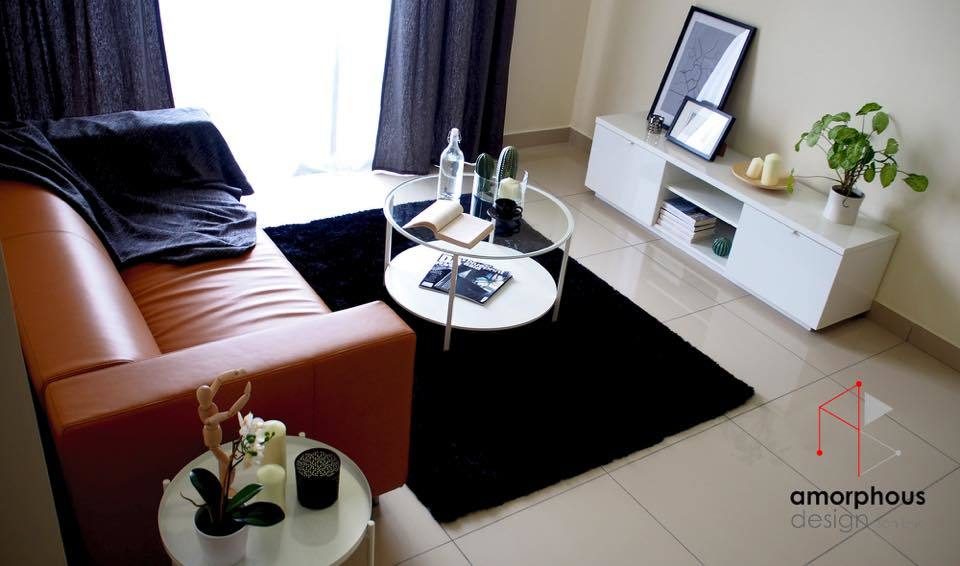 This minimalist studio apartment is about 600 sq ft and the way to create a spacious living room is to use the correct furniture piece. What is done here is to place a 2 seater sofa along with a side table, a coffee table and the TV cabinet for storage.
This idea will make the space less cramped and cluttered. Overall, it does make it feel extra cosy.
9. Contemporary Living Room Design in Setia Eco Park, Shah Alam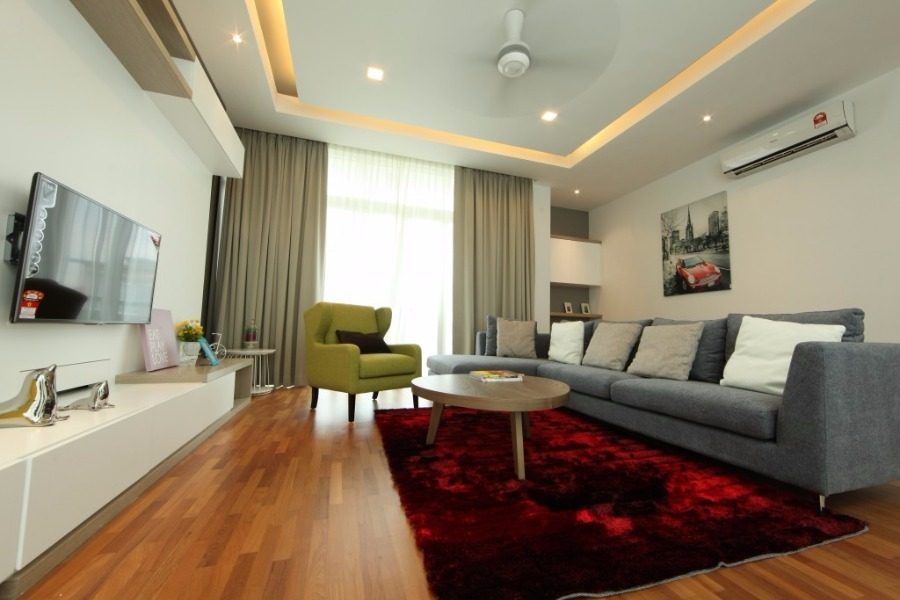 This is a great example of how to maximise a small living space. The large windows and white painted wall helps open up the space naturally. It is the optical illusion of space, making the room seem larger than it actually is.
This living room also shows how you can mix and match with different sofa colours. With fabrics, rugs or pillows can bring warmth and texture into your living space. You may also add ceiling lights for extra brightness to the space.
10. Condominium, Casa Tropika Puchong (1000 sq ft)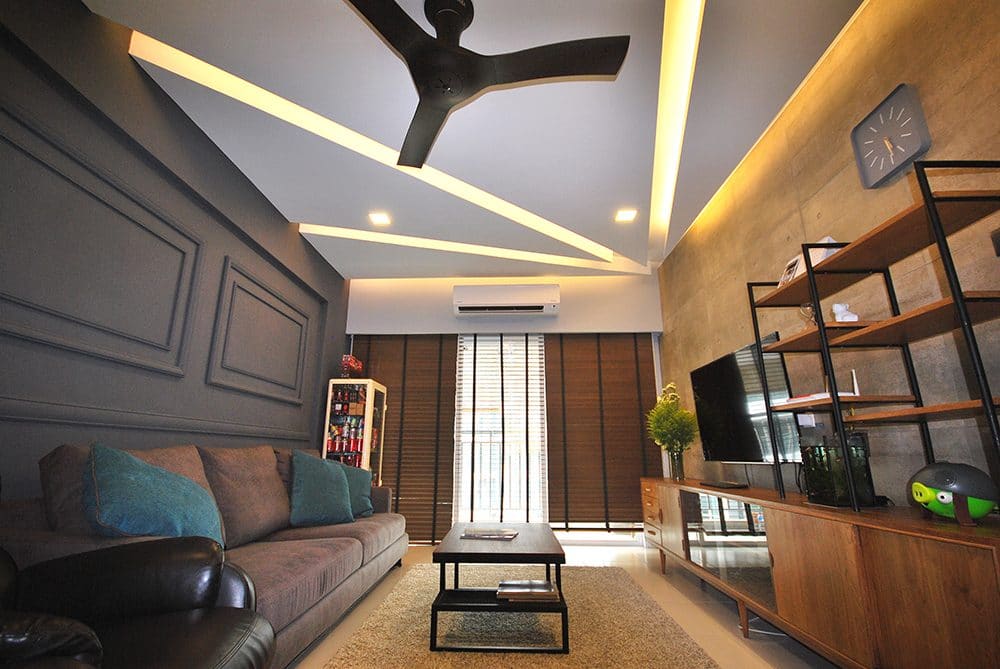 This 1000 sq ft home looks absolutely stunning. The TV cabinet plays with industrial themes, using a plain concrete wall, mixed with the short suspended steel structure.
Besides that, those black Parisian inspired wall just transformed the entire living space. It also matches well with the sofa and ceiling lights.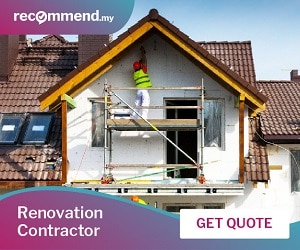 11. Skypod Residences, Puchong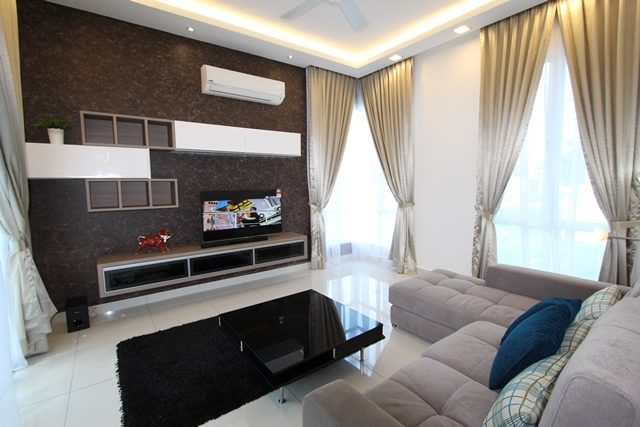 If you are lucky enough to have high ceilings, then full-length curtains is a smart choice because it helps to create the illusion of space. Not only that, that built-in TV cabinet is small yet it works for storage purposes.
To complete the living room, add ceiling lights to brighten up space to make it look bigger than it is.
12. Wooden Ceiling Living Room Design in Casa Tropicana, Petaling Jaya (894 sq ft)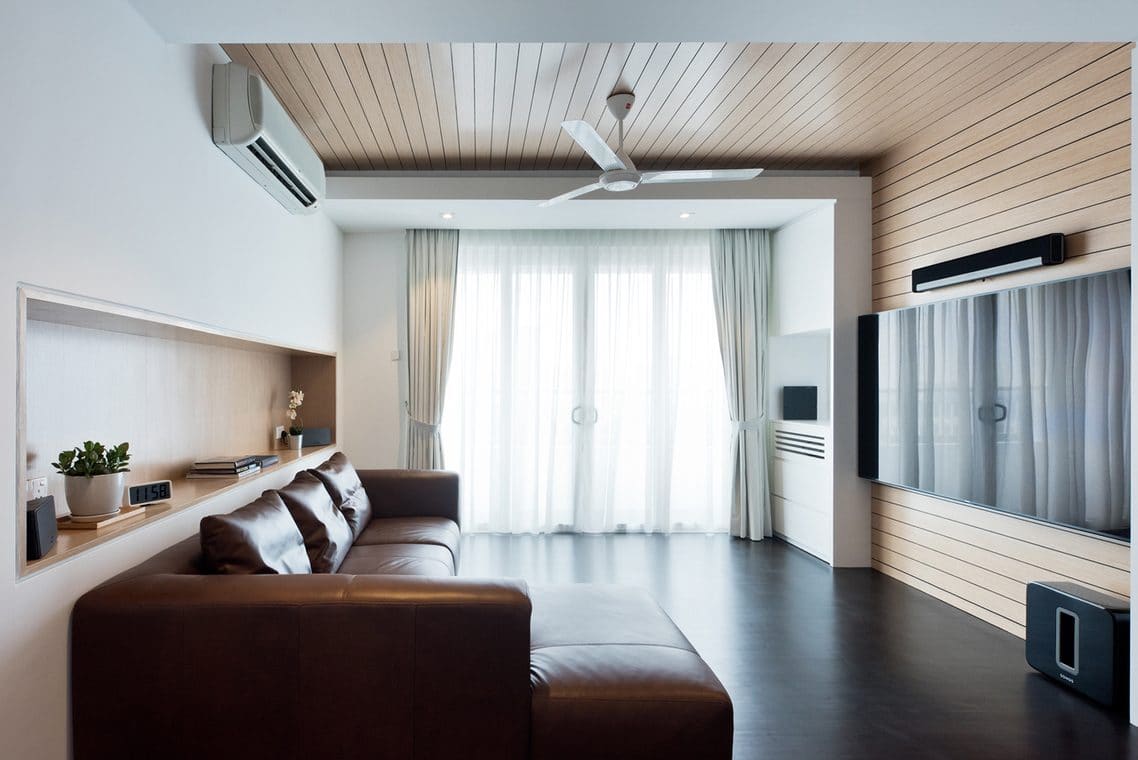 This contemporary 894 sq ft home is designed with minimalist interior. Those wooden platform ceiling gives it a very streamlined look to the entire home. It was also used as a TV backdrop using the same material and it's such a brilliant idea.
Another way to make more space in your small living room is to customise a shelving area behind a sofa. It works as a display area and storage area.
13. Ascenda Residences, Kuala Lumpur (1000 sq ft)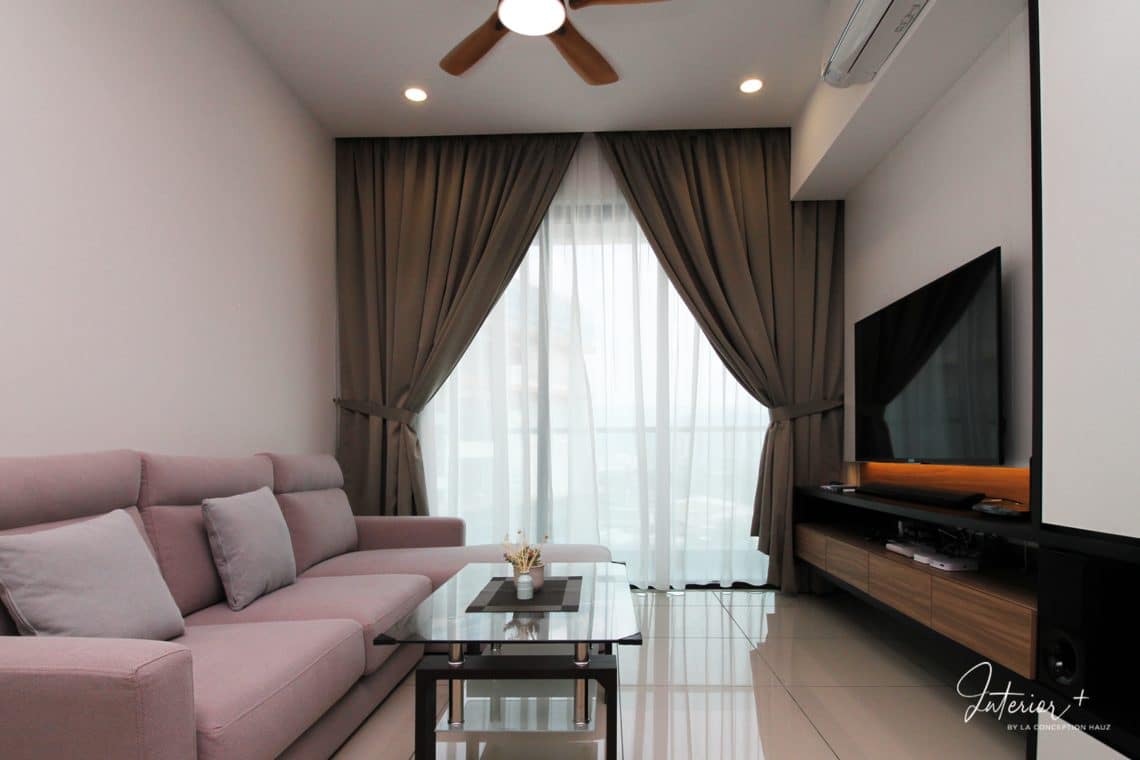 This stunning 1000 sq ft home is located in the heart of Kuala Lumpur. The living room is small yet it doesn't look cramped or cluttered. By using neutral colours for a small living space can make a big difference. An off-white wall colour is used in this home to make it look bigger.
The built-in TV cabinets is also a good size fitted in between the walls, paired along with a coffee table and a pastel pink sofa.
14. Setia Eco Sky, Kuala Lumpur (936 sq ft)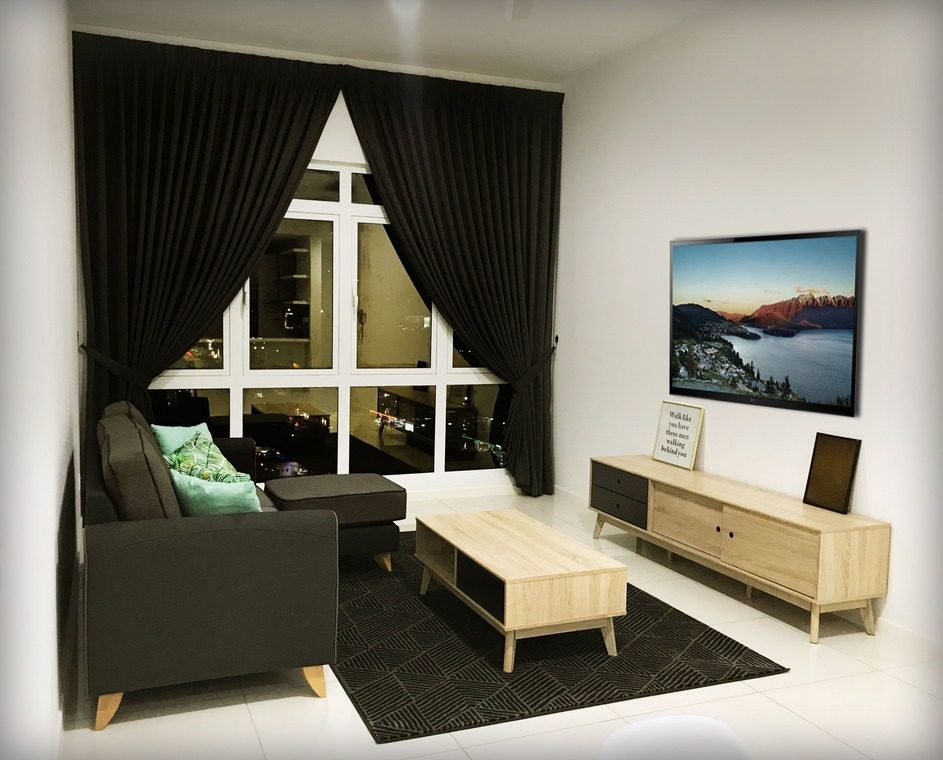 This is another Scandinavian living area design in a 936 sq ft apartment. Wood is such a perfect combination with dark colours. Add patterned rugs to the living area to make it cosy. Also, you can mix and match bright pillow colours for the sofa to make it vibrant.
15. Laguna Residence, Kelana Jaya (961 sq ft)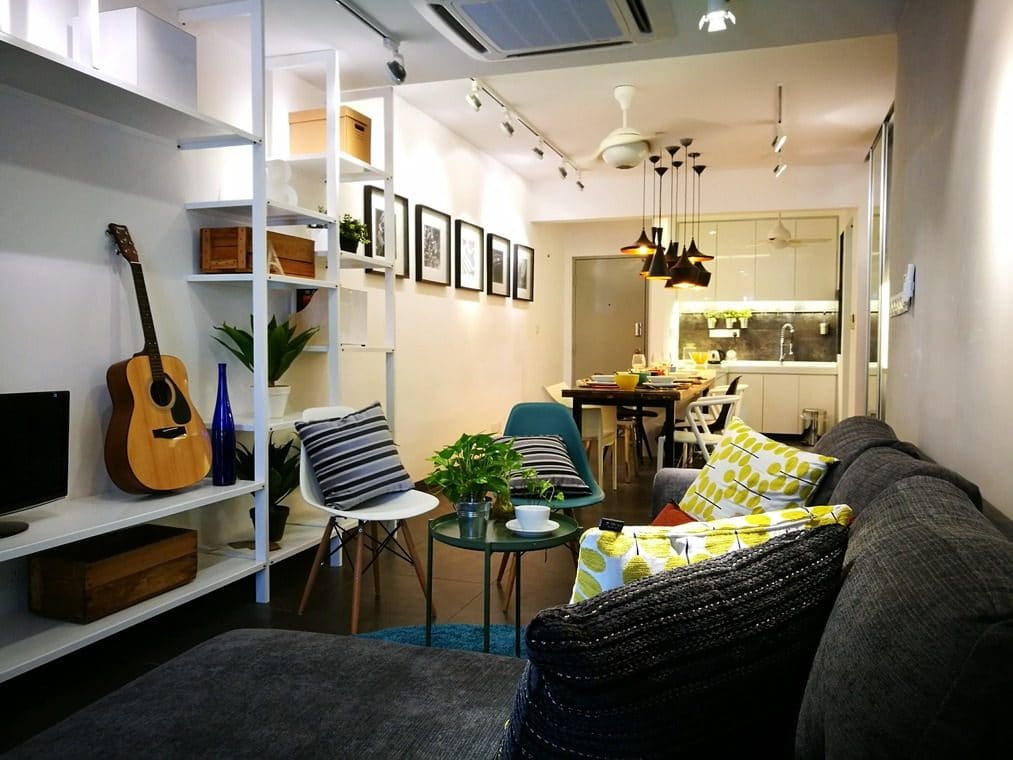 This 961 sq ft apartment uses plenty of colours with bright ceiling lights and a custom made TV cabinet to display decorative items. The colourful pillows, rugs and chairs gives the living area a very vibrant feel.
16. Luxury Living Room Condominium Design in SS2, Petaling Jaya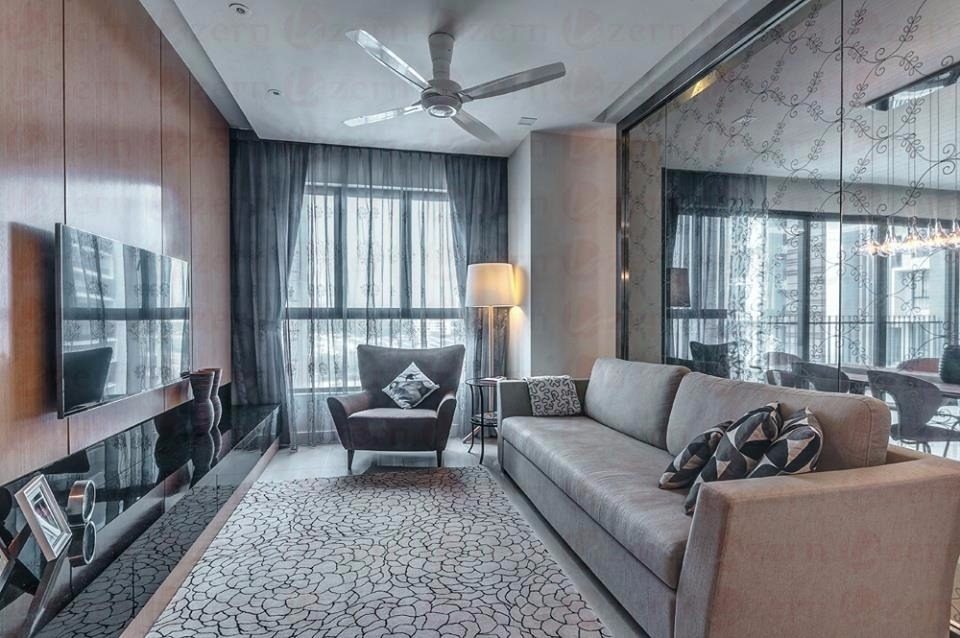 This luxurious living room makes use of patterns and textures. From the mirrored wall, to the curtains and the carpet. This living room is also kept spacious by using as much wall storage so that it doesn't look cramped despite the size of the home. Overall, this living room design shows that there is lots of walkway space in between the sofa and the TV cabinet.
17. Two bedroom apartment in Semenyih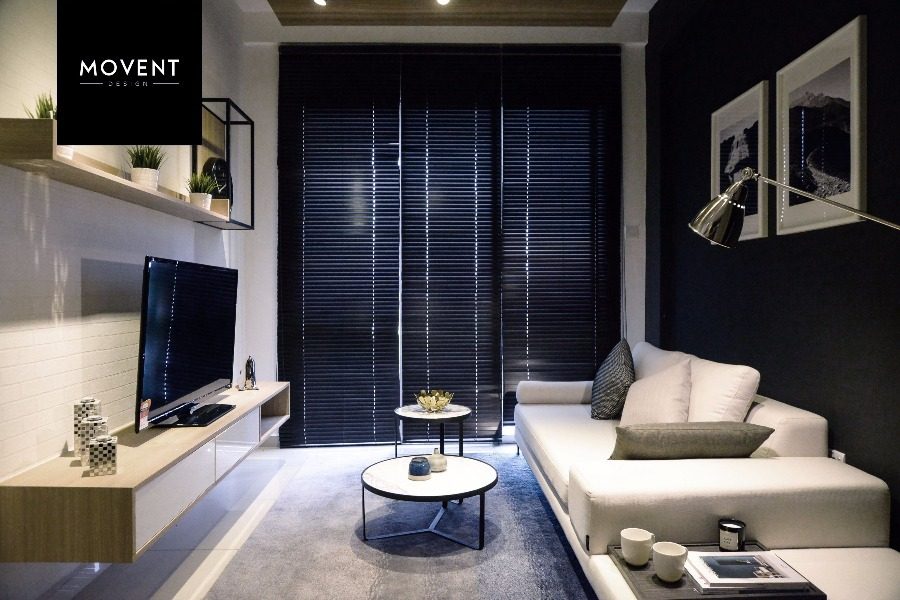 This living room makes a statement with dark window blinds and painted wall with a light-toned floor tiles. The wall cabinet is also kept simple and minimal without it being too cluttered. You may also use white sofa to complement the black wall behind it. Overall, this living area looks very classy.
18. Studio Living Room Design in Eve Suite, Ara Damansara (680 sq ft)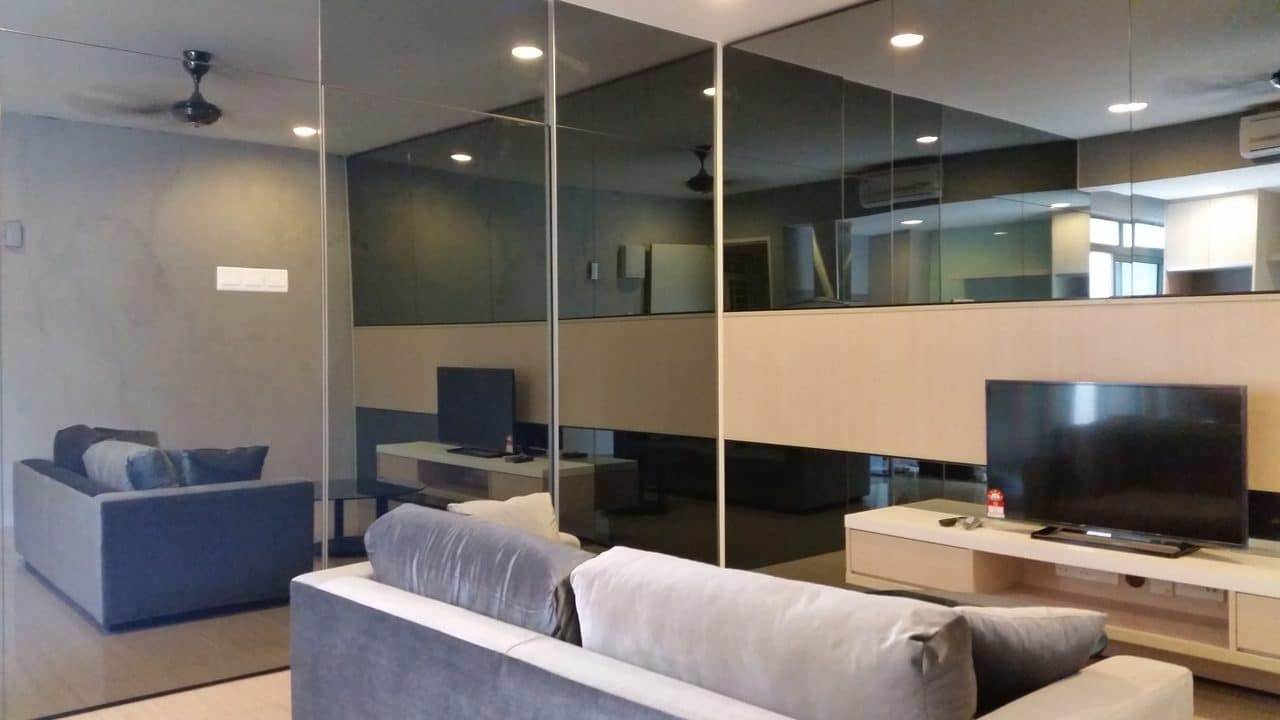 This studio apartment despite just being 680 sq ft, you can still make it look spacious and functional. It is by adding mirror cabinets all around the living room. And, the light from the windows will reflect off of the mirror, making the room seem brighter than it really is.
19. Mirror Living Room Design in Ashton Tower, Sabah (870 sq ft)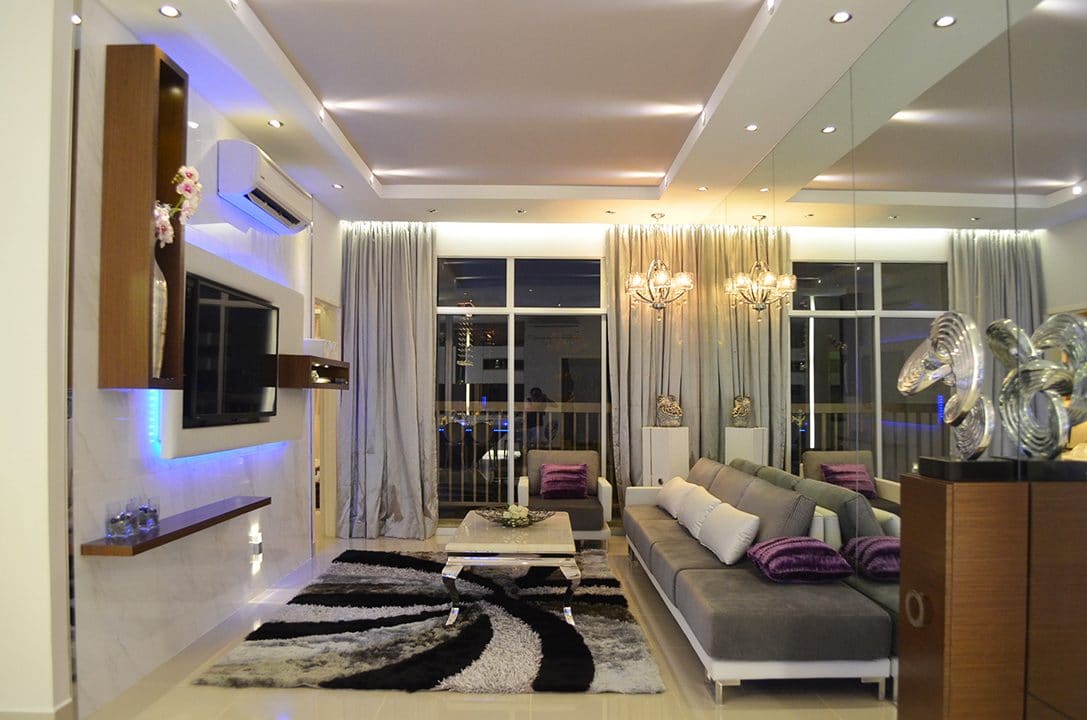 The mix of neutral light and dark colour palettes makes this living room very airy. The lighting in this room also adds a lively feeling. Those mirror walls also makes this 870 sq ft apartment appears bigger than usual.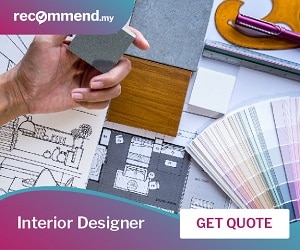 20. Stunning Living Room Design in Three28, Jalan Tun Razak (915 sq ft)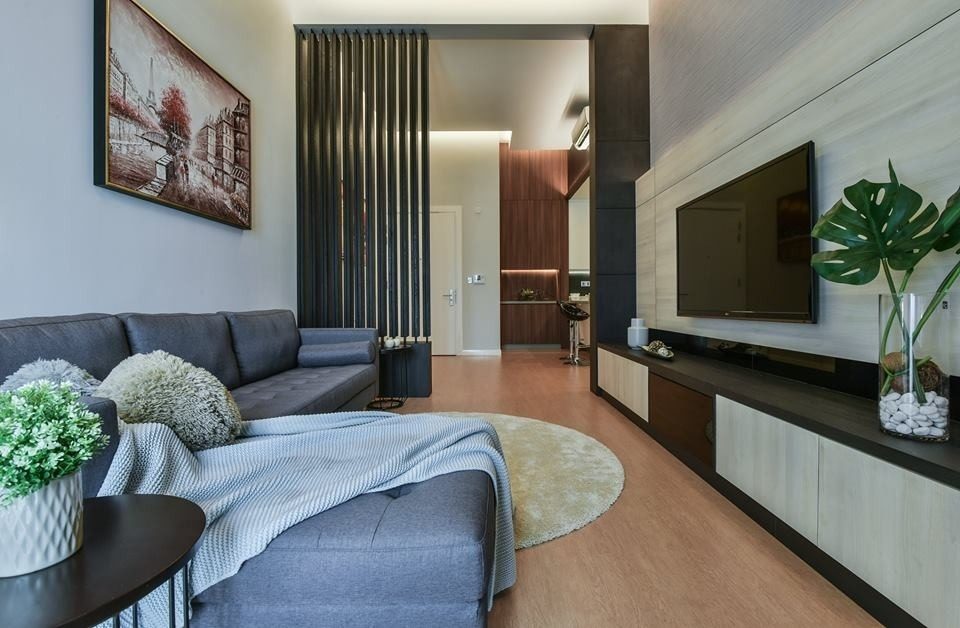 This is another stunning 915 sq ft apartment living room. The neutral coloured TV cabinet gives this apartment a very modern look. Not to forget those green potted plants as well which adds vibrant colour to this space.
21. Living Room Design in Sutera Residences,Taman Sutera, Kajang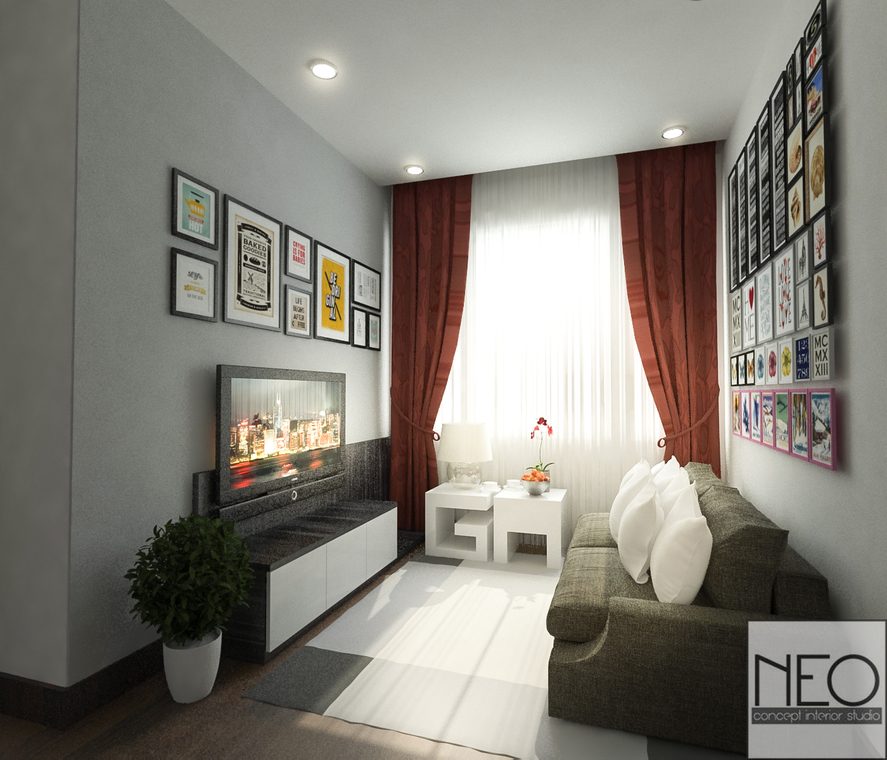 This is another living room design using neutral palettes. They compliment each other to balance out the natural light from the window. Those wall frames also does makes the living room more colourful.
22. Living Room Design in Tiara Faber, Taman Desa (1250 sq ft)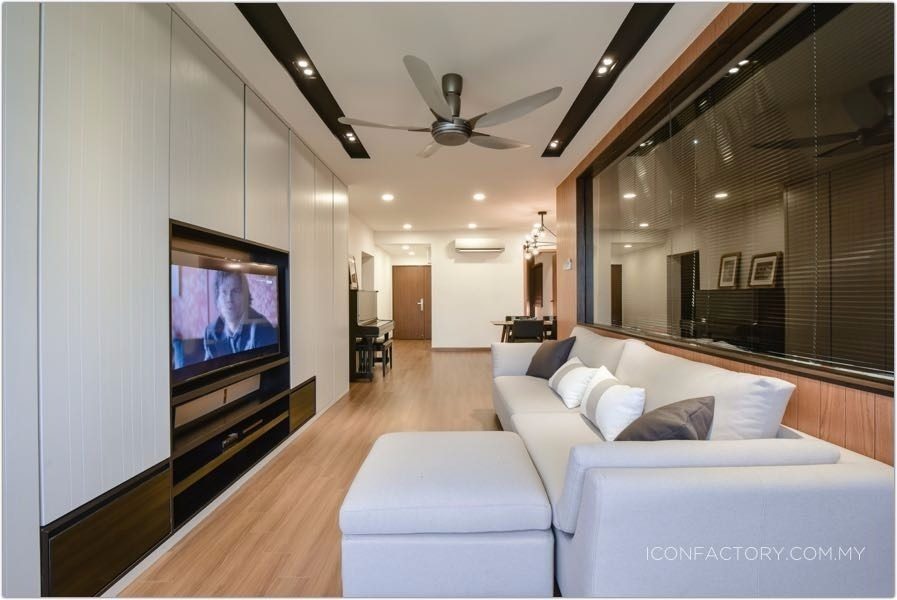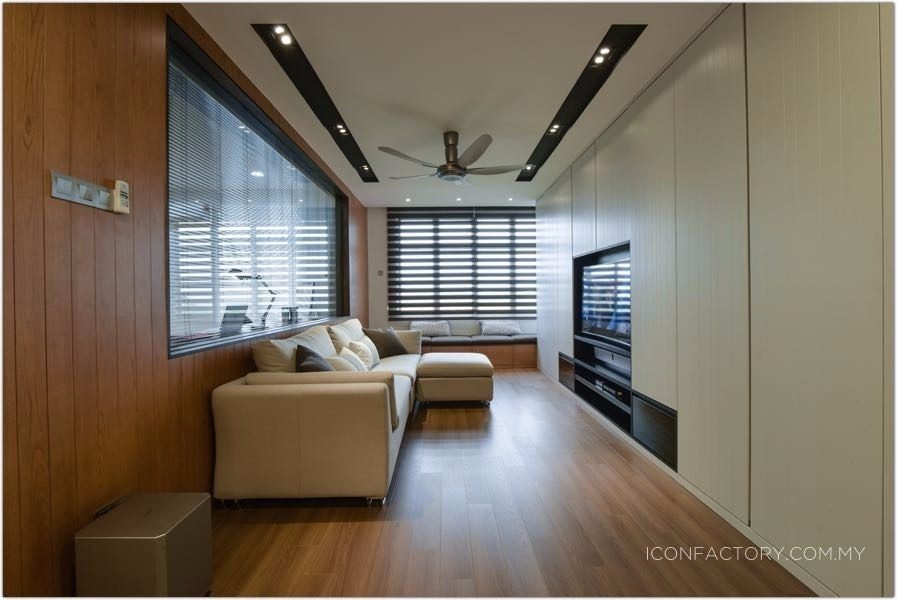 This 1250 sq ft apartment living room shows a very streamlined and modern finish. You can also build a bench seating area by the window as a chill out spot. The full height cabinet is also a smart idea for extra storage space and to use it as a TV cabinet.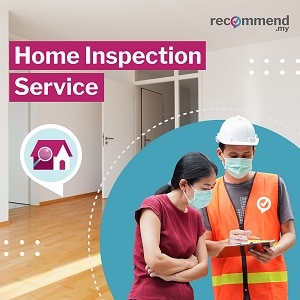 23. Tropicana Avenue, Tropicana City (660 sq ft)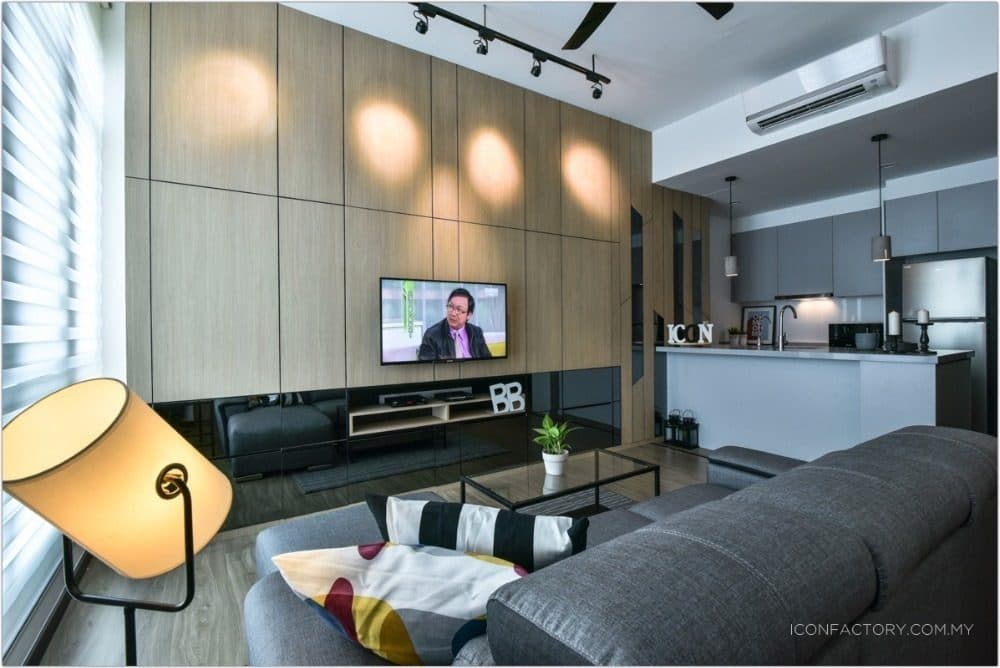 This apartment is only at 660 sq ft but it looks way bigger than it is. Look at those TV cabinet designs, its streamlined and it doesn't require much space to build. The grey sofa is such a perfect blend to the wood colour cabinets.
24. Modern Living Room Design in a Condominium in Kajang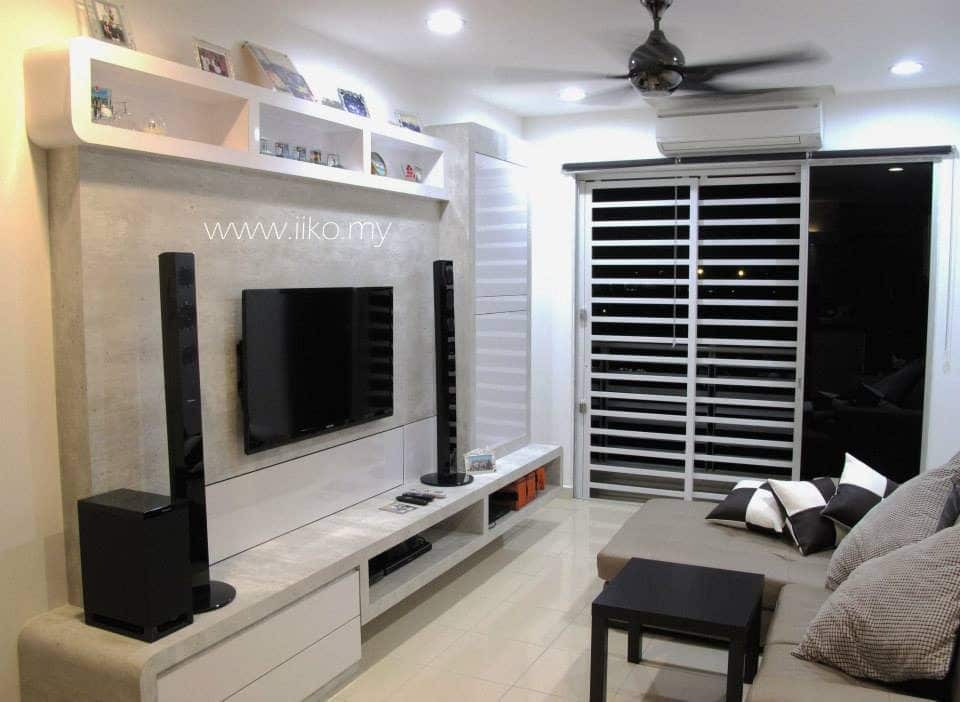 Another minimalist design living room with white cabinets and a light brown sofa. Despite having a small living area, it it still possible to make it look lavish to live in. Just like this design, the TV cabinet provides good amount of shelving units for you to display things like photo frames, potted plants or speakers.
25. Narrow Living Room Design in Serene Residence RT2, Rawang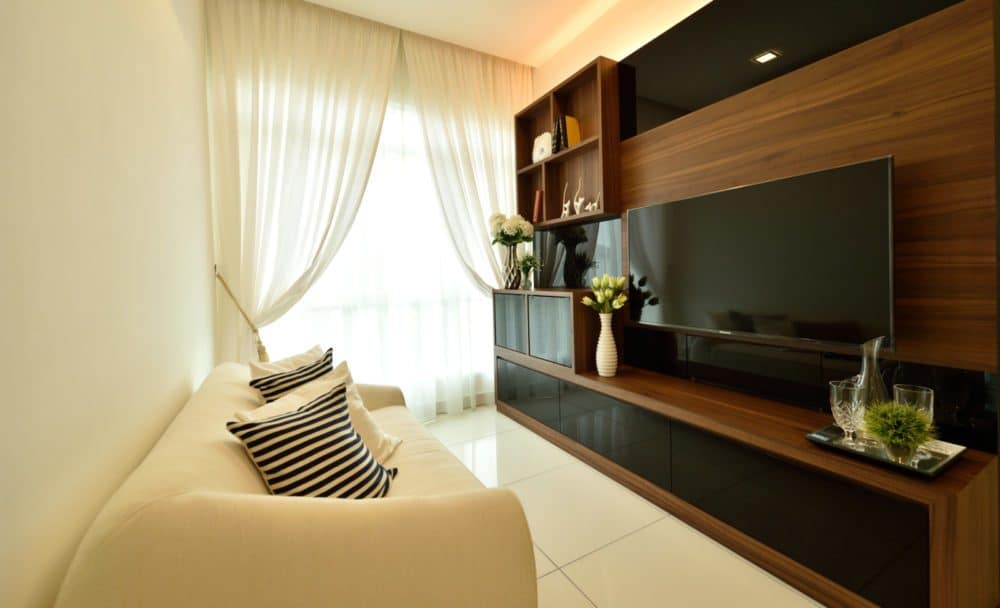 The beige sofa helps to merge the dark brown and black cabinets along with the green artificial plants. Those cream coloured curtains also makes the living room very warm and inviting. With this design, it absolutely has that homey vibe to the space.
26. Scandinavian Living Room Design in Villa Crystal, Kuala Lumpur (1200 sq ft)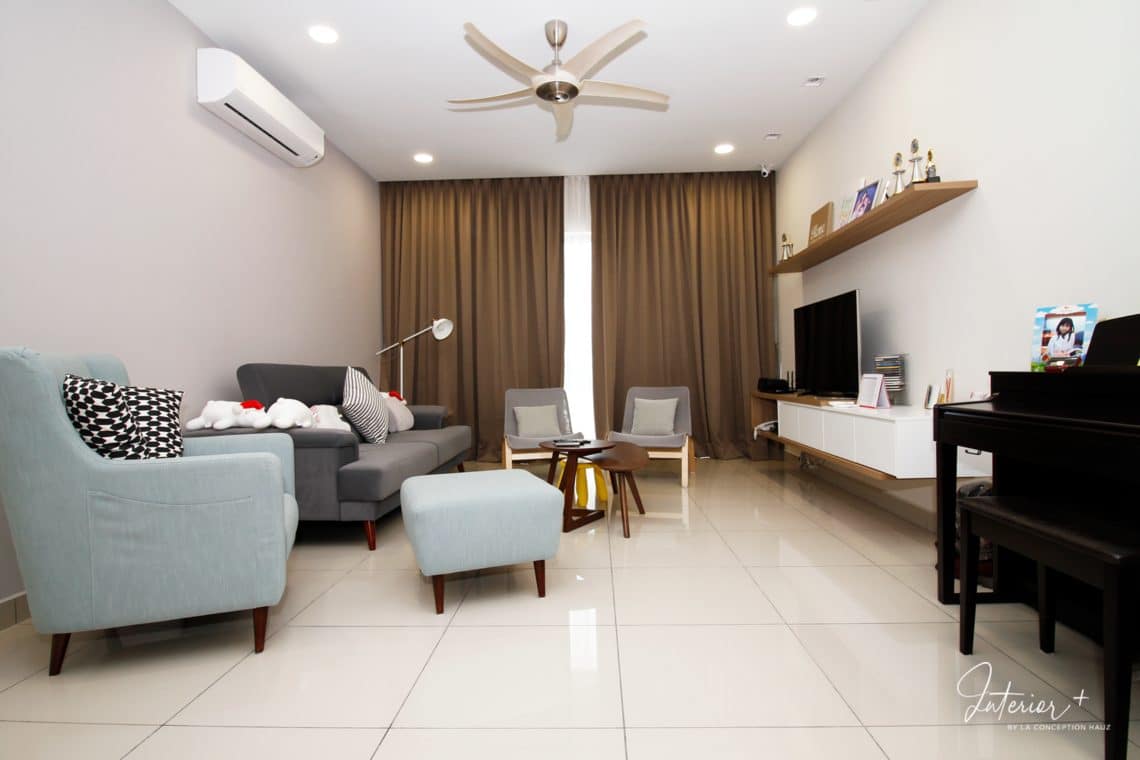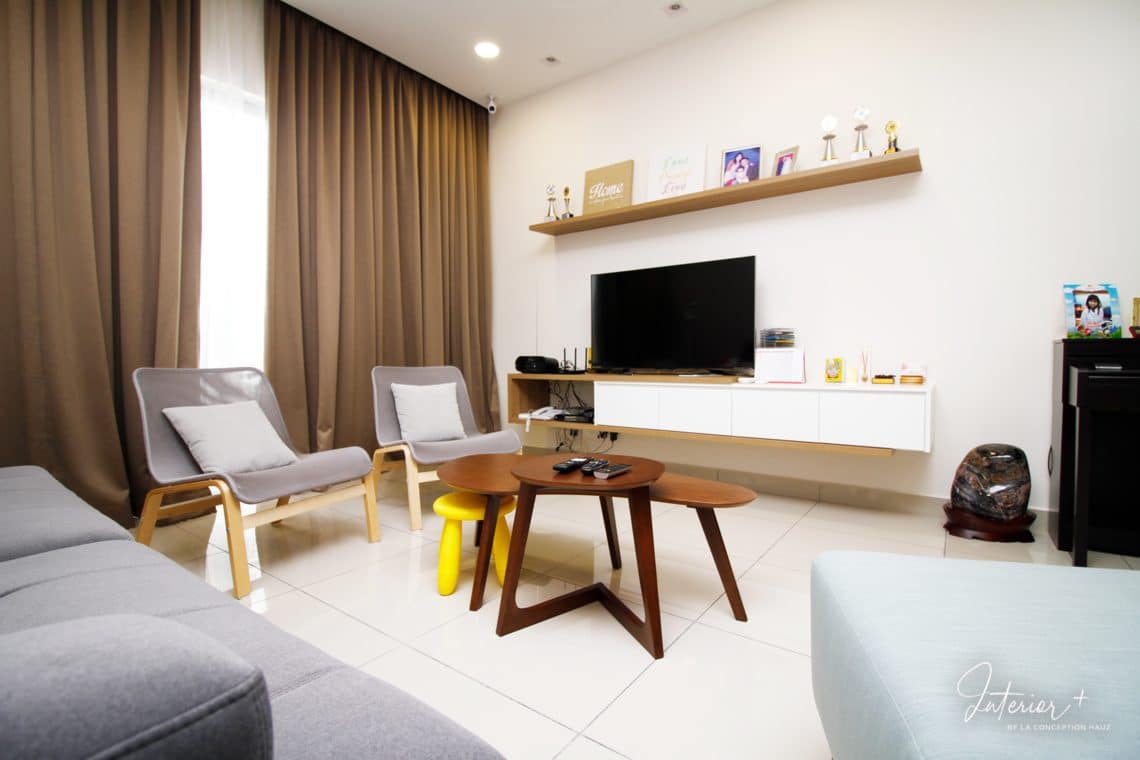 This is another yet beautiful Scandinavian 1200 sq ft design home. As you can see, those mix and match coloured sofas makes a great match to the rest of the furniture in the living room. This living room can be an entertainment spot as it has lots of seating area for your family and friends.
27. Shamelin Star, Cheras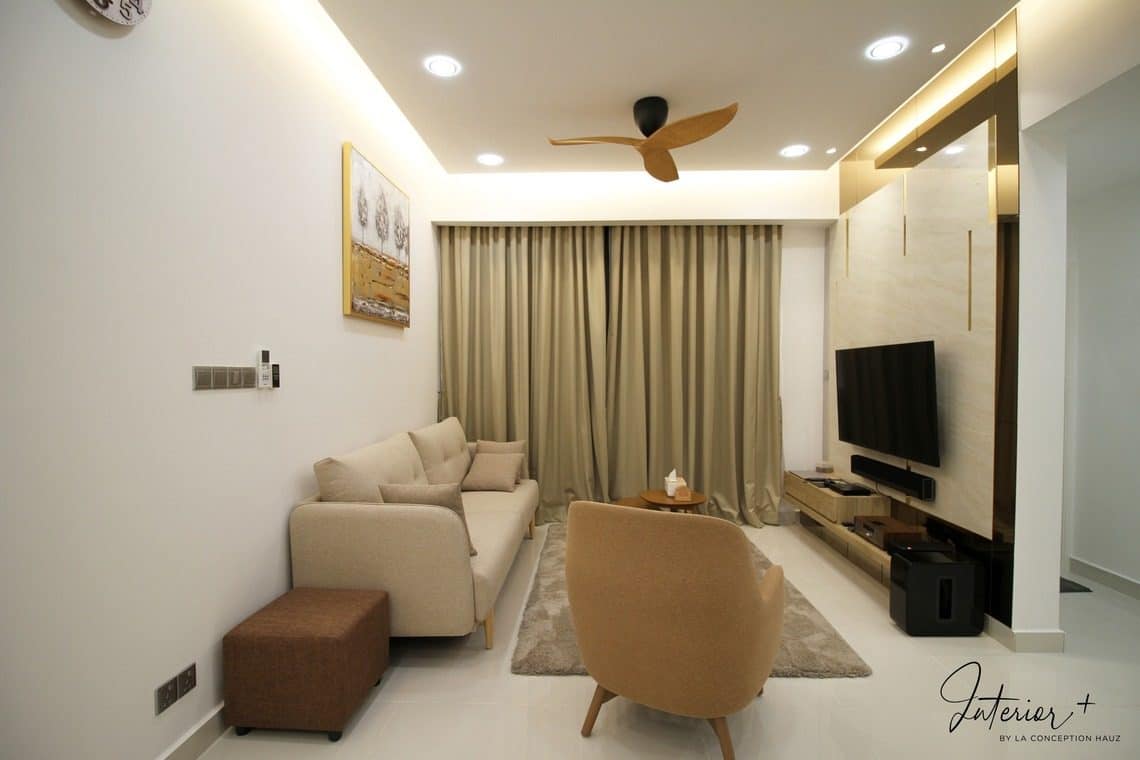 The designer opted to keep this living area minimal with using simple furniture, built-ins and colour palette. The room feels warm because of the beige and brown colour palettes. You can also add ceiling lights for an extra cosy feel.
Get quotes for your interior design (with RM50,000 project protection from Recommend.my)
Recommend.my is Malaysia's best home improvement site. We can find the right interior designer for your new home. Whether you need to design and renovate your living room, bedroom, kitchen or bathroom, we have over 700 verified and trusted pros in our directory, and we can connect you with four of the most suitable ones based on your requirements. That's not all; if you hire our interior designers, you also get damage protection of up to RM50,000, with deposit refund in case the pro is unable to complete the project. Tell us more about your home requirements and we will get in touch with you!