This three-storey house in Bangi has been transformed into a stylish, contemporary, and practical family home.
It's no secret that houses near the city centre are too pricey for most people, especially among the middle-income group and young professionals who are looking to start families.
As such, the majority of these home seekers will have little choice but to look at suburban areas in the Klang Valley.
Areas like Semenyih, Kajang, Rawang, Bangi, and Shah Alam North have become more popular in recent years, sprouting new townships and communities that offer larger homes at a better value.
Most of these new developments provide better perks too; jogging trails, recreational parks, gated and guarded communities, and highway and public transport connectivity are some of the many reasons why these developments are more appealing to home seekers and property investors.   
Have your home designed, worry free
Get free quotes from the R.Works team to manage your renovation project.
A modern utopia in the suburbs
One such location is Southville City by Mah Sing Group.
Located in Bangi, Southville City is Mah Sing's largest township in the Klang Valley, covering about 428 acres of land.
This award-winning, mixed development township comprises of both residential and commercial units, all built on freehold land. Each of its precincts is gated and guarded and the township even has schools, hospitals, malls, a hotel, and a post office.
In addition to that, half of the land in Southville City is reserved for greenery, so its dwellers can enjoy outdoor amenities like nature trails, parks, and a riverside walking path.
Southville City is also easily accessible by several major highways, including ELITE, LEKAS, SKVE, and the KL-Seremban Expressway, downsizing the travelling time from Southville City to its surrounding districts and vice versa.
Designing a stunning and functional terrace home
One of the residential developments in Southville City is Avens Residence. It consists of 2.5 and 3-storey terrace linked houses with a built-up area of 2,988 sq ft and 3,438 sq ft respectively.
A new 3-storey homeowner in Avens Residence wanted to renovate his newly-purchased home into a stylish but comfortable place.
To ensure that only reliable and experienced contractors took on the job, the client decided to submit his project at Recommend.my. After submitting his request, local interior design firm R.Works responded and began conceiving the design of the home based on the client's requirements.
A contemporary aesthetic
The terrace home's interior design features a contemporary design with a muted colour palette, consisting of colours like beiges, warm yellows, and earthy browns for a warm and welcoming vibe.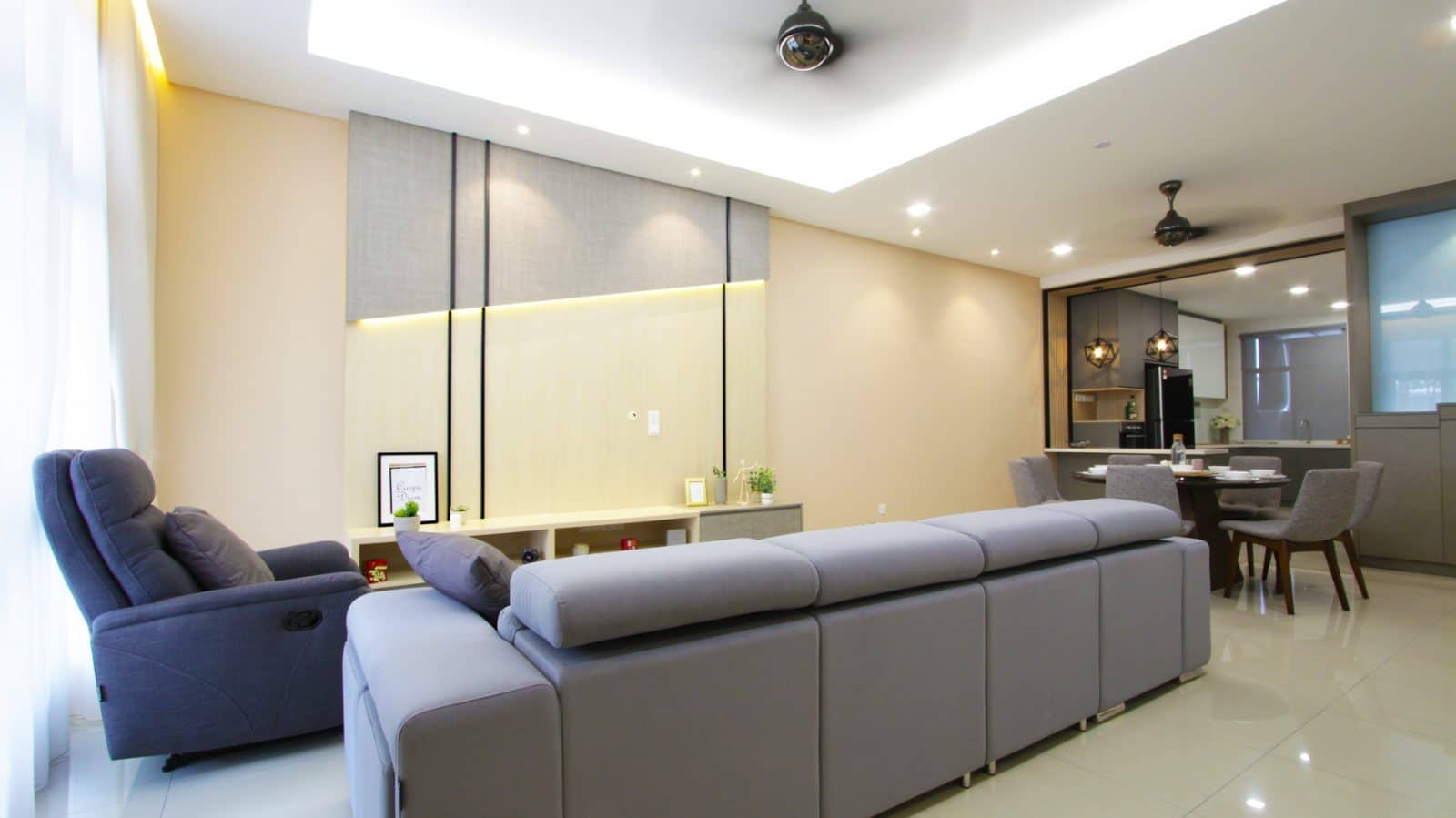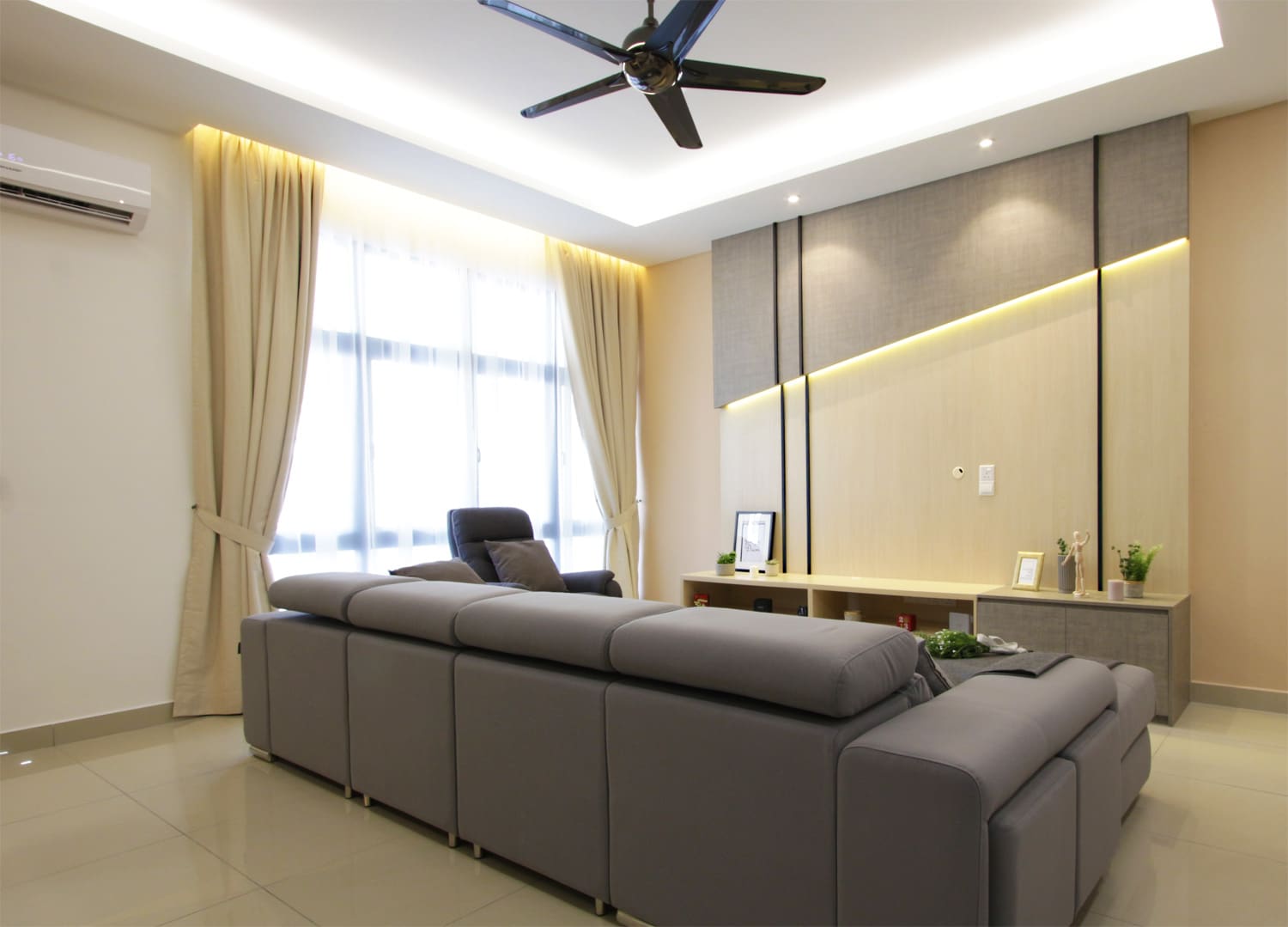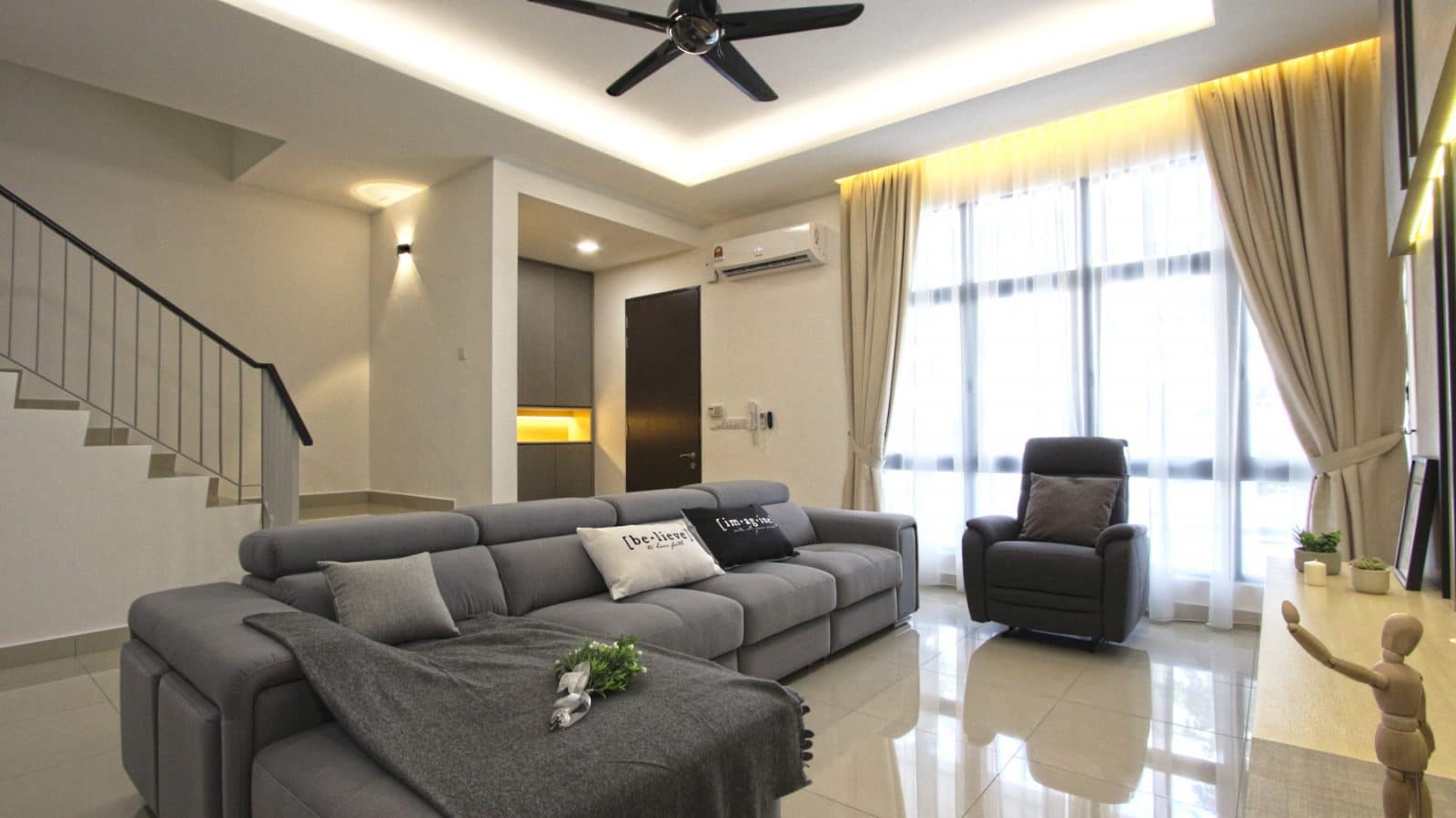 Meanwhile, the lights have been integrated with Philips Hue smart wireless lighting system. Via the Philips Hue mobile app, the residents can remotely turn the lights on and off, control individual bulbs, adjust the light spectrum, and a host of other smart features.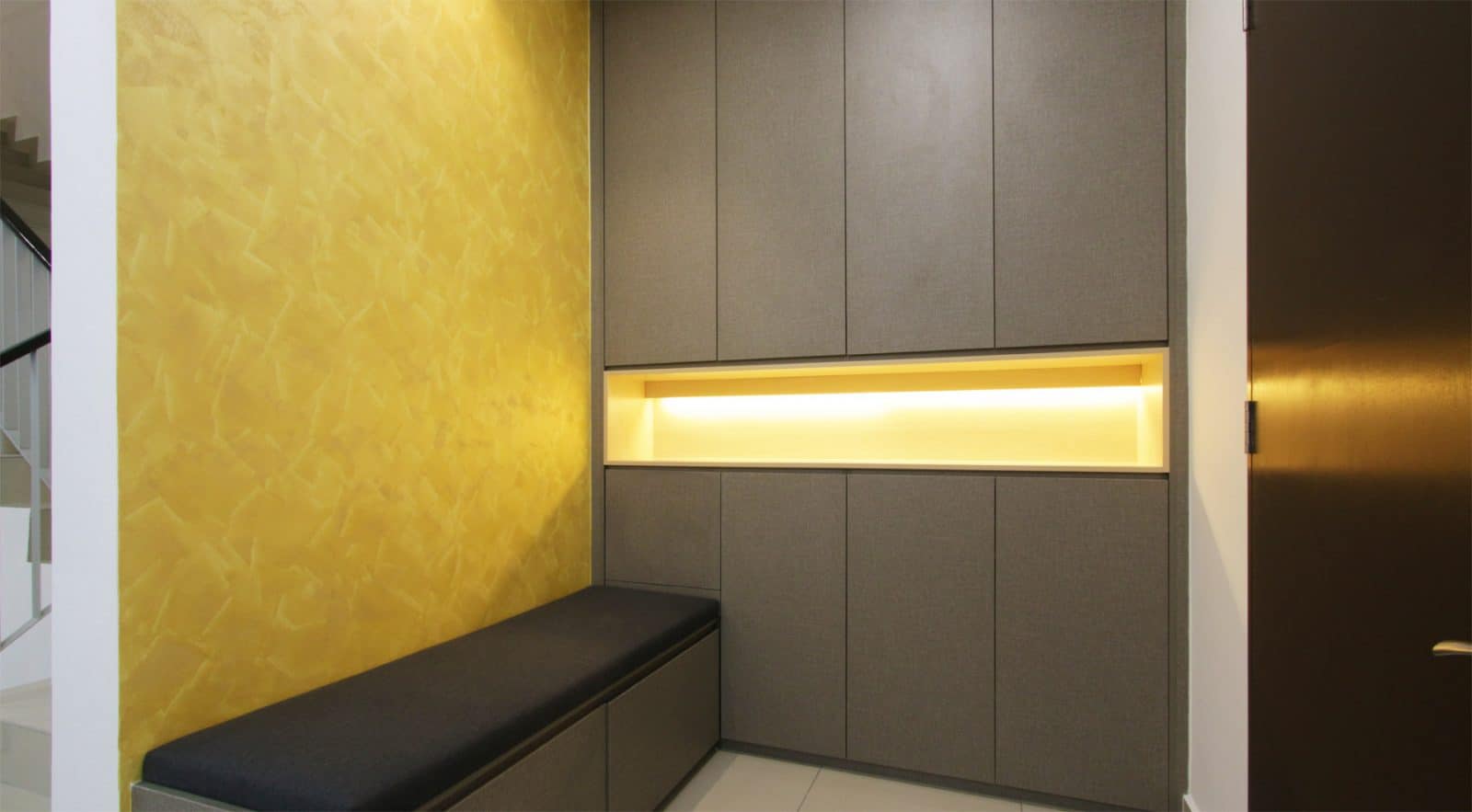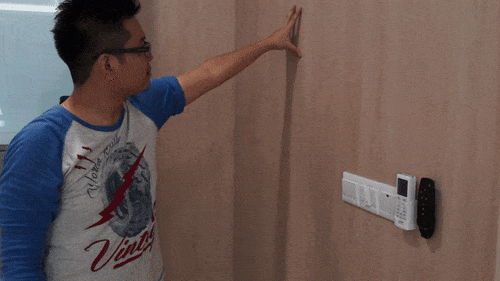 To improve the home's functionality, the designers worked to increase the number of storage compartments in the home, including kitchen cabinets, built-in wardrobes, and a secret push-to-open cabinet.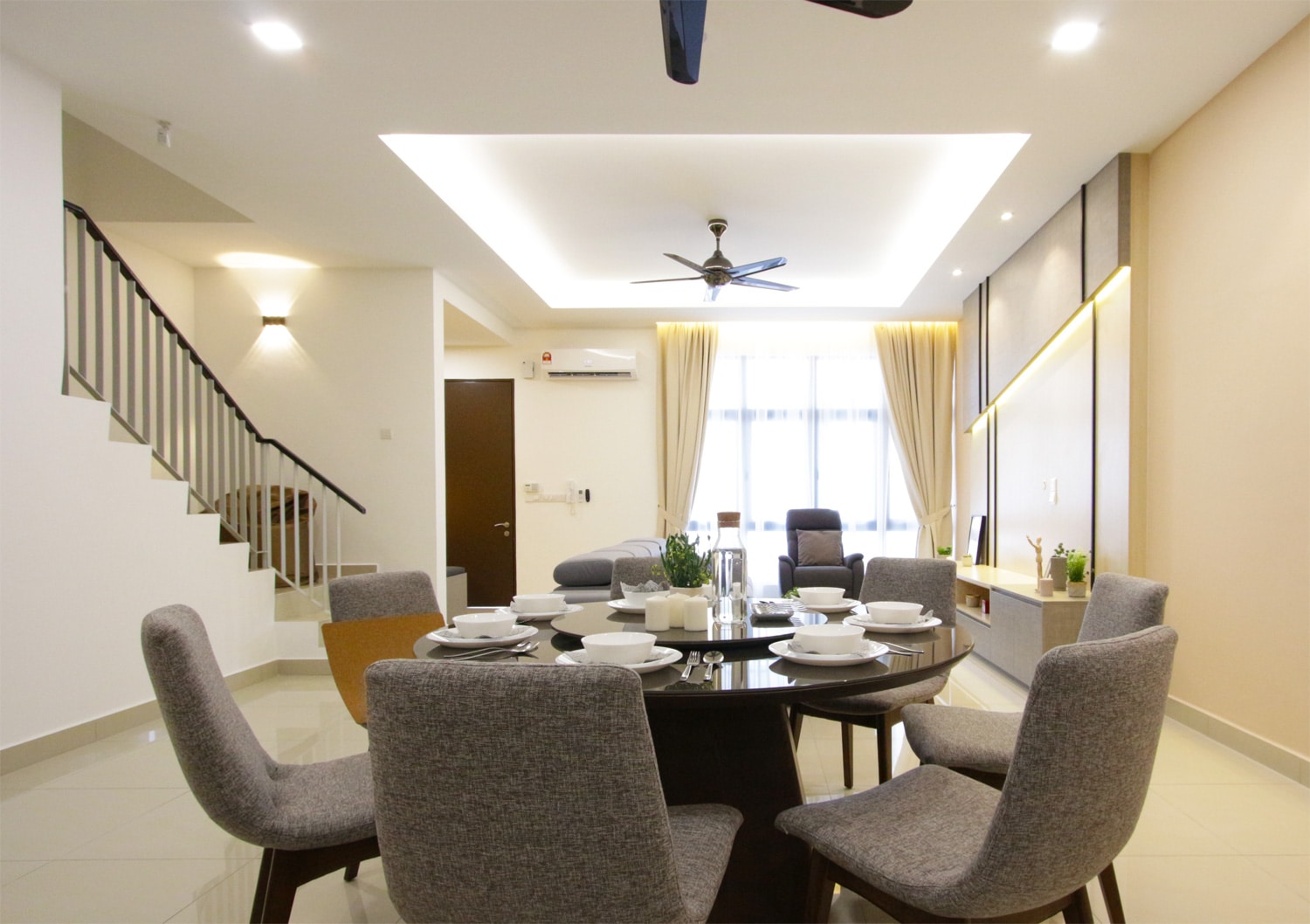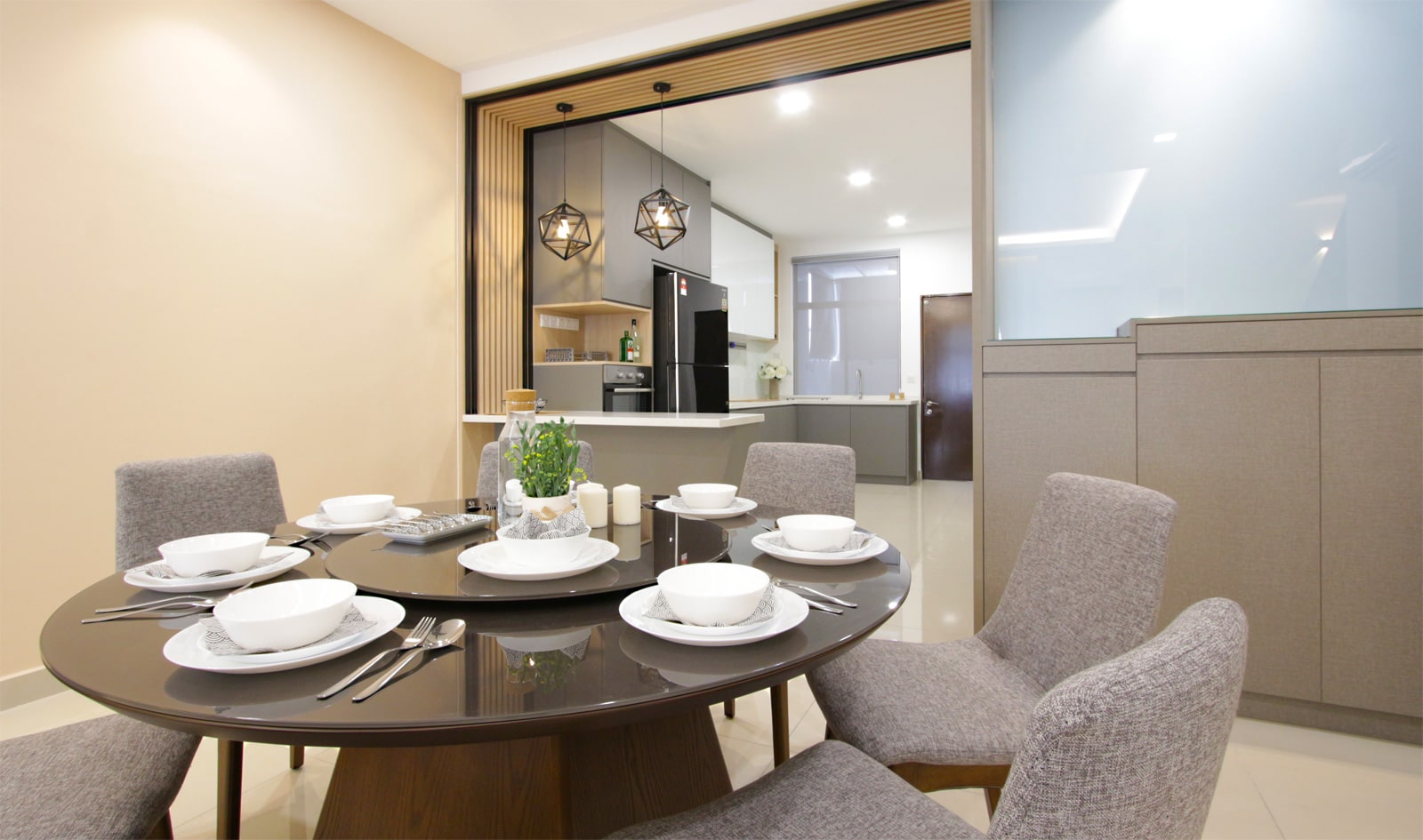 An open-concept design connects the different areas of the house together, facilitating entertainment, social interaction and space flexibility.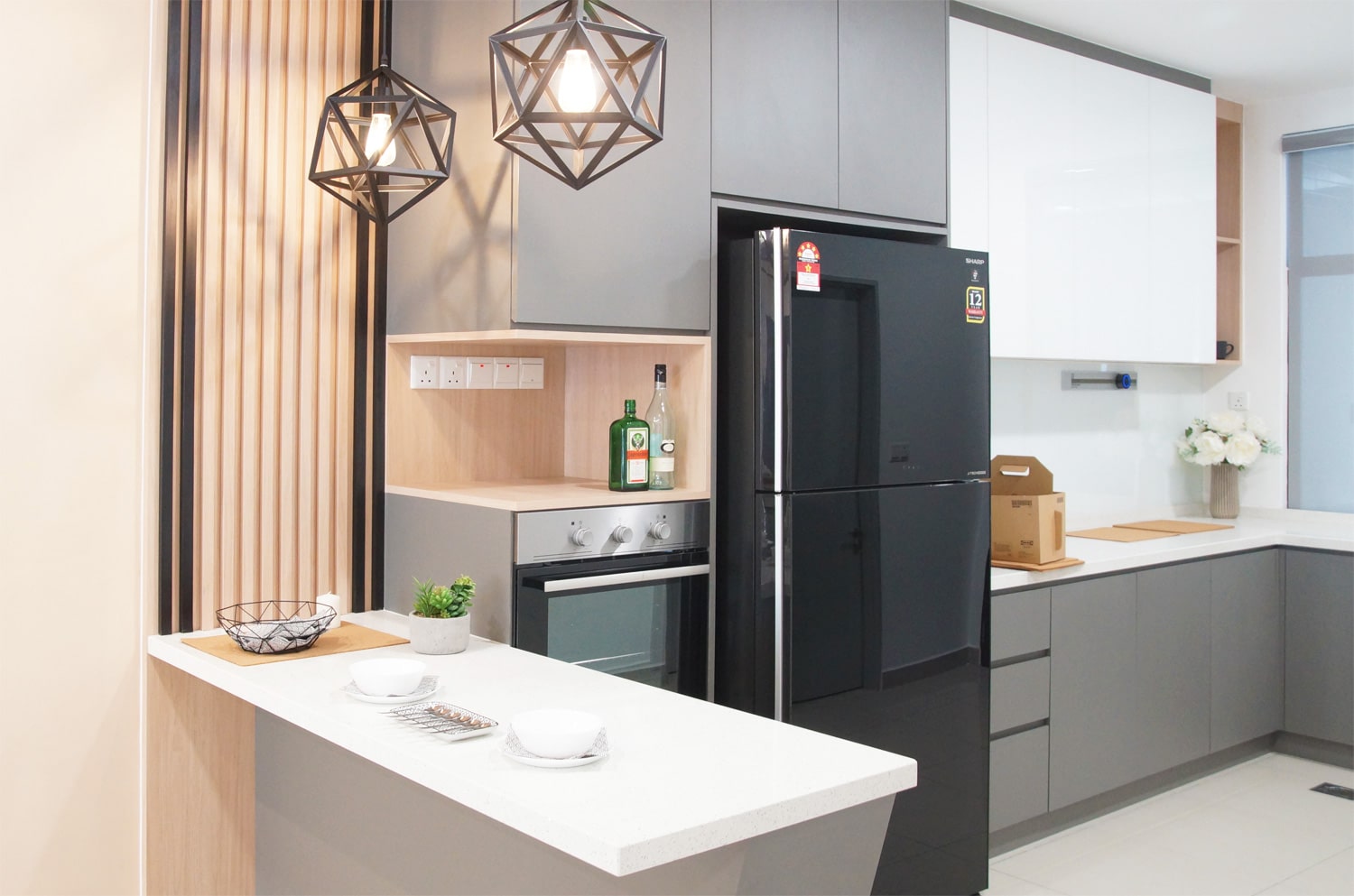 That connectivity extends to the dry kitchen area. Instead of partitioning the kitchen with a glass door or plaster wall, a simpler ribbed archway was added to separate it from the dining area.
A bar counter with a quartz kitchen countertop was added to function as both a preparation area and breakfast spot, with a couple of decorative lights above to cosy the area.  
The kitchen comes with ultra-sleek kitchen compartments to organise and store kitchen essentials.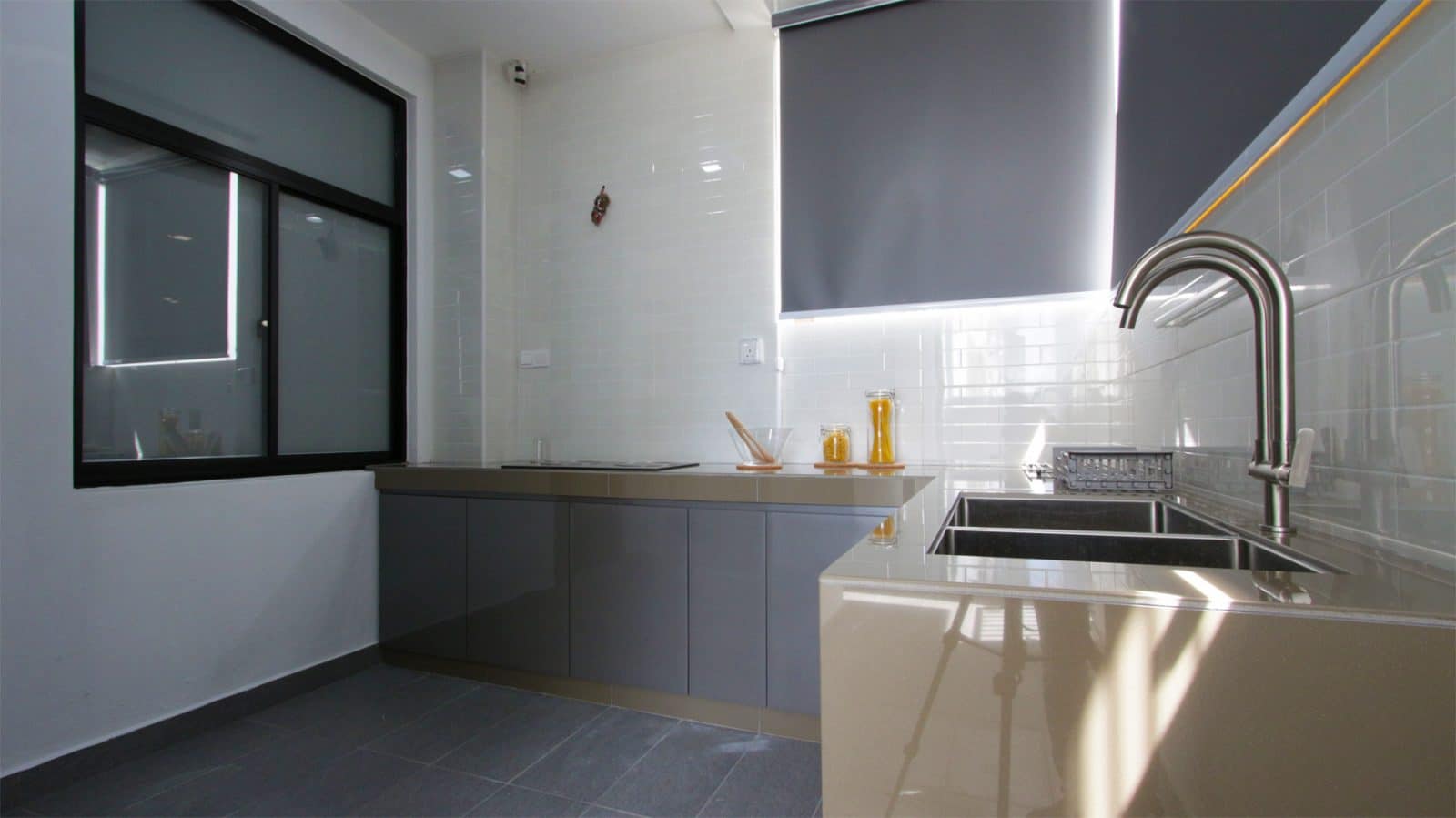 Bedrooms and study area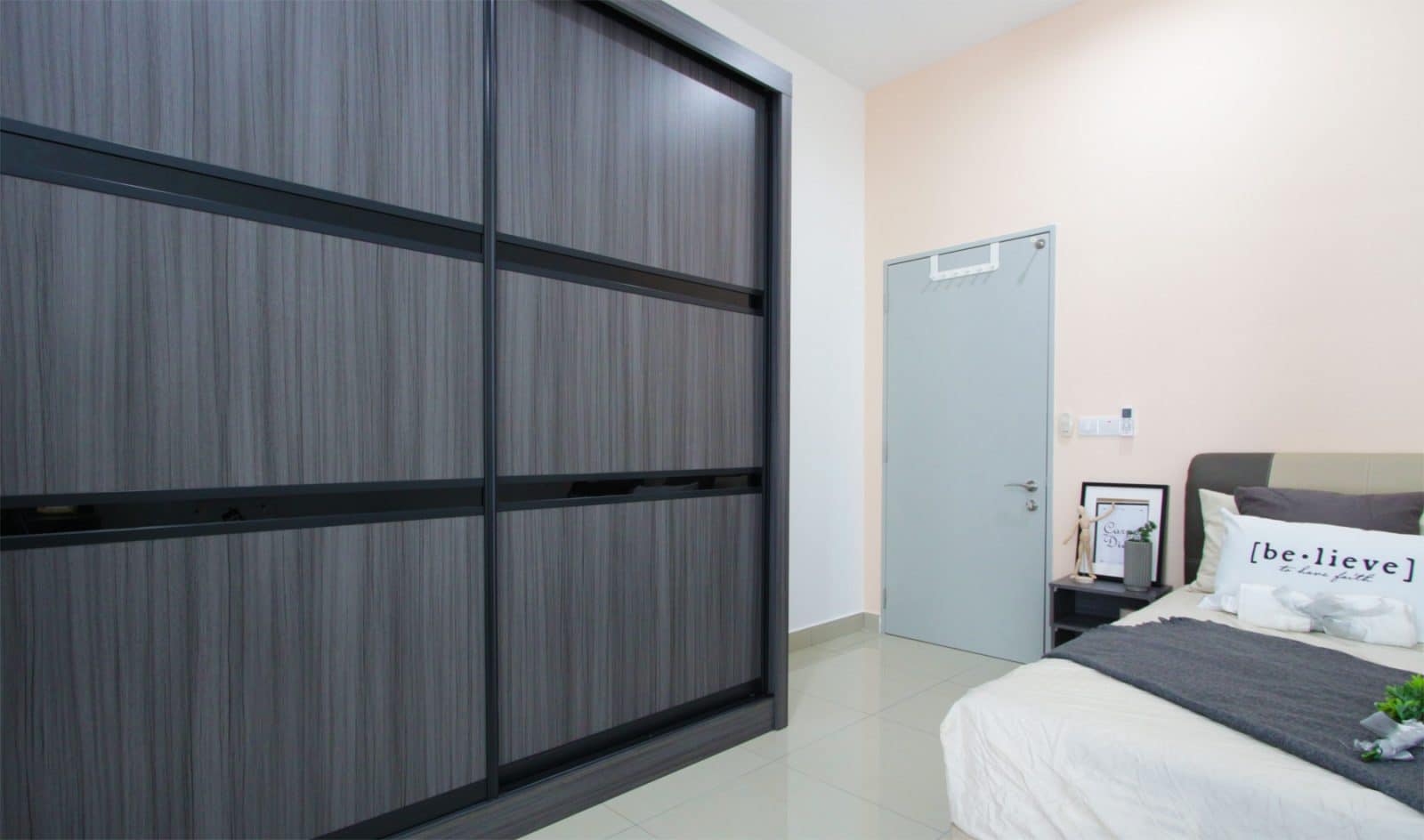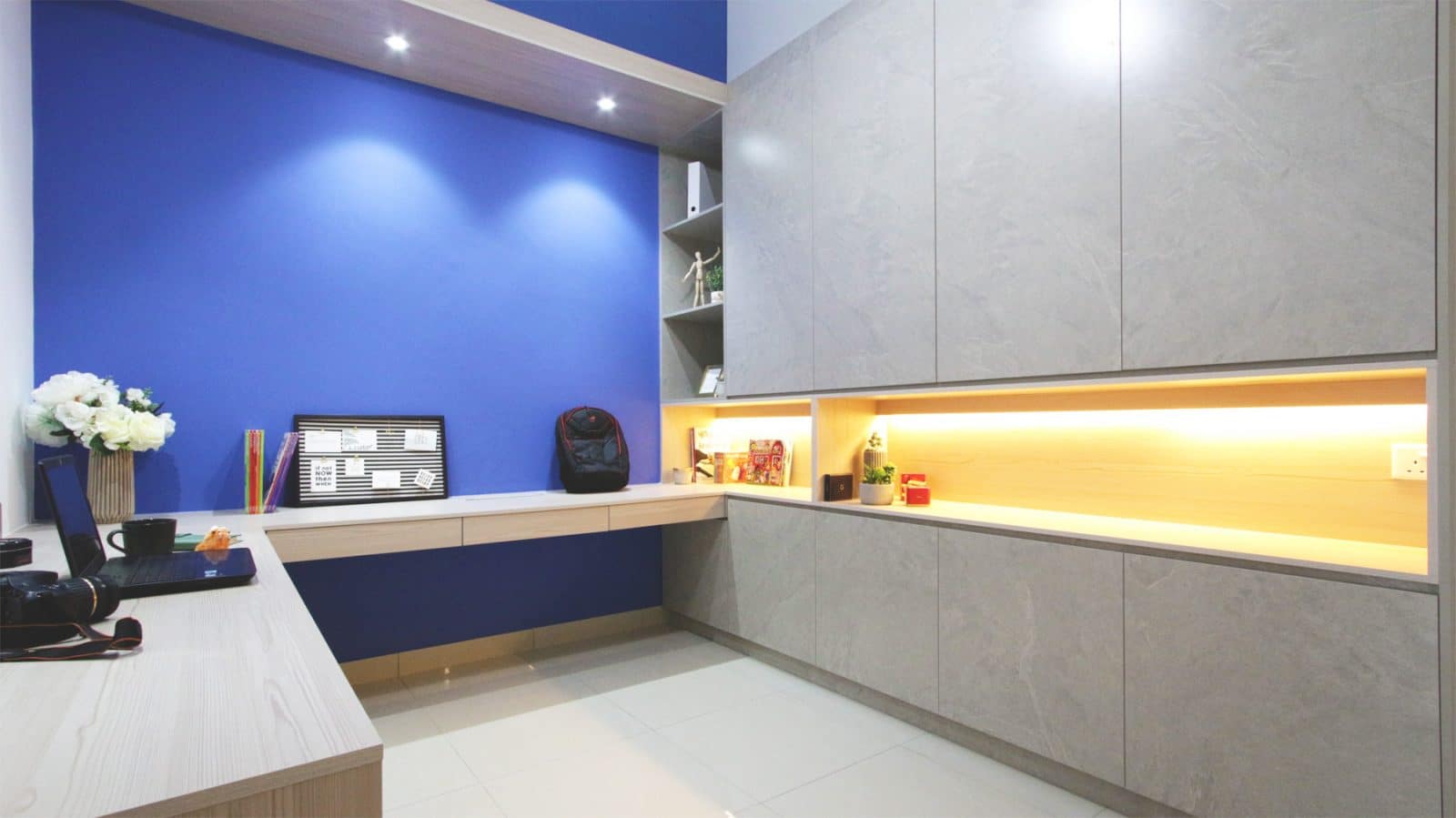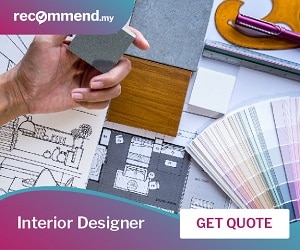 The upstairs study room has a blue-painted feature wall to boost creative thinking. Pairing the bold blue are chalky grey cabinets with warm under-cabinet lighting.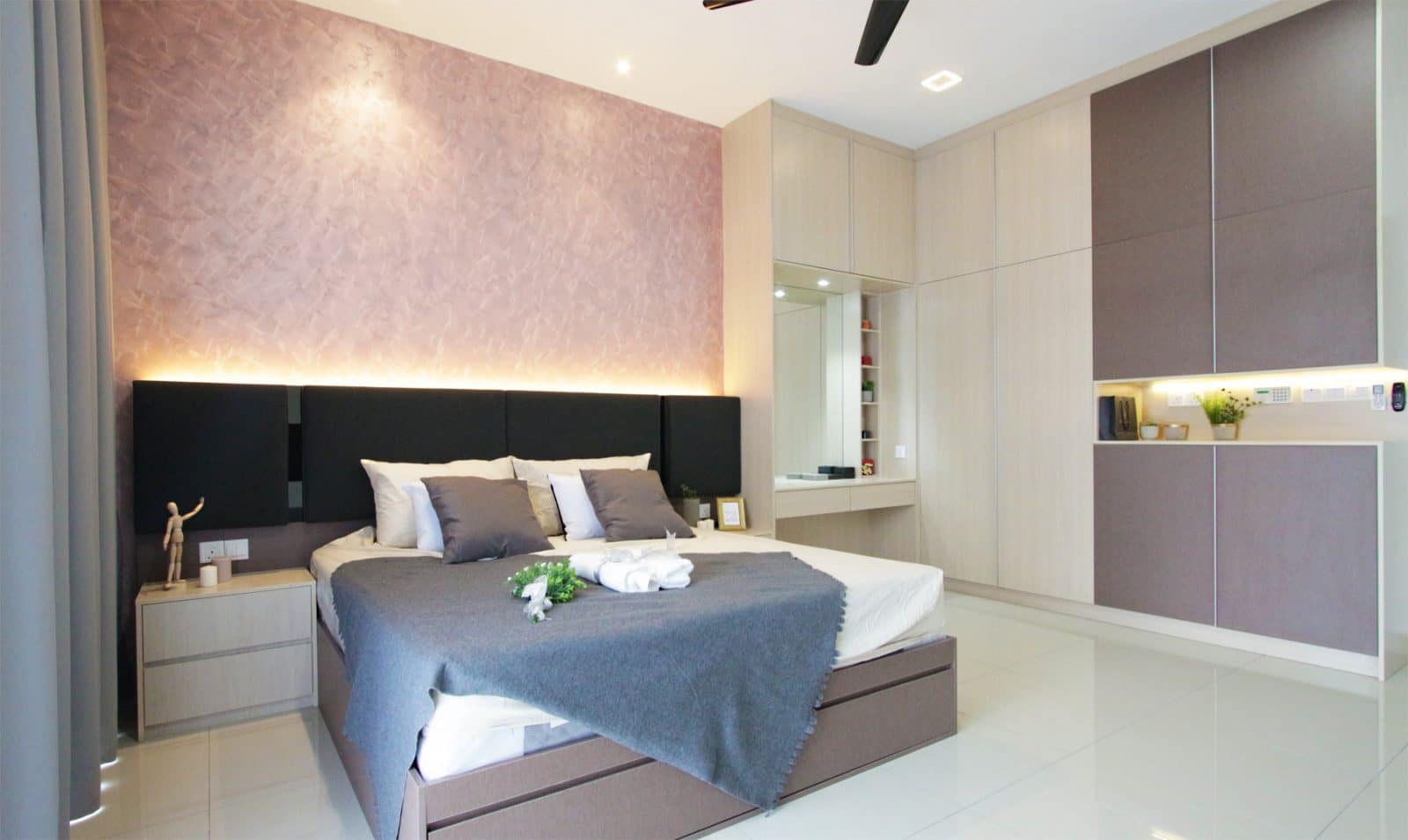 The master bedroom features a pink-painted accent wall, adding a soft touch to the room. The textured effect of the paint creates a visual contrast against the sleekness of the L-shaped wardrobes.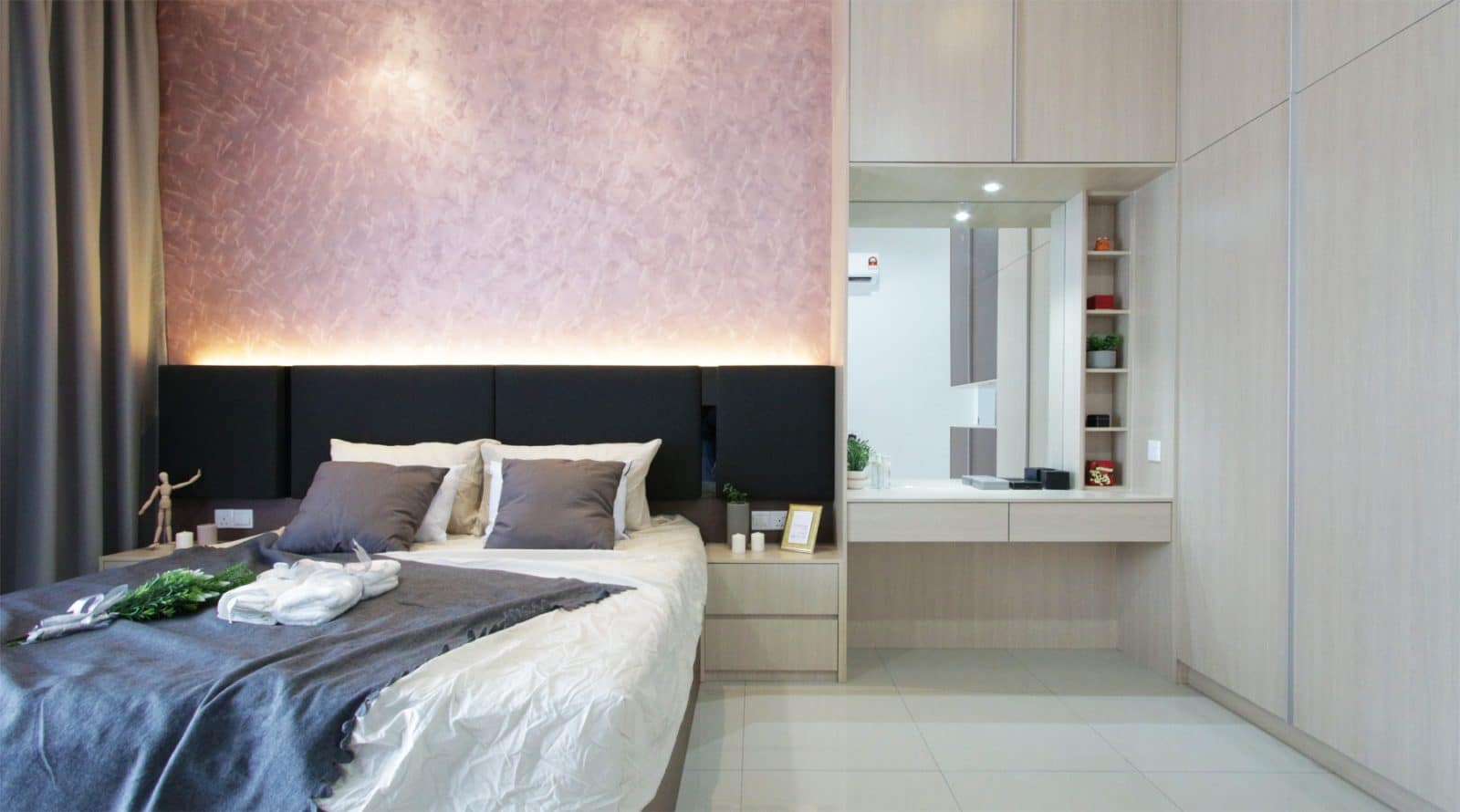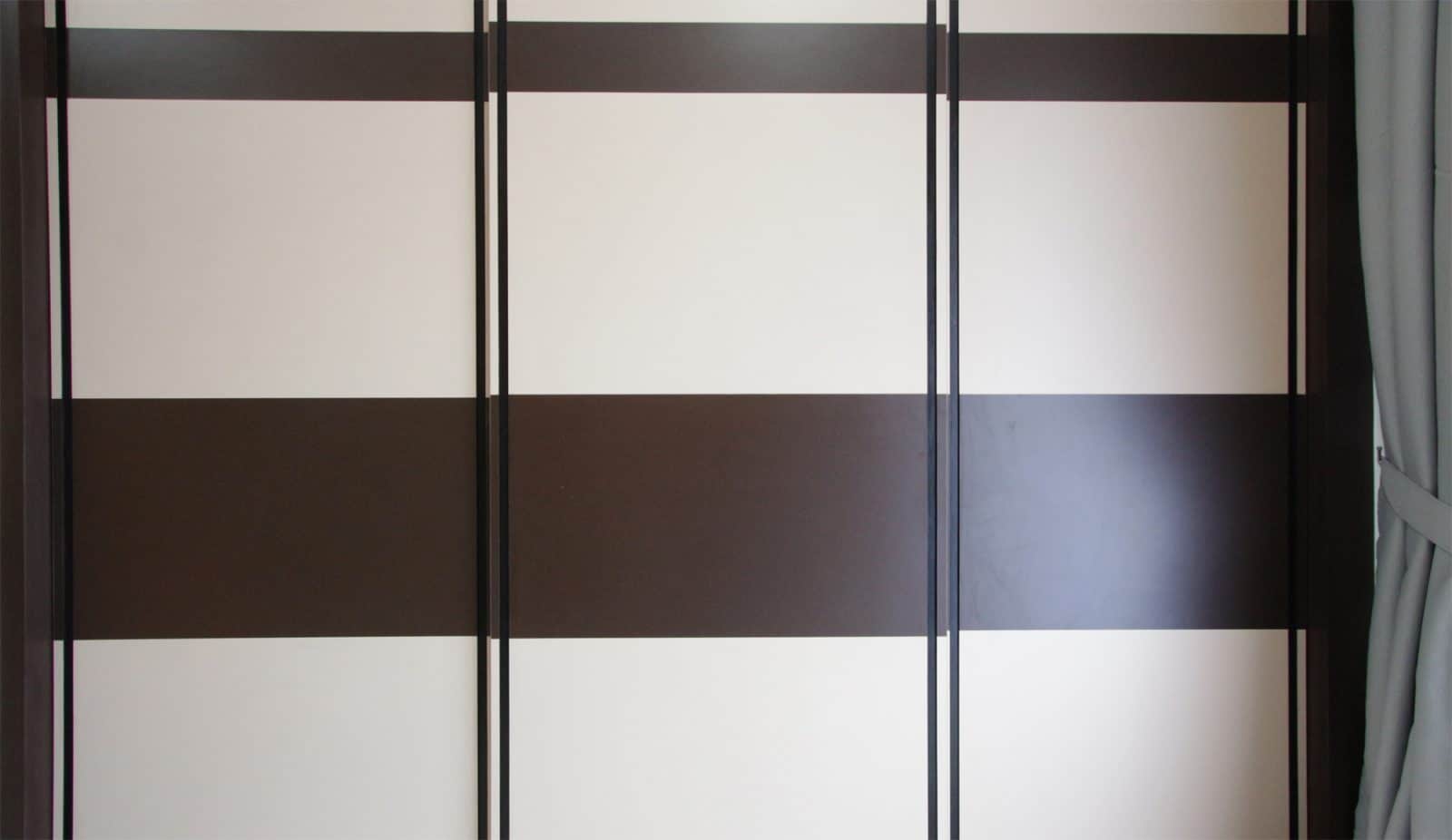 Scope of work:
Ceiling and painting work = RM22K
Built-in kitchen and bedroom cabinets, including fittings = RM83K
Mechanical and Electrical Work = RM14K
Built-in appliances and ceiling fan work = RM2K
Total = RM129K
This project was managed by R.Works, an interior design team that specialises in interior design, renovation, and project management, with the help of Recommend.my's partner contractors. This is also their second interior design and renovation project at Southville City (view their first project here).
Have your home designed, worry free
Get free quotes from the R.Works team to manage your renovation project.