A bathroom renovation may seem like a small project compared to the rest of the house, but many mistakes can be made along the way. Make sure you don't forget these important points when renovating your bathroom.
The bathroom is one of the first areas in your home to look run down. Whenever water and plumbing is involved, there's always a chance for leaks, rust, mould and water stains to cause damage, making your bathroom look old and worn very quickly.
That's why, every homeowner knows that sooner or later, the bathroom will need to be renovated. It could be as small as replacing the fixtures, updating some tiles, or as big as a full teardown and rebuild. But, even though the bathroom occupies a small amount of square footage in most houses, a bathroom renovation can go wrong without proper planning.
Here are some things you should not forget when renovating your bathroom:
Not making it easy to clean
When selecting the fittings for the bathroom, people are easily attracted to the one with the most appealing design without thinking about the maintenance aspects. How to clean fittings is rarely the deciding factor. Do not fall into this trap. When shopping for the fittings, imagine how they will be used and how the regular cleaning will be like.
For instance, a one-piece WC toilet is much easier to clean because it doesn't have too many curves and corners as compared to the two-piece WC. An undermount sink is easier to clean too as the water will not puddle around the sink then drip down to the floor. Wiping the countertop around an undermount sink requires minimal effort.
Not installing anti-slip floor tiles
A wet bathroom floor or wet shower area can be dangerous, especially for kids or older family members. If your bathroom renovation involves new tiles, pay close attention to the choice of tiles as they can be different for the floor and walls.
Some contractors will show you a sample of their suggested tiles while others will suggest you go directly to the tile supplier showroom to see the entire range of options. With so many designs and types of tiles to choose from, make sure you don't end up choosing the same tile for the whole bathroom.
For the floor, you should choose anti-slip tiles that have texture or rougher surface to prevent them becoming too slippery when wet. For the walls, you can get more creative. You can choose ceramic glossy tiles or even fancy mosaic tiles to create a feature wall, or simply use glossy 1ft x 2ft tiles on all walls to create a uniformed look.
Read more: How to choose tiles for your renovation
Not ensuring proper drainage
Bathrooms in old houses in Malaysia typically have only one drain hole near the shower area. But modern bathrooms have separate dry and wet sections. If you renovating an old bathroom, make sure to have a drainage outlet in each section (wet and dry).
One popular arrangement is to close up the wet area with a glass screen and have one drain hole inside the shower cubicle. Then, have another drain hole in the dry section for the water to flow out during cleaning. Additionally, when laying the floor tiles, they should be sloped towards the nearest drain holes to ensure the water flows easily.
Not having enough counter space at the sink and shower
Many homeowners tend to overlook the idea of building a shower niche (also known as a recessed shelf) in the shower area to keep the toiletries at easy reach. Albeit being a small detail that makes your bathroom look more integrated, it brings a hint of luxe into the space as well.
However, be mindful in determining the size of this cubby-like storage because shampoo, body wash and the likes come in various packaging sizes and shapes. One pro tip is to use refillable bottles of the same size for all your toiletries so you can plan ahead the most suitable size for the shower niche.
The sink area can also benefit from having lots of counter space for your soap, toothbrush, toothpaste, etc. Some homeowners like to build a concrete ledge all along the wall for maximum space, or simply have a countertop with a built-in cabinet. However, to avoid water puddling up on your countertop, you may want to avoid installing a vessel sink, unless you have additional drainage.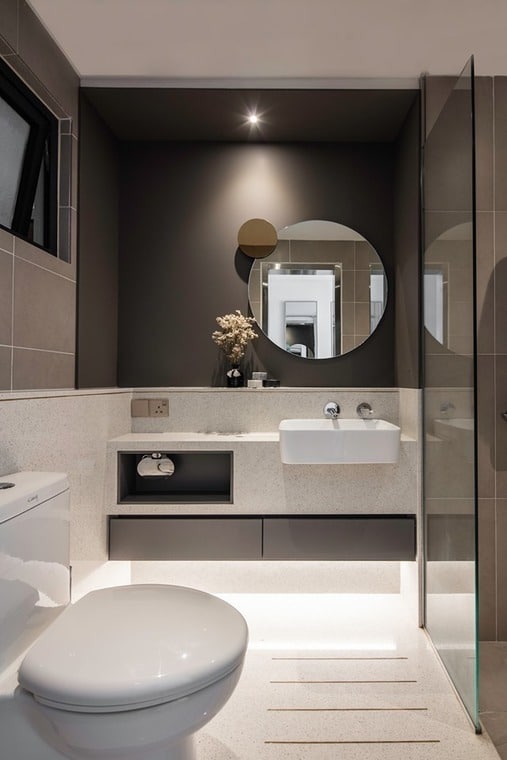 Not having different lighting in the bathroom
Just because you spend a shorter time in the bathroom as compared to other rooms in the house, it doesn't mean the lighting should be neglected. Having good lighting in the bathroom matters because you need good lighting during self-grooming and pampering sessions in the bathroom. The old single fluorescent light must be replaced.
Combine several lightings like adding ambient lights to light the whole bathroom and fancy task light above the vanity. You can also hide some LED light strips under the cabinet to create a serene mood for your bathroom. So, don't forget to ask your contractor to install additional wiring for the new lights.
Read more: 14 Before-After Bathroom Renovation Designs In Malaysia
Not having proper waterproofing
Fittings like a sink, WC and bathtub in the bathroom that are not properly sealed will allow water, soap scum and dirt to sip through and be trapped in the small gaps in between the fittings and the wall. After a while, the residue will build up and start causing other problems. Leaking, watermarks, shaky fittings, dirty edges and moldy cabinets are some of the common issues caused by poor sealing. This headache can be avoided if all the fittings are properly sealed.
There are many types of sealant available in the market but silicone sealant is the most common and is widely used. It is because they can last long and stick well to glass, porcelain, ceramic and stones. Besides the type of sealant being used, good application skill is also required in ensuring the sealant is applied properly and thoroughly. Talk to your contractor about the sealant they will use, and understand the pros and cons.
If you are going to hack your existing tiles, your contractor may also need to redo the waterproofing. This is to avoid seepage later on, which could damage your walls or the units below (if you live in an apartment).
Not having enough storage space in the bathroom
Many homeowners just leave the bathroom walls and awkward corners empty, instead of utilising them as practical storage space. If you are revamping the bathroom, don't waste the space and install storage cabinets or shelves to neatly keep extra toiletries and towels.
The floating or wall-hung type of cabinet is great for bathrooms. This is because when the cabinets are hung with some gap from the floor, you can scrub and mop every inch of the floor. Besides that, when the cabinet is floating, it will be less likely to be in contact with water during cleaning, hence making it last longer.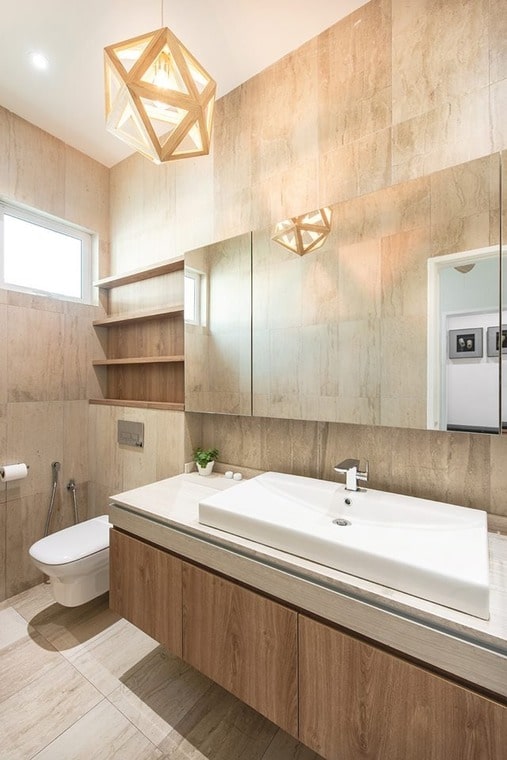 Not having enough ventilation
Every space in a house needs good ventilation, and that includes the bathroom. For houses in Malaysia, usually, the bathroom will have a small window for ventilation, but that may not be enough to dry the bathroom quickly. The problem can become worse when the house is renovated and fully extended.
There are even cases where the bathroom ends up not having any window, or the window opening is towards the inside of the house, such as the kitchen area.
To avoid bathroom smells from reaching the rest of the house, you should consider installing an exhaust fan in the bathroom. The fan will draw out the musty smell and moisture, helping it to dry quicker, be less stuffy and help in curbing the growth of mould and mildews. 
Not choosing your own bathroom accessories
It is common for contractors to give a quotation that includes bathroom accessories as well. But, if you are very particular about your bathroom routine, it may be better to shop for these items yourself. Because different households have different routines and habits, therefore homeowners should know better which accessories are more suitable for them.
For instance, some people prefer to hang dry their towel inside their bathroom, so a long railing is a must for their bathroom; while some don't really bother because hang their towel outside. As for families with small children, they would probably prefer to have a toilet roll holder that is fully covered so the toilet roll will not be ruined by accidental sprays.
Additionally, hooks, railings and toilet roll holders also come in many designs and qualities. From black to gold and glossy or matte finish, you name it. This is your chance to make the bathroom more personalised.
Assuming the contractor 'already know'.
A client holds the responsibility to explain to the contractors what they want for their bathroom while the contractors will use their expertise to materialise the request. A clear understanding of the scope of work and timeline must be established before the actual renovation work starts. If you fail to do this on the assumption that the contractor should 'already know', a minor renovation could potentially turn into a nightmare.
Take the time to share your ideas, seek advice and thoroughly discuss with the contractor. Once the renovation has started, have a progress meeting every now and then. Proper planning will minimise the renovation stress, unexpected cost and project delays.
Read more: How much does a bathroom renovation cost?
Hire a trusted and reliable renovation contractor with Recommend.my
Share the details of your bathroom renovation project with us. Our pool of highly experienced contractors will give you their estimated quotes accordingly. Then you can compare the received quotes and discuss further with the contractor of your choice prior to the free site visit. Get in touch with us to kick-start your bathroom renovation project soon.
Featured image: Sunway SPK by Movent Design