If you buy a resale property, you will probably want to renovate the unit before you move in. This includes renovating the old bathroom.
This is especially true if the property is decades old. For example, if you bought a resale property in a mature neighbourhood such as Bangsar, Taman Desa or Cheras. Then the bathroom will likely look old and worn out.
This is because years of exposure to water and cleaning products can make the bathroom look dull and shabby. The bottom part of the door may be rotting away; hinges can be rusting; and the grout lines may be black and mouldy.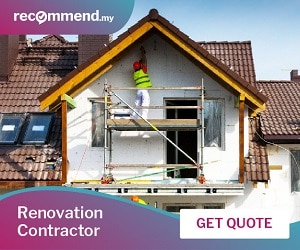 The good news is, it doesnt take much to give the bathroom a facelift. A simple bathroom renovation, such as replacing the tiles, sink or toilet can make the entire bathroom look better immediately.
Here are a few before and after photos of small bathroom renovations in Malaysia to give you ideas for your own home.
Want to renovate your bathroom?
Need renovation from scratch? Worried about the process and cost?  Get connected with local reliable contractors with Recommend.my
Toilet renovation in USJ One Park Condo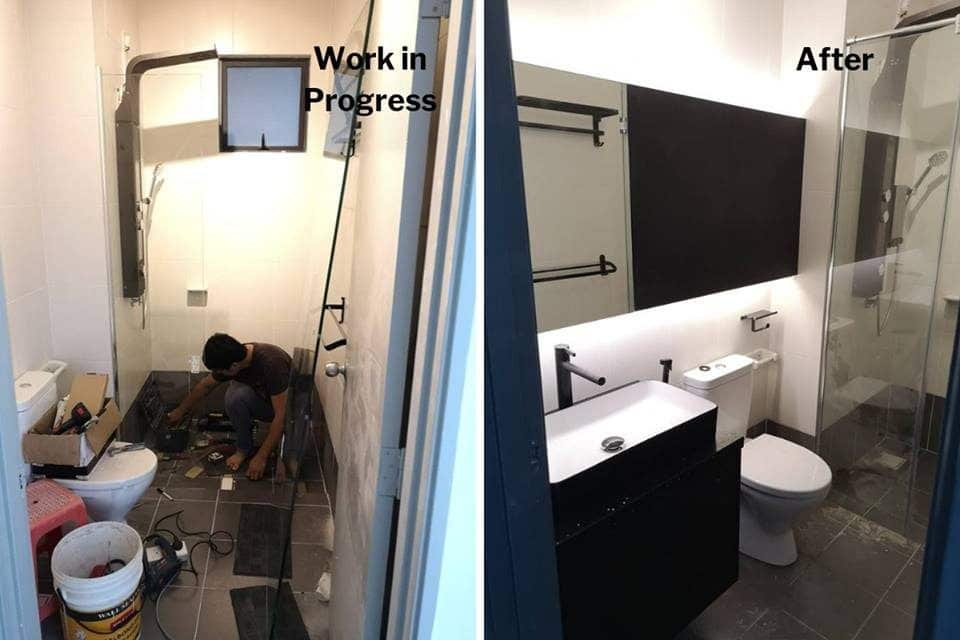 To add more light in this toilet renovation, the homeowner installed a bathroom wall cabinet with hidden lighting. The top lighting bounces off the ceiling to provide a soft glow across the entire bathroom, while the bottom lighting is useful to light up the sink area. The bathroom shower glass partition also lets the light reach the shower area.
Get instant free quote
Bathroom tile replacement at Bukit OUG, Bukit Jalil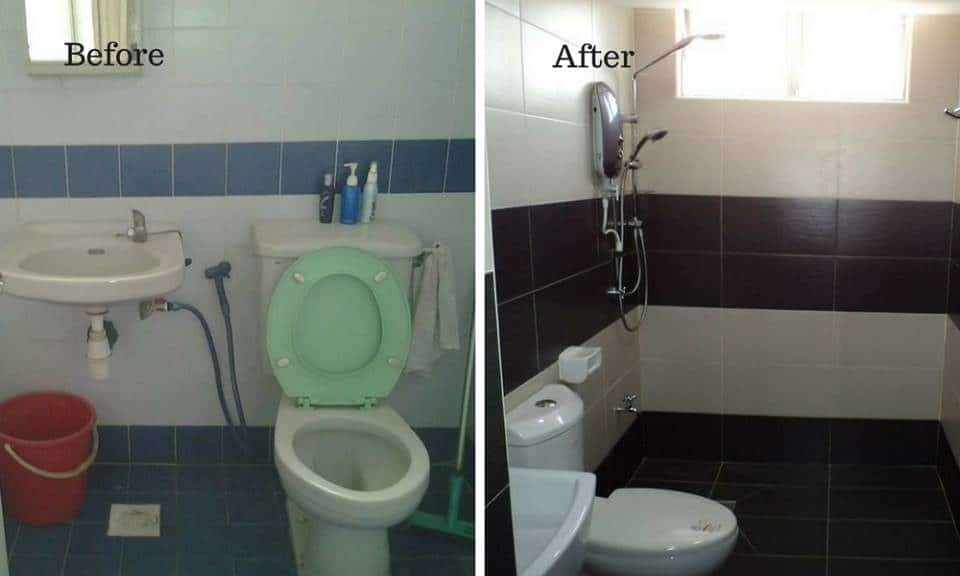 The ageing blue tiles with mouldy grout was replaced with a cream and dark brown tile design. Large 250mmx500mm tiles were used to reduce the number of joint lines, and the light green sink and the toilet bowl were replaced with white porcelain.
Get instant free quote
Mosaic pattern bathroom renovation in USJ, Subang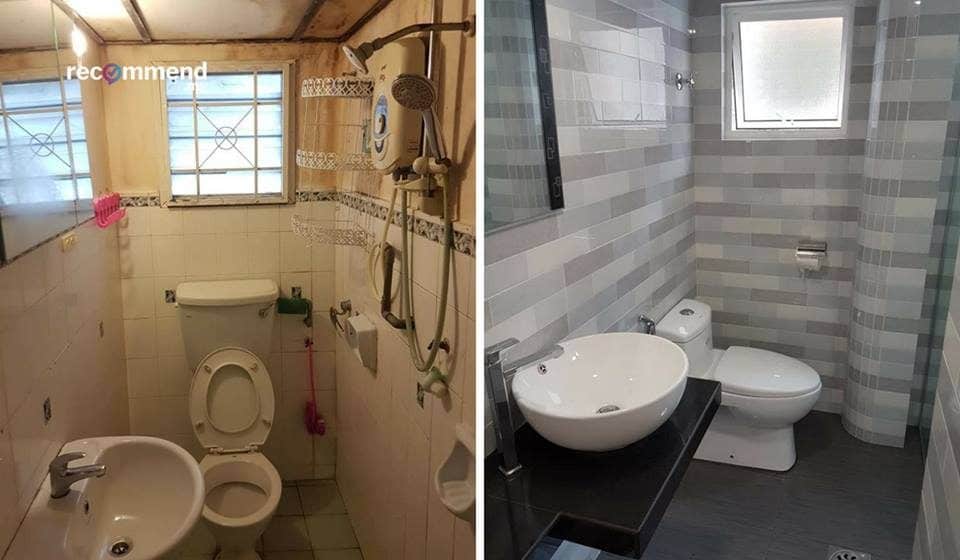 This narrow bathroom was redone from top to bottom. The floor tiles were replaced with grey anti-slip tiles. A cement bathroom counter was installed and vessel sink added on top of it to provide more counter space. The orientation of the toilet was changed to put it along the same wall as the sink. But the most striking transformation was the addition of mosaic-patterned wall tiles in different shades of grey.
Get instant free quote
Bathroom retiling at D'Shire Villa Kota Damansara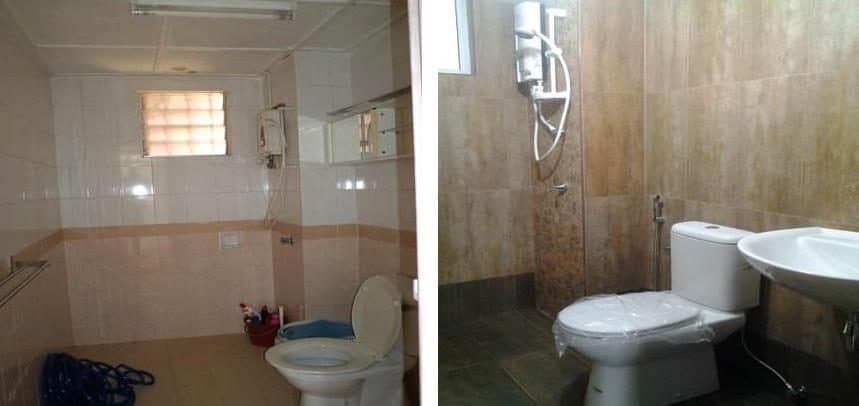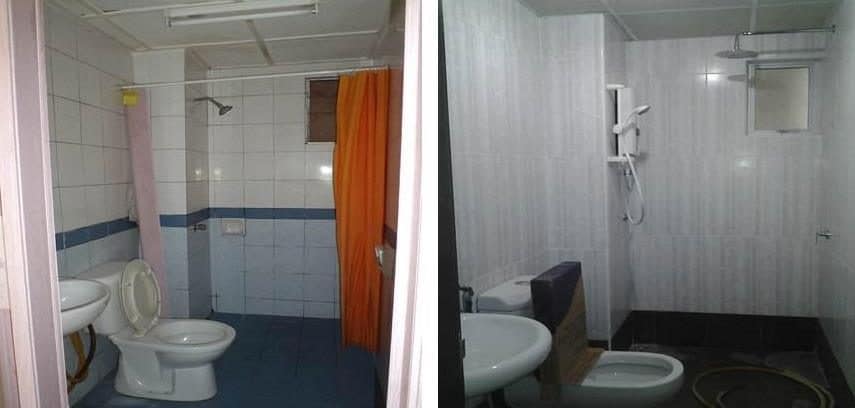 In these two bathrooms, the old square ceramic tiles were replaced with large 300x600mm tiles with beautiful veining that resembles granite stone. The joint lines are barely noticeable, so it creates a seamless pattern that gives the bathroom a luxurious look.
Get instant free quote
Bathroom makeover in Jalil Damai apartment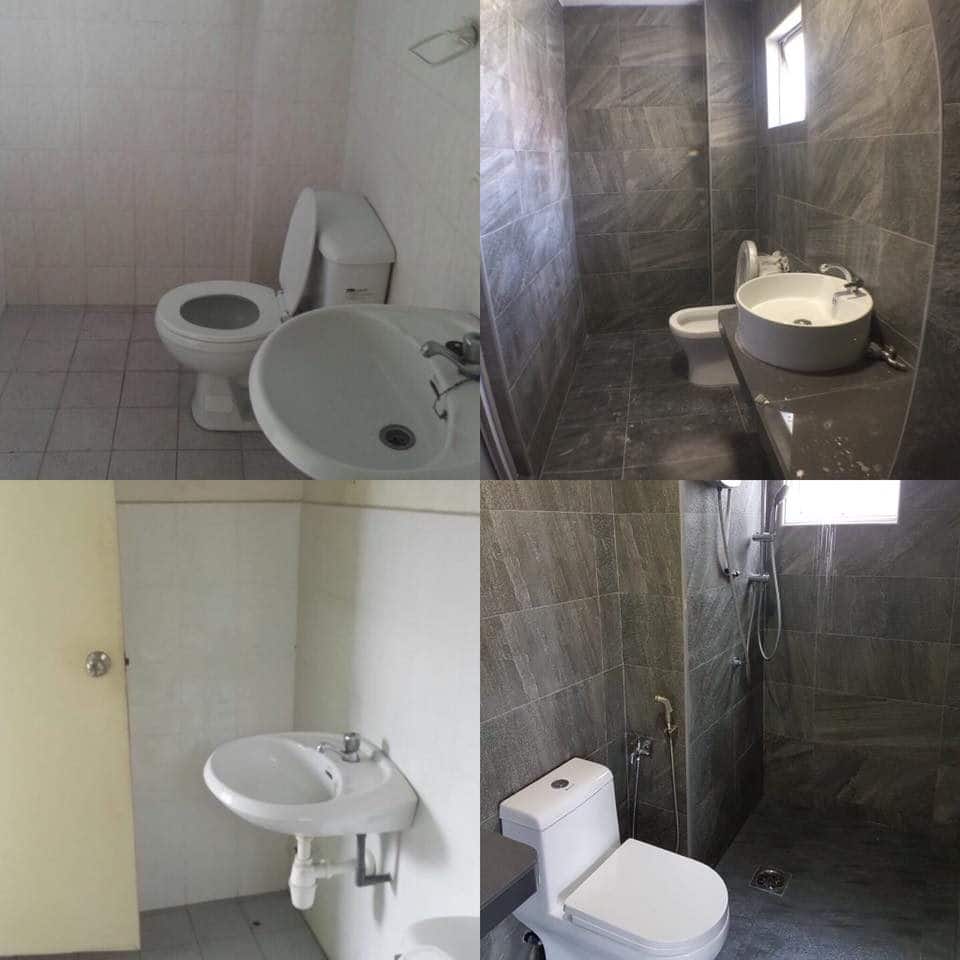 Heres another bathroom renovation example where the walls and floor tiles were hacked away and replaced with ceramic tiles with a diagonal veining pattern. A concrete countertop was also added, and a vessel sink added on top.
Get instant free quote
Bathroom cabinet installation at Le Yuan Residence – Kuchai Lama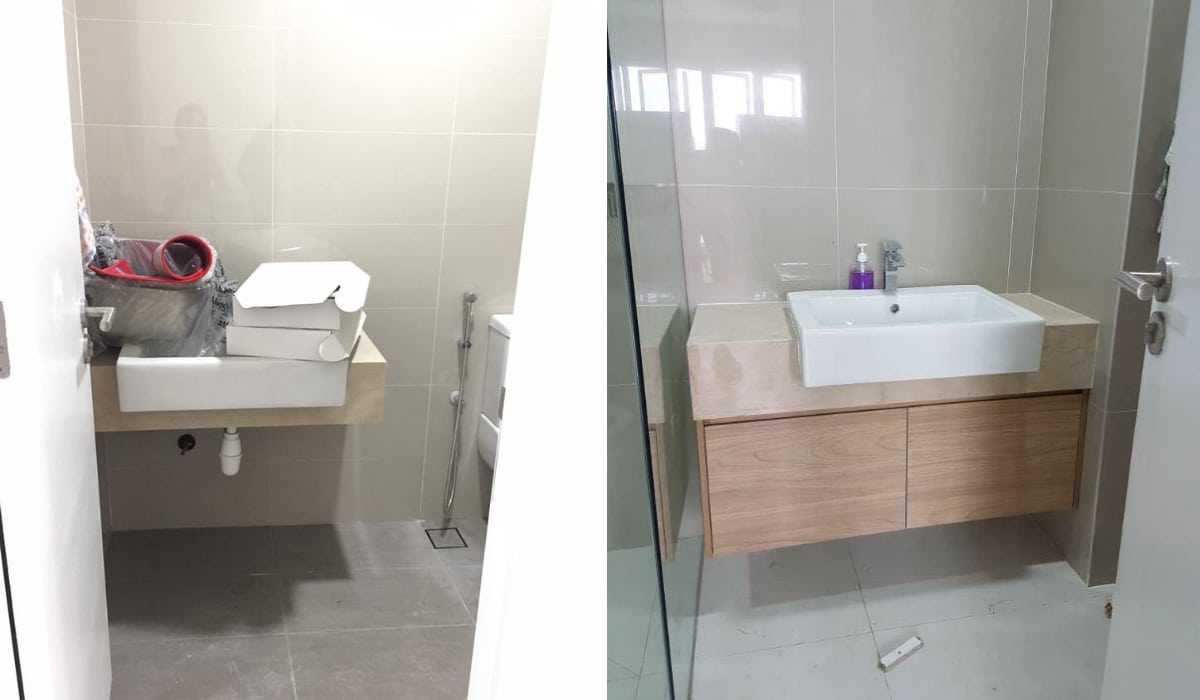 In this bathroom renovation, a floating bathroom cabinet counter was installed, together with a recessed sink built into the counter.
Get instant free quote
Bathroom refurbishing at Pandan Cheras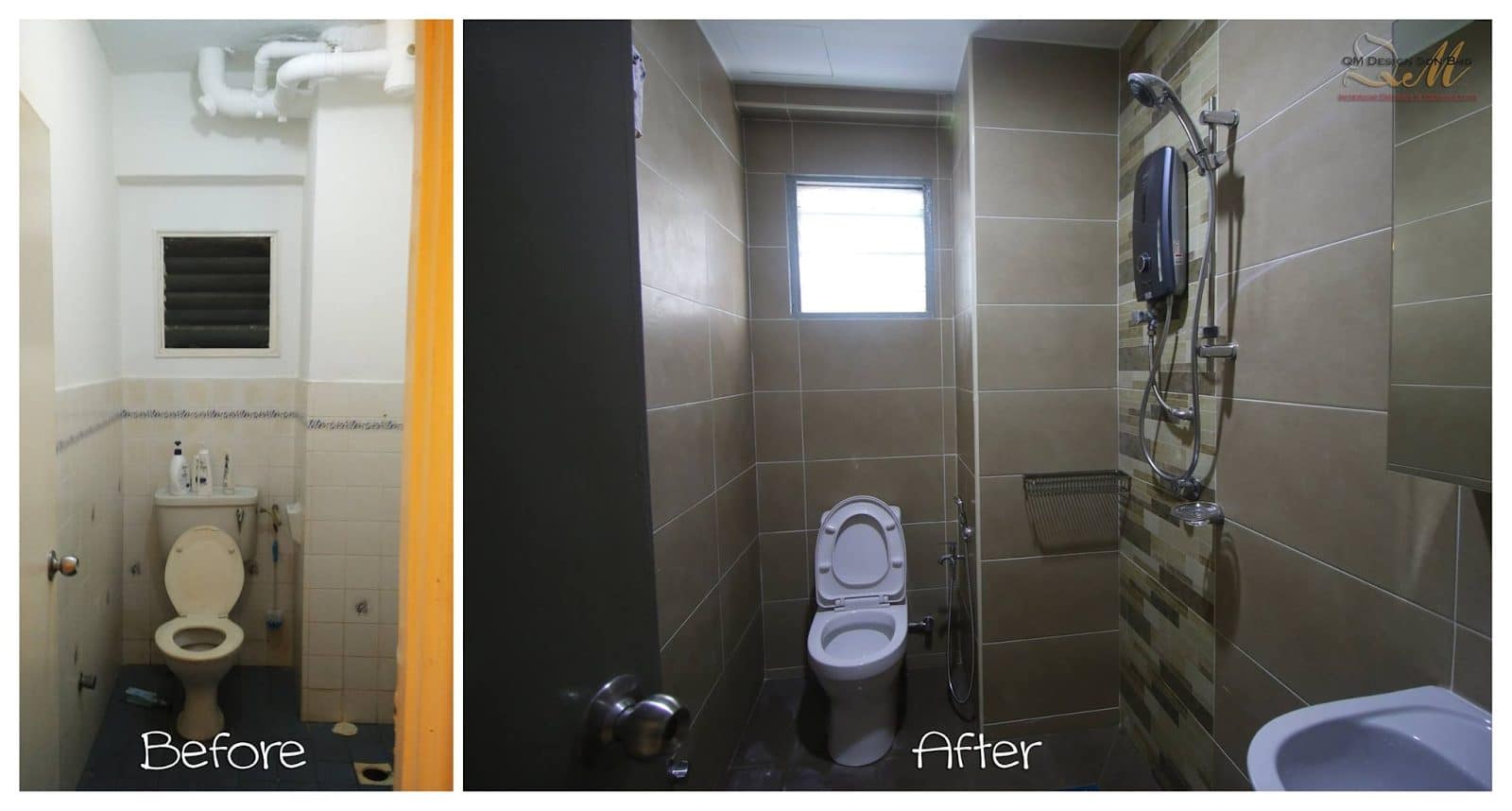 In this bathroom, the half-height wall tiles were removed and replaced with a matt 250x500mm ceramic tile with white grout. A false ceiling was also added to conceal the plumbing piping, and the shower wall area was switched to a patterned tile. The old beige toilet bowl was also replaced.
Get instant free quote
Updated bathroom tiles at Shang Villa – Kelana Jaya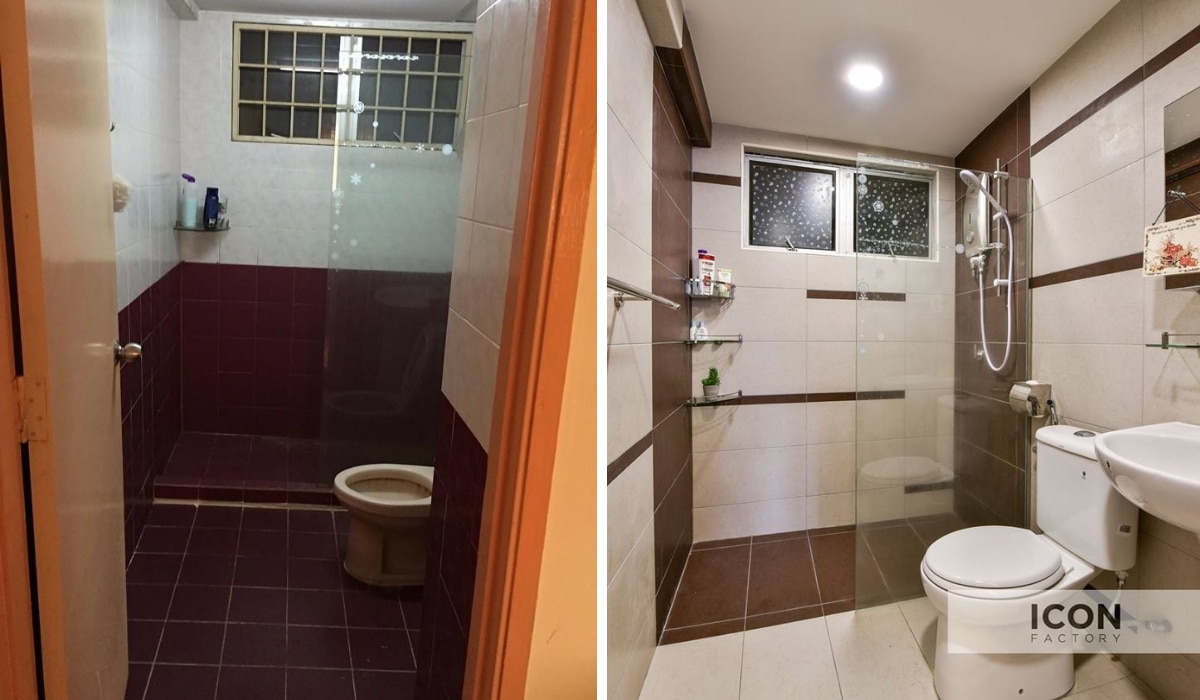 The old bathroom had a maroon-coloured floor and wall tile arrangement that went halfway up the walls. In the renovation, this was replaced by glazed beige tiles, with a dark brown tile to demarcate the shower area. A unique horizontal pattern was also added to give visual interest.
Get instant free quote
Bold red bathroom in Bayu Puteri Petaling Jaya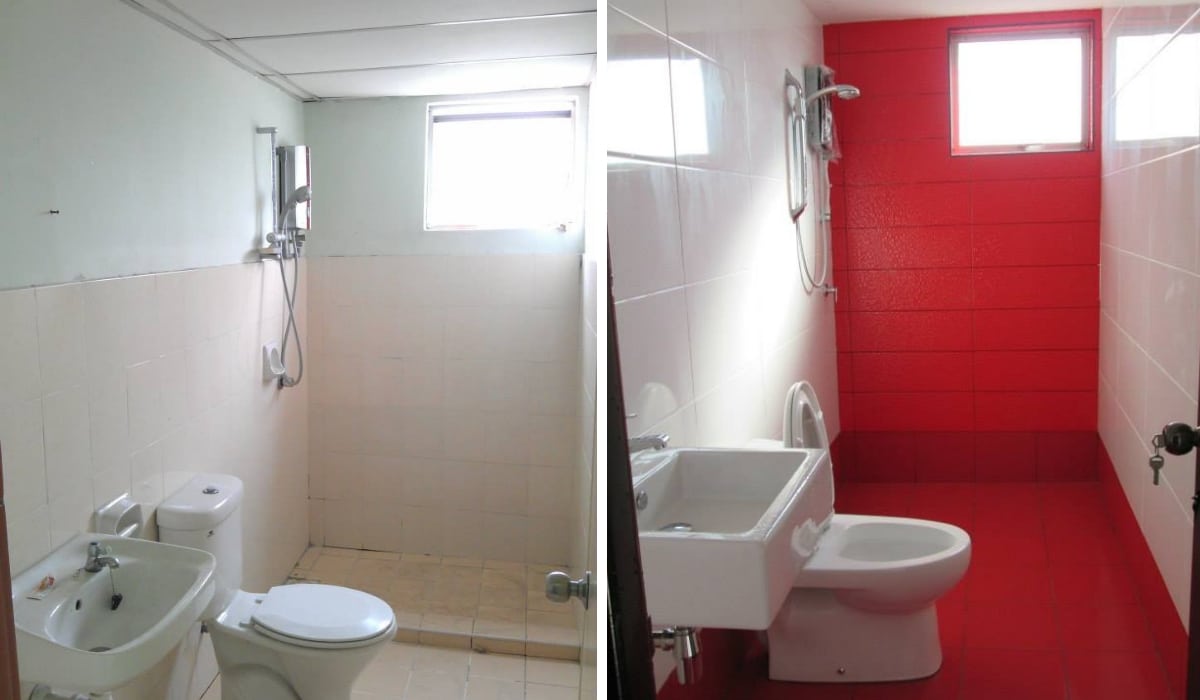 Opting for a big visual impact, the owner decided to install a crimson red floor tile and continue it all the way up one wall, giving this small bathroom design a boutique hotel feel. The toilet and pedestal sink was also replaced with a modern equivalent.
Get instant free quote
All white bathroom at Maxwell Tower Gasing Height Condominium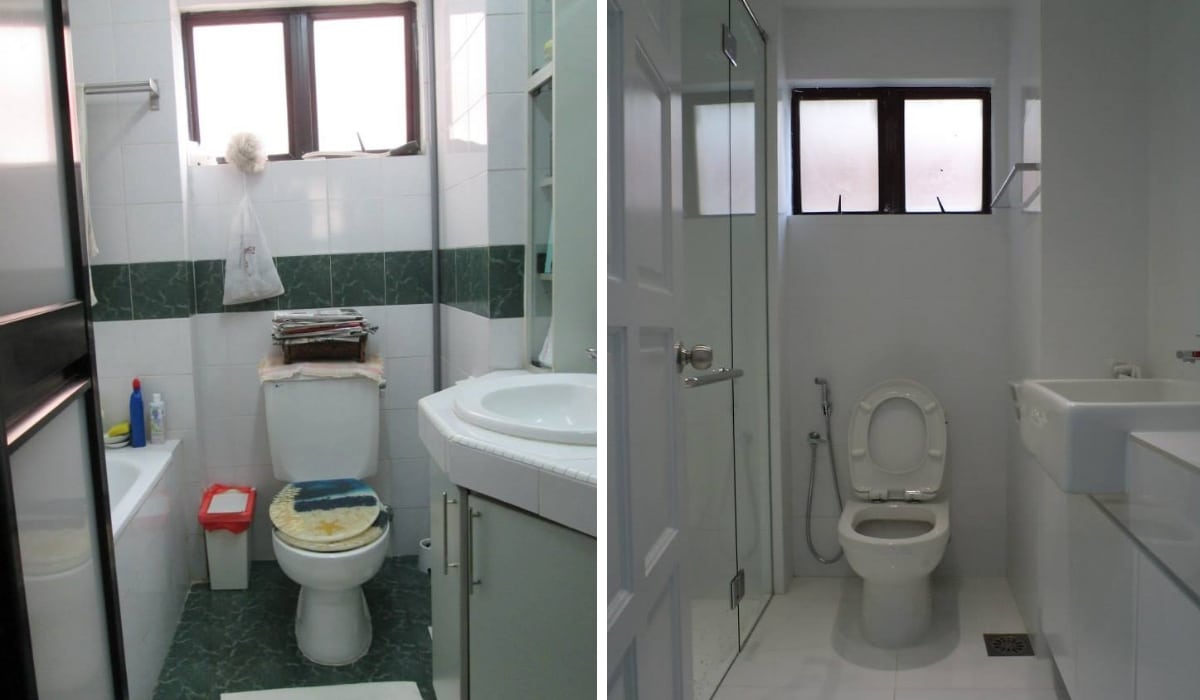 The bathtub was removed in this bathroom renovation and replaced with a shower area behind a glass swing door. The green floor tiles were also replaced with a light beige tile, and the very traditional looking octagon bathroom counter was replaced entirely with a stylish vessel sink and counter.
Get instant free quote
Simple bathroom renovation at Pandan Ville Condominium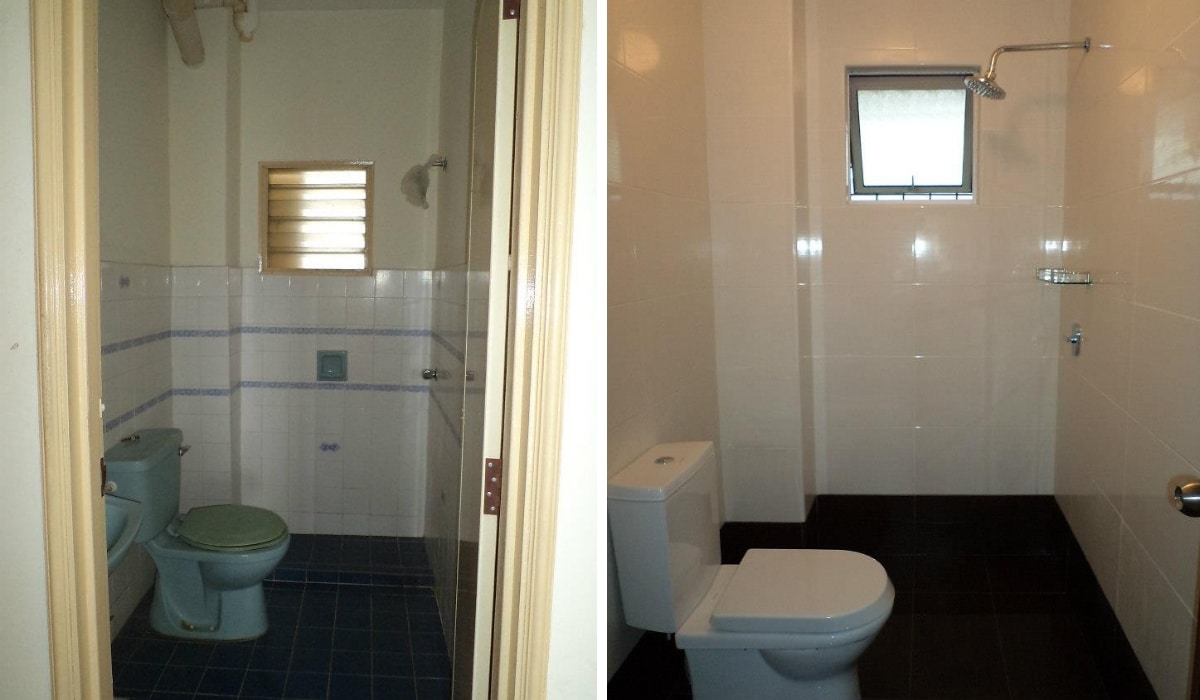 This small bathroom design now looks cleaner and modern by simply tiling the bathroom all the way up to the ceiling in a uniform tile colour. The floor tiles have been replaced with a dark colour with no grout spacing.
Get instant free quote
Replace bathroom tiles and fixtures at USJ 3 Subang Jaya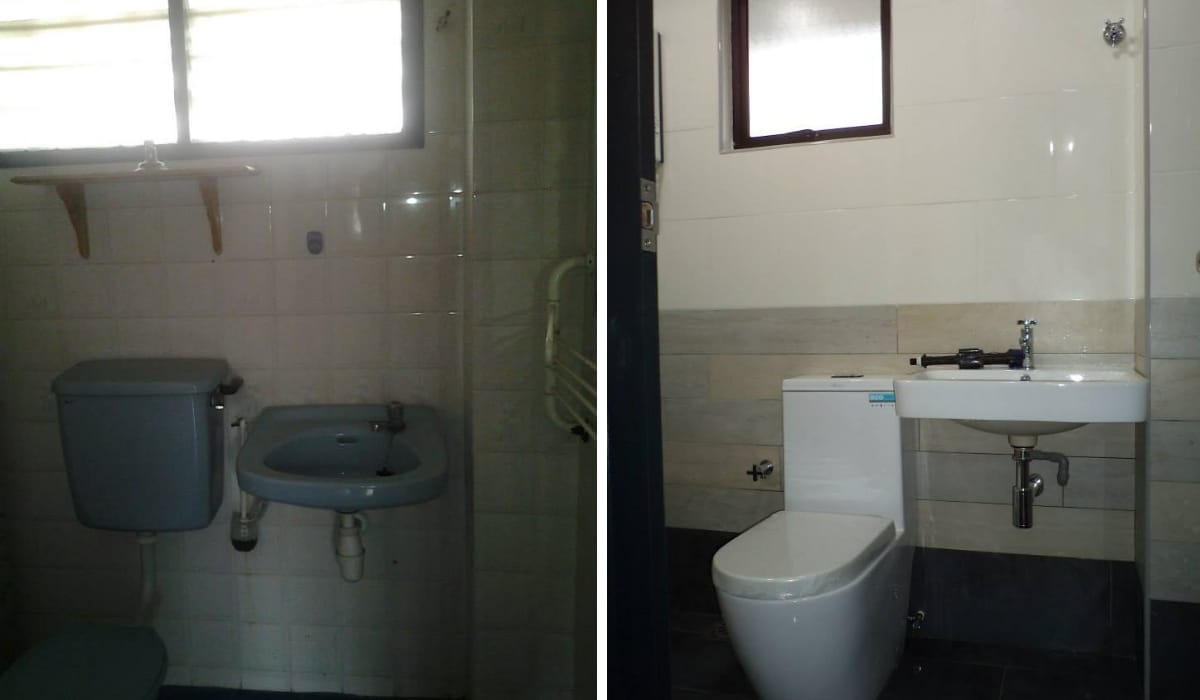 This small bathroom has undergone a simple renovation to replace the old toilet and wall sink. However, some work has also been done to close up the window area above the sink, presumably to add a wall cabinet or mirror later. The bathroom tiles now has a three-colour arrangement, starting from dark grey above the floor, to brown midway, and light beige towards the ceiling.
Get instant free quote
Bathroom renovation in Bangsar Puteri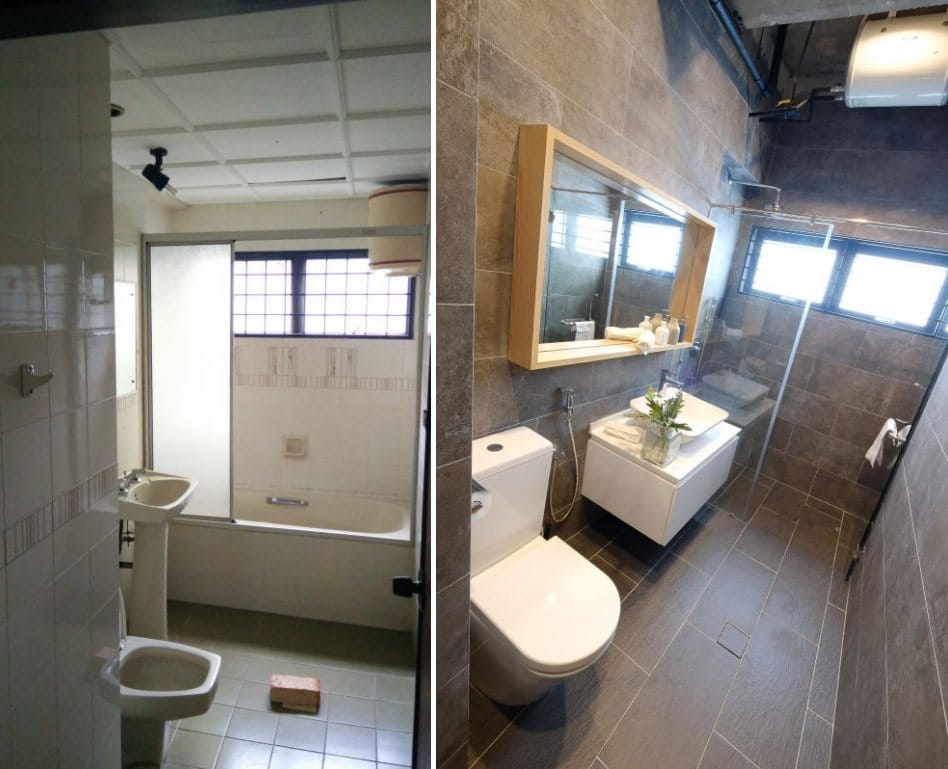 In this bathroom in actor Henry Goldings Bangsar apartment, the false ceiling was removed to heighten the space (and expose the water heater above), the bathtub was replaced by a shower area with swinging glass door, and the tiles updated to reflect the industrial theme.
Get instant free quote
Beige-tiled bathroom extension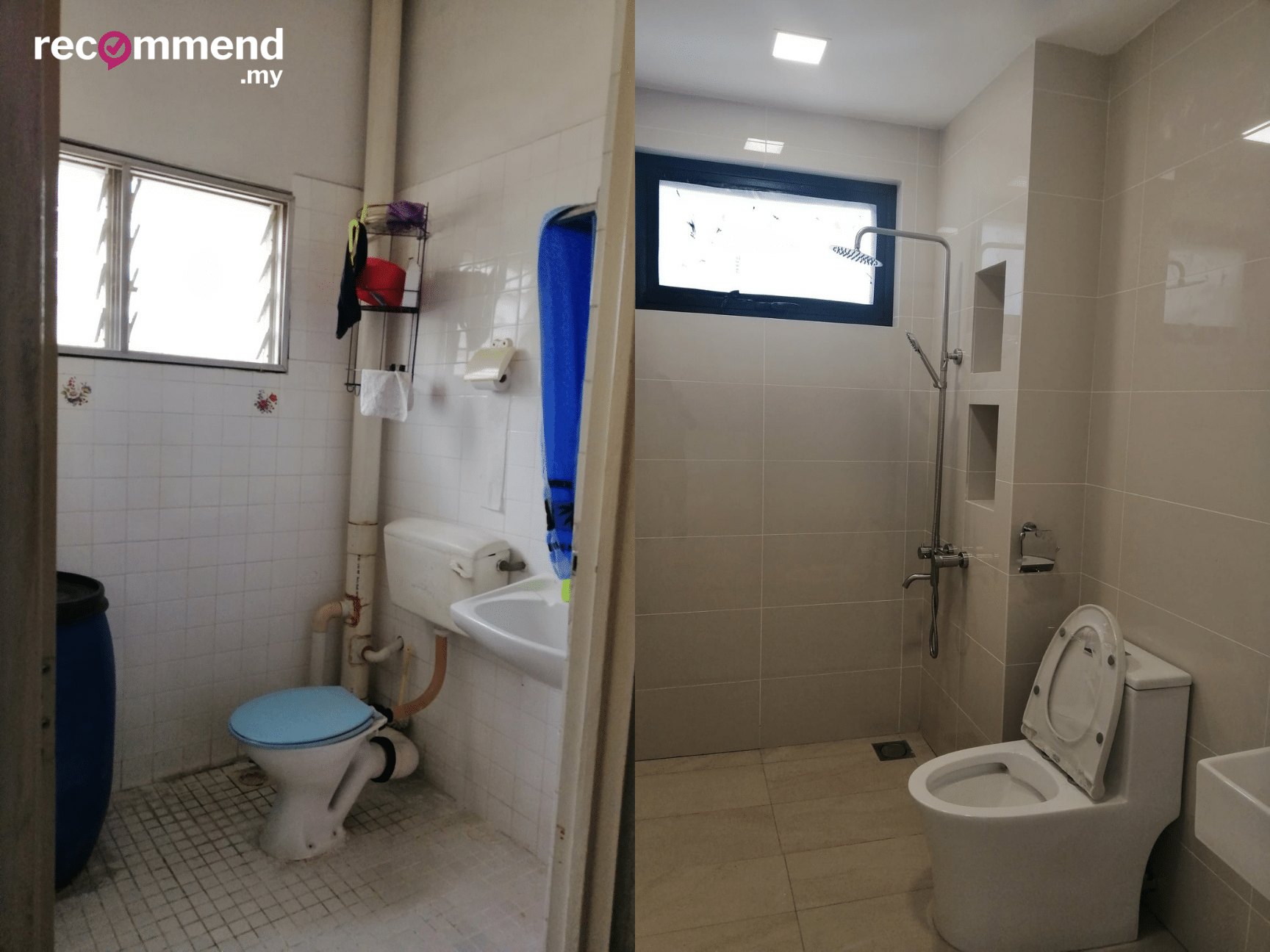 This bathroom is practically unrecognizable from getting extended and fully remodelled. Old sanitaryware is replaced with new sleek ones, with the extended space turned into an open shower area. The fake wall blends quite seamlessly to conceal the unsightly piping and even provides niches to place toiletry bottles.
The entire room takes a change of tone and design with beige tiles covering the walls and matte non-slip ones for the floor; and slim metallic shower fittings, for an ultimately major upgrade.
Get instant free quote
Need more bathroom renovation ideas?
As mentioned at the beginning of this article, if you are buying a resale property, or updating your existing home, one of the first areas to focus on is the bathroom. A simple bathroom renovation can make any home much more comfortable and welcoming for family and guests alike.
Recommend.my can find the best bathroom renovation companies in Malaysia and Klang Valley to help with your home renovation project. We have hundreds of qualified renovation contractors ready to quote for your job. Just let us know what you need and we will get you a free quote as soon as possible!