Many new homeowners in Malaysia are choosing smaller spaces that come with more affordable price tags.
But in homes with small square footage, the bedroom size is usually the first to be scaled down. Most of the square footage in the house will be allocated to the living / dining area (with open plan kitchen).
In fact, according to Persatuan Perunding Hartanah Muslim Malaysia vice-president Aziz Ahmad, homeowners have to settle for smaller units if they want to keep the cost affordable.
"Prior to 2010, it was common to own a 1,100-square-feet apartment. Between 2010 and 2014, the trend shifted to 900 sq ft and subsequently, 500 sq ft (studio unit)." he said in the same article.
"Prior to 2010, it was common to own a 1,100-square-feet apartment. Between 2010 and 2014, the trend shifted to 900 sq ft and subsequently, 500 sq ft (studio unit)."
This causes problems for the bedroom. After putting a bed and a wardrobe in there, you will have hardly any room to move about, or even open the wardrobe door.
How to add more storage to your small bedroom
How should you arrange the layout of your small bedroom? Where is the best place to put your bed? Or the wardrobe? Here are a few projects from the interior designers listed on Recommend.my as examples:
Go for full ceiling-height wardrobes
Instead of getting a wardrobe from the furniture shop in the neighbourhood, get a custom-made wardrobe that extends all the way to the ceiling. This ensures that every inch of your room is utilised to create more storage space.
Customised built-in wardrobes that reach out to the ceiling offer more vertical storage space that does not eat up to the floor space of your room. You can store those least used items on the top shelves, most used ones at eye level and less used items at the bottom. Make sure you choose wardrobe with sliding doors so that you do not have to make any space between your bed and your wardrobe.
Build storage around the bed
Who says that the wardrobe must sit next to the bed? You can utilise the space around your bed by building a bookshelf, which goes all the way up the ceiling, or an open shelf that displays family photos.
You can also make it a floor-to-ceiling fitted unit with drawers to store personal items. It will add character to your bedroom and at the same time, serves as a multitasking piece of furniture, which can also be used as nightstand.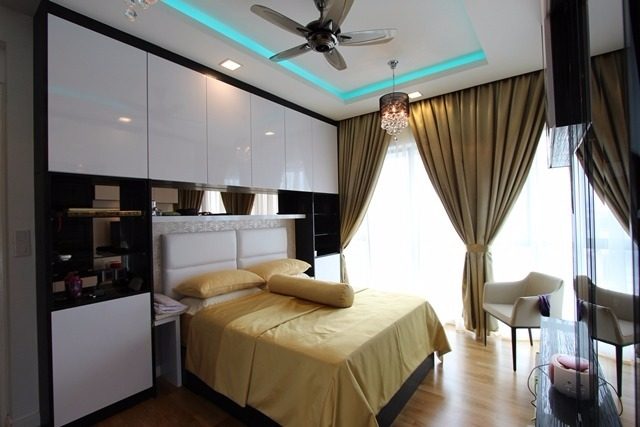 In this bedroom in Setia Sky by Ark Studio, ceiling-height storage is built around the head of the bed. Floating drawers were also added on the opposite wall deep enough for a TV.
Add mirrors
A mirror is the most affordable and one of the oldest tricks people use to make their homes look bigger as they act like additional windows in your room.
If you are building a custom-made wardrobe, you have the option of adding a mirror to the outside doors. Not only does a large mirror make a room appear more spacious, it also allows you to check your appearance when you are ready to leave the house. Other than that, you can also consider putting smaller mirrors in a group to create interesting visual effects.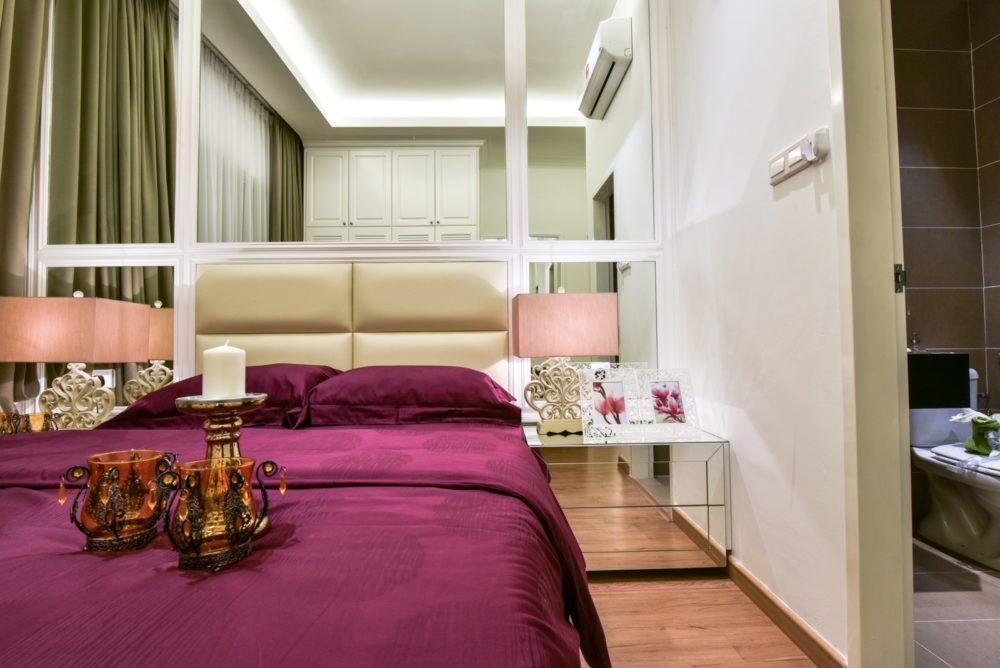 In this bedroom project in Ceria Residence, Cyberjaya by Nice Style Interior Design, wall-to-wall mirror panels were added to practically double the bedroom depth. There's even matching mirrored bedside tables to stretch the floor space even further.
Multipurpose furniture
When you have limited floor space, multipurpose furniture is what you need. Instead of buying a standalone bed, get those with drawers underneath to keep smaller items like underwear and socks or bigger items like bed sheets and duvet covers.
Some bed also come with storage space in the headboard to keep your favourite books.
If you live in a studio apartment, a sofa bed is another option as it allows you to fold up the bed and save space when the bed is not in use. Or, get an ottoman to use for storage as they can also double up as an extra seat when you have guests over.
But for the ultimate is space-saving bedrooms, you can get a hidden wall bed that swings up completely into the wall when not in use. When the bed has been swung up and hidden, the underside of the bed frame becomes a simple study desk.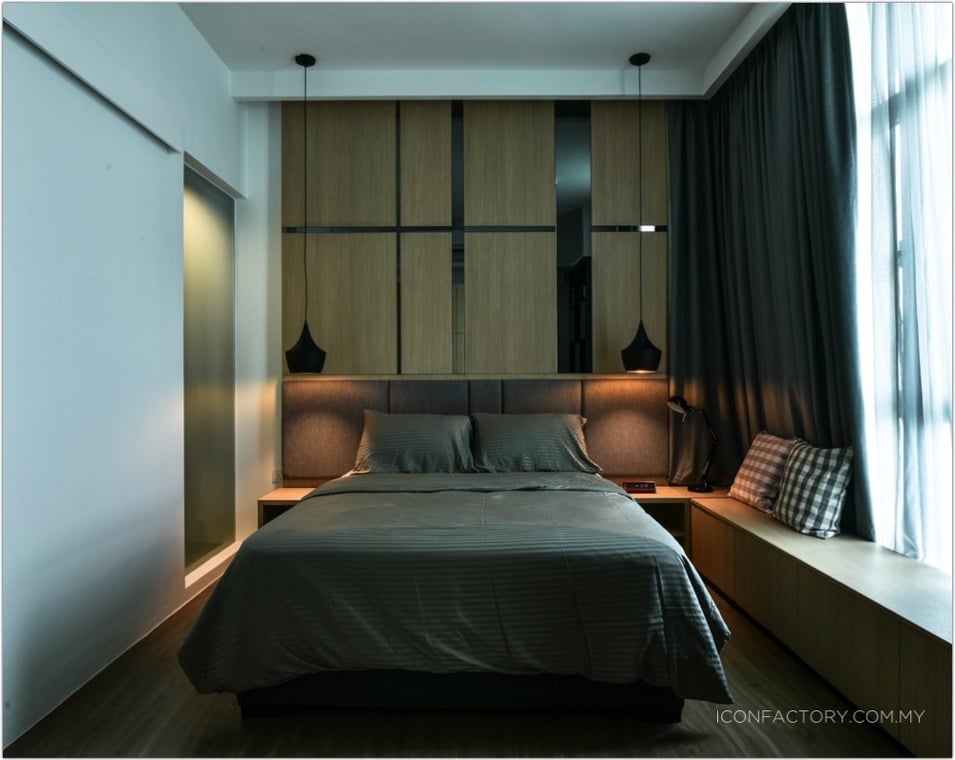 In the above condominium in Tropicana Avenue done by Icon Factory, the bedroom includes floor-level storage compartments below the bay windows that double as window seats. The bay windows leave just enough room on both sides of the bed to include bedside tables and walking space. At the same time, hanging pendant lights don't take up valuable space on the bedside tables.
Over-the-door hooks and organisers
If you often need your favourite scarves or ties, hooks and organisers that hang over the door are exactly what you need to keep those accessories in a neat and tidy way.
These useful tools can be easily found at Daiso and IKEA at affordable prices and they are great for storing handbags, ties, scarves and belts.
Use colours and patterns
Having a small bedroom does not mean that it has to be dull and boring. A clever use of colours and patterns will make you long for your bedroom after a tiring day at work and offer you a cosy place to rest.
Make sure the colour palette you use is simple and puts you in a relaxing mood when you return home from a busy day. Choose light, cool and neutral colours instead of warm colours as they make a room look brighter and larger than it is.
Do not hesitate to add pictures, rug, or decorative lighting to create that cosy feel for a small room. Try choosing a rug in light colour that helps bounce natural light from the window onto your furniture and make your room appear airy and light.
Go high and light with window treatments
Install rods close to the ceiling and hang long curtains that go all the way down to the floor to help create the illusion of a taller room. Heavy and dark drapes make a room appear smaller. Instead, use sheer curtains or gauzy white drapes to create an airy feel for the room and some privacy.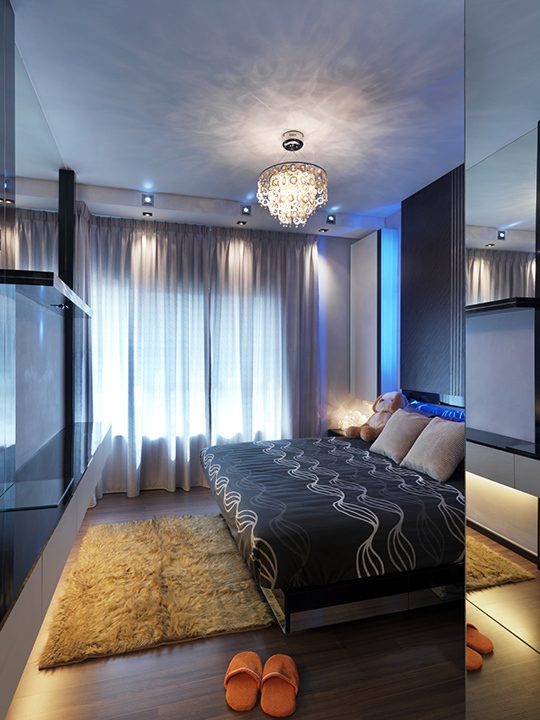 Above: In this bedroom in Changkat View Condominium by The Arch, the full-height curtains stretch the room upwards. Mirrored panels are added around the bedframe to give the illusion of more floor space. A tall but narrow cupboard was added by the window, and shallow drawers on the opposite wall provide storage as well as a place for the TV.
Conclusion: Yes, you can live big in a small bedroom
Living in a small space does not mean that you need to compromise on creating a cosy and comfortable bedroom. Instead, a tiny pad has a huge potential of transforming into your dream home with the right design elements.
From adding mirrors to adding storage, the right fixtures and built-in furniture can keep your small bedroom from feeling cramped. Talk to an interior designer on Recommend.my to visualise your bedroom, and you'll soon be living large!