We asked recent brides on the most important lessons they learnt from planning their Singapore and KL weddings—and the answers surprised us! There were so many great tips and advice that we had to split the article to two parts! Read part I here.
Their advice so far, (1) the bride should focus on ONE thing that guests should remember at the end of the day, (2) get organised early, (3) prepare a budget, (4) know what's important vs. what's urgent, and (5) delegate tasks on the day itself.
Let's keep going, shall we?
6. Get Practical – Shen Chong, Stephen Cheong, Shea-Fee Lim
When planning your dream wedding, it helps to know where to make some practical decisions. Our brides share some interesting tips:
Adjust your gown train length to each occasion
"Longer gown trains are beautiful, but be practical. Dress trains tend to get trampled on by children and well-meaning aunts rushing to give you a hug, and the sound of a ripping gown-train is something no bride wants to hear on her wedding day," says Shen Chong.
"If you want a 2 metre train length for the church wedding, consider changing to a more practical dress for the reception later." – Shen Chong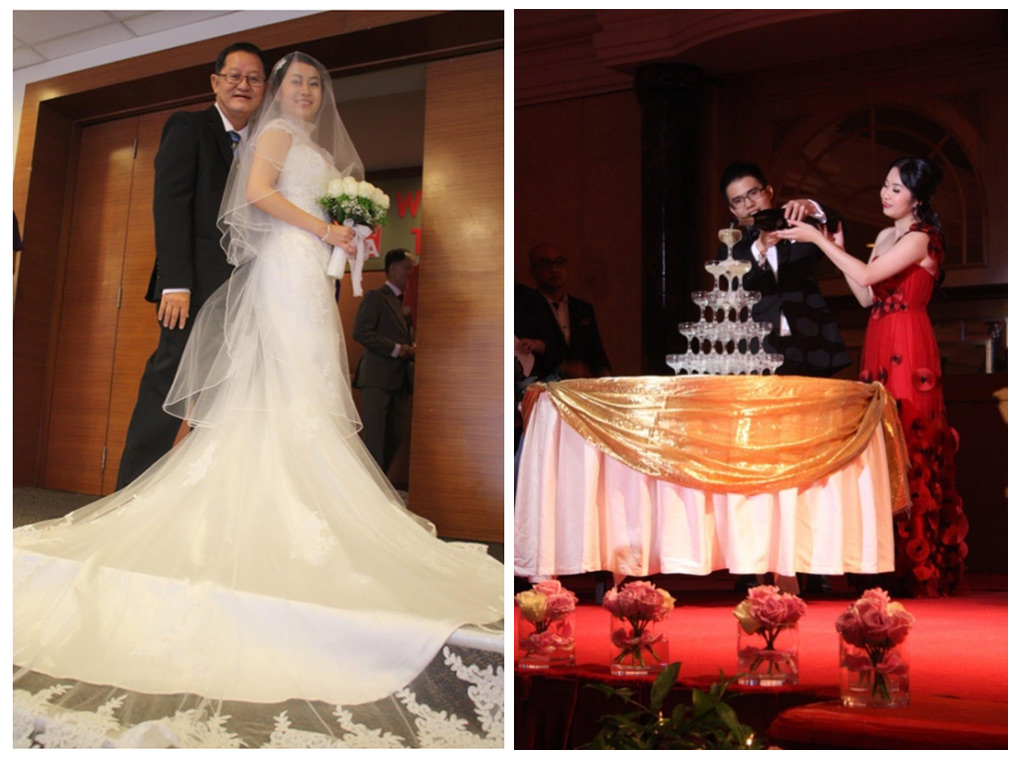 Above: Shen Chong wanted a long train for church, but changed to a floor-length dress for comfort and flexibility for the reception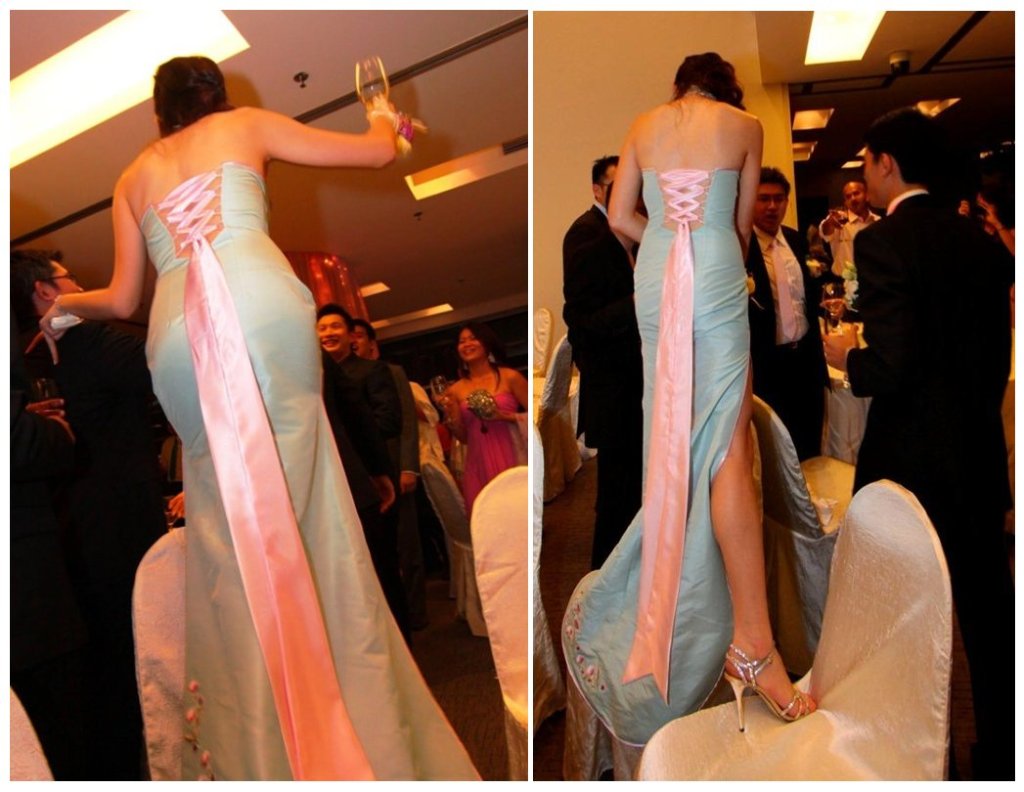 Above: Not everyone has Shea-Fee Lim's amazing dexterity even when toting a floor-length, I-challenge-you-to-step-on-me ribbon! Gown by Jason Yek Couture
Arrange your final dress fitting about one week before the wedding
Brides tend to lose about 5 pounds (2.2 kg) in the weeks nearing the wedding date. As such, the closer your final fitting is to the actual date, the better the dress will fit. However, that also means leaving enough time for the designer to make the changes.
If you're wearing gloves for the actual ceremony, try the wedding ring with the gloves on
Stephen Cheong (OK, not a bride, but still valid) thinks that this is great advice. Church elders always warn of the embarrassing moment when it dawns on the Groom that the ring is not going to fit on his beloved Bride's finger.
Break in your heels before the day
Brides often forget that new heels ALWAYS hurt when you first wear them. And since you're going to be standing for many hours throughout the wedding day, every step becomes more agonising. Try out your shoes on a clean floor and make sure they're at least slightly broken in before the real day.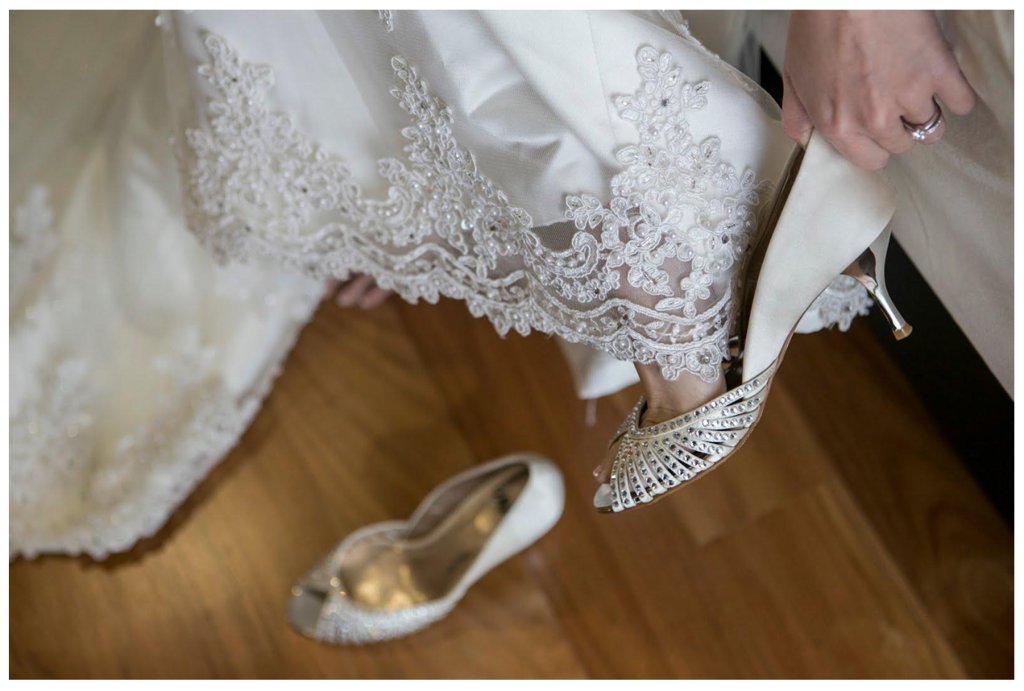 Above: Jes Min Lua after six hours in her super-painful heels that weren't sufficiently broken-in
Try the slide-shows and videos on the actual laptop in the actual venue
That beautiful slideshow and video that you created for the big day may suddenly decide not to play when copied to another laptop. Always make sure you test your audio and visuals on the actual set-up three hours before the wedding. Some things to look out for:
Make sure the laptop is not connected to the Internet. You don't want a sudden email or Skype notification to appear
Turn the screen saver off
Change the power settings so that it doesn't go into standby or hibernate, even if it's plugged in
Put a piece of cardboard over the projector while you navigate to the video so that guests don't need to stare at your desktop wallpaper
7. Manage your vendors well – Melalyn Ng, Celaine Toh, Rebecca Chim
When it comes to the items delivered by vendors, almost every wedding couple will experience a pang of regret. "We should have told him to [insert instructions here]…".
But, with a bit of planning and good direction, your vendors can exceed your expectations. Some areas to consider:
Tell your photographer your must-have moments
"Give your photographer a list of your must-capture moments and memories," advises Melalyn Ng. "Would you prefer him to focus on the couple, and record their every smile, or would you prefer him to capture table 10, 11 and 12 because that's where your 90 year-old grandmother and cousins who flew in from Mexico are sitting?"
Don't let your bridal house packages spiral out of control
"Upgrades are very expensive, so try to stick within the package you bought," advises Celaine Toh, who went with a package from Classic Bridal. "For instance, if—after signing up—you can't find a dress you like, ask to try dresses that have been returned by other brides, since you may not have seen them before."
"Be adventurous! Try dresses that are not your usual style. Dresses that may not look nice on the rack, may suddenly look dazzling once you put it on" – Celaine Toh.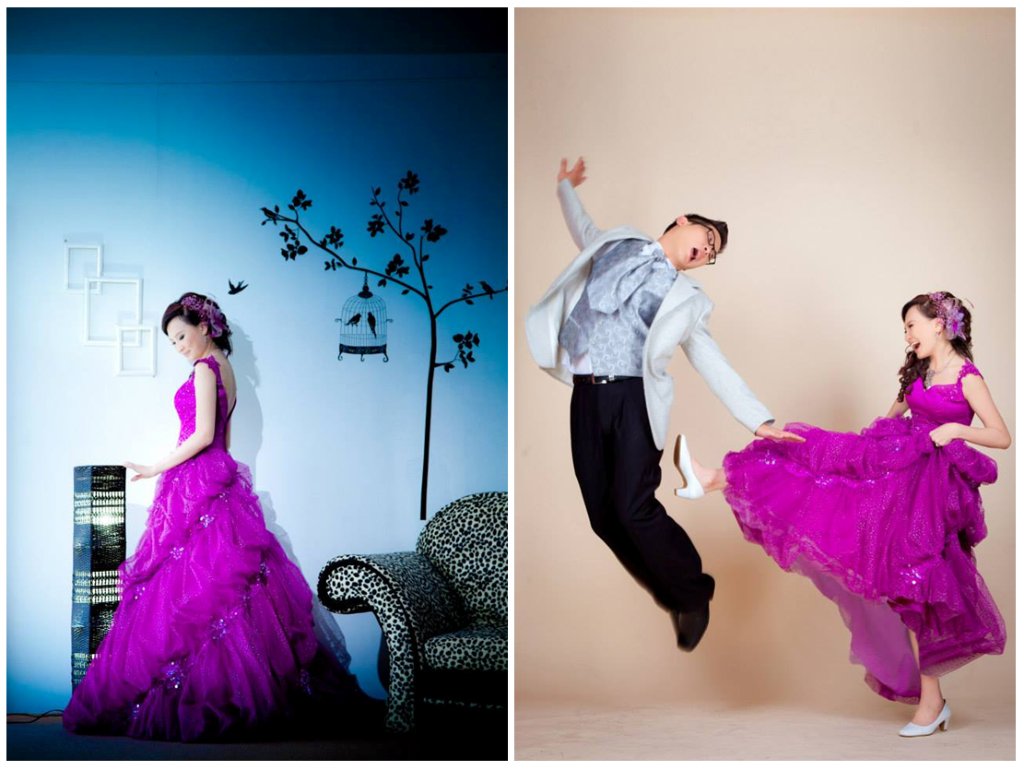 Above: Celaine Toh, in a dress that looked dubious on the rack but photographed wonderfully … kick-ass…on her.
For awesome photos, choose the photographer before the location
The photographs are the most important reminder after the big day is over. "Whether it's a local or overseas wedding shoot, go with the photographer that has the style you like," says Joanne Kua, whose photos were taken by Yeh from Wondrous Vision.
"Shooting in a dilapidated warehouse with the right photographer beats shooting at a spectacular cliff-side location with a so-so photographer. What makes the photo great is the chemistry between the bride and groom, and the right photographer knows how to draw out that essence. But they will not come cheap!" – Joanne Kua
If you're doing an overseas shoot, plan for the seasons and weather
"Pick a season that suits the look and feel that you're after. Shooting in the snow may not be for everyone!" muses Rebecca Chim. Also, think about the weather, and if you can hold a smile in a strapless gown in 5-degree temperatures. "I was actually very much frozen during the shoot. At the end of the day, we abandoned many of the shots we wanted to take and just jumped back into the van with thick warm coats".
"We picked Spring in Taiwan as we wanted sakura and lots of flowers. Getting the timing right was key" – Rebecca Chim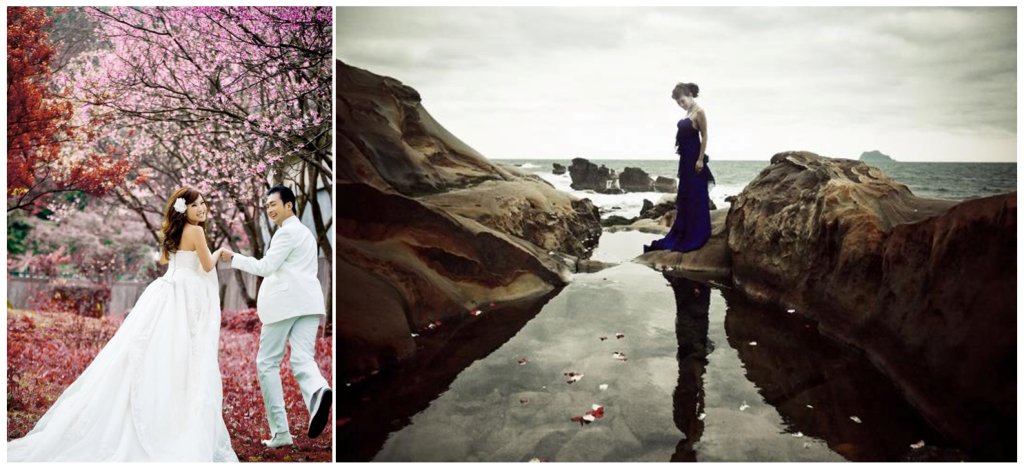 Above: Rebecca Chim braves the elements to capture the perfect location shoot.
More: Find the right wedding photographer for your big day at Recommend.my 
8. Always review the Bridesmaid / Best Man speech – Jes Min Lua
So you've roped in three of your best friends from high-school, university and workplace, and you imagine that they will go up and flawlessly execute a funny, yet warm speech about your kindness and great fashion sense? Think again.
No matter how close you are, or how many funny memories you shared as children, you never know what they will say until they get up there. They may end up spilling the most embarrassing stories about you, until you wished the ground would swallow you up.
People have very different perceptions of what is funny or not, and what is acceptable in different cultures. If there are royals, VIPs, priests and parents-in-law in attendance, give your friends some guidelines on what is off limits. Gently, but firmly ask for a copy of the speech before the wedding day. Your friends may decide to go off-script once they are on stage, but if you've given them some guidelines, they should exercise the right level of restraint.
"I have heard awful speeches about the Bride being dumped by so many times, everyone thanked God when she met the Groom. I have also heard 10-minute tales about farting competitions between the Groom and his friends. The embarrassment and silence was deafening" – Jes Min Lua.
9. Pace yourself – Shea-Fee Lim
Repeat after me; you cannot be remembered as 'the bride that got drunk'. At least, not until the end of the night.
"You will likely be drinking on an empty stomach, so resist the urge to down two glasses of wine to calm your nerves before making your speech. All you'll have to show for it are photos of unflattering expressions, shiny red-lobster faces, and stumbling about gracelessly in one's elegant dress and suave tux," stresses Shea-Fee Lim.
"I've been to weddings where the bride and groom were drunk even before they made their rounds to the tables. There was even one time the bride was so wasted and puked-out that the groom was the only one saying goodbye at the end of the night" – Shea-Fee Lim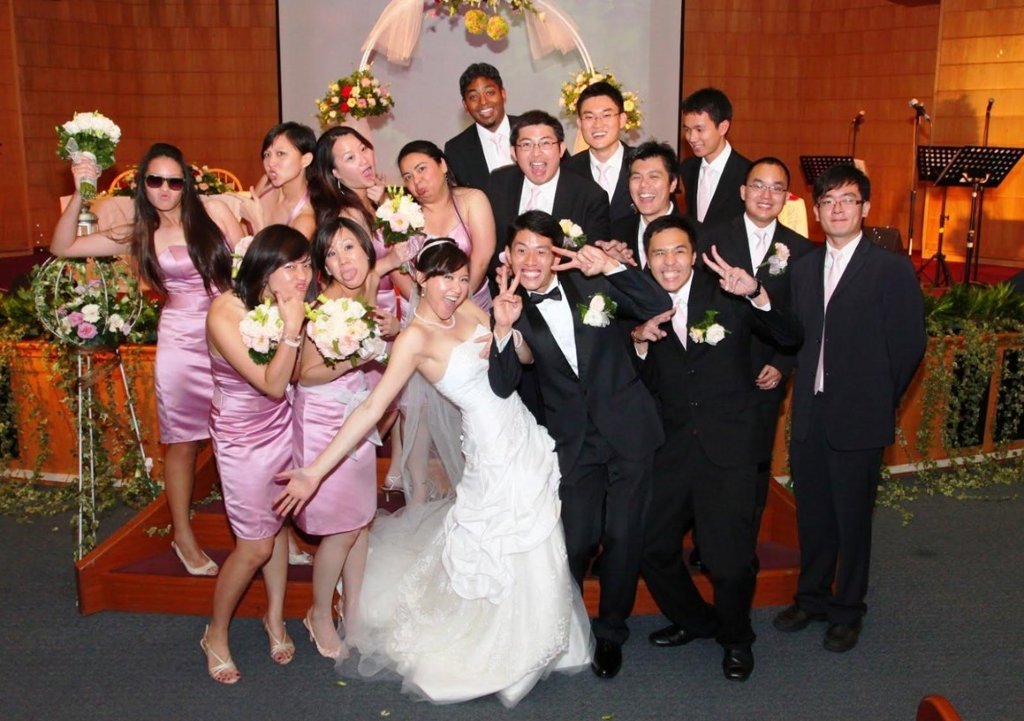 Above: Shea-Fee Lim and her husband Lionel Ho, definitely sober enough for the after-party
10. Finally, let go and enjoy the wedding! – Xandria Ooi, Rebecca Chim, Joanne Kua
If you ask couples who have planned their own wedding, they'll tell you that it was one of the busiest, most stressful parts of their life. But should it be?
"Before we even started planning our wedding, we agreed to make a conscious effort to remember that whenever we got overwhelmed and frustrated with details (or each other!), we would stop and remember that it's a celebration. This allowed us to fully enjoy every moment of the planning and it was a journey of love, right from the very beginning. The most important thing for us was to enjoy and savour every little thing we did for the celebration!" says Xandria Ooi.
"It's easy to get caught up in the details of planning a wedding and forget that it's meant to be a celebration of your marriage. A celebration, by definition, is meant to be joyous and filled with love." – Xandria Ooi
Enjoy the process, and have fun!
Previous brides tell us that their wedding day passed so fast they can hardly remember any of the details.
"It becomes a blur. I don't even remember what my wedding cake and cupcakes looked like. I had to ask a friend for a photo to see if it turned out the way I wanted it" – Rebecca Chim.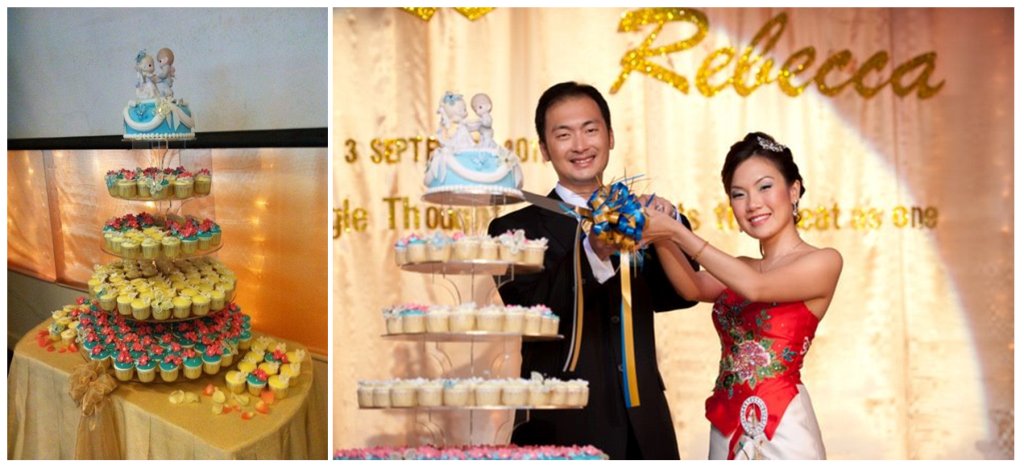 Above: Rebecca Chim's wonderful wedding cake & cupcakes live on in her photo album
It will be a whirlwind day, but always remember to slow down, take a look around and really take everything in because this is the happiest day of your life. You want to keep it in your memories too.
"It doesn't matter if nothing goes according to plan on your wedding day, somehow it will all turn out OK. You are marrying the love of your life, and that should be the most important thing of all." – Joanne Kua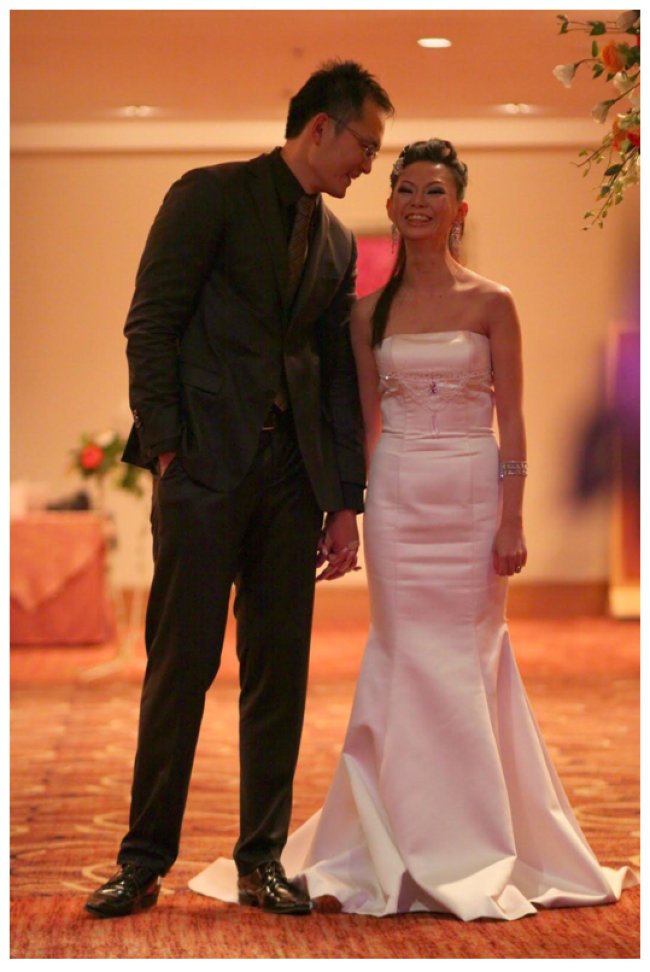 Above: Joanne Kua and Marcus Chan's happily ever after
Thanks to all our brides for the great advice! Don't forget to read Part I of this article as well, and you'll soon be planning the greatest wedding day ever!
Would you like a list of recommended wedding service providers from these brides?