Where are you planning to take your pre-wedding photos?
Most of us would be happy to have it in places like Santorini, Paris, or Tokyo, because of the distinct backdrops offered by these famous locations.
But if you and your other half are getting married in Singapore, why not commemorate your union with a pre-wedding photoshoot that shows off our local sights?
A pre-wedding photoshoot in Singapore will definitely be more affordable, and the locations may hold special significance for both of you.
We're not talking about finding an empty lalang field and pretending you're in Perth.
Instead, these are locations that recognisable, and distinctly Singaporean.
Here are some of the most popular free pre-wedding photoshoot locations in Singapore.
Get all the pre-wedding and wedding services you need, on one convenient platform
Researching for the type of wedding services you want can be time-consuming and exhausting.
Whether if it's photographers, makeup artists, or wedding planners, find all the event professionals that you need on Recommend.sg when you submit your request, and receive free quotes from pros.
Fort Canning
Fort Canning is steeped in history. Palaces stood here in the 14th century, and over 70 years ago, it was used by the British Army during the Japanese Occupation.
Today, Fort Canning Park is used as a concert venue, a retreat from the hustle and bustle of the city, and a place for the whole family to spend a relaxing afternoon.
As a pre-wedding photoshoot location, you have lots of choices. From the Gothic Gates (shown below) to the Arts Centre, your photos will be distinctly Singaporean, and loaded with history.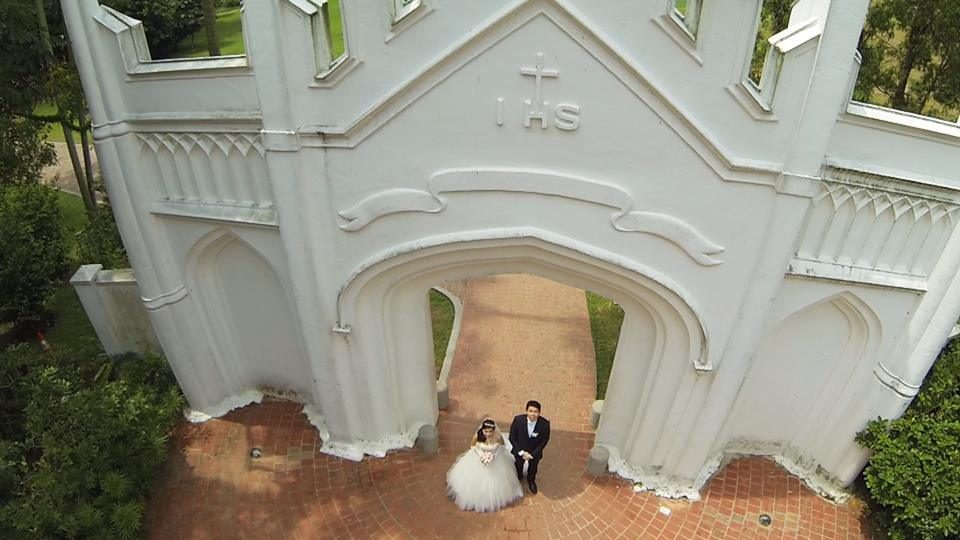 Marina Bay Waterfront Promenade
From this location, you can pose with the Singapore skyline as your backdrop. With a mix of ultra-modern skyscrapers as well as colonial architecture, you can freeze this moment in Singapore's history (as well as your own) to share with your grandchildren.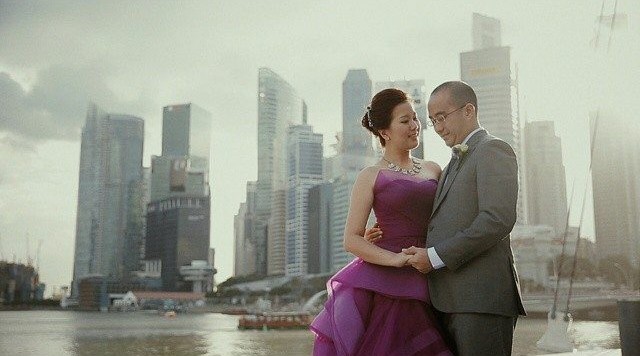 Sentosa Southernmost Point (Palawan Beach)
Imagine standing with the apple of your eye on a suspension bridge that links a tropical island on one end, and the Southernmost Point of Continental Asia on the other. A place where both of you can overlook the South China Sea while being surrounded by talcum-like white sands, coconut trees, and turquoise water.
While this might sound more like a hidden island in Robinson Crusoe instead of the concrete jungle that Singapore is, it might come as a surprise to find this location in Palawan Beach.
Granted, it might not be the Maldives or Barbados, but it's the closest you can get if you want a tropical island backdrop in Singapore!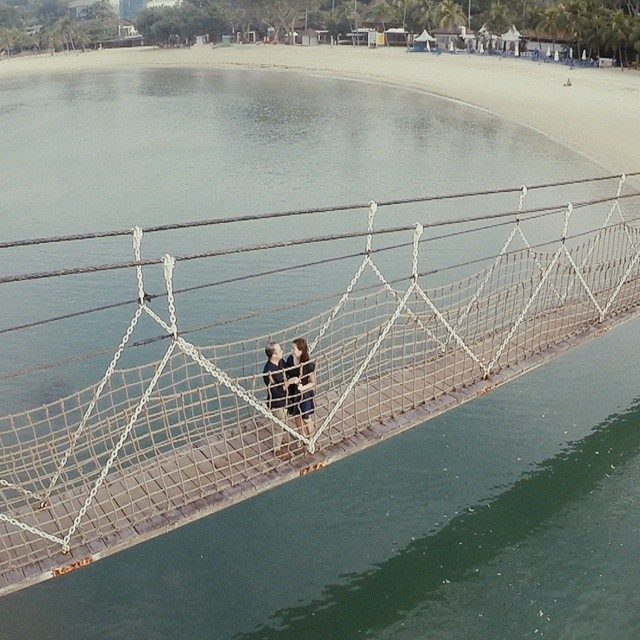 Cavenagh Bridge
As one of the oldest bridges – and the only suspension bridge – in Singapore, Cavenagh Bridge is another landmark that's rooted in history.
Completed in 1869, the bridge was originally built to provide access for vehicles, rickshaws, and horse and ox carts between the Singapore river. Many of the original structures are still preserved until today (the original transport signage still exists).
Today, it's associated as the unofficial "love bridge" of Singapore, as youths can be seen throwing a sea of mandarin oranges during Chap Goh Mei, while it's also a popular location for marriage proposals and wedding photoshoots, just like the one below.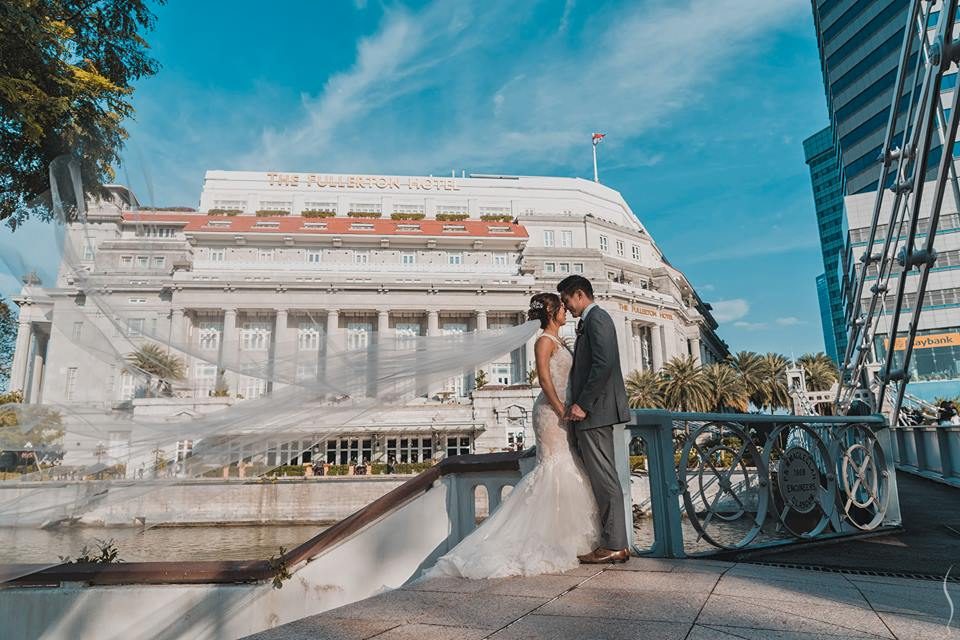 Marina Bay Waterfront Promenade
If you want a backdrop of modern Singapore in your wedding photos, The Marina Bay Waterfront Promenade is the place to be.
Its breathtaking panoramic city view is only rivalled by the number of creative shots you can get as you stroll along the timber walkway.
However, where the waterfront promenade truly shines (pun unintended) is at night – or just before dusk – when the area is well illuminated by dazzling lights of different colours, creating a picturesque scene for romantic and impressive pre-wedding shots.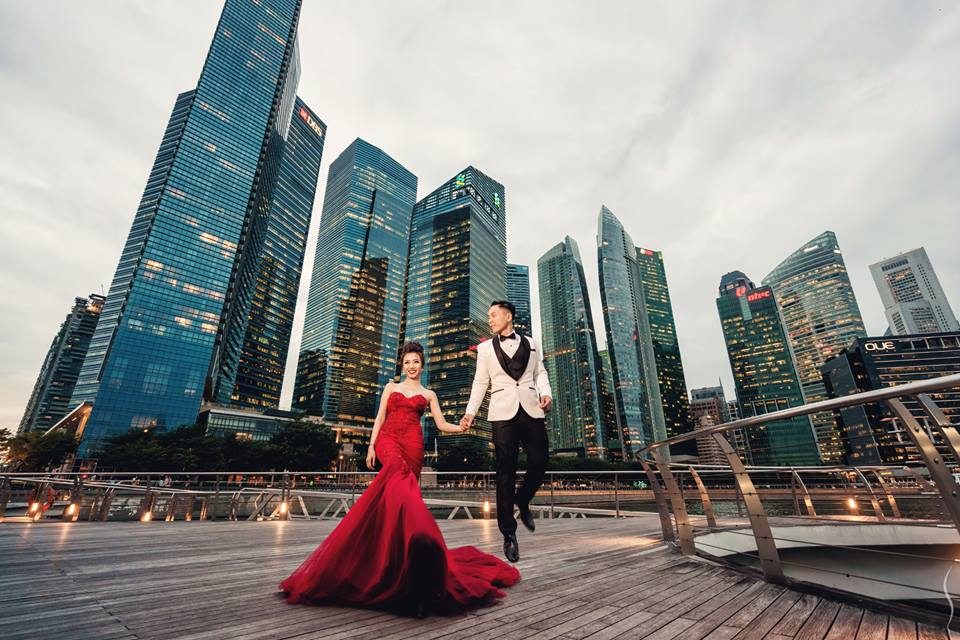 Singapore Botanic Gardens (Bandstand)
The Singapore Botanic Gardens was added to the UNESCO World Heritage List in 2015. While the gardens have been around since 1859, the bandstand was erected in 1930. Today, it is a favourite photo spot for wedding couples and visitors alike, due to its European-style design.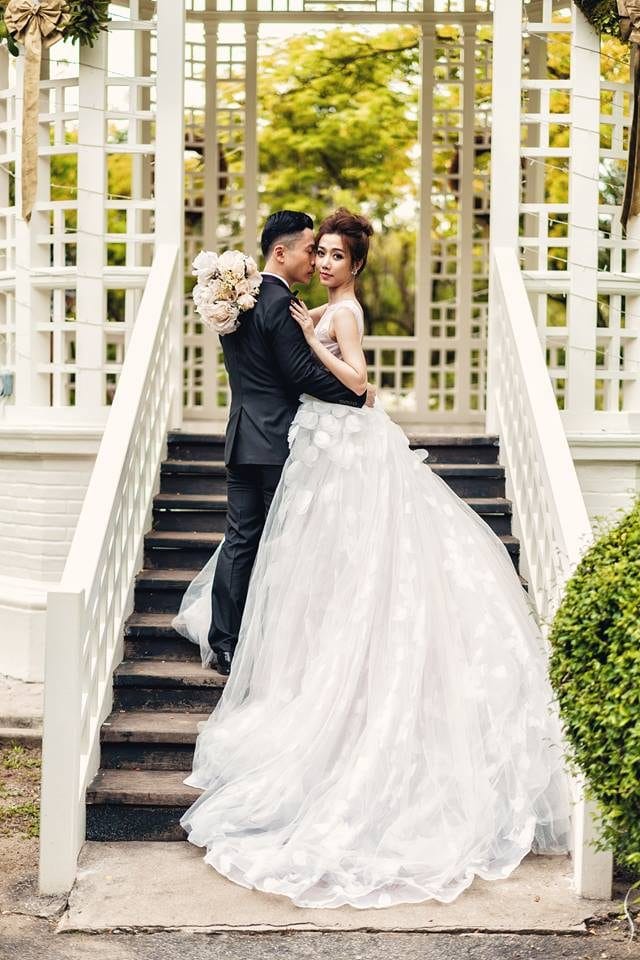 Arab Street
Known for its eccentric shophouses, artsy buildings, and colourful street arts, Arab Street (which also includes the Haji and Buscat lanes, Bussorah Street, and Muscat Street) is an excellent location for pre-wedding photoshoot in Singapore if you want a backdrop that is both quirky and rustic.
The iconic 200-year-old Masjid Sultan Mosque can be part of the backdrop if you want to inject a cultural and historic vibe in your photos.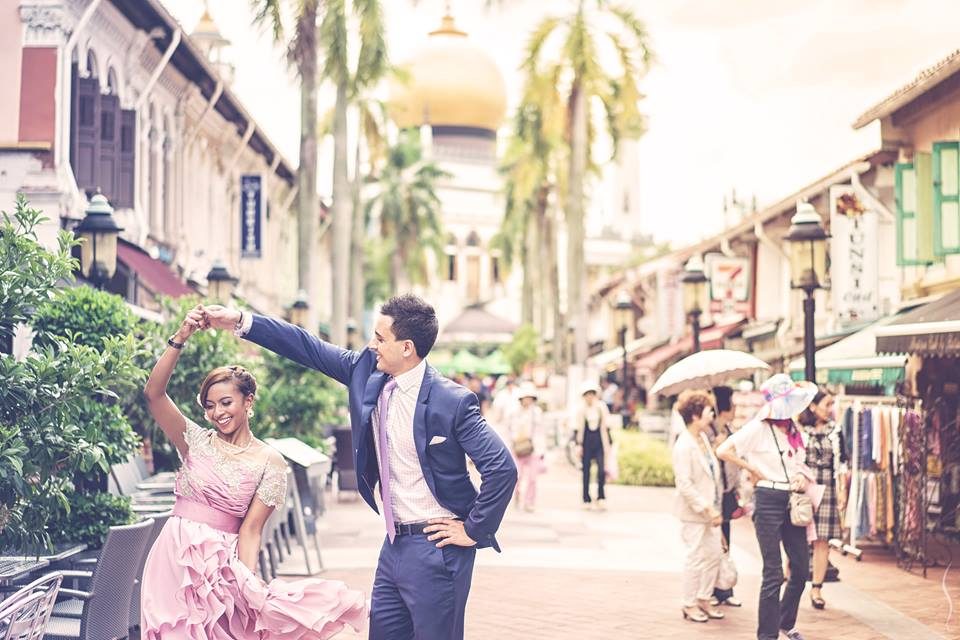 Sungei Buloh Wetland Reserve
Here's a location that's not on the radar of many newlyweds: the Sungei Buloh Wetland Reserve.
Its broad array of flora and fauna makes it a favourite spot among photographers and those wanting to take a break from the frantic city; while the scenic landscape of the mangrove forests make this wetland reserve a natural picturesque setting that studios cannot provide.
If you want to add some architectural interest, there are also 5 distinctive nest-like-dorms around the wooden boardwalk.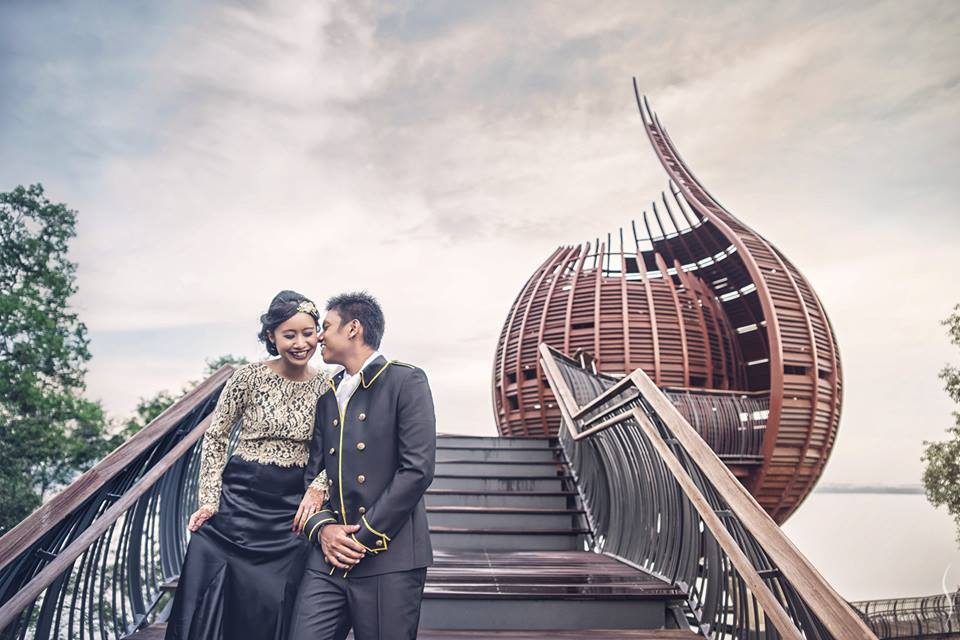 One Fullerton
One Fullerton is part of the Fullerton Heritage Precinct; the same area where the famous Fullerton Hotel stands (built in 1928).
Today, the Fullerton Heritage precinct includes waterfront fine dining, upscale shopping and entertainment. It is also adjacent to the famous Merlion park, so you won't be short of famous landmarks to include in your photos.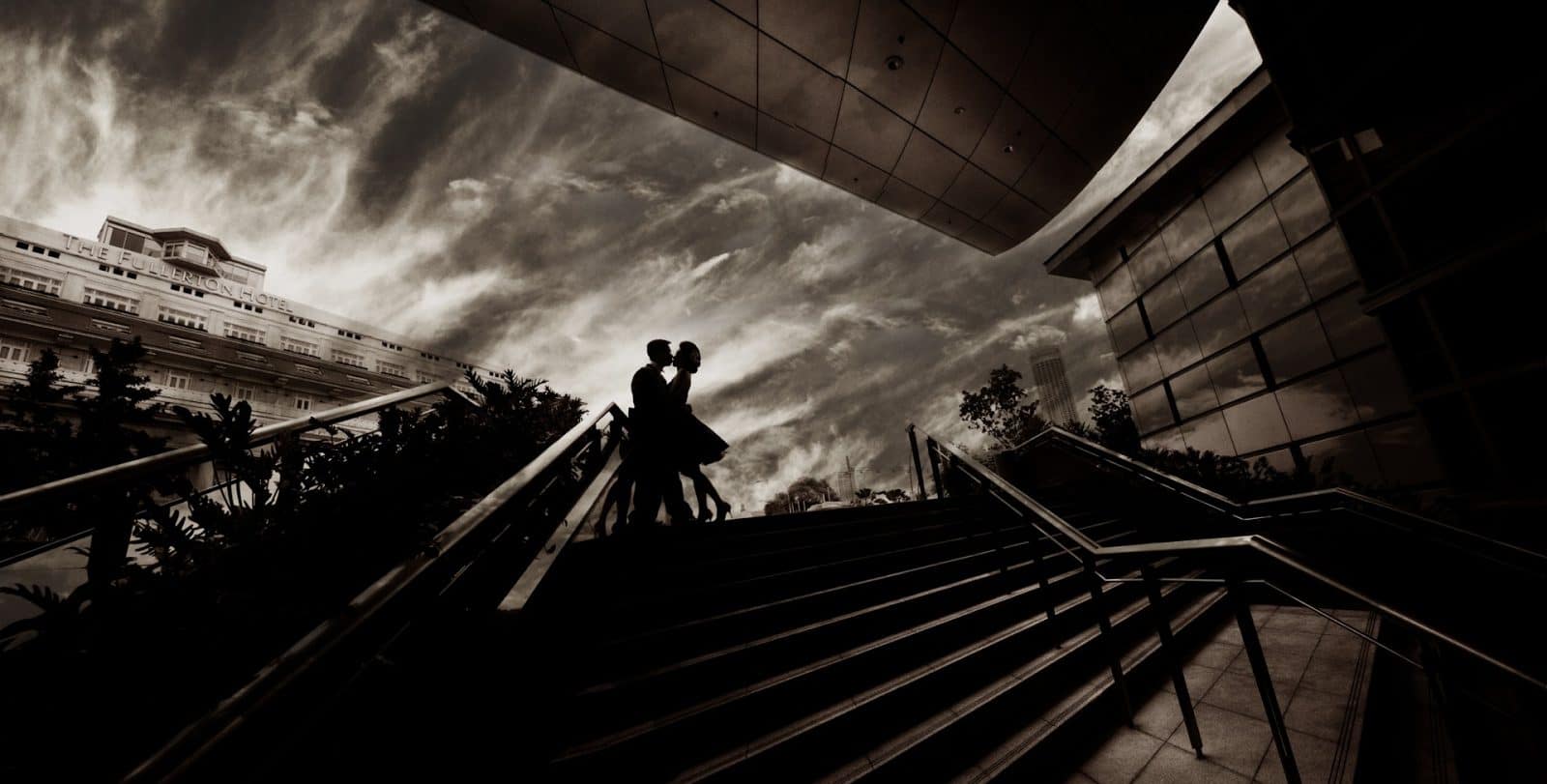 Changi Boardwalk
Fancy a romantic setting by the sea?
The Changi Boardwalk, famed for its coastline and spectacular sunset views, might just intrigue every romantic fibre in your body.
There are 4 different segments, each offering different backdrops and ambience.
The sunset walk provides you with the best view of the sunset and big boulders, the kelong walk is where you want to be if you want to take intimate shots with the kelong stilts that sit above the sea, the cliff walk for a majestic view of the coast, and finally the sailing point walk, for enchanting views of the sea.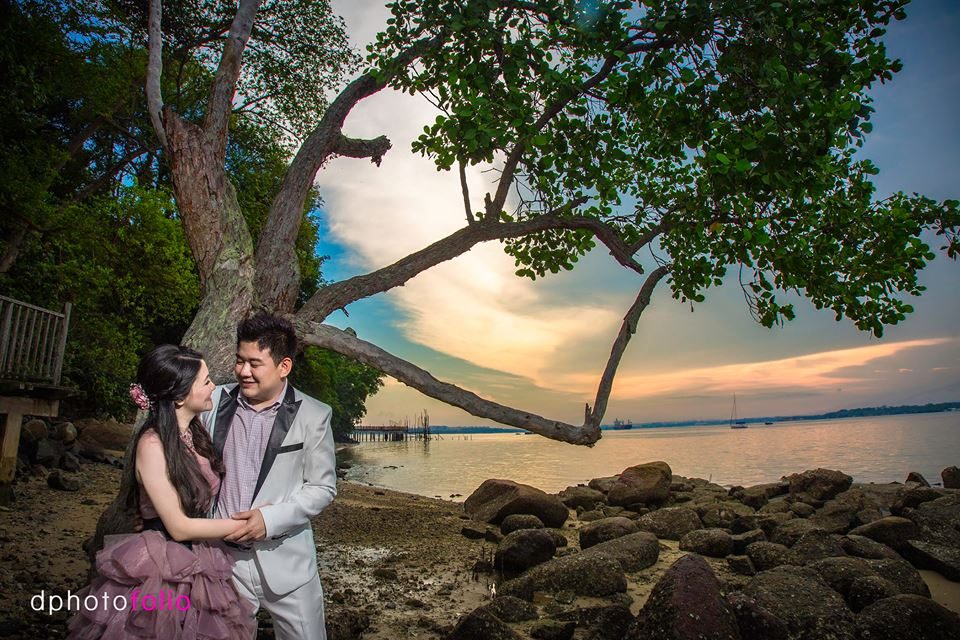 Pearl's Centre car park (permanently closed)
Car parks are probably unusual locations for pre-wedding shoots, but if you can overlook the "unnatural" romantic setting, they can be promising locations that will offer plenty of creative room for both unique and memorable captures.
The car park in Pearl Centre was not exactly a "uniquely Singaporean" landmark, but it offered a gritty, brutalist concrete backdrop that gave a raw, artsy look that's great for monochromatic photos.
If you shot at night, you could have a magnificent view of the sparkling city in the background.
Sadly, the entire building has been closed to make way for MRT construction. But if would like to recreate a similar photo, there are plenty more carparks in Singapore!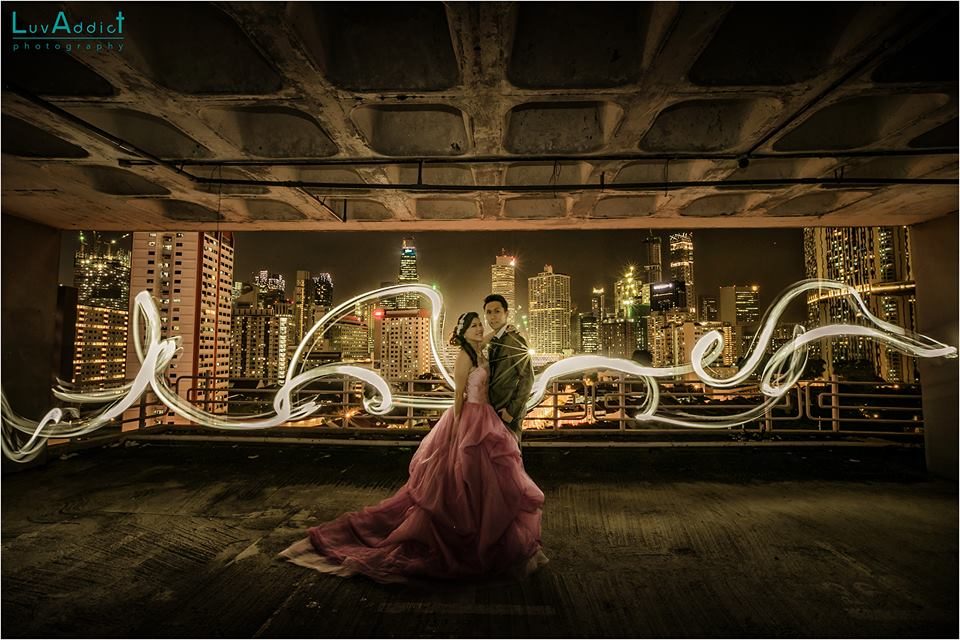 Gardens By The Bay
Another popular spot for pre-wedding captures, the lush botanical garden and canopy of artificial trees found in Gardens By The Bay provide a superb backdrop.
At night, the area becomes even more romantic and mesmerising when the area (and towering Supertrees) glimmer with light.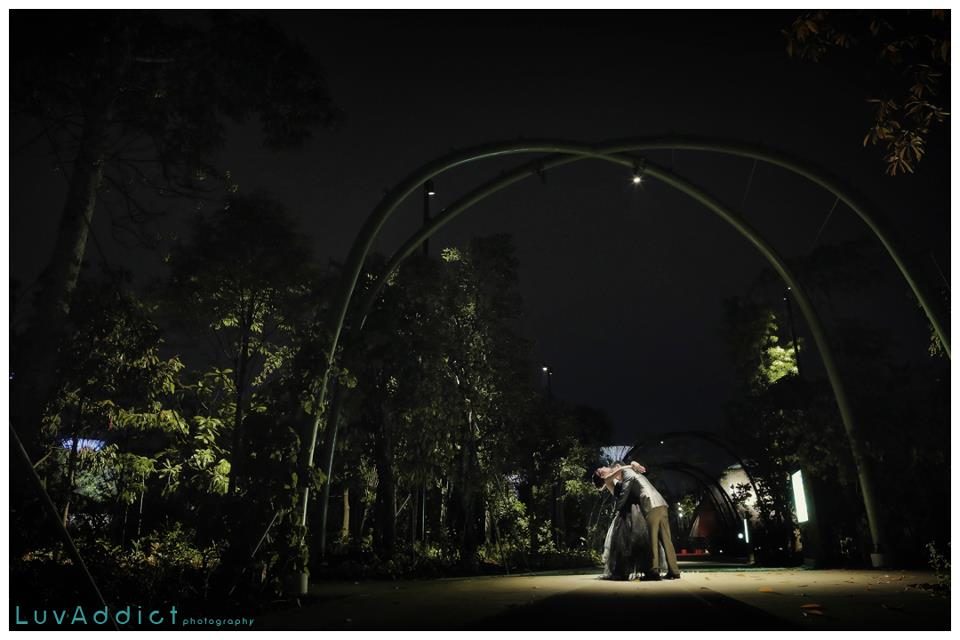 Helix Bridge
The Helix Bridge is a pedestrian-only bridge that links Marina Bay to Marina Centre and is said to bring prosperity, wealth and happiness to the Marina area (which might share some parallels to your marriage).
Conduct your photoshoot at night as the bridge is well illuminated and offers a spectacular vantage point view of Marina Sands and the adjacent areas.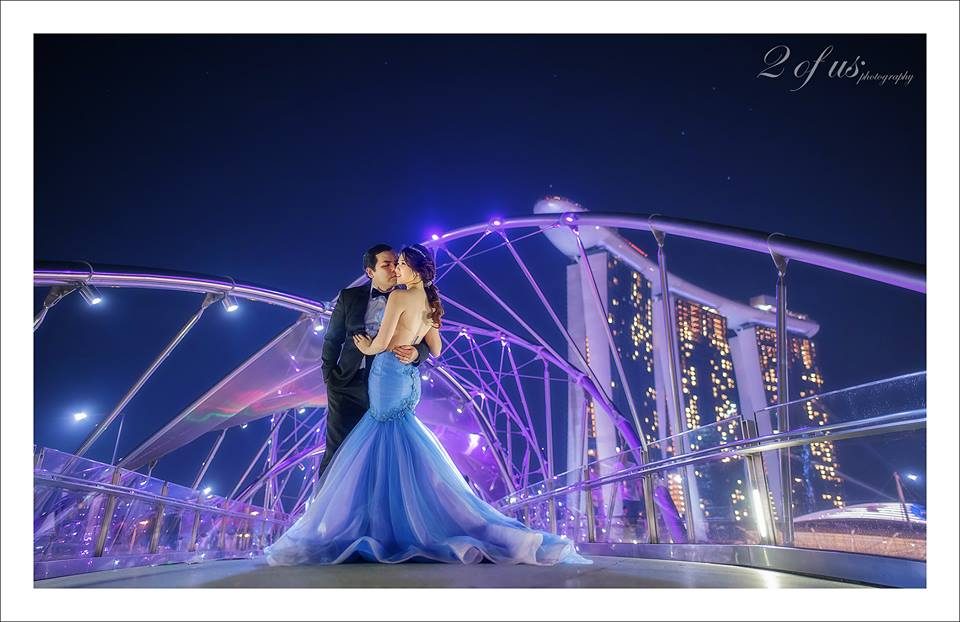 People's Park Complex Rooftop
According to the official website, People's Park Complex was the first combined commercial-residential property of its kind in Southeast Asia when it opened in 1973. Today, the building, now painted in bright green and yellow, is still reminiscent of a Hong Kong residential tower block.
The rooftop on the sixth floor offers a bird's eye view over Chinatown, while the space itself is an opportunity to experiment with industrial-feel shots that mix old and new.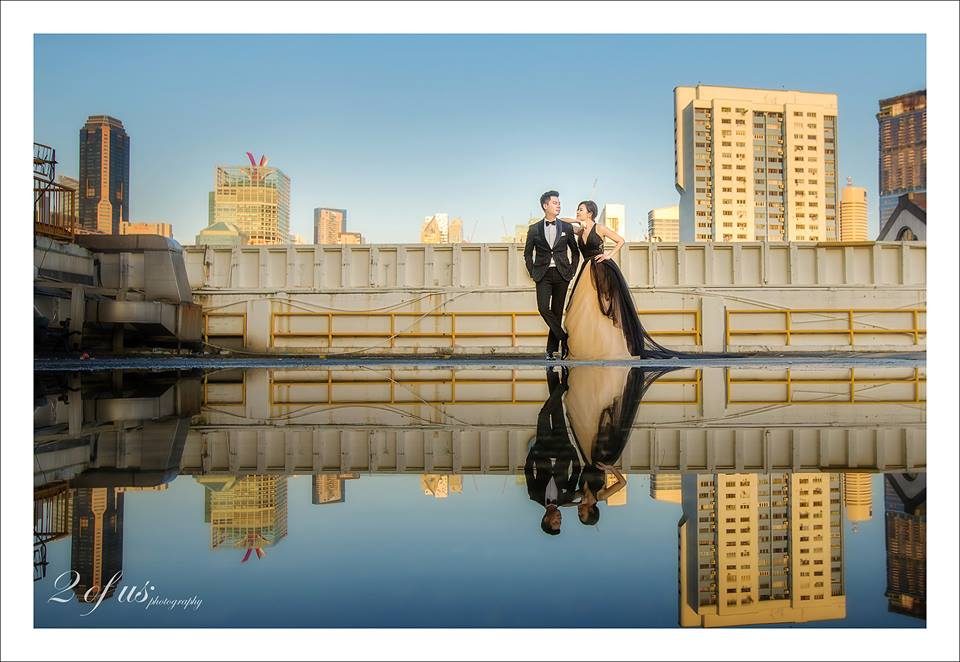 HortPark
HortPark, known for its peaceful surrounding, is perhaps the best place if you want to have more privacy during your shoots, especially if you want to steer clear from prying eyes.
The park also houses 21 different "gardens", each offering a distinct theme and backdrop to your photographs.
For example, the silver garden is a distinct location where grey, silver and white plants bloom, whereas the colourful plants in the Garden of Seasons is an incredible spot if you want a vivid setting.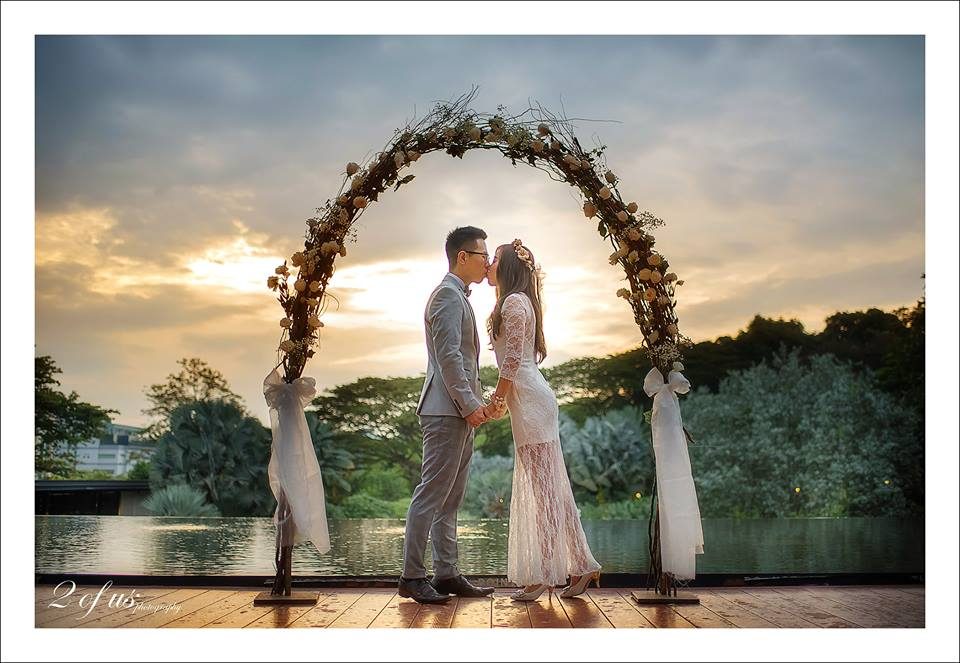 Bedok Reservoir Park
It's hard to believe that what was once a sand quarry is now a location that attracts a host of people for lifestyle activities.
The Bedok Reservoir floating deck is also one of the more unique spots in Singapore to hold solemnisation ceremonies, while the natural beauty of the area makes this place a romantic setting for pre-wedding shoots.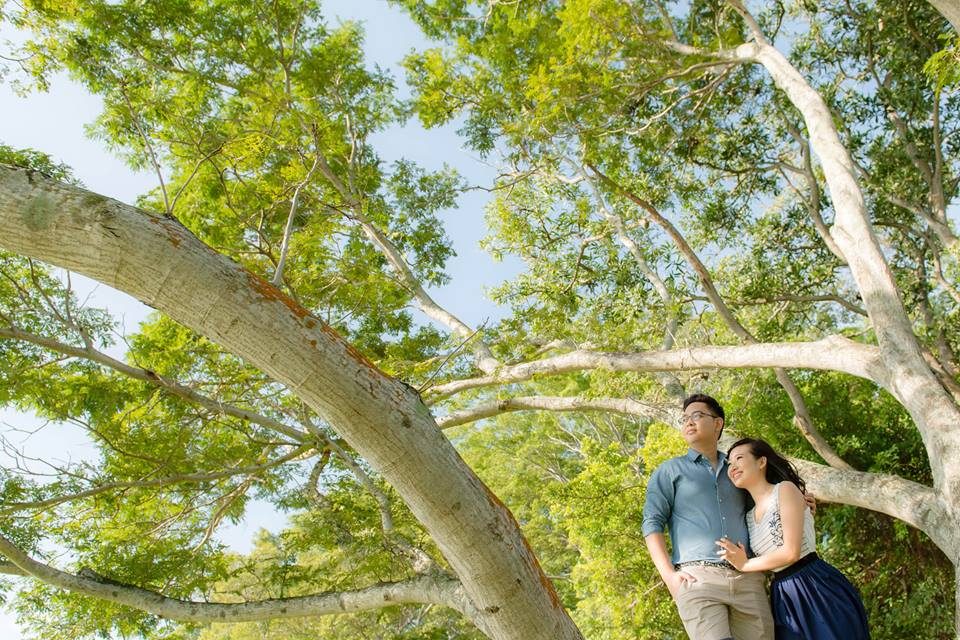 Victoria Concert Hall
The Victoria Concert Hall is another landmark in Singapore that is rich in history. Built in 1862, the venue has undergone several renovations throughout its existence, with the most recent one completed in 2014.
With the famed clock tower and Victorian architecture exterior, the Victoria Concert Hall oozes with charm and luxury and is a must if you want to have a colonial-inspired theme for your pre-wedding shots.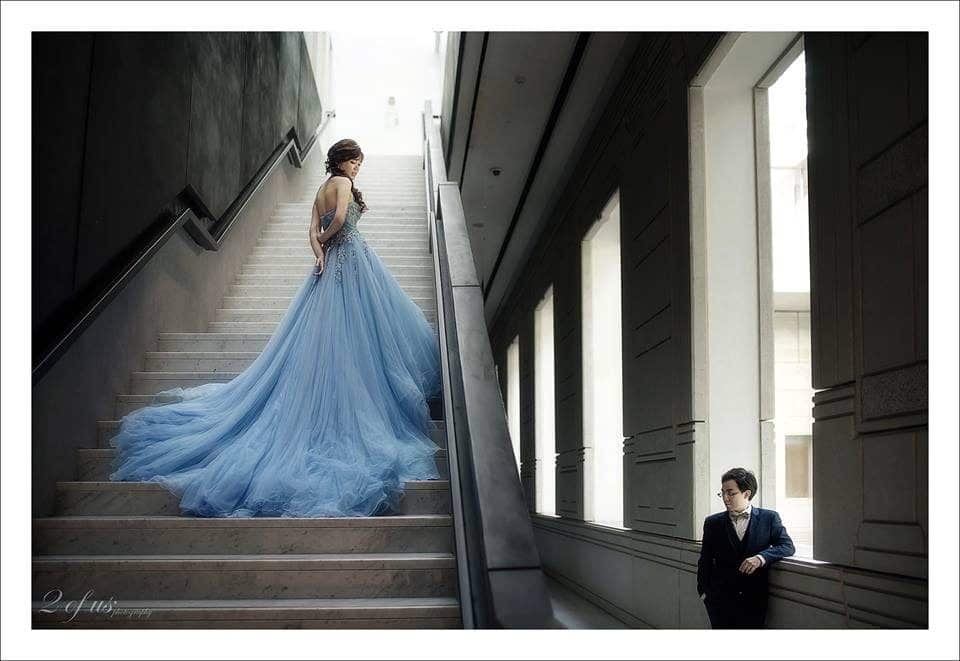 Create your own everlasting memory
Whether if you're after an urban backdrop, or if you want a more naturalistic setting, Singapore is packed with many surprising locations that are both authentic and unique.
Request the services of highly recommended pre-wedding photographers to create your own breathtaking and magical moment.