UPDATE APRIL 2022: The pandemic has brought a major shift to wedding celebrations. With safe distancing measurements, mask-on requirements and more, the best to throw a wedding these days is to do it as a cozier, more private affair (which is why you're reading this article). This list was put together years before the pandemic, so we have added more suggestions to the end of this list, and also removed others that may no longer be operating.
Congrats on tying the knot!
But then you start planning your budget for the ceremony, you realise that hosting an event for 300 – 500 guests could reach RM100K! And that's the typical minimum table requirement in many restaurants and hotels in Kuala Lumpur.
Instead of throwing a big banquet, why not book a smaller wedding venue? That way, you get to invite only the people that really matter to witness your special day, while keeping costs low!
Here are a few picks for small wedding venues in Klang Valley.
Get all the wedding services you need, on one convenient platform
Researching for the type of wedding services you want can be time-consuming and exhausting.
Whether if it's wedding photographers, makeup artists, or a wedding planner, Recommend.my connects you with local event professionals.
Submit your requirements now, and get instant quotes for free!
Lakesight Galleria, Subang [inactive since Dec 2019]
Lakesight Galleria is located in close proximity to the old Subang Airport and offers a rustic theme. With a maximum capacity of 150 pax, you can keep your wedding guest list slightly smaller compared to hotel ballrooms.
Lakesight Galleria also provides custom-made decorations, emcee, entertainer, live band, wedding planner, makeup artist, hairstylist, photographer, banquet, wedding cake, gown rental, canopy, beer, wine, balloons and even t-shirt printing, so that you won't have to go anywhere else for your wedding needs.
BGT Lakeview Restaurant, Kelana Jaya [permanently closed]
Another location in Kelana Jaya is BGT Lakeview. BGT Lakeview features a trendy fusion menu that will make a nice change from the traditional wedding fare. They also provide wedding packages for 90 pax that include food, decorations and emcees.
For an additional fee, BGT Lakeview will also arrange for 228 fireworks to be launched from the middle of the lake.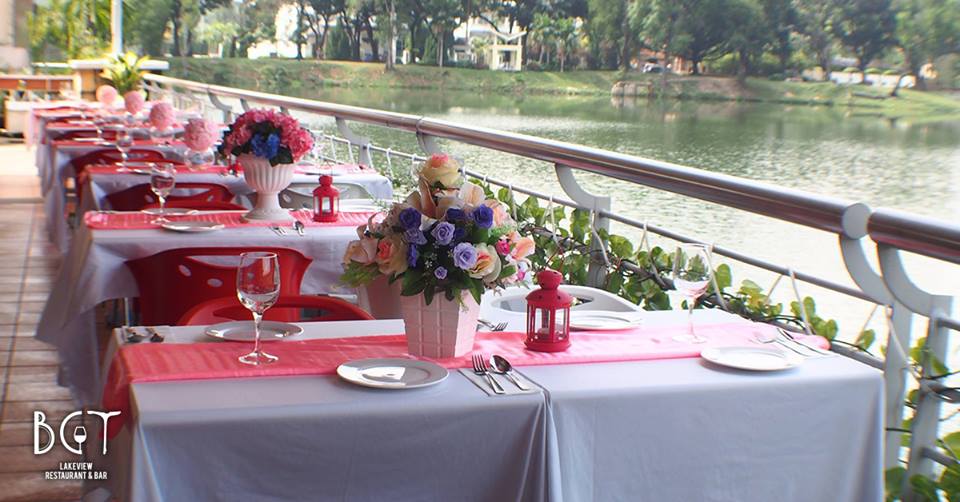 The Secret of Louisiana, Kelana Jaya
Yet another cosy wedding venue in Kelana Jaya, Secret of Louisiana is perfect If you fancy a little cajun at your wedding.
This Creole-themed restaurant offers wedding packages suitable for about 80 pax. The package includes a western buffet that includes Cajun Oyster mushroom fritters, chargrilled chicken, parmesan-baked NZ oysters and more. Celebrate your big day surrounded by impressive American decor and the tranquil Kelana Lake as a backdrop.
And just like the other venues by this lake, Secret of Louisiana will launch fireworks from the middle of the lake to add extra festivities to your wedding.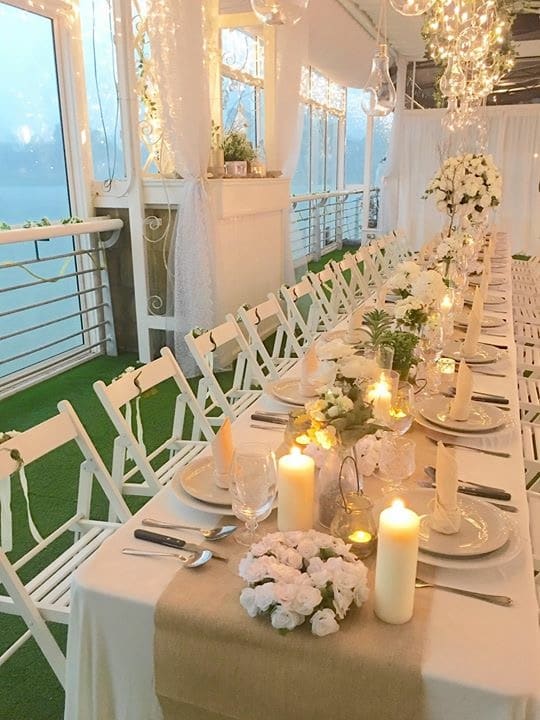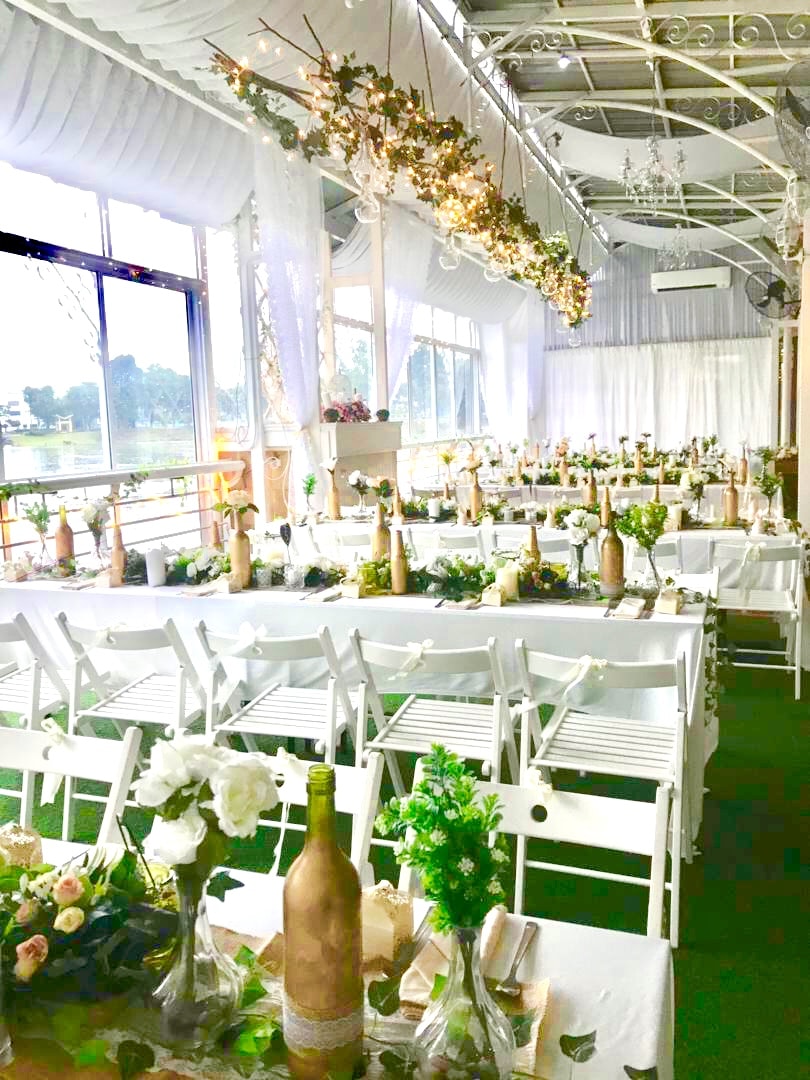 Secret Garden Lifestyle, Jalan Yap Kwan Seng [permanently closed]
From Kelana Jaya, we move to the heart of KL.
Always dreamed of a garden wedding under a soaring white canopy? Secret Garden Lifestyle is the right place for you. This cozy wedding venue is actually a double storey bungalow with about 12,000 sqft of land.
The venue offers both indoor and outdoor wedding packages for about 100 pax. Give your guests an evening to remember, in the heart of Kuala Lumpur with a fantastic view of the KLCC twin towers.
Passion Road KL, Jalan Yap Kwan Seng [inactive since Dec 2019]
Passion Road is owned by the same company as Secret Garden Lifestyle, and is just next door. The venue is ideally suited for about 120 pax for buffet menu.
Some notable dishes include the whole roast lamb, Tuscan beef stew and fettuccine. They can also supply a live band, sound system, projectors, and even karaoke.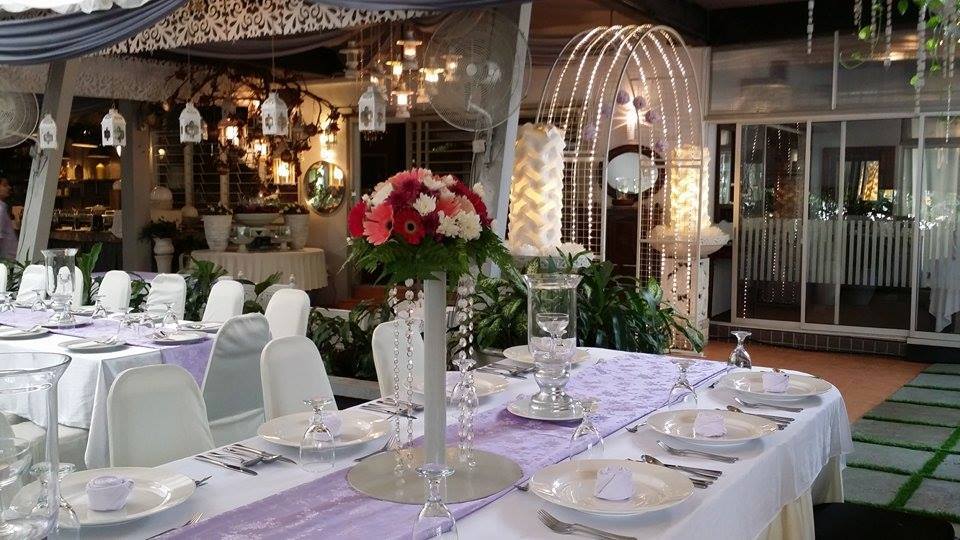 K'Seena House, Kuang, Selangor
Journey a little further out of KL and you will come across K'Seena House near Rawang, a 100-year-old heritage home with contemporary extensions that provides a spacious and beautiful setting for many different events such as weddings, meetings, presentations and workshops.
The garden itself is suited for wedding ceremonies for up to 150 pax or more. With the in-house kitchen facilities, K'Seena House is also able to set up intimate and exclusive dining sessions, which come with a private chef.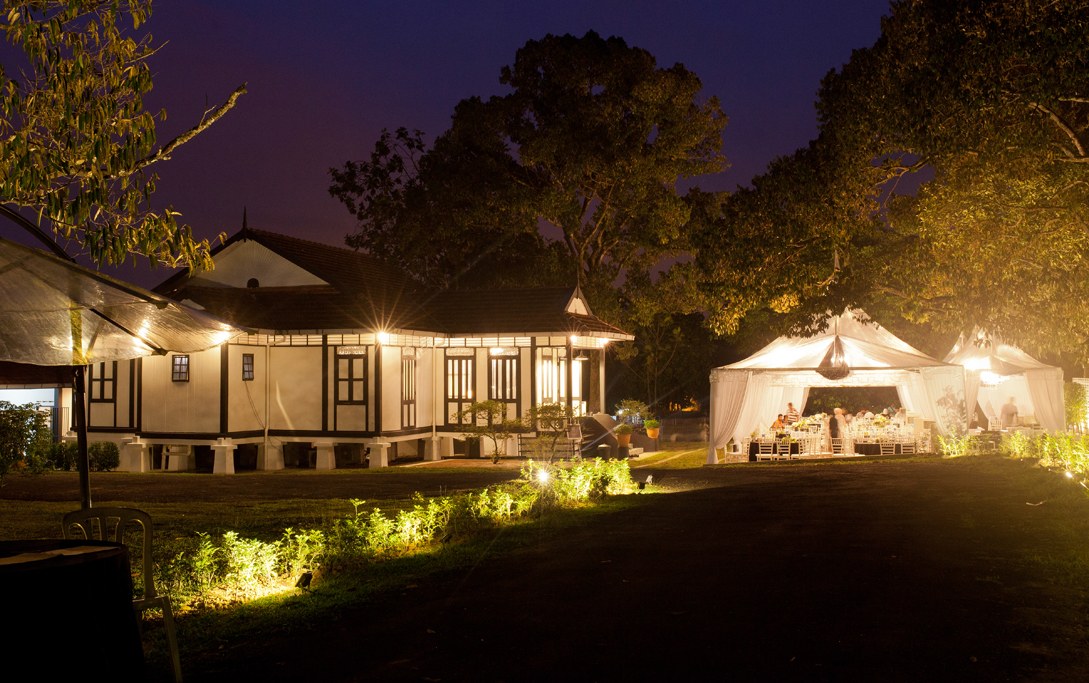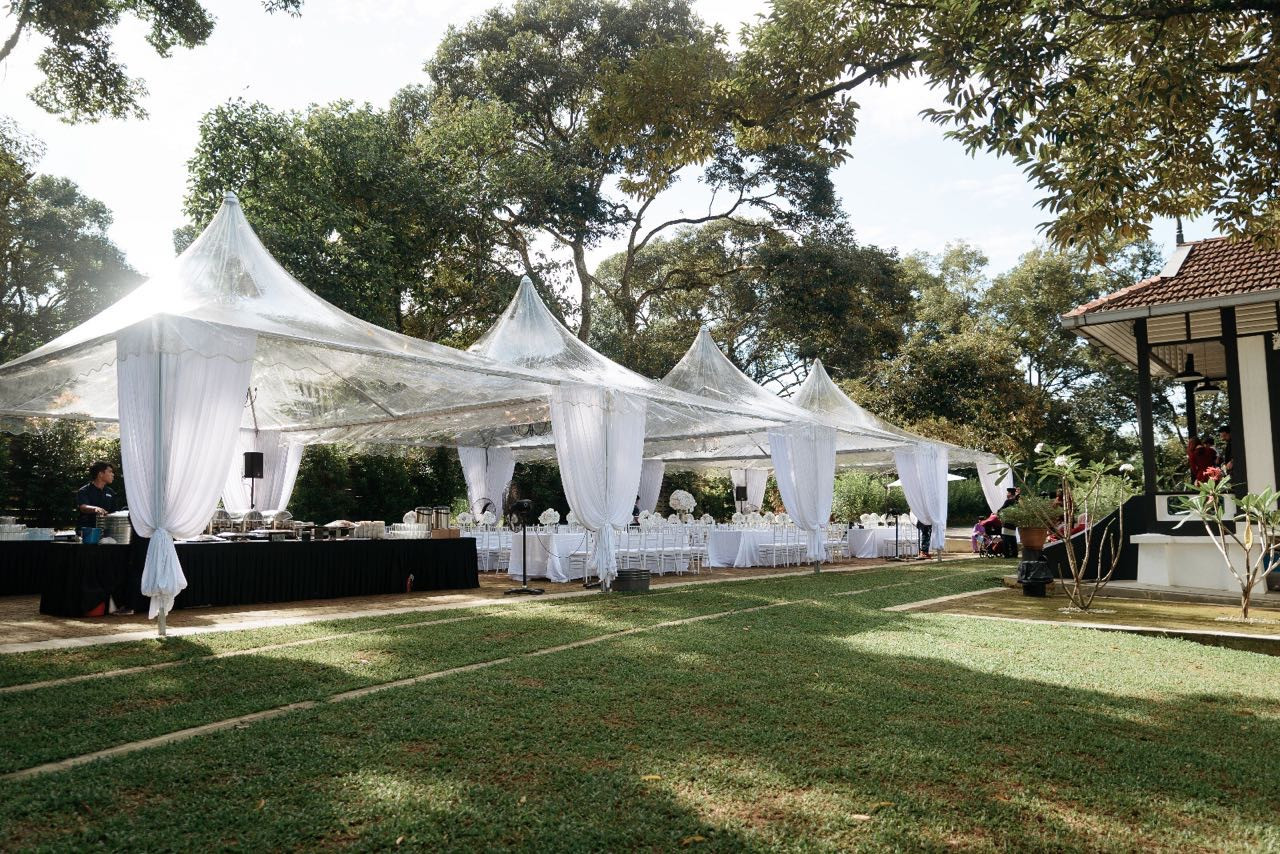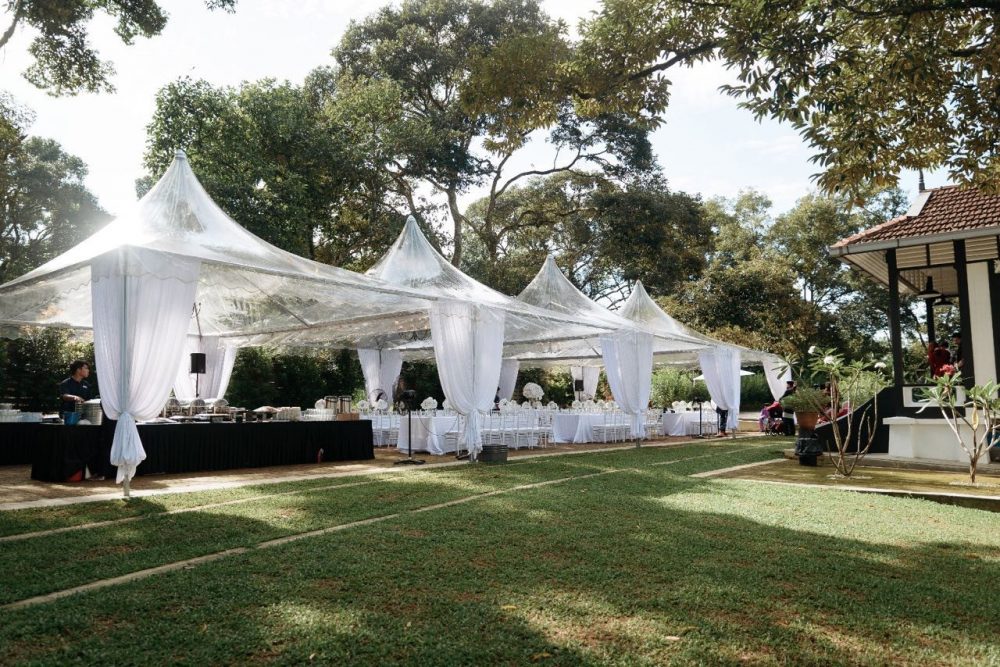 Maison Francaise KL [permanently closed]
Maison Francaise ("French House") off Jalan Kia Peng is a three-storey fine French dining establishment. Wedding receptions can be held by the pool, or an entire floor can be booked off. In total, the venue can hold 250 guests.
But the main thing your guests will remember (besides how radiant you look) will be the food. With dishes that include octopus carpaccio, foie gras, caviar, duck magret auguilettes, and over 150 wines, everybody leaves satisfied. They can also provide AV equipment and decorations upon request.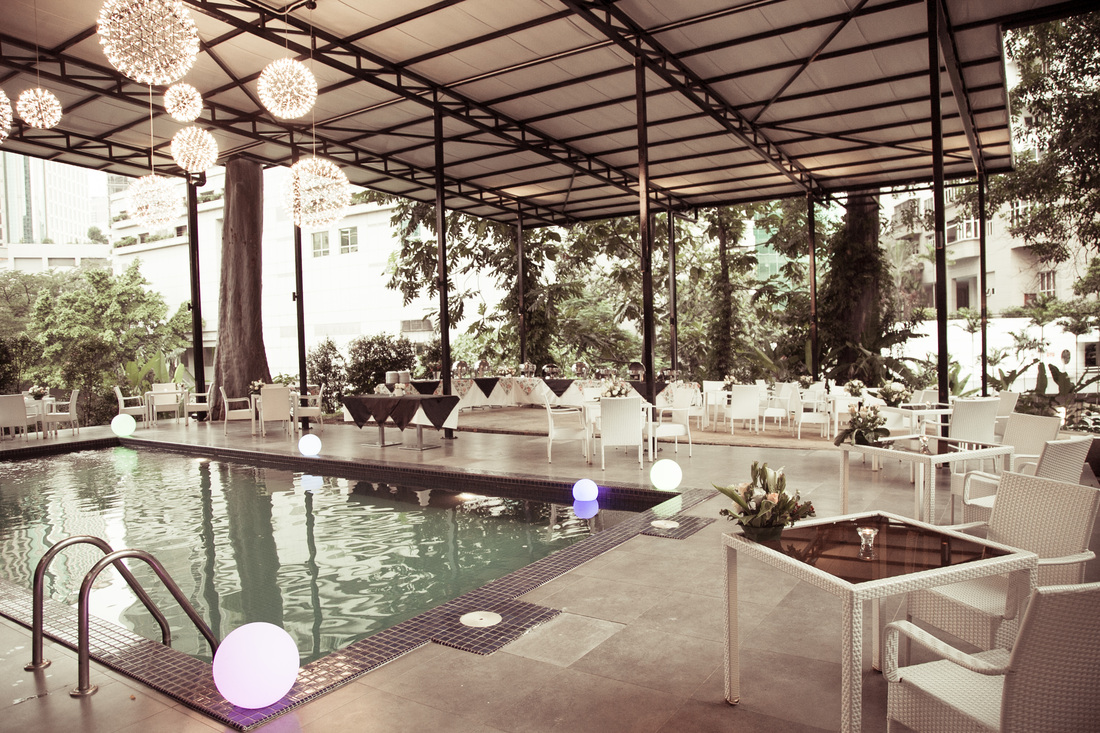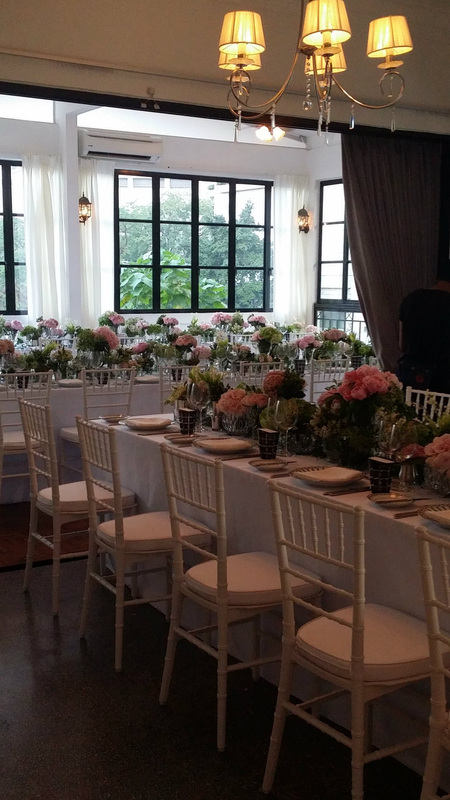 Ruang, Shah Alam and Subang
Ruang is the brainchild of husband and wife team Zaidi Rafa'i & Syazwani Razali. Since 2014, their event spaces in SS18 Subang and Seksyen 16 Shah Alam has seen numerous weddings, from banquets to solemnisation.
Both spaces have a reported capacity of approx. 200 pax for Shah Alam, and 100 for Subang.
Glasshouse at Seputeh
Glasshouse is a industrial-style converted bungalow on Lorong Syed Putra Kiri (near Thean Hou Temple). This wedding venue actually has a capacity of 450 pax, but the space can be divided to three main areas; the Lawn (150 pax), the Parlour (100 pax), and the Grand Court (200 pax).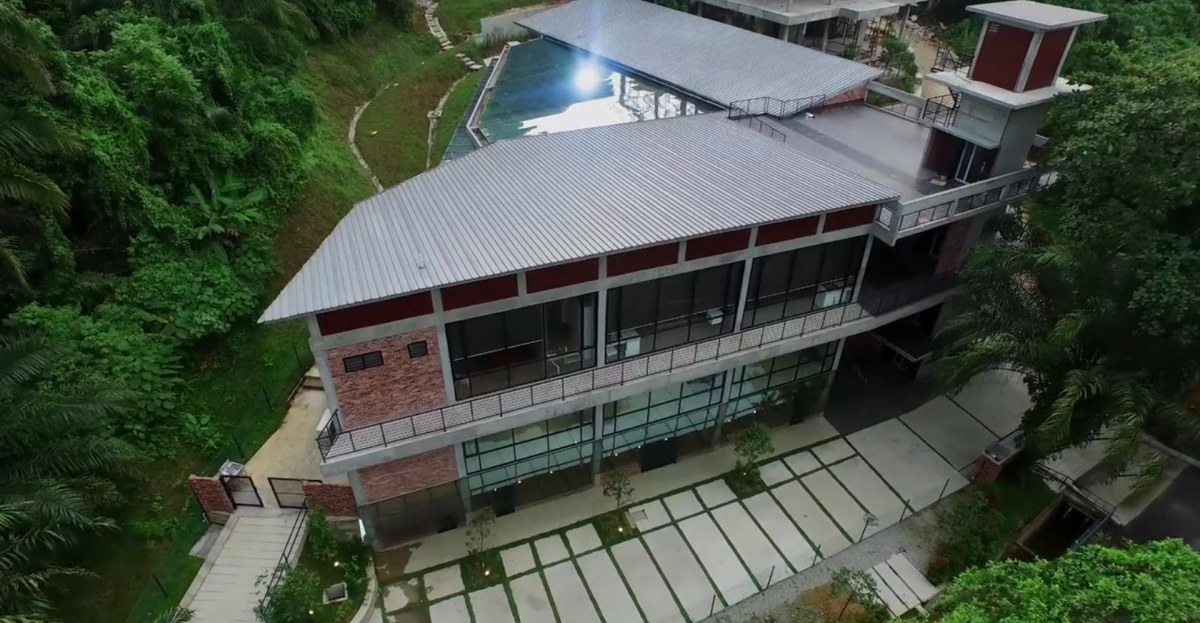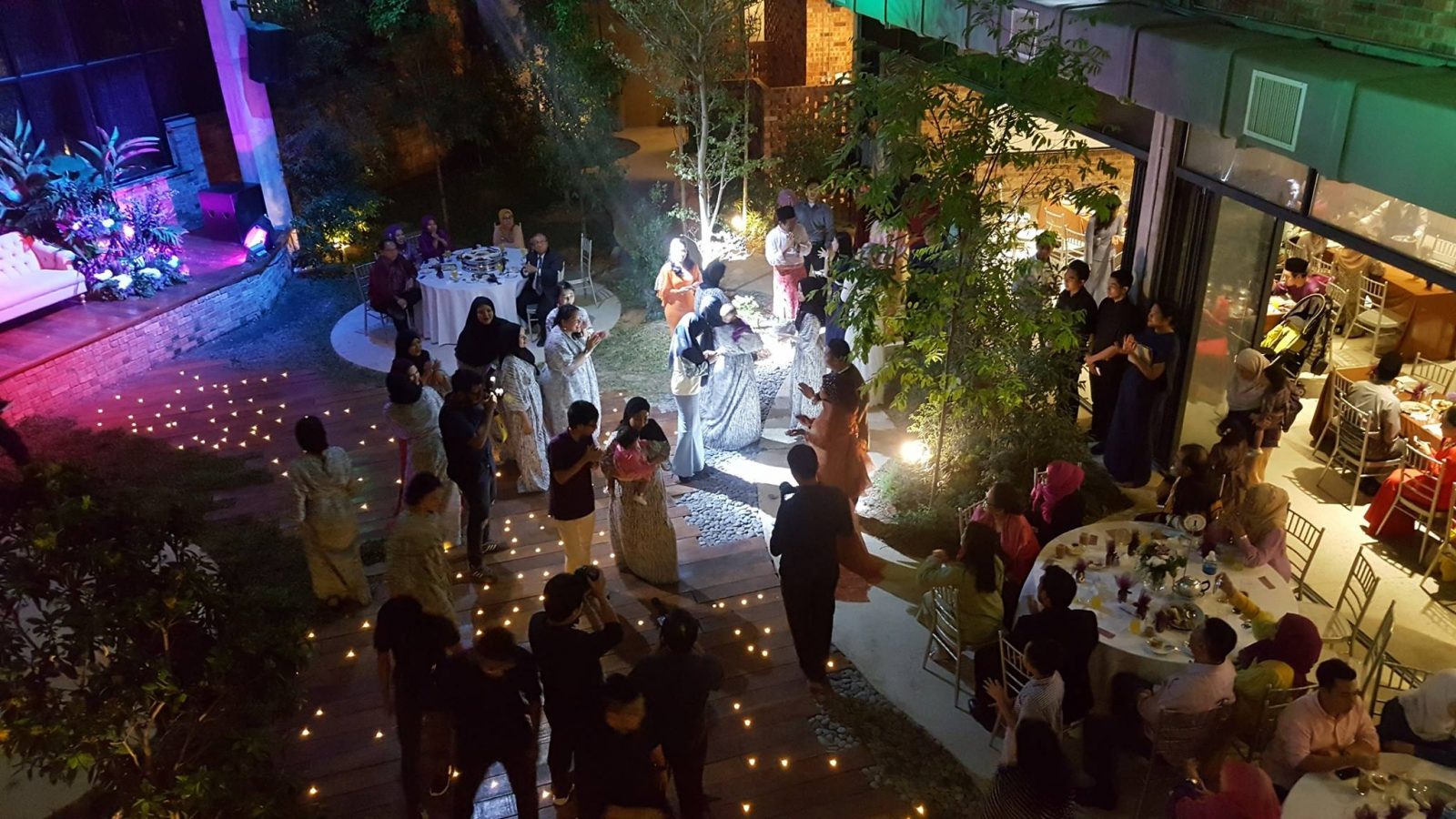 Zebra Square KL
Located by the Royal Selangor Golf Club, Zebra Square offers several settings for intimate weddings, with 150 capacity each. However, they also have a great hall and courtyard for larger groups.
The venue specialises in French and Italian cuisine, but can also cater for Malay cuisine upon request.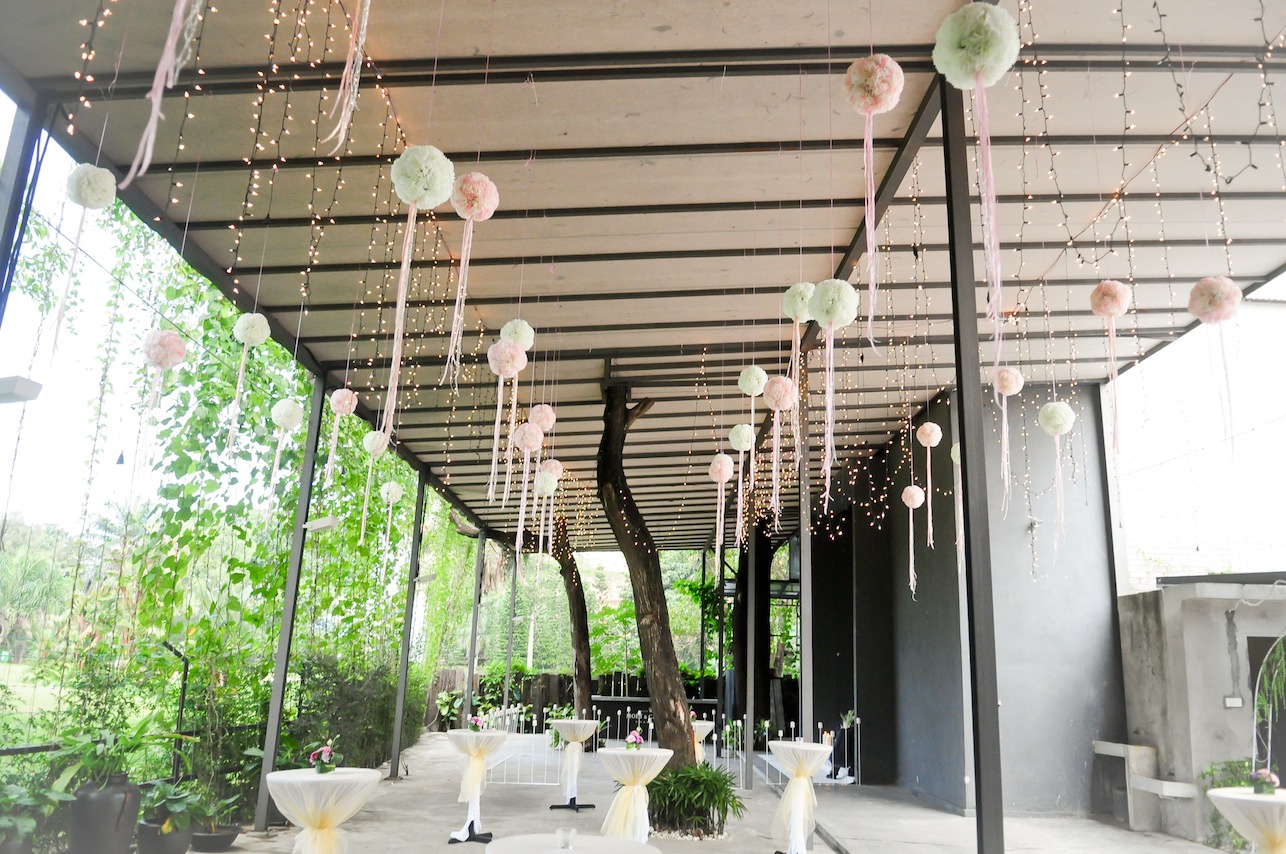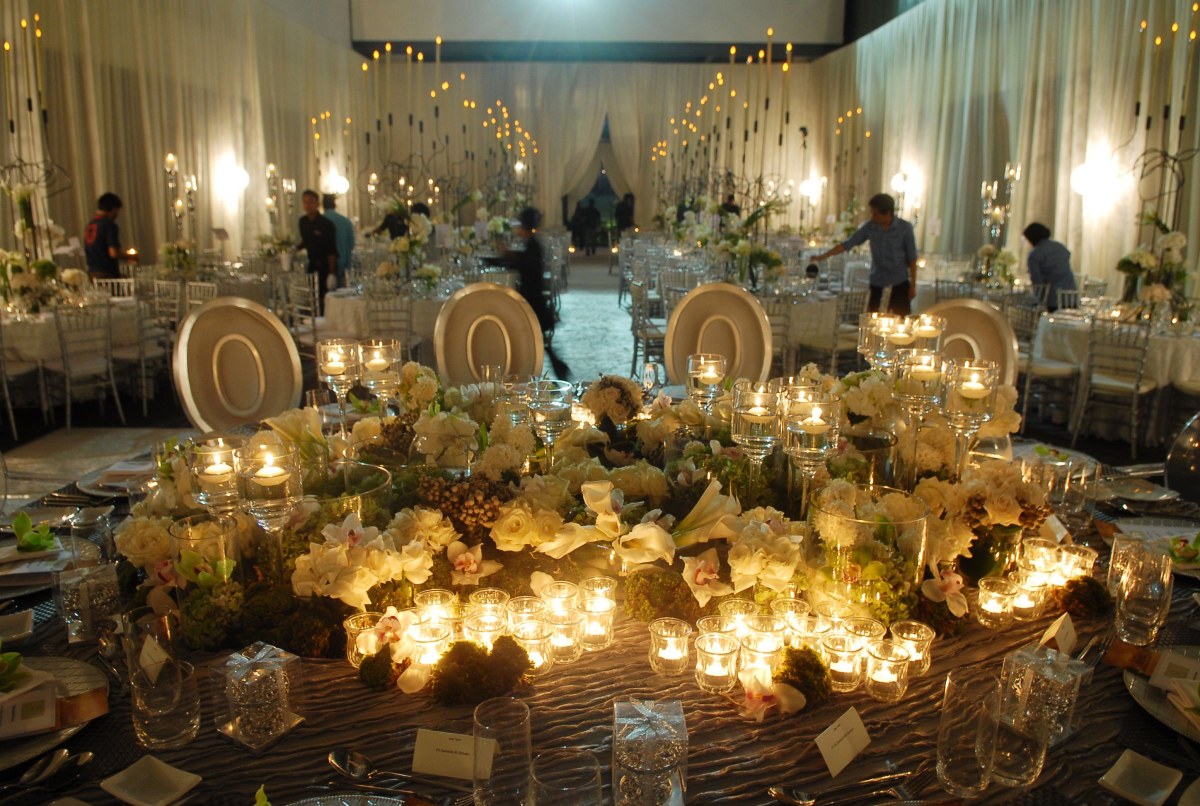 EX8 Building, Subang Jaya [inactive since Feb 2020]
The EX8 building in Subang Jaya is home to a greyskymorningcafe (we featured their interior design) and City Harvest Church, among others. The ground floor also houses an industrial event space that is great for smaller weddings.
The high ceiling, floor to ceiling windows, massive chandelier and industrial feel makes for a great setting for a wedding ceremony or banquet for 100 people. No surprise that many couples who attend City Harvest also choose to have their ceremony here.
Flora Terrace, Hampshire Place, KL
Flora Terrace serves Western and local dishes by day, but is also available for wedding bookings. The chandeliers and flowers hanging from the ceiling gives your wedding an "enchanted garden" feel (but in air-conditioned comfort). They have lots of experience setting up for Malay weddings of about 80 pax.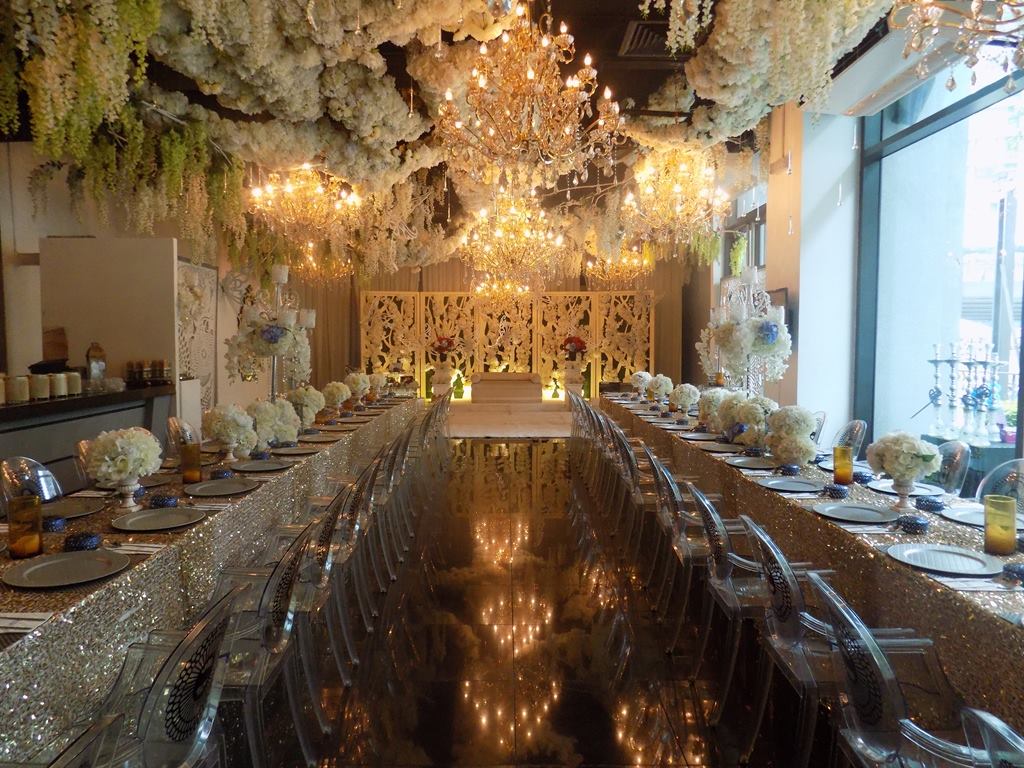 Tamarind Restaurants
The Tamarind Group of Thai fine dining restaurants offers wedding packages at two of its locations; Tamarind Springs in Ampang, and NEO Tamarind along Jalan Sultan Ismail. Both locations can accommodate up to 200 pax.
At Tamarind Springs, couples can have their ceremony on a platform surrounded by nature, and proceed to the festivities inside. This saves on tentage, and minimises the effects of rainy weather from ruining the event.
Cornerstone IPC
Located at Wisma Selangor Dredging, Jalan Ampang, this event space has hosted seminars, weddings, exhibitions, product launches and more. Comfortably handling up to 250 pax, the ballroom has floor-to-ceiling glass windows that overlook a fountain, giving it the feel of a garden event without the heat.
The Seavoy House, Jalan Titiwangsa
The Seavoy House is a bungalow offering a garden or indoor event space. Great for intimate weddings and solemnisations.
Horu
Horu is modest event space along Jln Sungei Besi, the interior is done up in light herringbone wood flooring and clean white walls. Great for a minimalist wedding, and a blank slate to customise as you need!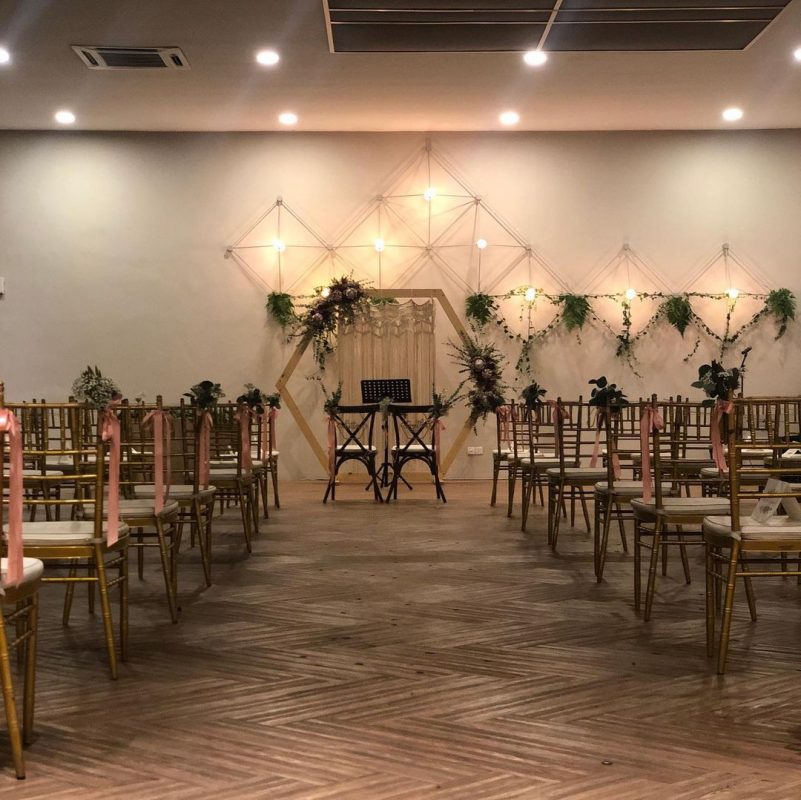 Want to Get Photographers, Makeup Artists and Wedding Cake Bakers for Your Big Day?
Get Quotes for all Your Event Needs
Recommend.my can help you plan the wedding you want.
You can view wedding inspirations from local service providers, and get quotes for photographers, videographers, decorators, caterers, makeup artists and wedding cake makers.
With over 600 photographers, 300 wedding cake bakers, 300 makeup artists and more, it's the best way to find a wedding professional you will love!
Featured image by GallerieCK
Watch: The cost of weddings in Malaysia