Struggling to rent out or sell your property in Klang Valley? You're not alone.
The current Malaysian economic slowdown is putting a lot of pressure on property owners looking to sell, as well as real estate agents who want to move units quickly.
It is also difficult to sell houses for capital gain as potential buyers are made up of mainly end users and not investors.
This was not always the case
Three years ago, properties were quickly snapped up once they were put on sale regardless of their conditions when the property market was at its peak.
But these days, potential buyers prefer to compare prices and conditions of the houses before making any decision.
According to property agent Joanne Choo, three years ago, a property could easily be sold within two days after it was listed, or after being viewed by just five prospective buyers.
"Nowadays, we may not even get a buyer after showing a property to 50 prospective buyers," she said, indicating how dire the situation is in the property market.
The value of new unsold units is at record high levels. According to research by SERC Sdn Bhd (Socio-Economic Research Centre), the total value of unsold units has jumped more than 100% over the last 10 years. In 2008, this value was RM4.48bil. But as of March 2017, this value reached as high as RM10.08bil.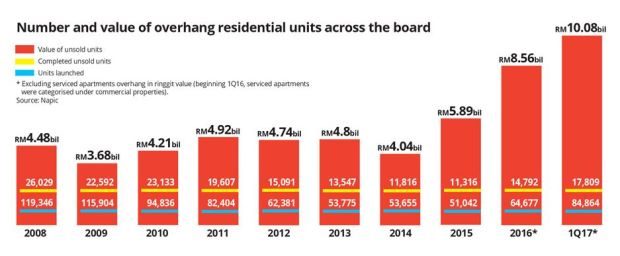 Above: Number and value of unsold residential units (also known as overhang) from 2008 compared to 2017. Source: The Star
These numbers beg the question: Is it possible to increase the chances of selling your property in this current economic climate?
Instead of endlessly listing your property on the market and just waiting, there are ways homeowners can make their units more attractive.
One of these methods is to renovate your property. Some minor touch-ups and strategic upgrades can improve your chances and impress potential buyers.
Here are the areas to consider if you want to renovate before selling:
Need estimates for your renovation?
Arrange for an on-site visit from quality contractors in Malaysia. Tell us your home renovation requirements and we will match you with our panel of contractors.
Repainting
Giving your house a fresh coat of paint will certainly leave a good impression to potential buyers. No matter how old your property is, a freshly painted house appears clean, updated and welcoming.
When choosing paint colours, remember that neutral colours are more appealing and acceptable to most people.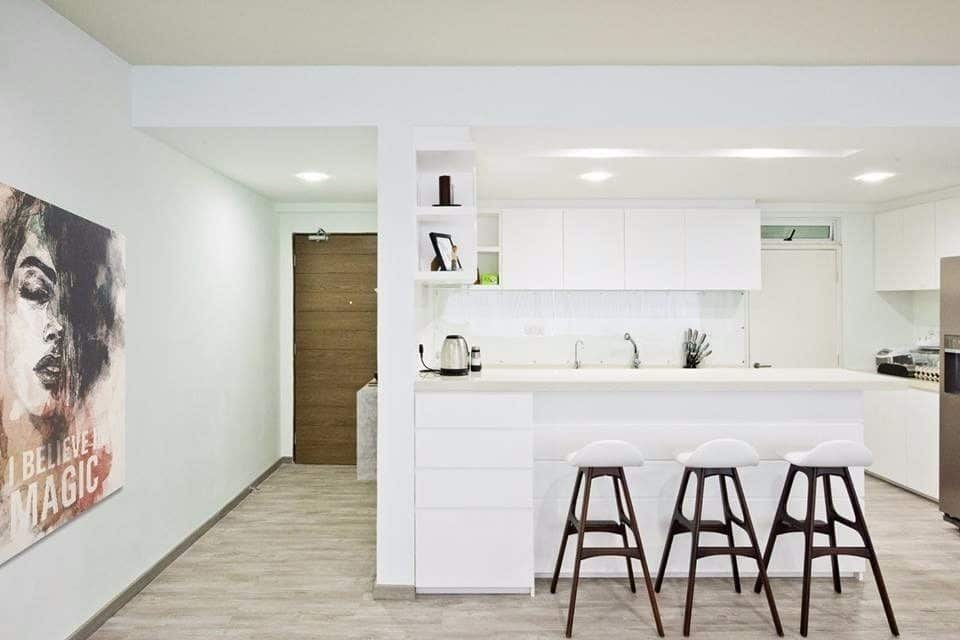 Above: Freshly painted condo entrance and plaster ceiling by Pocket Square
Repaint or repair plaster ceiling
After you have painted the walls, you can turn your attention to the ceiling.
Most people don't bother repainting the ceiling, even after it has been stained yellow, or has bumps from a leaking roof.
The ceiling can also have old markings from when you changed the lights, or installed a new ceiling fan. Older ceilings may also have cornices and chandelier roses that have become outdated.
You do not have to do anything elaborate when repairing the plaster ceiling; a basic flat ceiling with a new coat of paint will make your space look as good as new, at an affordable price.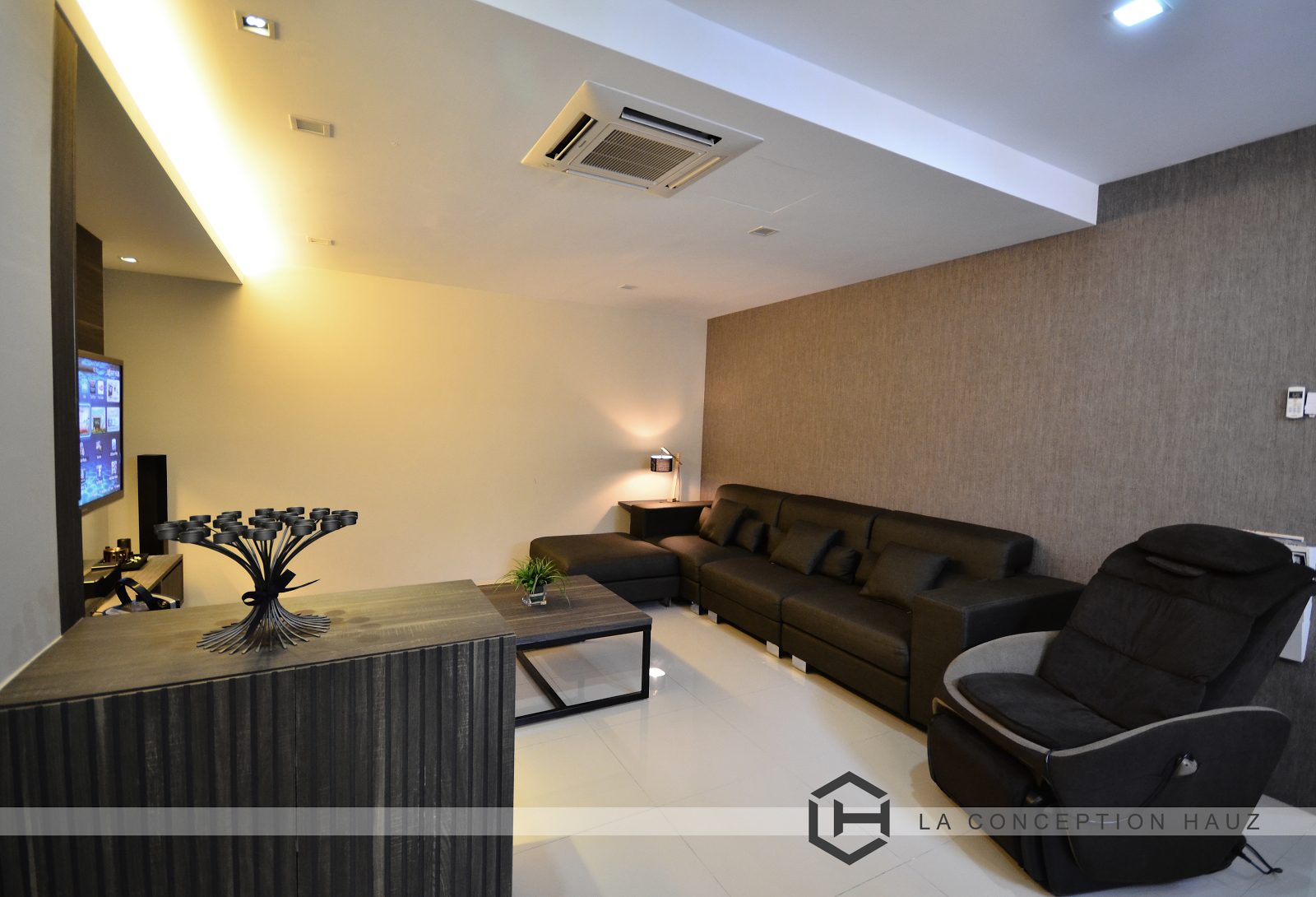 Above: Condominium in Platinum Victory 16, Setapak by La Conception Hauz
Driveway and kitchen extensions
According to Choo, most prospective buyers today are not looking to flip their homes i.e. resell it immediately for profit.
Instead, they are end-users who are looking for units that are ready to move in. This is why a house with an extended kitchen or porch that maximises available indoor space may appeal to this group of buyers. Since the extension is already done, it saves them renovating again after purchasing the property.
For sellers, an extended unit can fetch a higher price in the market than a basic unit.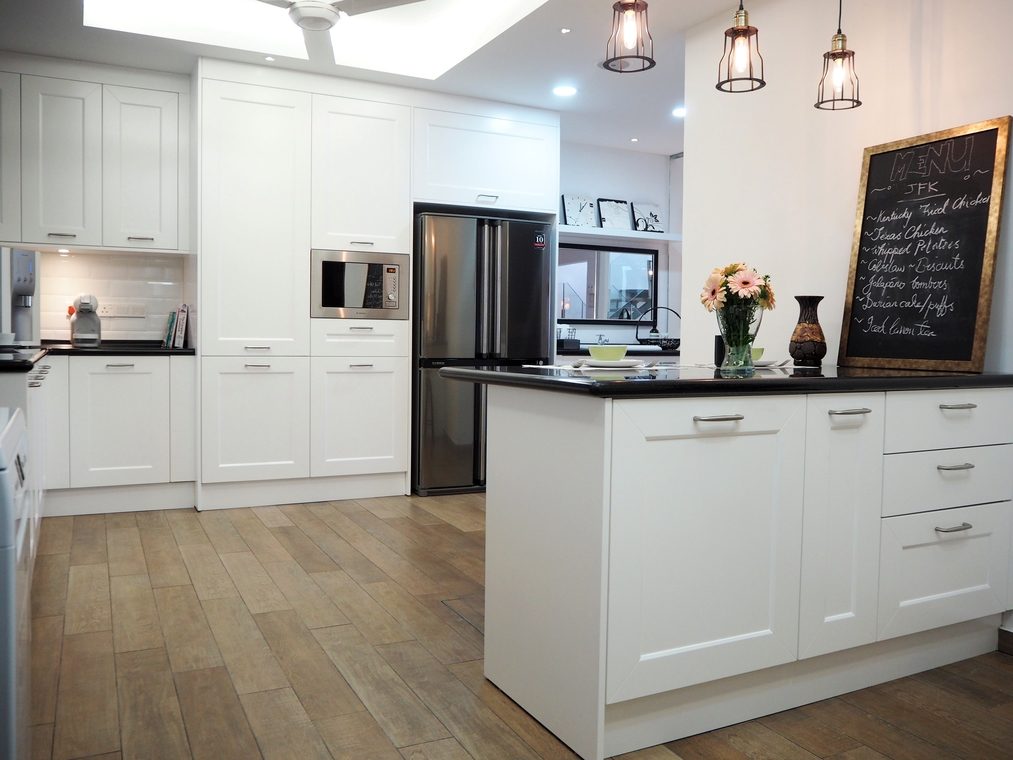 Above: Extended kitchen in Ampang by Meridian Inspiration
Retiling
Since your floors and walls are the largest dimensions in your house, it defines the feel of a property when one walks into your home.
So, if you have cracking tiles that have been there for years, it is high time to replace them. Cracked or old tile designs can definitely put off potential buyers.
If your tiles are very old, you may not be able to find the exact replacements. In this case, you can try removing a row of tiles along the cracked ones, and putting accent tiles of a slightly different colour to create a pattern. This will save money on an extensive re-tiling job.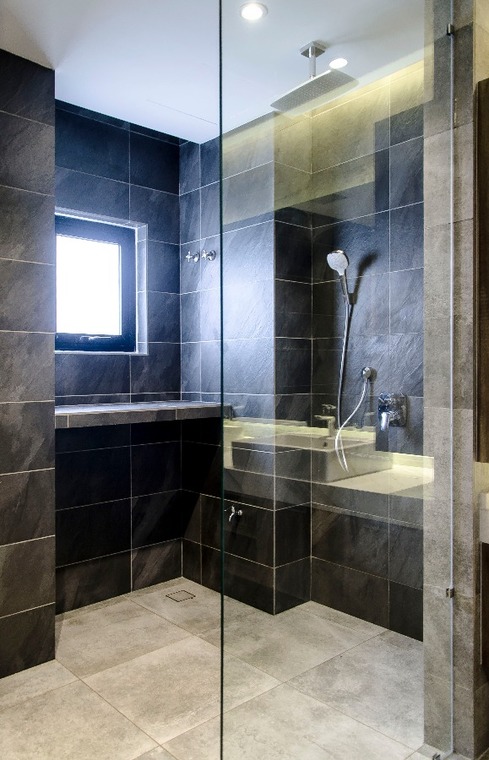 Above: Tiled bathroom in Sunway SPK. By Movent Signature
Replace fixtures
Another simple way to improve the property is to replace your kitchen taps, as well as bathroom taps and shower heads.
Constant exposure to water will cause these fixtures to tarnish quickly. Replacing them with shiny new ones will create a good first impression on your potential buyers. It also shows that your property is well taken care of by its current owner.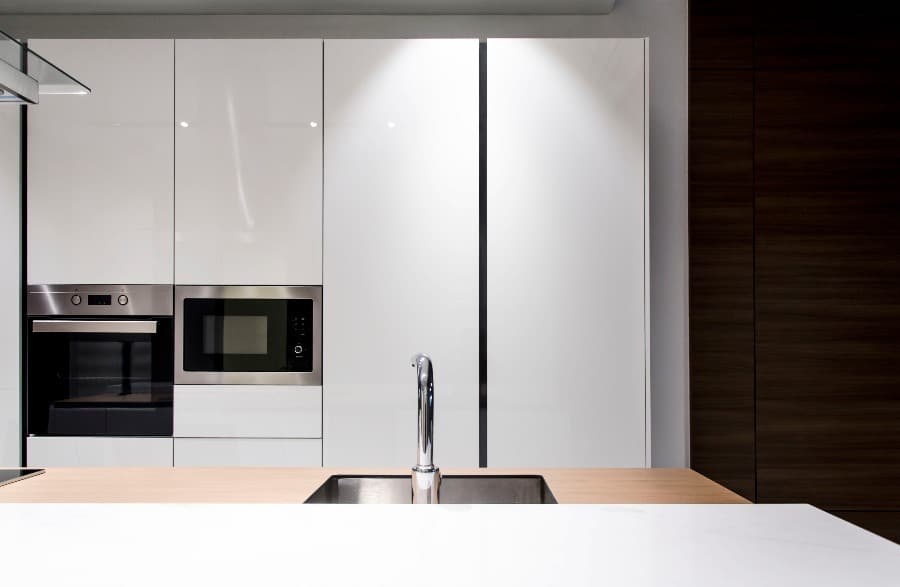 Above: Kitchen in Sunway SPK. By Movent Signature
Stick with minimalist interior design
I once viewed a resale property where the owner had installed a fake fireplace, to match his English country interior design. Needless to say, this made it very difficult to sell.
The most widely acceptable interior design is a minimalist or Scandinavian style. Adopting this interior design style means having lots of clean lines with light and neutral colours, creating a foolproof design that never gets old. It is well liked and easily accepted by most buyers.
For buyers who are looking for units that are move-in condition, contemporary and minimalist design allows new owners to incorporate almost any kind of fixtures and furniture later on.
"I once viewed a resale property where the owner had installed a fake fireplace, to match his English country interior design. Needless to say, this made it very difficult to sell."
"Most homes with minimalist design come in neutral colours and that is what most buyers prefer," Choo said.
She also advises homeowners against choosing tropical or Balinese interior designs which may be too distinctive for a potential buyer. These types of designs make heavy use of bamboo, rattan, and exotic woods with lots of weaving and patterns.
While it may remind you of your relaxing holiday by the beach, it is not exactly a design style that everyone will like.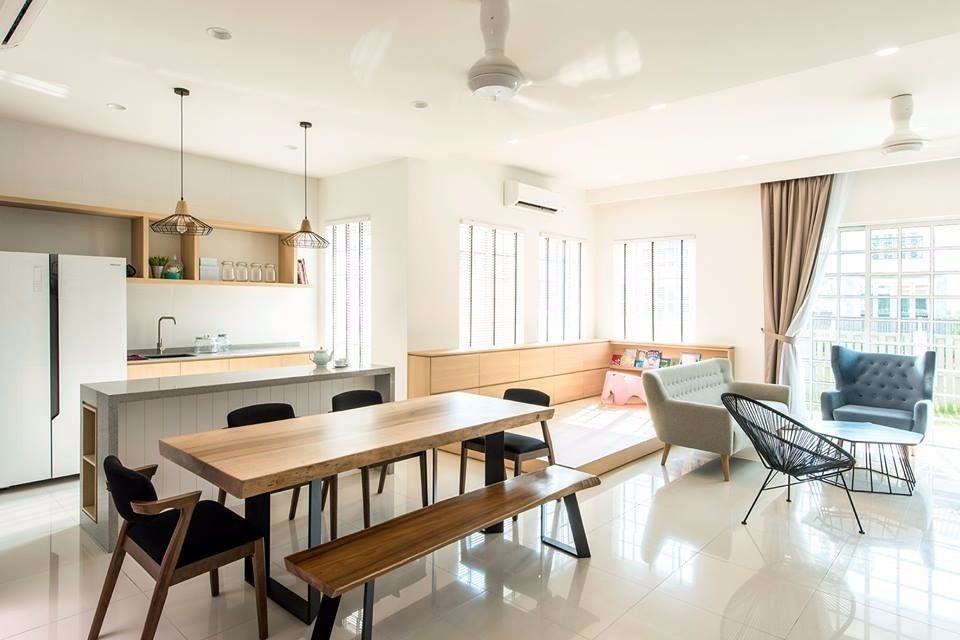 Above: Open plan living, dining and kitchen space in Setia Eco Glades, Cyberjaya by Pocket Square 
Avoid installing centralised air-conditioning and water heating systems
The installation of centralised air-conditioning and water heating system takes a lot of work as it involves hacking the wall and concealing the piping and wiring. On top of that, not all buyers would appreciate such systems in a home environment as they will contribute to high electricity bill.
"It is not a deciding factor for the buyers. And if you are renovating your home to make it stand out in the property market, such systems are unnecessary," Choo said.
Take good photos for your property listing
Property buying and selling has changed a lot with the Internet. These days, potential buyers have the benefit of online platforms that allow them to search for properties by location, type of property, square footage, price per square foot and more. Hundreds of listings can appear as a result.
Therefore, to stand out among the list, it is important to take good photos of your property.
You can either hire a photographer who specialises in real estate to capture the beauty of your home, or you can take your own photos.
Hiring a photographer may cost a couple hundred Ringgit, but it may be a good investment if it results in 50 more viewings.
If you decide to take your own photos, remember to "stage" the property nicely. Clear up any mess, add some plants and flowers, and make the room as bright as possible. You may also need a wide-angle lens to capture the entire room properly.
By the way, did you know what you can also rent furniture to decorate your property before taking photos? It's called "property staging", and there are furniture rental companies that specialise in this.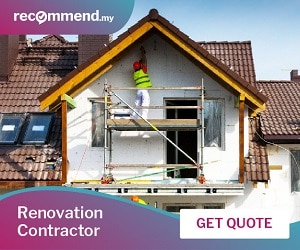 Conclusion: Renovate before selling? Yes, but don't go overboard
One man's meat is another man's poison. You may have many ideas on how to design an ideal home but if you are planning to sell your property, you may want to keep those ideas for a house that you will be living in.
"What may interest you will not necessary impress others. You may end up spending too much on renovation and still not being able to find a potential buyer who can appreciate your taste in home décor," Choo said.
She said the property market is very competitive at the moment.
"Buyers have the luxury to shop around and compare prices as well as the conditions of the houses they have viewed. They are not rushing into making any decisions as there are too many properties in the market right now." – Joanne Choo, Property Agent
"It is easier to agree on a unit with minimum renovation than buying an expensive, well-renovated house with interior designs that they may not like. A cheaper unit gives potential buyers the allowance to spend on remodeling later on," she added.
She said currently, the most popular properties are terrace houses ranged from RM600,000 to RM1mil.
"If you are spending a lot on renovation before selling your property, you may have to mark up the selling price to recover the renovation cost. You may end up having a property worth more than the average range, which most potential buyers are not interested in or cannot afford," she said.
It does not take a heavily-renovated house to attract potential buyers. The most important is to have a well-maintained property in good condition. This will help you stand out among the many properties on sale.
Need estimates for your renovation?
Arrange for an on-site visit from quality contractors in Malaysia. Tell us your home renovation requirements and we will match you with our panel of contractors.