Can you guess what's the one thing that Malaysians want the most?
According to a survey by PropertyGuru, it's owning their own home.
In fact, 92% of Malaysians in the survey said they prefer to own than to rent a house.
Homeownership is so important, that 56% of Malaysians say they want to own a house within the next 6 months, with the main preference being in the KL city centre.
However, due to the high property prices in Malaysia, it's hard for first-time homebuyers to afford a home.
"Sure, a lot of people want to buy a house, but the reality is that most simply cannot afford it," says property expert Ernest Chong, according to FMT.
One reason for this is the disparity between income growth and property prices. While the median income has increased by 3.66% in the last 5 years, property prices have risen even higher at 7.88% in the same period.
Taking measures to tackle the affordability of homes
Realising the importance of this issue, the government of Malaysia has introduced several housing schemes to improve the affordability of homes.
One such scheme is Rumah Mampu Milik Wilayah Persekutuan (RUMAWIP).
RUMAWIP is an affordable housing scheme that aims to help low and medium income Malaysians living and working in Wilayah Persekutuan – KL, Labuan and Putrajaya – so that they can afford their own homes.

The government has targeted to complete 80,000 RUMAWIP units by 2020, with 50,000 units in KL, 20,000 units in Putrajaya, and 10,000 units in Labuan.
According to RUMAWIP's portal, there are 3 types of housing prices for RUMAWIP:
Low-cost houses – 700 sq ft homes with 3 bedrooms. They are priced at RM52,000 in Labuan, and RM63,000 in KL and Putrajaya
Medium low-cost houses – 800 sq ft homes with 3 bedrooms. They cost between RM63,001 and RM150,000
Medium-cost houses – 650 sq ft homes with 2 bedrooms. They cost between RM150,001 and RM300,000
An affordable RUMAWIP in Setapak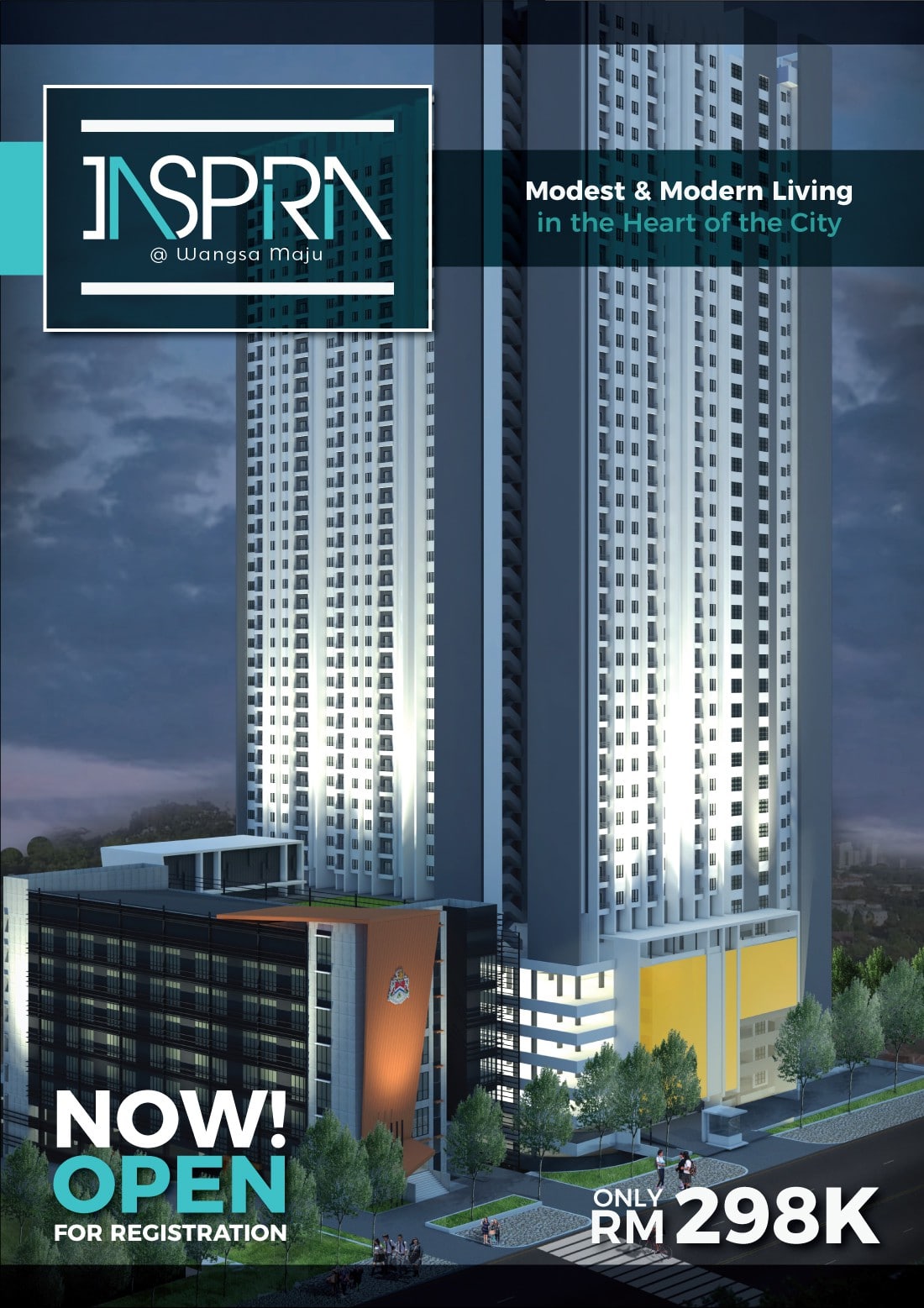 One of the RUMAWIP units in KL is Residensi Inspiria, a 44-storey apartment by Alma Ventures Development.
It is an upcoming residential project in Setapak and will be built on 3.977 acres of leasehold land, replacing the current Pasar Besar Gombak.
This RUMAWIP apartment has 900 units that are 815 sq ft each. Each unit has 3 bedrooms and 2 bathrooms and starts from RM265,000.
Furthermore, this strata property also houses facilities such as outdoor swimming pools, badminton courts, and a multipurpose hall. It also provides 24/7 security with CCTVs and guards.
In addition, Residensi Inspiria is accessible via the DUKE and MRR2 highways, and the apartment is also close to the Gombak LRT station. This makes it a strategic location in the heart of KL.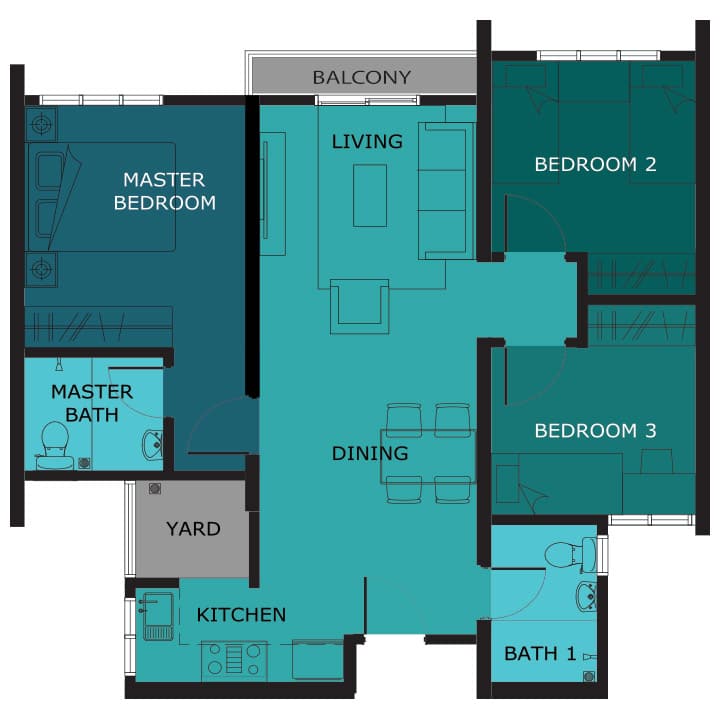 Why interior design is important, especially for smaller homes
But, owning a home is just one part of having a house, the other part is to have a comfortable home to live in. The best way to do this, is by hiring an interior designer to enhance the interior of your home.
This is even more true for smaller homes with limited space. As a small homeowner, you should also have the right to relax in your home without feeling constrained.
That's why smaller homes typically need well-thought-out budget interior design ideas and space improvements to make practical use of space.
Unfortunately, while we all want our homes to look unique and stylish, the budget to hire an interior designer is always a factor.
However, you can definitely redesign your house and still have a budget interior design. As long as you're spending your money wisely and have the right interior designer to guide you.
Beyond apartment floorplans
As Residensi Inspiria is still yet to begin construction, Alma Ventures could only show their potential buyers how the unit will look like via floorplans.
Therefore, in order to give their potential buyers a better "visualisation" of how the actual unit will look like, they needed professional design help to beautify their show unit in StarParc Point, Setapak.
That's when they approached Recommend.my for help. Alma Ventures wanted the design to compliment their target market. In other words, a design that not only has a stylish aesthetic, but also functional and affordable.
Apart from interior design, our team also provided the furnishings, painting works, and customised built-ins such as kitchen cabinets, wardrobes, and a TV console, among others.
Need a budget interior design?
Happy with what you see above? To a get a customised design at a budget-friendly price point,
WhatsApp Alexis at 0123253038
 now or email him at
[email protected]
.
Want to get different opinions from interior designers instead? Send in your request now and get free quotes from local interior designers.
A light-filled sanctuary with nifty and practical furnishings
When it came to designing the home, the fundamentals were to keep things simple but attractive. Light colours and big windows were also emphasized to "enlarge" the home's feel.
More importantly, space also needed to be properly utilised. Hence, nifty and practical built-ins/furnishings were needed.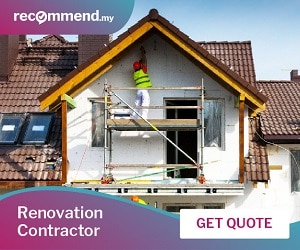 With these things in mind, our design team had the unit designed with a contemporary-Scandinavian style. The large window allows natural light to bounce around the space to create a welcoming vibe. A neutral colour palette also features predominantly in all areas, with hints of earthy tones.
Here is a view of the living room when you step in the front door.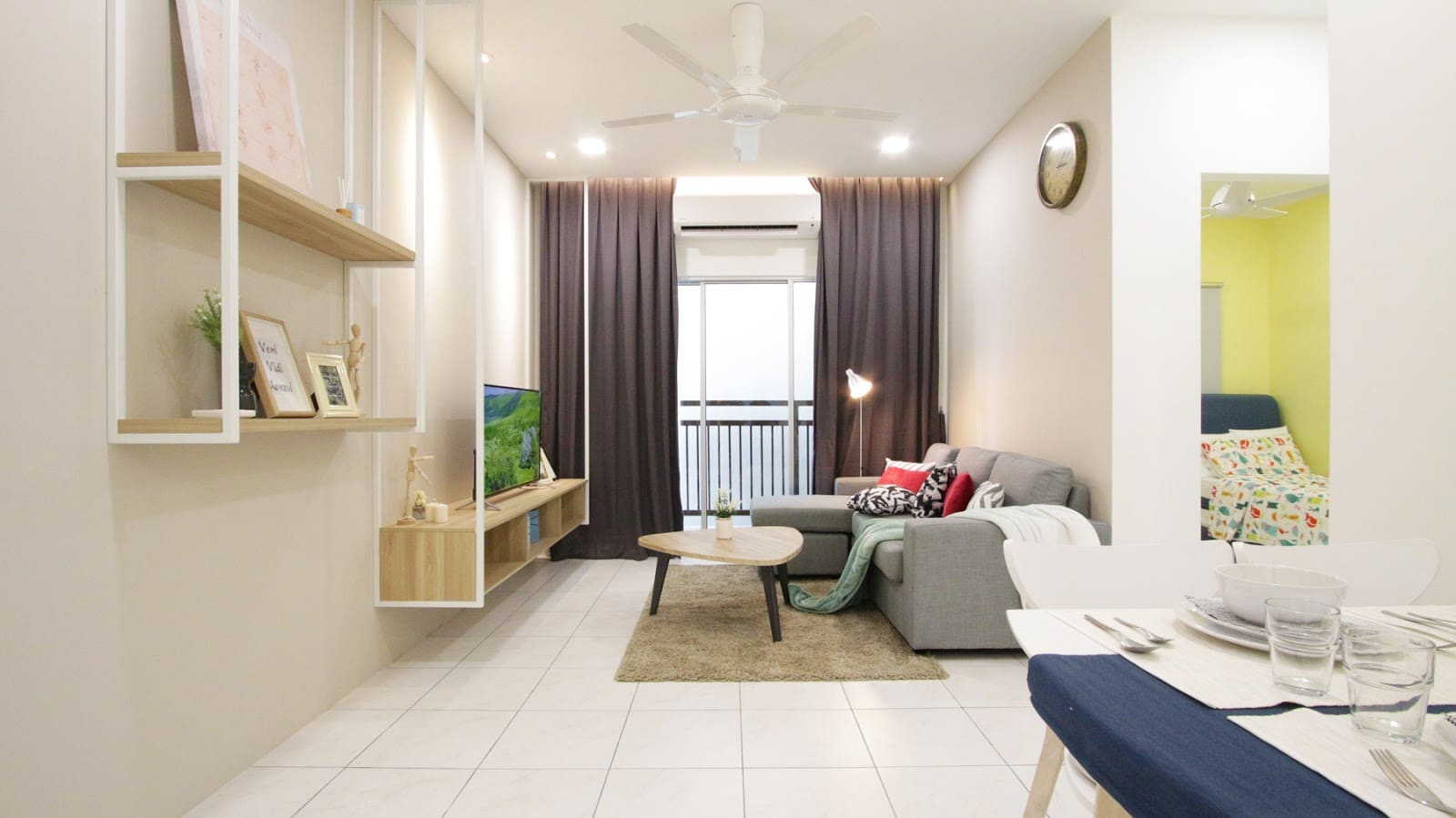 To save space, we designed this suspended shelving to act as a decorative storage space. There's just something super stylish about melamine shelves nesting on top of white metal beams; they give a warm feel, while also adding an airy touch.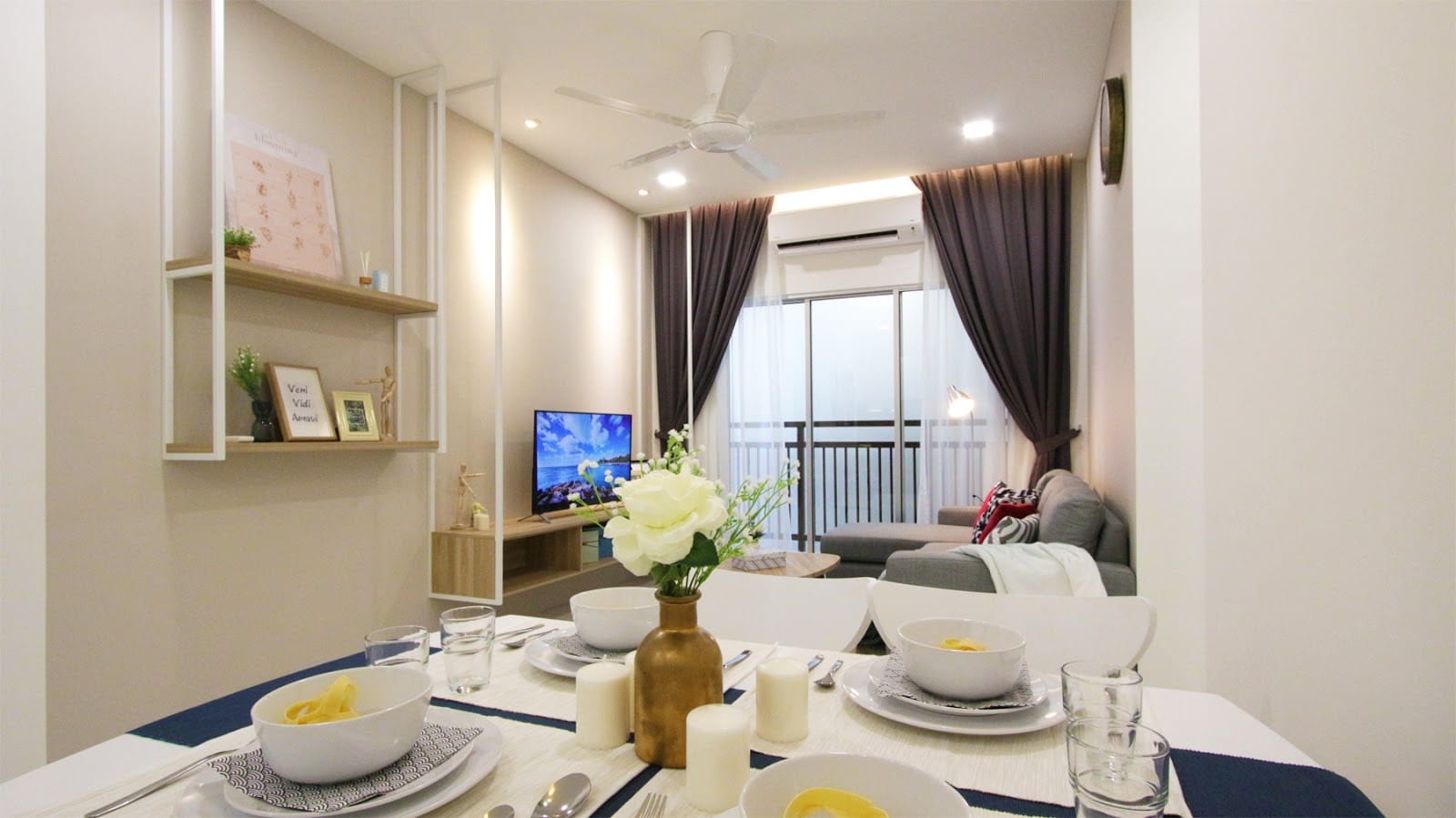 Meanwhile, the built-in TV console also echoes the same "suspended" design. This helps to create a streamlined look that's in line with the design, without occupying further space.
Similarly, the coffee table's three-legged slim profile further contributes to the airiness of the living room.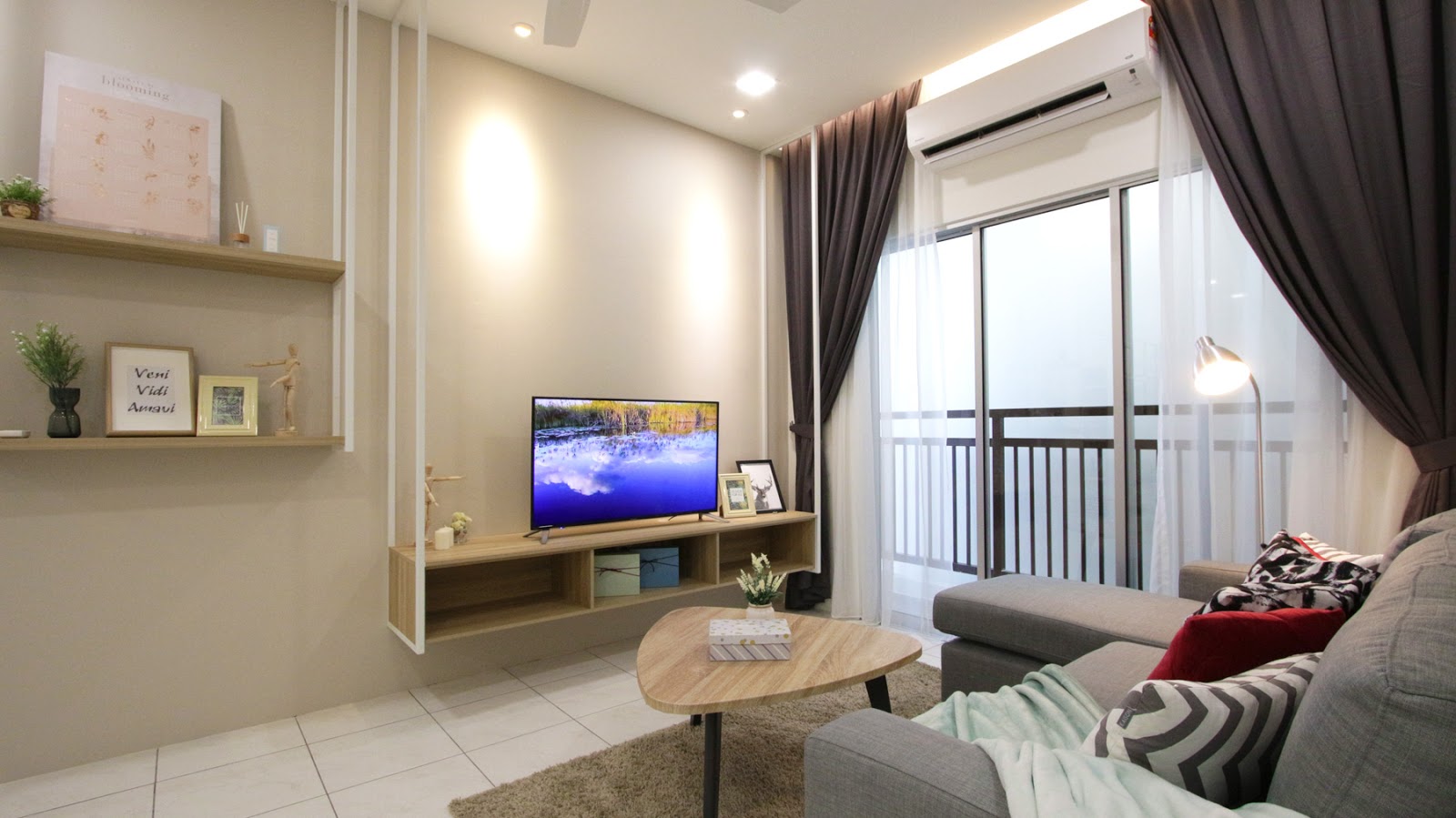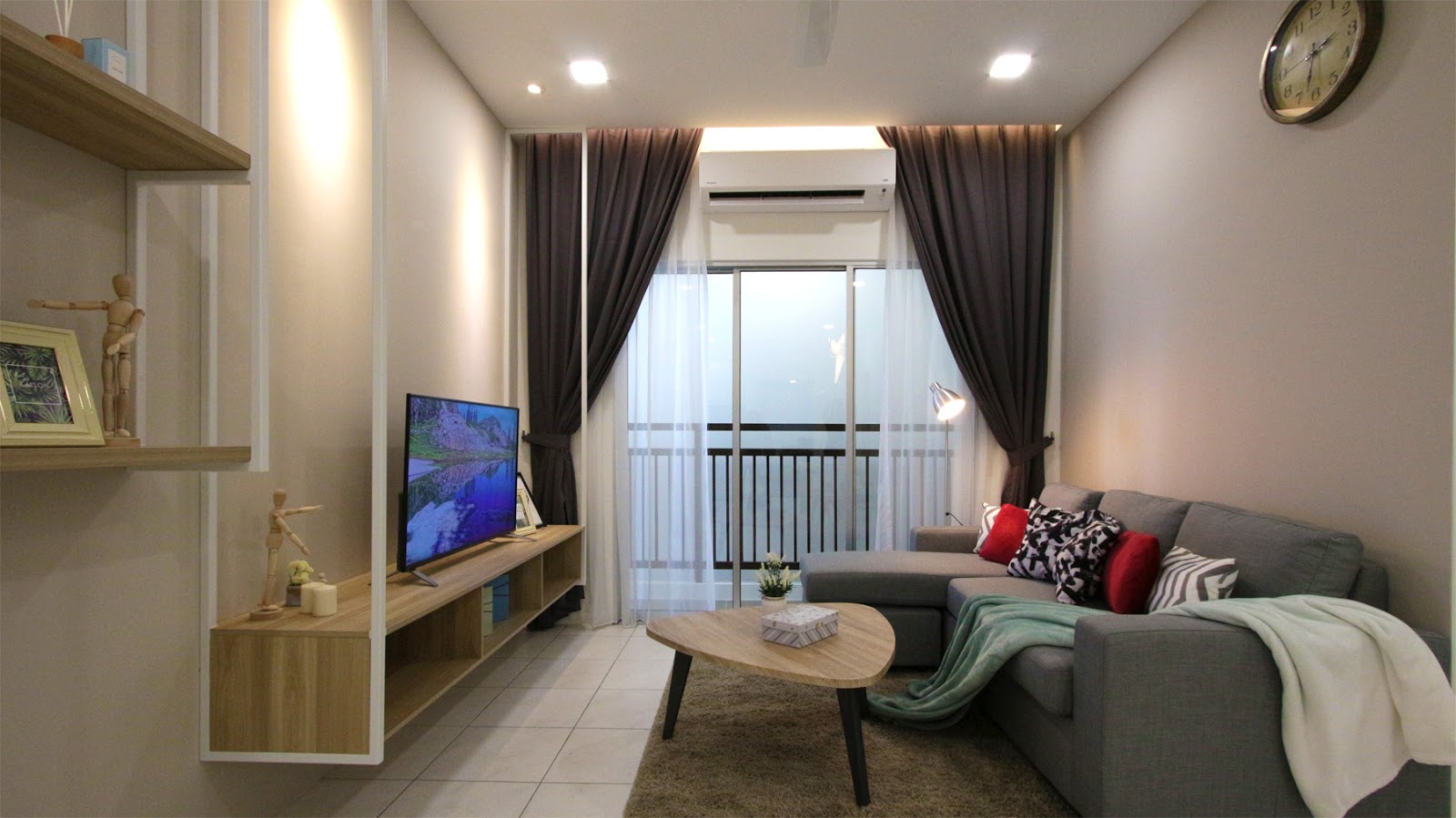 The contemporary and Scandi touches make the house visually simplistic, yet attractive. Everything appears to be unified and clutter-free – the sort of look that makes you want to spend more time in.
Also seen here is the unique starling bird light and photo wall collage, which also happens to be the feature wall.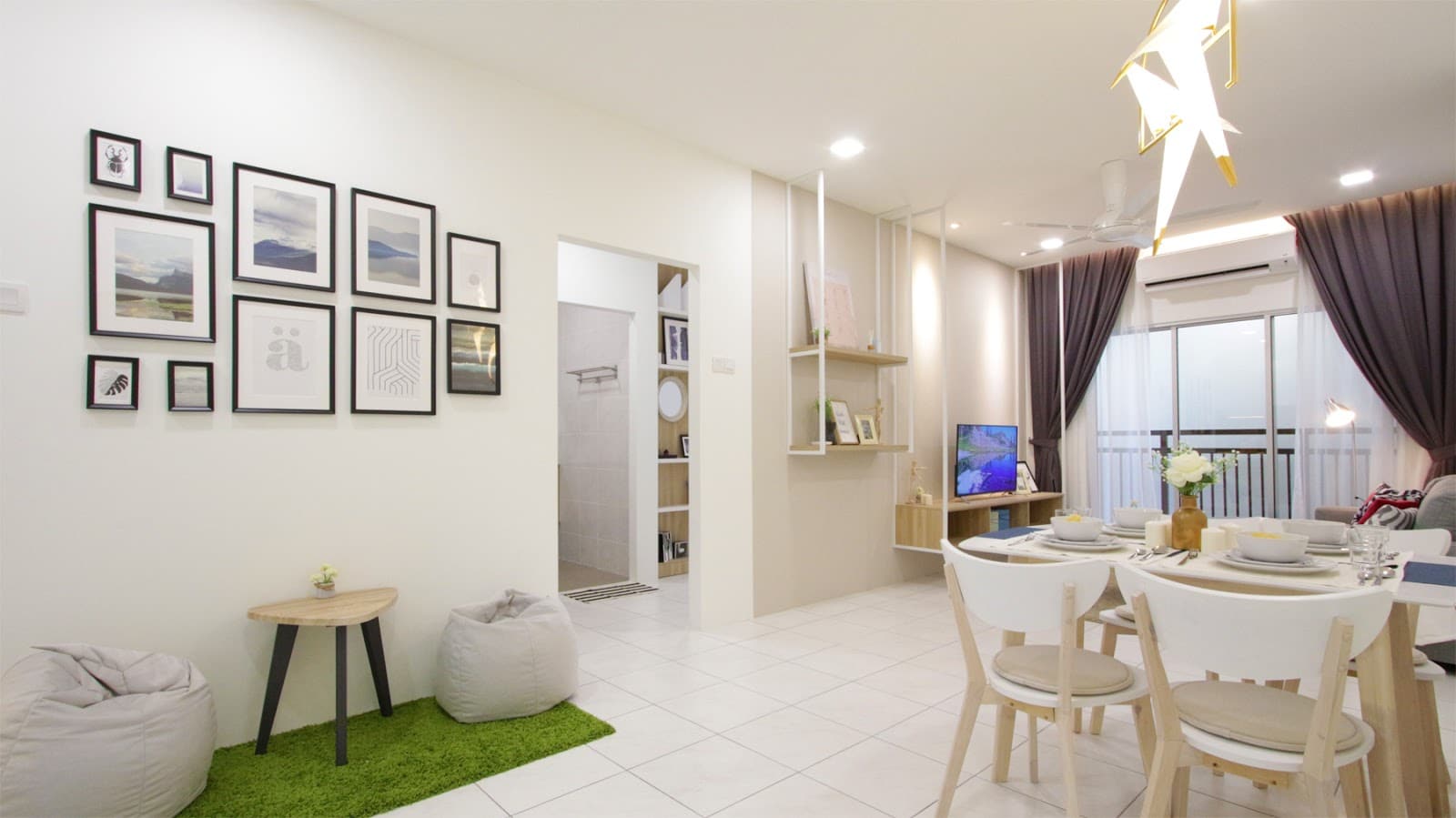 The photo collage wall is a budget interior design idea to create a focal point without spending heavily. Best yet, it's an easy DIY project that anyone can do.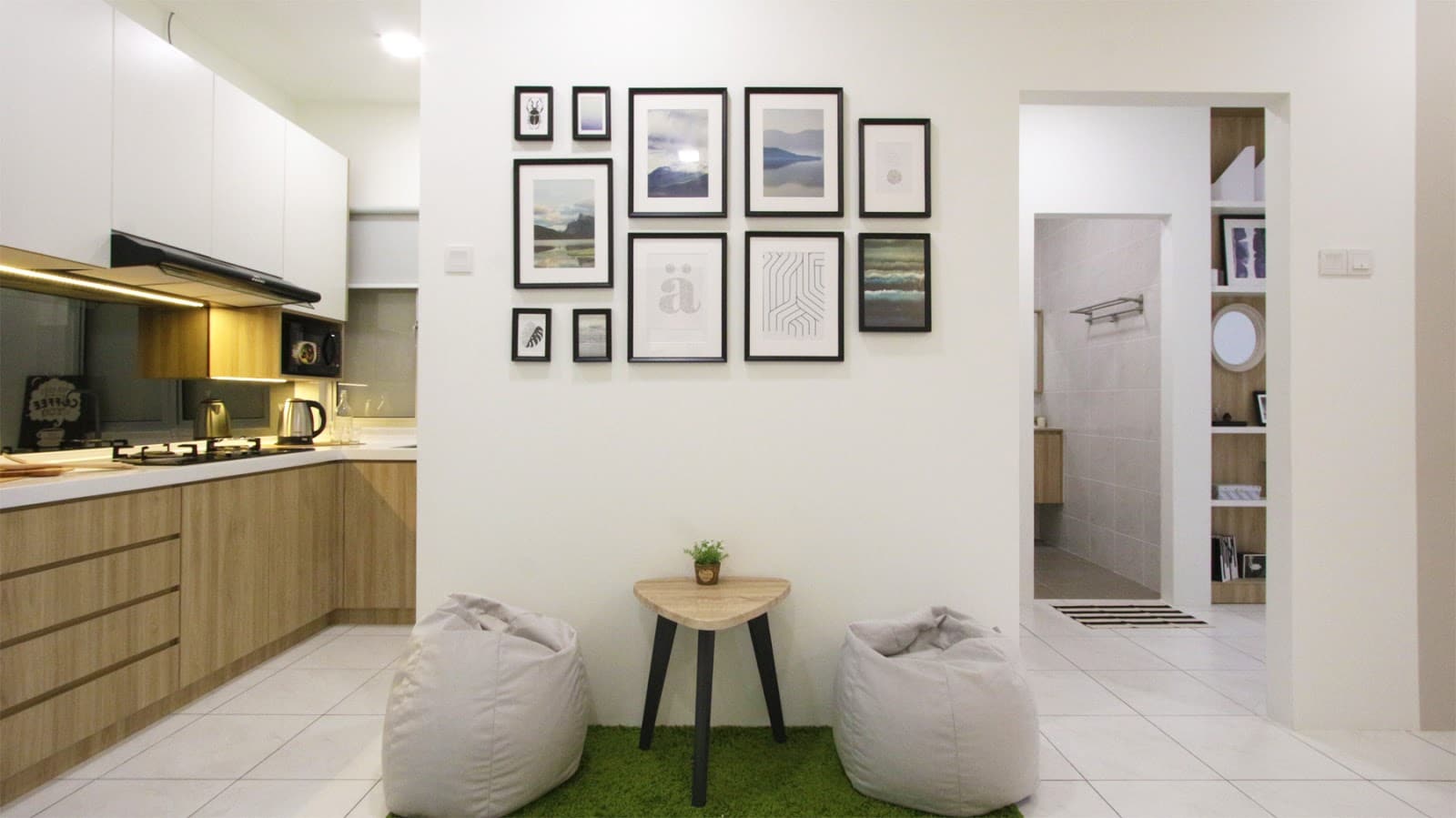 Meanwhile, the L-shaped kitchen comes complete with melamine cabinets, glass backsplash, and solid surface countertop. We've also installed under cabinet lighting to illuminate the area with a warm ambience.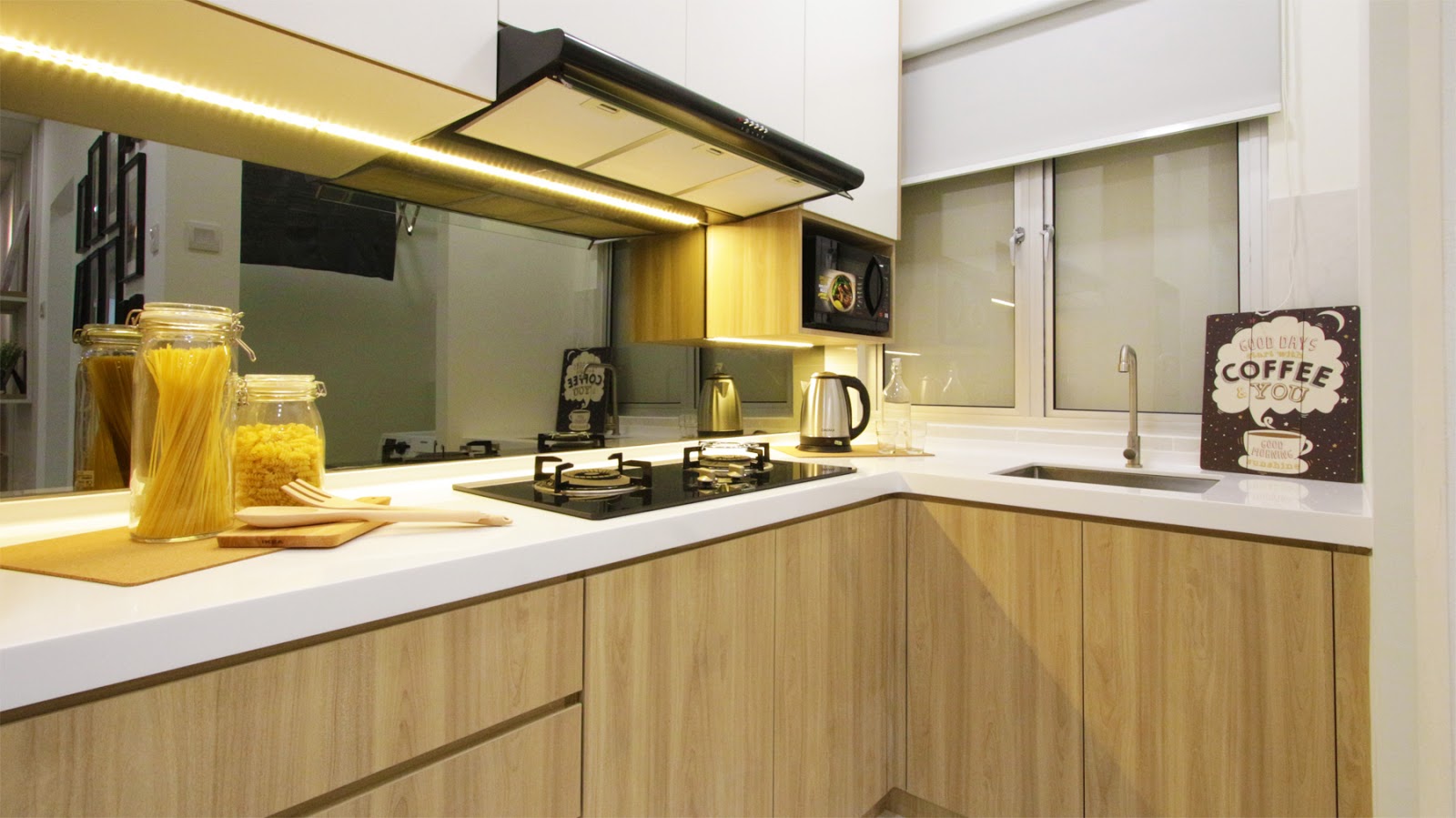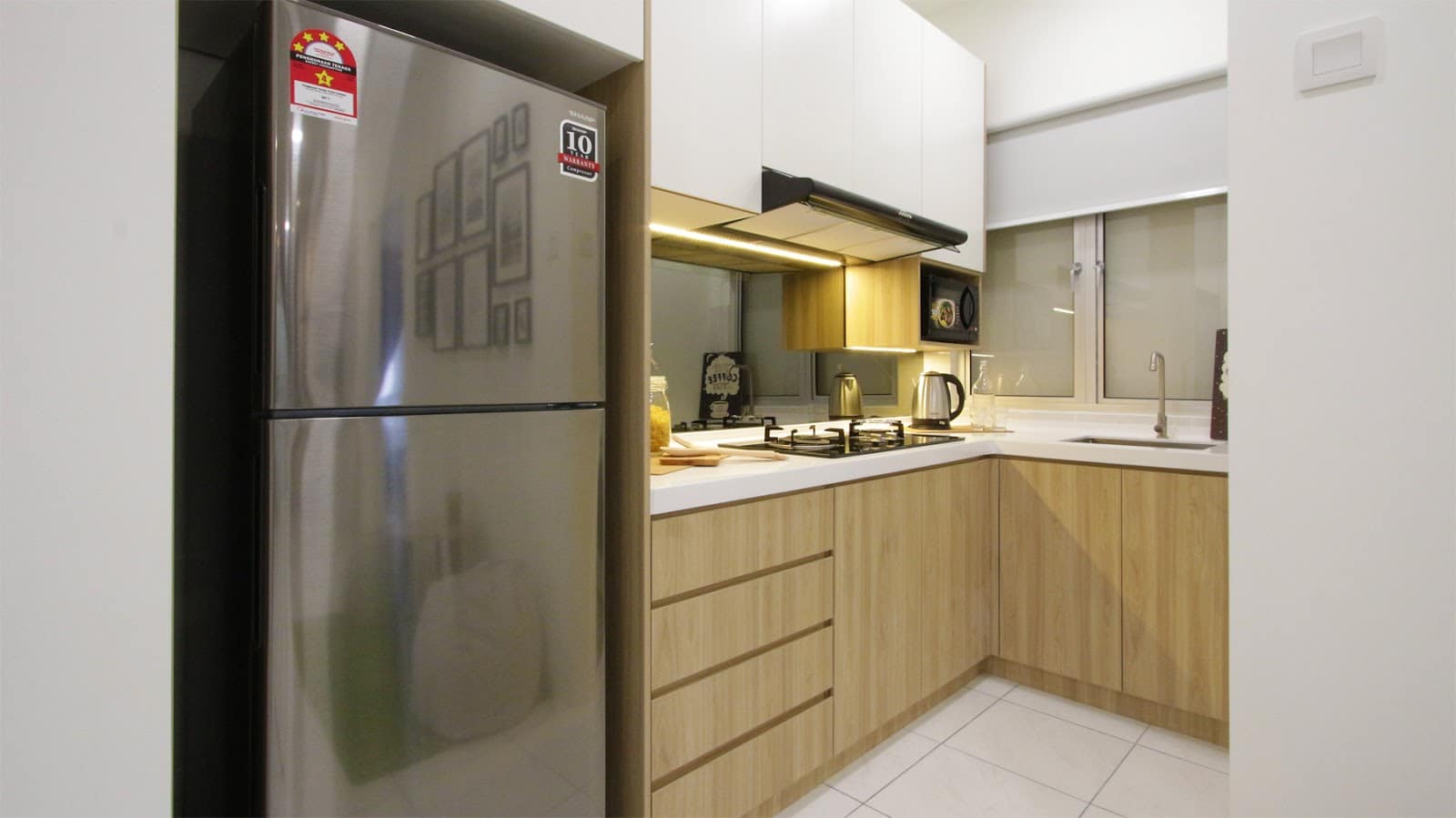 The master bedroom has a built-in, closed wardrobe with sleek, melamine finish. We also included plenty of open shelves to place fancy ornaments and memento.
For the wall,  we painted a blue-grey, diagonal splitting pattern. The master bedroom also comes with a queen-size bed with very IKEA-inspired bedside lamps and tables on either side.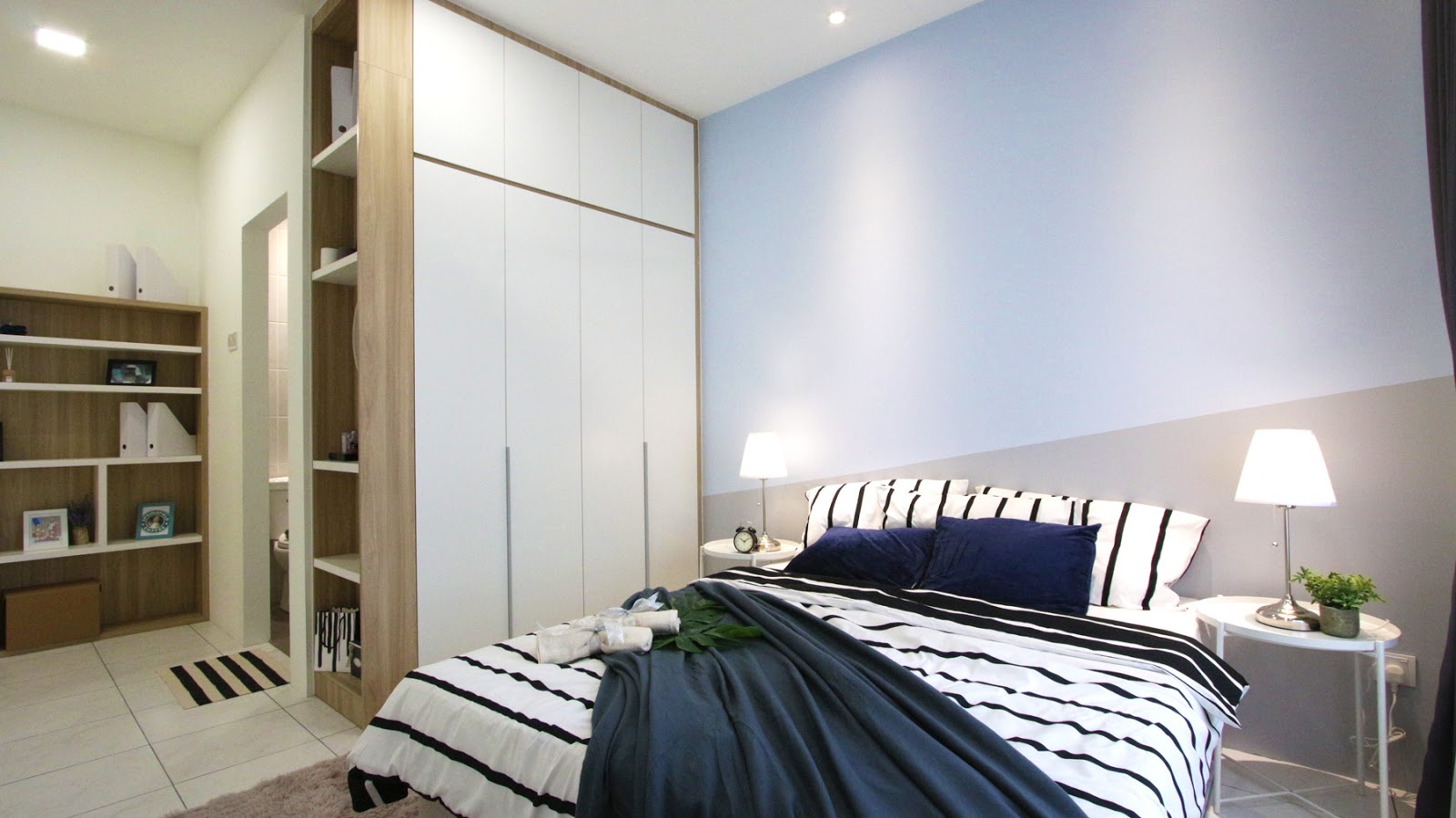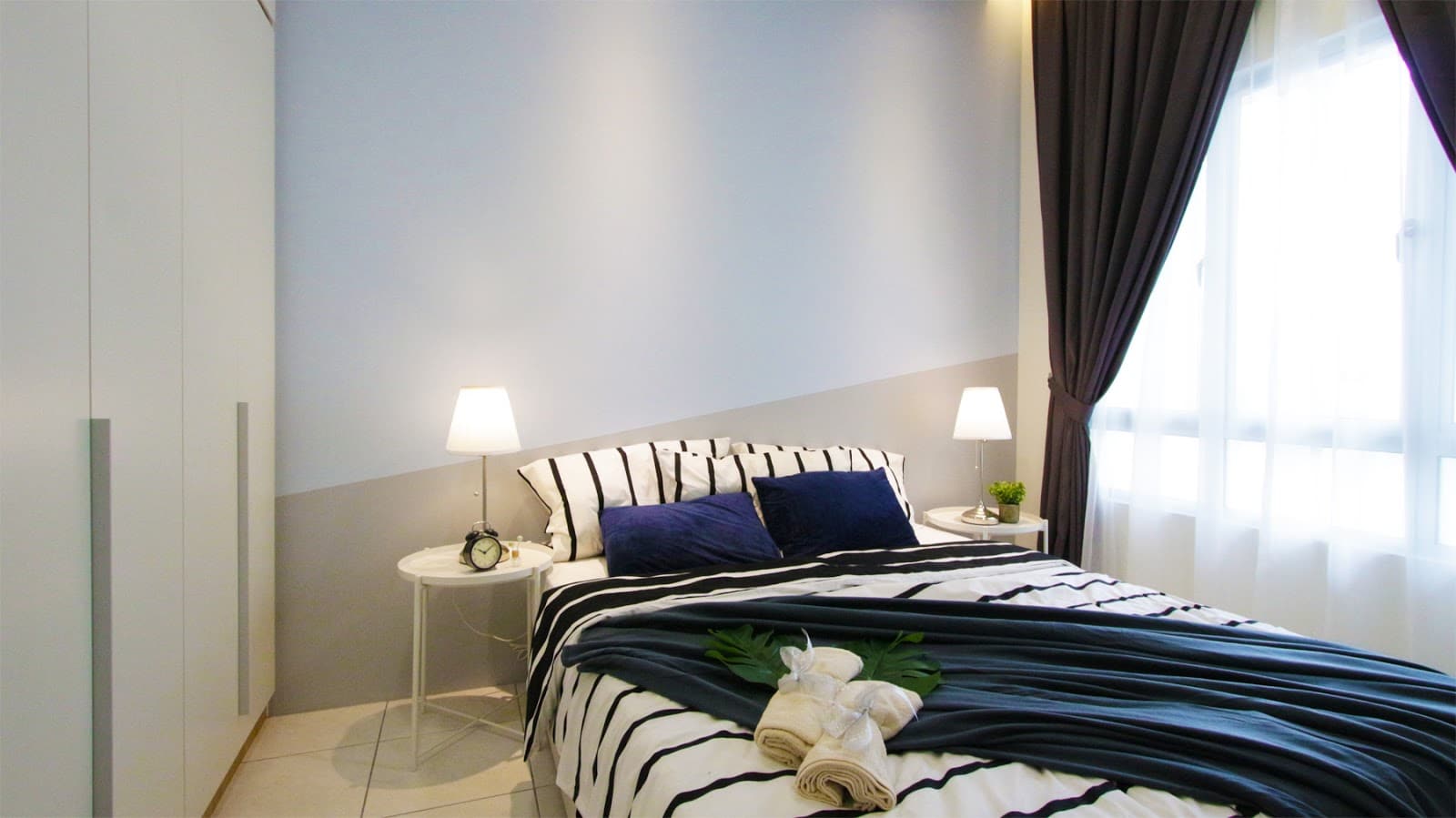 Check out the master bedroom's bathroom. We upgraded the tiles to give the bathroom a nice, clean look and included a built-in melamine vanity counter.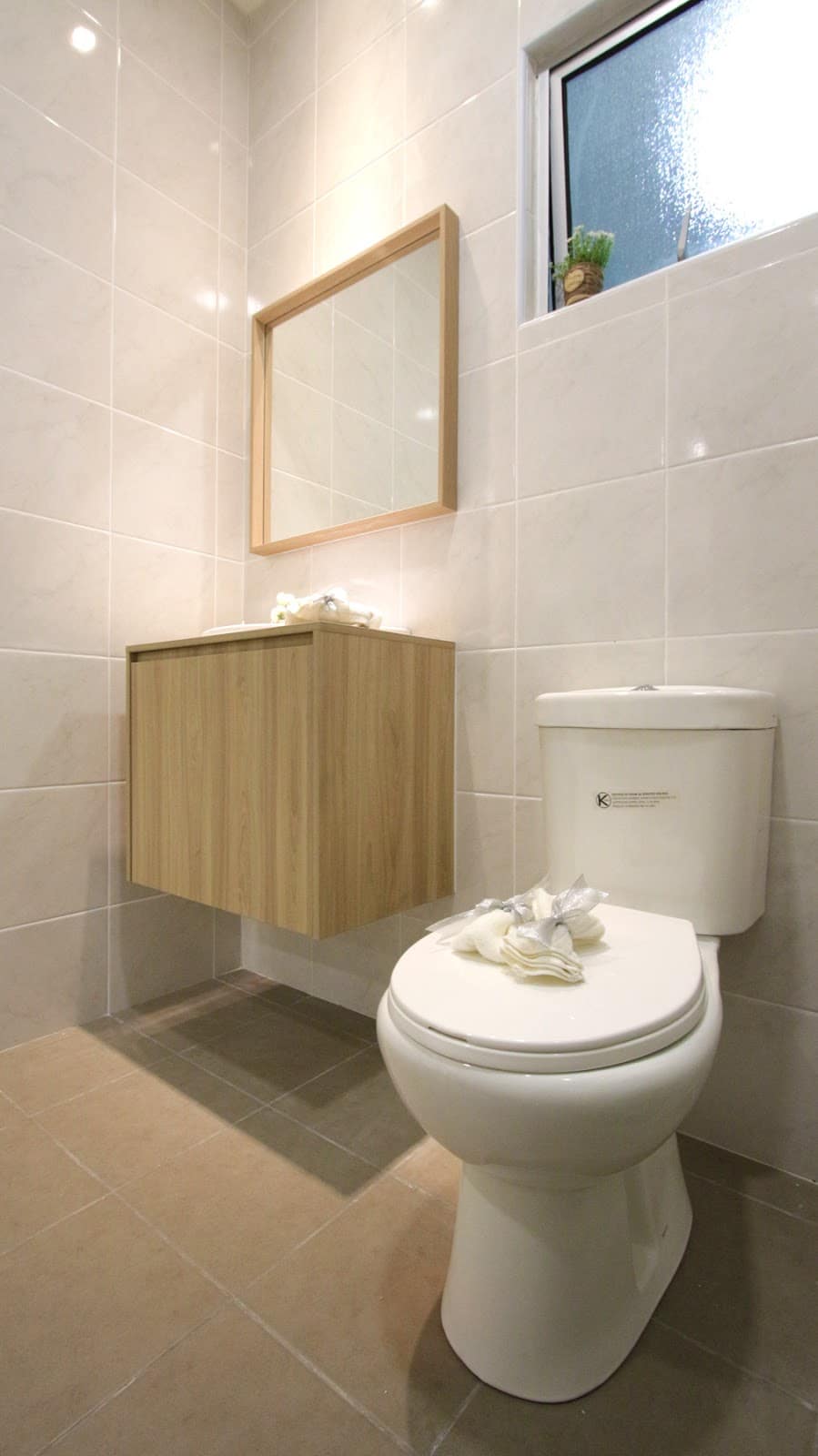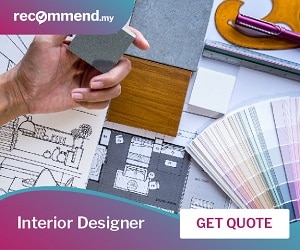 Meanwhile, each of the kids' bedrooms also has their own distinct designs, colours, and wardrobes.
For example, this bedroom is coated with a positive yellow and features a pull-out bed.  Handy if you have kids who share the same room, or for sleepovers.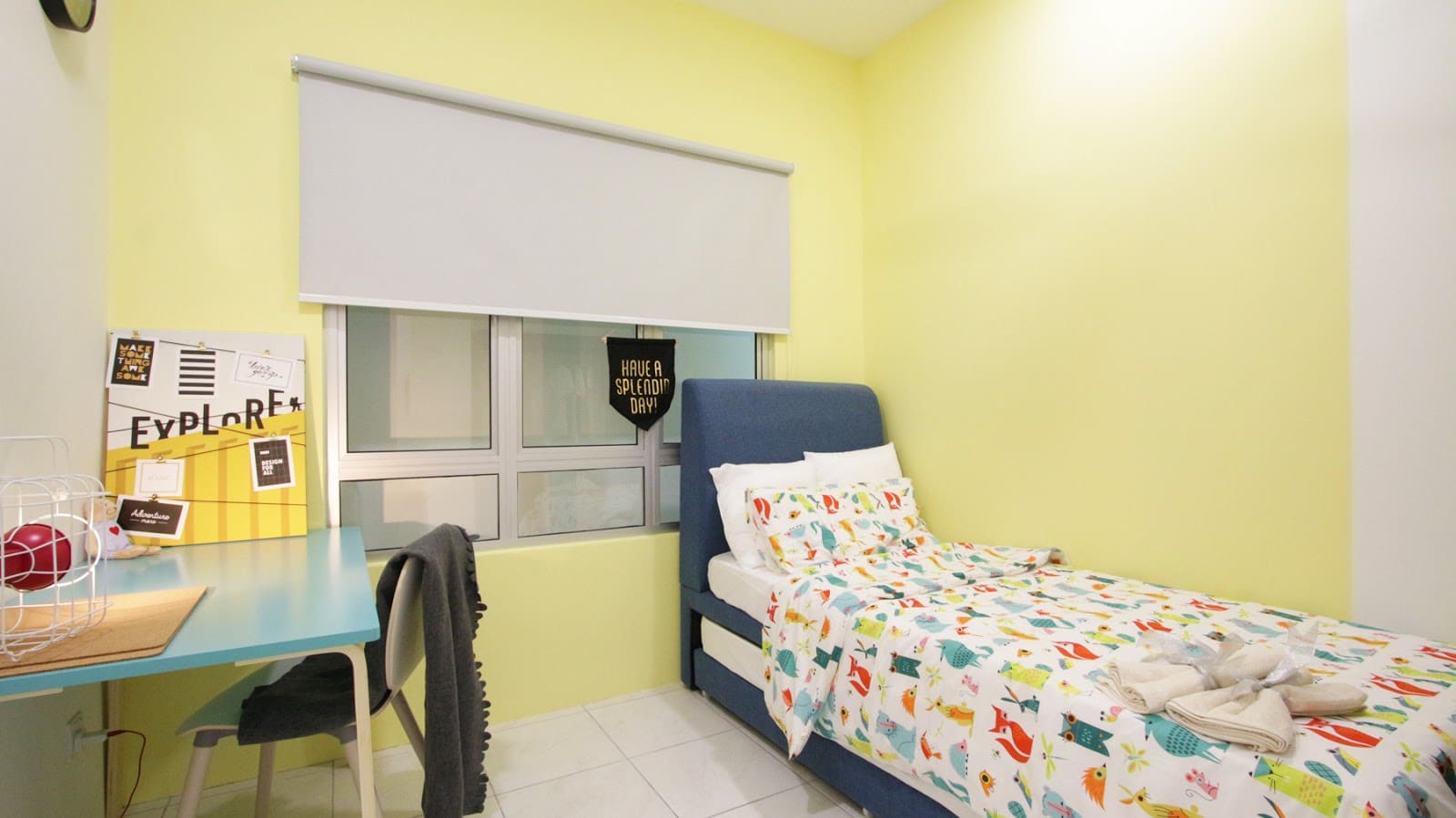 On the other hand, this other bedroom is painted with grey. Seen here also is an open wardrobe.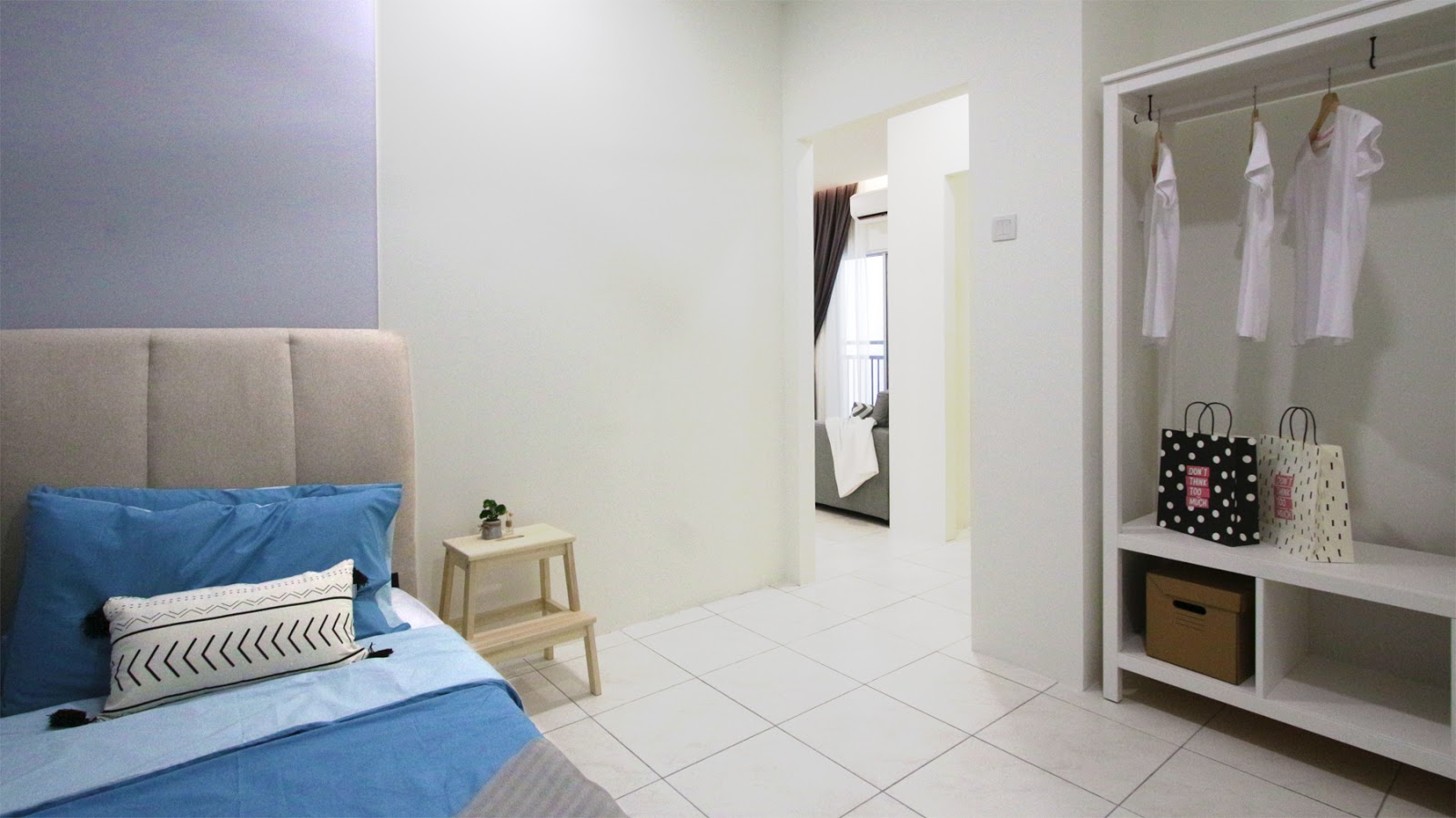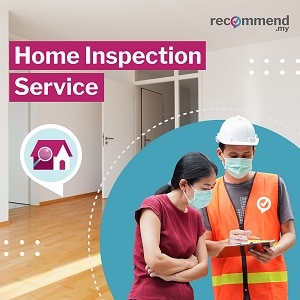 The main bathroom comes with a shower screen installed, alongside a melamine vanity counter and mirror.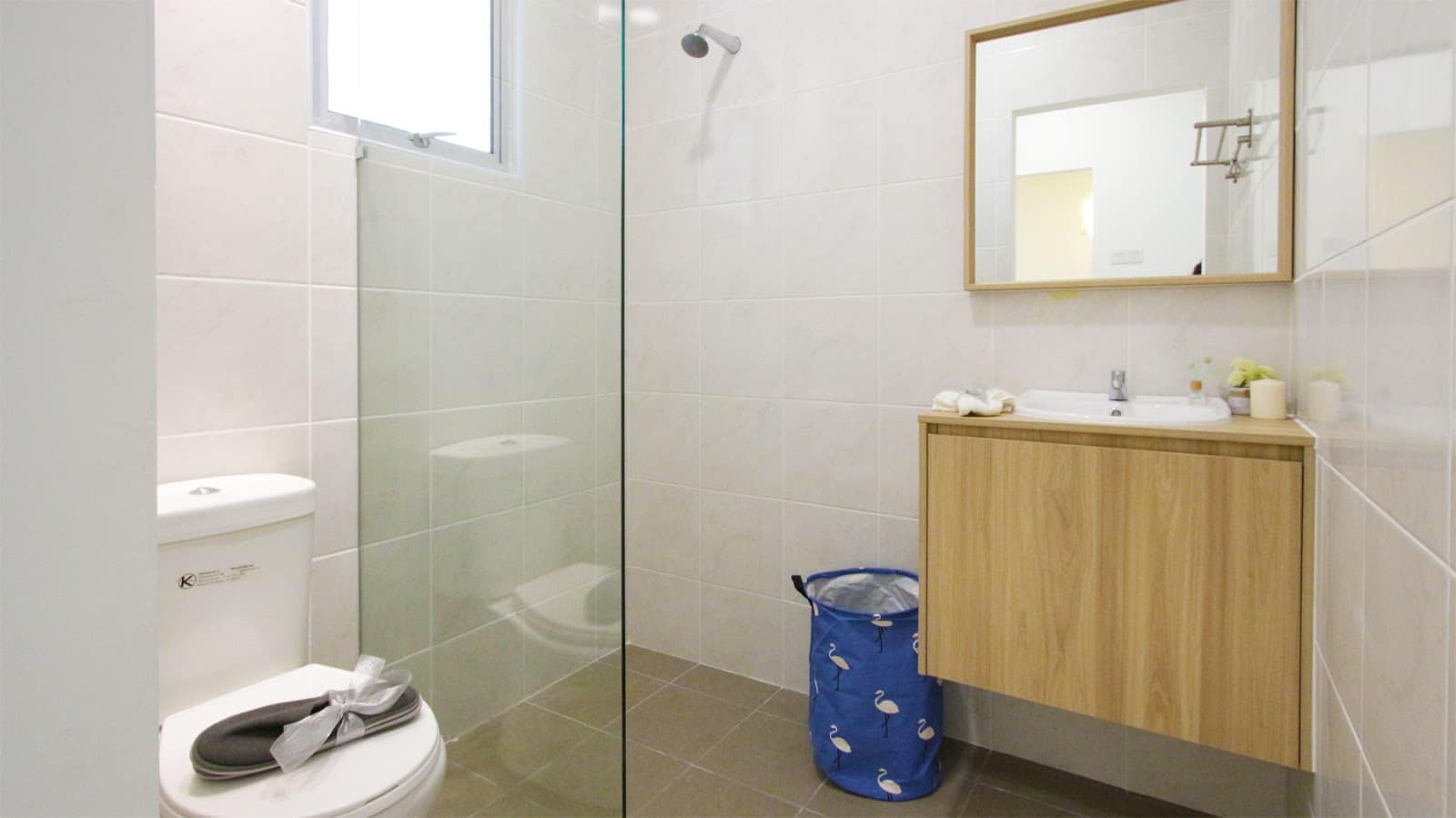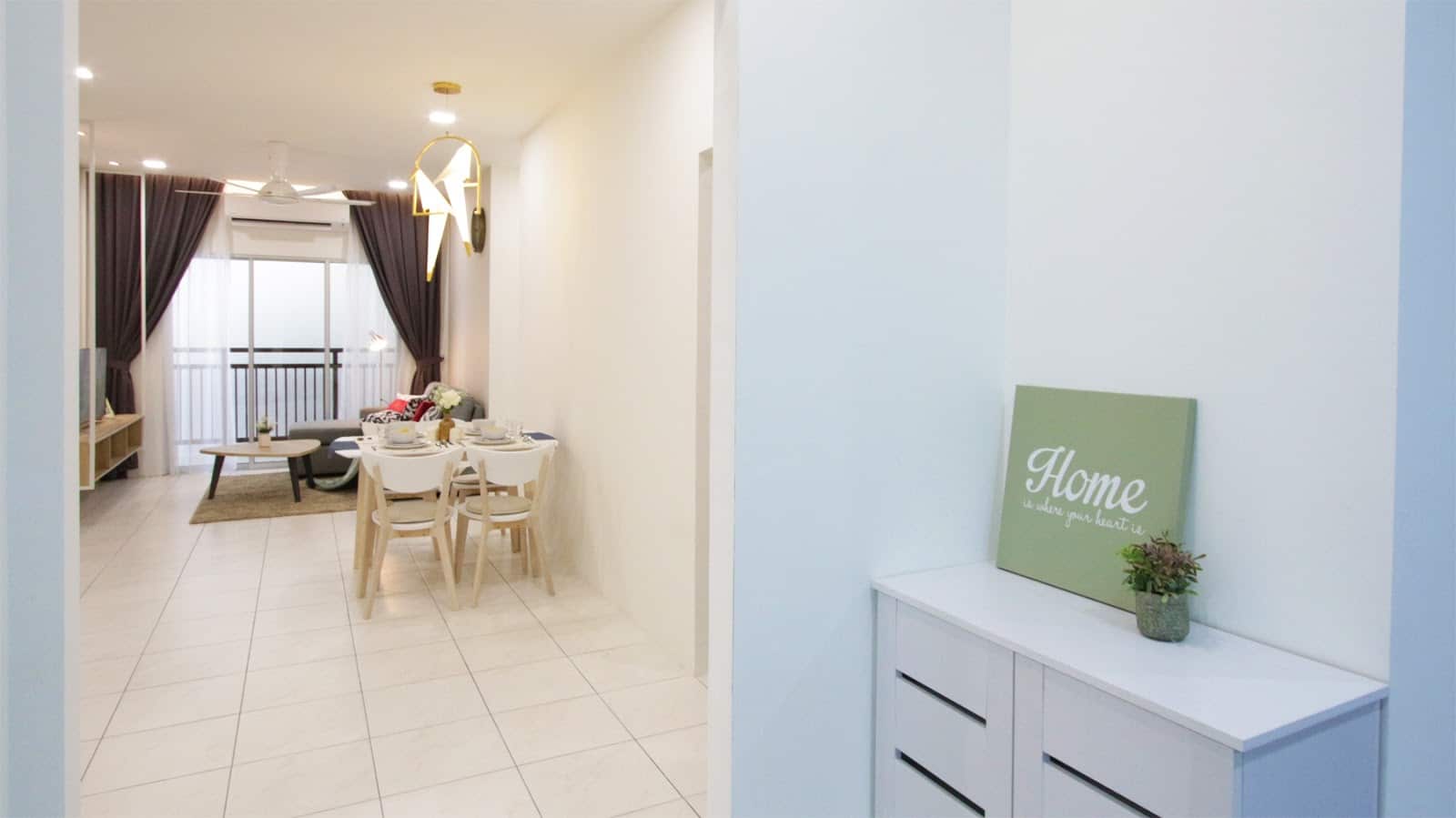 Scope of work:
All electrical appliances including kitchen stove, washing machine, and a 40" TV
Painting work for living area, all bedrooms, and ceiling
Built-in cabinetry and fittings including TV console, cabinets, and wardrobes
Curtains/blinds for all rooms and in the living room
Loose furniture including living room sofa set, mattresses, pull-out bed, dining table and chairs, coffee table, and bedside tables
Total budget = RM50K
This project was managed by Recommend.my with the help of our partner contractors.
Conclusion
With the government pledging to increase the number of affordable homes, owning a house is becoming more of a reality instead of a distant dream.
What this also means, is that you have more budget to allocate for good interior design. Remember, smaller homes tend to have more space limitation. So you need a good interior designer to unlock that restriction.
Everyone deserves to have a home that not only looks good, but also comfortable and practical. Hiring the right interior designer will help you to get the most value out of your home while preventing costly mistakes.
Need a budget interior design?
Happy with what you see above? To a get a customised design at a budget-friendly price point,
WhatsApp Alexis at 60123253038
now or email at
[email protected]
.
Want to get different opinions from interior designers instead? Send in your request now and get free quotes from local interior designers.