When two kindred spirits of Star Wars meet, fall in love, and get engaged, you can be sure that the next big question will be, "Should we try to have a Star Wars wedding?"
But there is no try. We have made it all too easy by gathering the best Star Wars wedding ideas, with whatever details we could find on how to achieve it in Malaysia. Congratulations, and may the force awaken in you.
Ready to throw your own Star Wars wedding?
Visit Recommend.my to find some of the highest-rated photographers, videographers, wedding gown designers and wedding cake makers in Klang Valley. Don't just tembak and choose anyone to do this otherwise you will end up saying "It's not my fault!" when things go wrong.
I was born the year Star Wars: A New Hope came out
Like many others in my generation, Star Wars played a big role in our lives. Our sad devotion to that ancient Jedi religion involved cosplay, reenacting space battles with Lego, and Photoshopping ourselves with glowing blue or green (or purple) sticks in our hands.
So to me, there is nothing more awesome than a Star Wars-themed wedding. And with the new movies bringing Star Wars to a new generation of padawans, you can bet there will be more weddings taking place in a galaxy far, far away. The problem is making it happen in Malaysia.
But now you can say "I'm not afraid", as we went on a hunt for recommended wedding service providers in Klang Valley that can make every Jedi's (or Sith's) dream wedding come true.
Pre-wedding Photography
Most wedding photographers in Malaysia will be happy to oblige with a Star Wars wedding photoshoot. But to create a poster-worthy shot, they will need more than that. It will require the deepest commitment, and the most serious mind. Plus, some kick ass Photoshop skills.
The "Jedi knights facing the impending enemy" pose is quite popular.
As well as the "bride doing force choke on groomsmen".
Our recommended wedding photographer Andy Lim from Emotion in Pictures has also done a Star Wars shoot below:
One of Andy's customers, Urosha says:
"I wanted someone to capture the moments beautifully and the photos must look natural. And I found Andy Lim. Not only his pictures are mind blowing, he is also customer oriented. He is the only one photographer which could meet my demands which is hard to find in other photographers." – Urosha Bhaskaradass
Stories.my has also done a Star Wars themed wedding: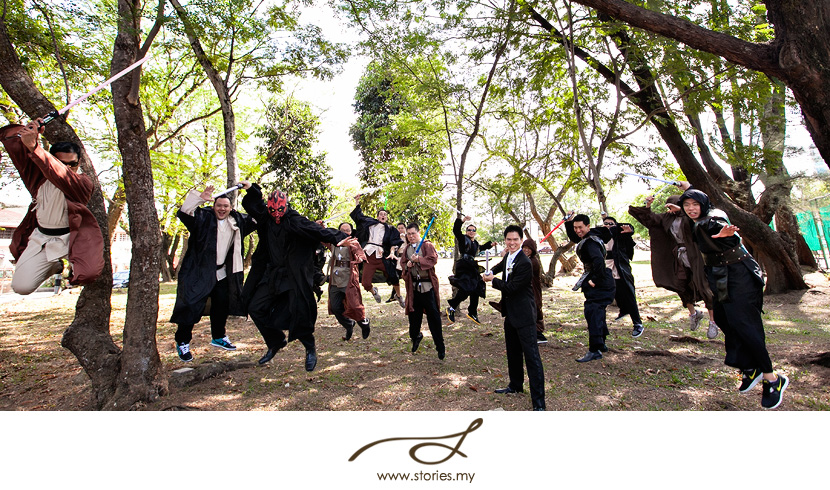 One of their customers, Melissa Chew has this to say about Stories.my:
"Grace did our pre-wedding and wedding photography which turned out so amazing! She made us feel so relaxed and so many people have complimented us on the pictures! Couldn't pick a better photographer!"
Wedding photographer Jomel Gregorio also created a cool set of photos for Royce and Aisa in the Philippines: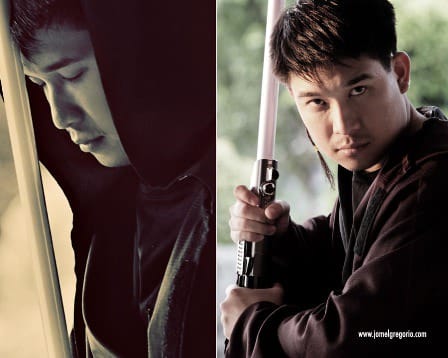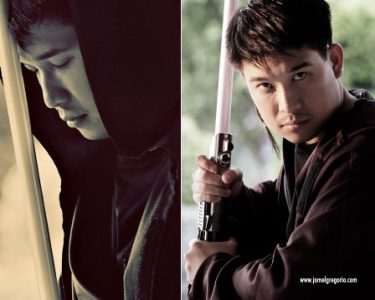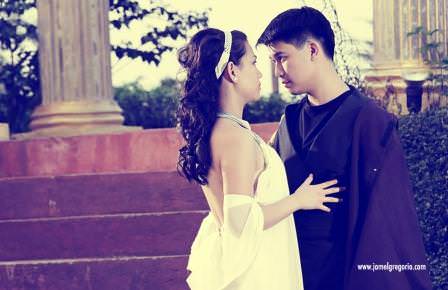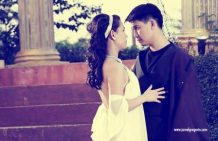 Source: Boho Weddings
I have a bad feeling about this one.
Source: Bridal Guide
You can also visit Recommend.my to request for quotes from our database of top recommended photographers.
Wedding Dress (and Groom's Suit)
This is a tough one. Not many bridal studios will have Han Solo or Anakin-inspired suits on their rack, so you will need to source for this. The simplest way would be to add some black gloves and leather boots. But you must be cautious when doing this.
The wedding gown is a little easier. If you want to look like Queen Amidala, just watch the wedding scene in Attack of the Clones.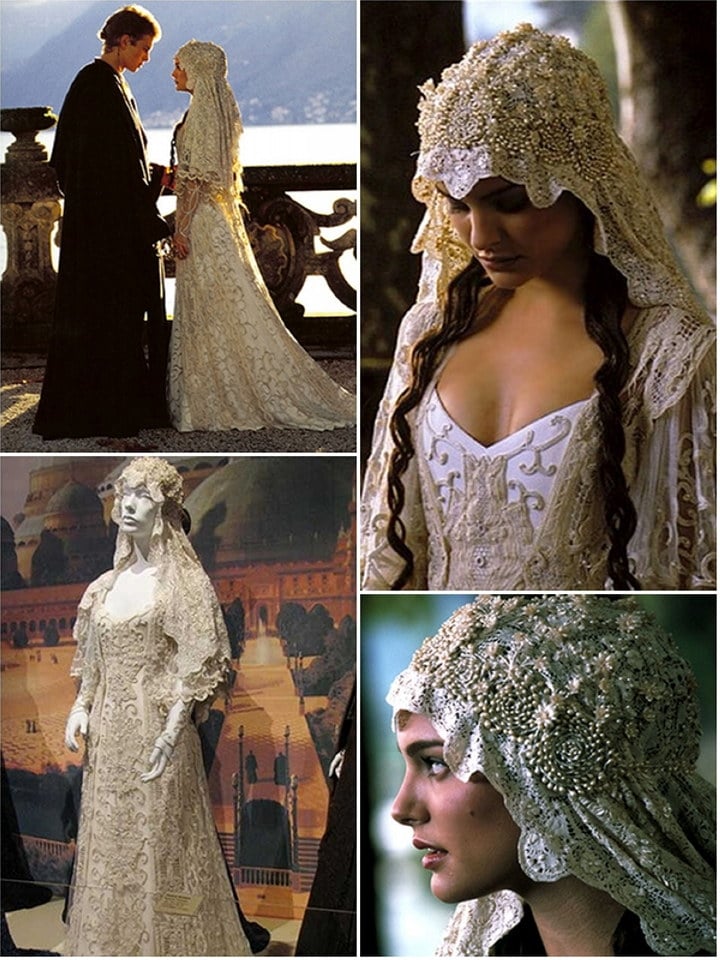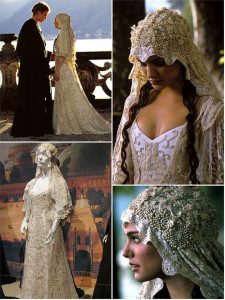 This couple went all out for their Star Wars wedding in Shah Alam:
Our recommended wedding gown designer, Shawn from Yes I Do might be able to help source for a suitable gown. Customer yenmeiling says:
"Got my made-to-measure wedding gown from Yes I Do, it was value for money, delivered on time, good quality and also got advice and recommendations based on my body and preferences. Professional service and highly recommended."
Hair / makeup
There are a few options here. Create the "siput" or "croissant" hair from Princess Leia, her hair from the Battle of Endor, or Queen Amidala's curls during her wedding to Anakin Skywalker.
For the Princess Leia look, you can check with Berry Lim from Faceart2u in Kuala Lumpur: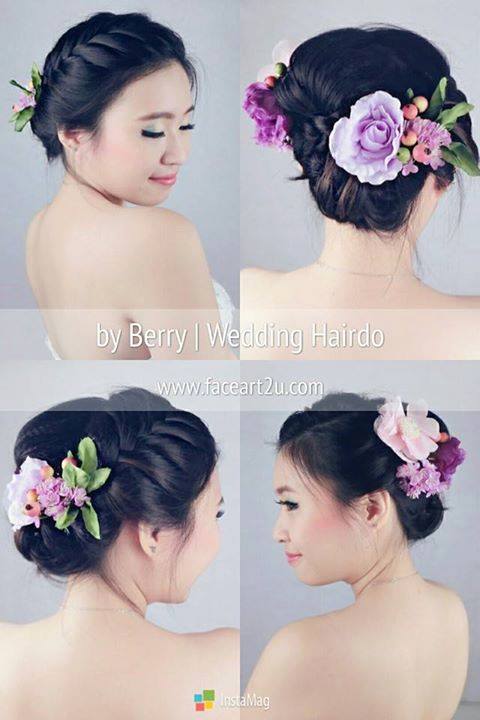 "2 of my bridesmaids who got married later asked me for Berry's contact, so you could tell how magically she and Anthon turned me into a pretty bride" – elycia6016
Another recommended makeup artist, Yen from Eye Do Make Up in Damansara Perdana can help create the Amidala look.
"We wished we had her for our wedding in Australia as well! I would definitely Recommend Yen to any bride-to be. A++" – Jonnevie Muñoz Cheok
Shoes
Heels are the only way to go. Otherwise people will say "Aren't you a little short for a bride?"
The best option is to apply some custom artwork, as shown below:
You can try the guys at White Label in Jalan Kemajuan, Petaling Jaya for a pair of white heels, and paint your own designs on it.
Wedding Favours
Champagne flutes
Death Star lollipops
Star Wars mints. See if Little Giant Favors in Subang Jaya can help out with this.
Star Wars macarons. You can check with Pui Yee from Cake Me Please to make these.
Cake
You can ask the hotel to provide their standard cake for you to cut, but don't fall for that. It's a trap. So stay on target.
Instead, why not go for a custom design that will have all your guests talking? Just ask our recommended cake designers for a quote to create your work of art!
The cake below is from Mad About Cake in Taman Mayang:
A Millennium Falcon cake
Below cake by Mama Min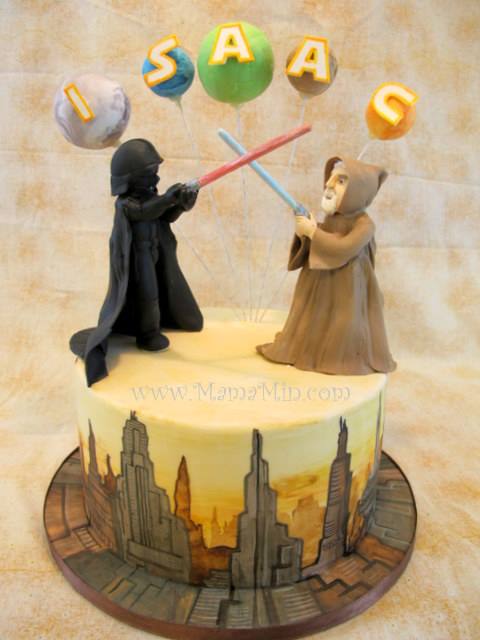 Wedding Invitations
A great looking invitation is the best way to say "We would be honoured if you could join us." Our friends at Kad Kahwinmu and Memory Forever can do all sorts of designs. Show these to them and see what they suggest!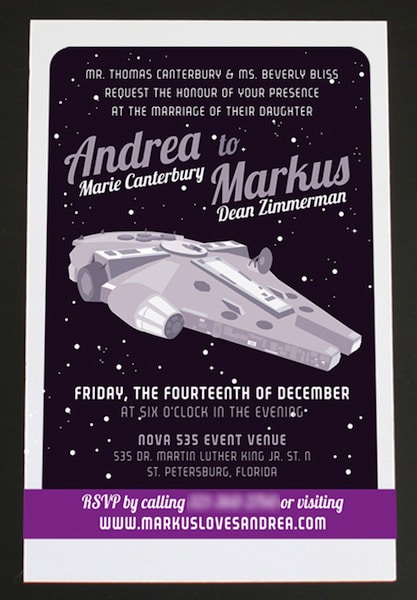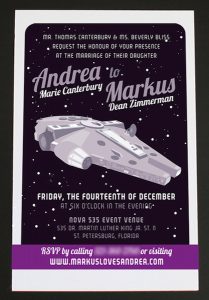 Bridesmaid, Groomsmen (Pengiring), and Flower Girl / Page Boy
What better way to do a Star Wars theme than to have Storm Troopers escort you and your bride down the aisle?
This one is in Singapore:
https://www.youtube.com/watch?v=TmoUnvqfuWU
The Malaysian chapter of the 501st Legion are a group of Star Wars volunteers who will gladly make an appearance at your wedding. All they ask is VERY advanced notice, and a donation to one of their charities.
You can also opt for R2-D2 to roll in with the rings:
Luke and Leia flower girl and page boy (video screenshot below)
Too Much Work? Get Help
Planning a wedding is not easy. Just because you are a master multi-tasker, or work as a procurement executive, don't fall for delusions of grandeur. With so many moving parts, it can be very easy to be mistaken about a great many things. So don't get cocky.
If you just have too much on your plate, there is always the option of finding a wedding planner.
Muntzin from Milestones can help plan your entire wedding so that everything will proceed as you have foreseen.
"Muntzin is impeccable when it comes to wedding planning and attention to detail. Having her on hand to help with my wedding, from conceptualisation to the actual day was heaven-sent. She gave very good advice and always made sure we were on time, to get things moving" – Samantha Chua
Inspired yet to have a Star Wars wedding? You will be.
We hope this list gives you a good starting point to make your Star Wars wedding happen in Malaysia.
Ready to throw your own Star Wars wedding?
Visit Recommend.my to find some of the highest-rated photographers, videographers, wedding gown designers and wedding cake makers in Klang Valley. Don't just tembak and choose anyone to do this otherwise you will end up saying "It's not my fault!" when things go wrong.
Featured Image from Wookiepedia and Red Orca