Do your feet ache if you spend the whole day barefoot at home? It could be because of your flooring.
Well-known American television personality and chef, Julia Child was selective when it came to her choice of flooring material. Since the kitchen was her most frequented place in her house, she was determined to have floors that would be comfortable to her feet.
Her preferred flooring was linoleum, an extremely popular choice during the early 1900s that was derived from rubber sheets, pressed cotton and cork. And most importantly, it felt soft and provided cushioning for her feet.
But today, instead of linoleum, many homes are choosing vinyl flooring instead. This is because vinyl flooring is practically waterproof, lasts a long time, is easily maintained, and can withstand heavy traffic in any part of your home.
What is vinyl flooring?


Vinyl flooring is a type of synthetic floor covering primarily made from plastic or PVC. The most popular type of vinyl flooring is sheet vinyl that comes in a large roll. But you can also get vinyl flooring in rigid square tiles or long planks that can lock together.
Vinyl flooring was developed in the 1940s but has undergone many improvements over the years. Today's vinyl flooring comes in designs and textures that make it look like ceramic tiles, hardwood floors, or even rough stone.
With so many options, It is no longer considered "cheap-looking", and is a popular choice for other parts of the house, too.
But with so many selections in the market, it can be difficult to determine whether vinyl flooring is right for your home.
Find a suitable flooring pro with us and get your quotation for free!
We offer hundreds of flooring professionals who can help achieve your ideal flooring according to your requirements and needs.
What types of vinyl flooring are available in Malaysia?
As mentioned earlier, the traditional form of vinyl flooring comes in flexible sheets (known as sheet vinyl). But, you can also get waterproof vinyl flooring in a thicker, square tile (known as vinyl composite tiles). There is also a premium version of textured vinyl flooring known as luxury vinyl, and these come in tiles or planks. The next sections cover the properties of each:
Sheet Vinyl (from RM 2.60 per sq.ft)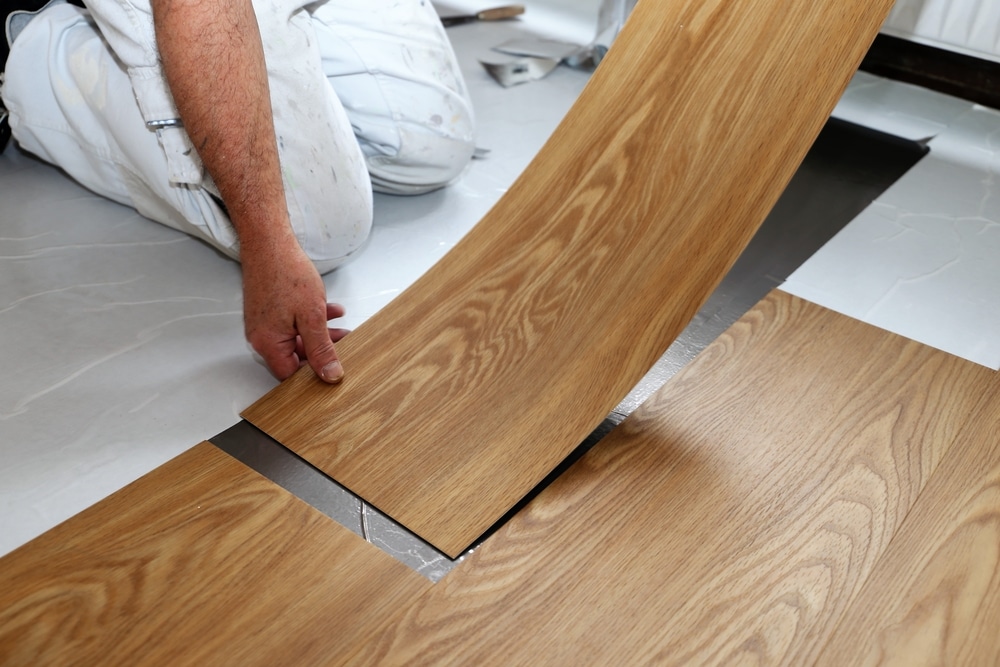 Sheet vinyl comes in large rolls and then gets cut from the installer to fit the size of your floor. As it comes in one solid sheet roll, it is excellent for use in bathrooms and kitchens to minimise the chances of water seeping and leaking through your subfloor.
However, this is not the same as the thin PVC mats that you find in old kampung houses. Modern vinyl flooring comes in 2mm sheets that have a foam middle layer, so they are stiffer, but softer to walk on. They are also light enough to install on the walls and ceiling, allowing you to create a consistent design throughout the home.
Video: How vinyl sheets are made 
You can get sheet vinyl with adhesive backing, so it can be glued directly on top of your old parquet floor. You can also lay it over your concrete subfloor. However, if the floor is uneven, you need to get a flooring contractor's help to fill any holes and dips with cement screed. Alternatively, your contractor may suggest adding an underlayer (made of fibreboard or plywood) if your subfloor is really damaged.
Advantages:
Fully water-resistant.

Sheet vinyl can withstand high-traffic areas such as kitchens, bathrooms and restaurants. It is also great for owners who have pets or children who are frequent to spillages, scratches or uneven surfaces. They are also known as waterproof vinyl flooring.

Fuss-free maintenance.

Regular sweeping and mopping are all you need to keep your waterproof vinyl floors looking great.
Soft underfoot. The PVC foam provides a slight softness to reduce aching feet from standing on hard surfaces.
Disadvantages:
Difficult to remove once glued down

. Attempting to remove the sheet from the subfloor once the glue is dried can be a challenge as it may require special chemicals and tools.

Fragile

. To preserve the life of your vinyl sheet floors, be careful not to place any sharp objects as it may be easily punctured or damaged.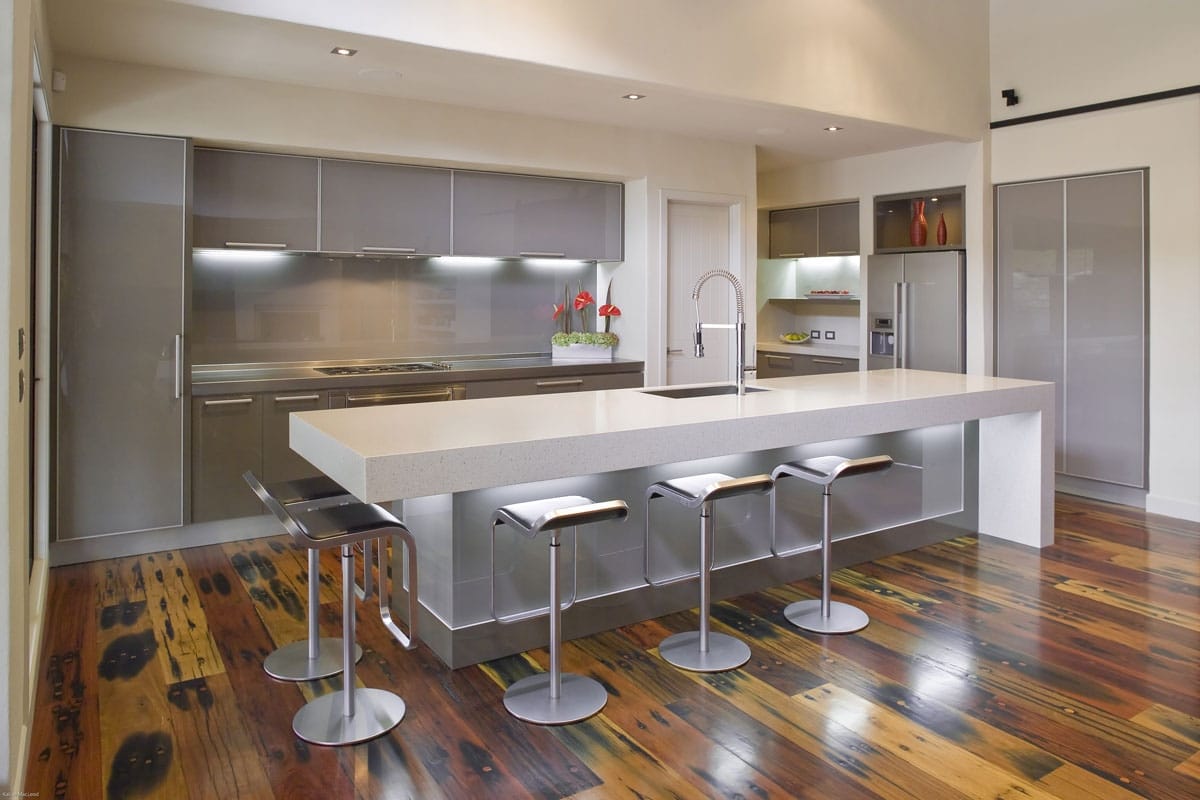 Vinyl Composite Tile (From RM3.60 per sq.ft)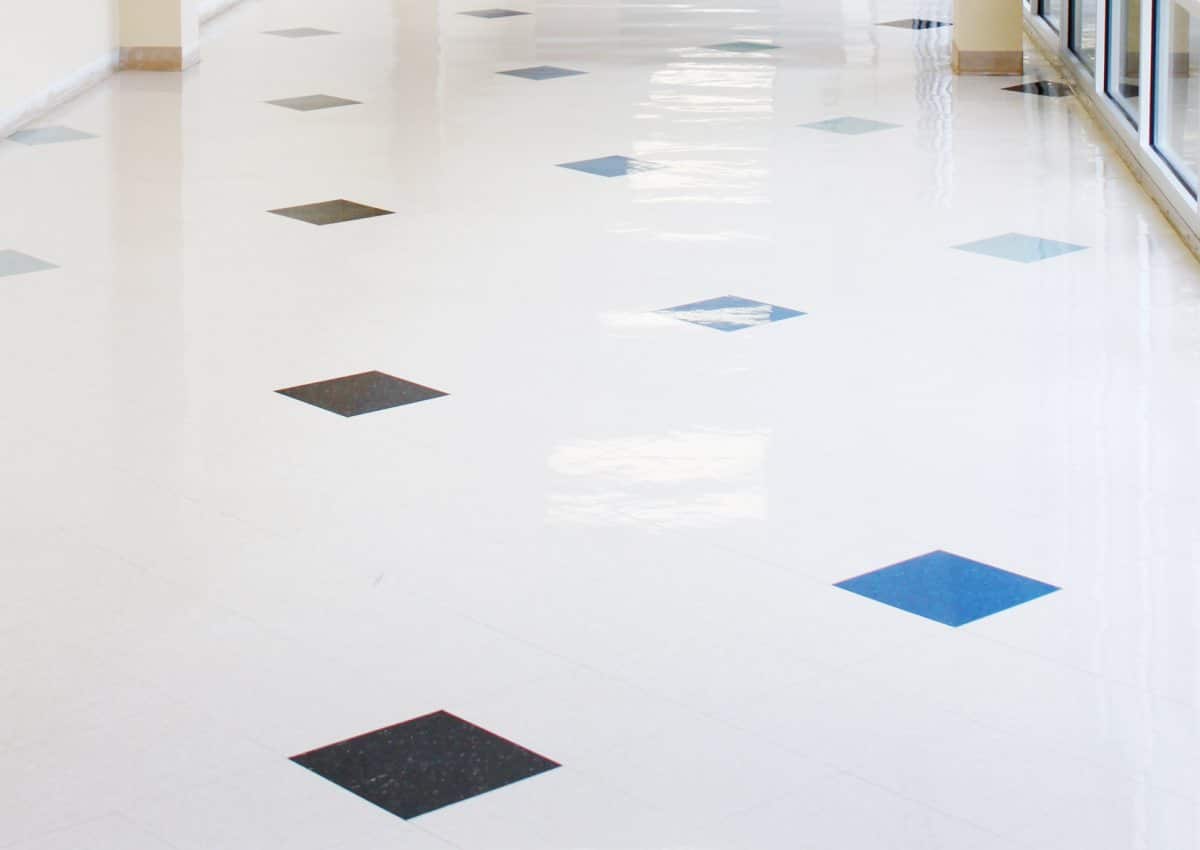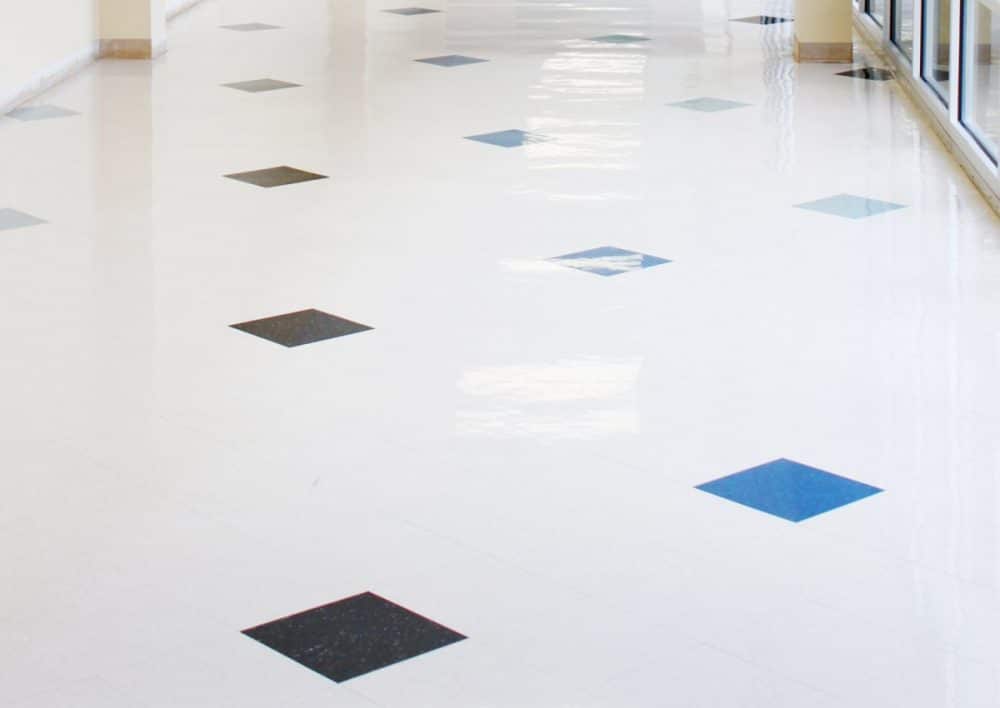 Vinyl Composite Tiles (VCT) is another common type of vinyl flooring that became popular by the 1950s. It is made by compressing PVC chips with a limestone mix, to create a 3mm sheet that is slightly flexible but can be cut and snapped in half by hand.
VCT is frequently used in commercialised areas such as healthcare facilities or educational institutions, it is able to withstand high traffic volume.
VCT is popular due to its low cost, durability and easy care, so it is often used to replace high traffic flooring like office carpets. However, the designs may be limited compared to vinyl sheet or luxury vinyl planks and tiles. This is because of the way it is manufactured using coloured PVC chips.
It is installed by adding a layer of glue to the subfloor and pressed down lightly to stick. After installation, they will need to be coated with a sealer to make it highly resilient to abrasion and impact damage. Although DIY installation kits are often available, many people opt to hire contractors to achieve smooth, professional results.
Advantages:
Resiliency.

VCT is a great option for places with high volume traffic because of its durable materials. With proper care and maintenance, it can last you for a good 15 years on average.

Replacement.

If one tile gets damaged, it's easy to remove and replace with a new tile.
Disadvantages:  
Less durable.

Heavy and sharp objects can cause damage to the tiles.

Temperature-sensitive.

Prolonged exposure to direct sunlight or a heat source may cause the glue to detach, or the tile to discolour. Because of that, it is not encouraged for use outdoors or spaces where exposure to sunlight is consistent.
Luxury Vinyl Tiles/Planks (From RM7.40 per sq.ft)
In the old days, it was easy to tell whether a floor was made from vinyl sheets or vinyl composite tiles. With the limited designs and patterns, the use of vinyl flooring became less popular and was replaced by laminate flooring and ceramic tiles.
However, recently a new "class" of vinyl flooring has emerged to challenge laminate flooring. It's called luxury vinyl tiles, otherwise known as LVT, and is gaining favour because it combines the ability to look just like natural or organic materials (like stone, hardwood or marble) while providing the waterproof and termite-proof properties of traditional vinyl.
LVT is made up of several layers. The bottom layers provide moisture protection, thickness and prevent shrinkage. Then, a print layer sits above that, to provide the design. You can print any pattern in any colour here, so it can look like very extremely realistic wood, marble, cement, bronze, or stone. LVT can also be considered as textured vinyl flooring.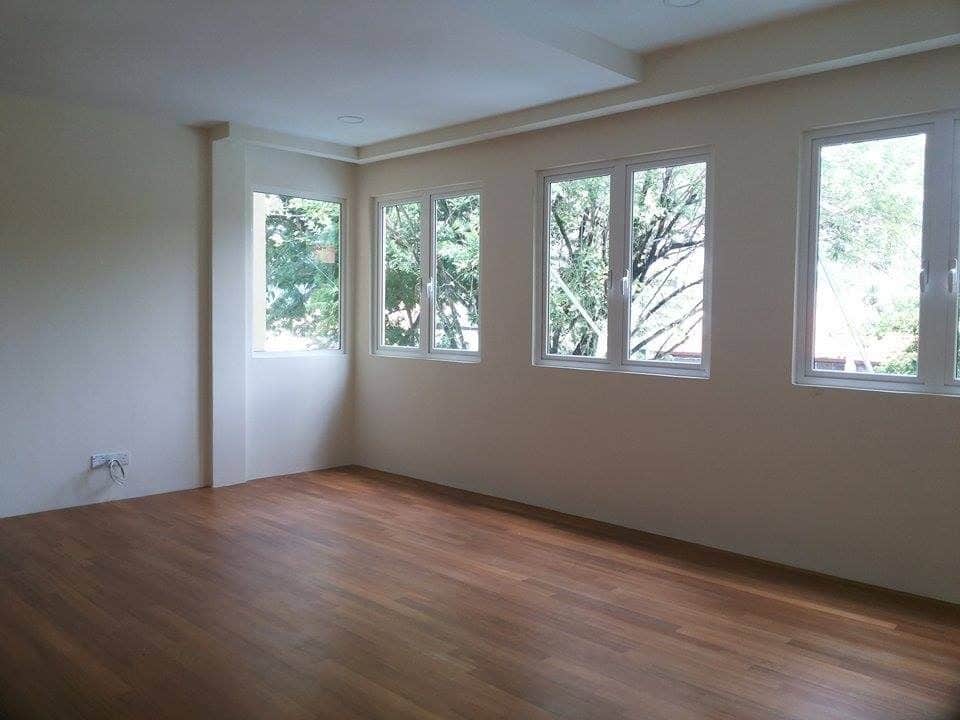 The print layer is then protected by a wear layer and UV layer to prevent the floor from getting damaged by furniture legs or cabinets. In fact, depending on the hardness chosen for the wear layer, LVT can even be installed in gymnasiums, basketball courts, shopping malls and more. The wear layer can also provide embossing and texture for a natural feel.
LVT is available as square tiles or planks. If your floor is nice and even, you can install LVT planks that interlock together, without needing to glue them down (also called a floating floor).
Thanks to its outstanding thicker wear layer, realistic designs, and waterproof properties, LVT has a higher price tag compared to VCT or sheet vinyl.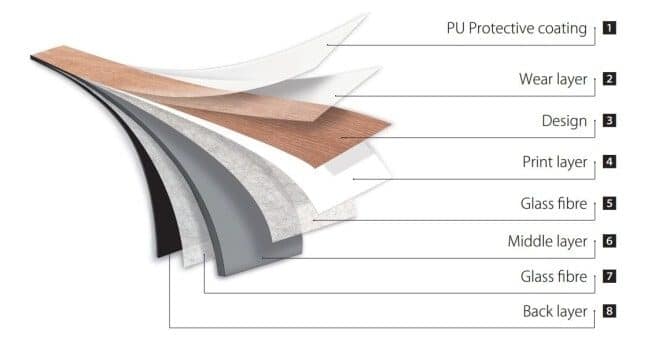 Advantages:
Excellent at keeping humidity at bay.

Excellent at withstanding moisture in humid and tropical weather conditions even after a few years.

Resistant to scuffing and scratching.

Individuals who have children or pets can have the assurance that LVT is sturdy and reliable even through unforeseen circumstances.
Disadvantages:
More expensive

. The price can be equivalent to or higher than laminate flooring.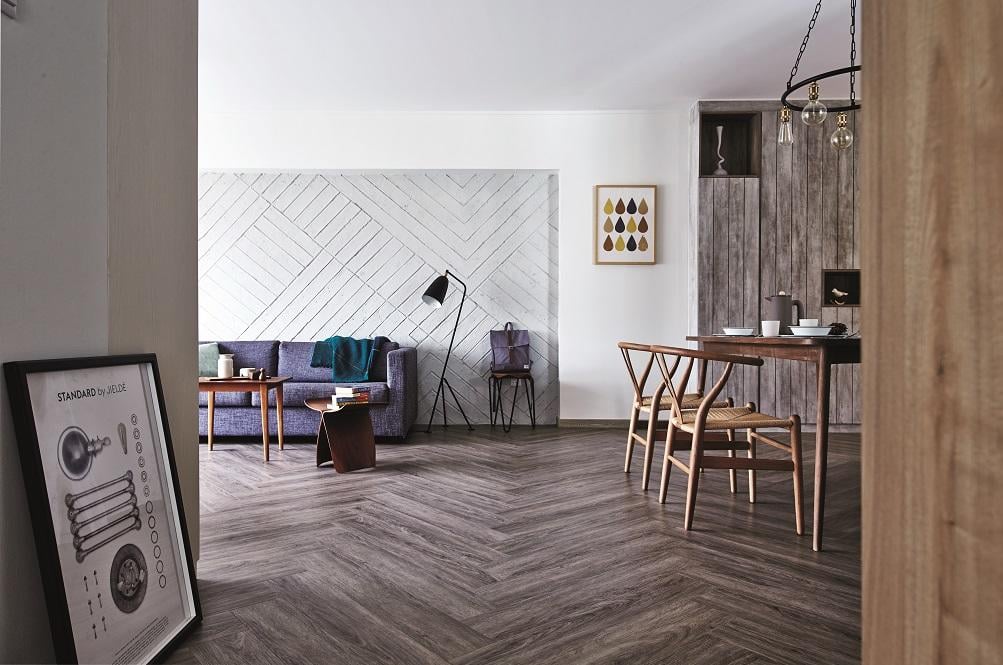 Comparing between vinyl sheet, VCT and LVT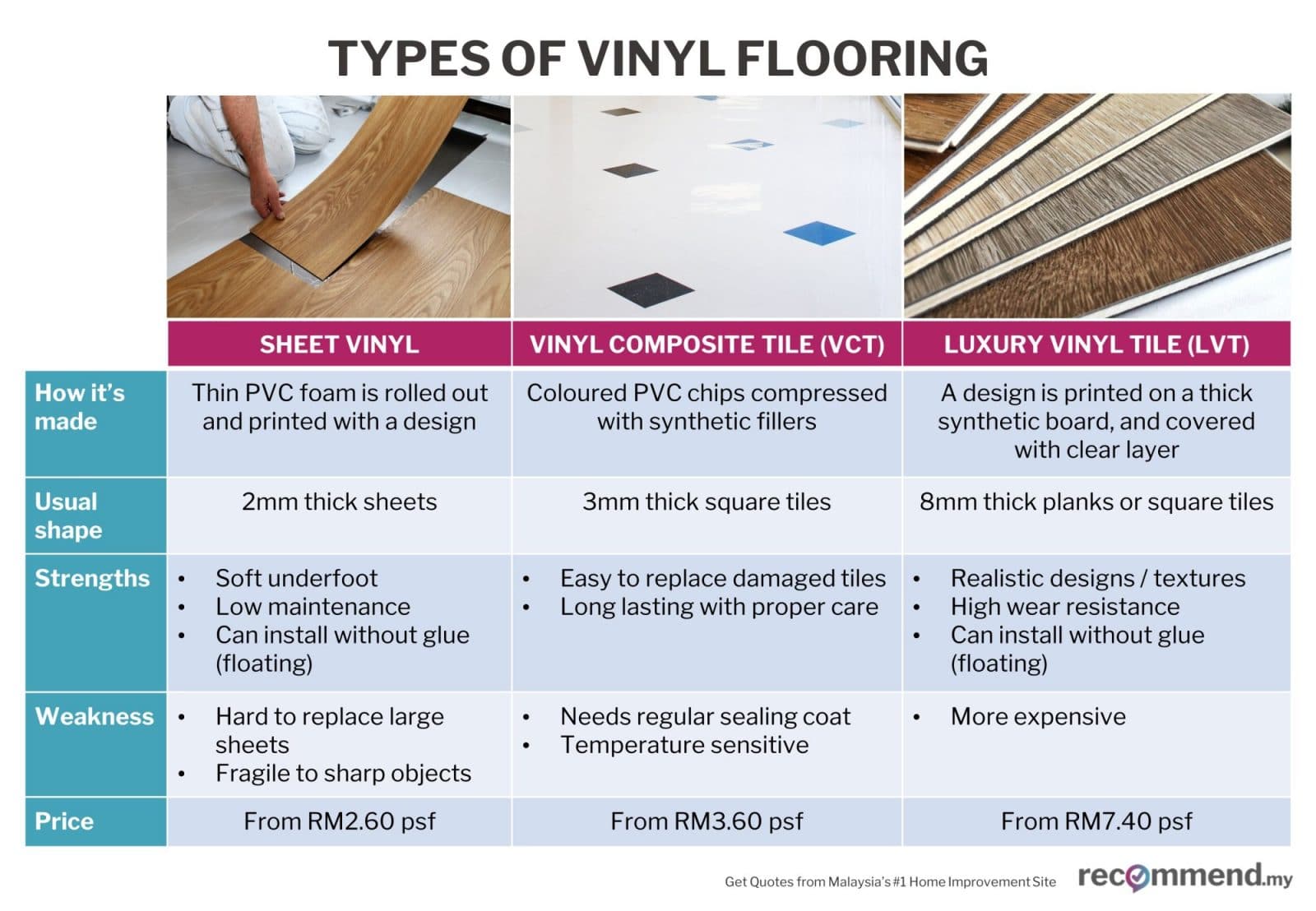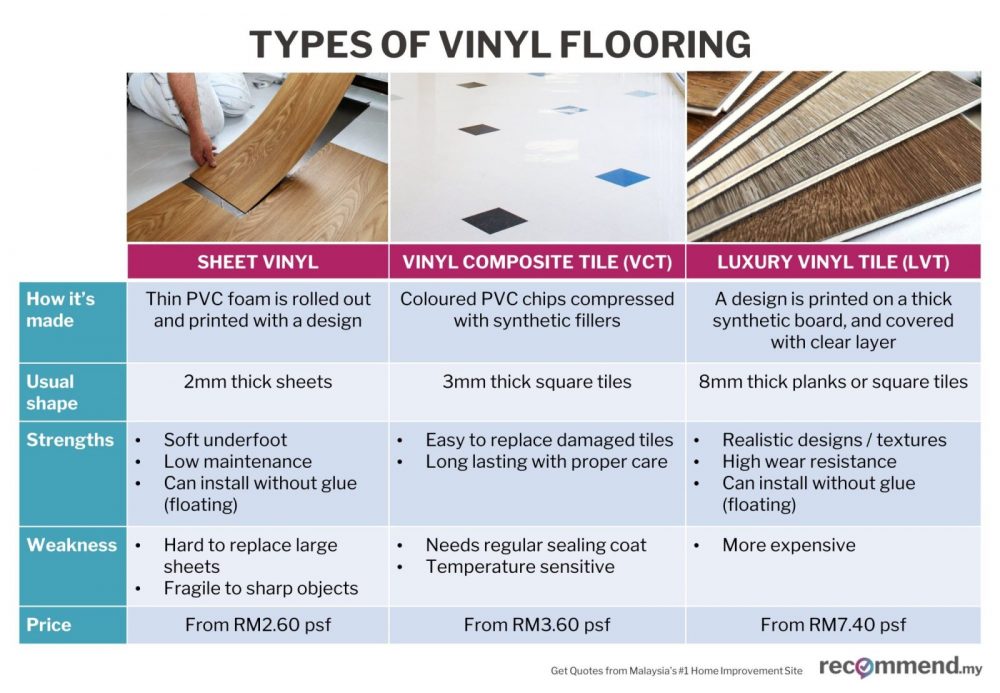 Laminate flooring Vs vinyl flooring
Vinyl flooring is not the same as laminate flooring. While both types of flooring may look similar, there are significant differences among them (refer table below).
Luxury Vinyl Tile (LVT) is the vinyl flooring that is most commonly confused with laminate flooring since they are made out of similar layers. However, the key difference is that, in laminate flooring, the bottom layers are made of compressed wood fibres that can be damaged by termites, or expand if water gets in. Whereas, in LVT, the bottom layers are made from rigid PVC foam and fibreglass.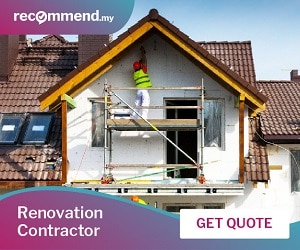 How to care for your vinyl floors
Don't use steam cleaning or harsh chemicals. Instead, a mild detergent and gentle cleaning will be enough to maintain your vinyl flooring.
Sweep and wipe away water-based spills as soon as possible.
Place protective mats under heavy furniture to avoid denting and damages.
Be sure your contractor uses industrial-grade glue to so your floors will last longer and look better.
For VCT, apply a thin coat of VCT finisher or sealer to protect the floor.
Popular vinyl flooring brands in Malaysia
Popular brands/manufacturers: Armstrong flooring, Teraflor, Eurox, Dynaloc, Floor Culture, Wood Resources Malaysia, Floor Inc. Durafloor, Vinfloor, Aathaworld, Inovar Floor, Woodfeel
Suppliers: Cocofloor Malaysia, Hoss
Want to install vinyl flooring in your home?
Now that you've dived into some facts about vinyl flooring, uses and its pros and cons, is vinyl the right choice for your home and its environment?
We recommend that you talk to one of our flooring professionals in Malaysia to determine the options and have installations done on your behalf. After all, the floor is the foundation or any room, and choosing the right type of flooring and design will make a big impact on the overall style of your home and comfort.
Fancy a change of floors?
Your home is in safe hands with Recommend.my. Get a quote for vinyl flooring from one of our trusted contractors today.