Looking for someone to design your dream wedding cake?
During any wedding ceremony, a gorgeous wedding cake is the centrepiece that ties your wedding theme together.
Whether you want a certain flavour, a type of decorative design, or a specific theme, you will need to find the right cake artist to craft it for you.
Usually, for a wedding cake, you would need to book a slot around two or three months in advance. For an even more popular baker, you might need to touch base around six months before. Yup! You really have to add "order wedding cake" in your timeline.
How did wedding cakes become popular?
The wedding cake has its origins from different ethnic traditions. In ancient Roman times, bread was broken over the bride's head for good luck. And in medieval England, a cake was stacked as high as possible for the wedding couple to kiss over.
What are the popular flavours for a wedding cake?
There are a lot of cake flavours out there but the likes of basic vanilla butter or sponge cake, moist chocolate cake and red velvet cake are always on the list.
But if you are looking for a different flavour for your wedding cake, the trending cake flavours now are citrus (lemon, lime or orange) flavoured cake, rose flavoured butter cake with pistachios, apple flavoured spice cake and green tea flavoured cake.
Alternatively, you may ask the custom cake baker if they have any signature cake flavour and request for a tester.
The fact that the cake cutting ceremony gets a slot in the program itinerary clearly shows that it is an important part of the whole celebration. So it is just wise for the couple to make sure that this edible centrepiece is as stunning as every other element at the wedding reception.
Here are some of their best creations that will definitely make you and your guests awestruck.
1. A Japanese themed wedding cake with figurines of the bride and groom in Japanese traditional wear as the cake topper.
2. A modern wedding cake with edible figurines in casual attire to resemble the couple.
3. The three-tiered wedding cake that was handpainted by the cake artist to make it look like a wood log is perfect for a back-to-nature themed wedding.
4. A simple yet unique wedding cake design that incorporates the personalities of the newlyweds.
5. A minimalist two-tiered white wedding cake with handmade sugar flowers.
6. A two-tiered fondant cake adorned with pearl beads and cascading pastel coloured sugar flowers.
7. An all-white three-tiered cake decorated with cascading edible butterflies and fresh flowers on the top layer.
8. A hopelessly romantic wedding cake with wedding vows written on side of the cake is just perfect.
9. A modern four-tiered wedding cake design with grey stripes and pink sugar flowers.
10. A single layer round cake with decor elements that describe the relationship of the newlyweds.
11. A three (or is it four?) tiered wedding cake with fondant detailings and love birds cake topper.
12. A two-tiered cake with figurines of the bride and groom in Indian traditional attire is perfect for a traditional Indian wedding.
13. A modern pink and blue themed wedding cake with edible figurines of the bride and groom.
14. A two-tiered round cake with fondant detailings and edible figurines of the bride and groom.
15. A unique three-tiered hexagon shaped cake with under-the-sea themed detailings.
16. A two-tiered white cake with Tiffany blue and white sugar flowers.
17. A five-tiered banded cake with blue sugar flowers and hand-drawn lace detailings.
18. A white and gold wedding cake with figurines of the newlyweds flying on a magic carpet is perfect for an Aladdin themed wedding.
19. An all white wedding cake with Christmas themed decoration for a wedding held on Christmas day.
20. A black fondant cake with white lace detailings and handmade sugar flowers.
21. A multi-tiered cake stand that combines cupcakes with buttercream frosting and a fondant cake on the top tier makes this arrangement looks so much fun.
 
My Fat Lady Cakes and Bakes.Source
22. The cake artist keeps the three-tiered white cake simple with heart shaped cutouts and red ribbons.
My Fat Lady Cakes and Bakes.Source
23. A three-tiered wedding cake with rosette buttercream frosting and peony sugar flower cake topper.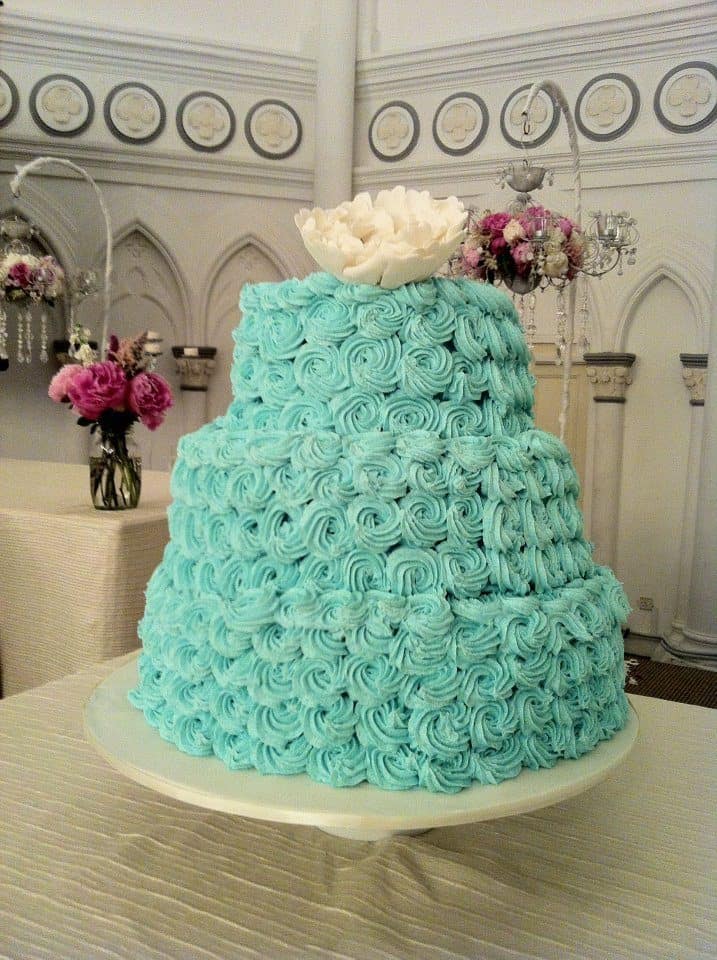 My Fat Lady Cakes and Bakes.Source
24. A simple white cake with purple detailings and figurines of the groom proposing the bride.
My Fat Lady Cakes and Bakes.Source
25. A three-tiered tall cake with white and gold cascading sugar flowers would look perfect for a cake cutting ceremony.
My Fat Lady Cakes and Bakes. Source
Order a custom-made wedding cake at Recommend.my
Besides fondant cakes, there are other types of cakes that are suitable for weddings like a butter cream cake, semi-naked cakes, fresh flower cakes and cupcakes with buttercream frosting.
A talented and creative cake artist would be able to design a cake as you wish. All you have to is share some details about your dream cake (e.g: flavour, size, layers, shape, design) and we will send you more than one quotation for you to compare.